All Archived Posts in Free Fonts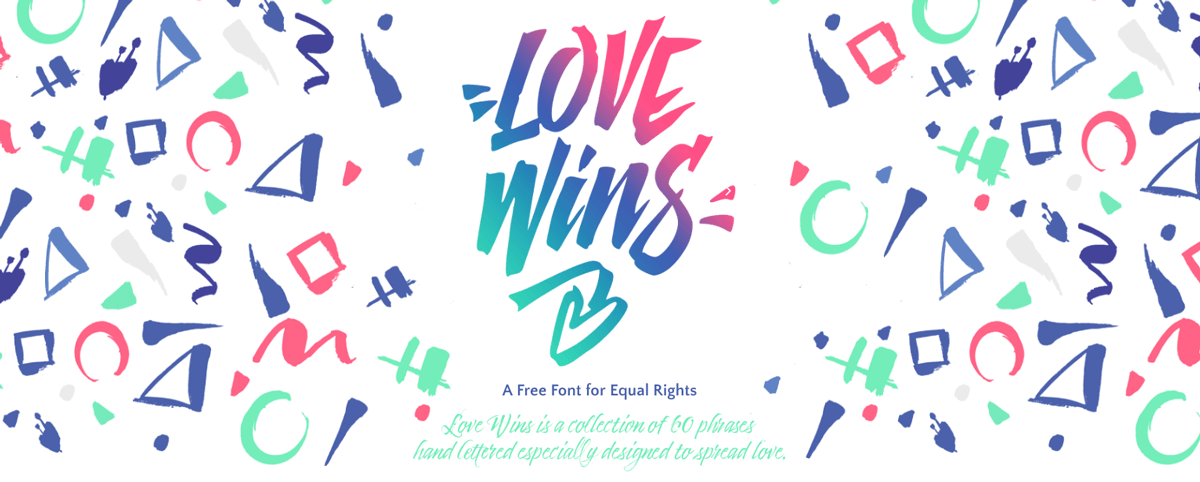 Love Wins is Hand-Lettered Free Font For Equal Rights Designed by Resistenza
Love Wins, from Resistenza, is a new 'hand-lettered' free font designed specifically to recognise, and support, Equal Rights.
It's not your typical font; it's actually a collection of 60 Equal Rights phrases, words and statements, that will allow you to spread love, and show your support for Equal Rights in many creative ways.
How to Download
As is quite common now, in order to download the font, all Resistenza ask is that you show support for the font, by: Tweeting, Liking it on FB, or G+1 and once done, it'll unlock the font so you can download it.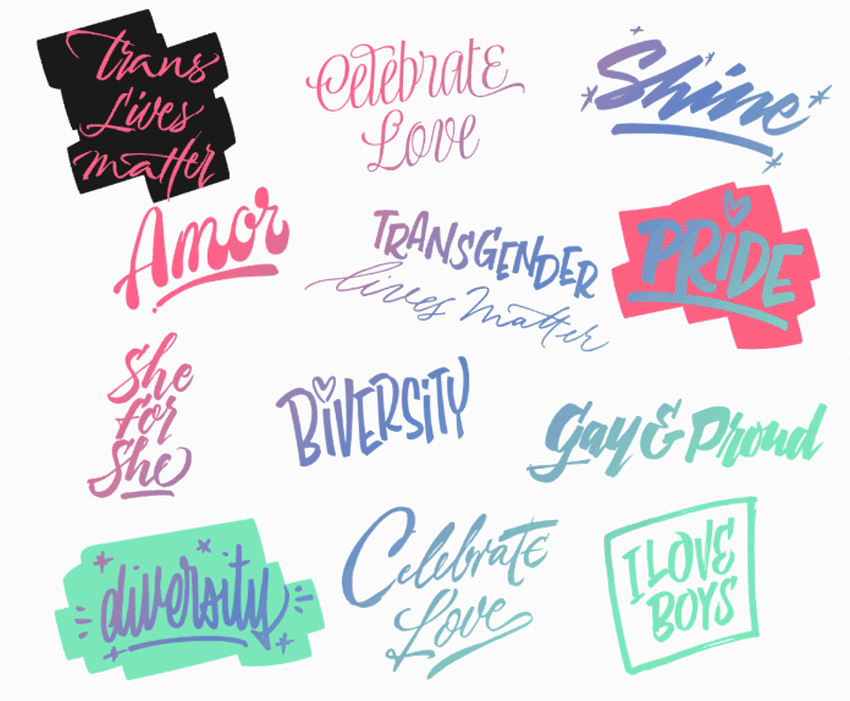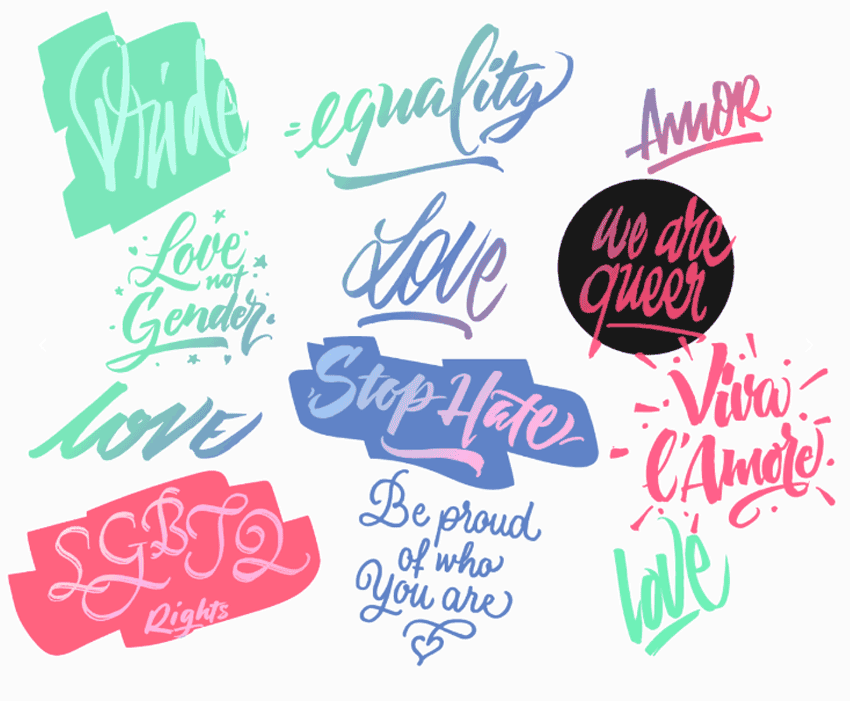 What can I do with Love Wins font?
On their website, there are some easy options to create various forms of real-world items, such as: Making Stickers, Make a Sign, Make a T-shirt, and create Posters.

About
Resistenza: "As Letter crafters we love seeing the signs people design for their different pride parades, and we wondered… Why don't we create a collection of handcrafted lettering to share some love and to add a typographic realness to the party?

Love Wins Font is a series of 60 phrases handwritten with expertise and love specially designed to celebrate diversity. The lettering was crafted with different calligraphic tools creating diverse aesthetics.

You can use them to create your signs, t-shirts, stickers, poster, banners.. all you need is to spread love during your Pride Celebrations (or day-to-day life!).

So if you support love and freedom, this is your new favorite freebie! Shout LOVE out loud!"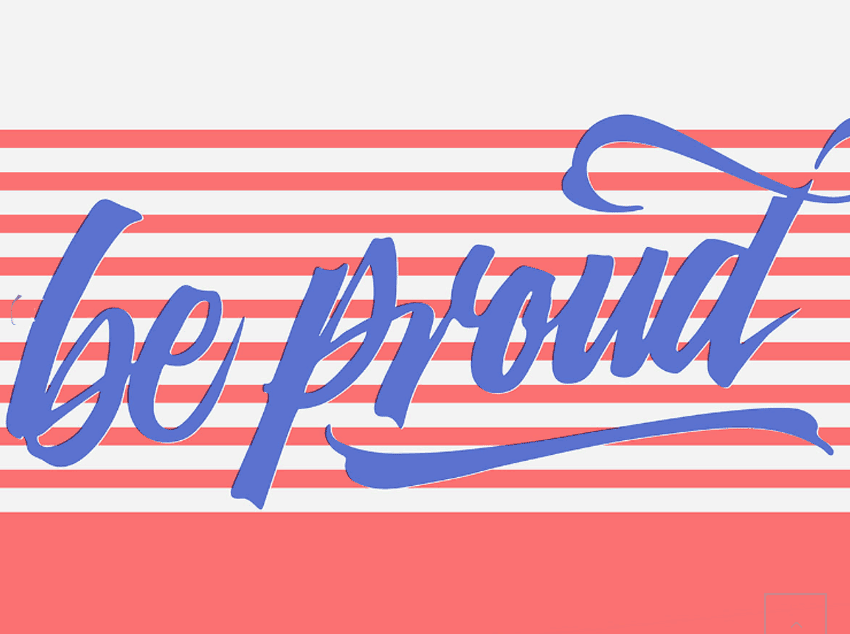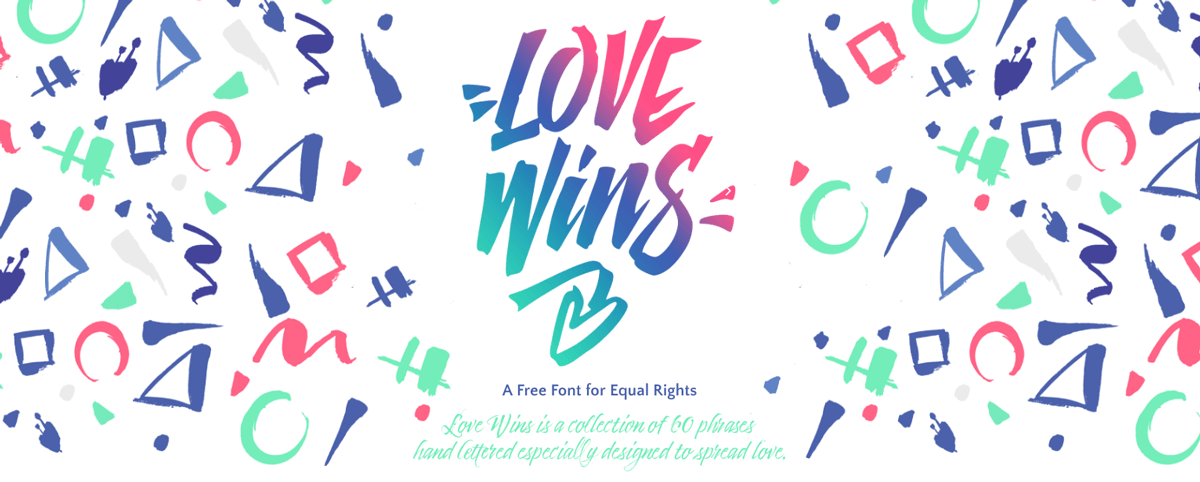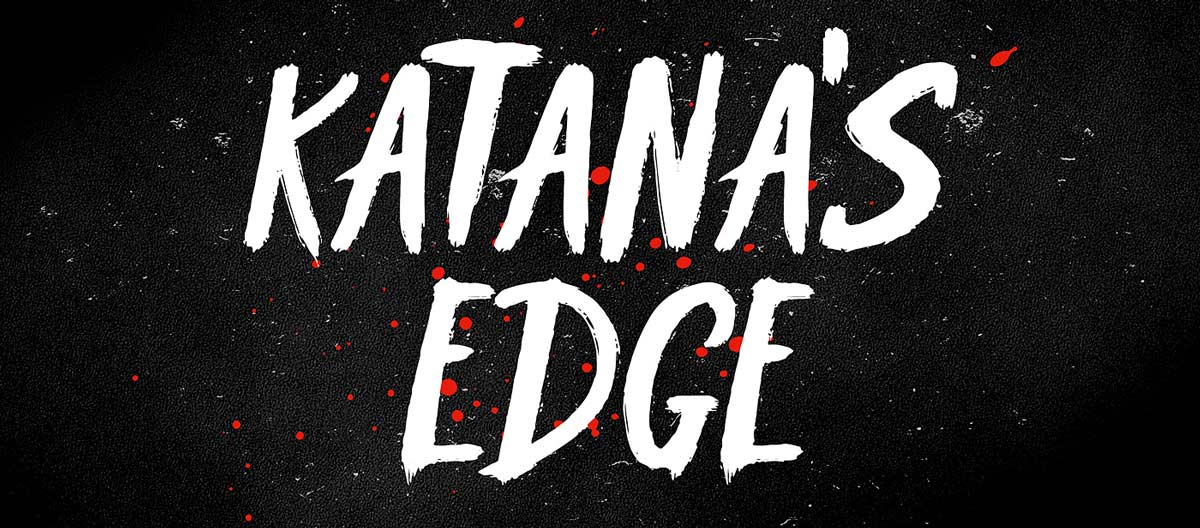 Free Font Katana's Edge, designed by Dimitris Bouskos, is one of many many many new free fonts that as graphic designers, we can all be a little grateful for.
The continued generosity of so many graphic and type designers, is what makes our particular line of work so damn brilliant.
The least we can do is to help share, promote, use and give feedback to all these free fonts that seem to be falling from the skies on a pretty continued basis. Amen.
Dimitri's Bouskos: "A grungy, brushy typeface with attitude, designed for punchy titles. Available for free download, enjoy!!"
Download Free Font Katana's Edge
You can find the Download Link for Katana's Edge, at the end of the Bechance Project Page. No hoops to jump through, just a regular quick and easy Dropbox link.
If you like and/or end up using Katana's Edge, then why not head over to Dimitri's Bouskos' Behance profile, and give a Thumbs-Up to the Katana's Edge project.
Nice one.
Found this link on FreeTypography (where else!).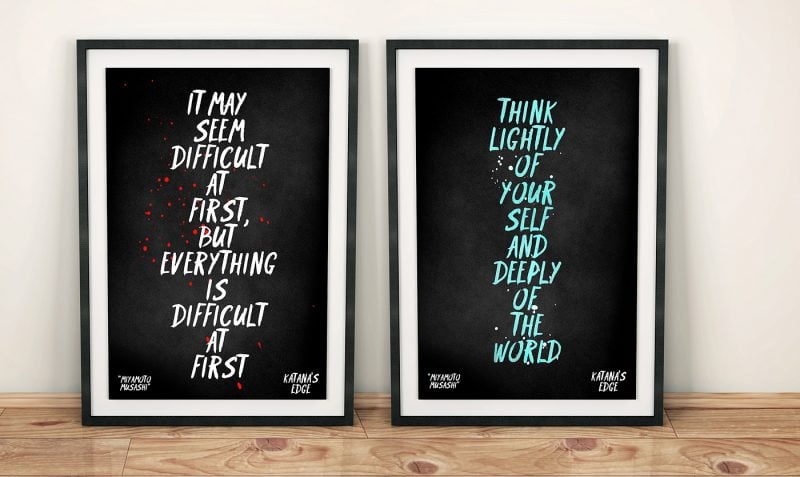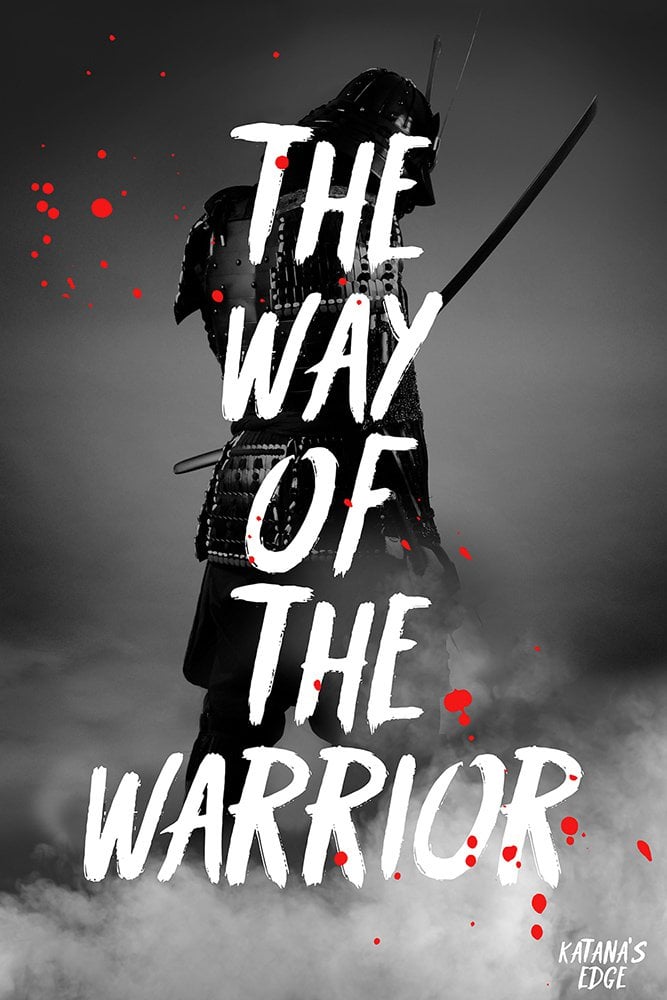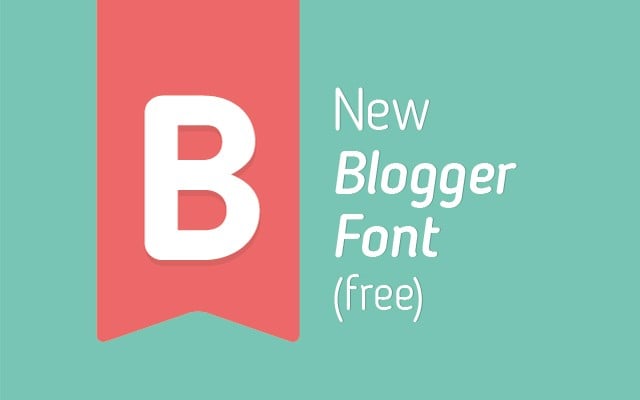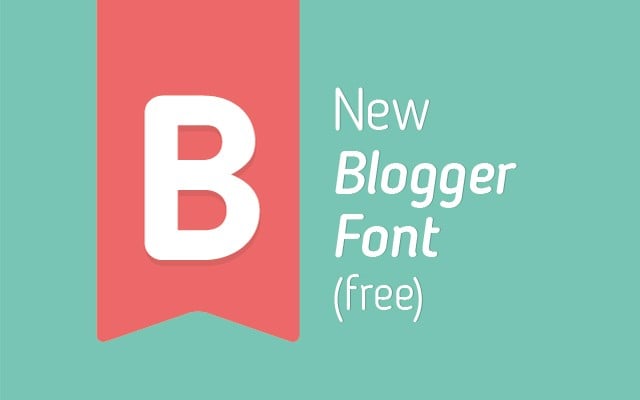 Free New Blogger Sans Font Designed by Sergiy Tkachenko
We are being spoilt recently with some very nice and clean free fonts being made available to the masses. In this particular case, we have: Blogger Sans Font, designed by Sergiy Tkachenko
Blogger Sans Font was initially designed as the custom typeface for the FirstSiteGuide's website: The Beginner's Guide to Successful Blogging, primarily used for headings.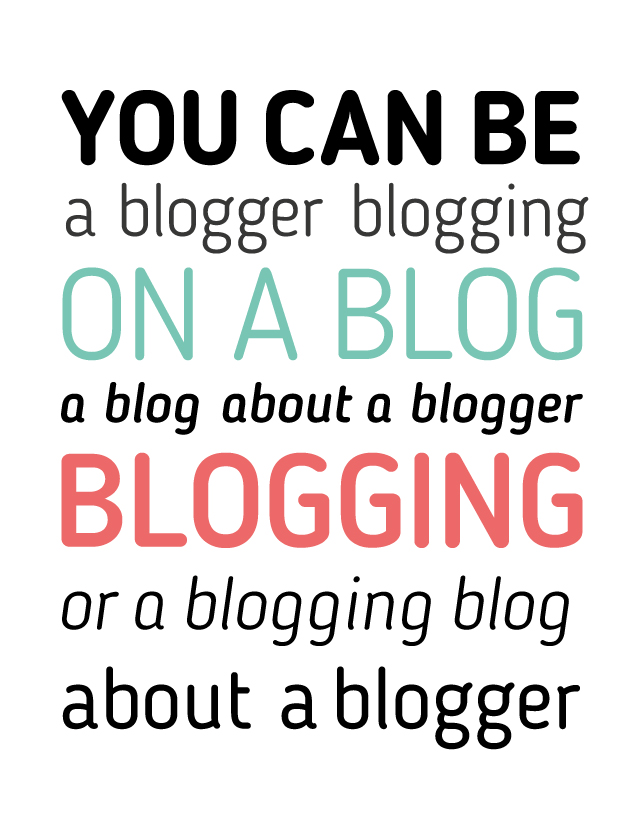 FirstSiteGuide: Blogger Sans draws inspiration from the clarity and legibility of the popular font Dosis with an additional support of the lost Cyrillic languages. The bolder weights are lighter and softer. The following elements (-b-d-h-k-p-q-y-) are shorter, thus the headlines and subheads could be put in the dense line spacing. In addition the outline of the Blogger Sans is more smooth with better eligibility.
Blogger Sans Font Details
Blogger Sans comes in 4 incremental weights with total of 8 different outlines.Since Blogger Sans supports Cyrillic, it supports regional features for Bulgarian and Serbian (partially) languages. It also contains extra currency symbols, error signs, and dingbats.
Font format: .otf, .ttf
Font style: Regular, Italic (8 outlines)
Font-type: Sans
Archive size: 3.91 Mb
Alphabet: Latin, Cyrillic
Stats: 547 glyphs and 2496 kerning pairs
Supporting languages: Albanian, Basque, Belarusian, Bosnian, Breton, Bulgarian, Catalan, Croatian, Cyrillic, Czech, Danish, Dutch, Esperanto, Estonian, Faroese, Finnish, French, Frisian, Galician, German, Hungarian, Icelandic, Italian, Lithuanian, Malagasy, Maltese, Norwegian, Polish, Portuguese, Romanian, Russian, Serbian, Slovak, Slovenian, Spanish, Swedish, Turkish, Ukrainian, Welsh (and more).
Font Licencing
FirstSiteGuide have now kindly provided Blogger Sans Font as a free download, and free to use. You are FREE to use it in any web design or blogging projects with one condition.
The font is licensed under the Creative Commons Attribution 4.0 license. That means you are free to distribute, transform, fiddle with and build it into your work, even commercially. However, please always credit the original source of the font (in this case FirstSiteGuide team).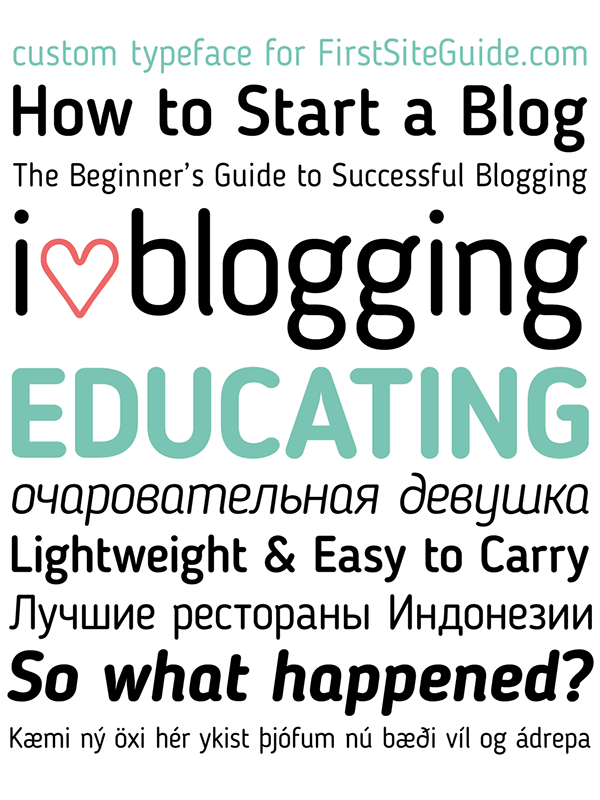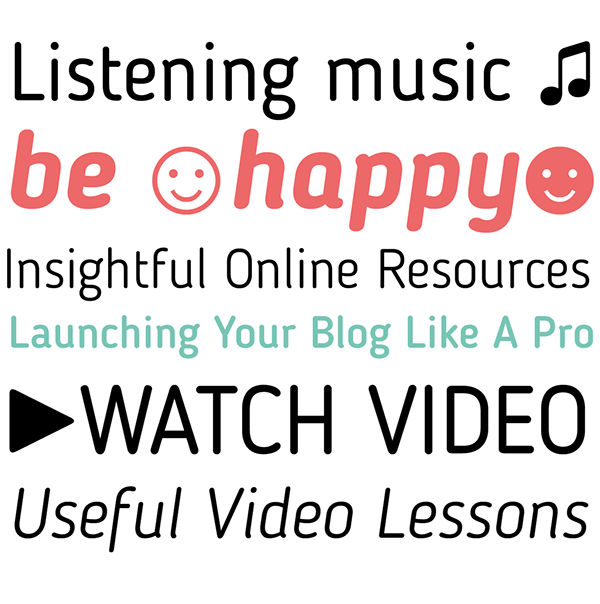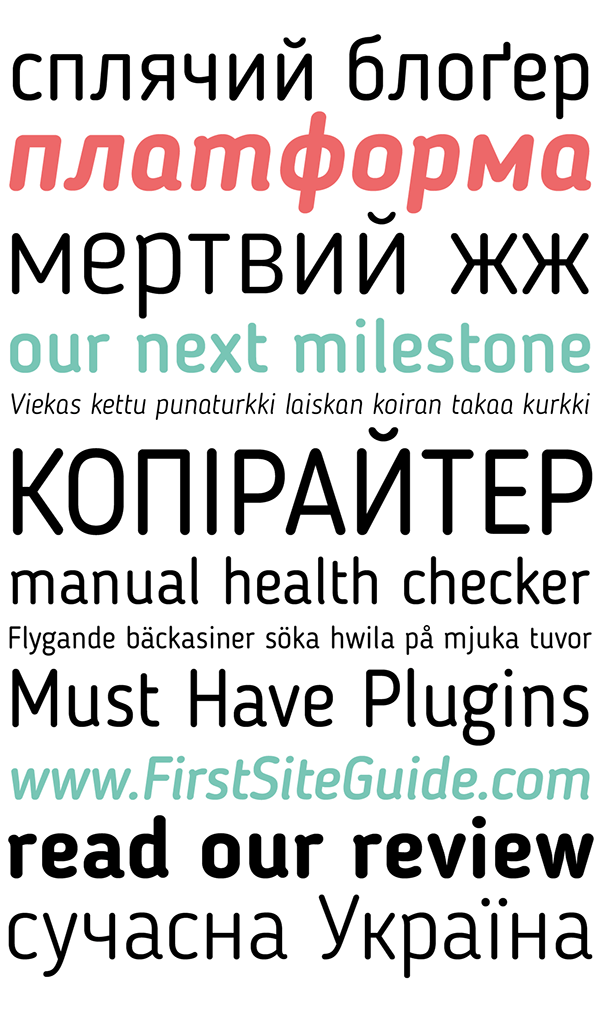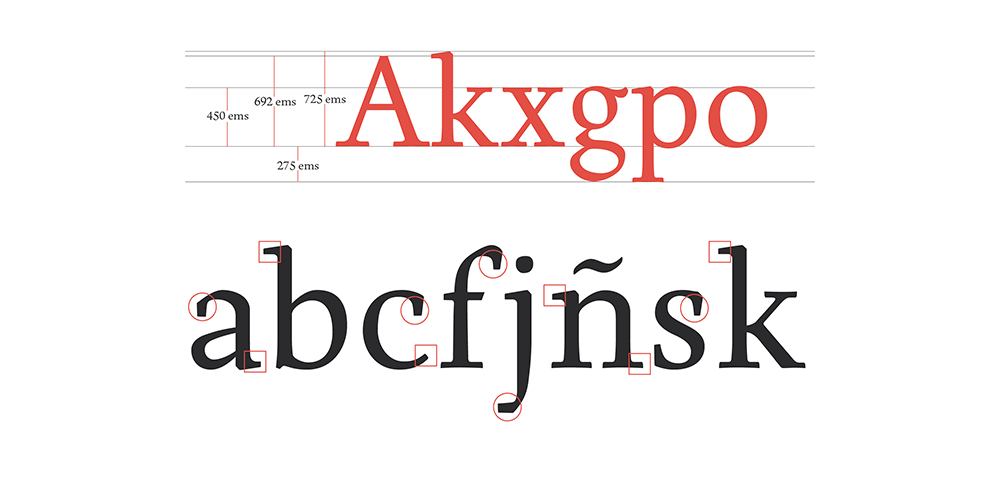 Carlos de Toro emailed me with a lovely little note and a link to his website, more specifically a link to his gorgeous typeface, named Born. Carlos has clearly spent a lot of time, and put in a lot of love in the development and creation of his typeface, yet with all that Carlos is making Born a free download, but donations ARE obviously warranted I think.
In his words:
Carlos de Toro: "Born is much more than a typeface, it's also a story; The one of my 2013. A story about moving to the big city, the result of meet great people from all parts of the world and their cultures too, the result of talks in classes, bars and trains… the result of sharing moments, experiences, knowledges… Born is the result of all these experiences and people: and now I'm sharing with you this piece of my story."

About Born
Born is a humanistic typeface that is based on traditional calligraphic forms, but with some new features in its endings, strokes and drops, that provide a more open, fresh and actual look. It also has a big X height, so it offers a high legibility even at small sizes.
Born typeface, born in Barcelona city at early 2013, bears the name of one of the most picturesque Barcelona districts, on the shores of the Mediterranean takes together the old and the traditional, and also the multicultural stuff and new trends, blending these in its narrow and winding streets, creating a symbiosis between tradition and modernity. This is a Mediterranean type, which it's open to new times.
Born Includes
Regular Born includes a total of 262 glyphs: Uppercase, Lower case, Alternative glyphs of the above ones, normal Ligatures, Uppercase numerals and symbols and punctuation marks.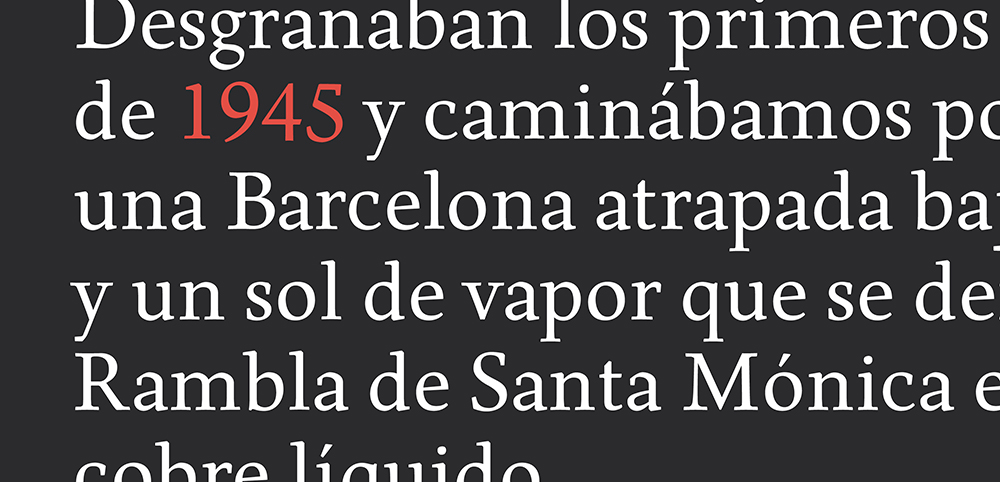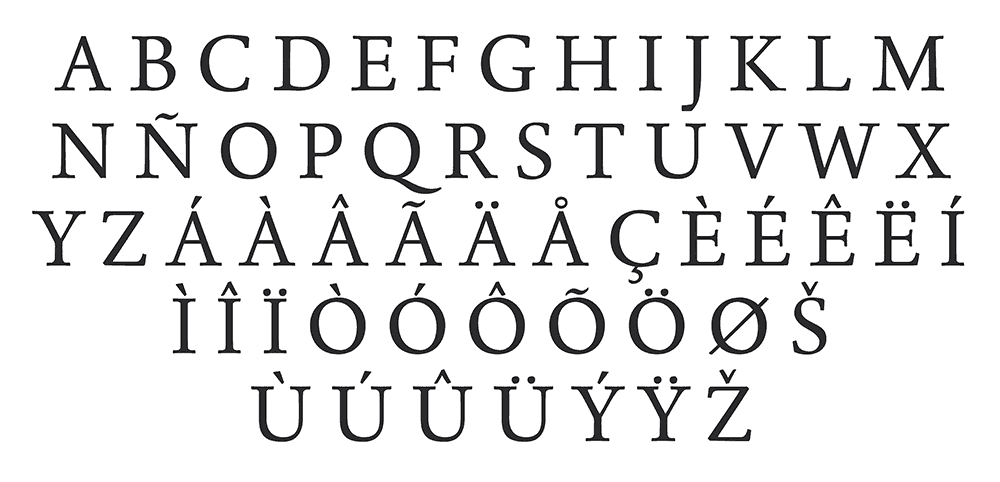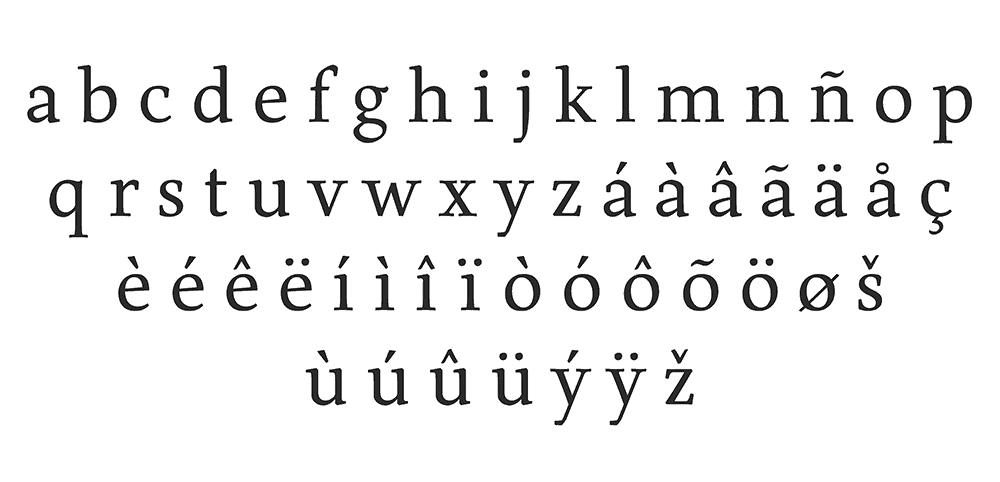 Valentina is a lovely antique Spanish didone designed by Pedro Arilla, Spain. What makes this typeface all the more special is that there is a lovely story behind Valentina—which you can read up on Pedro's Valentina Behance page—as well as Pedro making this entirely free to use for both commercial and personal.
Valentina-Regular Version 1.0: upper case, Lower case, alternate lower case, 457 glyphs, 125 alternates, 46 decorative and discretionary ligatures, upper & lower case numerals, symbols and punctuation marks.
You can download Valentina-Regular Version 1.0 from Pedro's Behance portfolio.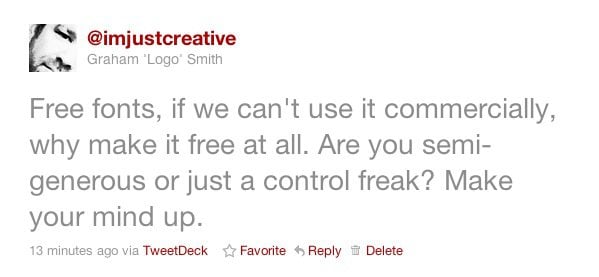 One thing I struggle trying to understand is why some free fonts have a non-commerical licence applied. I just can't get my head around it. As I said on Twitter...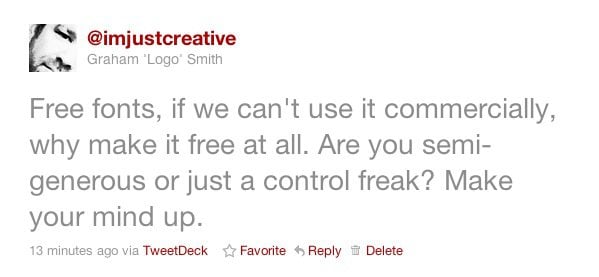 I have spent a fortune on buying fonts that I feel will add value to my work, I have no problem with investing good money in this way. After all, fonts are generally the foundations of a logo, makes sense that you place value on an aspect of your job that without, would be all but impossible to do.
This is why I have the utmost respect for typedesigners, this is a skill beyond just being creative. When I am working on a new logo project and see a new commercial font that would be perfect, I will buy it, no questions asked. And yes, a medal would be nice.
Commercial fonts have licences of course, they are not without limitations, but they are for the most part, more than reasonable.
I guess a reasonable comparison would be musicians and royalties.
There are a scenarios where 'non-comercial use' is valid, like a beta font for a possible new commercial font. I can understand the reasoning here, and usually there is a detailed description of 'why' accompanying the font.
The other one is where there is family of weights for example, one weight (with limited character set) might be made free for the purposes of testing, allowing the user to try before they buy. This expands on the limited type testers usually now found on type foundry websites etc.
Great, so that tackles commercial fonts.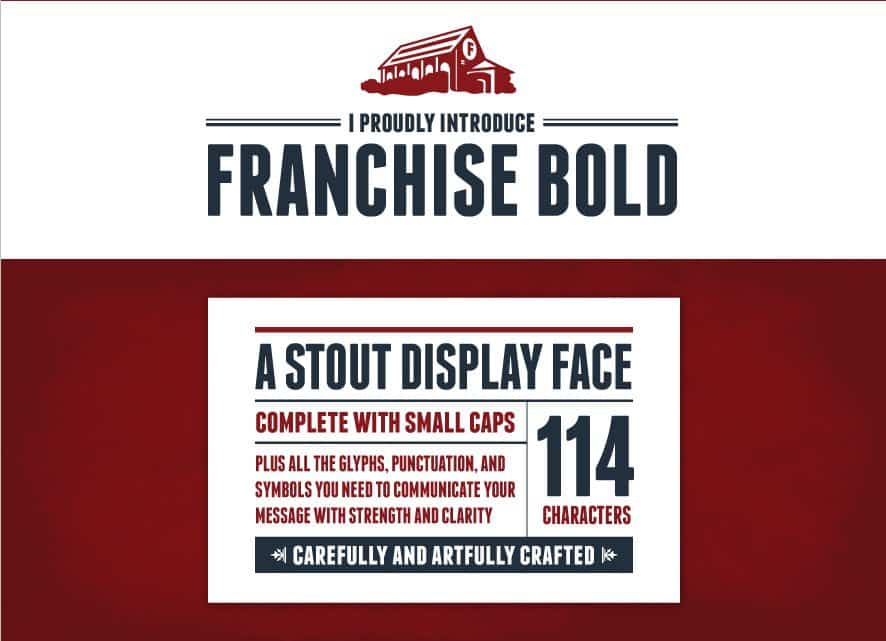 The main point of this post is to try and understand the non-logic behind the restrictions that some free fonts have time to time. I'm not talking about the awful variety usually associated with free font sites, I'm talking about fonts like the stunning Franchise Font by Derek Weathersbee or the equally stunning The Lobster Font.
Fonts where the designer has clearly put their heart and soul into the design and creation of something that will be of value to other designers. Derek makes no demands, other than presenting a few marketing ploys to bolster the distribution of his work, like making a small donation or buying a t-shirt, all VERY reasonable under the circumstances. In fact he goes the other way, he makes it very clear that if you do use his free font for commercial or non commercial use, that you send him examples of it… this is what makes it all worthwhile.
Seeing your work being used by someone else for someone else.
I'm a little confused Sir
What confuses me is when I come across what looks like a lovely free font. First impressions are really positive, the accompanying gallery images make the font look like a real winner, but then you see the 'No-Commerical Use' line.
So you have spent all this time and energy, crafting a wonderful new font, going to the trouble of creating supporting imagery to presumably help promote the font, but then specify that we can't use it for commercial use.
What is the logic behind this move?
If you don't want people, other designers, profiting from your work then why make it free in the first place. If you are that sure/presumptuous other designers would want to use the font for commercial use, then charge for it, but don't presume people would want to use it for commercial use, but take away that option. It really makes no sense and makes you look a little odd to be honest.
Or do you forever want your creative creation always assciated with Church flyers and birthday parties?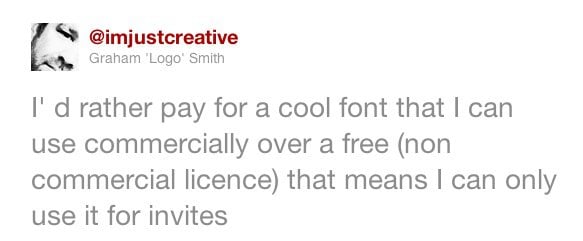 Either make it free with no restrictions like Derek, or make it a commercial purchase or even a trial (limited character set) font.
I do understand the logic of not wanting other's to profit from your work if you have not got anything from it yourself, especially if these other people have copied your work or other less honest means. People like Derek are clearly proud of their achievements, without having some control type issue over it and want to literally, spread the love.
This has a greater accumulative affect on the marketing of that font and consequently your own image and profile. This is what you should be focusing on.
What goes round generally comes round.
I guess some people say we should be appreciative that someone has created something for free in the first place, regardless of the conditions tied in with it, I disagree with that logic when it is associated with design work. If I see a font that is free but that I can't use for commercial use, it really isn't much use to me, unless I am designing party invites or playing with concept work, which I avoid like the plague.
So ok, the latter point, concept work is important for a designer, so yeah sure, downloading a cool free font that helps you here is awesome. However, this is also flawed logic. By helping people with their concept work, which by itself is non-commerical, you are actually helping them create a reputation that will surely make rich and famous. So regardless, you are helping someone financially, it's not just as quick. It's just short sightedness on your part.
By imposing restrictions you are reducing the potential impact and reach of your work. Not so many people will download it, not so many people will see it, not so many people will hear of you or see the work you can do.
By imposing restrictions you are missing out on helping designers with their paid work, the work that pays their bills. So we go back to the point that you have a grump about people profiting from something you have previously made available for free, or you have control issues. Neither are helpful and wise to really promote or have associated with your name, people like me get grumpy about things like this. Its like one big tease, just not useful in the greater scheme of things.
Hooking people in to your website with the promise of a free font should extend to making it totally free to use.
If you are giving something away for free, then make it totally free and without condition.
If you really can't bear the thought of 100's of other designers profiting from your work, then don't make it free, charge for it. If it's that good, people will pay the money. You will receive respect and plaudits for your skill and business prowess.
Seems Maniakers Design has been quite busy since releasing the original FREE 232 MKSD Font. It has now been updated with a huge range of extra glyphs.
Important to note that this covers both Round Light, Round Medium and Round Bold and that the family is still a free download.
Font Licence - There are some limitations for it's use, so please read the Font License provided.
Download More Free Fonts via IJC
Over the last few months I have been amassing a neat collection of quality free and open source fonts for download. Some are even exclusive to ImJustCreative. Head on over to Free Fonts for a looksie.
Fontfabric are always pumping quality fonts and some of these are free. The latest free font is HERO and is a beautifully smooth, clean and rounded font.
Hero is a great choice when  you need to create a friendly, sincere yet stylish feel to your designs.
Available in 2 weights, Hero Light and Hero Bold.

League Script #1
Designed by Haley Fiege
League Script #1 is a modern, coquettish script font available as open source from The League of Movatble Type.Designed exclusively for the League of Moveable Type, it includes ligatures and will act as the framework for future script designs.
Download direct from Movable Type
QUB Font by Adi Dizdarevic - Free Download
So many modular and block fonts out there at the moment, but when I saw QUB, I was particularly struck by how cool it is. Even cooler that it's a free download. Found via Typography Served.
The designer behind this font is Adi Dizdarevic and  you can follow Adi on Twitter.
Visit Adi's site to download the font.
Download more free fonts, some exclusive to ImJustCreative.