All Archived Posts in client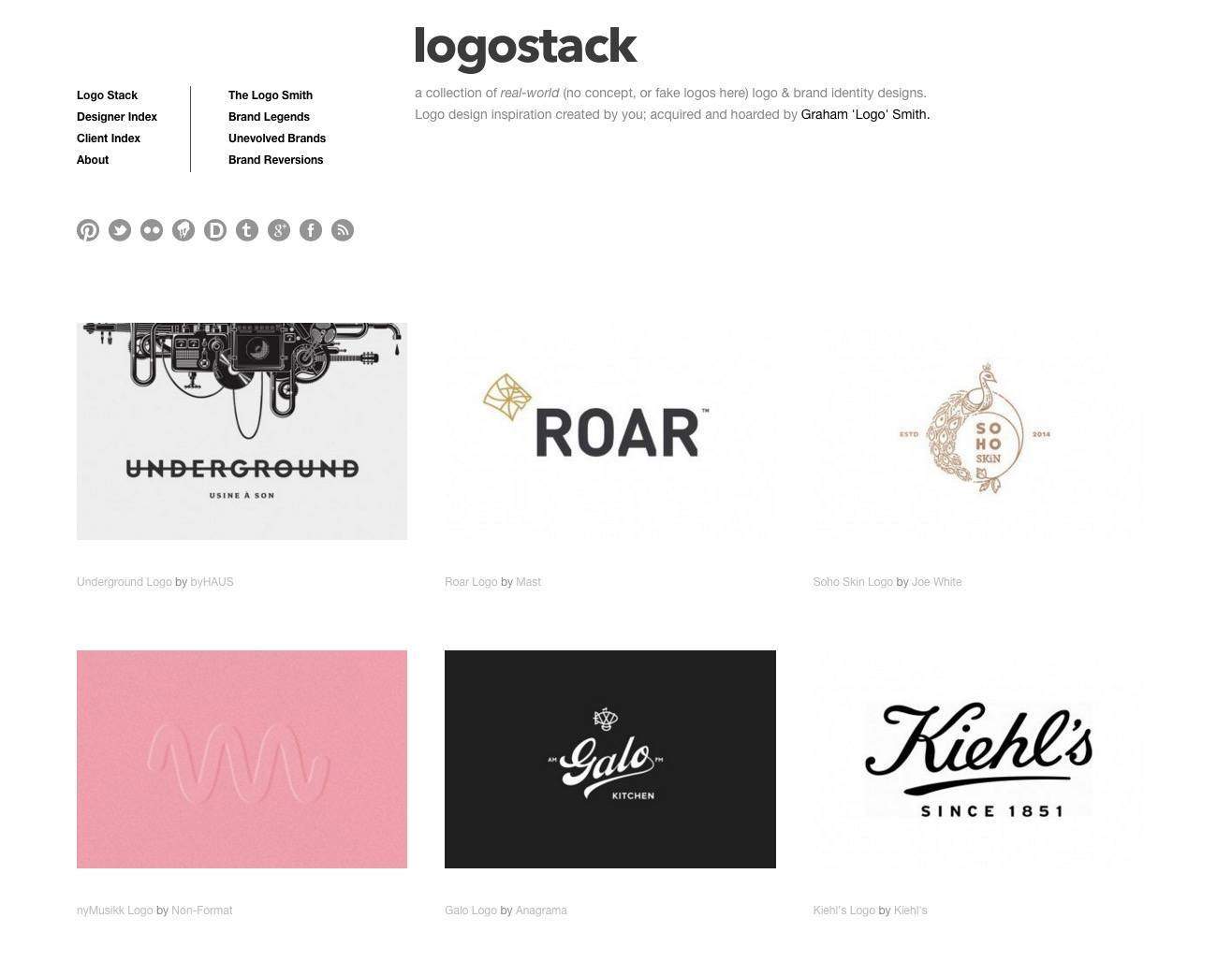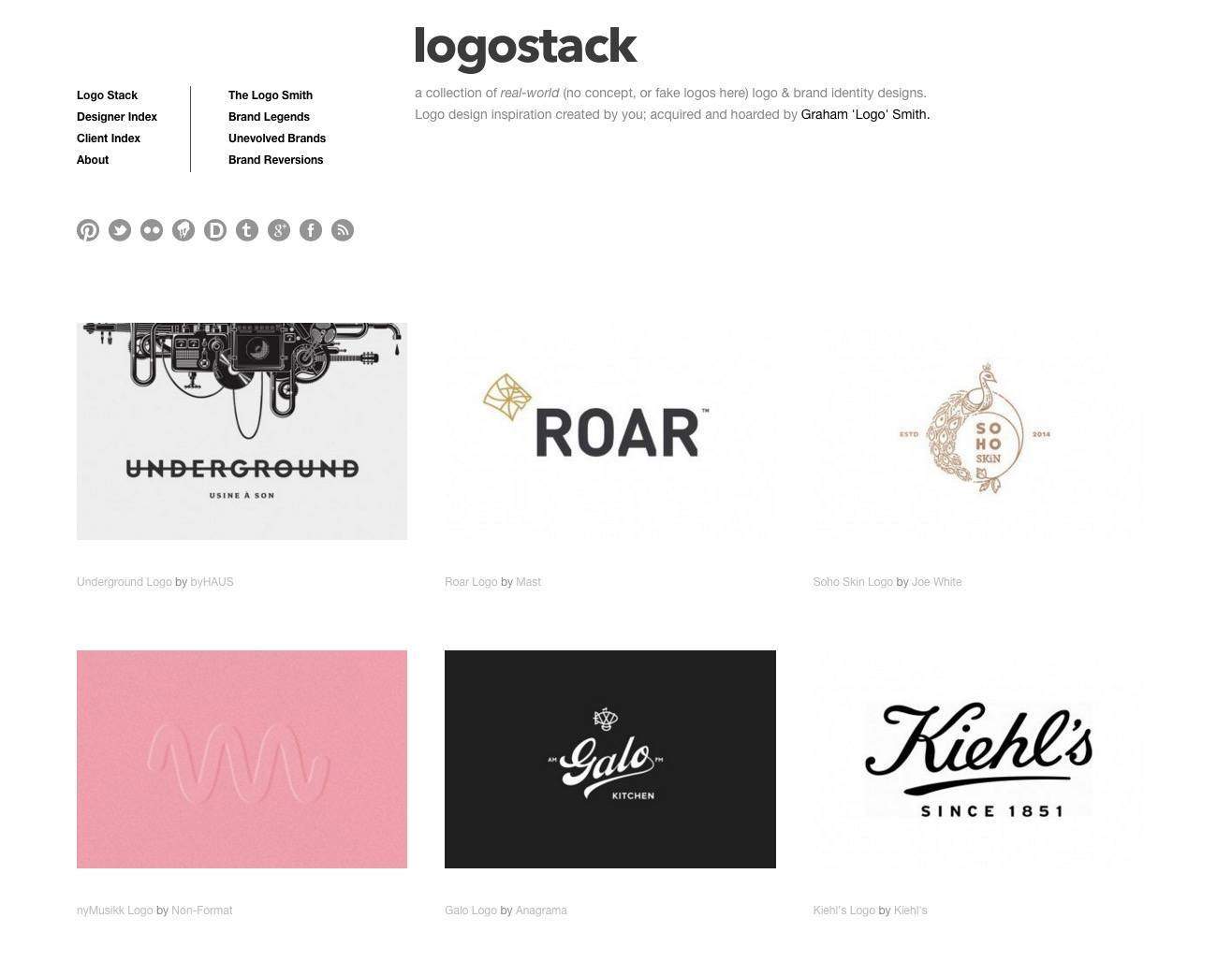 Real World Logo & Brand Identity Design Inspiration
LogoStack is about showing real world logo and brand identity design inspiration; not the conceptual, or the make believe. Every logo design you see on LogoStack is used, or has been used, in the real world.
LogoStack: a collection of real-world (no concept, or fake logos here) logo & brand identity designs.  Logo design inspiration created by you; acquired and hoarded by Graham 'Logo' Smith.
It's also worth noting that LogoStack is a reflection of the type and variety of logo and brand identity design that inspires me. LogoStack is a personal collection of real world logo designs that I am collecting, hoarding and sharing.

Proper Attribution
The intro text for each logo clearly describes the brand name. We also have the name and link to what: graphic designer, studio, agency etc, were responsible for the overall project, both of which are filterable, so you can easily search for other projects by designer and/or client.
I usually include a few words about the design, with a few supporting images, to the show the logo in context if I feel like it. :)
Submissions
If you see any logo and brand identity projects that you feel would be a good fit for LogoStack (if you think you 'get' my aesthetic), then feel free to give me a shout on Twitter:
Logo Design Advice from The Logo Smith [AQfG]
"A Question for Graham" is a Logo Design Advice & Help feature that is focused on providing help for any: logo & brand identity; freelancing; graphic design; marketing & advertising, questions you might have. You might have a problem that you could do with sharing, or simply need some advice.
I get a fair number of emails each week, with questions about one aspect, or another, relating to freelancing as a logo and graphic designer. Due to work commitments etc, I have often struggled to even send back a basic reply in some cases.
A Question for Graham [AQfG] is a way for me to create some form, structure and usefulness out of this particular aspect of my day.
Just to say I'm always here if anyone want's to ask me any questions on logo and freelancing in general. Just not opinions on a design :)

— Graham 'Logo' Smith (@thelogosmith) November 4, 2015
Answers Turned to Blog Posts
If you ask me a question, and I feel it's also a question that other people would find the answer of use, I will write the answer as a regular blog post. The idea is that you get your answer in a format that is useful as well as providing me a platform to share the answer with everyone else.
I can't promise that all questions asked will be replied in this format as this comes down to both my own time as well as relevancy, but also if the question is something a reasonable blog post can be created from.
Here are a few questions already answered: A Question for Graham
Have a Question?
If you have any kind of question relating to: logo and brand identity, freelancing, accounts, client woes etc, then please feel free to email me at: [email protected] or visit my contact page and use the form.
I will reply to all questions so you will know promptly if a blog post will be in the works or not. If the latter then I still may answer in a personal email if time permits.
Please ensure you add "I have a question for Graham" in the email Subject field.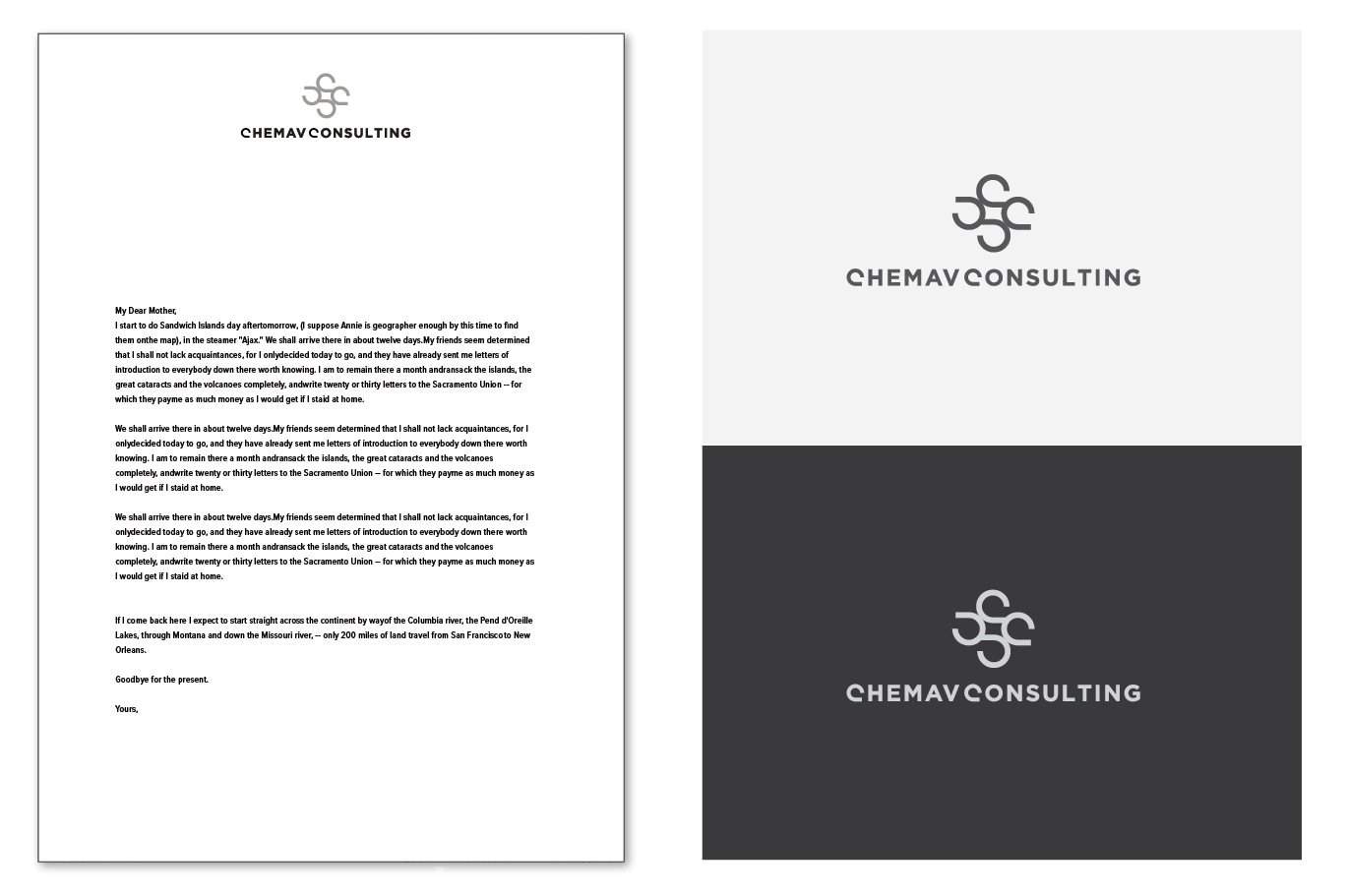 When a Client Loves Your Logo Design
When a client 'loves your logo', hearing those words can make all the difference to your day, your feeling of self, your confidence and just providing a general sense of work satisfaction.
Yesterday this email just flew into my Inbox, and although it's short, it's incredibly sweet, and it just hit-the-spot.
In particular just the, "I LOVE THE LOGO!!!!", all in upper-case and multiple exclamation marks really stoked me.
This email from Andrea really made my day.
Hi Graham,

I am writing from the new chemav e-mail account and you can use it now on.

I LOVE THE LOGO!!! So, I'd like you to proceed with the next stage including colours evaluation.

Many thanks, I love it

Have a nice evening

Andrea

Dr. Andrea Volpato Chemav Consulting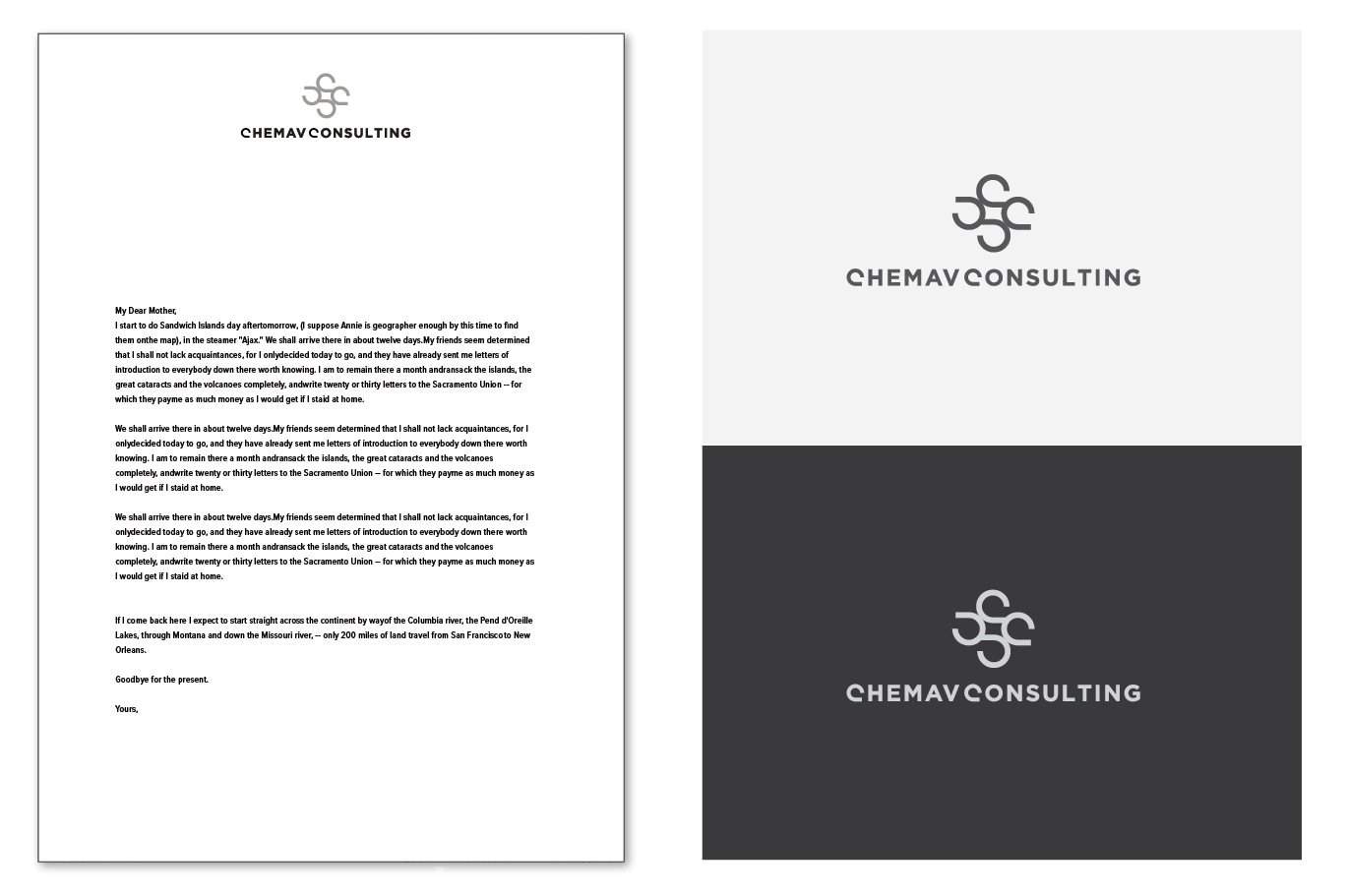 I received this question, as part of my A Question for Graham the other day, and although it: Logo Design Naming, Copyright and Ownership Problems, sounds, at least on the surface, reasonably straightforward, there are some possible hidden dangers, complications etc. I don't have an awful lot to go on, so my responses are little bit of advice, or general insights, and should definitely not be taken as legally sound, as I am not a lawyer.
All I can do is answer based on the information I have, and hopefully, at the very least, provide some useful insight and suggestions to take the issue forward:
"I designed for a client. The client is a good friend of mine and I did a logo for free for her. I also named the company. Friend's partner, who I don't know, registered the corporate name and purchased the website with the name but failed to register the logo. The partnership is now breaking up and I want my friend to be able to use the logo and name in her new venture.

What's you opinion?"
Right then. First things first. You maintain full rights and ownership over the logo design until you say otherwise, and you can transfer that to whoever you want. The name, however, looks like it's been taken off-your hands, and now registered by this 'partner'. As you probably had no agreement in place, pretty sure there is not much you can do with getting the name back, but your friend (for what it's worth), is free to use your logo design.
One solution then is to cut your losses with the name you came up with, and try come up with a different name. You may want to word it so it works with your logo design, or at the very least, adjust the logo to work with a new name. Then you can make a clean break from this other 'partner', and have no risk of treading on each others toes.
This is important: You, or your friend, must make sure that this 'partner' is fully aware they cannot use your logo design without your express permission, and have a written transfer of ownership from you. If they are using it, then you'll need to find a way to explain to them that the logo you created does not belong to them, and they are certainly not permitted to use it in any form.
Hopefully, you have some form of correspondence between you and your friend that shows the 'paper trail' regarding the intended use and purpose of both the name and logo design.
This should also then make it quite clear that this 'partner' wasn't part of this arrangement, and they cannot effectively argue that it belongs to them, more so if they have no proof that the ownership of the rights etc, having been transferred from you to this partner, as well as any money exchanging hands.
Trademarking a Design that Is Not Yours
There is one tricky scenario that comes to mind: if this 'partner' has managed to register the logo design, or part of it, as a Trademark/Registered Trademark, then this could be a whole different problem for you/your friend. Something I can't really advise on, as this really needs to become a legal matter.
Technically, I believe, you still own the logo, so you'd need to contact this 'partner', and carefully explain they have in fact registered a design that they had no rights to register, mostly because it's not theirs to register. If this 'partner' is reasonable, then hopefully you can come to some sort of financial solution, but this would probably mean you no longer have a name, OR a logo design.
However, not so good for your friend.
If they are not so reasonable, then you still need to start creating a digital 'paper trail' of correspondence, at the very least, showing you have made attempts to explain to this 'partner' that they are using a logo design that does not belong to them.
You can ask them to provide proof of hiring you to design them a logo, proof that they paid for it, proof that you signed over your Ownership of the design to them, all of which they won't be able to do. Maybe, just maybe, once that realisation hits them, you might be able to negotiation some form of financial compromise/settlement.
Paypal DOES provide protection for people providing digital services and goods, in so much as the client cannot, at any time, simply believe they can 'successfully' reverse the payment process, if something has made them a little unhappy.
What Does this mean to you, the designer?
What my experience (explained below), and the positive outcome, does demonstrate: you are safe in continuing to use Paypal, to receive: funds, deposits and payment of invoices, from clients, AS LONG as you:
Keep all emails and documentation relating to the project, and all files sent to the client (emails you send, and emails you receive, that relate to logo design ideas you have sent, ie. feedback, issues regarding the brief, etc.)
Keep all your digital files, logo versions, and submitted logo design files, safe and backed-up.
Use an online project management application, like CageApp, that will provide all the proof anyone could need that you upheld you side of the contract, and also proves that the client accessed, and viewed, all the uploaded logo design ideas, and concepts.
Ensure your ToC's clearly state that deposits are mostly non-refundable, except in those cases, such as: illness etc, prevents you from finishing the the job you were hired to do.
I'll be adding a small paragraph to my own ToC's, stating that: filing a dispute with Paypal, to seek 'reversal of Paypal' payments is not possible, and a complete waste of everybody's time. That Paypal will ultimately side with the designer, so long as digital proof is available, as stated in Paypal's ToC's.
Also, a few other general thoughts at the conclusion of this post.
An Unfortunate Paypal Experience
This post is a direct result of a very unfortunate experience I had with a ruthless client, and Paypal, just a few days ago.
I immediately took to Twitter to vent my anger, frustration and complete bewilderment at the apparent ease at which a client of mine had managed to get Paypal to reverse a £800 deposit, paid to me, for a new logo design. I also want to add that I resisted the temptation to publicly name the client, as angry as I was, and I'm so glad that I was able to resist a somewhat strong urge.
A Very Cautionary Paypal Tale
Anger because this deposit had been paid some 6 weeks earlier, and I had subsequently worked over 100 hours, over a 6 week period, on this logo design project.
If this so-called 'dispute' was upheld, it basically meant I had done 6 weeks of work, equating to an £800 deposit—in real world terms this was peanuts due to tax etc, and meant I had no means to pay my mortgage and bills for this following month.
This £800 was my income/wages for the previous month, not some random bonus that could be reversed without much collateral damage. Imagine you working for 6 weeks and getting paid, then using that money to pay bills, and generally fund living a life, only to be told you had to pay it back!
After the client lodged an official dispute, a very quick and simple procedure, Paypal were just as quick to put this deposit of £800 on immediate hold, meaning I now I owed Paypal £800.
Aggrieved Client from Hell?
I should add here why the client was felt so aggrieved that they had to first threaten me with taking this to Paypal, then actually following through: we were close to the suggested deadline for the completion of the logo, yet they had summarily dismissed a number of very workable solutions, had themselves been late (upwards of 1 week) to actually get back to me with feedback, and changed the brief enough to warrant going back to the drawing board a number of times.
This required a refocus of my efforts trying to appease their somewhat unrealistic expectations, so it it made sense, at least to me, the deadline would suffer. There is also the mention, in my ToC's, that I cannot come close to promising a final delivery date, for a logo design, due to certain things somewhat out of my control, like the client repeatedly not liking a design.
Each time a design is dismissed, more time is needed to come up with another design. If that desing is dimissed, then yet more time is needed. At some point I'll draw the line, and gently hint that one of the previous ideas has to be chosen, at least as a general direction from which to work from.
Apparently all of this 'not getting anywhere' was all of my own making, and if I didn't, "pick up the pace" as they quoted to me, they would look to get their deposit back from Paypal.
Sure, I'm the one designing the logos, and I'll take my portion of the blame for not being able to visualise a constantly changing brief, and nit-picky client

So OK, I know there are often 2-sides to every story, but in all honestly, there really wasn't anything I could have done differently, other than to have been much stronger armed earlier in the process, than I already had been, but it was my choice to continually try and get this logo design project resolved for them. Mostly because I just wanted the thing done and dusted, to the best of my ability.
Sometimes you genuinely do think the end is in sight, but then you're not, and other times you don't fully see you are being taken for a massive ride… This client was certainly a challenge, but I didn't foresee them acting in this way at all.
I've been doing this gig for a fair while now, and I can honestly say these clients were one of the most unreasonable, most arrogant most incredibly ruthless clients I have every worked with, yet I still tried my utmost to design a logo that they could finally say, "Yes!". I'm quite capable of biting my teeth, and riding out a period of client unpleasantness, but for all my patience, putting myself really on the line, all they could come back with was to try and threaten me with the loss of my deposit: my income and earnings for a month!
Would it be silly of me to add that 'most' reasonable people would accept a deposit (one months earnings) as being non-refundable, as my ToC's had clearly stated?
A monologue that I have sent PayPal regarding the dubiousness of them playing Judge & Jury in valuing my work/time pic.twitter.com/7ubUJNWlHp

— Graham 'Logo' Smith (@thelogosmith) September 16, 2014
Back to Twitter
Back to that day in question, and I simply tweeted the hell out of the situation, sharing as much information (but not the clients identity) as I could, and CC'ing in @AskPayPal with every tweet, and my goodness were their a few tweets!
It became clear they were only going to assist me with the resolution process, but certainly not providing any words of wisdom, comfort to someone who was clearly petrified about loosing 6 weeks worth of labor to a shitty uncompromising client.
If you feel inclined, just take a look at my Twitter stream for that day, the 16th September 2014, starting from 11.46am. It's a good days worth of tweeting and DM'ing to @askpaypal who I shall say were quick to establish contact, and clinically guide me through the 'resolution' process.
This was one of the very few times I felt so incredibly defeated, deflated, used, abused, anxious, scared and just generally very low spirited.
Even feeling like this, the hell I was going to allow this client, or Paypal for the matter, ride rough-shot over me! This is why I used social media to simply carpet bomb the living hell out of this particular situation, rather than just keep it to myself.
Paypal: Judge and Jury
In order to have any luck at reversing this decision, I had to basically prove to Paypal that I had 'delivered' the 'services/goods' that were paid for.
Fortunately I had every email, every long-winded explanation of each of my logo concepts, screenshots and master files of each of the logo designs, PDF's of the invoice, changes to the brief via there emails also showing there relentless negativity and unmovable ability to be flexible, and finally their very very stupid attempt to try and get me to, "pick up the pace a bit".
Anyone who's anyone should know that resorting to email threats is a recipe for disaster, and this proved to be the smoking-gun that I needed to smash that last nail oh-so-very hard.
After working with @askpaypal the whole of that afternoon, and uploading all the necessary items of proof, Paypal said they would go away and 'investigate' the situation.
The following morning there was an email from Paypal (above) saying:
"We have concluded our investigation of the Buyer Complaint for the transaction detailed below.

As stated in our User Agreement, PayPal's Buyer Complaint Policy applies only to the postage of actual goods and does not apply to complaints about services and other intangible goods. Therefore, we cannot take any action in this matter."
I would indeed be having the deposit released back to me, and the client could kiss my…  Yes I felt pleased, but still felt a nasty taste in mouth: having to go through a period of anxiety over something that could have seriously caused me some financial difficulties.
Also considerably miffed that Paypal, who seemingly have such a clear official position on this, that it still took them 24 hours to get back to me, and not even hint to me that there was likely no grounds to uphold the dispute. They knew from the outset this wasn't about 'a posted item not received or sent', but was in fact about 'services and other intangible goods'.
From where I was sitting, the outcome should have been immediately clear to them after receiving all my proof, but it still took till the next day to get the answer, and in this minor period of time I was repeatedly expecting the worse, that Paypal would side with the 'poor aggrieved client'.
What is also worrying: I had heard other similar stories where the designer lost the deposit, which begs the question is there still such a massive lack of continuity with some of Paypal's ToC's, or more specifically, how certain Paypal staff might perceive a certain dispute?
Is Paypal a Risk?
During this period of uncertainty, it became clear that using Paypal to receive money from clients, for services, looked like being a massive risk. If any client could lodge a dispute, and have any amount of funds withdrawn, any period of time 'after' sending, then this surely would be a hugely unacceptable way of managing a payment company.
This lead to a lot of conversations, and statements, not just from me, about not using Paypal any more to accept client deposits, should Paypal side with the client.
Clearly, in the end, Paypal DOES provide protection for people providing digital services and goods, in so much as the client cannot, at any time, simply believe they can reverse the payment process, if something has made them a little unhappy.
Conclusion
You've already read the basic advice that I put at the beginning, but simply: should you find yourself in a similar situation, where a client tries to strong-arm their payment to you back, try not to panic too much like I had done.
If you have proof that you had delivered on the contract, that you delivered the digital files, and/or are still delivering on the contract, and still in the process of designing and delivering logo ideas via email etc, then according to Paypal's own ToC's, a client doesn't have a leg to stand on, even though you might see funds 'temporarily reversed' while Paypal 'investigates'.
Don't even contemplate 'not doing anything (proving your side of the facts)', as Paypal WILL likely favour the client. Make sure you respond immediately to the 'dispute', and send Paypal everything you possibly can to categorically prove you had/are delivering on the agreement.
It's not for Paypal to decide if your designs are good or bad, worth the deposit paid, or not. Paypal simply just need to see that you had acted, or are continuing to act in good-faith, much as I was.
Also, don't feel tempted to hurtle angry emails to the client. I managed to cease all communications the moment I realised they had lodged a 'dispute', and I made sure that I did not contact them again, in any way.
Once it was all over, I did however, send this little email off: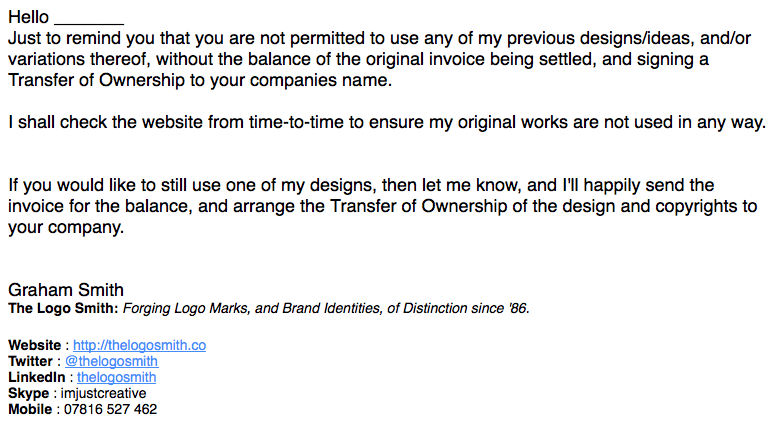 That's the last I heard form the client, and last email I have so far sent. No more, no less.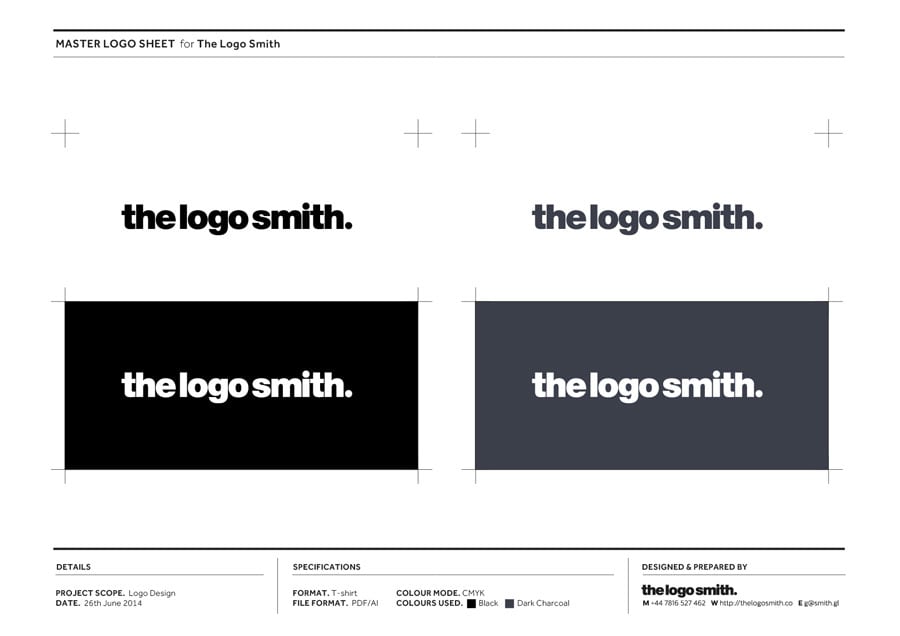 This Logo Template has been updated, please visit:
Download Master Client Logo Sheet Template.zip
The above link will download a ZIP archive of an: Adobe Illustrator CC7 file (without embedded fonts) and a PDF (with embedded fonts), all ready for you to present those finished master logo files nicely to your client.
Client Logo Sheet
I have settled on this style of Client Logo Sheet for providing, and presenting, my own clients with the finished logo files. Each one has a few bits of useful information, such as: the colour mode used in Illustrator, either RGB or CMYK and list of the actual colours used in the logo.
I've locked all the elements other than the logo itself, so it's easy for a client to select and copy without picking up surrounding elements etc. On my example I have 4 different colour variations, but you could adjust it to show just one colour, or even add more rows/columns depending on how many colour versions are to be used. Probably best not to cram say 6 different logos on one sheet, as part of this logo sheet is to present the logo in a nice clear way.
The Client Logo Sheets are not replacing the more detailed Logo Guidelines/Logo Specification sheets as not all clients opt to have these developed, but all clients will get the Client Logo Sheet at the end of each project.
Feel free to use the Master Client Logo Sheet Template as is, or change the layout/contents as you see fit (obviously remove all instance of my name and details). Hope you find it useful. 
Download Master Client Logo Sheet Template.zip
Another Logo Sheet Example
Here's a version of the Client Logo Sheet I have just done for my latest finished logo redesign project, for Codestag.
SaveSave
SaveSaveSaveSave
This post is just a little primer on Logo Design Copyright, I'll cover it in more detail in a forthcoming post.
Copyright Basics
The topic of Copyright seems to leave some folk quite baffled, but in actuality, the important basics are pretty straightforward.
Not to say copyright in general is straightforward, but it can be a nasty messy business when designs clash, ideas are borrowed etc.
The very action of designing something/anything unique means the creator has the copyright; an exception to this is if you copy, steal or plagiarise a design! On it's most basic level, copyright of unique visual design is automatic, and originates with the designer.
Thus, any unique logo that I designed for a client will have automatically had copyright assigned to it, and to me.
Everyone of my unique logo designs and more detail brand identity projects, in my portfolio, started off with it's copyright belonging to your's truly.
I didn't need to register it with any fancy office, I didn't need to sign any documents, or use my blood to create an unbreakable moral seal.
One can help define Logo Design Copyright (ownership), by adding the immortal words: All Logo Designs © Copyright 2017 The Logo Smith, or something along those lines.
This simply helps advertise the fact you are claiming, staking your ownership, of anything that is appended with that text.
It's a way of clarifying when a unique design was created, and who is taking ownership, in the case of a dispute: such as someone stealing, or simply accidentally coming up with a very similar design.
This is when blogging (then quickly submitting it to Google and Bing etc) about that cool new logo design, and submitting that logo to various popular online portfolios, all help define who and when something was created, and greatly aids in any possible copyright clash as they all provide times, dates and clarity on who was there with that design first.
Transferring Logo Design Copyright To My Client
Transferring any Logo Design Copyright is simple, and yet I see instances where clients are almost extorted out of further money in order to obtain full Logo Design Copyright of a unique design they have paid a designer to create.
I have covered this topic in a previous post: Logo Design Ownership: Make it Easy For Your Client To Own The Logo
As a freelance logo designer: it's an obligation to ensure your client ends up owning the the copyright of the logo you have designed for them, and this includes any additional brand identity elements and visual assets etc.
The transfer of the existing copyright and ownership, as the creator, isn't done automatically, and neither is it a 'given' when invoices are settled, and designer and client part ways.
It's a process that has to be initiated by the designer, or suggested by the client.
Transfer Copyright And Ownership To The Client
In order to transfer existing ownership of the logo design, to your client, you simply sign a written statement/contract, that states you are transferring all ownership and copyright to the named party, in this case your client.
For example, I have a Transfer of Copyright form that I sign and send when the project is all completed, and not likely to be subject to any last minute changes.
Once you do this, you no longer have any claim to that design, so if you want to ensure you are safe to showcase the logo and brand identity visuals in your portfolio etc, that this is agreed before signing over ownership.
This is something that actually could be briefly covered in your Logo Design Proposal, so at least the client is made aware of how they can obtain full design copyrights and ownership before proceeding—I think I will a actually update my Logo Design Proposal Template to include this soon!
Conclusion
As previously mentioned, this is a super quick primer on the initial aspects of copyright in logo design, and it's by far the end of the story.
However, it should be enough to give you some peace of mind that you don't need to hire a lawyer to simply copyright your own logo design works, and that transfer of copyright and ownership is just as straight forward.
Trademarks
The real challenges come with: Trademarks, Registered Trademarks and aspects of supposed Copyright and Ownership of non-unique works, this is when epic battles are won and lost in the courtroom.
There are various online services, such as: http://www.copyrightservice.co.uk/ and http://www.uktrademarkregistration.co.uk/ that help you to register a particular copyright and/or trademark, but they are often subscribed/premium services that assist you in times of conflict, but they are not compulsory.
There is also a good article about Trademarks, which is well worth a read.
If a copyright/trademark conflict occurs, these services can help pin-point original ownership, and they can also provide legal advice and other services, but you'd still end up having to hire a lawyer in the worse case scenarios.
But if you want extra peace-of-mind, then it does no harm (other than your wallet) to use one of them.
Kerr Recruitment Logo and Brand Identity ReDesign
Portfolio Update: I'm fortunate to be collaborating with Positive Advertising on this project for Kerr Recruitment. This logo and brand identity redesign project is still currently in development, but I'm happy to share the process so far of this logo and brand identity redesign.
The images detail some of the extensive mock-ups, and mood-boards, that I designed for Kerr Recruitment. This was a project where only this one main logo idea was worked-up and presented to the client, hence the need to provide the client a visual way to see the true potential of the design.
The mock-ups are based on Kerr's current applications of the logo and brand identity, additional requests by the client as part of the redesign, but also more ambitious exterior applications like the billboard, and the interior brushed metal sign.
All these mock-ups allow the client to better visualise how the logo and the supporting identity materials could be used in various practical and physical applications.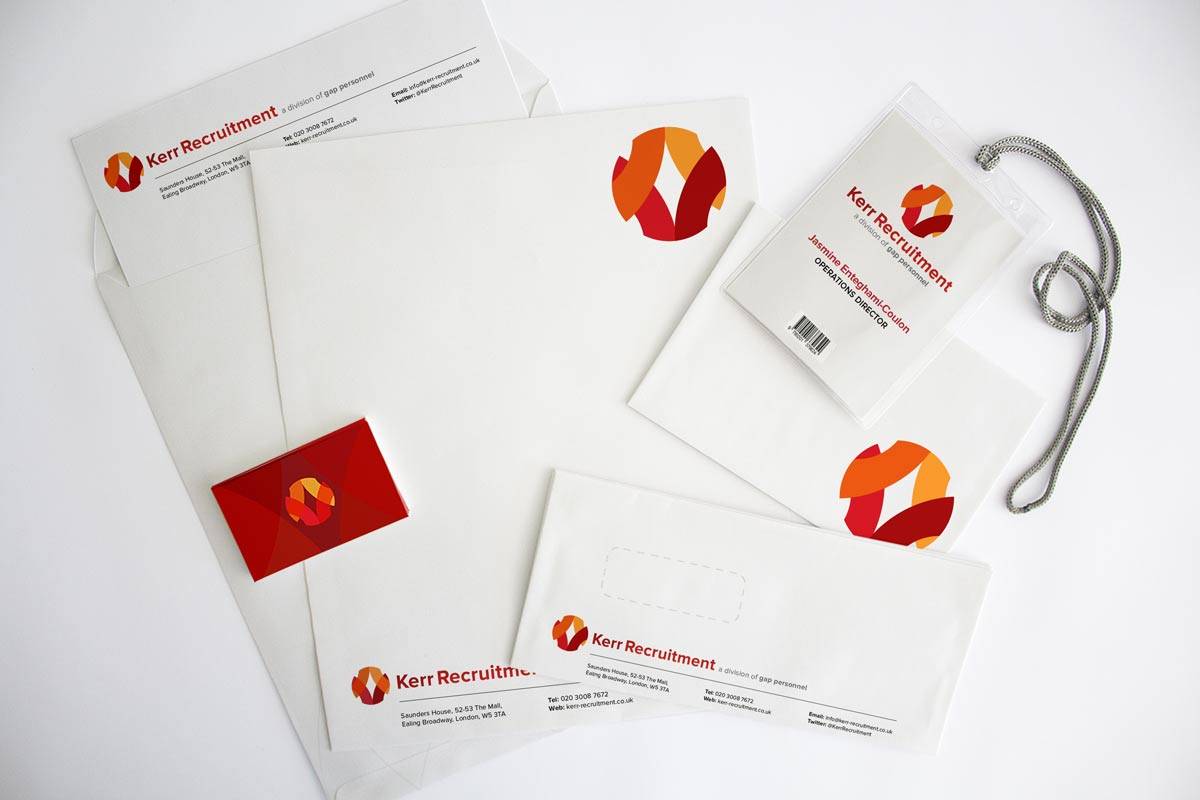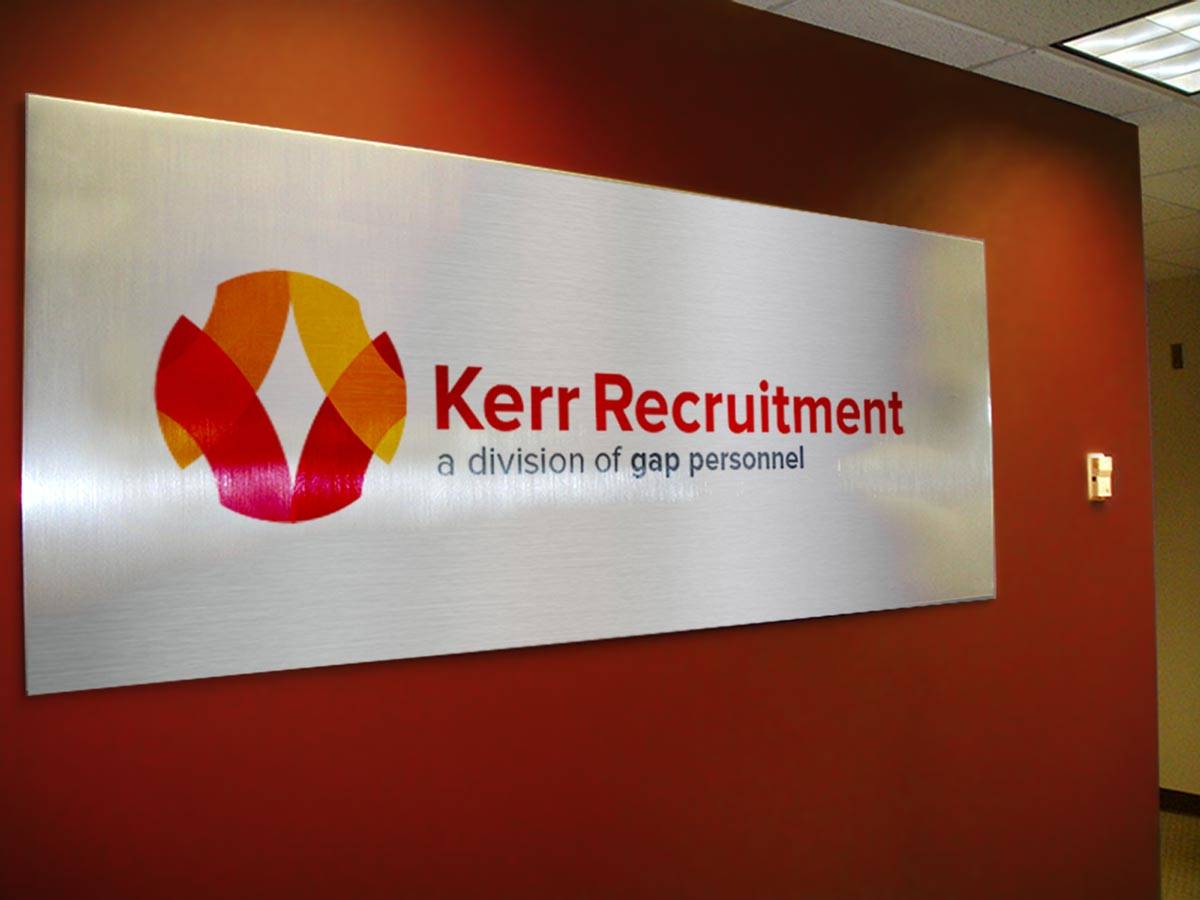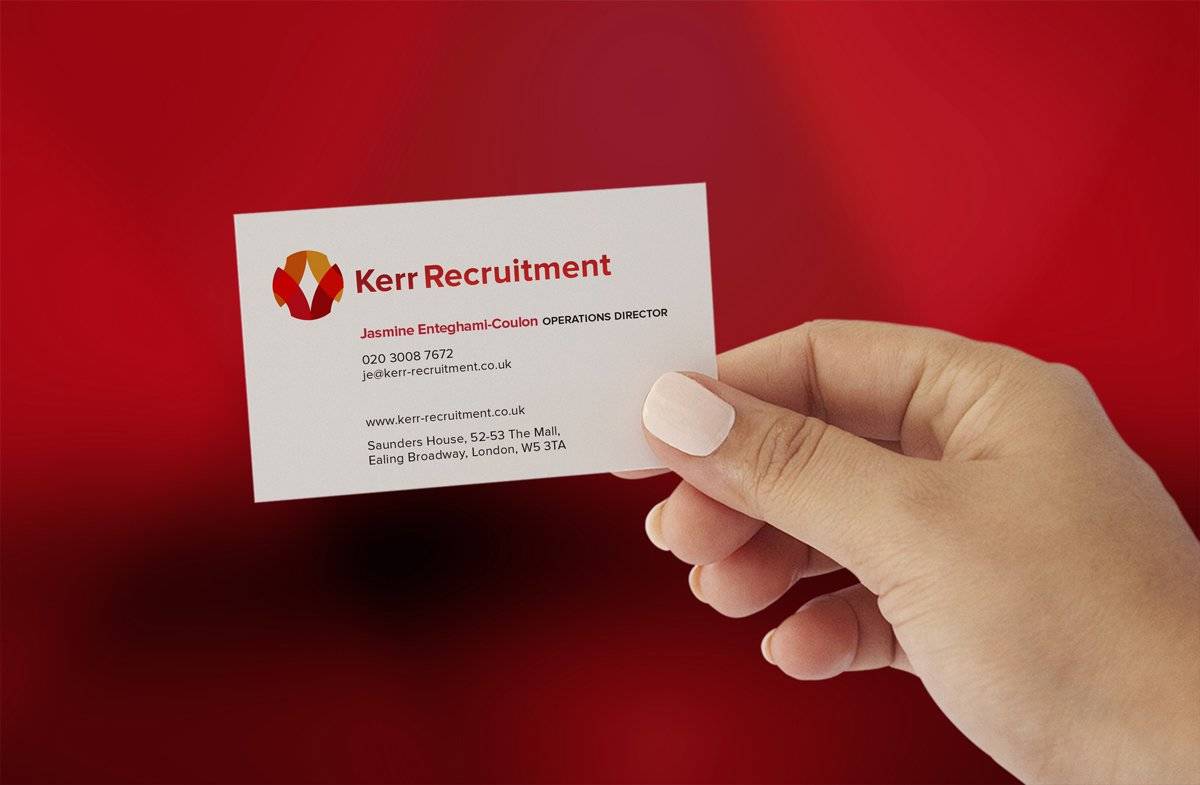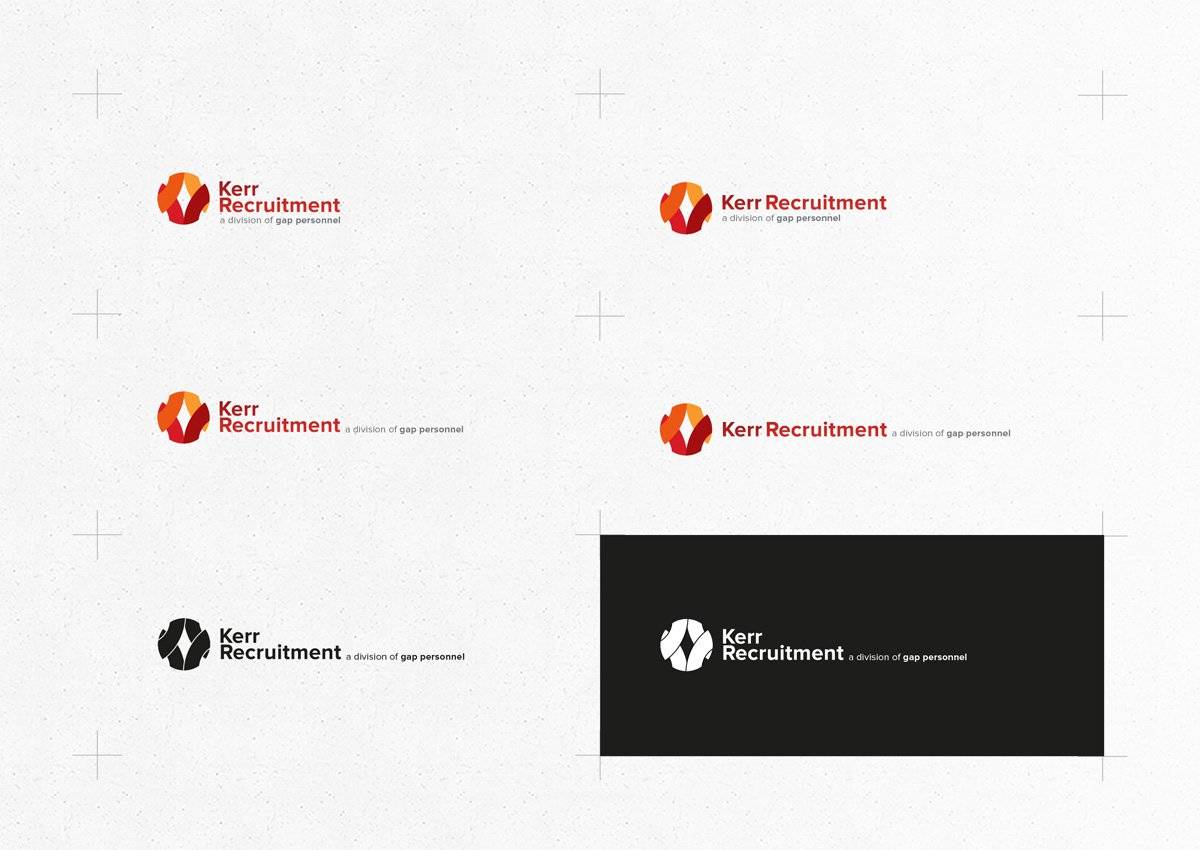 Being a freelance logo designer, or any other designer for that matter, we often see our fair share of NDA's—what is an NDA: Non-Disclosure Agreement?—that are dispatched by way of potential clients. Signing an NDA doesn't mean you got the job, far from it, just means you are being entrusted with some potentially valuable information.
Do I Need to Sign an NDA?
You don't have to sign an NDA, but the chances are you'll not be considered for whatever project is up for grabs.
I've always thoroughly read each and every NDA that has come my way, and generally been happy to sign my acceptance of said NDA. I do often think they are sometimes a little overkill given some of the projects I have actually seen associated with them, but that's just a side thought.
I think it's generally too easy to get sucked into a one-way way of thinking when given an NDA, especially when a freelance logo designer might be perceived as a walk-over in some regards: that this form is do or die, and that one just has to go with the flow, regardless of any inconvenience the client may cause later down the line.
You know the drill: you get a lead and the project looks great, but the client requests an NDA is signed before any information pertaining to the brief is shared. You're keen to get the job, so you fill the NDA in, and hope for the best.
Can an NDA Cause Me Problems?
If you don't fully read and understand what NDA is for, and to what you are giving your signature too, then sure, conflicts or problems could arise.
What you might not be aware of, is that the NDA may actually contain aspects that contradict your own work guidelines, ethics and even Terms & Conditions.
Sure, you might be aware of certain inconveniences, if you read the NDA, and you might be OK taking a little hit with procedure just to land this job. Hell, it might be quite a major inconvenience, but you have at least given it some thought and made a decision to suck it and see.
Sharing an Experience with an NDA
Just going to share a little story that lead me to think more pro-actively about my own position as a freelance logo designer, before blindly signing any more client NDA's.
I came across a project that started out very well, and an NDA was read and signed by myself. The client also, presumably, read my own Terms and Conditions (I always ask for a signed form stating they accept my Terms), and was equally content.
The deposit was paid, and we started work.
Long and short of it was that the client didn't pay the balance. Now this meant that I was pissed, but it also meant a grey line had been forged in the virtual sand, as this suddenly opened up a myriad of thoughts and options for me. What trumped what? Did the NDA trump my own client signed ToC's, or that the client signing my own ToC's meant they were equally, and legally bound?
The terms in the NDA that I signed, and my terms that they signed, obviously now posed somewhat of a challenge, as they were completely at odd's with each other. I strongly believed that I held the higher moral ground because they had simply not paid for a logo design that I had completed, and that they were now using.
I'll just go ahead and assume, somewhat cynically, that they counted on their NDA posing a challenging situation for me to reel in.
An assumption they might have made was that I couldn't make a fuss over this, say for example by: blogging and naming about a client who didn't pay for the completed logo design, was that the NDA simply forbade me to discuss any part of the project. Fair enough I guess.
However, my own terms (that they signed) clearly explained that I would be free to: resell, blog, display in my portfolio, submit to external logo gallery websites, to repurpose the logo for another client, etc, if at any point the final balance was not forthcoming.
Long Story Cut VERY Short
Any who, with some colourful exchanges, and me sticking very firmly to what I believed was morally right, even if not 100% legally right, I managed to 'persuade' this client that it was more useful and valuable for them to pay-up, than suffer at the hands of one of my massive social media outpourings. No threats were made, just relied on some common sense assumptions being made.
They had far too much to risk to play that poker game with me.
You Can Negotiate Changes Within the NDA
Don't assume the Non-Disclosure Agreement is an impenetrable force, and can't be revised: if the client is keen to work with you, but you have some misgivings about the NDA, specifically how it might affect your actual work for the client, then there is a good chance the client will get the NDA revised.
My experience made me realise that I would not just accept every other NDA that came my way—as they are generally pretty much the same in content—and that I would ask for each NDA to be adjusted. When I say 'each NDA', I mean I'll take it on a client-by-client basis, and use my internal Gut-o-meter to smell out any possible problematic client.
This isn't about me ripping on all clients, when it comes to an NDA, that don't abide by the Gentlemanly Rules of Cricket, it's just highlighting the results of one more personal experience that has lead me to practice safe client relations.
The adjustment would introduce a simple addition, simply stating that, in some form or another: if the client did not pay the full invoiced amount when presented with the final invoice, that I would be legally entitled to: discuss the project; reuse, display and promote the work I have designed, all after a 'reasonable' number of invoice reminders for the balance to be paid had been sent, and regardless of if they use the logo design or not, unless otherwise previously agreed.
It's a pretty strong incentive. Not many clients, I think, are asked to reword their NDA, and especially with a change that explicitly lists the possible damages of them not fulfilling their end of the deal.
If any client refuses to add this clause, then I simply walk away. I'm not going to even entertain the idea of signing an NDA with a client who is not prepared to put their signature to a perfectly reasonable amendment.
I'm not a lawyer, and I have no idea even if I have any ground to ask for such things. To be honest, I don't really care. If the client has to think twice about legally documenting their commitment to paying the full invoiced amount, means I just don't want to know.
What's really sad? Is that I had to think about playing this card in the first place.
Take from this what you will. The client wants to protect what's theirs, and I want to protect what's mine. Seems fair and reasonable to meet somewhere in the middle if they insist an NDA is part of the project.
In this post I'll provide some basic, but useful, advice for clients who are looking to find and hire a logo designer on Google, and the Website in General
If there is one thing I know for certain? It's that it must be a complete nightmare to hire a logo designer that 'ticks all the boxes', not because there are so few of us logo designers around: it's actually the complete opposite.
There are gazillions of potential logo designer candidates worldwide: all of varying skill levels, some with years of experience and some none at all; some experienced without any academic qualifications, and some with; some with a unique 'signature' design style, and others who are very adaptable; some that are cheap, mid-priced, and others that pitch higher than usual.
I really don't know what 'the' usual price level is for logo designers given the sheer scope of factors that can and do determine how much a logo designer can, should, does, or doesn't charge
Some are local for a given search, and some will be geographically challenged; some talented logo designers simply don't advertise, or make it easy to be found, whilst some logo designers have the marketing, advertising, social networking savvy that makes it easier for them to be found; some are well-known, and some are not; and so on.
Just to be clear: I am mostly talking about the self-employed/freelance logo designer, not so much the hobbyist, or indeed the larger design studio/agency. 
However, it's certainly a travesty that certain logo design shops tend to dominate Google's (and other search engines) top rankings, as well as completely gobbling up the sponsored ad spots, which must cost them a complete fortune to run day-after-day-after-day (I can barely afford the minimum for one day).
Typical search terms, like: "logo designer", "logo design", "freelance logo designer", "professional logo designer", "I need a logo designer", and so on, are invariably 'taken' for Google 1st page results.
It's Better Than it Was
For sure, things are much better on Google than they were, even just 2 or so years ago. Google has done an incredible job really, when you think about it, of clearing up the no-good-for-nothing-black-hat-gangsters looking to prey on the weak and naive.
I clearly remember thinking how on earth is someone like me will ever be found on Google: the proverbial needle in the haystack, likely at the bottom, in the middle and buried under 5ft of earth.
It's a Daunting Process To Hire a Logo Designer
It's a daunting process trying to locate a suitable logo designer for your needs, made even harder when you have to negotiate and filter out logo design 'battery farms'.  You may be looking for a certain type of designer, or looking for a company local to you.
Yet, whatever you search for in Google, you are faced with the many number of search results focusing on the latest marketing buzz hook: 'free logo designs', 'logo designers for $5', 'create your own logo for free online', '300% Guarantee', 'professional logo design for £19.99 in under 24 hours', 'bronze package', 'silver package', 'carbon fibre with titanium and moon rock dust package'.
I need to emphasise that not all the 'package deal' options are to be avoided, far from it. But this is part of the problem, some of these package-dealers try hard to look respectable, genuine and honest, and often succeed in doing so.
Being discovered is seemingly the hardest challenge for the: solo, self-employed, small studio logo designer. The genuine, the sincere, the passionate logo designer will likely not have the funds, resources and audacity, needed to prise themselves to top of the 1st page of search results.
Look Past the 1st Page
All these search results seem to take up the first page, you may be lucky and find a respectable and very reputable logo design studio/agency dotted the 1st page of results, but it helps to know what you are looking for, and what specifically one should avoid.
Unless you are familiar with graphic design, and have inside track on the logo design industry, you may find yourself out-manned, and out-gunned, and very quickly out-financed.
You may end up exhausted and frustrated in your search, giving up and opting to go with a logo designer that you just hope will deliver. The promise of that 'Titanium Package with unlimited tweaks, designed in 24 hours and only costing you a fantastically cheap rate of £49.99' seems to good to be true.
If you're needs are small, and you simply don't care much for quality, then you'll be serviced just fine, but if you feel the logo and identity is important to you, then it's unlikely the cheap options, but the ones that you'll be served up on the 1st page, will indeed deliver.
Picking up the Pieces
In recent years, I have found myself, more and more, picking up the pieces for a number of clients who thought they'd try their luck with the cheaper logo design option, or crowd sourcing site, such as 99Designs.
Invariably, after being served up their 3-5 logo ideas, they realise how utterly disappointing the experience has been. Then it's usually a case of having to pay yet more money to now find a more competent, and personable, logo designer.
It's quite gutting for me to see the sort of work they were presented, you can just hear the utter disappointment in the their voices. The realisation of how far behind schedule they are, and now having to pay all over again.
Some General Advice to Hire a Logo Designer
The best advice I can give, without sounding too 'use me, use me' is to not rush any part of this process of finding a logo designer to work with. If you are genuinely short of time, then the first option below could be the life saver you need.
RECOMMENDATIONS
Recommendations are valuable, if you know of someone who had a logo designed, then ask them for a name. Twitter is perfect for this sort of method, as word-of-mouth quickly spreads, and you could have a interesting mix of contacts to check out.
GOOGLE
Ultimately, and this really is the moral and purpose of this post: Don't give up looking on Google once you reach the end of Page 1. I can assure you: if you spend time looking through pages: 2, 3, 4, 5, 6, 7, 8 and onwards, you'll come across some truly talented logo designers.
Just because a logo designer does not appear on page 1 of your favourite search engine, it certainly does not mean they should be ignored. If anything, it's this reason that they ought to be given more of your time.
"Poor Google rankings, and placement, is by no means a reflection on the integrity, skill and reputation of a logo designer."
I know many talented designers that probably don't come even in the first 5 pages of search results.
A GOOD FIT
And this is the thing, try to find a logo designer that is a good fit for you, not just visually but also from a personality point of view. The more you can 'gel' with a designer, the better the whole process and the more likely you will have a logo designer prepared to bend over backwards for you.
That level of commitment in a designer just can't be bought. It is a partnership.
COMMUNICATION
A designer who is prepared to talk on the phone, who is relatively transparent in the area of communication and contact is a positive sign, but not all designers can or will spend hours on the phone with their client. This is down to you, go for a designer that feels right for you. You may be OK with not needing to talk on the phone to discuss progress, or you may be someone that needs that level of feedback and interaction.
To Conclude
Many logo designers are keen social media junkies, actively contributing to the design community, writing and posting on their own blogs, chatting with other like minded designers on Twitter and Facebook.
You'll find some super talented logo designers on Flickr, just browser through some of the popular Groups, even basic search queries will provide some good results to check out. Dribbble is another major creative platform that should certainly result in finding a suitable designer to work with.
There are heaps of external portfolio sites, such as Behance, Iconify etc, that specialise in showcasing logo and brand identity projects, and these provide a proverbial gold-mine of talented designers to pick from.
Don't rush your search to hire a logo designer, but do try to be a little more selective on where you conduct the search.
If it's Google, then you'll be rewarded if you generally scoot pass the 1st page of results.
Don't ignore the 1st page, as it depends completely on your search term, but do allow yourself time to give the next few pages of results some of your time.
We are everywhere, if you know where to look.
© 2005-2018 All Rights Reserved The Logo Smith
Logo Designer & Brand Identity Design Studio, with 25 Years Experience.
Graham Smith: 10 Badgers Copse, Seaford, East Sussex, England.
Tel: +44 (0) 7816 527 462 Email: [email protected]