Steve Jobs Tribute Typographic Poster Designed by Oliver Gareis
This Steve Jobs Tribute Typographic Poster has to be one of the best graphic design tributes I've seen in a while. Oliver Gareis has done an outstanding job of mixing and matching a whole bunch of typographic styles, into something really rather elegant and stylish.
In basic type theory (using more than a few font styles in one layout etc) it should be a mess, but it just seems to work so well.
It might not be to everyones taste, but I love it.
You must go over to Oliver's Behance profile: Steve Jobs Famous Quote Typography to view the original project, and to also watch a time lapse video of the posters development.
Oliver explains how this came to be, and how long it took:
About one year ago I started this project, when the agency where I work full time decided that they want to pimp their office.

We brainstormed on what to do, and finally decided to write a quote on the wall of someone who is an inspiration to all of us, namely Steve Jobs.

So I sat down, took some time of reconsidering and picked a truly inspiring quote of him. First, I started drawing everything on paper.

Secondly, I scanned everything and assembled the four A4 sized papers into one piece with Illustrator.

It was a lot of hard work to create this illustration but it was definitely worth it. After I finished the illustration I drew the piece on our office wall.

It took me about 20 days spread over 4 month to finish this drawing. I would really appreciate it if you can take a look on the time lapse video to see my work."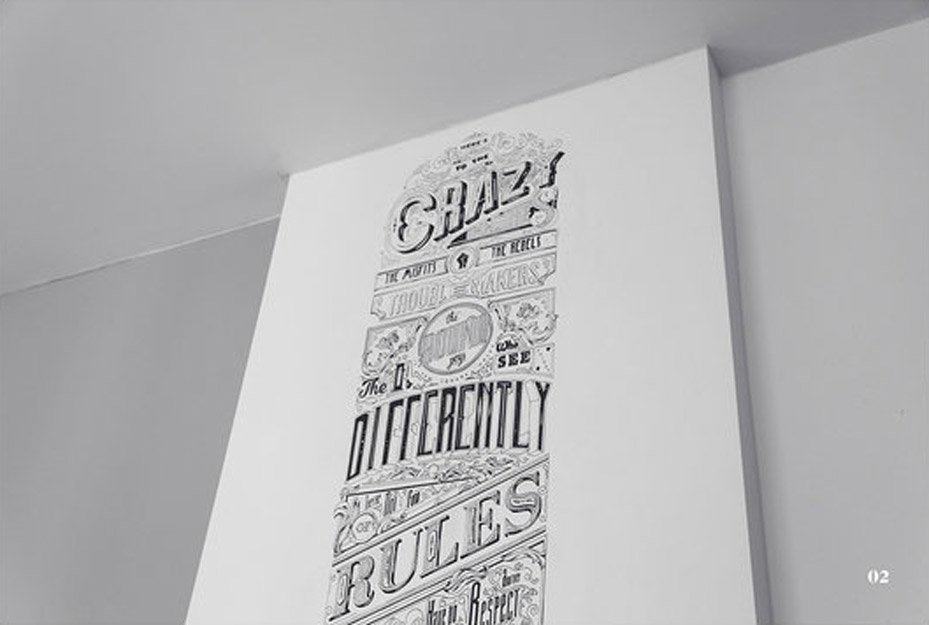 ---
---
If you like the Logo & Brand Identity Design work I have done in my Portfolio, and Case Studies and Monomarks, and are looking to hire yourself a Highly Talented, and Super Experienced (28 Years), Freelance Logo & Brand Identity Designer, then look no further. Visit Hire Me, and fill in the Design Brief, or just Contact me.
The Logo Smith has Full Business Idemnity Insurance (FCA Regulated).