I don't often share my sketches: I feel that within the sketches are possible other ideas for new projects, and it can sometimes seem a little trusting to bear your creative soul in such a way as to just asking to be ripped off. Guess I'm not feeling so cynical today. However: all images are Copyright of imjustcreative-Graham Smith 2012.
Currently working on a new logo project called Shark: a swimwear brand focusing on creating performance mens swim trunks for the aqua competitive.
Initially started out trying to shoehorn in a sharks tail as a form of serif on the S (first lot of doodles on first image), but soon realised that there was a possibilty to manipulate the entire S rather than just a portion.
The aim now is to try and stylise the S to have some form/shape that represents a shark, but without being too lifelike/realistic/literal, but also not so abstract as to have no idea what the hell it is.
I have been inspired by Gothic, BlackLetter and calligraphic style fonts as an initial direction for the logomark. The challenge right now is designing it so it doesn't appear like a seahorse, or too much like a hammerhead shark or other undesirable manifestations of unrelated animals.
The general idea is to fashion the shape so that it looks like the shark is in a tight twist, all ready to fiercely swipe out its tail into your face whilst propelling itself forward.
There is one doodle I do like, which is in the sketch directly above and is next to the feint 'h'. A little too realistic for this project, but liking the overall form.
Very early days, but I also think we are pretty close to nailing this. My goal is to create a form of this mark that would look utterly awesome as a upper arm tattoo.
---
Previous Post:
Experimental ID for American Airlines by Anna Koveses
Next Post:
8 Page Freelance Logo Design Specification Template for Download
---
Posts of Similar Content: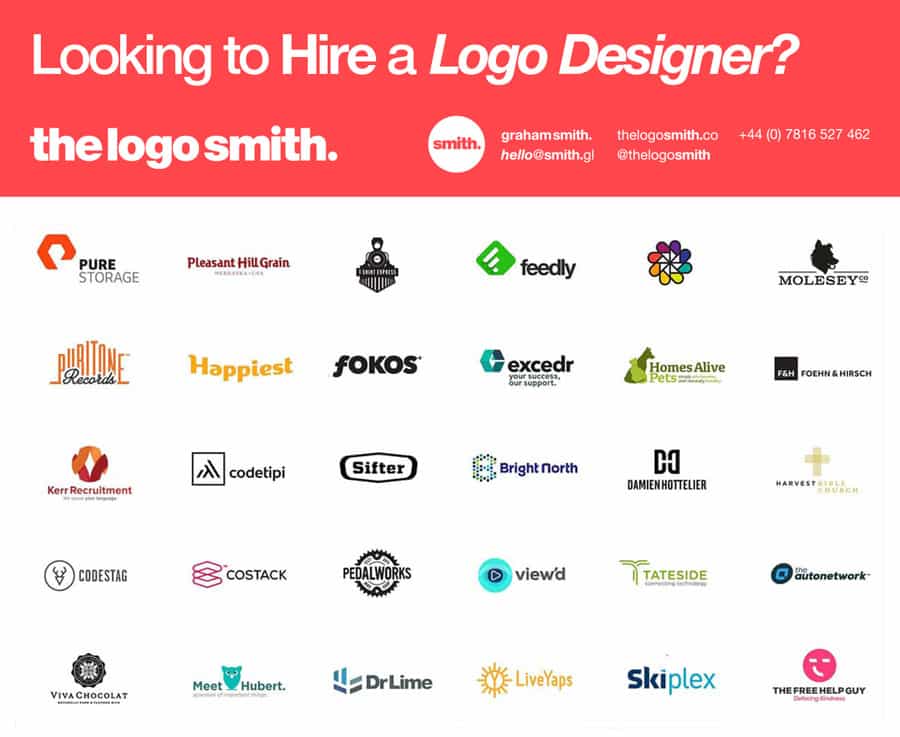 Looking to Hire a Freelance Logo Designer?
If you like the design work I've done in my Portfolio (some examples above), and Monomarks, and are looking to hire yourself a highly talented, and very experienced (25 Years), Logo and Brand Identity Designer, then look no further.
Just visit my Hire Me page, and fill in the short Design Brief. Or, just reach out to me via my even shorter Contact Form.
About | Hire The Logo Smith | FAQ's | Case Studies | Portfolio | Monomarks | Logos for Sale | Contact
---
Home » Design Blog | The Logo Smith | Freelance Logo & Brand Identity Designer » Brand Identity
© 2005-2018 All Rights Reserved The Logo Smith
Logo Designer & Brand Identity Design Studio, with 25 Years Experience.
Graham Smith: 10 Badgers Copse, Seaford, East Sussex, England.
Tel: +44 (0) 7816 527 462 Email: [email protected]