Part 2 Of Simplifying My Apple Macintosh Studio Set-Up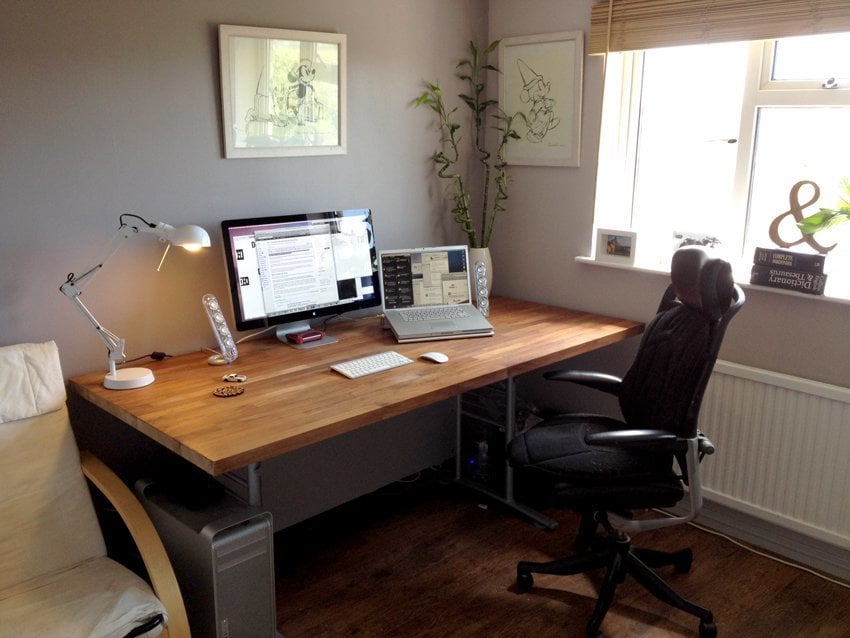 Since posting Simplifying My Apple Macintosh Studio Set-Up I have had chance to really absorb a lot of information, thoughts and practicalities on this subject.
Had loads of really useful feedback, and suggestions on their particular Apple Macintosh set-ups, from a number of people on Twitter, Google+ and post comments.
Armed with all this info I was all set with a solution: replacing my old 17″ MacBook Pro 2009, Intel Mac Pro with a 13″ MacBook Air and 27″ Cinema Display.
I loved the idea of extreme portability: having just one Macintosh for both studio based work and out-and-about computing without the continued hassle of trying to keep the apps, system files, fonts, preferences etc perfectly in sync.
It's easy enough to keep things like mail and documents in sync using great app's like DropBox and other 3rd party file syncing applications, but this isn't enough for me. I need to know that whatever Macintosh I choose to use has everything I need: fonts, font sets, random files, desktop files, emails, applications etc.
Marco Arment Lays It Out
Then I came across a new post by Marco Arment: Back To The Mac, which totally and utterly changed my view on getting one laptop to replace both existing laptop and desktop.
Before I go on, and if you are also considering dumping your desktop Mac Pro for the portability of a Macintosh laptop, please do read Marco's post first. I guarantee his words will prove quite enlightening.
Marco summarises in Back To The Mac: Almost a year ago, I decided to sell my Mac Pro and MacBook Air, consolidating instead into one decked-out 15" MacBook Pro. At the time, having been annoyed by inconveniences and impracticalities of having multiple computers, I wrote: "But multi-computer usage still sucks for so many reasons, because most files, applications, and settings don't sync. And if your laptop has a smaller capacity or lower performance than your desktop (as it probably does), it's going to be less useful than you need, more often than you think."
After reading his thoughts it became clear to me that dumping the awesome Mac Pro for a Macintosh laptop would likely result in similar regrets.
Although it is a great shame that this didn't work out for Marco, his kindness in providing a detailed review of where it went wrong should prove invaluable to those considering the same move, and this includes me.
My Revised Macintosh Plan
To try cut quite a long story short: I decided to keep with my trusty and supremely reliable 2009 Mac Pro whilst spending a little cash on improving my existing set-up, yet not discarding anything in the process.
First thing on the list: improve my visual/physical interaction with my Mac Pro by upgrading the two 24″ Dell LCD's with one 27″ Cinema Display—which I proudly picked up yesterday from the Apple Store, Brighton.
This was always on my shopping list, but it's far no means a cheap purchase and I have had to save hard for this gorgeous display. I save up and pay cash for anything I buy as I no longer have any credit cards or access to any form of loan or credit.
The 27″ Cinema display has totally transformed the Macintosh experience as well as now having one sleek display instead of two. The increased resolution, and screen real estate, is a real productivity boon.
The next part of the plan: somehow utilise my 17″ MacBook Pro Core 2 Duo. It's still a mighty fine laptop even with: broken keys, power button, battery and dents and scratches.
I was hoping that I could daisy chain the laptop to the 27″ & Mac Pro so that the laptop's screen could used by the Mac Pro therefore partially replicating my liking of working with two displays.
I had a few choices at this point one of which was to add one of my 24″ Dell screens to the 27″, but I didn't want to do that for various reasons. The other was to crack on with the one 27″ screen, where for the last two decades I have been used to a two screen set-up, which is perfectly feasibly due to the epic resolution of the 27″ Cinema Display.
Macintosh Laptop As 2nd Monitor
After some digging around I found a few interesting methods that would enable me to use the MacBook Pro's screen as an extension of my working space on the 27″. The idea of a much smaller second screen was far more appealing that an aged 24″ Dell.
If you are like me and have a decent Macintosh as your workhorse as well as having a spare: iMac, MacBook, MacBook Pro laying around, then you might find the following options quite useful.
These are not perfect solutions as they rely on 3rd party solutions, but I have been using the first of of them for the last 24 hours with no problems to report as yet.
Synergy
Synergy is an open-source application that allows you to control a second Macintosh/PC with the mouse and keyboard of your main work Macintosh/PC. This is such a simple idea yet it has given a whole new lease of life to my 17″ MacBook Pro.
Synergy-foss.org: Synergy lets you easily share your mouse and keyboard between multiple computers on your desk, and it's Free and Open Source. Just move your mouse off the edge of one computer's screen on to another. You can even share all of your clipboards. All you need is a network connection. Synergy is cross-platform (works on Windows, Mac OS X and Linux).
Need to thank Theron S @therons for the heads up on Synergy yesterday on Twitter.
@imjustcreative bit.ly/bk0dJnand GUI for it… bit.ly/Emu0N

— Theron S (@therons) June 17, 2012
The result of installing Synergy on both my Mac Pro and MacBook Pro is that I can now fully use the laptop with the mouse and keyboard of my Mac Pro.
This is epic.
This allows me to use the MacBook Pro as useful mini second screen in a similar way to what I have been previously used to. I can now keep all the distracting applications and services like: Skype, TweetDeck, Mail and iTunes to the laptop thus keeping my Mac Pro and gorgeous 27″ Cinema Display free of memory hogging applications and clutter.
When I need to focus on work I can simply close the MacBook Pro's lid. That's a winner for me right there.
Teleport
Update: Chris Basile @cbasiledesign, on reading this post, kindly directed me to Teleport, an alternative to Synergy which Chris feels has better Macintosh compatibility.
ScreenRecycler
ScreenRecycler: If you own two computers with separate screens you can use ScreenRecycler. Even your laptop/iPad can be used as a second screen for your main machine.
I did install the demo version of ScreenRecycler and managed to get it working, but there are some noticeable limitations with this method. Noticeably, the screen redraw is painfully slow to update which means relying on this second screen for active mouse work may not be feasible for you.
If all you need a second screen for is to plop some windows or app palettes, then ScreenRecycler may just be a workable solution.
I did play with the settings for some time trying to find a good compromise with screen resolution, quality and tolerable speed/redraw, but it just didn't work out for me, but the app certainly offer some potentially money saving uses.
However,I do love that you can use your iPad or iPhone as a secondary screen.
The End
So there we have it.
It's not what I initially set-out to do, but I have ended up with a cost effective solution that utilises my existing Apple Macintosh computers in a way that I am really rather pleased with.
I don't have that mobile platform I was gunning for, but Marco's words ran very true for me.
I could have gone to all the expense of buying a new Macintosh laptop, setting it up on my desk and then never actually using it as a portable computer. Until I absolutely need a portable Macintosh I will make more of an effort to keep my 17″ MacBook Pro updated and synced with my MacPro.
What I do I have, and which I do feel is a very important consideration when you are using a computer so frequently, is a well formed main display in the form of the Apple 27″ Cinema Display.
This upgrade makes work more enjoyable, more productive and efficient as well as the health benefits of reduced eye and head strain. Where I had two clunky Dell monitors taking up quite a lot of desk space: I now have one efficient display with the option of turning on/off a smaller second display in the MacBook Pro.
This is a huge improvement and has made me realise that one can get value from renewing old thoughts and perceptions by just changing one major ingredient.
I may yet get that 13″ MacBook Air when I have the money set aside for it, but it's not on the horizon for now.
If you have any questions then please do ask away in comments below.
---
---