Logo Design RoundUp Part 7 – How Designers Promote & Brand Themselves
This is Part 7 of the Logo Design Round-Up series. This ongoing series showcases a collection of logos and brand marks, self submitted by a bunch of freelance designers and creative folk in many creative areas. These designers use the logos to sell, promote, brand and market their various skills.
You can see how I designed my own logo in this post : Bastardizing Helvetica for the ImJustCreative Logo Design
If you want to be part of this logo design series, then details can be found at the bottom of this post.
What this collection is not
This is not a competition, it's not a best of, it's not a who has the best logo, it's not a collection of logos that I have chosen. They are logos supplied by those that wanted to be part of this post. And a huge thank you to everyone who has submitted.
This series will go on indefinitely, all the time there are designers prepared to submit their logo designs. If you have submitted recently, but your logo is not included in this post, don't worry, it will be in the next one. I keep each post limited to around 12 logos per post, on a first come first served type of basis.
The logo submissions are displayed in alphabetical order, so no favoritism on my part here. :)
Logo Roundup – Part 7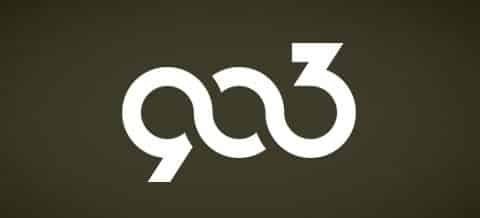 Aaron Gibson – Graphic Design – http://903creative.com
The name 903 refers to Route 903 in Mecklenburg County. For years my wife and I commuted an hour and a half (one way) to work. We quickly realized that if we were to keep this routine, we would have to make the journey just as meaningful as reaching our destination. Route 903 was always the first step in this journey every morning.
Now, 903 Creative applies the same philosophy to solving creative problems. With each design solution that is reached, there are lessons to be learned along the way. Whether commuting or designing, our belief remains the same: The journey is just as important as the destination.
I wanted to logo to reflect the inspiration that was Route 903, so it connects and flows, hopefully leading the eye on a journey through the mark.
Mike Metcalf  –  Code Greene – http://codegreene.com/
I was granted the opportunity to design a blog for our company so that we could better establish our credibility and web development expertise among the peoples of the interwebs. Our company (Code Greene) has always centered our work philosophy around the Japanese principle of "kaizen", and we have a healthy obsession with ninjas. Because of this, I wanted to create a logo for the blog using a typeface that would tie in with a ninjutsu theme.
I knew I had found the perfect font when I saw the ninja-star-like asterisk of Diavlo. The rest of the blog's design was derived from some of these early logo decisions, and I was even able to convert the brackets into some pretty sweets ninja swords.
Robin Johansen – Comfyrene – http://comfyrene.com
The word Comfyrene (if you replace the C with a K) means Electric Stove/Cooker in Norwegian. I wanted a simple, clean and versatile logo that could be used on different backgrounds and in different colours. The sign outside our office is in black and white – but on the site I use the logo in yellow on red at the moment.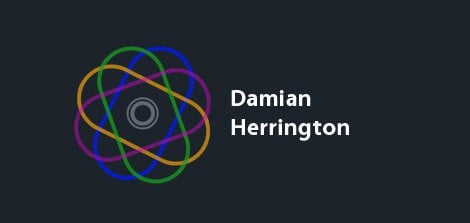 Damian Herrington – Web Designer – http://www.damianherrington.co.uk
I wanted a logo that was clean, easily memorable and something that signified a connection or a bond between me and my clients.
I took inspiration from a number of places including Apple's Genius Sidebar logo which then lead me onto the atom logo which I thought was apt with regards to a connection or bond I had in mind and Fisherspooner's Odyssey album cover. I liked the album cover because it had bright colours and when the lines overlapped they produced another colour. Combining the two I came up with my logo.
DCB DESIGN – Design, Communication & Branding – http://www.dcbdesign.net/
We are a design consultant agency and we are particularly good when it comes to branding, design and printing.
We love ideas, colours, shapes, words, images…basically everything that communicates.
The idea of the logo, was based upon "all elements coming together to create a concept."
Dnyanesh Mankar – Creative designer – http://www.dnyanesh.com
I recently got into designing and like everyone else I needed a good logo. So, I started digging up all the logo galleries for inspiration. Most of them had used Sans-Serif fonts which looked pretty cool. I thought about designing my own typeface for the logo but soon realised it was a tedious thing to do.
I wanted to create something simple and unique. I pretty much fell in love with one logo which had used a Serif font and then I decided to use a serif typeface for my logo. And ultimately, I came up with the 'D'.
Lucas Tetrault
What I really wanted to do with this logo was to stay away from any type of "phoenix" logo I had seen in the past. When I first thought of the name PhoenixWave I didn't know that I was jumping into a pile of "phoenix" names out there. (even in my hometown there is a company called Phoenix Technologies – blah)
There were a lot of Phoenix logos out there and they all typically used a bird shape (mainly the head and beak with powerful eyes etc.) – and I knew right away that was not for me. To me, PhoenixWave meant a wave of new ideas. A "rebirth" of new design perhaps. So with that, I tried to show wings coming up from below in a calm but powerful blue color to help push the "wave" concept home. I am still developing a type treatment to go along with the logo but for now – the wings seem to speak enough for me.
Mariusz Ciesla – Web & Identity Designer – http://mariuszciesla.com
When I re-branded from Dotmariusz Labs to personal branding (Mariusz Ciesla), I had to create new logo for my design studio, somehow resembling my personality and me as a person. I decided to go for something that involves my handwriting style and especially my signature with a swooshy "M" that I use while writing my first name when signing papers.
There were few iterations with a 100% hand-written logo, but those weren't so great so I decided to go with the "M" itself. I took the plain old "M" letter from the Nevis Bold font and started experimenting in adding "serifs" and swooshes in Illustrator. Also had few iterations with that until I came up with a final version that you can see now. Type used for the brand name and tag-line was also changing, from Qlassik Bold in the first iteration, through Mank Sans in second, to Justus – the font that I use now and I'm happy with so far.
I think logo is simple, easy to remember, somehow connected to me as a person, scalable and finally – works well with every color combination. Typography may be changing depending on the context, since the logotype is the most crucial part of it.
Matt Ambler Creative – Graphic Designer & Art Director – www.mattambler.com
My name is Matt Ambler and I'm a Graphic Designer and Art Director.  I graduated with a degree in Advertising so that is more what I cater to.  My favorite aspects are branding and logo designs.  I absolutely love developing ideas for and designing logos.
It is a difficult task to develop a personal logo.  Obviously, the logo should say something about the person and my logo does just that.  I'm sure you noticed that my logo resembles Volkswagen's logo.  I did this for a few reasons.  The main reason is that I have a strong passion for cars and the automotive industry.  The designs and performance figures are what drew me to cars at a very young age, so, I felt this should be reflected in my logo (as it is a big part of who I am).  The second reason I based my logo on Volkswagen's is that the logo will already be somewhat familiar to people.  Rather than creating a completely new identity and foreign design, I've personalized a logo that people already feel a connection to and recognize.
The final idea behind my design is that I bring a different perspective and vision to the things I work on.  I can look at look at logos, ads, brands, etc. and see them in a different light than others would.  Those are the ideas behind my logo.
As much as I do love reading about logo development and concepts, I hate writing about myself so I will end it here.  Please feel free to critique my design or just share thoughts or comments.  Thanks!
Matt Fouty – Graphic Designer – http://mattfouty.com
It took me a while to get going on creating my own logo because I didn't know what I wanted to do. One day, while feeling particularly inspired, I sat down and started sketching. The best thing I did was just start to explore what came easiest and natural for my logo, because, in the end, that would best represent me.
The circular symbol is a combination of the letters in my first name, Matt. You will see an "M", "A", and a "tt". I wanted a symbol that could be used without the text where appropriate.
The wordmark is set in Gotham. This font fits me well with it's clean, geometric look. I separated my first and last name by differentiating the font weights, and joined them back together with the line that crosses the "t"s and the "f".
For the colors, I wanted a combination that stood out as fun and creative, yet still professional. I settled on PMS 360 (green) and PMS 2925 (blue).
Tony McBride – Pixel Pie Media – Graphic Designer – http://pixelpiemedia.co.uk
The logo is an abstract image of the company name. The pixel is represented by the small square and the circle is the pie which is split into three to represent the 3 directors who formed the company.
I kept a simple cool colour scheme and font so the logo can be easily read at any size whilst also remaining timeless.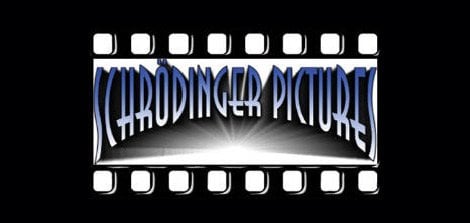 Mike Shields- CEO Schrödinger Pictures – http://getstimulustoday.com
I'm a filmmaker, and my first award winning script, is set in 1939, so, I wanted a logo that inspired that, so, the font I chose was ITC – Anna.
I used to have TypeStyler, but it didn't survive the computer update, and a closer inspection shows a few imperfections in what I have. Someone did the film border for me, and I think it plays. I also have an animated cat jumping out of a film cannister, but won't bore you with that :)
End of Part 7 – Submit Your Own Logo
If you want to add your own logo to forthcoming versions of this post, then check out this post 'I want your creative business logo for forthcoming post'. If you do submit a logo, then please ensure you submit a few paragraphs about how the logo came into being etc. Without this information I can't add your logo.
Flickr Group Pool
I have recently started posting all previous submitted logo's to a Flickr Pool called 'Designers Brands & Logos' to further max the self promotion for you guys. Woop.
---
---