Freelance Logo Design Proposal Template for Download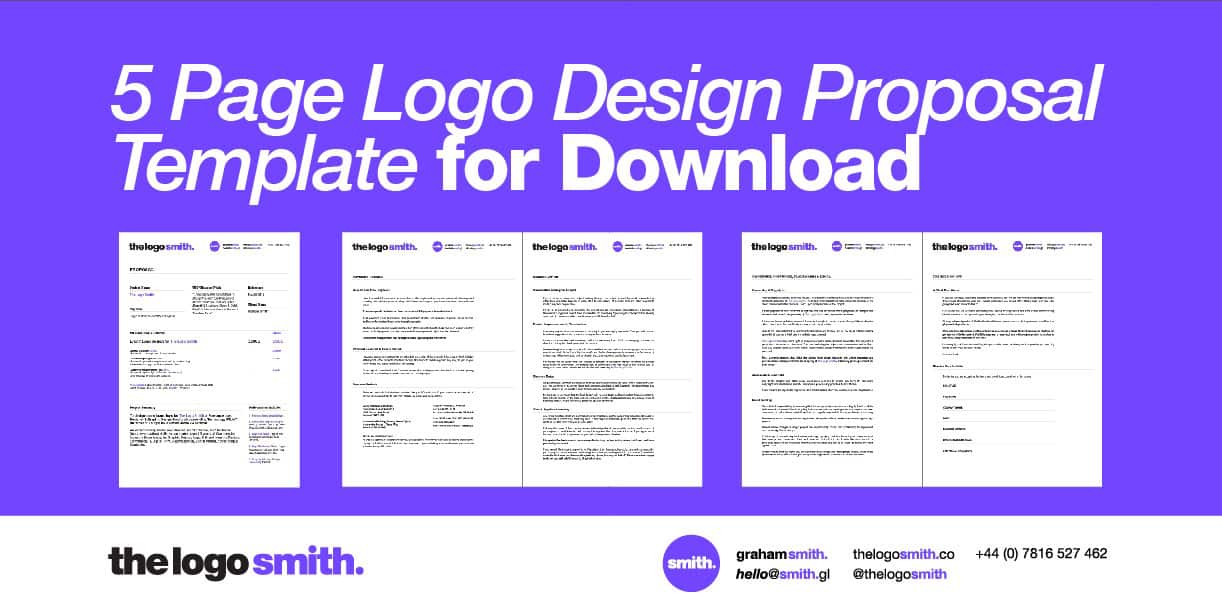 ---
Following up on my previous post Logo Design Contracts, Proposals and Invoicing – Share your Methods, I have made a number of significant changes to my proposal and have made it available as a template download.
Although I have been in this Freelance Logo Design business for many many years, it has only really been the last few years where I have gone freelance. This move to being solo and having to deal with all aspects of running a home based studio has been an incredibly tough learning curve.
I have made many mistakes both personally, privately and professionally over the last few years, I have let clients down and I have let myself down, and will no doubt continue to make mistakes and bad judgement calls. All I can hope is that each time I learn a bit more and limit the scope for bad things to happen.
Creating a more watertight and descriptive proposal has been one of the main changes.
To share
I thought it might be useful for others, to see the sort of things that I have felt important to include, so I have made version of my Freelance Logo Design proposal available as a InDesign Template and PDF file for you to download.
This is a variation of the one I use, some information I have changed for personal reasons, other bits are just relevant to me. I am sure aspects can still be improved and added to, but this is a huge improvment over the last version.
Firm in context
This style of proposal is quite 'firm' in tone, maybe more 'firm' than some of you may want or feel comfortable with. If this is the case, then reword and restructure to your own liking. It gives you the foundations to work from and sculpt into your own voice.
The reason I have opted for 'firm' is simply down to my own experiences and being let down by a few clients. In order to rebuild and retain a sense of control, firming up the context has been an important step. I realise some clients may be spooked by how I 'come across' in this proposal, but if you have nothing to hide then you have nothing to fear.
If someone has issues with any portion of this proposal then I encourage them to make contact, to discuss their concerns, initial firmness is balanced out with stressing that it's 'good' to call and make contact via phone. This shows I am a person open to discussion – if you do call me, you will see how easy to talk to and how down to earth I really am.
I set a clear message from the start with this proposal, that I wish our business and relationship to be open and clear, to reduce doubt and confusion by setting clear targets and communicating what we both expect from the relationship.
I feel much more secure and in control with this revised propsal, so I hope it is of use to someone. I would suggest that you don't use it completely as it is.
This isn't a perfect design, it's here for you to base your own design and content from, so please do alter the design, change the tone, add or remove aspsect to suit your own way of working.
Legal
I am sure this wouldn't hold up well under a lawyers blood lusting eye, so please do not assume what you read in this proposal is legally watertight, frankly I have no idea. It's purpose is more about sending a clear message to the client, the proposal sets the all important first impression, when the client first sets eyes on this proposal, they will hopefully see that I plan to conduct business. It's not a scrappy quote or proposal, I clearly mean to conduct business in a clear and open mannor, this can actually be quite reassuring for some people. Not everyone, but some.
Open to feedback
If you have any suggestions or improvements on this revised proposal, please let me know in comments below, I am totally up to hearing your thoughts.
Consider this a 'work in progress'. Any updates I make to my proposal, I will reflect in this post.
If you change it, add details etc, I would love to see an example of it. Maybe I'll take a leaf from your book.
Download
I have provided a few file versions and bundled them up in a ZIP, so hopefully one or some will be useful.
* file revised 21st February
---
---