Alpha Release: The imjustcreative Responsive Portfolio WordPress Theme
I have been promising a download of the portfolio WordPress theme that I use here on imjustcreative for about 8 months now. Reason for the long delay is that the design has seen ongoing changes which has meant it's been hard to pin down a version for download.
The initial design I said I would offer up for download now looks quite different to what I am using here on imjustcreative, but it is very similar to what I am still using over on Logo Stack .
The other reason for the delay is that the CSS and back-end code is pretty much all-over-the-place. Due to almost daily tweaks and changes which means it has been impossible to sit down and create an up-to-date theme with cleaned up code for purpose of making available as a WordPress Theme Download.
I am still tweaking imjustcreative which means for the foreseeable future I don't see a point where we can create a finalised and polished version with clean code. However, I do know that many of you are still expressing an interest in getting your hands on whatever I make available even if it's messy and dirty under-the-bonnet.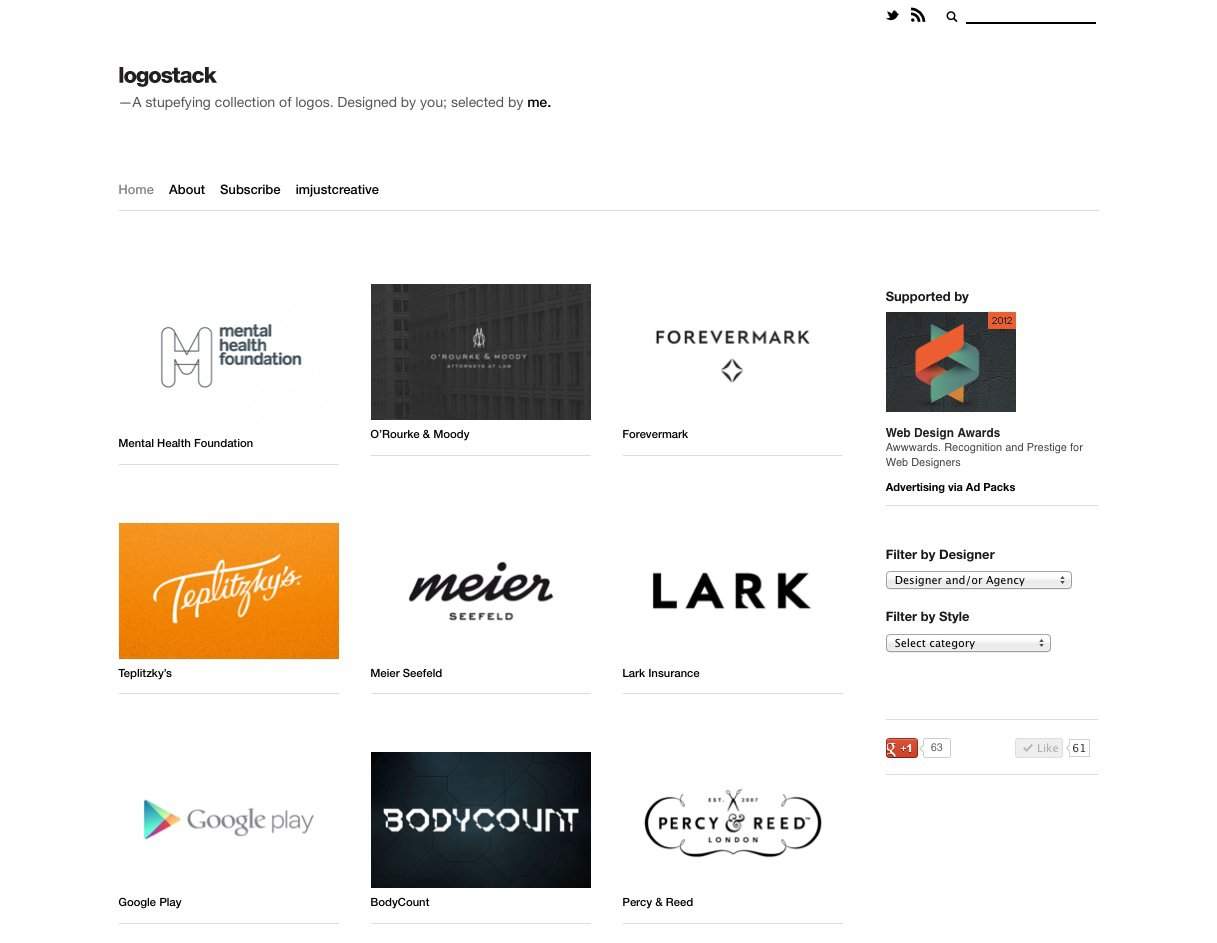 Alpha Release
With that in mind I have now decided to make available the WordPress Responsive Portfolio theme that is currently used on Logo Stack (above).
This is the raw and dirty Alpha release which means it's not at all how I would like to eventually release the theme, but will provide you with something to get your fingers dirty on.
It should make a reasonable portfolio theme for you if you can spend some time polishing up the code and cleaning up the dirty edges.
It's far from perfect, and there are far better 'proper' responsive themes out there, but it may be useful as a start.

Licence
I still plan to release a cleaned up version of the Logo Stack theme as well as the theme that I use here on imjustcreative. Until that moment you are free to do what you like with this version, but I do ask that you just keep the small link back to me in the footer. I would like to track the general usage of this theme so I can work out how much work to put in the preparation of the main theme with cleaned up code.
You are welcome to make this credit text smaller and style it how you wish, but please keep it somewhere visible on every page.
A Few Notes
The Logo Stack theme is set-up with one index.php page (above) and single.php page which shows the individual posts. The index.php displays the Featured Post Image as you can see above and links back to the single.php.
You can alter how many images display on the home page. At the moment I have 3 rows with 3 columns, but you could have 2 rows with 10 columns, 4 rows and 20 columns etc. You could also remove the sidebar if you want a full width portfolio page. The screenshot below shows (red dot) the number to change how many rows. If you want 4 rows then change 3 to 4 etc.
To change the amount of columns you need to change how many posts display in WordPress DashBoard:- Settings:- Reading Settings.
The sidebar is currently hard-coded with the drop-down category and tag menus, but does have the Widget code placed at the end of sidebar.php. If you want to place widgets you can and these will display at the bottom, or you can remove the drop-down code so that the widgets appear top of the side-bar.
I have removed the social share buttons found end of posts in single.php, but I have left space for you to add you own with a comment, "Insert Social Share Code". There is room to add 4 regular share buttons as below:
Obviously change the personal and contact information in the footer and anywhere else you might find it.
The theme is partially responsive in that it works reasonable well on iPhone, but is not yet fully optimised for tablet formats.
You'll likely have to play around with things like search.php, archives.php etc as these are still not refined even on the Logo Stack theme currently in use.
Comes With NO Support
This theme is provided as is with no technical help or support. I can't stress enough how untidy the back-end code is so if you are not familiar with CSS, HTML and PHP you may struggle.
Based On
This responsive WordPress theme is based on the framework called Foundation, developed by Zurb. This framework was then developed into a barebones WordPress theme by https://github.com/drewsymo/Foundation.
If you need technical information on how the responsive side works then head over to Zurb for full documentation.
You can read more on my own experiences with the above: http://imjustcreative.co.uk/minimal-responsive-wordpress-theme/
Additional Development
Additional code development has been kindly provided Shane Hudson who is currently working on the Beta release of this imjustcreative (Logo Stack) WordPress theme. The Beta release will gave much cleaner CSS and PHP as well as more code comments and a generally nicer looking back-end to play with.
Shane is tasked with cleaning up all my messy coding. Anything messy or unbelievably shit looking will be down to me and not Shane.
Download
Download imjustcreative (Logo Stack) WordPress Theme
---
---