All Archived Posts in Videos
NBC Logo Design History - TV Idents from 1926-2016
The NBC Logo Design History 1926-2016 is a lovely video summary of the transformation of the NBC TV Logo Ident spanning decades.
It's somewhat of a lengthy viewing. Still, if you love logos with some nostalgia thrown in, then this will be worth watching.
Just a couple of the NBC Idents from the video (below), particularly love the earlier peacock versions.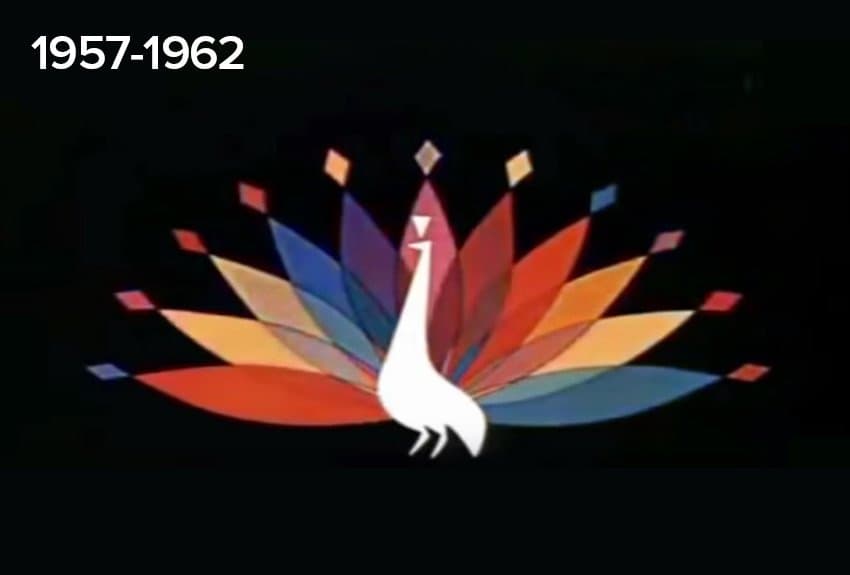 Having come from the traditional side of commercial printing, whilst serving out my apprenticeship, I found this simple demonstration of 4 colour CMYK printing to be pretty useful.
If you've not had the opportunity to work in a printers, or watch a 4 colour printing press at work, it's not always so clear as to how the CMYK process of layering each ink: Cyan, Magenta, Yellow and Black.
This simple GIF: larger version at this link: http://i.imgur.com/DrLJmHf.gifv really does do a great job of showing how each progressive layer of CMYK builds up to the final CYMK composite.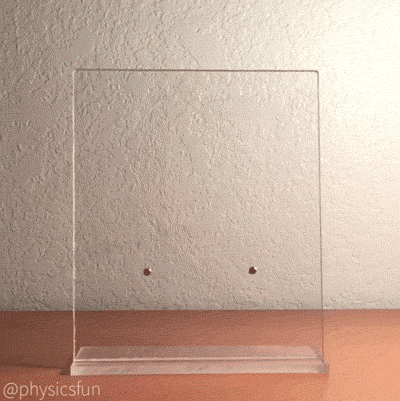 Demonstration of 4 Colour CMYK Printing with Acrylic Slides
I've saved an individual frame, as each acrylic slide is about to be put down, in the images below, starting with Black (often referred to as the letter 'K').
Cyan Acrylic Slide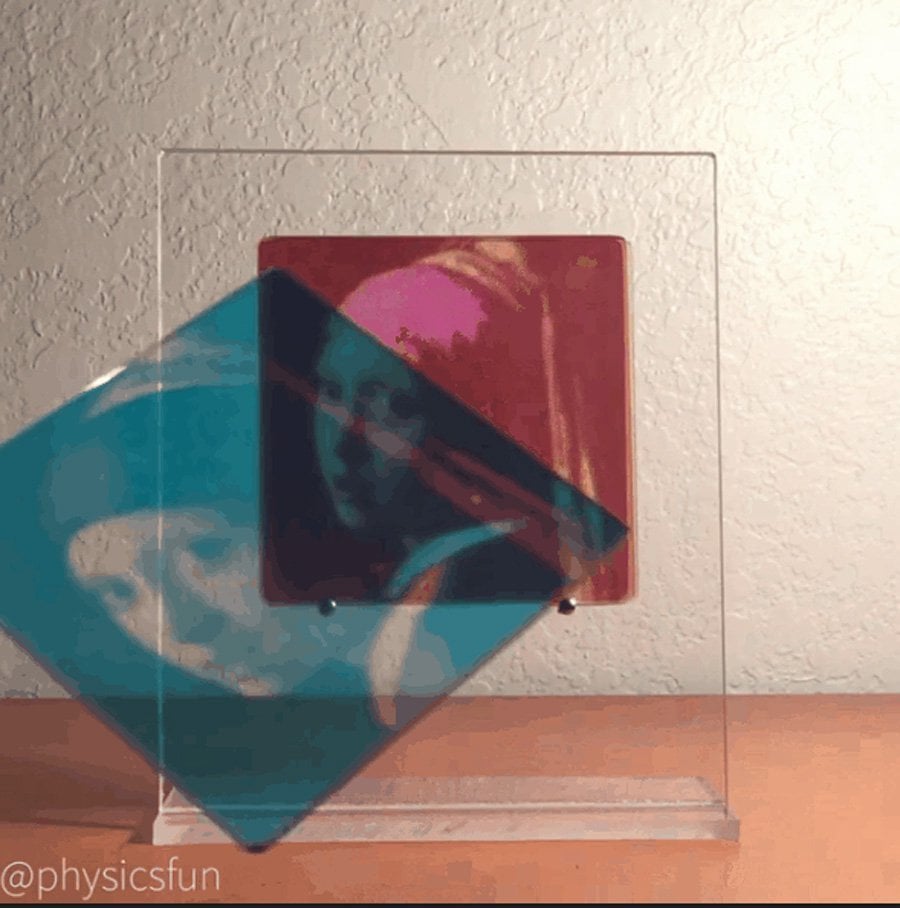 Magenta Acrylic Slide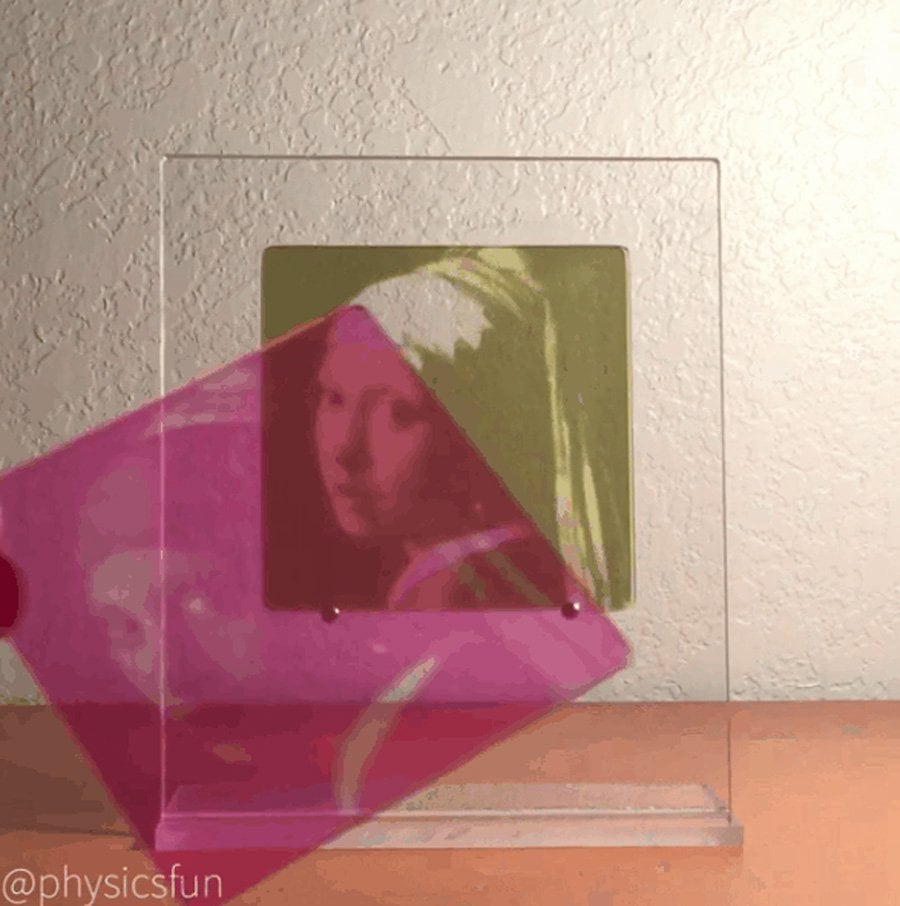 Yellow Acrylic Slide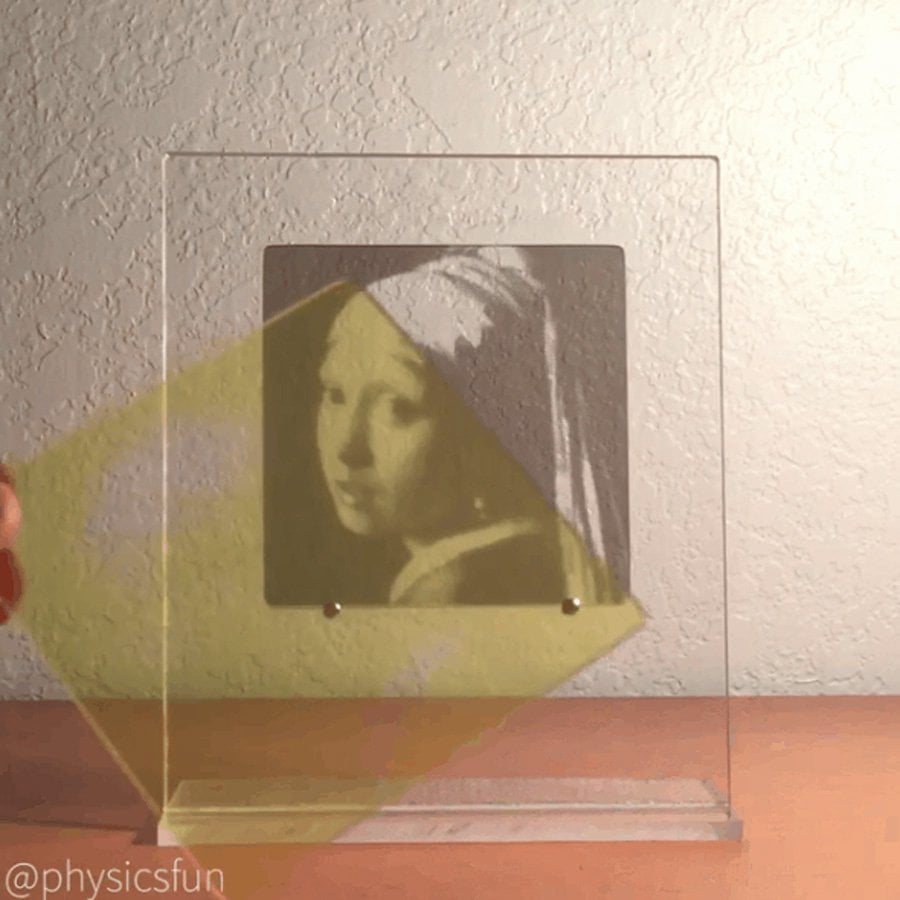 Black Acrylic Slide
Composite of all CMKY Acrylic Slides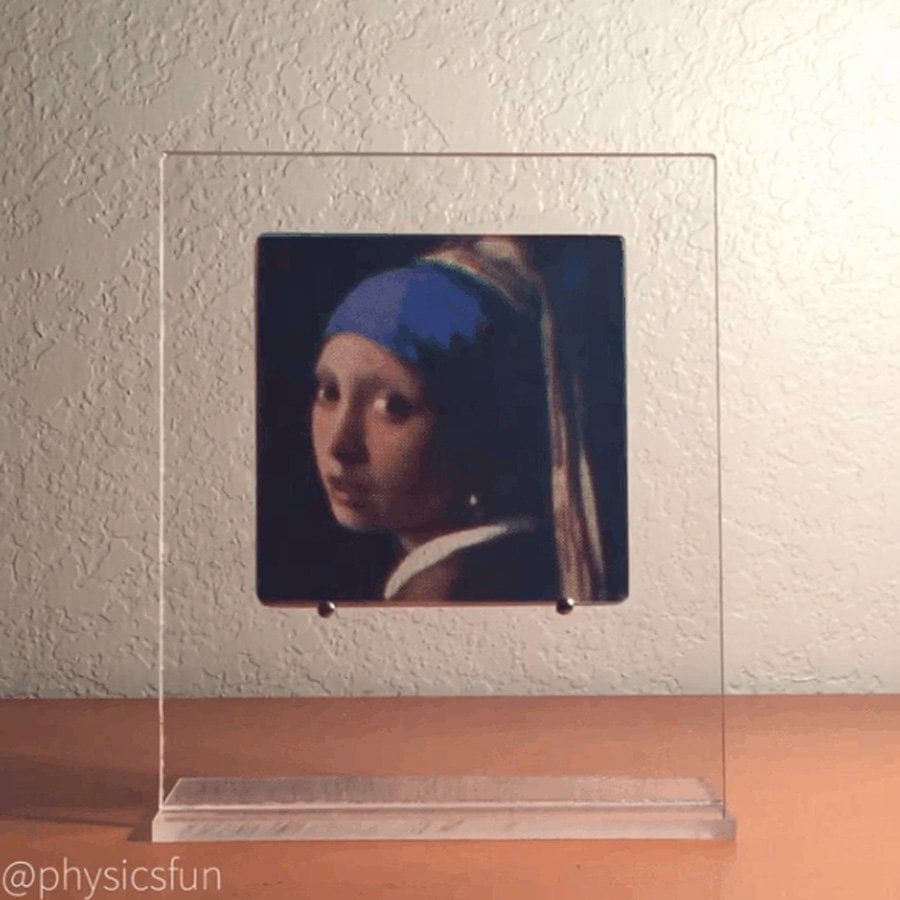 Alzheimer Nederland Identity from Studio Dumbar on Vimeo.
For a recent logo and brand identity project I've been working on, I've needed to do some research on various illnesses, and I subsequently came across this animated logo as part of the Alzheimer Nederland Identity.
Some of which are logo and design projects that are focused on aspects of mental health, and other illnesses that severely affect the functioning of the brain, of which there are quite a few.
I have my own experiences of mental health, having had a breakdown 8 years ago, and subsequent battles with depression and anxiety.
I have felt it's important for me to understand the effects of other illnesses on the sufferers, as well as those family and friends that are there to support and help them.
I witnessed my lovely neighbour rapidly go downhill, over the course of last year, with Alzheimer's, and it truly was an incredibly upsetting thing to witness. I can't imagine how difficult it is for close family and friends.
Alzheimer Nederland Animated Typographic Logo & Identity
Anywho, I came across this animated logo for Alzheimer Nederland Identity, from Studio Dumbar, on Vimeo.
I really felt they'd done a superb job of visualising the progressive loss of memory and confusion associated with Alzheimer's disease. It's one of a few animated projects that have helped me better 'understand' the symptoms in a graphical way, and that's pretty hard to do with some letters.
About Alzheimer's disease
Alzheimer's disease is the most common cause of dementia. The word dementia describes a set of symptoms that can include memory loss and difficulties with thinking, problem-solving or language. These symptoms occur when the brain is damaged by certain diseases, including Alzheimer's disease.

Alzheimer's disease, named after the doctor who first described it (Alois Alzheimer), is a physical disease that affects the brain. There are more than 520,000 people in the UK with Alzheimer's disease. During the course of the disease, proteins build up in the brain to form structures called 'plaques' and 'tangles'.

This leads to the loss of connections between nerve cells, and eventually to the death of nerve cells and loss of brain tissue. People with Alzheimer's also have a shortage of some important chemicals in their brain.

These chemical messengers help to transmit signals around the brain. When there is a shortage of them, the signals are not transmitted as effectively.

Alzheimer's is a progressive disease. This means that gradually, over time, more parts of the brain are damaged. As this happens, more symptoms develop. They also become more severe.
A Beautiful and Official 'Unused' Xbox Logo Animation, by ManvsMachine (www.mvsm.com), in which I'm loving everything about it.
Just look at the Xbox logo; how it beautifully reveals itself, almost like the reverse of a flowering tulip. Those hues of green are sublime.
This is some seriously fine animation right there!
About
Man vs Machine: "When Microsoft launched the Xbox One they commissioned Man vs Machine to design their global motion brand identity.

The Xbox logo animation is one of their most iconic brand elements and our task was to translate their new logo into a full 3D brand language, with this item being the long form brand expression.

A key aim was communicate how the brand has made the transition from core gamers to people who love music, television, films and apps.

It's evolving towards broad entertainment. Xbox has become a premium experience.

As a result we wanted to play on the idea that Xbox is constantly reinventing itself. The brand development film focused on a rhythmic self-generating X; a dynamic spherical form which simulated the evolving nature of the brand.

We designed the resolve to feel clean and effortless, seamlessly folding together multiple layers into the logo."
Credits
Client: Microsoft
Concept, Design & Direction: ManvsMachine
Creative Director for Xbox: Ramiro Torres
Xbox ~ Motion Brand Identity from ManvsMachine on Vimeo.
Feed Your Mind On The Go from Feedly on Vimeo.
Feel particularly chuffed this evening after seeing the above Feedly logo animation, and video.
At the time of designing the Feedly logo and app icon I had no idea that it may eventually be animated. So to see it unfold at the beginning of this video has left me with quite a smile on my face.
If someone had asked me how I would have liked to have seen the Feedly logo animated, and if I was able to imagine it being animated, then this exact video sequence would have been how I would have liked it to have panned out.
The logo animation is brief, but the smooth laying down of the white strips on the green is just perfect in my mind, and really fits in with the initial concept and design process of this part of the logo.
I am so proud to be part of the whole Feedly experience and seeing my first ever logo animated in this way has really been a wonderful experience.
View original full-size HD Feedly Video
Feedly Video Credits
Motion Designer Mattias Peresini – Music OBNY Music & Sound Design
The Astonishing Journey of the SPACEX F9R
I was going to try and say something truly profound for this posts introduction. Watching this SPACEX video for the first time, and for the shame of it, having not been aware of their amazing advancements in rocket propulsion since today, I decided to let a YouTube commentator, by the name of Richard Japenga, speak on my behalf whilst I collect my thoughts:
This boggles my mind, that we are able to create a rocket, with a single booster, fly up to a thousand meters, keep it steady and manoeuvre it back to the ground without the whole thing topping over. Great work +SpaceX If you can make this video look like a 3d render or a version of Kerbal space program running on the Frostbite 3 engine, i know we are going in the right direction.
It really is an astonishing video to watch, especially if like me, you have not seen their previous videos. Shove it on full-screen HD with the bass turned all the way up, sit back and watch those cows run for their lives!
My first thoughts that this was probably just going to be a rocket launch, then it turned into a well video-graphed rocket launch with amazing ultra wide angle shots, but then the clincher: watching the rocket apparently stall, and this is where I just thought I new what was going to happen next… the rocket starts slipping back down in what looks like a stall, but with flames still erupting from the nozzles!
What the hell? Is this a controlled descent? I'm sure at this point we will witness a spectacular explosion—my heart pounding for those poor cows running away for their lives—as the rocket surely builds up speed on it's downwards trajectory.
No, wrong again.
The boosters are obviously firing for a reason, the descent is controlled, but I'm not sure what I'm seeing here… then you see the ground slowly coming into view and the realisation that the rocket is going to land exactly where it started.
Even when the rocket lands, I'm almost sure this was a fluke. When some of the biggest space nations often fail at a rocket launch, SPACEX can launch and land a rocket with pin point precision. Now subscribed to the SPACEX YouTube channel.
I mean, this was just astonishing. Hope those cows calmed down…
If you want to create more astronauts, show kids more videos like this: https://t.co/YSBOoGX8ib

— Matt Cutts (@mattcutts) May 2, 2014


It's harsh, but let's face some facts: Reebok has rarely been cool—using 'rarely' in this instance is an over generous application of the word 'rarely', and I also know that 'cool' is subjective—in all the years I have known the brand, and this is going back to the 1980's where I remember my parents buying me Reebok's for school, even back then, this was a shoe of shame.
This was a harsh time for a kid wearing Reebok's, and one is rarely able to forgive and forget. Tried desperately to paint out the Rebook logo with that cool white trainer polish/whitener.
It's as though they simply seem to be OK with not being as cool as Nike, Puma, Adidas etc, and are happy to settle for this dull state of existence. The only comparison I can come up with is: Reebok aspiring to be like a supermarket's own budget brand, like Morisson's Savers. Nothing wrong with Morisson's Savers food, I buy quite a lot of it myself.
The 1980's
Reebook's logo has seen much better days, and I'm talking about the really early days, such as my school days back during the 1980's.  When I look at Reebook's logo evolution, I find myself drawn to both the logo versions used between 1986 through to 1998.
The Union Jack really worked, at least with hindsight, and more so compare the crap they've ended up with now. The typography hit a good solid style circa 1996 and onwards, but then took a drastic change in 2006.
The Year is 2006

2006 was a drastic change the logos typestyle, and it's one I dig. Possibly a litter over-top with the forward slanting for my tastes, but it had character, edge, style, distinctiveness, drive, momentum yada yada yada…
Technically, what you see above, isn't the whole logo, at least I don't think it was. I believe this was the whole version.
The whole history of the Reebok logo shows a pattern of indecision and design chaos.
Never have liked the typography—the same style they have now—introduced after 2004, with that rather plain-Jane sans-serif font looking all dowdy and corporate. Don't get me wrong, that style of font is smart, solid looking, and I've even used similar styles in my own logos, but I just can't get myself to accept that it's an appropriate fit for a supposedly competitive sports brand.
Reebok's Logo Evolution
---
Hello? 2014
So Rebook's next corporate strategy was to introduce an already used logomark (cross-fit) that basically looks like a Bank, or some other form of investment/insurance/legal icon style. I even envisage it being used by some form of religious cult: engraved into wood, and seared into the raw flesh of new cult recruits as they all stand inside this chalk drawn version on the mud in the middle of some dark creepy forest conducting all manor of sexual sins upon each other.
My goodness, it really does look dull. It also just doesn't sit, or fit, with the wording (font style), just seems to be there. In the specific case of Reebok, I find it such a completely inappropriate logomark for a sports brand logo.
Yeah so wonderful, it seems to work nicely in the promo videos, enlarged, cropped, worn on singlets etc, but my word, only just.
Once again they [Reebok] seem quite content on just tootling along, than trying to try just a little harder with an image make-over that could at least have a chance of looking like it's ready to compete with the big boys.
Clearly I'm head-banging against a wall as I can't possibly know what the 'powers that be' have had, and now have in mind for taking Reebok forward, but for me? I just really think this was 'another' miss-mash of existing ideas/elements (their cross-fit logomark), and introducing something recycled to get the next few years sorted and out of the way
What the odd's there'll be a tweak, or two, in a few years time? 
In fairness, it's quite likely that that red triangular pyramid thingy could have looked more interesting with a completely different font style and/or brand name, but golly gosh, at the moment it's just dull dull dull.
It's only my personal opinion, but yes, I'm not a fan. 
Never ceases to amaze me how cool Pure Storage is as a company, and the lengths they are prepared to do to market and advertise their company. Obviously it's super cool for me seeing the Pure Storage logo I designed for them being applied in so many ways!
The video itself is pretty darn funny, and you need to check time-stamp: 1:30…
"And with all that dee dupe, your probably wondering if our latency is any good? Nah, not really. Our latency is…"
Great promo video… Oh, and who the hell are these cool dudes? :)
POST UPDATE
Finally found out who composed this marvellous piece, and it was Bob Partridge from Viscosity Sound, in Los Angeles. Thanks to Porter Partridge for the info!

http://www.youtube.com/watch?v=WZr9vVXpAgM
JFK AND THE MUTANT CONSPIRACY — Half a century ago, Magneto was implicated in the mutant plot to assassinate President John F. Kennedy. The events of that fateful day in November have been a point of contention between humans and the mutants ever since.
This has totally made my week: finding the full-length soundtrack to the amazing viral website, "The Bent Bullet—X Men:Days of Future Past."
I can't honestly tell you how many times I have had the website version of this musical score playing whilst working. It's so hauntingly beautiful, and I've not even come close to getting tired of it.
Then Luke Turner, just a few moments ago, tweeted me a link to the YouTube video with the full length score on it.
An absolute delight!
Still unsure to it's origins, name etc, so I do hope someone soon can provide a name so credit can be given. It's well deserved!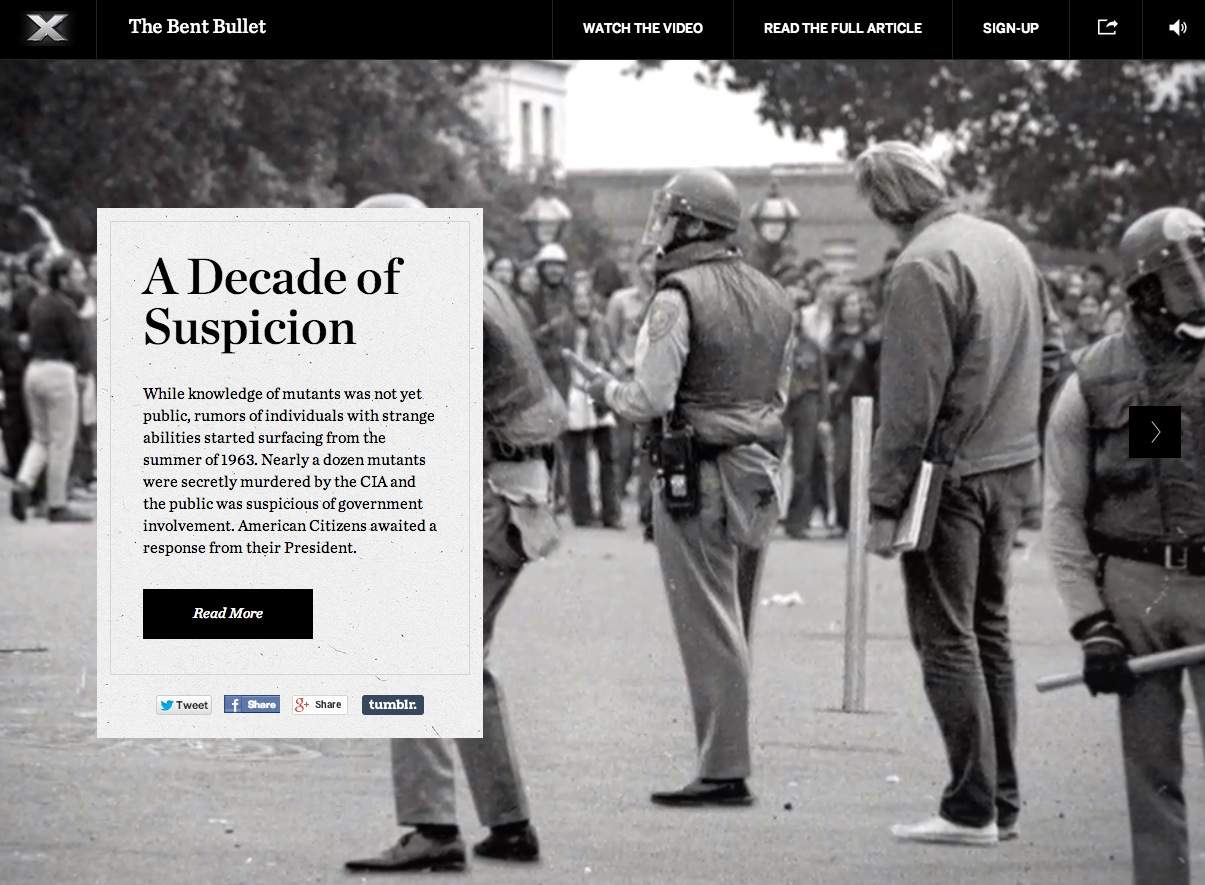 While knowledge of mutants was not yet public, rumors of individuals with strange abilities started surfacing from the summer of 1963. Nearly a dozen mutants were secretly murdered by the CIA and the public was suspicious of government involvement. American Citizens awaited a response from their President.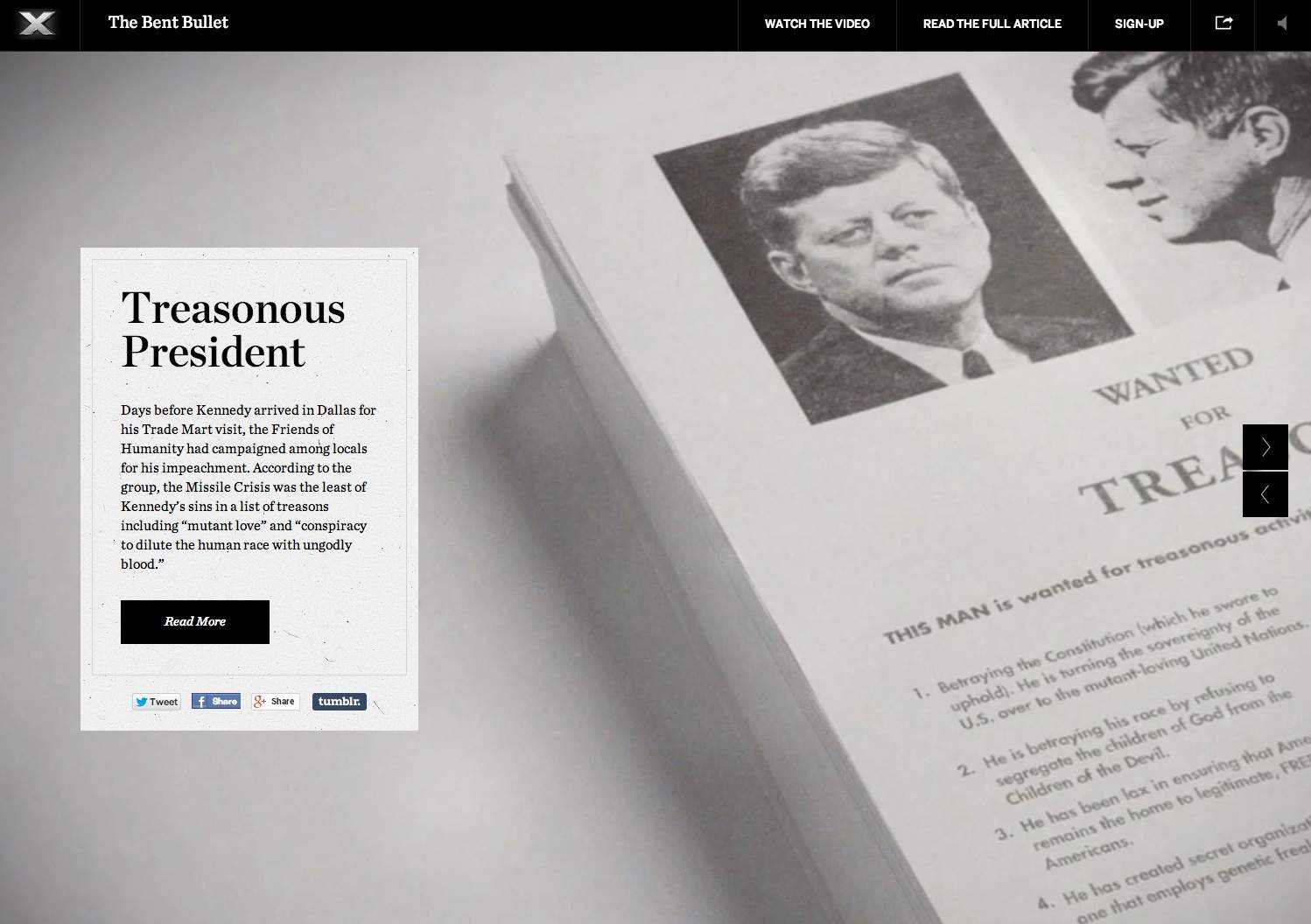 Days before Kennedy arrived in Dallas for his Trade Mart visit, the Friends of Humanity had campaigned among locals for his impeachment. According to the group, the Missile Crisis was the least of Kennedy's sins in a list of treasons including "mutant love" and "conspiracy to dilute the human race with ungodly blood."
http://youtu.be/H5LIuf9mFEs

Just absolutely loving these animated logo evolutions by Nick DiLallo over on YouTube. Nick has animated the following brand logos for your entertainment: American Airlines, Starbucks, UPS, GAP (the funniest), Apple (love hearing those system sounds again!) and NBC.
Giving what's happened in the world of the JCPenny logo, would love to see the back and forth with that one as well.
They're not truly animated, as in the sense of morphing one logo version to the other, but I totally love this humorous take on them instead!
Probably worth subscribing to Nick's YouTube page incase he releases any more!
» Via: BrandNew

http://youtu.be/dhW9Uvy6eZo

http://youtu.be/AiIv6ZBYbIw

http://youtu.be/XXLCO5E3MC0

http://youtu.be/txdpX-2b3qA

http://youtu.be/dXXHZDmbHPE
© 2005-2018 All Rights Reserved The Logo Smith
Logo Designer & Brand Identity Design Studio, with 25 Years Experience.
Graham Smith: 10 Badgers Copse, Seaford, East Sussex, England.
 Tel: +44 (0) 7816 527 462  Email: glogosmith@gmail.com