All Archived Posts in Logo Portfolio

Internxt Brand Identity & Logo Redesign - Branding the X
This is the Internxt Brand Identity & Logo Redesign which is a project currently in process, which is based around creating a unique style of 'X' for the client to use.
Another rebrand project currently in progress... trying to find a 'unique' way to style an 'X' which isn't at all easy, but feeling hopeful with this possible direction.#logos #LogoDesign #Brands #graphicdesigners pic.twitter.com/r0QHIO6t1T

— The Logo Smith: Logo & Brand ID Designer (@thelogosmith) March 29, 2018
This is a brief 'before & after' of a brand logo redesign (featured image above) that I completed for Homes Alive Pets, a Canadian pet store chain.
I'll be updating this post with further information relating to this projects development. 
We didn't actually start the project intending to update their existing logo, instead the brief was to design a totally new logo design, and accompanying brand identity.
During the process of exploring logo ideas and concepts, it became apparent to the client that it was actually far better to keep with the existing logo, but to update/refresh it.
This made perfect sense given the accumulated amount of: brand equity, customer and client awareness, that Homes Alive Pets had successfully established in previous years of trading.
The challenge then was to craft a new pet dog, and a new pet cat, that would create a more comforting and characterful duo.
There were quite a few revisions and styles of the dog and cat, but both the client and I fell in love with the final design.
Logo Case Study - Logo Redesign for Homes Alive Pets
What I liked most of all with the new design, is how I wrapped both tails of the cat and dog, so as to make them look like they are almost cuddling and protecting each other.
I am actually really fond of this dog & cat duo.
It's certainly not a new or unique logo idea, to have a cat and dog represent a pet company, but as it was already part of their brand, I did what I could to make it as 'uniquely theirs' as possible.
Adding some floppy ears to the dog, and generally making both of them look a little more realistic, really seemed to make the whole logo far more welcoming, and friendly, as well a tad more cute. :)
Brand Name & Tag Line Creation
There was also a slight change in the brand name, so from: Homes Alive - Pet Centre, it became: Homes Alive Pets - simply wholesome, and naturally healthy.
I was able to help the client craft their new tag-line, which meant I also was then able to ensure it slotted nicely into the the space to the right of 'Pets', and took up two lines. Little details like that that might be overlooked, but the bigger picture is always so important.
As a little 'nod' to their Canadian heritage, the client asked that I popped a maple leaf on the letter 'i', it's subtle enough,
The new logo proudly displayed high above the store (apologies for the poor picture quality).
I love how the actual logo has quite a lot of depth. Looking at the dogs head, and ears from the right hand side, looks really good.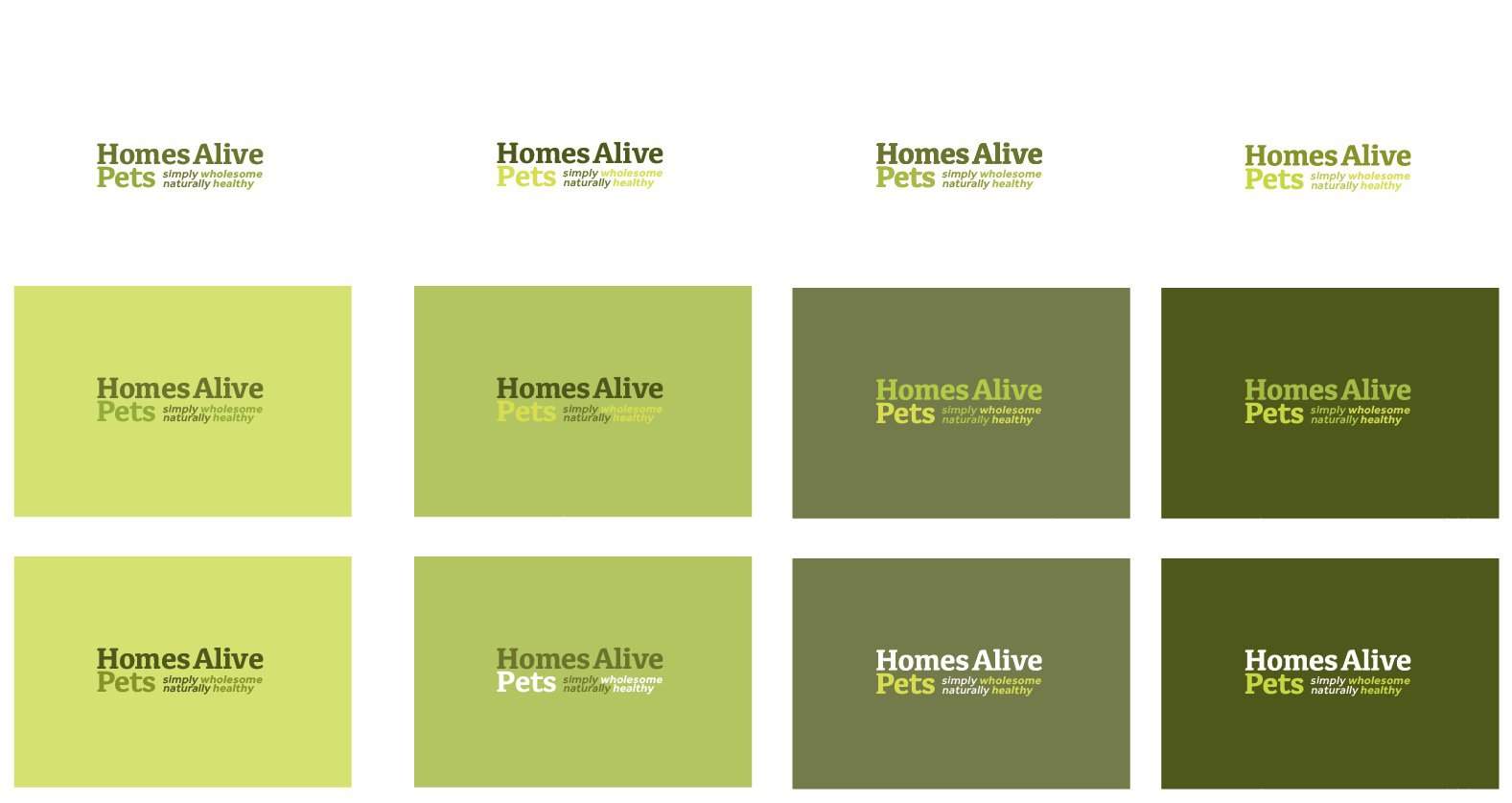 Just a few of the colour options we look at for Homes Alive Pets.
Very early drafts of cat and dog style, even including a photo of me and my German Shepherd, Miss Charley.
SaveSave
Rocket VFX (tv and movie visual effects company), is a logo & brand identity re design project that I've been working on now for a little while now.
Just like a previous case study post for VIEW'D, I'm sharing the ongoing logo design process for Rocket Science VFX, as it happens and unfolds; an ongoing, and in progress, logo design case study.
I will update this ongoing logo design case study with new screenshots and photos of my mock-ups, sketches, and scribbles as they are done.
In this post are just a snapshots of the later stages of the project, showing the most recent logo design concepts, initial thoughts on the style of typography and all the messy sketches that go hand-in-hand with developing a logo design.
About Rocket VFX (RSVFX)
Rocket VFX: In addition to Script-to-Post Visual Effects Supervision, Rocket Science VFX maintains full-time Matte Painting, 3D environment and asset build, 3D tracking, and stereo compositing departments to create realistic environments and animation vfx compositing for features like "Pompeii" for Constantin Film, "Dolphin Tale", and "Dolphin Tale 2" for Alcon Entertainment, and "Chloe" and "Devil's Knot" for acclaimed Canadian director Atom Egoyan.

Our recent television credits include the Bafta award-winning projects: "Titanic" for ITV, and "Day of the Triffids" for the BBC, "Hannibal" for Gaumont/NBC, "Revolution" for Bad Robot/NBC, and ABC's Primetime Emmy-nominated "The Path to 9/11".
Rocket VFX - Logo Design Case Study
I initially started with the somewhat obvious: looking at a variety of existing retro, vintage, modern rocket logo designs and stock images.
No point starting a project like this without having a bloody good idea of what rocket logos and imagery already exist; obviously 1000's. Trying to find a unique angle for the new Rocket Science VFX logo would be a fun challenge.
With a pretty literal name as Rocket Science, it would be hard to not use some form of rocket theme for the new logo, but how I would achieve this was the question.
It was really just this selection of various rocket imagery that really got me thinking about finding a less 'obvious/well used/common/cliche' way to represent a rocket.
No doubt we could come up with a style of rocket that was relatively new, but they all get merged and sucked into one collective vat of rocket logos.
I also researched Sputnik, as this is a logo design idea the client had previously looked at in previous logo redesign exploratory work, before hiring me to take on the rebranding.
This is where I basically went back to the previous Sputnik idea, with the dots/circles, which does reflect the link to programming scripts within the VFQ process, and tried to look for a new and different approach…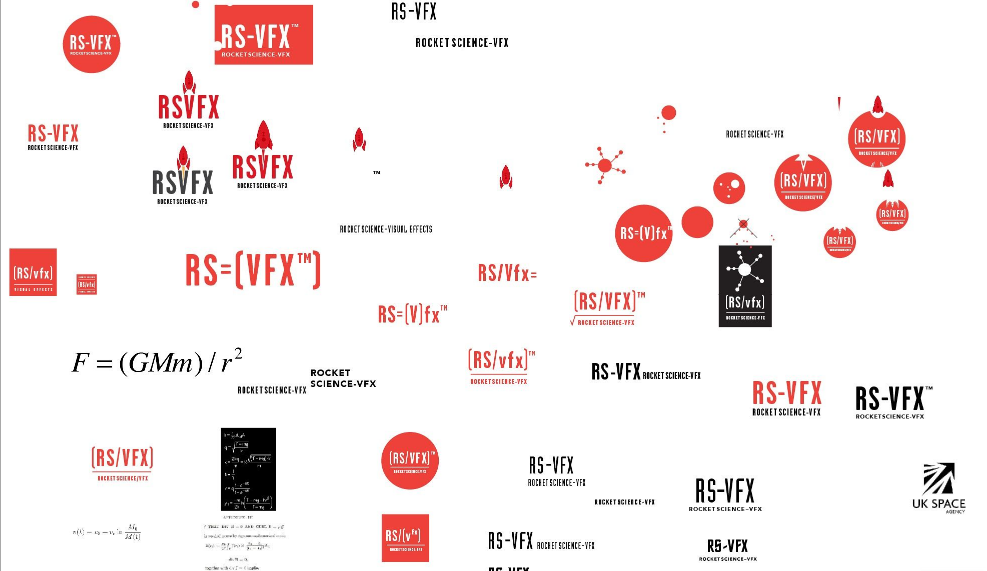 I also quickly looked at the 'science and equations' aspect, so focusing more on a typographic solution that literally played into the 'science' portion of the brand name.
I kinda like the way some of the names look, using the brackets to make a faux equation out of the initials.
You'll see I was still playing with the idea of the Sputnik visual integrated into the science equation aspect also.
However, I didn't get a sense of 'new and different' from any of these, so this direction has been put on pause.
Moving on, I started playing with bigger and more solid circles, maybe planets orbits, or extensions of the Sputnik, or even molecules\atoms RE Science…
This last shape started to trigger something which I needed to explore further (below).
Those solid circles with holes, eventually reminded me of rocket boosters, and the massive engines of a rocket!
Seems an obvious connection, but you can get so entrenched in a previous idea, that it's not always easy to see another direction.
Immediately excited by this new direction, as it screamed: massive, big, science, space, movies, everything that Rocket Science VFX is about, and gets involved with.
I also could see how this could be developed in a clean, fresh, bold logo format, and it got us away from the overly common side profile view of a rocket.
This bottom engine view is also so powerful, and represented so much energy and power, not to mention opening up a number of visual openings for logo ideas.
Have to say, I was getting quite excited at this point…
This is the initial mock-up (red imagery above) of the rocket engine view. A really strong, clean, bold and simple image that creates a totally different perception of a rocket.
Also, this form of logo would be easier to use, replicate, scale, place and play with due to it's square boundary box.
I then, at some point, when thinking of a way to alter it a little bit from a regular 5 engine rocket.
So I got back to thinking of movies, TV's and then another 'lightbulb moment': recalled that movie projector reels would be a perfect play. By adding it a 6th big circle, you have a very 'subtle' reference to a movie reel.
I don't want it to be too obvious at all, but a compromise would be adding a solid circle as in the right hand version.
So the result is a compact logo mark, formed from the most powerful and amazing part of a rocket, it's engine and boosters, along with a cheeky nod to the movie reel. 
I like incorporating 'cheeky nods' as and when I can.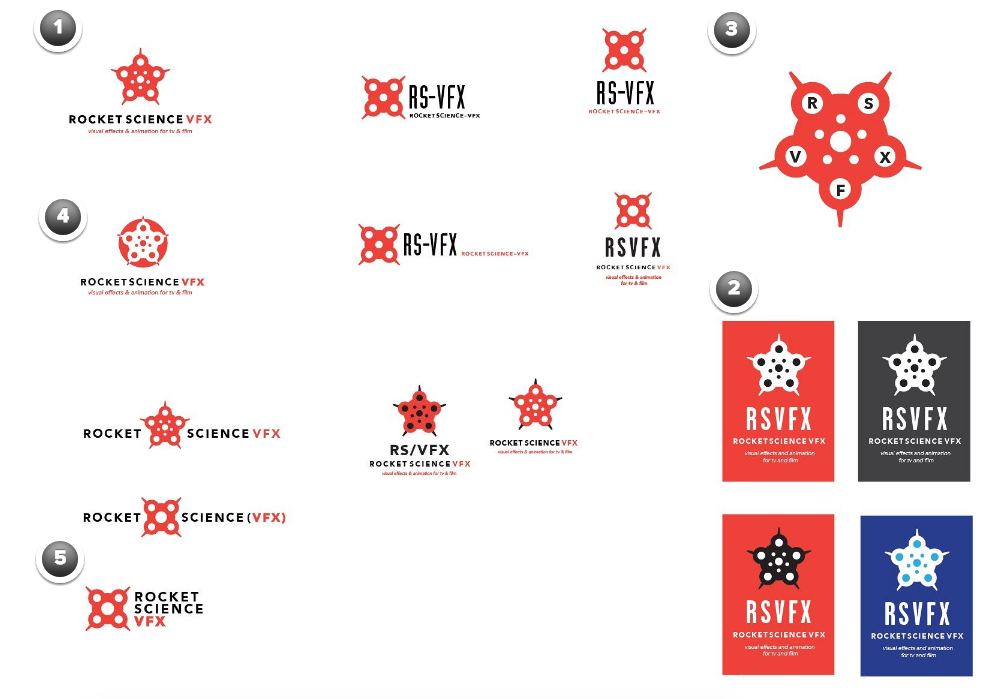 So here are some preliminary logo lock-up's (above, and number referenced below), using 2 main initial font styles to provide better context for the rocket engine logo idea. I have used both the movie reel, and non movie reel version, as they are quite different in overall look and feel.
I started to like the way a more defined 'badge', or contained logo block, could be created from the logo and the wording. I added a dummy tag-line, as I think it would be useful to include one with the logo, (something the client and I would look at later).
This was a bit of a fluke, but the initials fit nicely into the 5 circles, but this would only really work as a larger format logo, and could possibly be animated through spinning, or something else altogether.
The movie reel version with the large solid circle actually looks quite cool in this format.
Also very strong, solid and fuss free layout option.
I do like this taller 'stacked' version (above). It has more information and wording than I'd usually be comfortable with, but if nicely spaced does works well as a prominent brand mark.
I can almost imagine flames and smoke coming out of the engines, towards the screen/user, and maybe slowly rotating as the rockets etc do when they start their journey to space.
The Next Phase
After showing the client the previous logo mock-ups, and ideas, there was some great feedback.
One of the suggestions: to try and turn the previous 'flat' ideas, into something that had more depth.
I did play with this suggestion (sketch above) by tilting the previous flat designs, and came up with some logo sketches of the rocket booster engines, and nozzles, at a far more dramatic angle: tilting it closer to the 'viewer'.
I've added hint of a 'capsule' nose to the top of the engines, or alternatively a very extreme depth of field, of the entire length of the rocket shooting off into the extreme distance.
IN terms of being able to bring their logo to life through animation, this could see flames, smoke, and shimmering invisible heat effect, and vibration, as the engine rumbles into life.
So this is where the project is at the moment, and I'll update this Ongoing Case Study with further updates, sketches, ideas and comments as they occur.
SaveSave
SaveSave
SaveSave
Work-in-Process: WordPress Theme Developer Logo Design
'codetipi' is a logo design project currently in progress for a popular WordPress Theme and Website Developer.
In this post are just a few snapshots of the later stages of the project, showing the most recent logo design concept (above), and a few of the ones that didn't quite turn out as expected.
As a freelance logo designer, the number of logo ideas and concepts that end up either off-the-mark, or simply no-good, can vary from project-to-project.
However, I like to feel there is rarely a wasted moment on a project as some of the unused logo ideas can either be repurposed for another client, or in my case, sold as mentioned in this post: Custom Logo Designs for Sale, and currently shown on the Logo Designs for Sale page.
This logo design can also be viewed on Dribble: https://dribbble.com/shots/2897615-Codetipi-Logo-Design
Some of the not-so-on-the-mark logo design concepts and ideas: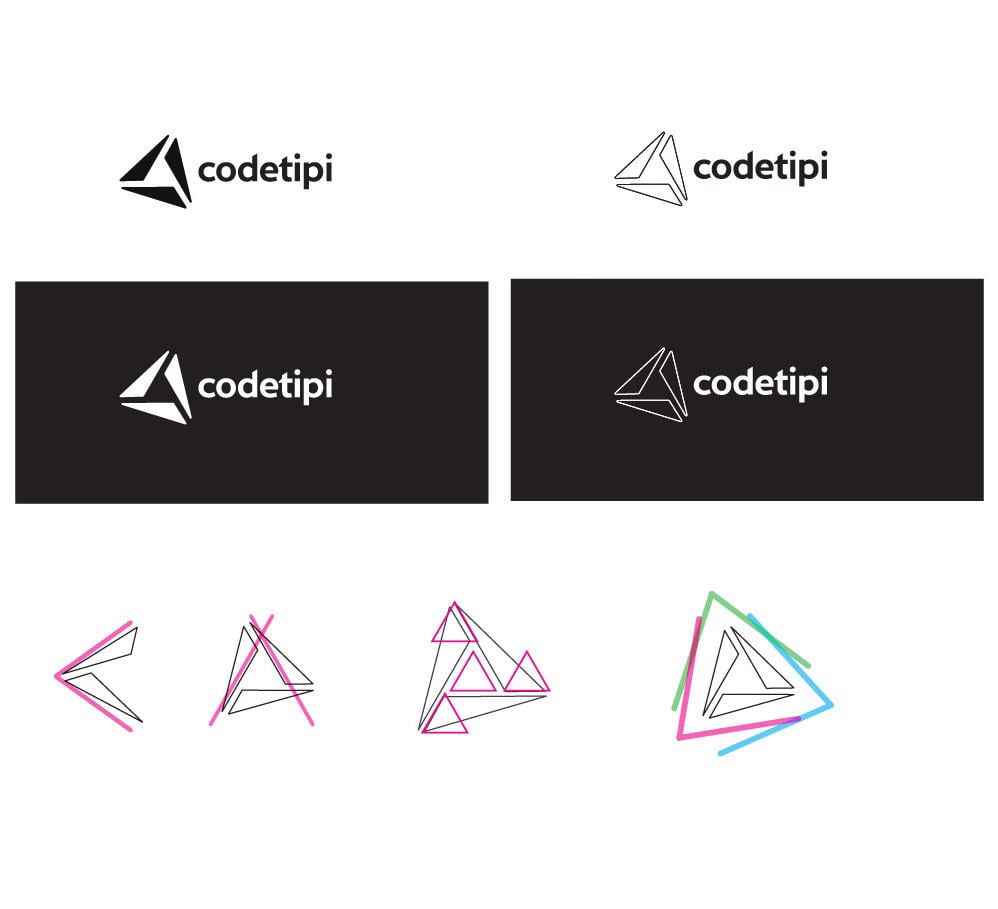 Codetipi creates unique WordPress themes and plugins (and possibly more code-related products in the future) that push the standards and strive to not only feel/look nice, but work just as well.

The products are clean, modern, extremely user-friendly and users genuinely love them. No bloat and no fluff, my products just work.
Custom Logo Designs For Sale
This page shows some of the custom logo designs that I have available, for sale, on here on this page: Custom Logos, Symbols & Icon Designs For Sale.
I have thought long and hard about having logos for sale on my website, as I don't want to have my website mistakingly associated with Stock Imagery.
The simple fact is that I have accumulate 100's of unused logo designs, ideas, concepts over the many years of being a graphic designer, and it's frankly just a waste to have them all hidden away, and never used.
Previously Commissioned Logo & Brand Identity Projects
These unused logo design ideas are often the result of previously commissioned logo and brand identity projects.
Bear in mind that for each client, I might: develop, doodle, sketch and conceptualize dozens of logo ideas, not all of them the client will see.
The logo ideas that the client will see will be a small fraction of those that I have developed, and from that selection only one idea will be chosen.
The 'leftovers' are sometimes repurposed for new projects, or left in the shadows.
It really seems silly, and a waste, to not do anything productive with the 'unseen', so hence I decided to tidy up these 'forgotten' logo sketches and ideas, and sell them as 'ready-made' logo designs.
I don't like the sound of 'ready-made', as in reality, any logo design sold will probably have some changes made to suit the clients' specific needs, but for the most part they are left as is. Small changes like: colours, layout, type swaps are the usual changes made.
As you can see some of the logo designs have brand names associated with them, but for the most part these are just 'placeholders', and are not supplied with the logo.
The client will no doubt have their own brand name to insert with the logo they have chosen to purchase.
Exclusivity
Importantly for any potential buyer looking to buy one of my custom logo designs, is that they are all completely exclusive, and will only be sold the once.
For each logo design purchased, the client will receive all copyright and artwork, Transfer of Copyright (me passing over my intellectual design ownership), and then the client is free to do with this logo as they see fit.
All custom logo designs come with: Transfer of Copyright, Master Logo Sheet, Basic Letterhead & Business Card Design, Change/Adding of Company Name (where appropriate), Colour Options (where appropriate), Digital Files (.eps, .ai, .PDF). Other changes to the actual logo design will incur additional costs.
Logo Design Pricing
The pricing various per logo, and will reflect the overall development time of that particular logo design idea, as well as other less 'tangible' factors, such as: practicality, flexibility, abstract or specifically tailored to a theme, etc.
Typically they are excellent value for money, compared to hiring me for a custom logo design from scratch.
If you are interested in buying any of these logo designs, then please visit: Custom Logos, Symbols & Icon Designs For Sale.
All custom logo designs shown below are the sole Copyright © 2016 of Graham 'Logo' Smith until purchased, and Transfer of Copyright has been exchanged.
My AC Academy Choir Logo Design Seen at the Royal Albert Hall
A short while back I took on pro bono logo design project for AC Academy, which is a London academy for children to take part in choir singing.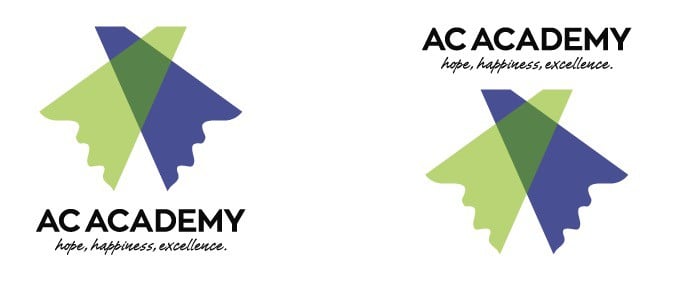 The logo was primarily to be used on the front of the 100's of white t-shirts that the children wear, when singing and performing at the Royal Albert Hall, most notably with Russell Watson.
The general idea of the logo design is that there are two spotlights crossing each other and illuminating side profile of a child singing, which is cut out of the lights beam.
I can't say enough what a thrill it is to see the logo design on such a huge and epic scale, and at such a prestigious event and venue. Very proud.
Here are some photographs taken from the most recent choral performance, from the children of AC Academy, along with Russell Watson.
Royal Albert Hall: "Over 2000 children from over 100 AC Academies will come together at the Royal Albert Hall to perform a mix of songs, from The Drunken Sailor, to a Les Misérables medley and Carmina Burana, alongside a West End band.

The concert will include a performance by children from Uniquely, the AC Academy's dedicated SEN programme for children with special educational needs, who will sing a song they have composed themselves. Finally BBC Strictly's Kevin and Karen Hauer will take to the stage to celebrate the launch of a new pilot project created in partnership with the AC Academy, dedicated to creating dance schools and dance school leaders (following a similar process to AC Academy's renowned Choir Creation scheme).

AC Academy is Armonico Consort's music education programme which reaches 15,000 children every year, offering life-changing experiences through participatory music projects. By 2020, Armonico Consort aims to create 300 children's choirs and 300 new choir leaders through its in-school Choir Creation scheme and out-of-school AC Academy Choirs, creating a singing legacy across the UK."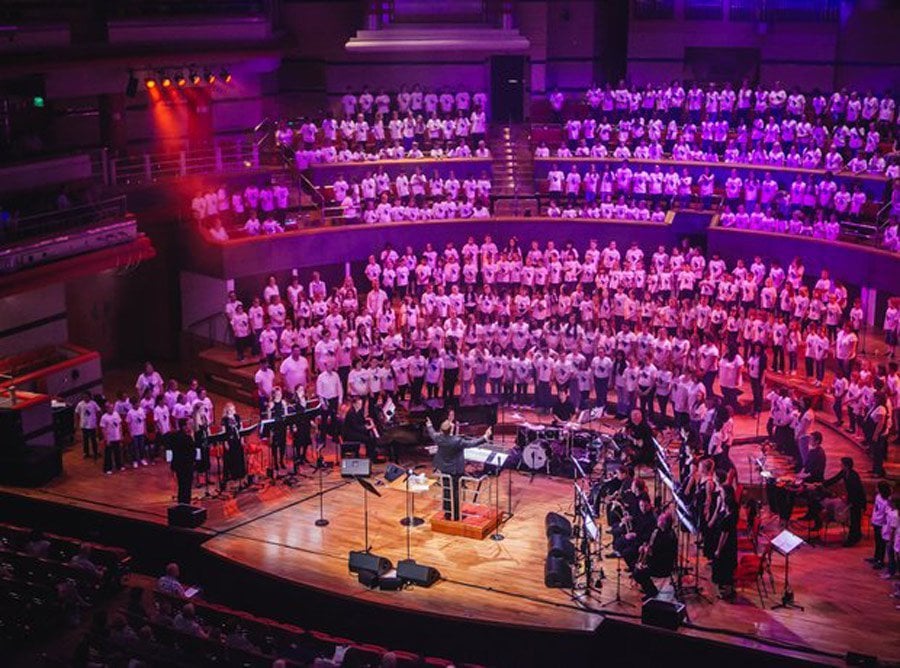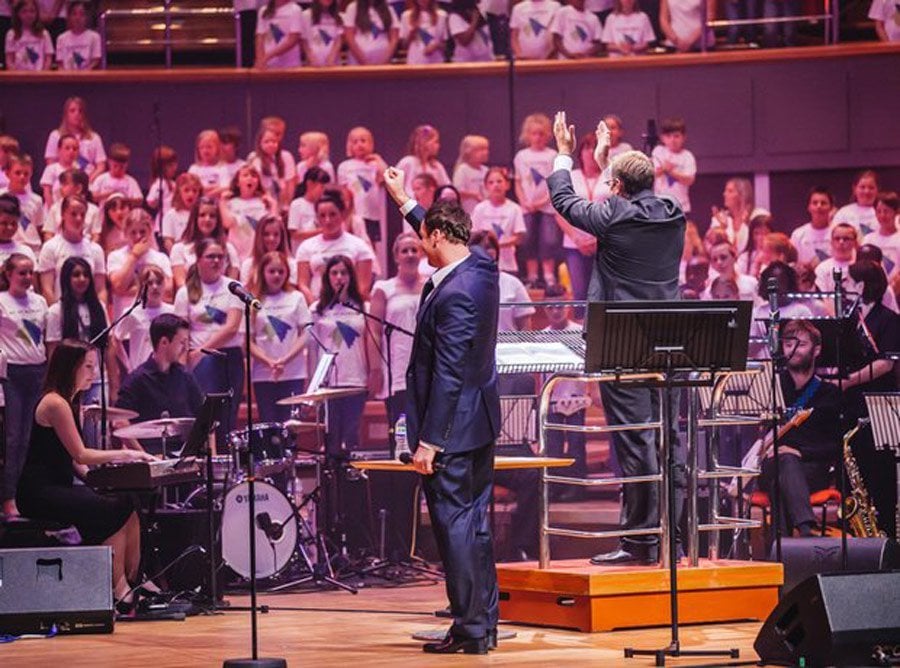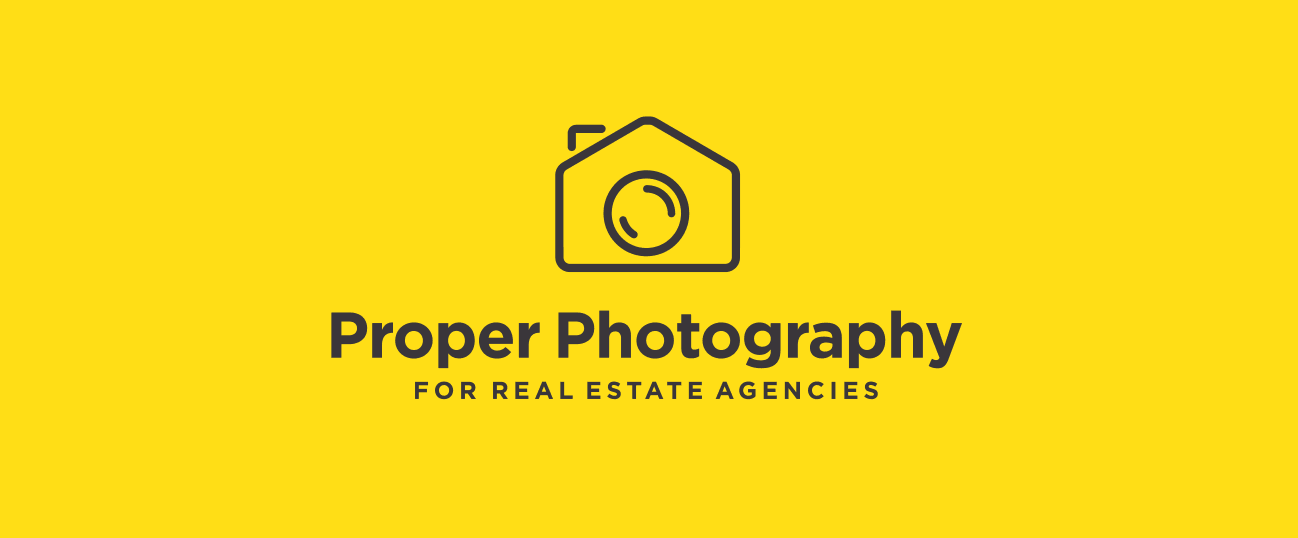 Real Estate Agents Logo Design for Photographer: Work in Process Real Estate Agents Logo Design idea for photographer of properties for real estate agents. Designed by UK freelance logo designer, The Logo Smith (UK Freelance Logo Designer).
It was initially quite a challenge to try and develop a logo design idea that wasn't just about: branding a photographers, but equally not focusing too much on the branding becoming too much about real estate agents, and their properties for sale.
Real Estate Agents Logo Design
It took some time, quite a lot of sketches and doodles, before I found a lovely little angle with this simple house shape, that also mimics a camera with the lens, and the shutter doubling as a chimney.
Proved to be quite tricky to then find the balance between it looking like a building and a camera, but neither too much of one or the other.
I genuinely feel this latest update of the Real Estate Agents Logo Design is pretty darn close to what I have been envisaging.
It's not complete, but it's close. Am very happy so far, and can't wait to include this in my Logo Design Portfolio, and Monomarks page.

Are You are a Real Estate Agent Looking for a Freelance Graphic and Logo Designer?
If you are a real estate agent looking for a freelance logo designer in the UK, for a new logo design for a new business, or are looking to update/refresh your current business brand logo, then I'd love to Contact The Logo Smith.
Don't forget: you can look at my extensive logo and brand identity portfolio designs here: Logo Design Portfolio, and Monomarks page.
Alternatively, if you know what you are looking for, then you can take a look at my Logo Design Brief, and maybe fill that in so we can get started.
Please call/text me on: 07816 527462, or email: glogosmith@gmail.com for more information on how I can help you with your graphic design, and logo design requirements.
My Pure Storage (flash-storage) Logo on an LCD Sign at JFK Airport
Pure Storage, a flash-storage company, has to be one of my proudest logo and brand identity design accomplishments.
Having designed the Pure Storage logo back in 2010 for the then unknown flash-storage company, which was also stealth mode start-up at the time, Pure Storage has quickly become a major player in the industry, and ranked third in the flash-storage market behind EMC and IBM.
TechInsider: According to its S-1, Pure Storage made about $174 million in revenue last year, roughly a 4X jump from the previous year. It has already made $159 million in the first half of this year, putting it on pace to hit nearly $300 million this year.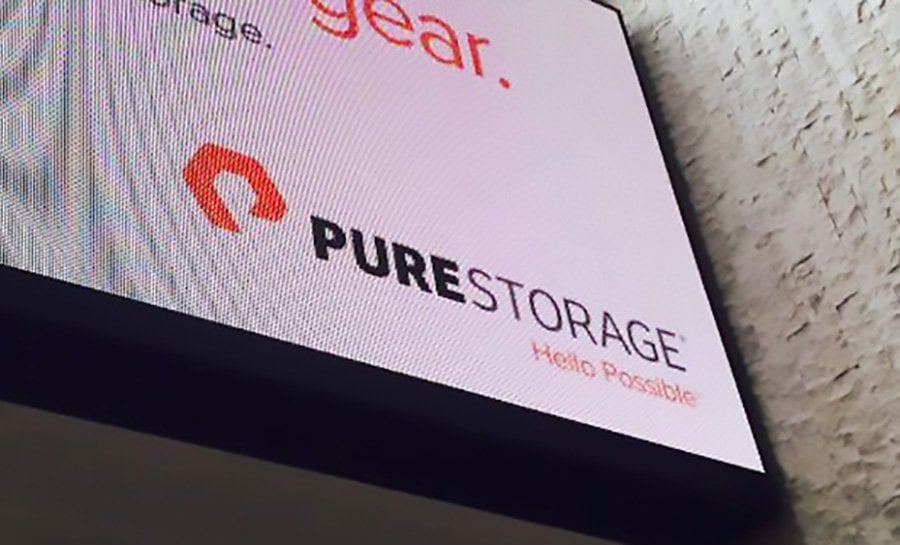 Colin Willems (@colinwillems) on Twitter snapped this photograph (above) of a Pure Storage LCD advert at JFK airport, and send me the photo. 
@thelogosmith Saw your logo on an ad for the company in JFK airport NYC. Very impressed, plus I live near you too. pic.twitter.com/HL6E1RIHsM

— Colin Willems (@colinwillems) February 13, 2016
Watching my little baby growing-up over the years has been pretty amazing; to see how and where the Pure Storage logo has been used and applied, has also been rather mind-blowing.
It's almost starting to become a little unreal just because when I designed it, Pure Storage were a complete unknown, so I had no idea what was to become of them further down the line.
Here are a few other photographs of the Pure Storage logo in use: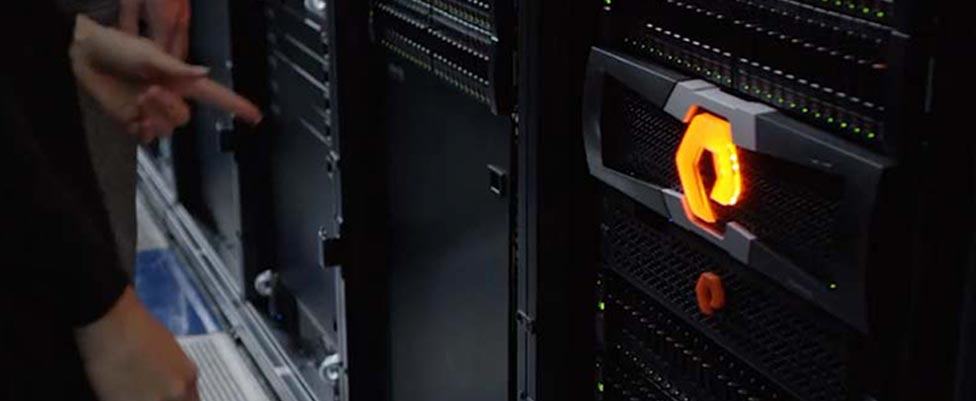 Case Study: txt.search Logo & Icon Design
One of a few Work in Process graphic design logo projects I'm currently involved with is this one, called txt.search: a web app that helps facilitate the searching of text strings, and other text data, within a mass of data.
To help portray the somewhat 'raw' and 'data driven' aspect of this app, but without making it look boring or meh, I've been playing with a slight retro 8-bit approach with the icon.
I've tried to incorporate the idea of an 8-bit text and/or a text file icon, within the graphic for the customary icon for 'search': the magnifying glass.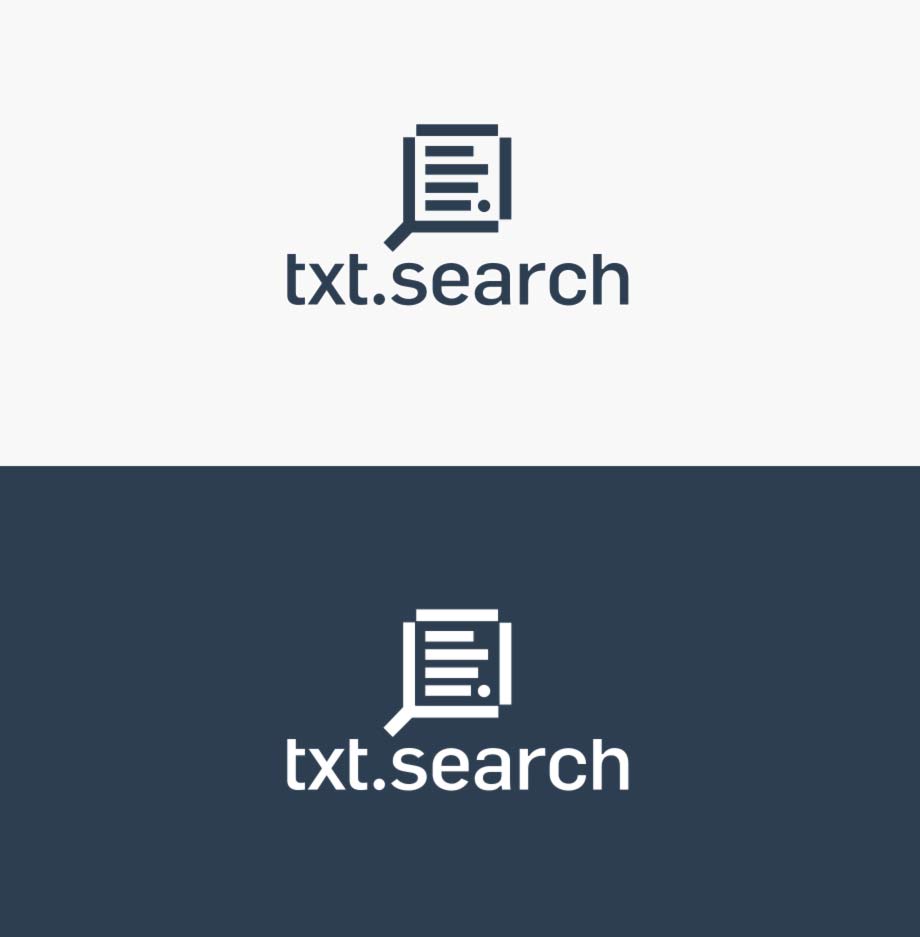 The end result, so far, is a hybrid of a text file document icon and said magnifying glass.
I also took the liberty of playing with the brand name, as it was initially Text Search, but thought it would be more relevant to shorthand it to the often used text prefix .txt, hence it now being referenced as 'txt.search'.
There is still a possibility that it will be switch round to read 'search.txt', but this depends on a few things with the client.
Positive progress so far.
And don't forget: you can see other aspects of my other logo design projects in progress work here: Ongoing Logo Design Case Studies
Ongoing Logo Design Case Studies is an ongoing collection of (in no particularly order of arrangement): logo design sketches, napkin doodles, rough ideas & concepts and mock-ups of various logo and brand identity projects and diagrams (blueprints) showing the construction and development of various logo designs etc.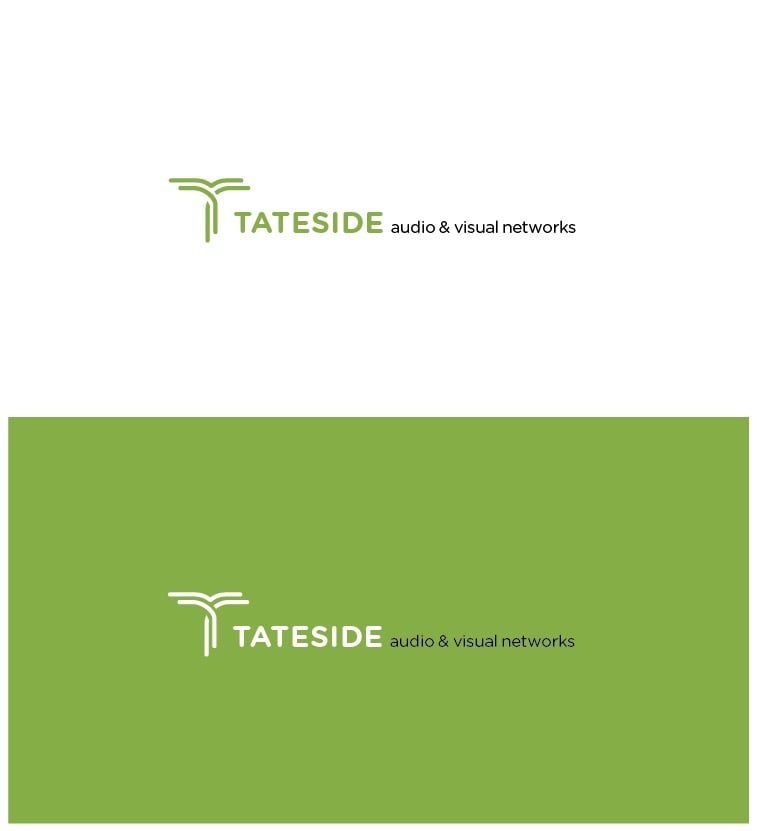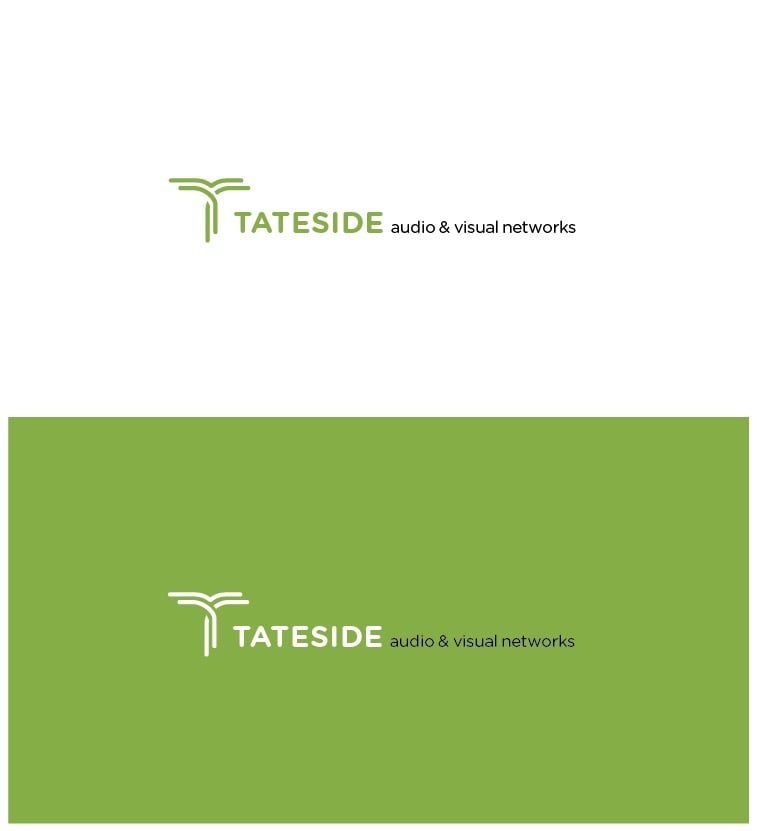 WiP (Work in Process): Logo Design Exploration for Tateside
Here's an initial logo design exploration that I've been tinkering with for Tateside, a London based audio and visual company. The general idea for the logo mark came about whilst looking more at the overall geography of where Tateside is based.
What do you get when you put a network engineer, electronics technician and audio-visual geek together? Apart from the most boring dinner party guest list ever, you get a company that are knowledgeable and enthusiastic, providing bespoke solutions utilizing the most up to date technologies available on today's market.

Based in the center of London, Tateside is a technology company that offers a diverse range of audio-visual services.
This logo project is more of a logo update, than a rebrand, even though everything about design is different to what they are currently using.
The logo mark takes in a few subtle links to the travel system: roads, subways etc, as well as little nod to the Thames (wavy lines). 
Also, and more importantly, the standalone initial T created with lines that can also be associated with cable routing, and such like for the audio and visual networks that they install.
These associations are really pretty subtle, and a little tenuous. First and foremost the logo mark is a stylised linear initial T, but these 'associations' are there as optional extras to the client.
Not really thought too hard yet about colouring, so have utilized the lime green currently used by Tateside.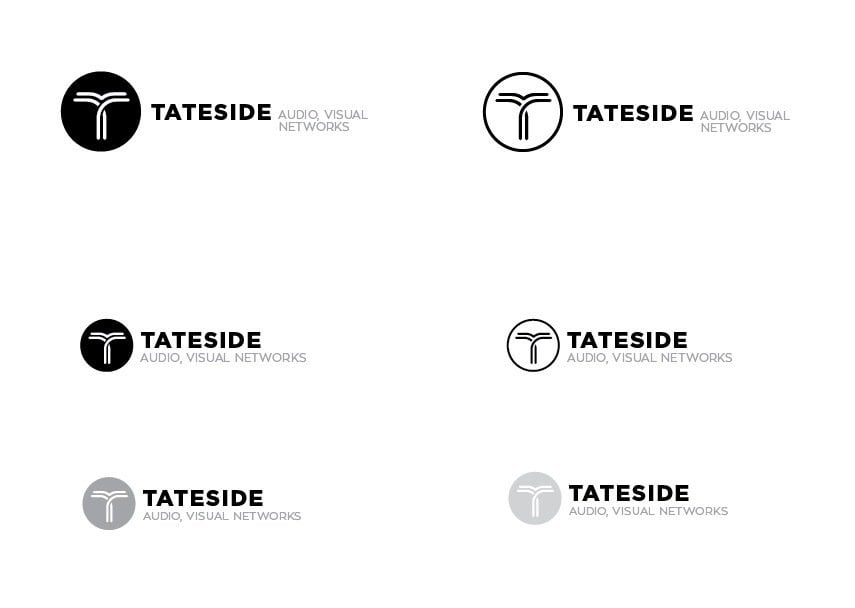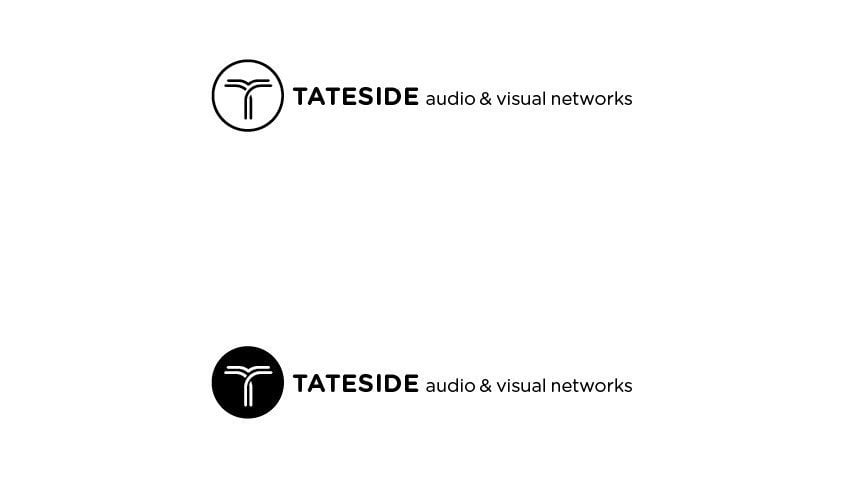 © 2005-2018 All Rights Reserved The Logo Smith
Logo Designer & Brand Identity Design Studio, with 25 Years Experience.
Graham Smith: 10 Badgers Copse, Seaford, East Sussex, England.
 Tel: +44 (0) 7816 527 462  Email: glogosmith@gmail.com