All Archived Posts in Books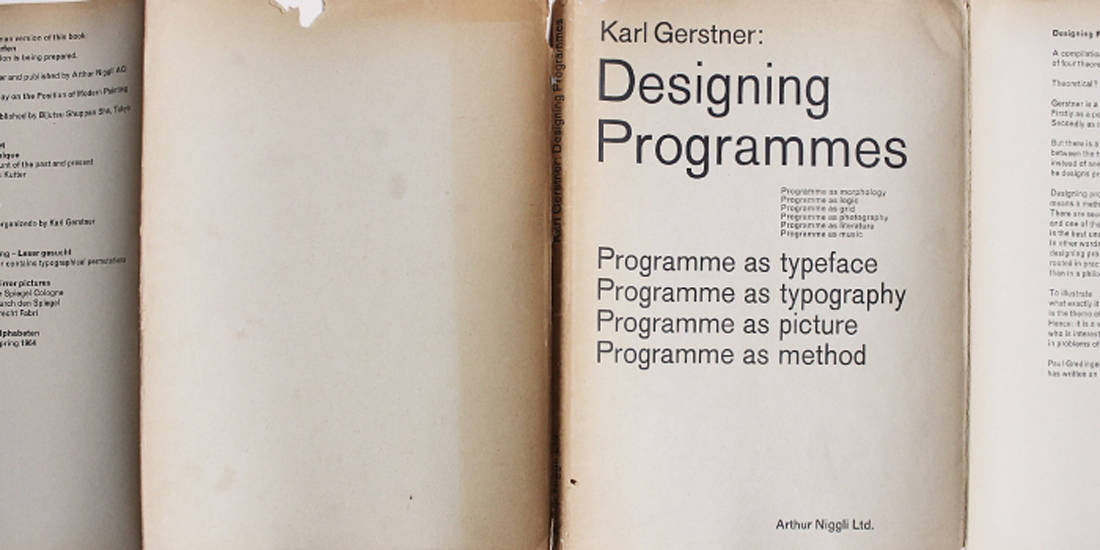 This bit of design news has me all super excited, and it's been sometime since I could enthusiastically say I was super excited about a design book. This super news is that the super super rare book, "Designing Programmes" by Karl Gerstner, first published in 1964, is to be republished by Lars Müller.
Not only is it being republished, but it's being done so in it's original design format and style; not like the redesigned version in 2007: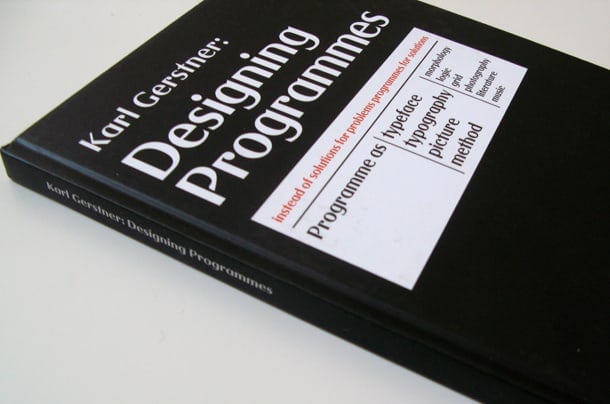 Super Rare
The First Edition and Second Edition are both super rare, with the First Edition being almost completely unavailable, unless you're willing to invest thousands of pounds on a copy:
What I learned from the $2,000 elusive design book "Designing Programmes"
The Second Edition, the redesigned version, can be found if you're keen enough.
So the news that Lars Müller is republishing the First Edition exactly as is, in hardback, and for only £30.00, is really rather exciting.
I've preordered my copy on Amazon, and I'd encourage you to do the same…
Super Rare Design Book: Designing Programmes by Karl Gerstner to be Republished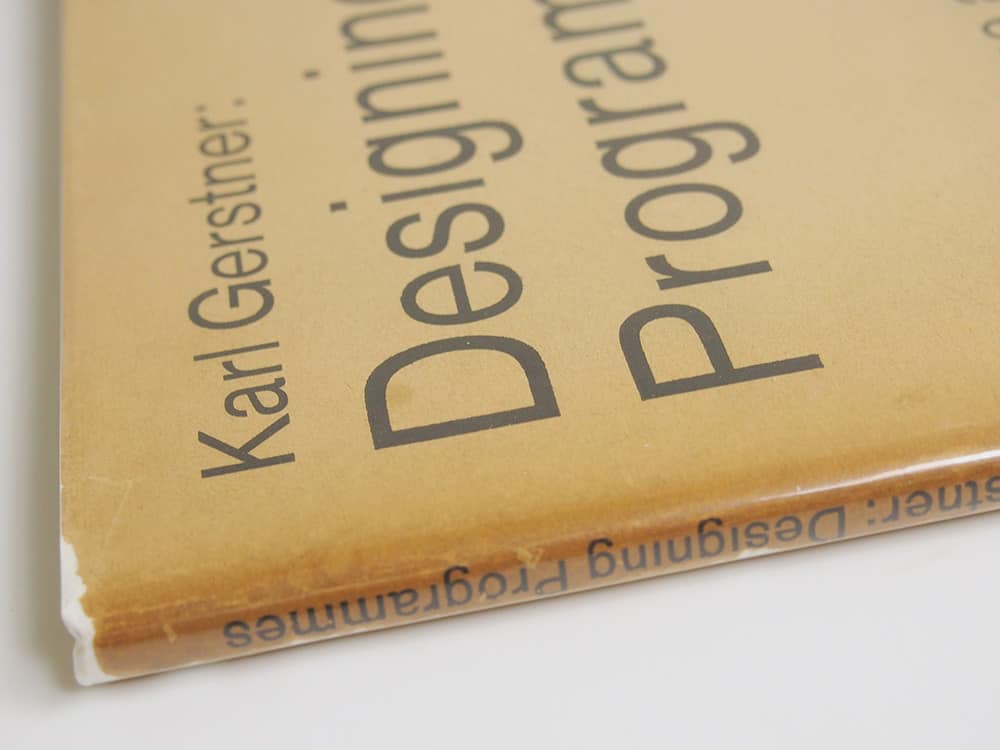 Swiss designer and artist Karl Gerstner (1930-2017) had a significant influence on typography and the history and development of postwar graphic design. Designing Programmes is one of his most important and influential works.

It was first published in 1964, and reissued in a new design by Lars Müller Publishers in 2007; both editions are now rare (the first almost completely unavailable). Now, Lars Müller reissues the book with its original design.

Here, across four essays, Gerstner provides a basic introduction to his design methodology and suggests a model for design in the early days of the computer era. Gerstner's innovation was to propose a rule set or system defined by the designer that would determine all aesthetic decisions for a given product: for example, a logo might also function as a layout grid system or inspire a font.

Today the book is especially topical in the context of current developments in computational design. With many examples from the worlds of graphic and product design, music, architecture and art, Designing Programmes inspires the reader to seize on the material, develop it further, and integrate it into his or her own work.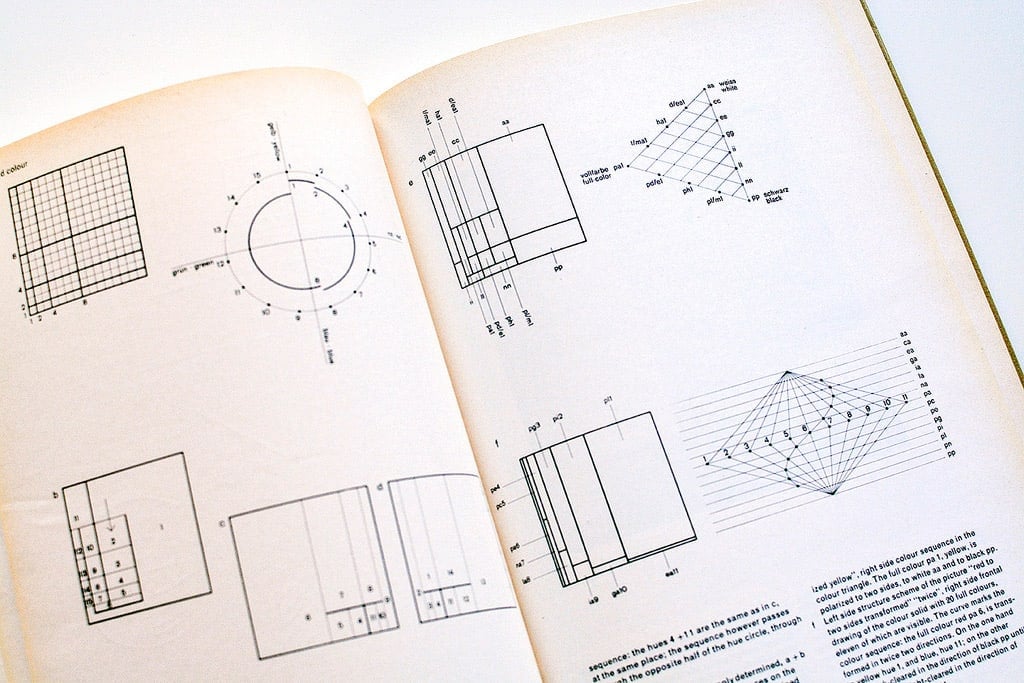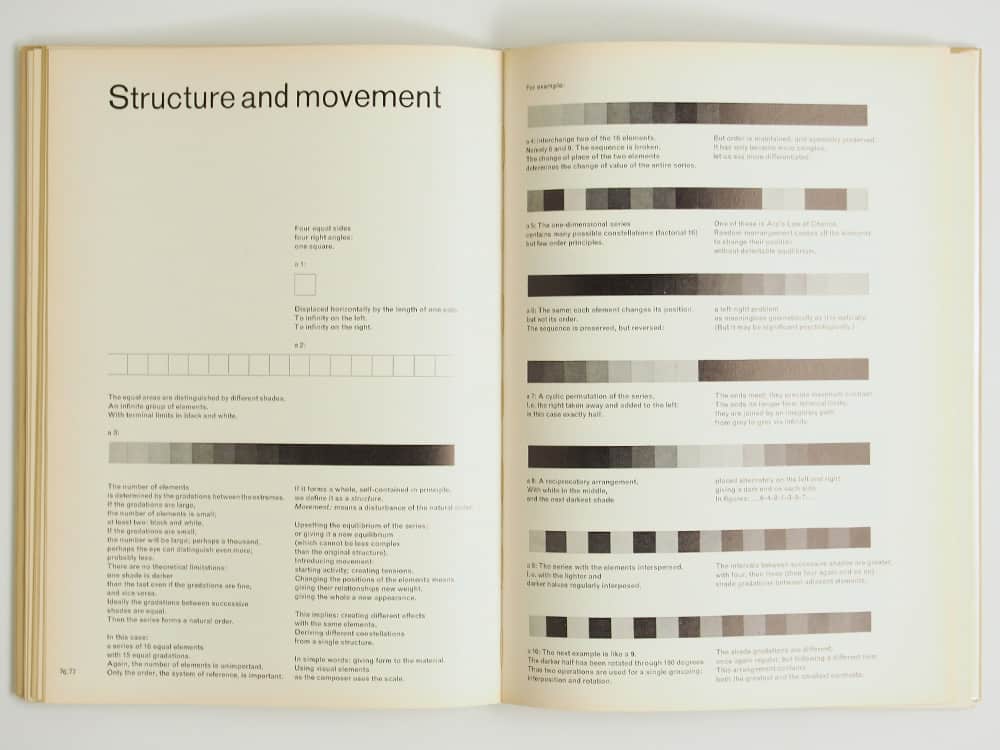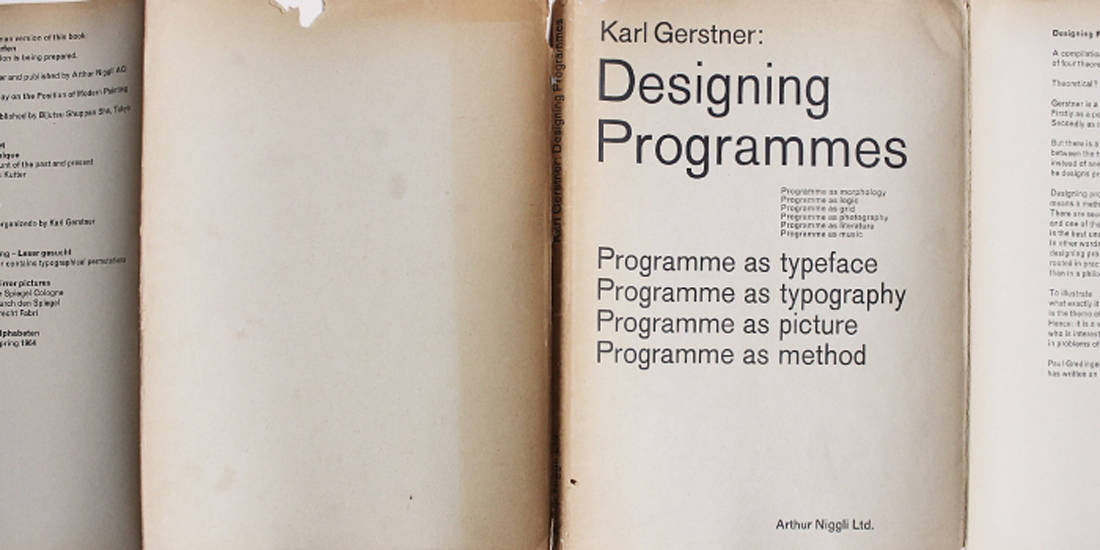 Designer Expenses: What Do You Claim For?
Been very busy with client work of late, and so I decided to cut back on elements of blogging and twitteresque activities in order to better focus on the job at hand.
With that has come a nice sense of freedom and clarity, as well as leaving more time to deal with the annual accounts of a self-employed logo designer. I have nearly managed to get my accounts done in time for Christmas, which compared to last year is a massive improvement. Last year my poor accountant got my accounts around the 27th January!
This time round I have focused a lot more on 'expenses' and being quite rigorous with what I can claim as an 'expense'.
So, I'm somewhat curious, as a self-employed/freelance designer: what sort of things do YOU claim legitimate expenses for? Feel free to leave comments below as a helpful list for others.
Some things I have added to my 'expenses':
• Paypal Fee's
• International SWIFT/CHAP's process fee's
• Portion of household and premise utility bills (work from home)
• Studio refurbishment (3rd bedroom): decorating materials etc.
• Certain car expenses: mileage, parking, partial cost of buying car etc.
• Client work and consultation.
• Accountancy book keeping fee's. NOT preparation of tax returns!
• Advertising & Marketing: imjustcreative branded printing and stationery costs etc.
• Books & research: Self tuition/learning/training costs
• Computer Equipment & accessories
• Mobile phone bills
• BT Broadband bills
• Stationery & Postage
• Occasional client related expenses: meals, travel etc.
• Directory submission costs: logo galleries etc.
• Hosting & domains: 123-Reg, York Networks
• Web app subscriptions: Freshbooks, Vaultpress, Cage, Flickr, Evernote etc
• Application, software & typeface purchases for: Macintosh, iPhone and Android
Logology 2: another soon to be classic logo design book that had slipped me by, but one I shall not be without given the utter nightmare of trying to get hold of the ultra hard to find orginal Logology.
I ended up finding some obscure online shope somewhere in Antartica that had one copy of the first edition of Logology to hand, and if you are able to find a copy it is certainly worth paying a premium for just for the embossed leather cover itself.
Seems it came out in 2011 and already Amazon are not selling this direct which leads me to believe it will also soon become hard to come by, so certainly worth getting your copy now. There are a couple of sellers selling it for around £35 plus P&P.
Product Description: The look and functions of logos vary over time. First emerged as pictorial names to differenciate producers in the market, logos today speak a much sophisticate language that caters for the world. Whether they draw on symbolism or wordds or letterforms to channel values and promises, keeping the message precise and straightforward is still the key to talk. Following the success of Logology®, Logology®2 put together a picture of unique brand expressions that answer changes and are meant to grow with time.
If there is one logo design book you need to earmark, right about now, it would be Logotype by Michael Evamy and published by Laurence King. Michael authored, what I consider to be, the best logo book out there: Logo, so I think he knows a thing or to about putting together a successful logo design book.
Amazon: Logotype is the definitive modern collection of logotypes, monograms and other text-based corporate marks. Featuring more than 1,300 international typographic identities, by around 250 design studios, this is an indispensable handbook for every design studio, providing a valuable resource to draw on in branding and corporate identity projects. Logotype is truly international, and features the worlds outstanding identity designers. Examples are drawn not just from Western Europe and North America but also Australia, South Africa, the Far East, Israel, Iran, South America and Eastern Europe. Contributing design firms include giants such as Pentagram, Vignelli Associates, Chermayeff & Geismar, Wolff Olins, Landor, Total Identity and Ken Miki & Associates as well as dozens of highly creative, emerging studios. Retaining the striking black-and-white aesthetic and structure of Logo (also by Michael Evamy) and Symbol, Logotype is an important and essential companion volume.
I'm super duper excited about the imminent release of Logotype as this is an area I find most satisfying in my own logo designing. There is something particularly challenging, and pleasing, in trying to create a strong logo that mostly consists of typography without additional/standalone graphical images to support it.
Logotype is one book you really do need to have in your collection. If you don't yet have the mighty impressive Logo and Symbols books, then look to correct that oversight super pronto.
You can go and preorder Logotype on Amazon for £15.75 with an expected release date of: 17th September, and comes with 336 printed pages.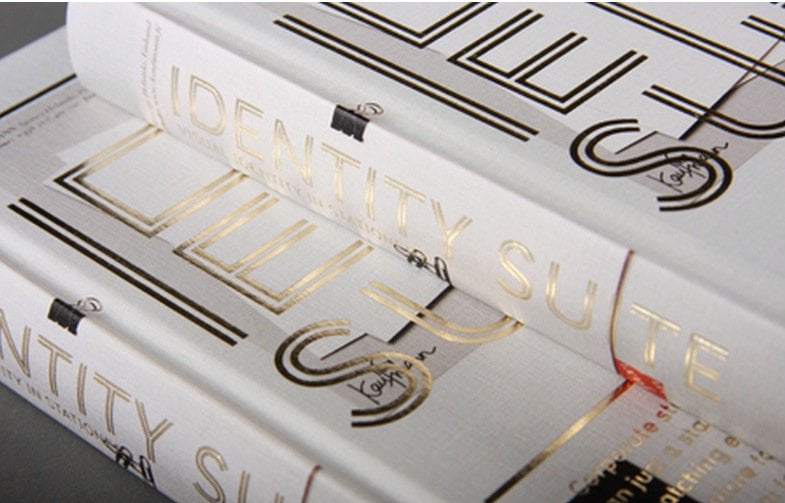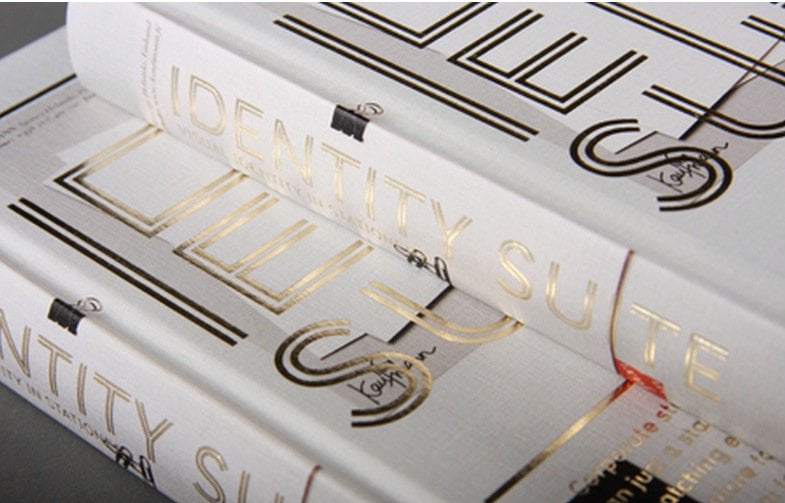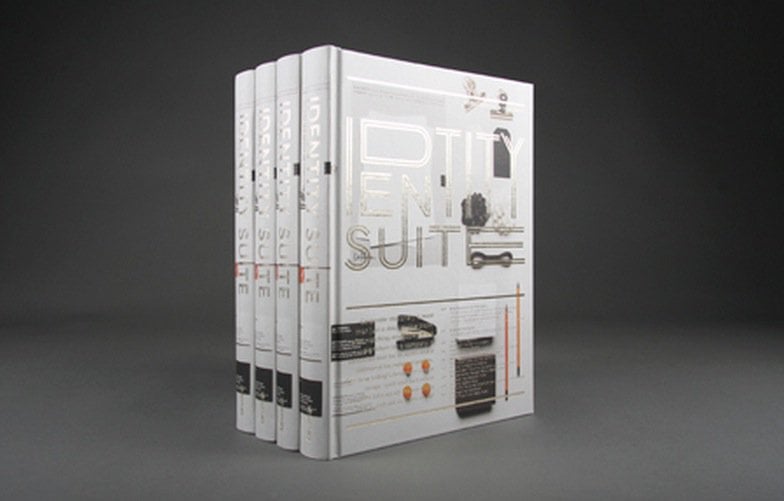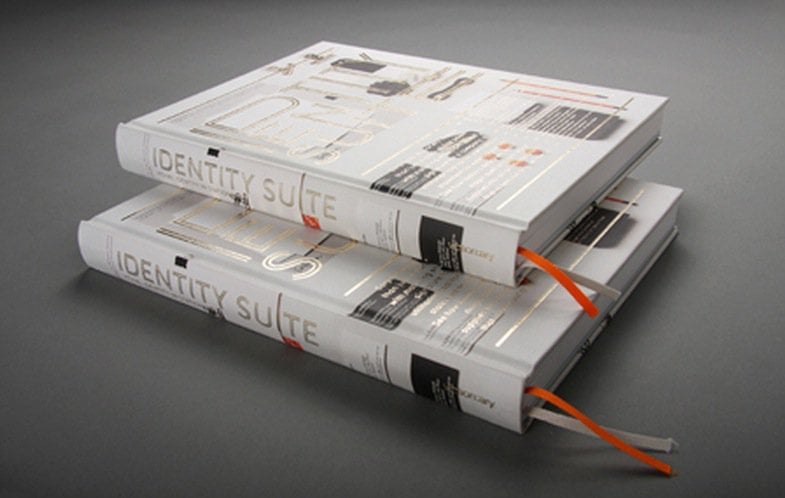 A good design book is one of the key ingredients in obtaining and ferreting out inspiration for your next design piece. There are no shortage of logo design books from which to harness the power of inspired thoughts, but it's important to have the bigger picture in mind.
This is where Identity Suite: Visual Identity in Stationery by Victionary—someone needs to tell them that their current website design, specially colour choice and the general tinyness of everything, leaves a little to be desired—as it provides a tremendous resource for when you are tasked with creating more than 'just' that logo.
Being able to sense and imagine that larger dimension, and be able to visualise how your new logo design will work, for your client, across a range of touch-points is superportant. Not every client mind has the budget for the sort of stationery designs you may see in books like this, however, it is still incredibly useful to see how stationery can be designed effectively and creatively.
Identity Suite: Visual Identity in Stationery not currently available, but it's worth keeping an eye out for it on Amazon. The presentation of the book looks spot-on, so I would imagine it costing somewhere between £25-£45?
You can view more photographs of the inside over at Victionery, here are a few:
So says Victionary: The most fundamental of all branding tools is a company's own stationery. Being the most frequent touch points between staff and clients, corporate stationery remains a perfect and most basic branding tool for companies in any industry and of any size.
Investigating about 100 complete stationery sets, Identity Suite is an up-to-the-minute epitome of successful branding through office supplies today. Through the choice of stationery items to include and designers' attention to details, these highly characterised letterheads, labels, tapes, folders, notepads, memo pads, wrappers... and many more can be customised to befit specific operation needs and visualise brand visions at the same time. Seven in-depth case studies will also highlight the lavishly designed and executed branding and rebranding campaigns for new luxurious apartments, a sizable mixed-use development, designer hotel, five-star historic hotel, an independent industrial designer and fashion boutiques from around the world.
» Via: TypeToken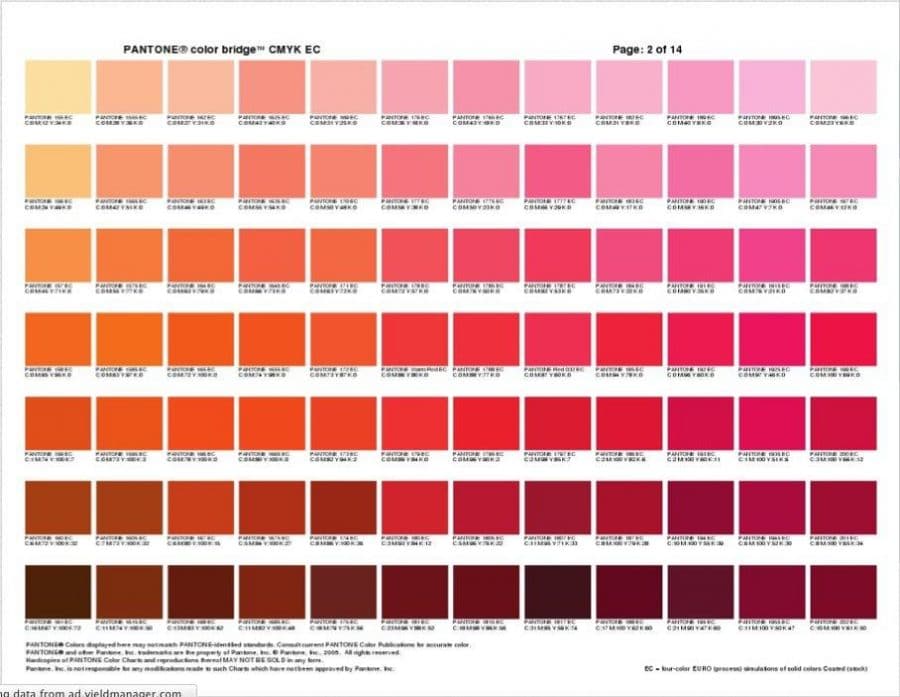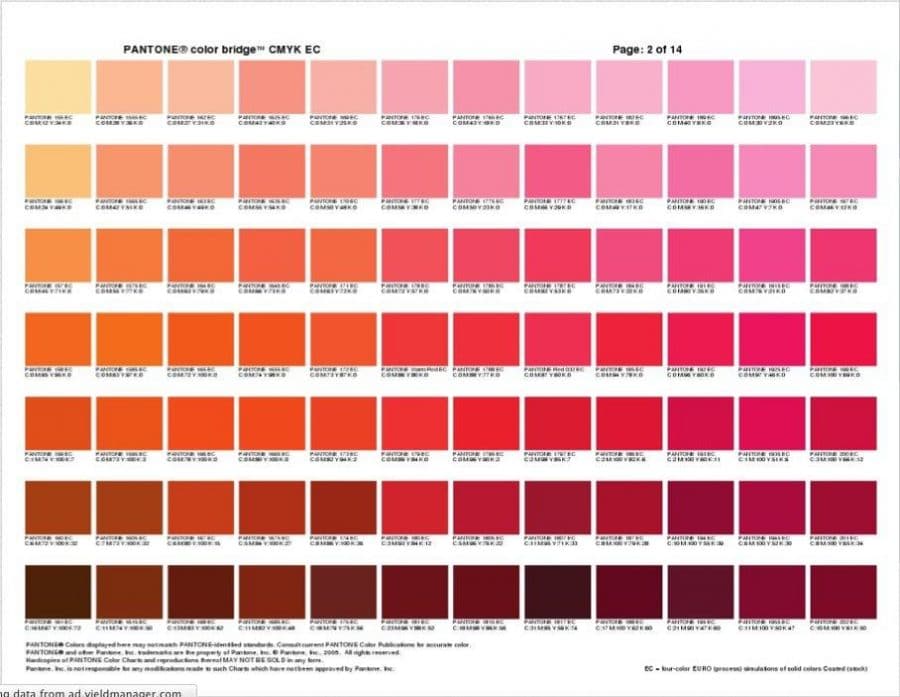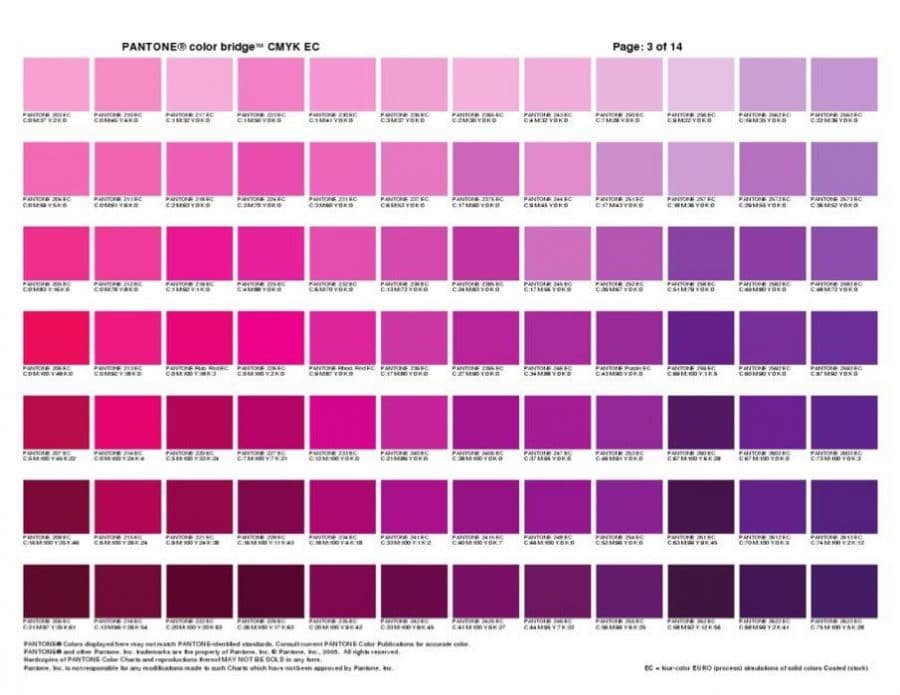 This Pantone Color Bridge document on Scribd is really very useful as an online reference for Pantone to CMYK colour conversions. I have previously written about the Pantone Color Bridge Swatch Books and how important these Pantone book are for any designer.
There are limitations with an onscreen version, namely you can't see how a specific Pantone colour actually looks printed It is useful nonetheless as a casual reference guide in searching for CMYK value breakdowns of a Pantone colour.
There is nothing like having the actual printed Pantone Bridge swatch book to  hand. They are incredibly valuable when it comes to finding and specifying colours for a logo design. No one likes guess work with something as crucial as colour for a brand identity. Bonus feature with the Pantone Color Bridge books: you get the RGB and HTML conversion values along with CMYK.
Buying yourself a Pantone Color Bridge book is a solid tip from me, and nearly ranks along with: The Best Logo Design Advice I Can Give
K Found on Scribd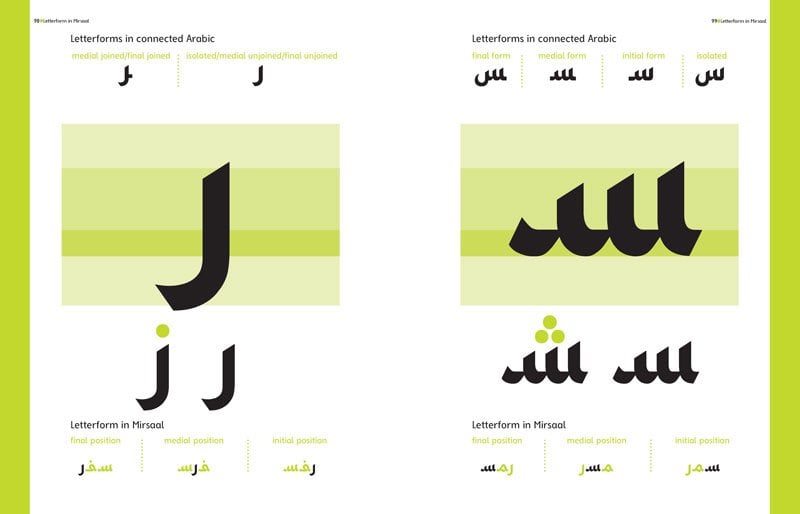 Cultural Connectives: Understanding Arab Culture Through Typography published by Mark Batty Publisher and written by Rana Rjeily looks like such an amazing book in better understanding, and appreciating, Arabic typography.
When it comes to learning and understanding Arabic, the letterforms can be daunting, but realizing the differences between the Arabic and Latin alphabets is necessary. Cultural Connectivespresents Arabic from a fresh perspective by bridging Arabic and Latin scripts through Mirsaal, a family of typefaces designed by Rana Abou Rjeily that brings the two scripts into typographic harmony, even in light of their differences. Using her designs, Abou Rjeily applies Arabic rules of writing, grammar, and pronunciation to English as a way to introduce Arabic to non-native speakers.
As an introduction to written Arabic this book is invaluable; as a means to dissolve cultural barriers, this book utilizes two very different alphabets in the name of creating understanding on many levels.
Increasingly brands are creating uniquely styled Arabic versions of their brand logos. This can show us is how a specific visual brand message originally created in Crylilic will take on quite a different look when translated to Arabic. I briefly touched on the Arabic version of the FedEx logo in a previous post. This is a classic example of where some nifty re-engineering had to be done in order to retain that infamous negative space arrow, as this is a core visual reference from FedEx.
Cultural Connectives has come at such a perfect time for me as one of my next projects is indeed of an Arabic brand where both Cyrillic and Arabic versions of the typography will be required. Just ordered Cultural Connectives from Amazon so will let you know if the book is as good as the photographs make it out to be.
If you want to read more information on Cultural Connectives then Rana Rjeily has an official website for the book over on: http://rana.im/cultural-connectives/
K Found on BrainPickings
Know Your Onions: Graphic Design, written by Drew de Solo, looks great especially as it's designed more like a notebook: enabling you to add your own notes to the supplied blank pages as you go along.
Know Your Onions sounds like it is aimed at the novice-intermediate level from what I can tell from the summary and table of contents.
Know Your Onions (BIS Publishers, IBSN 978-90-6369-258-2 , €17)
From the Publisher
This book is practical and immediate, without being condescending or overly technical. It is like having a graphic design mentor who will help you come up with ideas, develop your concepts, and implement them in a way that is engaging and humorous. It gives readers the experience and ability that normally comes from years of on-the-job training. All of the essential techniques of graphic design and its digital implementation are covered.
Read this book and gain 25 years' experience in how to think like a creative, act like a businessman and design like a god.
This book is designed like a notebook, with all the authors' tips and knowledge already inside. However, it also includes blank pages that allow the user to personalize this reference book with specific notes that are relevant to his or her studio, suppliers or clients.
K Found on GetAddictedTo
The Open Library provides you with an ever growing collection of digitised vintage and rare type specimen books. They are downloadable as reasonably high-resolution PDF's.
Lot's of classy eye candy.
The most frequent question I am asked, as part of the [AQFG] series, is a variation of, "What logo design advice would you give to a new designer wanting to try their hand at designing logos and brand identities?"
I have always been stumped as how to answer it's such a massively broad subject to answer.
Then, one day over Christmas, it just occurred to me how I could best answer this sort of question. It's not THE answer, but just one of many, but I do know it's a solid tip.
Commercially Yours
My tip? If you are seeking a career as a designer, in any particular discipline, it would be to familiarise yourself, understand and respect the very nature of commercial process printing.
You could certainly focus and specialise on logo designs for screen, but you could be selling yourself way short as well as becoming a little bored in time.
Diversity, or lack of, can make or break your own sense of self fulfilment and motivation.
Stating for the record; should you want to try your hand at identity design you will undoubtedly need to have knowledge and understanding of: commercial printing, reprographics and commercial print finishing
Designing for the screen is such a tiny part of this much broader discipline. If you plan to take on paid client projects that culminate in commercial printing, without adequate knowledge and understanding of the print process, then you are truly running the risk of an undesirable, and maybe, costly ending.
I consider myself very fortunate to have been given a very valuable start as my career was kick-started with an apprenticeship in commercial print, paste-up, plate-making and photography before moving onto typesetting and DTP (Desk Top Publishing).

Of course not everyone can arrange to get this level of on-the-job training, but you can certainly facilitate the growth of knowledge by immersing yourself in the theory, and practical applications of commercial print and reprographics. Reprographics is a general term encompassing multiple methods of reproducing content, such as: scanning, photography, xerography, digital printing, film and plate output. The term applies to both physical (hard copy) and digital (soft copy) reproductions of documents and images.
If you do plan to pursue a career in logo and brand identity then you absolutely will need to grasp the concept, and application of, commercial print and reprography.
Finishing
To ensure you can offer your clients a truly rounded service then you also need to look at the intricate, and often misunderstood, workings of print finishing.
Print finishing is usually the last physical stage of a commercial print run and can provide those finishing—no pun intended—touches that set apart a regular print job from a truly unregular and bespoke design/print job. Print finishing is often overlooked as unimportant, but couldn't be further from the truth. It provides the trimming, gluing, stapling, organising, embossing, laminating, Spot-UV'ing, mounting, image transfer, die-cutting and other forms of specialised processes.
If you have no idea of what can be achieved, or as importantly what can't be achieved, through all the many combinations available via commercial print and print finishing, then you could never hope to offer a truly diverse and rounded service to your clients.
Raising More Questions
Designing logos just for the screen will keep you busy for a while, but you will almost certainly want to explore the creatively satisfying options made possible through an understanding of reprographics, printing and finishing.
I appreciate this post, in all likely hood, has now raised more questions than answered. And well it should. Logo and brand identity design is just part of a much larger picture where knowledge of what the other cogs in the machine do will help you enormously.
But don't be put off by my bluntness.
Would it surprise you to know I didn't do any kind of art or design at higher education level? Knowledge is one part of it, but how you get that knowledge is completely down to how much you want to succeed. I know from personal experience that sufficient practical experience can help get you where you want to be. If you hear anyone tell you differently, just because you didn't do that design course at University, then just tell them "poppycock" and point them to me. I'll happily put them in their place.
So if all this means you need to put in a few hours at your local printers to see just how it all comes together, then that is what you need to do. There really isn't a quick fix: time, resourcefullness and an eagerness can work for you.
Further Exploration Thereof
This is a subject I will explore more in future posts. What I do hope though is that you will start to think in broader terms when contemplating the art of logo and brand identity design. There are numerous books available that will help you steer you in the right direction
If you have a question that you would like to see answered in a [AQFG] post like this, then please do send me an email and I will certainly try my best to answer it for you.
© 2005-2018 All Rights Reserved The Logo Smith
Logo Designer & Brand Identity Design Studio, with 25 Years Experience.
Graham Smith: 10 Badgers Copse, Seaford, East Sussex, England.
 Tel: +44 (0) 7816 527 462  Email: glogosmith@gmail.com