All Archived Posts in Books
Designer Expenses: What Do You Claim For?
Been very busy with client work of late, and so I decided to cut back on elements of blogging and twitteresque activities in order to better focus on the job at hand.
With that has come a nice sense of freedom and clarity, as well as leaving more time to deal with the annual accounts of a self-employed logo designer. I have nearly managed to get my accounts done in time for Christmas, which compared to last year is a massive improvement. Last year my poor accountant got my accounts around the 27th January!
This time round I have focused a lot more on 'expenses' and being quite rigorous with what I can claim as an 'expense'.
So, I'm somewhat curious, as a self-employed/freelance designer: what sort of things do YOU claim legitimate expenses for? Feel free to leave comments below as a helpful list for others.
Some things I have added to my 'expenses':
• Paypal Fee's
• International SWIFT/CHAP's process fee's
• Portion of household and premise utility bills (work from home)
• Studio refurbishment (3rd bedroom): decorating materials etc.
• Certain car expenses: mileage, parking, partial cost of buying car etc.
• Client work and consultation.
• Accountancy book keeping fee's. NOT preparation of tax returns!
• Advertising & Marketing: imjustcreative branded printing and stationery costs etc.
• Books & research: Self tuition/learning/training costs
• Computer Equipment & accessories
• Mobile phone bills
• BT Broadband bills
• Stationery & Postage
• Occasional client related expenses: meals, travel etc.
• Directory submission costs: logo galleries etc.
• Hosting & domains: 123-Reg, York Networks
• Web app subscriptions: Freshbooks, Vaultpress, Cage, Flickr, Evernote etc
• Application, software & typeface purchases for: Macintosh, iPhone and Android
Logology 2: another soon to be classic logo design book that had slipped me by, but one I shall not be without given the utter nightmare of trying to get hold of the ultra hard to find orginal Logology.
I ended up finding some obscure online shope somewhere in Antartica that had one copy of the first edition of Logology to hand, and if you are able to find a copy it is certainly worth paying a premium for just for the embossed leather cover itself.
Seems it came out in 2011 and already Amazon are not selling this direct which leads me to believe it will also soon become hard to come by, so certainly worth getting your copy now. There are a couple of sellers selling it for around £35 plus P&P.
Product Description: The look and functions of logos vary over time. First emerged as pictorial names to differenciate producers in the market, logos today speak a much sophisticate language that caters for the world. Whether they draw on symbolism or wordds or letterforms to channel values and promises, keeping the message precise and straightforward is still the key to talk. Following the success of Logology®, Logology®2 put together a picture of unique brand expressions that answer changes and are meant to grow with time.
If there is one logo design book you need to earmark, right about now, it would be Logotype by Michael Evamy and published by Laurence King. Michael authored, what I consider to be, the best logo book out there: Logo, so I think he knows a thing or to about putting together a successful logo design book.
Amazon: Logotype is the definitive modern collection of logotypes, monograms and other text-based corporate marks. Featuring more than 1,300 international typographic identities, by around 250 design studios, this is an indispensable handbook for every design studio, providing a valuable resource to draw on in branding and corporate identity projects. Logotype is truly international, and features the worlds outstanding identity designers. Examples are drawn not just from Western Europe and North America but also Australia, South Africa, the Far East, Israel, Iran, South America and Eastern Europe. Contributing design firms include giants such as Pentagram, Vignelli Associates, Chermayeff & Geismar, Wolff Olins, Landor, Total Identity and Ken Miki & Associates as well as dozens of highly creative, emerging studios. Retaining the striking black-and-white aesthetic and structure of Logo (also by Michael Evamy) and Symbol, Logotype is an important and essential companion volume.
I'm super duper excited about the imminent release of Logotype as this is an area I find most satisfying in my own logo designing. There is something particularly challenging, and pleasing, in trying to create a strong logo that mostly consists of typography without additional/standalone graphical images to support it.
Logotype is one book you really do need to have in your collection. If you don't yet have the mighty impressive Logo and Symbols books, then look to correct that oversight super pronto.
You can go and preorder Logotype on Amazon for £15.75 with an expected release date of: 17th September, and comes with 336 printed pages.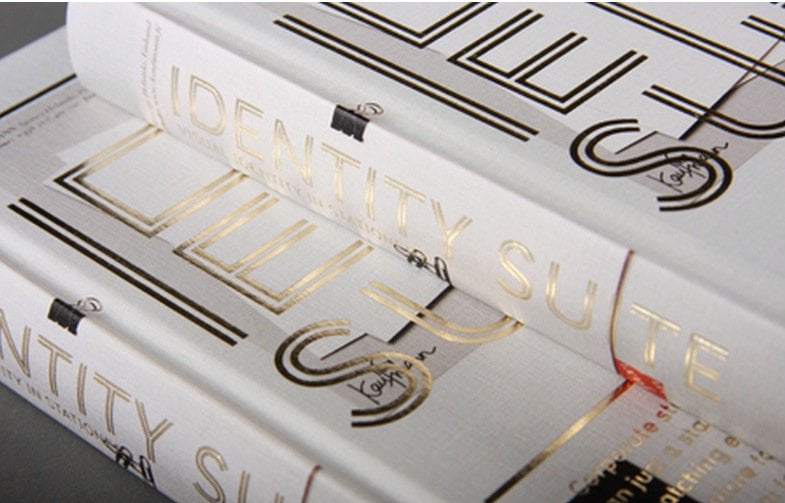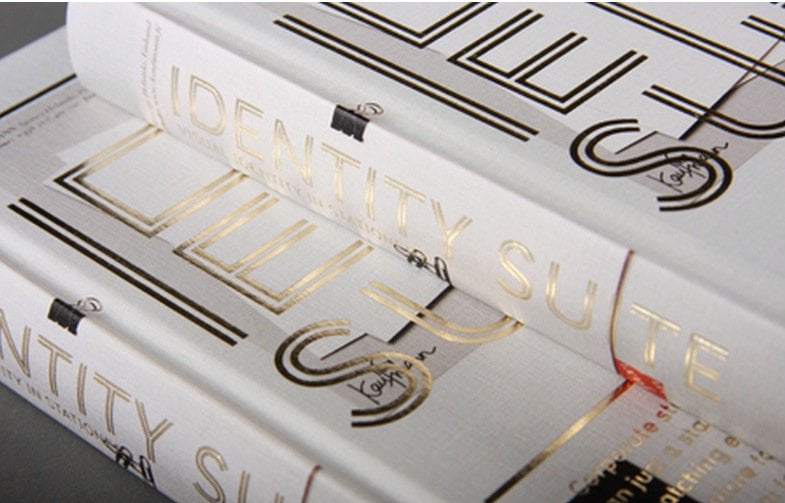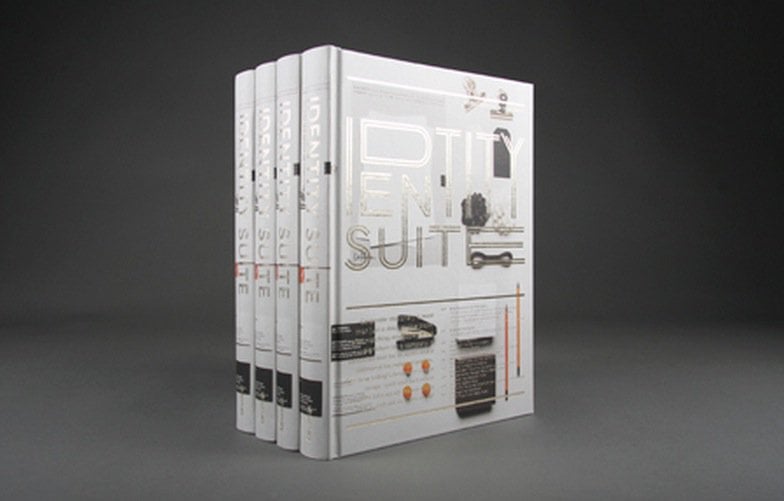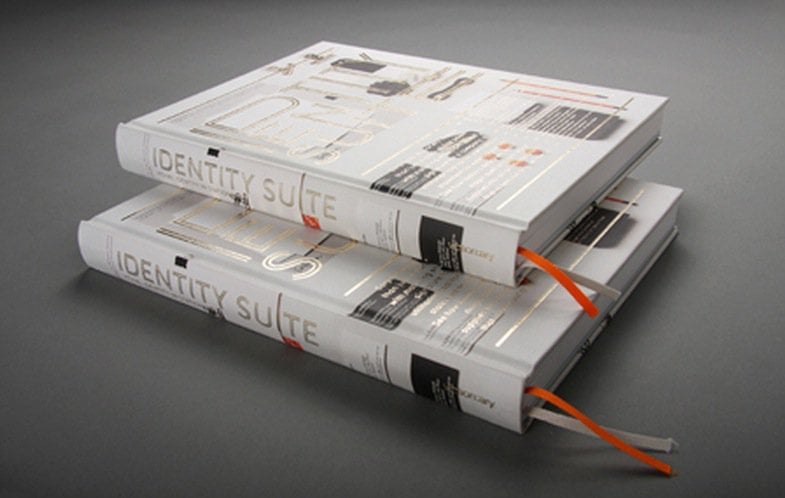 A good design book is one of the key ingredients in obtaining and ferreting out inspiration for your next design piece. There are no shortage of logo design books from which to harness the power of inspired thoughts, but it's important to have the bigger picture in mind.
This is where Identity Suite: Visual Identity in Stationery by Victionary—someone needs to tell them that their current website design, specially colour choice and the general tinyness of everything, leaves a little to be desired—as it provides a tremendous resource for when you are tasked with creating more than 'just' that logo.
Being able to sense and imagine that larger dimension, and be able to visualise how your new logo design will work, for your client, across a range of touch-points is superportant. Not every client mind has the budget for the sort of stationery designs you may see in books like this, however, it is still incredibly useful to see how stationery can be designed effectively and creatively.
Identity Suite: Visual Identity in Stationery not currently available, but it's worth keeping an eye out for it on Amazon. The presentation of the book looks spot-on, so I would imagine it costing somewhere between £25-£45?
You can view more photographs of the inside over at Victionery, here are a few:
So says Victionary: The most fundamental of all branding tools is a company's own stationery. Being the most frequent touch points between staff and clients, corporate stationery remains a perfect and most basic branding tool for companies in any industry and of any size.
Investigating about 100 complete stationery sets, Identity Suite is an up-to-the-minute epitome of successful branding through office supplies today. Through the choice of stationery items to include and designers' attention to details, these highly characterised letterheads, labels, tapes, folders, notepads, memo pads, wrappers... and many more can be customised to befit specific operation needs and visualise brand visions at the same time. Seven in-depth case studies will also highlight the lavishly designed and executed branding and rebranding campaigns for new luxurious apartments, a sizable mixed-use development, designer hotel, five-star historic hotel, an independent industrial designer and fashion boutiques from around the world.
» Via: TypeToken
Logo Design Round-Up Part 16 is very long awaited. Really rather pleased to see so many designers submitting their own brand logo designs for this logo design round-up series.
Unfortunately there were a few too many submissions to include in one post. For those of you who have submitted your brand logo please be rest assured that they will feature in the Logo Design Round-Up Part 17 which will be posted next week.
Pinterest
I have taken the liberty of pinning all the logos to Pinterest: http://pinterest.com/imjustcreative/logo-design-round-up as well as adding a Pin button to each and every logo design featured.
Take Part
If you would like to join the fun and have your own brand logo showcased with a written description then flick through this post: Submit Your Logo For Logo Design Round-Up Series
All there is to do now is present ten of your logo designs with some juicy descriptions to boot. Enjoy.
Franck Juillot: Brand Designer - http://franckjuillot.com
I feel like I've been working on my personal logo for ever. Countless styles, shapes, logograms, letter combinations - I think any perfectionist designer knows the hard and sometimes painful process of branding himself.
This logo is maybe the first & only version I'm quite satisfied with so far. I focused on curves, stability and space to create this symmetrical logo. Diagonal lines were added in the last step of creation to enhance the "fj" shape, which appeared too plain to me. Besides their graphical purpose, diagonals are also for me a great tool that I use regularly, and reflecting that in my personal logo appeared logical to me.
I use this logo to promote myself as a Logo Designer mainly on the Web, and I use an other identity for my local business in general infographics and web design. I feel each logo should contribute to a specific purpose, thus I designed this one to promote efficiently my branding projects.
Homer Gaines — homergaines: Interactive Designer and Developer — http://homergaines.com
The idea to start Airborneapps came after Adobe debuted Adobe Air back in '08. The idea was to design mobile apps for the AIR runtime under the name. Instead of jumping in head first, I took some time to just design mobile UI's instead. Although I had a catchy name, I wasn't sold on the initial logo designs I came up with so I sat on it in addition to that, it gave me some time to plan out the direction I wanted to take.
It wasn't until after working on a personal design project where I designed cloud icons to represent the current health of a network that I had the "AH HA!" moment for Airborne. Initially I took my cloud icon and added "Airborneapps" underneath it. At that time, the cloud had a smiley face but that soon changed because it just didn't fit. Everything about it felt cluttered. On top of that, I wasn't happy with the type face.
To lose the clutter and excess visual noise, I took the smiley face out and left the name under the cloud. I'm all for minimalism but when I did that, it was just too plain. What am I going to do with this empty cloud? The cloud alone was not enough to support the idea of being airborne and that's when I had the idea for the rocket. a few sketches and 45 min later I had come up with the logo you see today.
Even though I had the design how I wanted it, I had not solidified the type face for the name. I probably spent the next 3 hours looking through fonts on my machine and on the web. The first type face, "Candice" I knew was a place holder. I tried to go the 8 bit route and use a pixel type face but that was a fail mainly because like " Candice ", it just didn't fit. I wanted a type face that would compliment the strokes and shape of the logo and finding one was a beast! Then I came across a font buried deep in my archives called "Days". It fit perfectly. I was so pleased with the results, I spent the rest of the night designing a whole family of logos based on the airborne theme.
Travis Ulrich — Ulrich Design — http://ulrichdesign.ca
Naming my company was a pretty straight forward process: My last name (Ulrich) + "Design". I actually designed this logo back in 2006 but at first it took a different form (see top-right corner of image). It kind of looked like a take on the Nintendo 64 logo but in shades of blue: It was one solid 3D block with a "U" (for "Ulrich") carved into one face and a "D" (for "Design") carved into another.
A year later, I ran into the problem of wanting to be able to have a one-colour version. I didn't want to have just outlines, and filling it all in one colour would make it unrecognizable as anything. So I started thinking about how the light would hit this logo if it actually was a 3D object and took pieces away and when I took away the face of the 'D' and the the inside of the 'U' I found that my eye would still allow me to fill in the missing parts and it suddenly became this logo that was a flat-laying brand mark but also 3D. I kept the original font choice (Eurostile) since I was pleased with how boxy it was, which matched the icon, without having 90° corners.
I also decided to go with a white-on-black colour scheme. While my logo is technically white, I'd say that black is my colour. Black, to me, feels like a blank slate. It leaves interpretation open-ended, though I see it as the colour of "creativity", and everything goes with black and black makes other colours look bigger and brighter.
I get a ton of compliments on my logo and recently, I was told by someone that my logo reminded them of a Rubik's Cube which is a great symbol for marketing: Solving a puzzle and finding a solution. While that wasn't my aim it did sort of ring true about what I do and how I created my logo.
Marvell Lahens — Marv: Freelance Graphic Designer — http://cargocollective.com/marv
After two years as an architecture major, I realized that my true passion lied within branding. As the authority on corporate identity Tony Spaeth states, identity is "an enchanted apple, that spoiled the taste of other fruit," and I plan on never looking back.
Although I'd much rather spend my days now designing logos, over my days as a CAD zombie in the architecture studio, there are many lessons that I carry forth from my time in "archi-torture." Most significant of these lessons is the idea of being decisive and bold, while maintaining a level of purpose in all design aspects.
Carrying over ideas of geometry and symmetry, for this particular mark, I wanted it to be bold and be able to stand on its own. Without being as literal as using a pentagon, or, even more so, a pentagram, I wanted the symbol to be as geometric, and a-symmetrical as possible, i.e., the misalignment of the two halves, while still retaining a completely symmetrical shape, i.e., the mirrored halves.
What results is a striking, unmistakable mark that really can stand on its own.
Thomas Murrin — Pixeltuxedo: Logo, Web & Motion Graphics Designer — http://pixeltuxedo.com
The name of my business is Pixeltuxedo.com and I named it that way for a few reasons. Now I have to admit that I don't think a business should be named the way I did it, but I am making it work. I started with the word 'pixel' because I like the idea of one dot in a sea of other dots that make up a digital image. From there I went on the marvelous trek of finding a .com to work with pixel. After a few days and hundreds of possible names I fell on Pixeltuxedo.com. I thought that it was slightly comical, but had an air of seriousness to it. So I chose it and began the branding.
The logo has gone through development hell to get where it has today, and to be honest, it will most likely change it in the future. I didn't have a clear direction of where I wanted to go and I found myself more or less just copying other company designs.
After a few months in business I began to mold who I wanted to be as a business, which is one that creates custom designs. I didn't want to copy the next guy or use a template in my web work. I wanted each project I work on to look and act differently than the last. I wanted to tailor each look to the ideas and dreams of the client I am working with and not the business they admire. This is where I came up with my tagline of "Your digital tailor." A designer in the digital realm that creates custom tailored designs for a client.
This finally lead me to the logo I have today.
I was inspired by my tagline and business direction, which reminded me of the fashion business where they are constantly cranking out new designs. My name, tagline, business model guided me to a clean typeface (Gotham Bold) that can easily be placed on most backgrounds. The spacing between each letter can be interpreted as being open to new ideas, as well as, taking the necessary time to create a design. The red dot points to creativity and a reference to a pixel. That is the history behind my logo and I hoped you enjoyed it.
BrandMooreArt — Brandon Moore: Independent Graphic Artist — http://brandmooreart.daportfolio.com
Sometime last year I started redesigning my personal identity, not because i wasnt happy with what i had, but because i felt it didnt align with the clients i was trying to attract. For the sports design world i needed something more, well, sporty. I think most designers will agree that oneself is the hardest person to design for, so to make this identity makeover easy as possible i treated myself like any other client. I outlined in a project brief with what i wanted to communicate, who my audience was, and why anyone should care.
My new personal logo needed to reflect my style, my personality, my approach to design, and maybe an influence or two. After filling a few pages in the sketch book, I arrived at a concept i liked, placing a stenciled letter M inside of a shield. Any shield design comes with the connotations of respect, honor, and power, and though I wasnt going for a royal or military feel, i do think it gives the idea of being a "well respected, quality designer". The reason for the letter M (as apposed to a B or BM) was simply because the straight lines and angles of the letter fits so well inside this shield design. I also really love the broken lines in the middle of the letter. Because the whole logo is built with lines that are straight up and down, those odd angles add some variety and breaks the boring, ridged flow of the other lines. It's just interesting.
The choice for the orange triangle is simply to fill that negative space (add visual weight) and to have an element where i could add a third color. I like working with odd numbers because Bob Ross taught me long ago that odd numbers are more interesting and organic. Why? because Bob Ross said so. Another reason for the stencil letter (and my color choices of black/white) is a tip-of-the-hat to my favorite artist, Banksy. His work always reminds me that ideas > aesthetics.
Going into this i had pretty much made up my mind of what color palette i wanted. black, white, and orange was clearly the choice for me. (also a touch of grey in some applications). The orange isn't exact, but i wanted something close to Hemi orange, an engine block color from the muscle car days of Dodge and Plymouth. Since i was 14 I've loved 60s-70s American muscle cars and the Mopars have always been my favorites. I felt like Hemi orange would give an energetic, fun, and youthful vibe to my identity. It also was appealing because I haven't seen much orange in other designer identities. So just being different was reason enough to do it.
You'll see 2 different versions of the logo (black shield or white shield) on 1 of 4 different background. This application decision comes from college football where we are seeing more and more that universities are not defined by 1 iconic helmet/logo but their identities are flexible, providing many color combinations for game day. Schools like Oregon, Arizona State, and Oklahoma State have the ability to wear a different uniform for each game of the year but still remain recognizable by the color palette and supporting elements of their identities. i prefer a white background but for places like twitter and dribbble, an icon with an orange background really attracts the eye even at a small scale. its hard to pass it.
I call myself an "independent graphic artist" simply because "freelance graphic designer" sounds so dull and is the common title. Also, Graphic Artist seems to align better with Brand Moore Art which is as much of a statement as it is a play on my name. I've always thought of myself closer to a fine artist than a designer as well. (My apartment is currently lined with canvases waiting to be finished with the table top sporting books on street art and art theory) To finish off, it had to be built with the golden ratio. You cant go wrong with the golden ratio, it is built into our DNA to be attractive. I check my proportions and alignment with the golden ratio on nearly every project.
I'm not sure if my whole identity will ever be finished, I'm always changing something about the word mark, a background, a secondary font, etc. I am quite happy with this logo though. I think i was able to communicate everything i wanted. Since i made the switch to this, business has picked up, so i guess it's working. :)
Angus Ewing — FUZE: Design Director — http://fuze-sa.com
The main theme behind our brand derives from the idea of four creatives joining forces to deliver a single, convenient and comprehensive marketing package to the business environment – 'the whole enchilada' if you will.   The unanimous agreement to name this collaboration "FUZE" ignited the brand's motivation.
The process of building the brand identity was swift and painless – two weeks as opposed to the preceding three weeks spent selecting a suitable name.
Our initial commitment to a using a black background wavered initially, but soon won when it became increasingly apparent that this option was fat more striking than its plain white counterpart.
The FUZE brand reflects a 'fusion' of marketing media and disciplines.   The original image was one of four energy cables fusing into a single dazzling image of inspiration and creativity.
The preference for a circular device as opposed to one with corners reflects a desire for a more streamlined wholesome image more representative of unity and completeness.  It's naturally repeating cycles also imply continuity.
The black background was felt to be more sophisticated and symbolically more representative of the environmental noise and confusion within which FUZE crafts its magic.   That said, occasionally for the sake of convenience, FUZE's logo also has to 'shine' on a white background which it does courtesy of the striking red and orange colours.  The beauty of the design is that the role these two fiery colours play also duplicates quite dramatically on the black background without any additional amendments necessary.
The simplicity of the overall design is also representative of FUZE's work ethos.  A more simplistic and crafted design is usually preferred, and is often more dramatic whilst less confusing.
The four circular frons emphasize the integration of talents and skills from the four creative partners.    Another fortunate facet of the name is the typographical aspect of the name – four letters like the four partners, each equally dramatic and 'fused' to represent how the collection of talents synchronize.
One font was used in our logo, namely 'Big Noodle Tytling Regular'.
Sam Thompson — Shrinkpad Designs: Graphic Designer — http://shrinkpad.com
With nearly twenty years of experience and dedication to bespoke graphic design (contemporary and traditional), Shrinkpad Designs works not only with well established companies, but also with start-ups. All with the same passion and honesty.
So what is Shrinkpad? I get asked this a lot. Well Shrinkpad is me, a made up name by my older brother of nine years when I was born. A reference to being a small and cushion like baby. Yeh – go figure!
Established (born) in 1975, Sam 'Shrinkpad' Thompson didn't become Shrinkpad Designs for 19 years, after studying at The London College of Printing and Distributive Trades.
I have always used the name when freelancing in my spare time whilst working for other studios, but didn't create the logo until I decided to head out into the world by myself. This was about eight years ago.
Having mainly worked in print based design companies, I have always had an appreciation for mono produced work, hence the simple black and white. My first website was indeed all black and white. The logo uses Georgia as a traditional serif font, whilst using range right lowercase to lend itself to a more modern design. Playing with leading and kerning to unite the two words.
By applying certain printing techniques, the logo can elevate the overall brand. My business cards are a gun-metal foil on Colorplan 700gsm (American Psycho, eat your heart out!). Although I used a classic printing method, my logo filled three quarters of the card, again playing on contemporary and traditional design. Like all good designers, it is important to have the end use of a logo in the forefront of your mind.
Mark Gongalski — Unruly Brewing Co: Designer. Builder. Brewer. —  http://unrulybrewing.com
After a few pints of mitten-made craft beers while meeting with my trademark attorney, I was asked to be a partner in a brewery development here in Muskegon, Michigan. Now being an award winning home brewer and a lover of handcrafted beer, of course I said yes.
He named the brewery "Unruly Brewing Co."  - I was hooked.
Brand identity is a passion of mine, I truly dig it. So of course, that night I sat down in front of the laptop, opened illustrator, filled another pint glass of my favorite brew for inspiration and started to brainstorm Google for all things unruly. Now this attorney involved in the development moonlights as lead singer/guitarist for a punk band. I Google'd "punk band" then "rock and roll" then "crowd." Clicked to view "images" and then it came to me.. the rock hand.
Copied a pic over to illustrator. Live traced it. Set it aside.
Scrolled through Adobe's font list for something bold… Impact lit up like a lighter in the dark at a rock concert. Then I laid the UNRULY BREWING CO. text on the screen, outlined, scaled to fit and then moved the rock hand illustration over next to it. Something didn't quite "fit" right. So I dropped the "U" in UNRULY, adjusted the rock hand to appear more like a "U" and now things were much better. Added rounded corners to all the text complimenting the profile of the hand and then added the "TM" symbol. It still needed more edge to it, so I rotated the whole thing 5 degrees. The logo was edgy –punk even. It was complete.
This really was a fun logo to design. In two hours, concept to completion, a kick-ass logo had been created for our new brewery. It was exciting and extremely fast paced. Sometimes a design takes months, having countless hours of racking brains and proofs and redesigns to come up with something one is still not completely satisfied with. Other times, it just seems like things come together seamlessly for a perfect product. Maybe I should charge clients by the amount of 16oz pours had during a design session rather than charging by the hour. Although, I don't think I would have made much money on this two pint logo  :)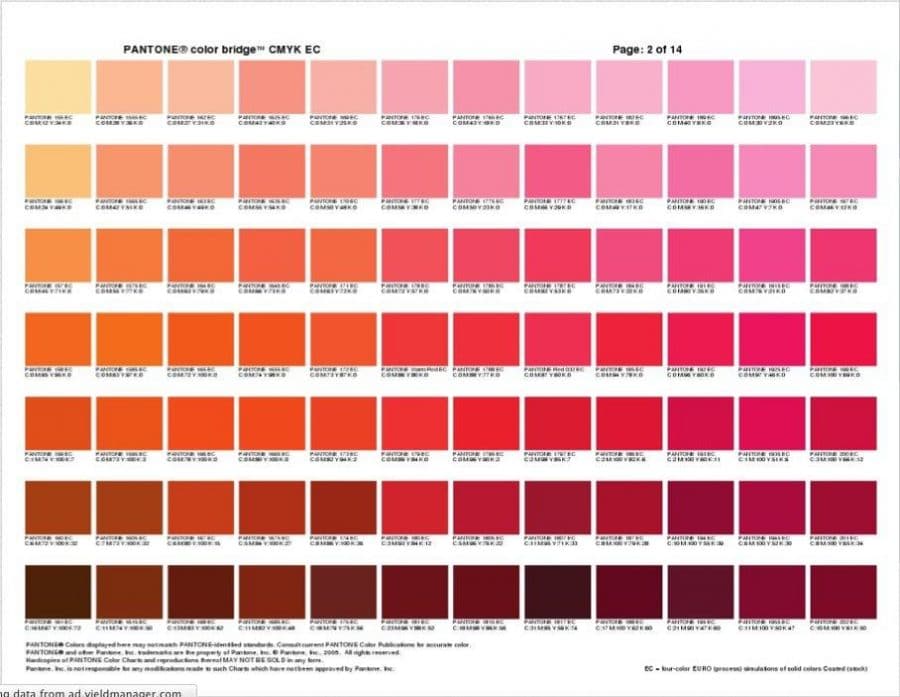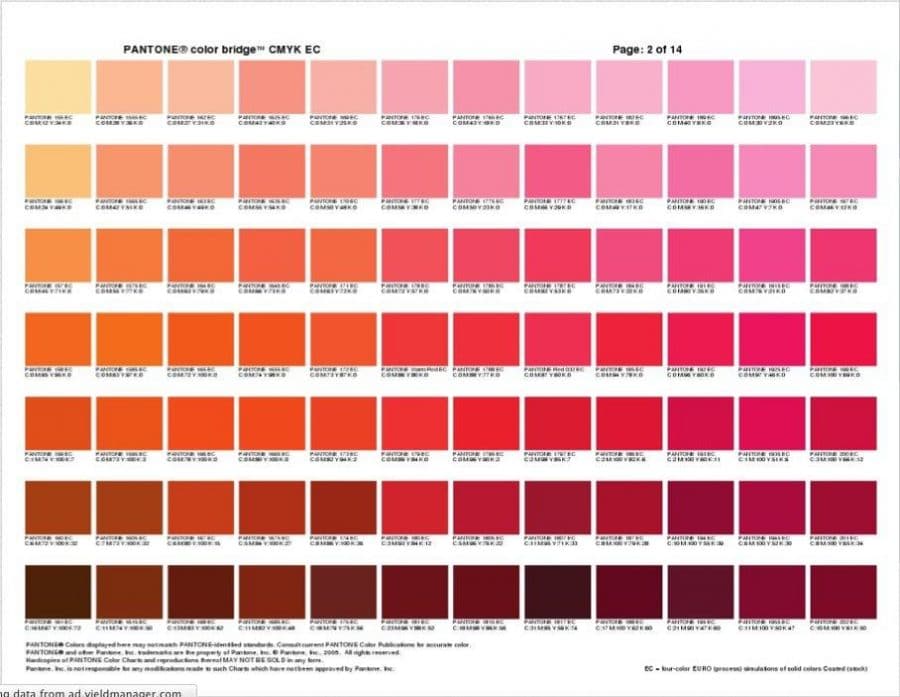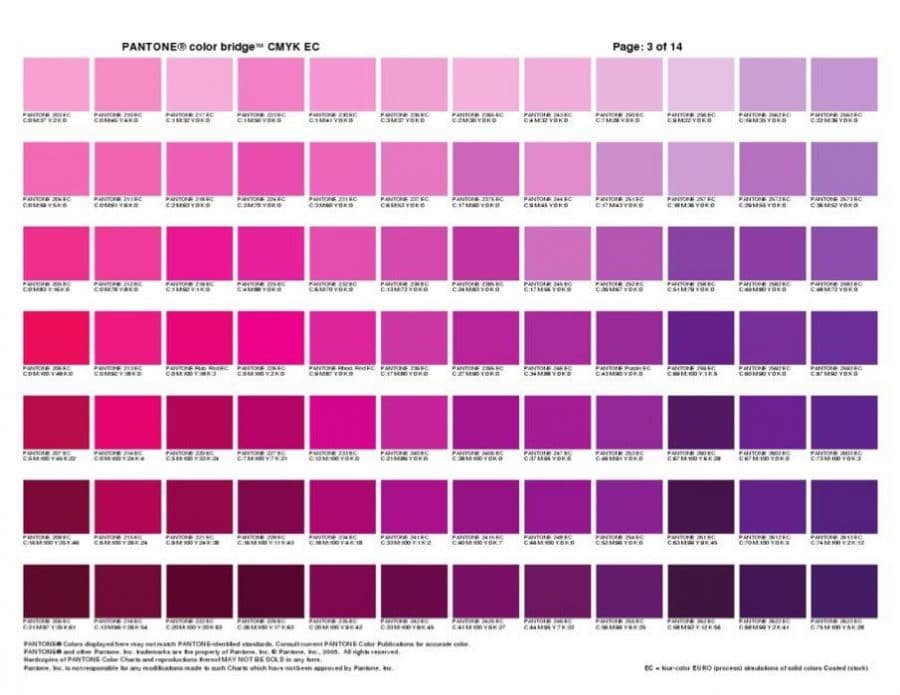 This Pantone Color Bridge document on Scribd is really very useful as an online reference for Pantone to CMYK colour conversions. I have previously written about the Pantone Color Bridge Swatch Books and how important these Pantone book are for any designer.
There are limitations with an onscreen version, namely you can't see how a specific Pantone colour actually looks printed It is useful nonetheless as a casual reference guide in searching for CMYK value breakdowns of a Pantone colour.
There is nothing like having the actual printed Pantone Bridge swatch book to  hand. They are incredibly valuable when it comes to finding and specifying colours for a logo design. No one likes guess work with something as crucial as colour for a brand identity. Bonus feature with the Pantone Color Bridge books: you get the RGB and HTML conversion values along with CMYK.
Buying yourself a Pantone Color Bridge book is a solid tip from me, and nearly ranks along with: The Best Logo Design Advice I Can Give
K Found on Scribd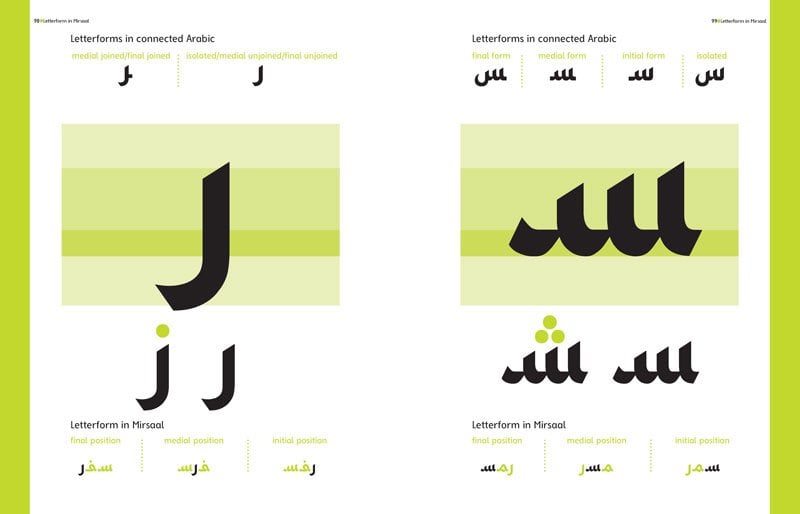 Cultural Connectives: Understanding Arab Culture Through Typography published by Mark Batty Publisher and written by Rana Rjeily looks like such an amazing book in better understanding, and appreciating, Arabic typography.
When it comes to learning and understanding Arabic, the letterforms can be daunting, but realizing the differences between the Arabic and Latin alphabets is necessary. Cultural Connectivespresents Arabic from a fresh perspective by bridging Arabic and Latin scripts through Mirsaal, a family of typefaces designed by Rana Abou Rjeily that brings the two scripts into typographic harmony, even in light of their differences. Using her designs, Abou Rjeily applies Arabic rules of writing, grammar, and pronunciation to English as a way to introduce Arabic to non-native speakers.
As an introduction to written Arabic this book is invaluable; as a means to dissolve cultural barriers, this book utilizes two very different alphabets in the name of creating understanding on many levels.
Increasingly brands are creating uniquely styled Arabic versions of their brand logos. This can show us is how a specific visual brand message originally created in Crylilic will take on quite a different look when translated to Arabic. I briefly touched on the Arabic version of the FedEx logo in a previous post. This is a classic example of where some nifty re-engineering had to be done in order to retain that infamous negative space arrow, as this is a core visual reference from FedEx.
Cultural Connectives has come at such a perfect time for me as one of my next projects is indeed of an Arabic brand where both Cyrillic and Arabic versions of the typography will be required. Just ordered Cultural Connectives from Amazon so will let you know if the book is as good as the photographs make it out to be.
If you want to read more information on Cultural Connectives then Rana Rjeily has an official website for the book over on: http://rana.im/cultural-connectives/
K Found on BrainPickings
Know Your Onions: Graphic Design, written by Drew de Solo, looks great especially as it's designed more like a notebook: enabling you to add your own notes to the supplied blank pages as you go along.
Know Your Onions sounds like it is aimed at the novice-intermediate level from what I can tell from the summary and table of contents.
Know Your Onions (BIS Publishers, IBSN 978-90-6369-258-2 , €17)
From the Publisher
This book is practical and immediate, without being condescending or overly technical. It is like having a graphic design mentor who will help you come up with ideas, develop your concepts, and implement them in a way that is engaging and humorous. It gives readers the experience and ability that normally comes from years of on-the-job training. All of the essential techniques of graphic design and its digital implementation are covered.
Read this book and gain 25 years' experience in how to think like a creative, act like a businessman and design like a god.
This book is designed like a notebook, with all the authors' tips and knowledge already inside. However, it also includes blank pages that allow the user to personalize this reference book with specific notes that are relevant to his or her studio, suppliers or clients.
K Found on GetAddictedTo
The Open Library provides you with an ever growing collection of digitised vintage and rare type specimen books. They are downloadable as reasonably high-resolution PDF's.
Lot's of classy eye candy.
The most frequent question I am asked, as part of the [AQFG] series, is a variation of, "What logo design advice would you give to a new designer wanting to try their hand at designing logos and brand identities?"
I have always been stumped as how to answer it's such a massively broad subject to answer.
Then, one day over Christmas, it just occurred to me how I could best answer this sort of question. It's not THE answer, but just one of many, but I do know it's a solid tip.
Commercially Yours
My tip? If you are seeking a career as a designer, in any particular discipline, it would be to familiarise yourself, understand and respect the very nature of commercial process printing.
You could certainly focus and specialise on logo designs for screen, but you could be selling yourself way short as well as becoming a little bored in time.
Diversity, or lack of, can make or break your own sense of self fulfilment and motivation.
Stating for the record; should you want to try your hand at identity design you will undoubtedly need to have knowledge and understanding of: commercial printing, reprographics and commercial print finishing
Designing for the screen is such a tiny part of this much broader discipline. If you plan to take on paid client projects that culminate in commercial printing, without adequate knowledge and understanding of the print process, then you are truly running the risk of an undesirable, and maybe, costly ending.
I consider myself very fortunate to have been given a very valuable start as my career was kick-started with an apprenticeship in commercial print, paste-up, plate-making and photography before moving onto typesetting and DTP (Desk Top Publishing).

Of course not everyone can arrange to get this level of on-the-job training, but you can certainly facilitate the growth of knowledge by immersing yourself in the theory, and practical applications of commercial print and reprographics. Reprographics is a general term encompassing multiple methods of reproducing content, such as: scanning, photography, xerography, digital printing, film and plate output. The term applies to both physical (hard copy) and digital (soft copy) reproductions of documents and images.
If you do plan to pursue a career in logo and brand identity then you absolutely will need to grasp the concept, and application of, commercial print and reprography.
Finishing
To ensure you can offer your clients a truly rounded service then you also need to look at the intricate, and often misunderstood, workings of print finishing.
Print finishing is usually the last physical stage of a commercial print run and can provide those finishing—no pun intended—touches that set apart a regular print job from a truly unregular and bespoke design/print job. Print finishing is often overlooked as unimportant, but couldn't be further from the truth. It provides the trimming, gluing, stapling, organising, embossing, laminating, Spot-UV'ing, mounting, image transfer, die-cutting and other forms of specialised processes.
If you have no idea of what can be achieved, or as importantly what can't be achieved, through all the many combinations available via commercial print and print finishing, then you could never hope to offer a truly diverse and rounded service to your clients.
Raising More Questions
Designing logos just for the screen will keep you busy for a while, but you will almost certainly want to explore the creatively satisfying options made possible through an understanding of reprographics, printing and finishing.
I appreciate this post, in all likely hood, has now raised more questions than answered. And well it should. Logo and brand identity design is just part of a much larger picture where knowledge of what the other cogs in the machine do will help you enormously.
But don't be put off by my bluntness.
Would it surprise you to know I didn't do any kind of art or design at higher education level? Knowledge is one part of it, but how you get that knowledge is completely down to how much you want to succeed. I know from personal experience that sufficient practical experience can help get you where you want to be. If you hear anyone tell you differently, just because you didn't do that design course at University, then just tell them "poppycock" and point them to me. I'll happily put them in their place.
So if all this means you need to put in a few hours at your local printers to see just how it all comes together, then that is what you need to do. There really isn't a quick fix: time, resourcefullness and an eagerness can work for you.
Further Exploration Thereof
This is a subject I will explore more in future posts. What I do hope though is that you will start to think in broader terms when contemplating the art of logo and brand identity design. There are numerous books available that will help you steer you in the right direction
If you have a question that you would like to see answered in a [AQFG] post like this, then please do send me an email and I will certainly try my best to answer it for you.