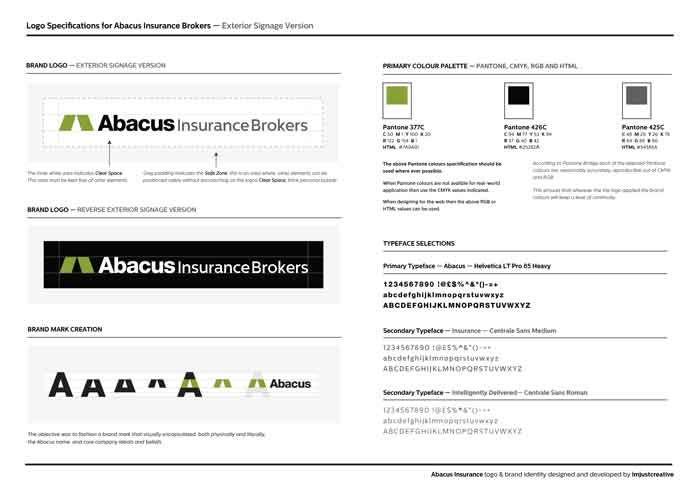 This is a continuation of an existing logo and brand identity redesign project for Abacus Insurance Brokers. Abacus was the first American online insurance brokers and the rebrand is part of their continued motivation with the company. I also created the tag line for the new Abacus logo.
The images above show the start of the brand identity guidelines, and specifically focus on the general usage of the Abacus Insurance logo.
We have logo versions for: interior and exterior signs, website header, stationery and print design, a short/mini logo and just the logo mark with/without a boxed container. The contained version being used as website favicon and social media profile image,
For ease of use, and visual continuation, the right side of the logo specification sheets share common information for: typeface choices and colour palette. The top-left displays each of the logo variations.
This is not the end of the project as we are still working on aspects of the redesign with the design taking a semi organic, adaptive and evolutionary process. The creation and format of the brand guidelines have taken a more modular form where additional designs and sheets can be added, with ease, into a binded folder.
I will continue to post updates as and when they are ready.
An image strip (above) showing how the Abacus logo mark came to be
This image (below) shows a few design ideas for branding of one small part of the identity: golf balls.
---
---