Information Overload with Post-it notes
Information Overload. Tips there, tips there, advice here and over there, great blogs to bookmark there and some just about here somewhere, RSS feeds to read and digest, notes to take, bookmarks to make, comments to leave in so many places and finally trying to earn some money gets slotted in at some point.
Everywhere at every moment of the day I usually end up catastrophically overwhelmed with the information available to me. I really don't know which direction I should be going. And end up stop/starting…
Waking up in the morning is a challenge in itself, on one hand I am motivated and enthused with the sheer scope of information to learn and read up on, yet the reality kicks in after my morning cup of Tea and my head sinks into my hands at yet another day's worth of information.
Where do I start. And more importantly, where do I finish, because there is no finish line. Work and study could be continuous and still never be able to absorb all the information.
Usually for me, I am usually pretty good at scanning material, making a choice to totally ignore some things, for example, newspapers. But in my quest to become a decent web developer and successful blogger, trying to pick out what to absorb and what not leaves for a daily and day long tension headache.
I see all the book's, self tutorials that need to be taken aboard sitting on my shelf, yet I barely get round to doing any of this because I am so easily distracted by the ongoing web noise emanating from my iMac that seems to be coming from every which way.
How to filter it? I don't know just yet. There is so much 'good' information there, awesome new sites coming into my vision on a daily basis. New Web2.0 applications that just beggar belief, cool new gadget novelty sites that you are convinced you must have. Before you know it, you have just spent another 3 hours signing up, filling in your profile, getting the code and implementing it on your site at the expense of the 'proper' work that needs to be done.
How long have I been putting of upgrading to WP2.3.2 only to now discover WP2.3.3 is out. So in away I was glad that I did not go to the trouble of doing this initially, but I still feel I should do 2.3.3. But then what problems will I encounter, problems that have taken my weeks to sort out just on 2.3.2. The fear is real… Is there any real urgent need to go from 2.3.1 to 2.3.3, like NOW?
Simply, I just can't deal with all the information. I would like to be able to deal with it all, take it all onboard and implement all the new wonderful ideas that pop into my head each day.
I don't need to worry about lack of ideas that's for sure, but it's a curse to have so many when you know damn well you can't do much with most of them, except put them on your to-do-list. Which in my case are sheets and sheets of post-it notes.
Which brings me to this new web application that I stumbled on a few days ago. Which again has been sitting ideally at it's home page waiting for me to sign up. But this one promises to help…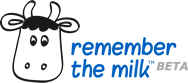 This one I am looking forward to getting to know as maybe this can help me organize my day somewhat better than I am doing at the moment.
Finally, I do do a lot each day, but not just the things I feel I 'ought' to be doing.
But, after saying all that, it keeps the brain ticking over.
---
---