Have had a good run with Google over the last few years in relation to being found in searches, but a few site changes have set me back a little bit. Nothing particularly major is wrong—more down to me forgetting to do this and that during my site redesign—but I feel a little exposed right now and need to feel that I am properly on top of my SEO
What will I do I hear you cry?
I am glad you ask because I do have a solution to this issue.
This solution I speak of is to hire Mr Yoast: Mr @Yoast is probably one the most well known and knowledgeable SEO persons around.
If you visit his website you will chance upon a service called Website Review where Mr Yoast and Co will dig deep into the inner depths of ones website and provide a detailed report on what aspects of SEO need fixing/changing/tweaking etc.
Time has come to enlist the valuable services of Mr Yoast for the imjustcreative website.
I shall write about the process which will hopefully provide some useful feedback as well as all important peace-of-mind.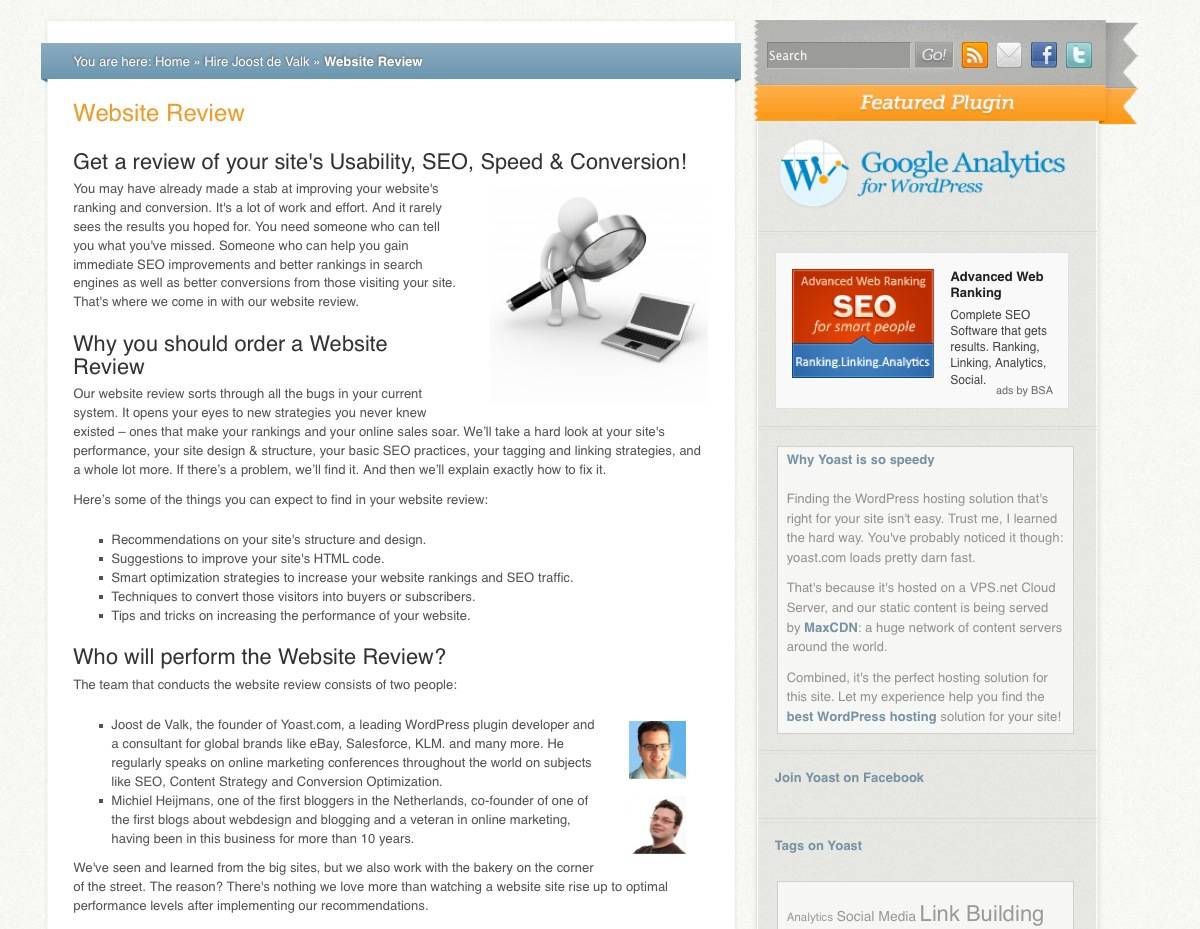 From Mr Yoast's Website
Why you should order a Website Review
Our website review sorts through all the bugs in your current system. It opens your eyes to new strategies you never knew existed – ones that make your rankings and your online sales soar. We'll take a hard look at your site's performance, your site design & structure, your basic SEO practices, your tagging and linking strategies, and a whole lot more. If there's a problem, we'll find it. And then we'll explain exactly how to fix it.
Here's some of the things you can expect to find in your website review:
Recommendations on your site's structure and design.
Suggestions to improve your site's HTML code.
Smart optimization strategies to increase your website rankings and SEO traffic.
Techniques to convert those visitors into buyers or subscribers.
Tips and tricks on increasing the performance of your website.
---
PREVIOUS & NEXT POSTS
Yes. I design logos, but far more importantly… Self Promo Poster
John Cleese – a lecture on Creativity [video]
MORE POSTS BY CATEGORY
---
POSTED BY:

The Logo Smith Design Studio:

Freelance Logo & Brand Identity Design.
POST LAST UPDATED :

May 9, 2014
POST FIRST PUBLISHED:

CATEGORIES:

Blogging
TAGS:

google
,
seo
---
---
WHERE CAN I HIRE A LOGO DESIGNER?
If you're looking to hire a Freelance Logo Designer, or want to work with a multi-disciplinary Graphic Design Studio, then look no further than
The Logo Smith
.
With over 25 years experience,
The Logo Smith
offers the following Creative and Tech Services:
Custom Logo Design; Graphic Design; Tag Lines, Brand Identity Design & Redesigns; Brand & Graphic Standards Manuals & Style Guides; Business Stationery; App Icons; Brand Consultation; Typography; Secure Wordpress Installs, Theme Customisation & Web Site Hosting; SEO & Social Media Consultation; PR Services provided by The PR Room, in: Technology PR, Internet of Things PR, Smart Home PR, and Social Media PR.
I'd be thrilled to hear from you, and find out how I can help you with your logo and brand identity design requirements. Please visit my
Hire Me
page, email me at:
[email protected]
.
Follow @thelogosmith
---
Home » Logo Design Blog | The Logo Smith: Freelance Logo Designer » Blogging » Website Review: Improve your SEO, Usability & Conversion by @Yoast