---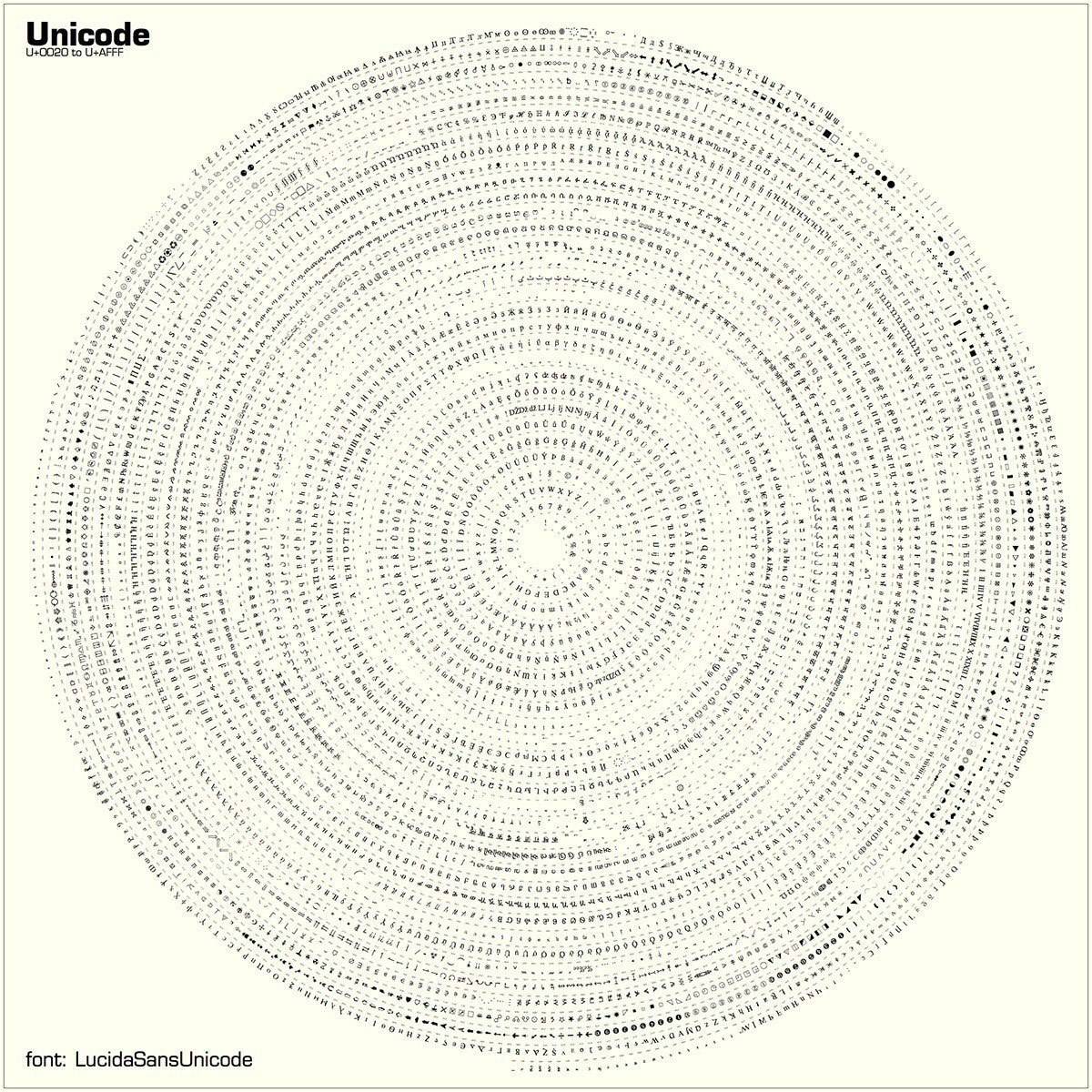 Unicode (U0020 to U+AFF) in a Spiral Typographic Poster
This Unicode Spiral Typographic Poster is just IMMENSE in every sense of the word. The original poster (above) measures in around the A3 size, and can be downloaded via this Dropbox link.
The 'full' version below also contains all the Hangul etc glyph's, and the poster measures nearly 1 metre square, with each glyph measuring in at 6 points (2.116666667mm).
You can also download this monster version at this Dropbox link.
Some type of patience must of been needed to put this typographic design together not to mention some half decent computing power. Even on my Apple Pro tower, the PDF of 'full version' took some time to redraw on screen, each glyph drawing itself radiating out from the centre. That would make a fun GIF!
I found this epic work of art: Unicode in a Spiral, over in the Typography section of Reddit, and I think it's worth you going over and leaving a comment for the graphic designer who created it,  Reddit User Cormullion
---
Previous Post:
WiP (Work in Process): Early Logo Design Exploration for Tateside
Next Post:
BrandColors: Official color codes for the world's biggest brands
---
Posted By:
The Logo Smith:
Freelance Logo & Brand Identity Designer.
Follow @thelogosmith
Categories:
Design Inspiration
,
Graphic Designer Focus
,
Typography
Tags:
Glyph
,
Unicode
More Posts by Category
---
---
Where Can I Hire a Logo Designer?
If you're looking to hire a Freelance Logo Designer, or want to work with a multi-disciplinary Graphic Design Studio, then look no further than The Logo Smith.
With over 25 years experience,
The Logo Smith
offers the following Creative and Tech Services:
Custom Logo Design; Graphic Design; Tag Lines, Brand Identity Design & Redesigns; Brand & Graphic Standards Manuals & Style Guides; Business Stationery; App Icons; Brand Consultation; Typography; Secure Wordpress Installs, Theme Customisation & Web Site Hosting; SEO & Social Media Consultation; PR Services provided by The PR Room, in: Technology PR, Internet of Things PR, Smart Home PR, and Social Media PR.
I'd be thrilled to hear from you, and find out how I can help you with your logo and brand identity design requirements. Please visit my
Hire Me
page, email me at:
[email protected]
.
---
Home » Blog | The Logo Smith | Logo Designer & Brand ID Studio » Design Inspiration » Unicode (U0020 to U+AFF) in a Spiral Typographic Poster