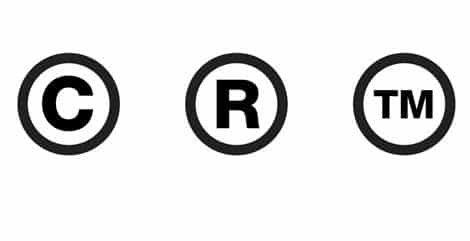 Logo Design Copyright and Trademarks
The subject of Logo Design Copyright and Trademarks in regards to brand identity design, was a subject on my 'to do' blog article list. Fortunately I can save some time as there is a great article over at Plagarism Today on this very subject.
Here's a snippet:
Copyright and Logos

In order for a work to have copyright protection, it must reach a requisite level of creativity. Many logos, however, do not. Since copyright can't protect a name, colors or the design of the logo, most simple logos simply do not have the required level of creativity to be considered copyrightable. However, many ornate or artistic ones do.

And here lies the confusion with logos. Many of them actually qualify for both trademark and copyright protection. In fact, the entire Omega v. CostCo casehinges in part upon a logo stamped onto a watch being copyright protected (thus making the import of the watch a violation of the copyright).

In short though, if a logo would qualify for copyright protection as a piece of artwork separate from its use as a corporate identifier, it is copyright protected. Nothing in the law makes the two rights mutually exclusive so many logos can and are enforced using both trademark and copyright.
It's definitely worth a read.
---
PREVIOUS & NEXT POSTS
Logo Mash-ups from Johnson Banks
Logo Design Tutorial: A Logo Printed on Textured Paper
MORE POSTS BY CATEGORY
---
POSTED BY:

The Logo Smith Design Studio:

Freelance Logo & Brand Identity Design.
POST LAST UPDATED :

October 28, 2015
POST FIRST PUBLISHED:

CATEGORIES:

Logo & Brand Identity
TAGS:

copyright
,
Logo
,
logo design
,
plagarism
---
---
WHERE CAN I HIRE A LOGO DESIGNER?
If you're looking to hire a Freelance Logo Designer, or want to work with a multi-disciplinary Graphic Design Studio, then look no further than
The Logo Smith
.
With over 25 years experience,
The Logo Smith
offers the following Creative and Tech Services:
Custom Logo Design; Graphic Design; Tag Lines, Brand Identity Design & Redesigns; Brand & Graphic Standards Manuals & Style Guides; Business Stationery; App Icons; Brand Consultation; Typography; Secure Wordpress Installs, Theme Customisation & Web Site Hosting; SEO & Social Media Consultation; PR Services provided by The PR Room, in: Technology PR, Internet of Things PR, Smart Home PR, and Social Media PR.
I'd be thrilled to hear from you, and find out how I can help you with your logo and brand identity design requirements. Please visit my
Hire Me
page, email me at:
[email protected]
.
Follow @thelogosmith
---
Home » Logo Design Blog | The Logo Smith: Freelance Logo Designer » Logo & Brand Identity » Logo Design Copyright and Trademarks