---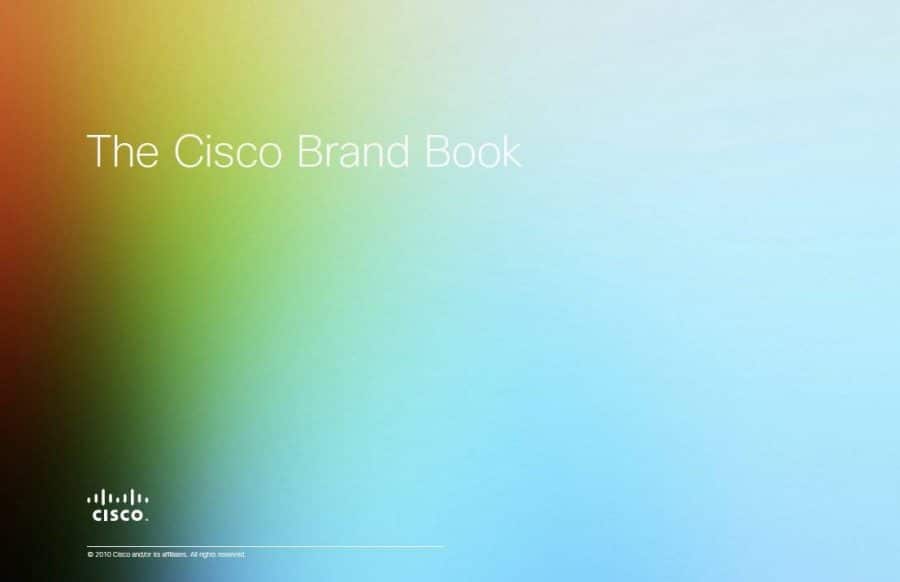 I was chuffed when I found the Adobe Brand Identity Book a little while back, but am more chuffed on getting my hands on The Cisco Brand Identity Book and Guidelines.
Massive thanks to Sasha Agapov @agapov for reaching out to me, and sending me these Cisco brand guidelines, and a few other brand books my way.
Once you check out the following images you will see exactly why I am really pleased to have these Cisco guidelines land on my desk. In terms of design and aesthetics, structure and layout the Cisco guidelines have to be one of the greatest set of brand guidelines I have seen recently, and comes close to trumping the Adobe Brand Book.
This set of Cisco guidelines were put together late 2010 so must be the most recent version?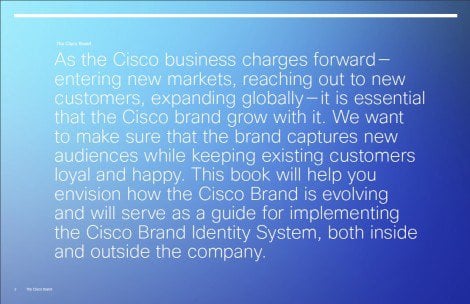 Everything about these guidelines is bordering on the perfect, and certainly appeals to my overall sense of design and layout. Every section is clearly presented with attention to the details that really make it stand out. It's fresh and lively without being too bland and conservative like the Sony Vaio brand book I covered recently.
The Cisco brand book is the complete opposite of the Sony Vaio guidelines. They show how capturing and presenting key valuable components of a brands identity can be done in a way that is a joy to read as well as being totally practical at the same time.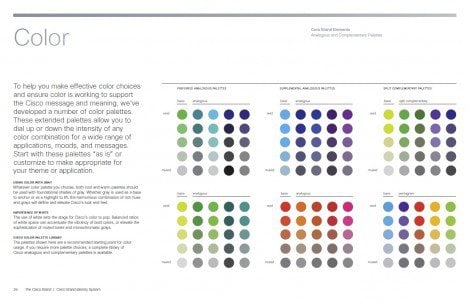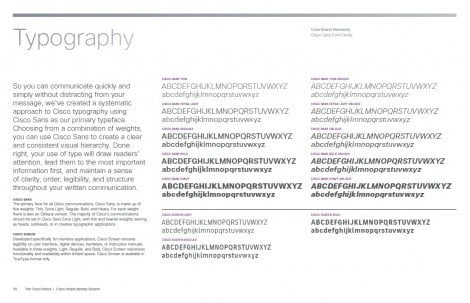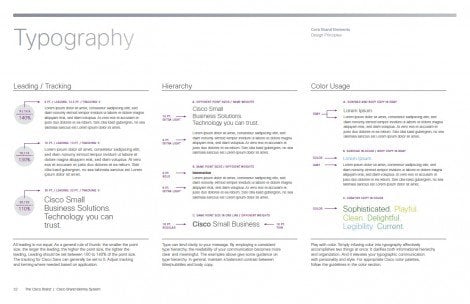 These guidelines are what I will strive to aim for in terms of layout and the presentation of information. I have found it quite difficult in limiting the pages to include in this post as so many of them are pretty good on the eyes, and keep going back to the pages for closer inspection.
The colour pages are particularly wonderful as is how one should use colours and gradients when working with the Cisco brand. Beautiful. You can download the 75 page PDF below.
View Other Brand Identity Guidelines
You can see other brand identity books that I have collected over time right here: Skype, I Love New York, FourSquare, Adobe, Sony Vaio (how not to design guidelines) and even vintage NASA (part 1 & part 2).
Download the The Cisco Brand Identity Book and Guidelines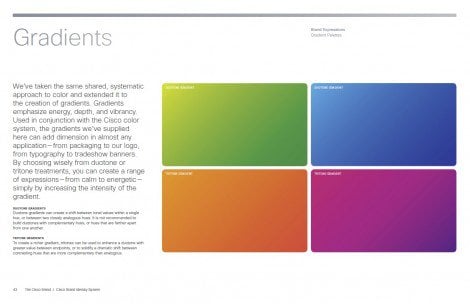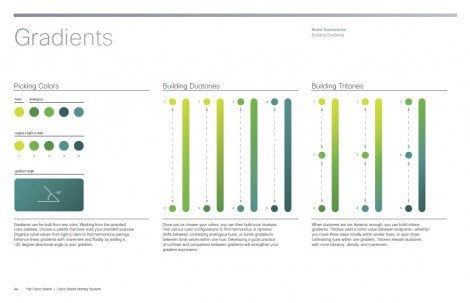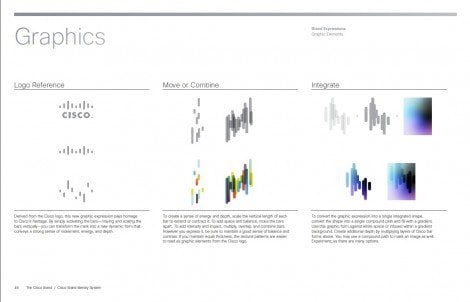 ---
Previous Post:
More on client logo design pricing and deposits
Next Post:
Sport Review Logo by Astronaut Design
---
Posted By:
The Logo Smith:
Freelance Logo & Brand Identity Designer.
Follow @thelogosmith
Categories:
Books
,
Famous Logos
,
Identity Guidelines
,
Vintage
Tags:
brand identity
,
guidelines
,
identity
,
Identity Guidelines
,
logo design
,
pdf
More Posts by Category
---
---
Where Can I Hire a Logo Designer?
If you're looking to hire a Freelance Logo Designer, or want to work with a multi-disciplinary Graphic Design Studio, then look no further than The Logo Smith.
With over 25 years experience,
The Logo Smith
offers the following Creative and Tech Services:
Custom Logo Design; Graphic Design; Tag Lines, Brand Identity Design & Redesigns; Brand & Graphic Standards Manuals & Style Guides; Business Stationery; App Icons; Brand Consultation; Typography; Secure Wordpress Installs, Theme Customisation & Web Site Hosting; SEO & Social Media Consultation; PR Services provided by The PR Room, in: Technology PR, Internet of Things PR, Smart Home PR, and Social Media PR.
I'd be thrilled to hear from you, and find out how I can help you with your logo and brand identity design requirements. Please visit my
Hire Me
page, email me at:
[email protected]
.
---
Home » Blog | The Logo Smith | Logo Designer & Brand ID Studio » Books » The Cisco Brand Identity Book and Guidelines
Copyright © 2006-2016 All Rights Reserved Goddammit!
The Logo Smith - Freelance Logo Designer, Brand Identity & Graphic Design Studio.
25 Years Experience: Logo & Brand Identity Design, Graphic Design, Advertising and Print.
PR Agency Services: The PR Room -Technology & Internet of Things PR.