All Archived Posts in work
---
Last Updated: September 14th, 2016
| First Published:
August 18, 2016
| Subscribe with
or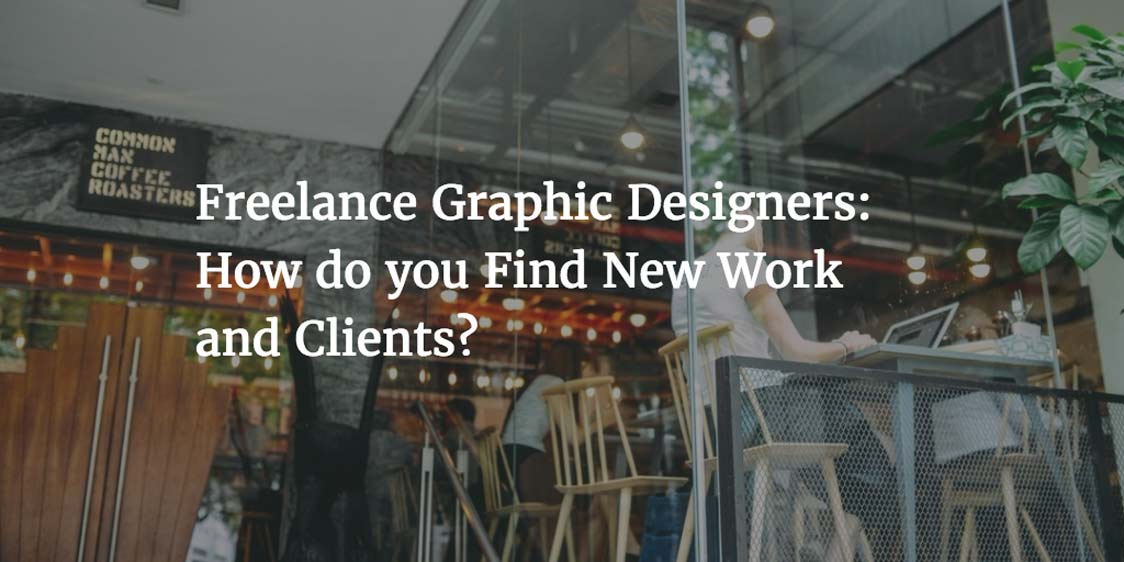 Freelance Graphic Designers: How do you Find New Work and Clients?
Thought I'd poll all you freelance graphic designers, logo and web designers out there, and see how you all collectively find yourself new clients, or how clients find you.
I've opened up Comments below, so please take a moment to share your various strategies.
Hopefully you'll like to share any methods that you employ in your quest to make yourself findable to potential clients, such as:
Google Search, Blogging, Social Media, External Portfolios, Paid Freelance Directories & Showcases, Paid Ad platforms like AdWords and Facebook Ad's, Local Press Advertising and Marketing.
How do you help potential clients find your design studio, how do you help yourself be found amongst the ever increasing number of freelance designers and design studios?
My Basic Strategy
I for one mostly have bene able to rely on Google, through many years of blogging. It seems the majority of my client clients still find me via Google Search.
Some clients find me on Portfolio platforms like:Behance, Coroflot, and Dribbble (paid-up Pro member), whilst a small percentage find me on LinkedIn, directly on Twitter and Facebook.
Some new leads come from word-of-mouth, recommendations and the occasional repeat client.
I do dabble with the occasional Paid FaceBook Ad campaign, but that's mostly to just help overall awareness; Sowing the seeds so-to-speak.
There's no doubt that over the last few years, it's become dramatically harder to find new clients just due to the sheer scope of competition.
There are many any new freelance logo and graphic designers arriving to compere for work each day, not to mention the heavy competition from crowdsourcing sites like 99Designs and Crowdspring.
If you're of a generous and helpful disposition, then it'd be great to hear how you look for, and get new clients.
---
Last Updated: May 9th, 2014
| First Published:
April 11, 2012
| Subscribe with
or
Always liked Brad's comic strip on NetMagazine as well numerous toon's on his own website. I'm personally not die-hard anti-spec, but it amuses me no end to see how hot-under-the collar some people get over this.
You shouldn't really feel threatened by spec-work if you are simply just bloody good at your job and know how to market, brand, advertise your own services.
I often wonder: it's the very people who get all high-and-mighty over spec-work that are the very people who need to look at their own business strategy and worry less about how other people choose to earn money and get on in the world.
If these people put as much energy and passion into their own business that they do arguing over spec-work…
"I'd like to ask if there's a noticeable benefit to updating a wide range of sites for you. Would love to know if "expanding your reach" through the use of many portfolios as opposed to a few has truly lead to worthwhile client relationships." Dave Boni - http://twitter.com/davidboni
That was a question posed to me in a comment on a earlier post titled 22+ Creative online portfolio sites and felt it warranted a small answer. Check out this post to see some of the places I upload my work
The answer
Yes.
I nearly finished the post with that, but I decided to expand a little. My feeling is that clients, potential customers are everywhere, in places you wouldn't even think of. Sticking to main stream sites like Behance is a little naive in my opinion. No doubt sites like Behance offer invaluable contacts and resources, but not everyone who eats and sleeps design will be aware of these sites.
It's all to easy to get into the mindset that 'everyone' both client and designer will know and frequently visit these so called mainstream external portfolio websites, but that's simply not the case.
A client who is not Twitter savvy, or aware of these mainstream portfolio sites may rely on the sites they are familiar with to find designers to work with. If you limit where you place your portfolio then you are also limiting your reach with potential new clients. Remember, it only takes one good client to have made setting up a portfolio on some obscure website worth the effort. That's what I think anyway.
Where did you find me?
On my online quote form, I ask where or how they found me. I have been surprised with some of the answers. A lot are from Google search terms, where I rank highly. Some are from recommendations from other clients or other designers that I rub shoulders with on social media. A nice percentage of work comes direct from Twitter. But interestingly, a few clients have stumbled upon me literally on StumbleUpon, a few via my external portfolios on  CargoCollective, Flickr, LogoGala, Crowdspring, Dripbook and Coroflot.
The other significant site is Facebook. I upload all my logo designs, concepts to my FaceBook photo album. This has proven to be a hugely valuable portfolio platform. I also use sites like Image Spark, Vis.ualise.us, Picocool, Yay!Everyday, FFFFound and Dropular etc to upload some 'select' logo designs and portfolio work.
Simply, I am pretty much everywhere.
Based on these results
I decided to further expand my reach, to set up external portfolios in as many places as possible. Yes, it takes time, but as I mentioned, it only takes one client to have made it worth it. And it's not just about finding clients, its about putting you and your brand out there for all to see. The more other designers and potential clients see your work in their daily routine, the more you are likely to remain in their thoughts.
It's advertising in it's most simplest form. The more places you appear, the more chance you have of stumbling into someone who wants you.
Be everywhere and prosper
Doesn't take forever
It doesn't actually take that long to keep all these sites updated. For some of them I only keep my most recent designs in the portfolio. It's more a presence for me than being 'active'. It's better to have a presence than no presence, even if you don't fully utilise the services and features of the site in question.
No doubt, the community side to Behance, Coroflot etc can be time consuming, but I tend to draw a line here. I just focus on having my portfolio updated and that's about it. I focus on the community side of Twitter, my blog and other social media sites. That's where I believe the likely hood of finding potential clients is highest.
Interestingly I have just subscribed up to DesignTaxi which has a strong focus on both designer and client. I will look closely at this site over the next year and see how this works out for me.
---
Last Updated: May 6th, 2012
| First Published:
November 15, 2006
| Subscribe with
or
Posted By:
Graham Smith
Categories:
Books
,
Reviews
Tags:
a
,
about
,
black
,
book
,
books
,
concept
,
drawing
,
Experience
,
guide
,
humour
,
Life
,
light
,
like
,
lost
,
perspective
,
problems
,
silence
,
Someone
,
Space
,
terms
,
unique
,
value
,
work
This is one of my 'lighter' reads, but the message is clear as air.
So clear, you would find it hard to actually envisage any depressive being able to convey the thoughts and feelings in a way that a non-depressive might actually have a chance of understanding. Gwyneth manages this in style, humour and decency.
It's a smallish book and will not take long to read, it is littered with wonderful quotes and phrases.
© 2006-2016 All Rights Reserved
The Logo Smith: Logo & Brand Identity Design Studio, with 25 Years Experience.

Graham Smith: 10 Badgers Copse, Seaford, England
Tel: +44 (0) 7816 527 462 Email: [email protected]