All Archived Posts in waterstones

Since my initial views and thoughts on the Waterstone's rebranding, a few interesting comments appeared. One in particular caught me eye, this is not meant to ridicule or make fun of this comment, it's more to reply comment on this particular line of thought.
When it comes to brands and in this case, a rebrand of a popular high street book store, many people loose sight of what a brand really is. It can be a confusing scenario, with many people interchanging brands, with branding, with identity and logo design with company image etc, it's easy to see why.
The comment
The comment in question came from a regular reader of this blog, and it got me thinking quite a bit. So I wanted to reply to in detail based on this sentence :
'It is a big change, but maybe a necessary one. It's easy to judge a rebrand without understanding the bigger picture. Of course we're free to voice an opinion, but it feels like some people are all too ready to look negatively on a rebrand."
My comment to that comment

So I agree, that sometimes a shift of direction for a company is needed, often desired by the customers or the user base or just by a change of focus and company direction. Maybe there has been a takeover, maybe the product line has changed considerably and the existing identity no longer truly reflects the core message of the company, there are many reasons why a company may consider a rebrand.
This is about perspective
I have a case study of a recent rebrand that I was personally responsible for, Foehn & Hirsch. Crucially,the point of my previous post was that it's more from my personal thoughts and views as a Waterstone's customer, with added knowledge of branding and identity. Rather than a outright assassination of a logo design or a surface inspection of a fresh new brand identity.
As a consumer, I don't particularly care about the internal politics that may results in a company redesigning their brand identity. All I care about is my continued personal experience with that company. That's all.
A brand is not made by the company
On a simplistic level, a company doesn't or can't 'make' a brand. I do (as a consumer, not a logo and identity designer), you do, the people, the consumers, the buyers, the people who part with money are part of this massive recipe that will determine if a company or product will be viewed as a brand. If no one purchased Apple or Nike products, there would not be a Nike or Apple brand as we know it today, they would just be a company trying to sell products like your regular local high street store.
Regardless of the reasons for a rebrand, if the customers don't like it, or accept it, then that's a massive fail for the company. As a customer I have every right to say if a rebrand is, at least in my eyes, is negative or positive. If my view is also shared by many other Waterstones customers then this is a majority vote. If sales decline because of this, then a company needs to rethink. Royal Mail+Consignia to name one major example of the public not taking to what the analysts thought was a necessary move. The agency dudes must of been so embarrassed.
To be linked to a failed rebrand is nasty, hence any company taking on a rebrand need to be 100% sure, 100% in agreement, and 100% motivated to pull it off. If I am rebranding, I want someone on my side who shares and agrees with my decision but who will also advise me if a rebrand is likely to result in a downwards spin.
Easy to judge a new rebrand
So yes, it is easy for me to judge, but as a customer, that is my right to do so.
It was mentioned in the readers comment that people are too quick to voice a negative opinion on a rebrand, but this is also their fundamental right, they have helped make that brand what it is today. It is part of my money that has made that brand what it is. If I now see that brand ID destroyed to a point where I feel it's no longer Waterstone's, then from where I sit as a consumer, that's a bad move for them, regardless of the internal reasoning.
For a company to seriously rebrand, not just refresh or update, they have to accept that many people will rebuke it, will just not get along with it. Maybe in time people will come to accept it, maybe even like it… if that's the case then all well and good. The company might see a drop in sales initially, but if they have the courage of their convictions, then they should see it through. But often, the first few months of a serious rebrand are crucial if it will survive or need replacing or reverting back to the original, and that has happened many times with popular brands. Royal Mail+Consignia.
A logo is not the Identity
But a poor or weak logo can seriously hamper the brands overall brand identity or image. My views are not just judging a brand new company logo design or identity, a company without any past history. To do so just becomes just a case of 'subjectivity/personal opinion', but that is not the case with Waterstone's.
I have nothing particularly against the new Waterstone's logo, regardless of how nice it can be packaged up, implemented with collateral materials, posters, if the single point of focus, the logo is weak, then this is also a bad move.
You take the new 'w' out of context and it suddenly becomes more than what it's meant to represent. Some people see 'two fingers' some see 'hanging testicles', some see a 'droopy butt', some see 'breasts' and some see 'u+u'.
Not a great combination of visual perceptions. Looking at the new 'w' on its own is a poor experience, no such failing or confusion with the previous serif 'w'. This seems to me a backwards step, regardless if the aim of this rebrand was to modernise.
If the logo portion of an identity only really comes alive once you add it to a poster or some fancy shop decorating then this is a risky move. An ID for a company like Waterstone's needs to rely on familiarity, it ideally needs to conjour up aspects of the essence of book reading not generic and a victim of type trends. In this case, the style of lettering for the holding company, HMV.

UPDATE : There is an interesting remark in the comments below by 'Blonde', which may put the rebrand into perspective. I have also posted a follow-up to this post: The Waterstones identity rebrand revisited
Straight to the point, my initial reaction is 'Oh dear.' This was my reaction when seeing it last night, and it's till my reaction this morning. If anything, I feel more 'Oh dear, oh dear.' Easy to criticize without knowing the real reasons why Waterstone's felt a rebrand was required, I am sure they had very good reasons.
I would like to know what these reasons are, but in the absence of these reasons, I am basing it on my view as both a designer and a regular Waterstone's customer. This is not an attack on the actual logo design, but a view of the Waterstone brand as a whole and what the new identity means for it, from my perspective.

The Register don't seem to be too 'chuffed' with it.
There is something about the traditional serif typeface of the previous logo. It's solid, it's reassuring, it's classic and it's smart. And look's stunning next to a pretty face. :) I would walk towards a Waterstone's store, seeing the familiar and reassuring 'W' and feel happy to be walking into such a wonderful store. Seeing the 'W' etched onto windows, seeing it lit up at night, lovely.
This is what makes a brand, our perception of the company, NOT the companies perception of it's self.
It's Waterstone's because it represents the VERY essence of reading and the VERY traditional methods of book publishing. What book, what novel uses a sans-serif font for the body text? Newspapers, magazines, book all use serif fonts, that's the heritage, that's the practicalities of reading a book. A serif is easier on the eye, far more than a sans-serif font.
Therefore makes sense that a book seller uses the very style of font that is used for the majority of books it sells. It might be predictable, it might be obvious but it is also works.
Look at this logo, it's beautiful. Waterstone's made the serif 'W' look beautiful, not boring. We see the 'W' and think Waterstone's.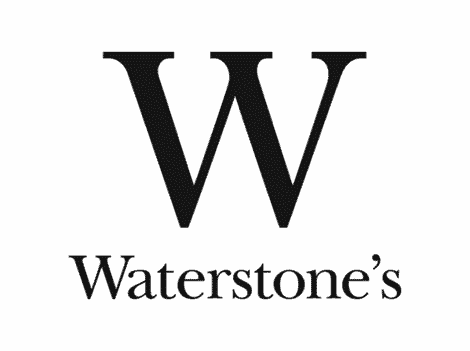 Now what will people think when they see this?
Why would you want to change this, change this established and well known identity for something pretty 'now'.
By shedding the serif 'W', it has transformed itself into a trendy modern logo. I have nothing against the new design, its nice, it's clean, smart and modern. But it's also trendy. And an established book store should not be experimenting with type trends. There is too much at stake. In one foul swoop it has lost credibility. It not longer feels like the established book store it once was. Now feels like something entirely different.
Have they panicked with this whole ebook technology, have they looked at Apple and see that actually you can go from serif to sans-serif and feel they should do the same. Have they assumed that to move more into a technological area one then needs to adopt a more modern identity? Did they just get bored and fancied a change? Well, that's crap if they think any of those. A brand agency need to be as clear about the direction of the company being rebranded as the company themselves, if anything, more so. So someone has either given bad advice, or they have been micro-managed by heavy handed MD's over at Waterstone's. Either way, it will reflect very badly for all concerned. Think Tropicana.
I would argue that the previous logo would could have lasted for many more years, even decades. Maybe with a slight refreshing or tweaking of the serif font, but there is no way this logo could really age. Why not? Because it's based on heritage, centuries of book publishing.
Waterstone's have now irreversibly changed the very essence of what made Waterstone's, Waterstone's. The problem they will have is that in maybe 5 or 10 years is that this logo will fall victim to typeface trends. I maybe wrong, but I don't think so. This has a limited shelf life and they may find themselves having to repeat this process again. Sooner than they maybe anticipated. As I said, as a logo standing on its own, its a nice design. But it's not long lasting when put into the context of Waterstone's and the history of book publishing.
By changing to this very smooth font, they have almost said 'bollocks' to their roots.
This isn't to say that a book sellers can never use a sans-serif font, that's not the point. Border's had a sans-serif, although almost art-deco in it's form. It was sturdy, it was serious.The red line creates the impression of book platform, a place to store your books, the letters spaced so that you could imagine pulling of each letter as a separate book volume.
A rebrand  doesn't automatically mean you have to start all over again, throw away all the history, heritage and reputation. Feel's very much like a case of 'we will because we can.'
This new logo for Waterstone's looks anything but serious. Just looks 'now' and NOT a Waterstone's bookstore. Huge mistake me thinks.
I wrote an article on aspects of the research and interview process necessary for a successful rebranding.