All Archived Posts in unevolved brands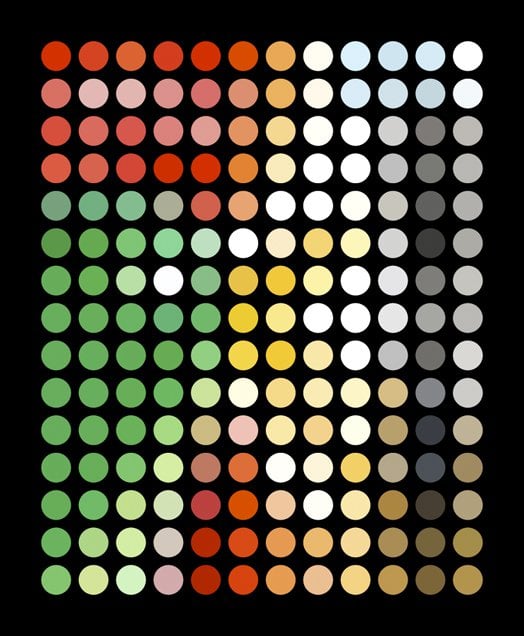 A while back there was a super duper cool study on dots, well, to be more precise, an interpretation of the Mona Lisa by Gary Andrew Clarke.
Andrew took the Mona Lisa and remixed it down to 140 exact circular dots and even with this over simplification, and somewhat abstracted nature, it is clear to all what the dots represent (below).
Iconic Brand Packaging Simplified & Abstracted to Dots by Silas Amos
From that particular art exploration of the Mona Lisa, Silas Amos took the 'dot' idea in a slightly different direction, and applied the abstract 'dot' simplification to certain icon brand packaging. Some of the packagings are pretty clear, some maybe not so much. The not-so-much-of-a-trick, is to look at these at almost thumbnail size, then the appearance of them becomes far clearer.
But I really do love any logo/brand project like this, and I in fact had my own 'dot' brand logo project called: Unevolved Brands, which 'unevolved' brand logos down to a most basic shape: a 'dot/circle'. Which actually reminds me that there are plenty of new logos to Unevolve since I last posted, so might be tempted to add a few more over the next few weeks. (Apologies for the website theme, it's somewhat outdated now, but should still be working)
These are not new, and have been around for a few years, but I rediscovered them on my old Posterous blog, so thought these are pretty cool to post again.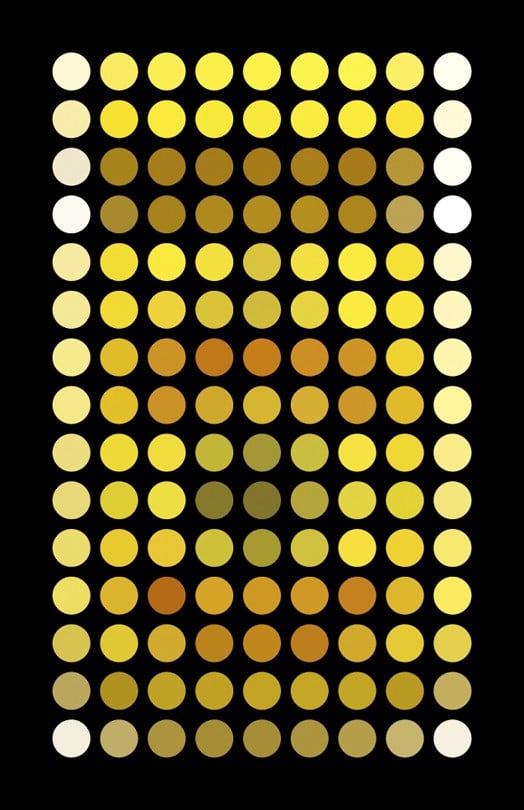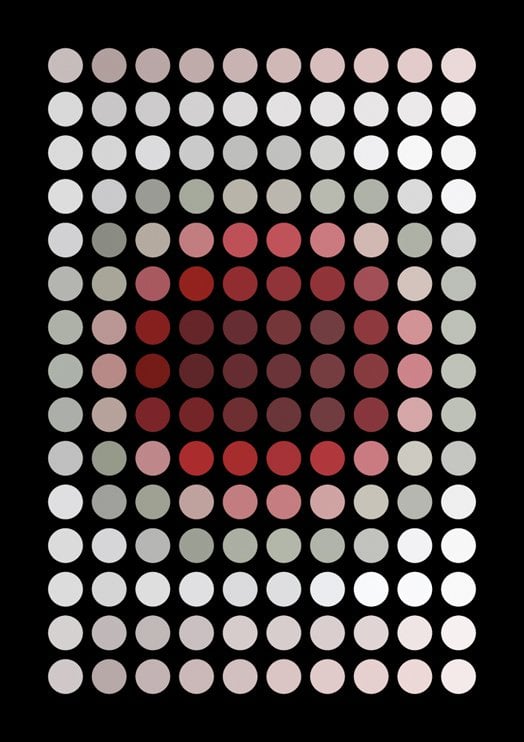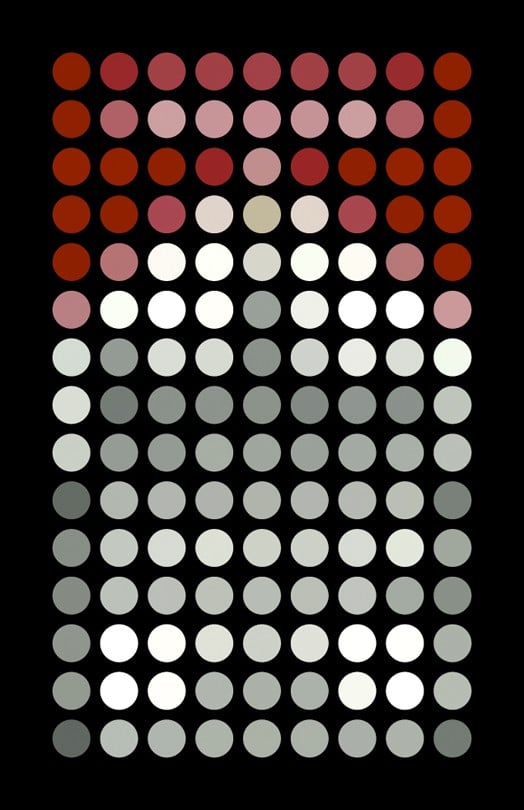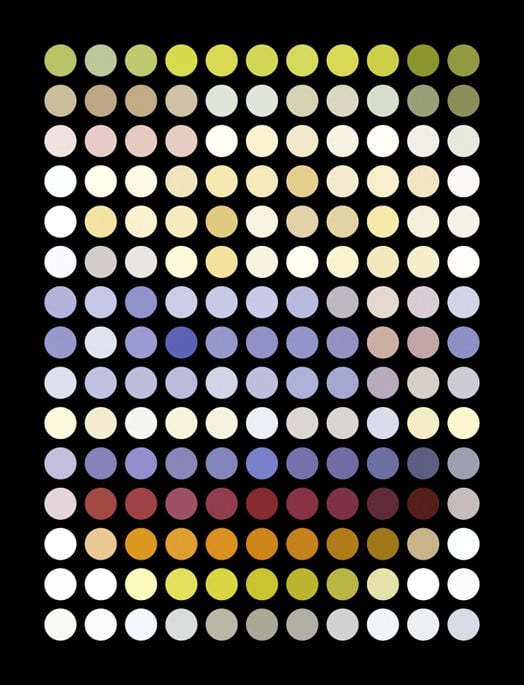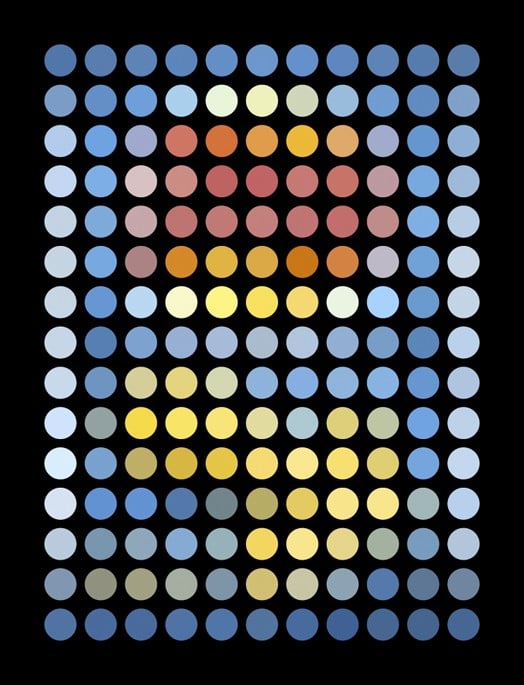 Design Gazette: "I had a few surprises – I naturally assumed Coke would reign supreme, but the slightly fiddly nature of the line and script did not survive the test. Kellogg's though, with its more distinctive shape, fared far better. Colman's turned out to have little left at this degree of abstraction, whereas Marlboro clearly still reads.

A couple of conclusions: firstly, the brands abstracted look pretty cool as art huh? Secondly, one would assume that putting super-bold graphics through the same filter that was applied to a murky, mostly brown, old master's painting would leave them comparatively well placed – that this is not always the case suggests they might not all be as recognisable when abstracted as we would have assumed.

And finally, strong shapes on pack prove to offer the best chances of survival of this process to retain recognition. This is interesting if one considers that many consumers are shopping products with impaired vision and no glasses on – it's quite an illuminating test of graphic equities in a world where packs are 'read' at a glance without 20-20 vision.

My thanks to Gary, the artist. You can see his excellent site (and buy very reasonably priced prints)here. Or if you are a brand manager, why not get him to convert your product into a piece of art for your office walls?"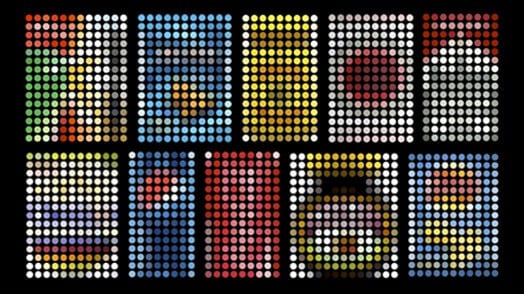 Work can get so intense that one benefits from side projects or hobbies as burn-out can hit you quicker than you can say burn-out.
I am eminently qualified to say this as some of you know I had a breakdown five or so years ago, and I am also eminently qualified in the managing of my work and personal life as much as one can.
When you are working as a creative you are super privileged to be able to work on the feeding of your soul as well as working for clients. Both can benefit your monthly earnings if you play it right.
Side projects are so important as they provide balance. You may really enjoy your job now and can't even imagine ever getting pissed off with it but it can happen, and I would say it is likely to happen rather than not.
I have significant periods where I feel utterly fed up with the thought of having to spend another day on the Mac; these are the days that you need to try and plan for and create a preemptive plan to reduce their occurrences.
Unevolved Brands
Unevolved Brands was my first proper side project which turned out to be such a fun thing to work on. I had no idea it would take off as it did after I posted the first few unevolved brand examples on this blog.
Seeing those first few comments inspired me to knock out a few more which then lead to creating a dedicated Tumblr for it which then created a monster and it soon spiralled upwards and outwards. Unevolved Brands subsequently being featured in many of the main line blogs and websites including: Gizmodo and Fast Co Design.
As with anything like this interest starts to wain and things end up just ticking along. It still picks up new visitors, and I still keep unevolving a few new brands each week. One of the biggest lessons with Unevolved Brands was not totally appreciating the level of traffic that a popular project can generate, and not to mention all the back-links and references.
Had this been on imjustcreative I would have benefited from some real link juice so this is when I decided to transfer the project from Tumblr to a sub domain off imjustcreative: http://imjustcreative.com/unevolvedbrands. With the project transfered I could then redirect the UnevolvedBrands.com domain away from Tumblr, and direct it to the sub domain.
I had missed the boat on this one but I did have plans for other projects so my thinking was to create a series of sub websites much like Undersconsideration with Brand New, FPO etc.
Should I ever find a great new project recipe I would not miss out on all hose back-links and site visits.
Financial Motivation Helps
Part of my motivation to start these sub websites was based on being part of the BuySellsAds network: Adpacks, and I really wanted to keep them happy with healthy stats etc.
The best way to keep an advertiser happy is to increase overall site visits whilst maintaining a valuable and interesting experience without dropping post quality. It's not just about volume; overall variety and frequency is crucial as well as the consideration of both advertisers and website visitors. Treat them as equals.
Realising I needed to find a new project to run along side Unevolved Brands I did consider a few options. One of these was Font Fuddle but I have currently put this on hold for the time being. Font Fuddle is more a quiz than a side project but it does take time to create each fuddle and subsequent answer, and let it known I do actually have client work to fit in.
Inspired By
In the world of logo design rarely is a seemingly unique idea totally unique. A truly unique idea can happen but for the most part we live in a world full of examples and inspiration that we can't ignore, and much less hide from.
Much of what we do is inspired by the work and styles of others, and the same can be said of the music and art world. My next project was inspired by a number off creatives who have explored the world of logo and brand design; some of which are shown below.
Unevolved Brands was inspired by one example in Los Logos Compass. In the book is a small picture of the Google logo is simplified to just round circles, and this was something that really caught my interest. Expanding this concept to cover as many brands as possible was totally on the books.
I was recently intrigued by the large scale work of WeAreDorothy who produced a number of illustrations based on popular brands minus the wording in a project entitled: You Took My Name.
Just as recently a prolific designer going by the name of Viktor Hertz came up with the quirky logo project: Honest Logos where the brand names were replaced with tongue-in-cheek statements or wording based on alternative perceptions.
Logo mash-ups are not new and have been around for some time. In 2010 JohnsonBanks posted some curious logo mash-ups such as the Gügle one below whereby popular brands were halved and sewn together to make hybrid brand names.
The web is both vast and intimate. On one hand things of interest can go unnoticed for months, and even years, then you stumble on it and wonder how it could of passed you by.
Whilst writing this post and doing some research on the links above I stumbled over the website of Mario Amaya. Mario has an epic collection of brand logos swapped with other brand names which was done way back in April 2008.
It's only now that I have come across his work.
I started Brand Reversions without knowing about the prolific examples as shown by Mario but the discovery of these logo mash-ups just goes to show seemingly fun ideas are rarely unique when you have the whole world at your finger tips.
That seemingly cool and unique idea has probably been done before; you just haven't come across it yet.
Brand Reversioning
Note: As mentioned above huge hat-tip to Mario for blazing the logo mash-up trail.
With the inspiration at your finger tips moulding an idea into a project serves several uses. The idea to swap competing brand names into the style of the other was just too tempting to pass up. I have had moments where I was sure I would get drawn into some legal letter swapping but I was hoping that these companies would see the lighter side of the project.
Indeed the AA ended up adding as a favorite the RAC-AA Brand Reversion on Flickr which went some long way to show that some brands do have a sense of humour.
The whole concept of swapping out one brand name into the clothes of a direct competitor really shakes things up. Some of the examples look totally natural and normal yet some look decidedly odd
8-bit Brands
8-bit Brands was realised through my passion for everything 8-bit. GIven that I grew up with the ZX81 and Commodore 64 my heart totally belongs to the good old days of home computing. The 8-Bit Brands idea came quickly whilst working on a brand reversion, and the name seemed to roll of the tounge.
This is a hugely fun and self satisfying logo project, and I can honestly say this one is just for my own satisfaction. I love seeing how popular brand logos look after having a few blocks thrown at them.
So. Why So Many Logo Projects?
The driving reason why I spend so much time with these side projects is that they are all immensly educational and fun. Ripping and dissecting each popular brand really makes you understand and appreciate the level of thought and work that has gone in to each logo and the visual identity in general.
You get to see what portions of the identity work in tandem and what elements are strong enough to work on their own. Some logos work better as part of an overall identity family whereas some logos appear strong and proud on their own. Each has it's merits and demerits but sometimes designers and agencies do get this balance wrong.
With Unevolved Brands I got to see what made each brand logo uniquely identifiable just through colour and element position. This project made you realise how we recognise some brands based purely on colour and structure.
From construction to colours to shapes and form form to structure and typography; Unevolved Brands has really opened my eyes to appreciating and creating unique designs.
This also applies to Brand Reversions but in a slightly different way. With this I am reinforcing my own appreciation of how crucial the right type selection is for a brand logo, and also goes to show others how a different combination of letters can look just plain wrong. An example of this wrongness is the Canon-Nikon and AA-RAC reversions. Yet the RAC-AA reversion works out pretty well.
When creating structure from type we have to look at the overall balance or unbalance created by the letters especially with a typographic word mark such as Canon.
Each Brand Reversion involves checking up on that that particular brands identity guidelines whilst specifically looking for direction on typography and font selection. A few of these brand reversions have been quite tricky and time intensive but some have been knocked out in a few minutes.
With 8-bit Brands I am having to dissect each and every logo within an inch of its life then working out how it can be simplified to blocks without much loss of form and shape.
The Twitter bird logo mark was one such example where the finer details such as the beak and the ruffles of hair proved virtually impossible to accurately retain.
Much can be gleaned from looking at and dissecting other peoples work.
This is the main reason why I invest so much time on these projects. I am looking and studying everything about each logo, brand and identity which I would hazard a guess most people don't do except for a passing glance now and again.
---
The Projects
Unevolved Brands:  Website & Flickr Set
Brand Reversions: Website & Flickr Set
8-bit Brands: Website & Flickr Set
Inspiration Credits
Mario Amaya: Logo Mash-ups — Viktor Hertz: Honest Logos — JohnsonBanks: Logo Mash-ups — WeAreDorothy: You Took My Name
This is an awesome logo and brand project by UK based, WeAreDorothy. Some of these adapt really well to a big canvas and could easily see some of these hung up in my studio. Will be keeping my eagle eye on this project.
If you like what WeAreDorthy have done then you may also like my own little side project, Unevolved Brands.
Source http://wearedorothy.com Found CreativeReview
When I initially started Unevolved Brands, I included the option to leave comments via Disqus. It was quite fun seeing people make guesses, wrong or right. But after I while I realised that a few hard core people were almost waiting for each new brand and would leave the correct answer almost immediately.
Which is fine, but it then spoils the quiz fun for others, making the concept a little duller. So I have recently decided to remove the comments so that the answers are not immediately on show.
Remember there is also a Flickr set available where you can still leave comments and answers if you want to show people how clever you are. :)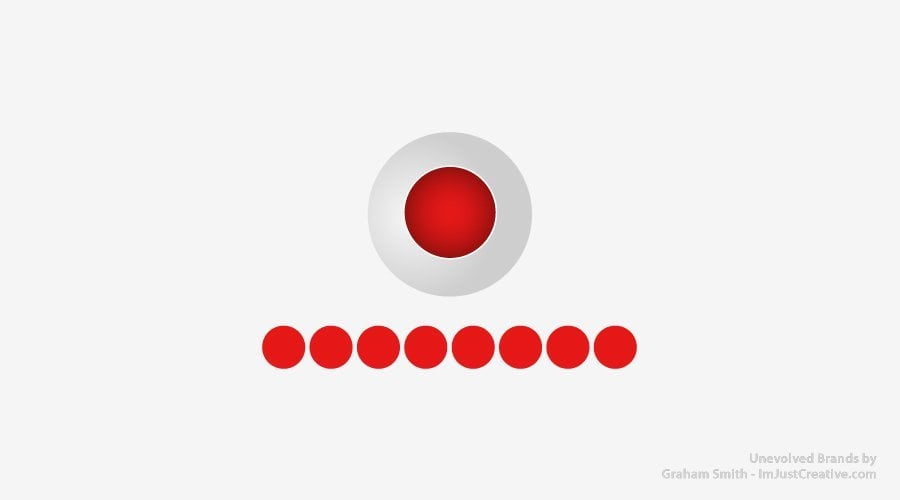 Check this post for answers
I will also now release the answers at the bottom of this post. So a few days after each new brand is released, you can check back here to see if the answer is available.
Pan Am
American Airlines
Tamiya
Sony Ericsson
Budweiser
Dribbble
Apple
RedBull
T-Mobile
FedEx
CNN
Flickr
Subway
Bing
BP
Baskin Robbins
I Love New York
LG
Dunkin Donuts
Twitter
Kelloggs
Burger King
The North Face
Ikea
UPS
TicTac
GAP
Addidas
TomTom
Android
Perrier
USyFy
Cisco
Caterpillar
KFC
Yahoo
Evernote
Reuters
Pantone Hexachrome
Nike
Hulu
Marin
Adobe Air
Macromedia
Esso
Starbucks
Ann Summers
DaringFireball
Google
Mastercard
DFS
Bing
Oprah Winfrey Network
Sprint
Visa
Fila
Lego
McDonalds
Gucci
Fox and Sons
Converse
Time Warner Cable
BT
Mint.com
Tacobell
Caribou
Molson Canadian
Swatch
Financial Times
Bosch Lomb
Faber Castell
Lush
Cirrus
Chase
76
Cingular
Best Buy
Tumblr
Reddit
BlackBerry
BBC
Technicolor
PWC
YouTube
American Express
New York Public Library
MSN
79ers
Firefox
Avid
Harely Davidson
GrooveShark
Hertz
Museum of London
Pepsi
Vodafone
Jack in the Box
Pfizer
Park Tools
Quicktime
Pixar
Pantone
Wallmart
Gran Tourismo
Discovery Channel
Swisscom
Animal Planet
Oxfam
Xerox
FourSquare
General Mills
Polaroid
Meredith
Smart
Tron Legacy
BMW
Memorex
FaceBook
Olympic Rio
Everlast
Panic
Quark
Ocado
StarWars
Boxee
BoingBoing
US Army
NFL
Ferrari
Orange
Nazi Swastica
Royal Air Force
Speedo
AA
37Signals
WWF
JCPenney
Electronic Arts
More Than
Smashing Magazine
Apple Corps
National Geographic
Girl Scouts
Mitsubishi
Avery Dennison
Smeg
Answers will be updated a day or so after the release of each new Unevolved Brand.
What started as just a few odd logos in my first post on these Unevolved Brands ended up being a daily maintained project with it's own Tumblr website and Flickr set.
Just a few day's ago word started getting out then the links in some of the mainstream blogs started appearing, including Gizmodo, BuzzFeed, DailyWhat, Quipsologies etc. Gizmodo being the special one, bringing with it loads of comments and page views and unearthing the familiar trolls and spam comments, but you seemingly can't have one without the other nowadays.
iPhone/iPad App
If getting in Gizmodo didn't phase me enough, a few people then approached me to ask if I would be interested in working with them to develop an iPhone game/quiz app based on the Unevolved Brands idea. This I am thinking about.
Yes, I am quite chuffed.

It's been a fun project, easily taking up too much of my time. What has been awesome is seeing all the comments and attempts by people to try and guess them, it's really been quite a laugh to do. So thank you to all of you who have kept the game flowing.
It will keep goind until I run out of brands to unevolve or interest wains, as it usually does in these cases.