All Archived Posts in template
Logo design copyright is quite a different beast to that of a Trademark and Registered Trademark, so it's very important to know the difference between them.
So with that said, this Transfer of Copyright form is simply a means for you to pass over your ownership of a logo to your client, which should be as simple a process as possible for the client.
---
Download: Transfer of Copyright Form
---
The link (above) will download a ZIP archive of an: InDesign file CC7 & CS4 (without fonts), and a PDF (with embedded fonts) for the updated: Logo Design Copyright Transfer Form Template, all ready for you and your client.
All it really requires is a dated signature, but it's nice to pad it out a little to make it feel a little more substantial.
I still forget on occasion to initiate the Transfer of Copyright after a logo design project has been completed, but as far as I'm concerned, the client automatically owns all copyrights once they have paid the final balance. I think I'll add a mention of this to the Freelance Logo Design Proposal and Invoice Template, and also as a 'note' in the Invoice, just so the client is aware of this from the start.
Feel free to use this as is, or change the layout/contents as you see fit (obviously remove all instance of my name and details). The download includes an InDesign file (without fonts), and a PDF (with embedded fonts).
---
Download: Transfer of Copyright Form
---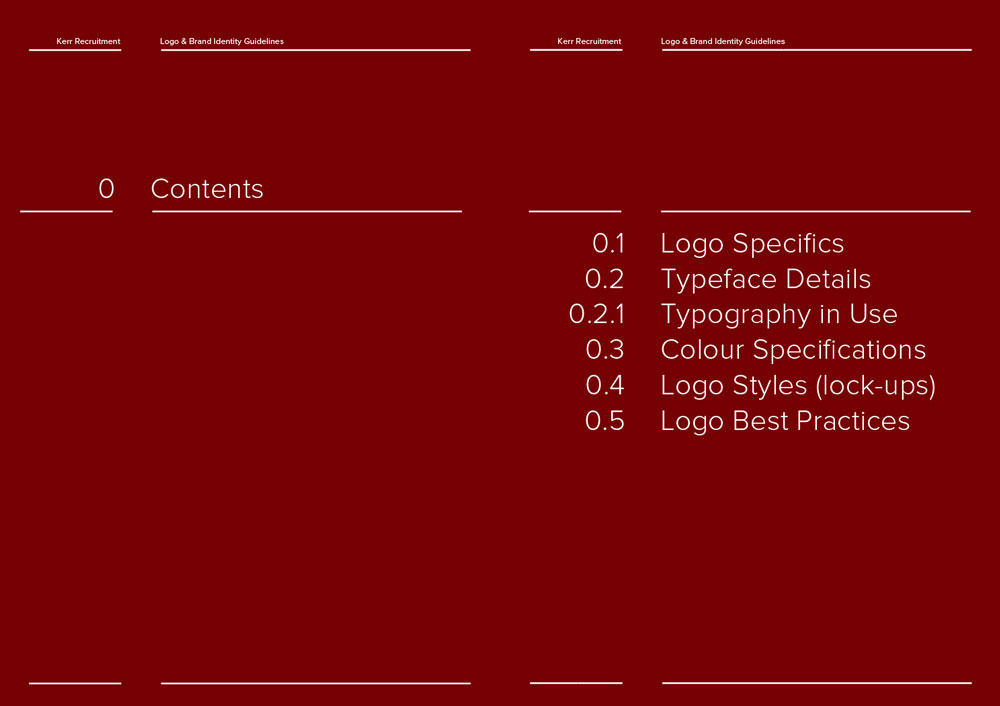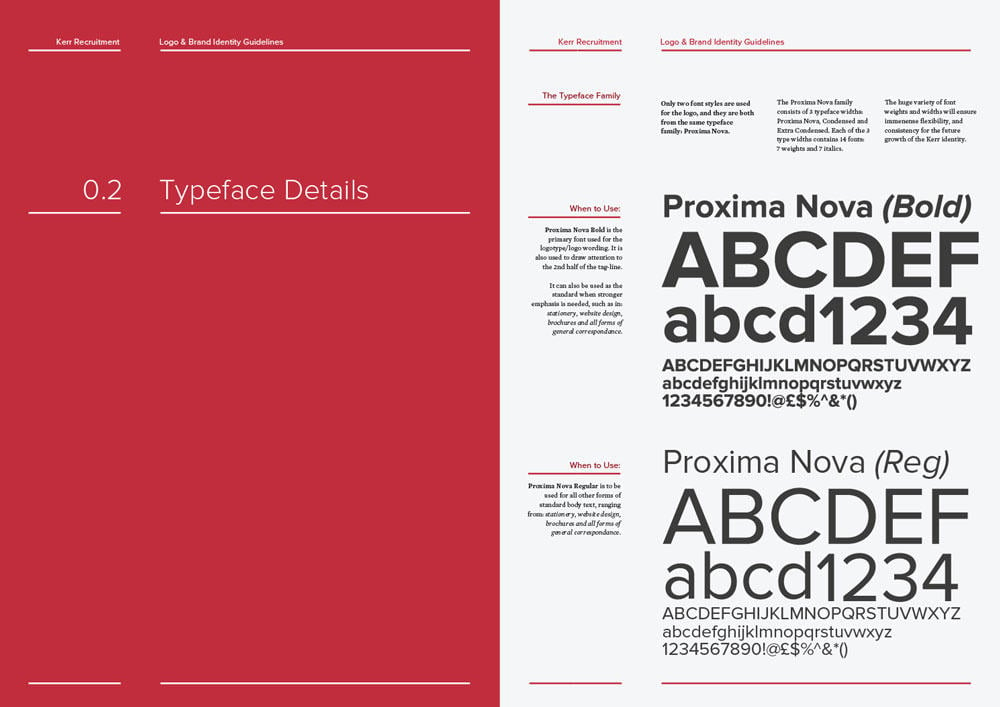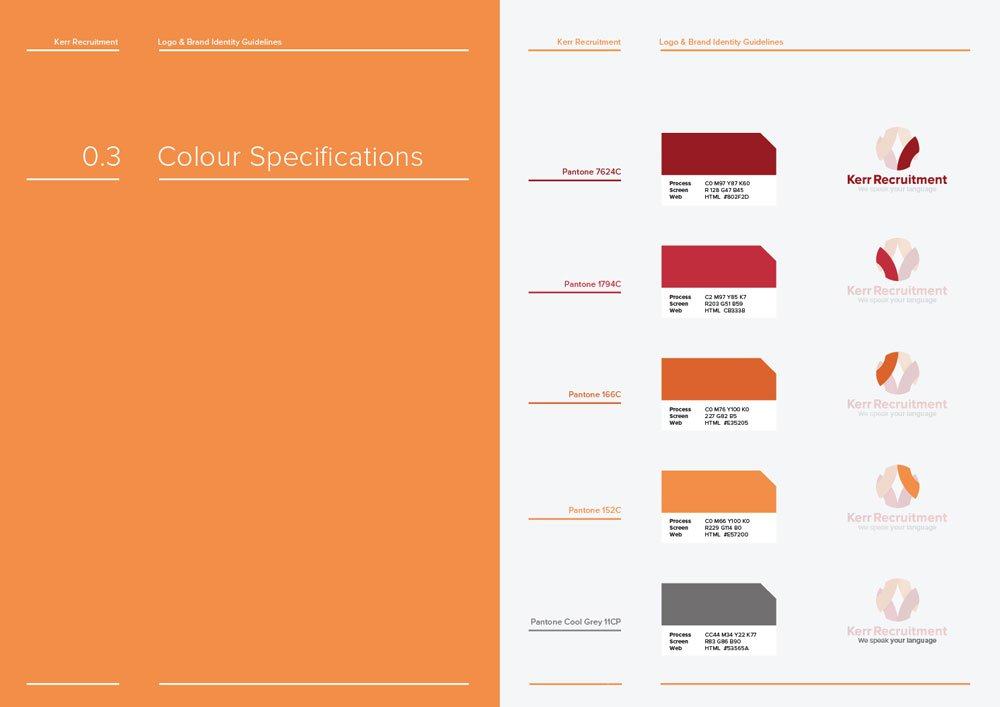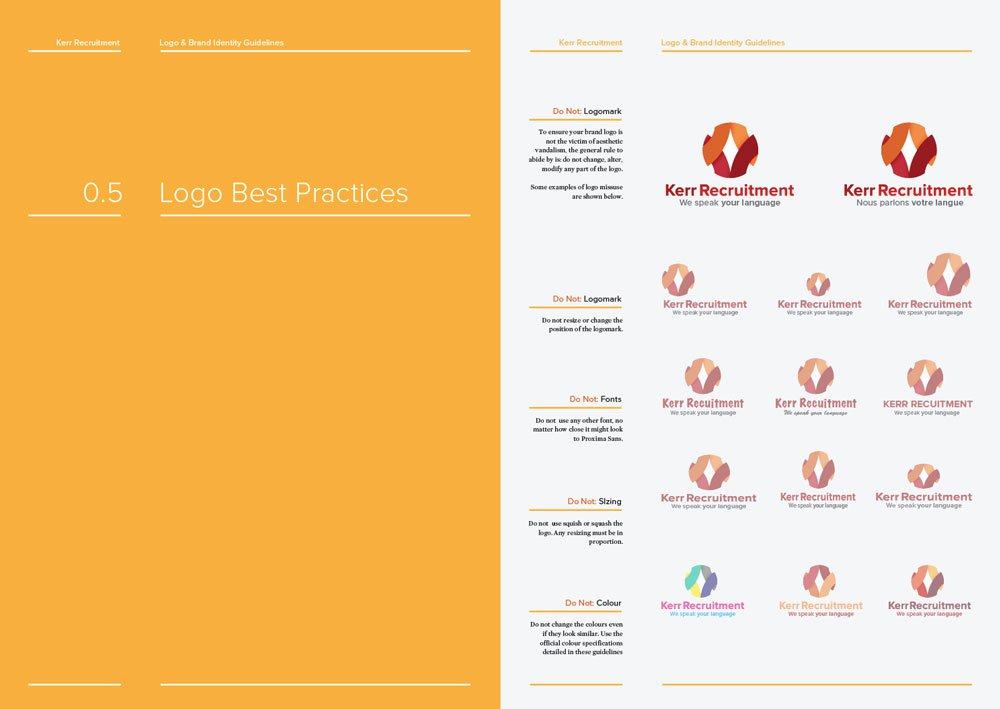 The above link will download a ZIP archive of an: Adobe Illustrator CC7 file (without embedded fonts), and a PDF (with embedded fonts).
Logo and Brand Identity Guidelines Template for Download
This version of my logo guidelines template, from my resources category, is a little heftier than previous, weighing in at a respectable: 13 pages (there is an imaginary Back Cover you can add to make 14).
I have used this particular version of the guidelines for a previous client of mine, Kerr Recruitment, as well as slightly different variation for Tabalwor, another previous client.
The style of this set of guidelines has gone down well with both clients, as well as some prospective clients who have asked about them after seeing them on the respective portfolio pages, etc. So I figured I'd stick with this basic style for a while, and expand and tweak it as necessary.
There are, of course, situations where a completely bespoke set of guidelines is warranted, but on the whole, i'll be using this style base where the client isn't in need of a custom set of guidelines.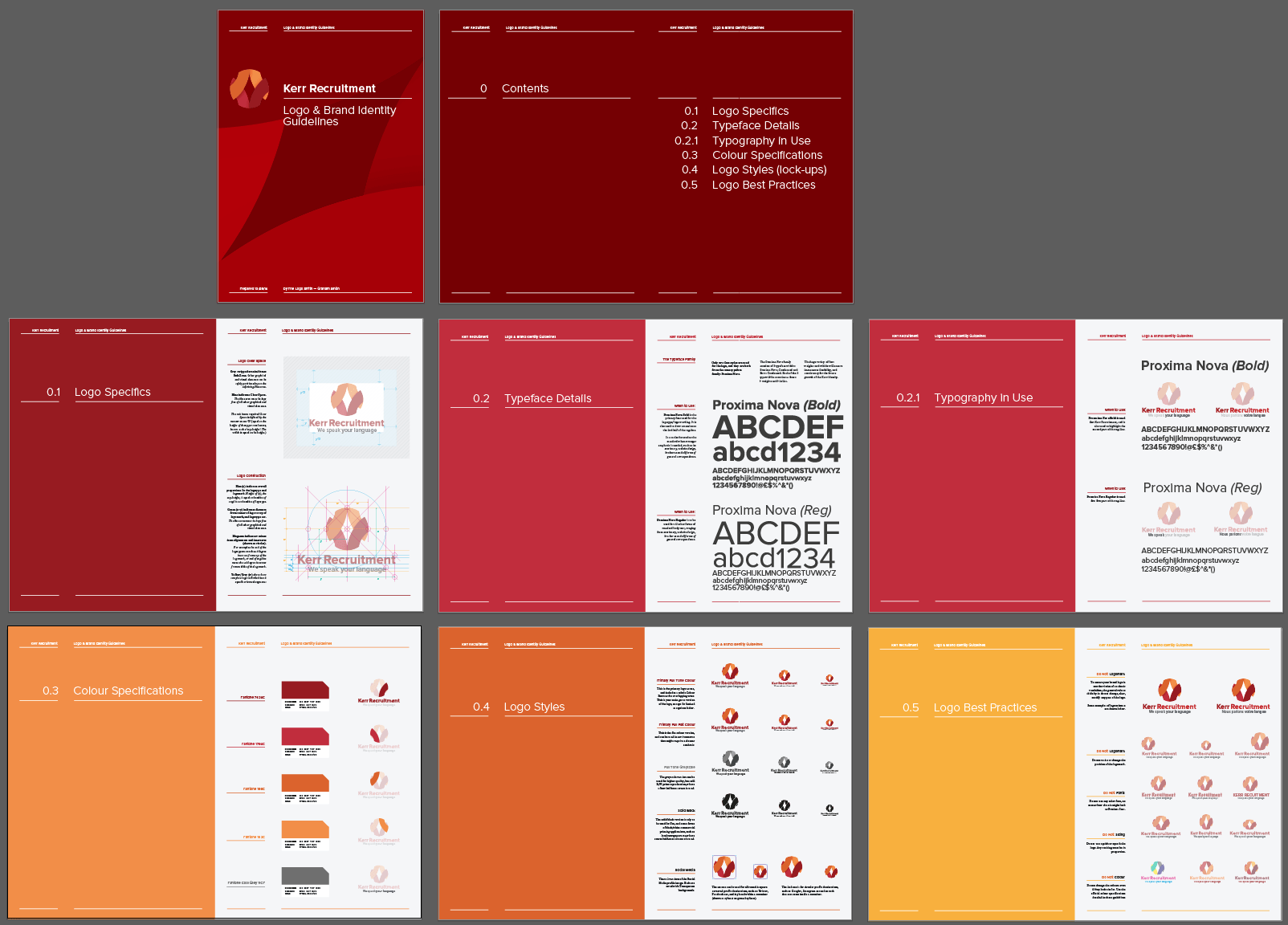 I'm providing the original Adobe Illustrator files for you, so you can get your collective hands dirty with all the text, imagery, pages and artboard's, etc.
Although I have kept Kerr Recruitments logo in place, please bear in mind that this is a legitimate client logo design, and as such is not there for you to use, commercially, in any way.
You will likely need to change these files quite a lot. The guidelines have been designed in such a way that are quite specific to the way the Kerr Recruitment logo has itself been designed, from the amount of colours used and thus detailed, the French translation of the logo, the various logo lock-ups, etc.
However, you should still be able to use quite a chunk, or at least get a real good idea of how and what to use, spec, explain in your own version of the guidelines.
The addition of the solid colour leader page, with the section titles, looks pretty nice I think, and helps make the guidelines look more like an actual booklet.
And finally
If you have any questions about creating logo and brand identity guidelines, or simply want to say drop me a line, you can do so here, over there and right here: [email protected], use the contact form, or grab me on Twitter: @thelogosmith
>> Download Logo_and_Brand_Identity_Guidelines_Template.zip 
The above link will download a ZIP archive of an: Adobe Illustrator CC7 file (without embedded fonts), and a PDF (with embedded fonts).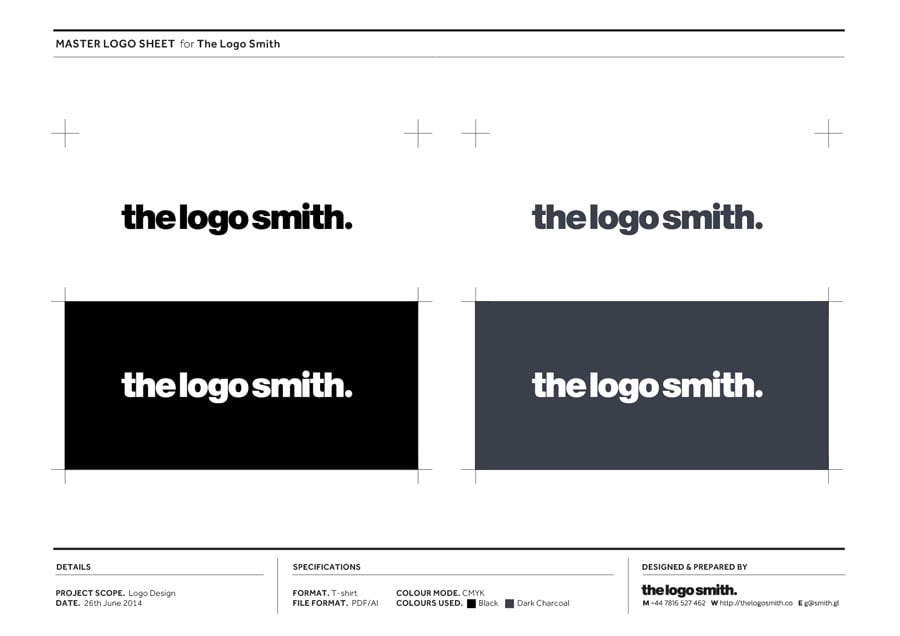 Download Master Client Logo Sheet Template.zip
The above link will download a ZIP archive of an: Adobe Illustrator CC7 file (without embedded fonts) and a PDF (with embedded fonts), all ready for you to present those finished master logo files nicely to your client.
Client Logo Sheet
I have settled on this style of Client Logo Sheet for providing, and presenting, my own clients with the finished logo files. Each one has a few bits of useful information, such as: the colour mode used in Illustrator, either RGB or CMYK and list of the actual colours used in the logo.
I've locked all the elements other than the logo itself, so it's easy for a client to select and copy without picking up surrounding elements etc. On my example I have 4 different colour variations, but you could adjust it to show just one colour, or even add more rows/columns depending on how many colour versions are to be used. Probably best not to cram say 6 different logos on one sheet, as part of this logo sheet is to present the logo in a nice clear way.
The Client Logo Sheets are not replacing the more detailed Logo Guidelines/Logo Specification sheets as not all clients opt to have these developed, but all clients will get the Client Logo Sheet at the end of each project.
Feel free to use the Master Client Logo Sheet Template as is, or change the layout/contents as you see fit (obviously remove all instance of my name and details). Hope you find it useful. 
Download Master Client Logo Sheet Template.zip
Another Logo Sheet Example
Here's a version of the Client Logo Sheet I have just done for my latest finished logo redesign project, for Codestag.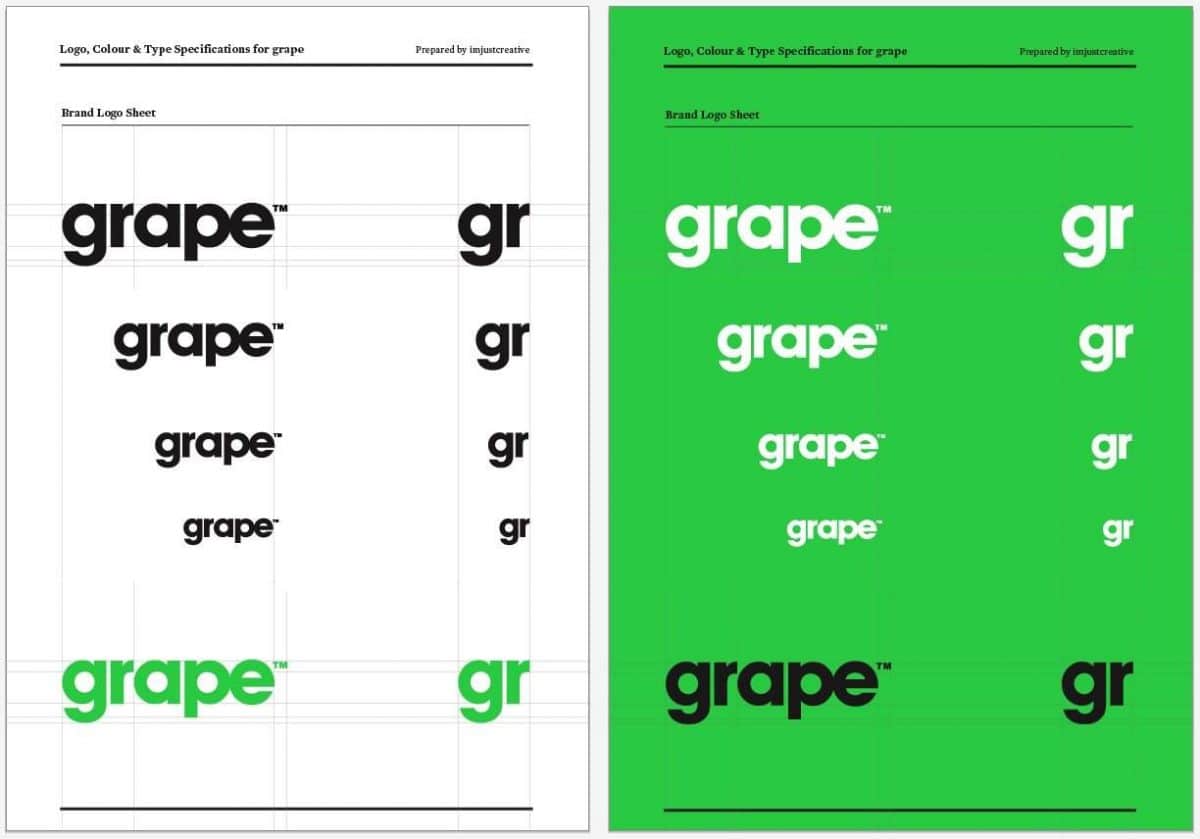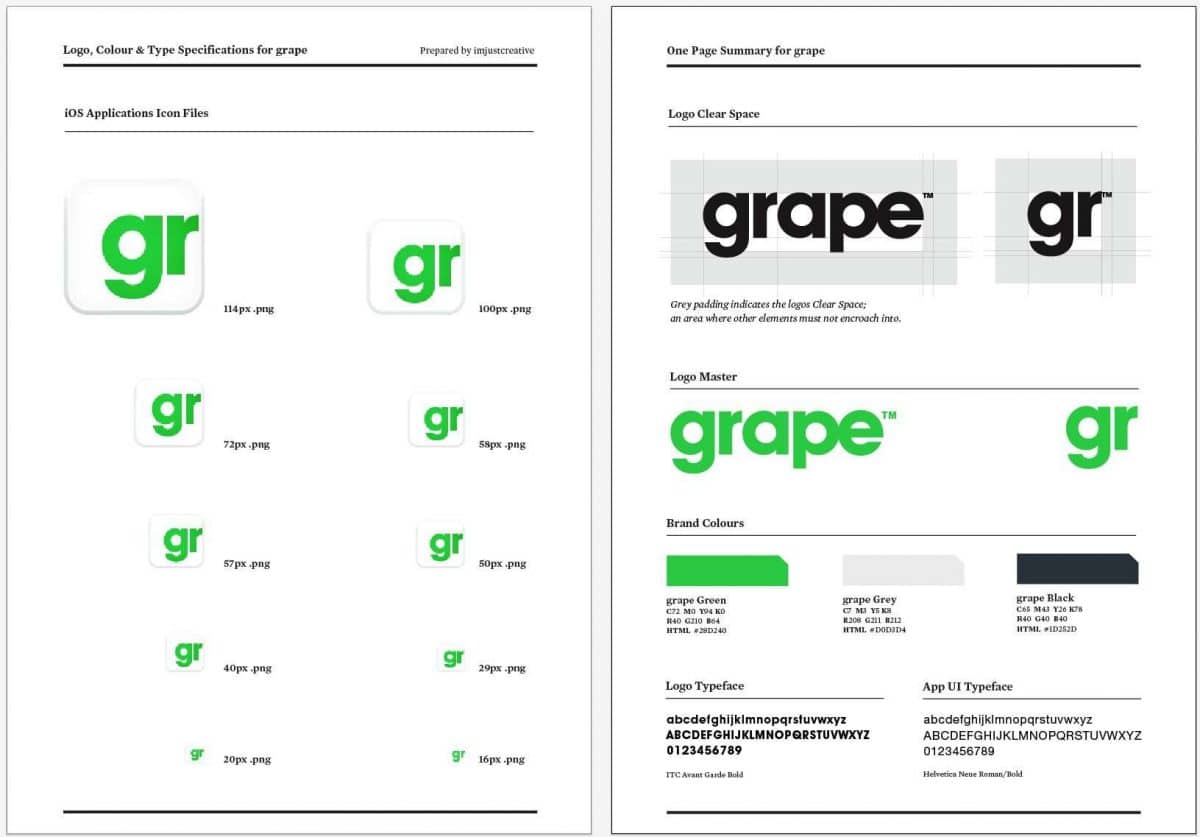 8 Page Logo Specification Book Template for Download
Along with my other freelance logo design guidelines, and specification templates, available to you, I now have added this 8 page logo sheet and style guide as a downloadable template.
The 'grape' logo is a current project I am working on, and so these guidelines have been designed specifically for the client. It's not fully complete as I have yet to add details on the stationery, further info on how the logo can be used etc, but these eight pages provide the main details.
This freelance logo design guideline template is a little different to my previous ones, as it incorporates a page of iOS application icons which go hand-in-hand with the project, more info on the typefaces as well as providing a final artwork logo sheet.
I have also summarised the seven main pages of logo, typestyle, colour and icon guidelines into a One Page Summary as a convenient extra for the client.
Please Note
I have removed all instances of the 'grape' logo from the template, and replaced the icons with black placeholders. I realise it then looks a little naked, but just used the guidelines I had in place as positional to place your own logo, and then adapt those guides as needed.
It's more about just being able to provide you with something to get you a head start in you own project. This should all still provide you with a sound base to adapt your own logo sheet and guide from. You can download the template from the following link.
All fonts have been converted to outlines and I have provided both .ai and PDF versions. If you require another format, then please drop me a line in the comments and I'll see what I can do for you.
Hope you might find it useful.
Download 8 Page Logo Specification Book Template
This is an updated version of my previous Logo design proposal/contract/estimate template which is still available for you to download should you want it.
I have made a number of changes to the first page, of this revised proposal, which provides more information on: pricing and deposit breakdowns, more detailed information on the scope of the project as well as expected final deliverables.
As my projects are getting more complex it has been necessary to cover all expectations right at the beginning, where as I used to be a little less detailed and more free flowing.
Worth bearing in mind that my proposal also acts as a loose contract and estimate in one as I like to keep it all together and under one roof. I find this makes it easier for each party to keep on top of those dreaded "expectations", and provides a useful reference should there be any discrepancies further down the line.
Some of this may be overkill, and for some of you it may not even be close to detailed enough, but please feel free to take any inspiration you need from this.
I have not made any major changes to the other 4 pages, so these remain as the previous template.
Please note: I am not making any claims to how wrong/right/appropriate this template is. This is what I personally use, and has NOT had any kind of legal approval whatsoever. Please don't take this template as being legally solid in any way, and I certainly do not intend to be blamed should any difficulties arise from your use of this template.
Download Logo Design Proposal Template
For some time now I have been eager to create a larger version of my Logo Identity Guideline Template For Download which has proven to be a very popular resource. So here is a 4 page template for you to download, change, tweak, destroy and use.
This is not the template I was hoping to make available as trying to create a 4-6 page template that is both useable and flexible is actually quite challenging. The reality is that every logo is different; different size, different proportions, different variations, different typefaces and so on. If I had lots of time on my hands then I am sure I could manage to knock out something, but doing one just for the sake of a downloadable resource hasn't been feasible due to time constraints.
In the end I decided to stop stressing over it and decided that the next time a working project came up, that required more than a one page set of guidelines, I would create a version as a downloadable template.
I try to keep my identity guides as clean and as simple as possible mostly because I am not being paid to create twenty page detailed whoppers. Even simple guides take forever to put together so more often than not a client just can't afford the extra costs for a super duper identity guide.
Work-in-Progress
This particular guide is a work-in-progress for an existing client so is not yet fully complete. I still think there is enough of a layout here for you to tweak and adjust for your own needs as well as providing a reasonable starting point for your own identity guide.
One of the biggest hurdles a designer faces when contemplating an identity guide is, "where on earth do I start?"
The thought of starting one of these can can leave you quite perplexed as each one will typically need a new approach. Maybe this will give you some inspiration and a little boost to get started.
The Template
This template includes the same sort of details found in the Logo Identity Guideline Template For Download, but as you will see I have spread the content out over four pages. The finished version of this template could well reach 6-8 pages so please bear this in mind when working out the content for your own guidelines.
If you have not yet looked at the original one page version then I would suggest downloading that first as I have bundled in additional files that you may find useful in conjunction with this template download.
The ZIP included an InDesign document as well as a PDF, but if you need other versions then please let me know in the comments and I will be happy to oblige.
The one issue you may have when opening the InDesign file is to do with fonts. I have used Helvetica Neue for all the body copy and headings so if you don't have this installed then you will need to replace the fonts.
Download Four Page Logo & Identity Guideline Template.
Screenshots
This is probably the most important page of the guidlines. A logo can be ruined if careful thought is not given to how it is incorporated in or next to other design elements. Allowing the logo to breathe in its own white space is one of those designery things that not all people would be aware of.
By providing a simple diagram of the logo and its clear space avoids the logo being placed too close to other design elements.
I have also added an example of the logo in place on a photograph where the clear space is working to provide a nice gap to the right and top of the logo.
Given the range of colours in this project it made sense to put aside a page which details the acceptable variations of logo colours. I also provided breakdowns of each Pantone colour as the equivalent CMYK and RGB values.
The page with the business cards is incomplete as I have yet to design the rest of the stationery, but you can see where I was going with the overall layout. You could have one page for business cards and another for the letter head etc so it really just depends on how many pages you want to roll to. I would rather go to more pages if it means a clearer and well spaced out set of guidelines.
Unless you are commercially printing the guidelines then I don't see any need to be economical with the space.
The last page covers the usual methods of abusing the logo design such as: squishing or pulling the logo out of proportion, using the wrong colours, reorganising the layout and recreating the logo with totally different fonts.
If you have found this resource useful then I would of course appreciate any Google +1's and/or FaceBook Likes you can spare. That would make me quite happy.
Signing Off
As I said at the beginning this template is somewhat incomplete, but it should still give you some ideas on how to develop your own set of guidelines. When I have complete this client project then I shall update this post with the completed set of guidelines.
Logo identity guideline template
As promised, here is the basic template for the A4 single page set of identity guidelines for a general logo design. You can download below.
It covers the basic essentials that a client needs to keep the identity looking consistent and to avoid abusing the use of it such as distorting the image, changing colours, changing fonts etc.
3 Logo Template Styles
Since first posting this, I have now updated the download to include 3 styles of identity guide. Styles 1 and 2 are the same as previous, used for my Wavepulse Acoustics logo.
Style 2 contains a small colour section. So in one version I have removed one of the minimum size modules, and replaced it with a colour chart. Here you can specify the Pantone colour, the CMYK and HEX breakdown.
Style 3 is based on a new layout, and it's based on my revised layout which you can see for the Keyboard Kahuna logo. I will say that Style 3 uses slightly different font styles and the layout is quite different from Styles 1 and 2. A few wording changes have been made as well. For the main logo breakdown, I have substituted the 'X-height' reference found in Styles 1 and 2 to 'Cap-Height' due to the fact this logo uses all capitals. Thus made sense to use the 'Xap Height' reference instead of 'X-height', make sure you use the right one for your own logo.
You will find that you will need to chop and change each layout for your own use.
As this is the template I use myself, please consider making style changes to inject your own brand into the mix. Font styles, colours etc could all be changed.
Spacing between sections
I have not paid too much attention to spacing on this template. This will all change once you have your own stuff in there. Just pay attention to vertical spacing of each section when you are done, leave enough vertical space between 'primary logo', 'alternative logo versions', 'fonts used in logotype' and 'don't abuse logotype.
Remember, it's all about presentation. Don't cram too much in.
InDesign Template
The original design I used for Wavepulse Acoustics guideline design was created in Illustrator, but felt InDesign would be easier to maintain. I have re-created it using layers and font styles, to make it super easy for you to customise. I have inserted tinted screen shots of the Wavepulse logos which are locked to a layer. So you need to drop your own artwork over the top. As well as InDesign CS4, there is a InDesign CS3.inx file included as well.
The guides are not 'pixel perfect', they really don't need to be. So don't bust a gut here. It's only a visual guide, it's not being mass printed.
Illustrator logo
The actual main logo, seen above in top photo has been created in Illustrator as a separate file. As with the InDesign file, I have used layers to separate each element, the grey striped background, the blue area, the magenta lines, the logo and type are all layered. It is available as InDesign CS4, Indesign INX and a PDF version.
Use these elements to form the logo breakdown, the guides, the boundaries and size details. It should all make sense when you open the Illustrator .ai files. Have provided CS1 CS2, and CS4 versions in the ZIP file.
Download
I have left text remarks on the InDesign file as reminders as to what needs to be done. I am sure much chopping and changing will be required for your own personal requirements, rather than using as is.
I hope this proves somewhat useful and maybe will encourage more logo designers to start providing these styles of identity guidelines with your completed logo projects.