All Archived Posts in studio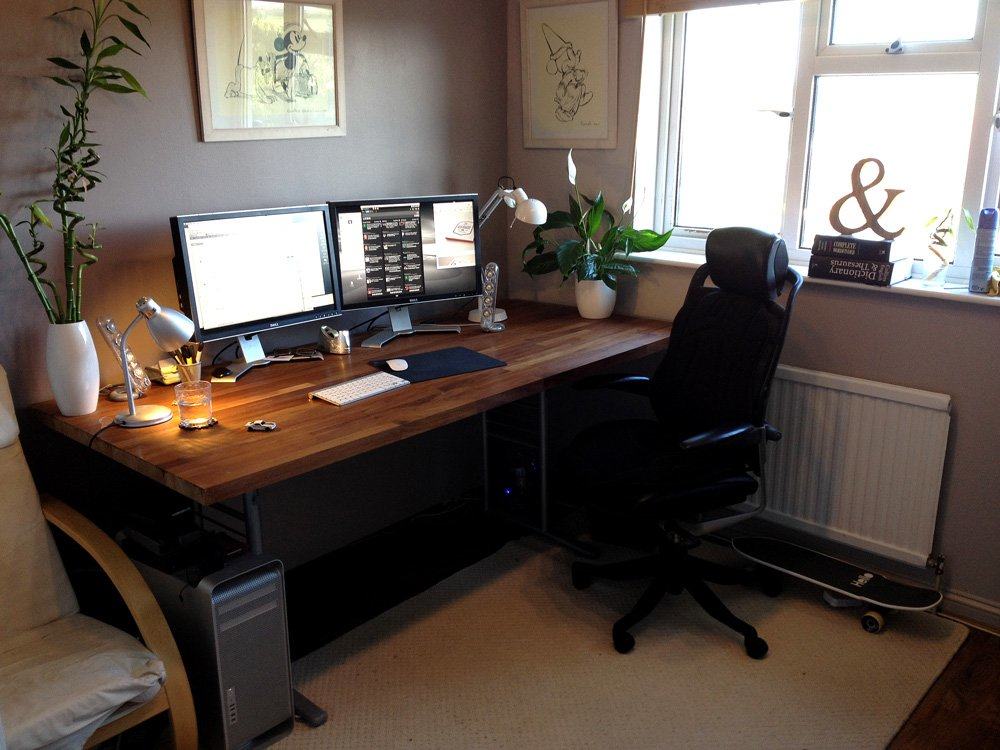 For a while now I have been debating the notion of going from a two Apple Macintosh set-up to just the one. Let me explain this notion and provide some context.
Studio
I work from home with a studio upstairs that has a MacPro running two 24" Dells. This is my work space and where most of my tinkering is done.
Mobile
I also have a oldish 17" MacBook Pro that I used to use more than I do now for working on bits and things else where in the house.
Sometimes I would just like to sit in a comfy sofa and doodle crap in Illustrator: this can make a big difference if you are putting in a long day.
Switching out of studio mode to living room mode, yet still working, can break up the day quite nicely.
The Issue
The one frustration I have is the syncing of the two Macintosh's with my work, files and what not. With the advent of DropBox things are so much easier as I have all my work files on DropBox, but the problems come with keeping applications, my font collection/sets the same and other fiddly things.
It's now got to the point where I am reluctant to sit down on comfy sofa as my laptop just doesn't have the stuff on it I need to be productive. Sure I could do another major sync, but the problem will no doubt creep up on me again.
But it's not just the managing of two different Macintosh's as my 17" is pretty long in the tooth now: the fan is on it's way out, the keyboard has had a number of accidents and replaced key and other ailments that make using it not so productive or fun to use in any way.
What to do
For about a year have thought long and hard about how to simplify my set-up whilst still retaining productivity, flexibility and ease of use.
One of the thoughts has been to get a new MacBook Pro as a direct replacement for both my laptop and desktop. This means I can plug-in in my studio then plug-out when I want to take work in a different room with the knowledge I have everything I need at hand, and no worries about file/app syncing etc.
If I have to meet a client I can take the laptop and know this still has everything I need whilst giving me ultimate flexibility to be super productive.
Some Requirements
I am used to working on two 24" Dell monitors: one is my work screen whilst the other one has email, Skype, Twitter and other time sucking crap. I even turn off this second display if I need to really focus on work and not get distracted.
I like this way of working and gives me two distinct compartments, so the new simplified set-up would ideally need to work with a two monitor set-up.
I love the MacBook Air, but as it doesn't work with two monitors so this could be a problem, but the new MacBook Pro's do worth with two external monitors which is great. I also like that it has HDMI for when I want to do some lazy browsing on my big screen TV whilst sinking into my sofa
Another option on the table: if I want the extreme portability of a MacBook Air one could look at the 27" Cinema display. My concern with this: I have been used to two monitors for such a long time that I wonder if one 27" would do the job of two 24" monitors?
Then there is this: using MacBook Pro as the secondary screen alongside either the 24" Dell, or 27" Cinema as and when I win the lottery. Assuming the Pro's screen will share the same desktop with the other external? Could be that the 15" screen will work for email, Skype, Twitter and crap?
Leaning Towards
Right now I am leaning towards a 15" MacBook Pro (non Retina) with Thunderbolt adapter to hook up my two Dell monitors—assuming this can be done with the adapters—then when finances allow possibly look to get one 27" display.
My permanent set-up in my studio would be: two monitors, wireless keyboard and mouse, and my various external hard drives for my back-ups and file archives, laptop power lead and speakers.
When I come to work in the studio the MacBook Pro will either be there from night before, or it will be in my hands ready to plug-in and place on my desk.
This will give me one great computer for work wherever I happen to be without having to juggle two different computers. I love the idea of this simplicity as it also improves efficiency, productivity as well as allowing me freedom to work where ever. Longer term it sounds like a more cost effective solution as well.
If you have any ideas or have a set-up that you feel I might benefit from then please do leave a few words below via comments. Especially interested to see if I have missed out on any possible combinations.
My Wooden Desk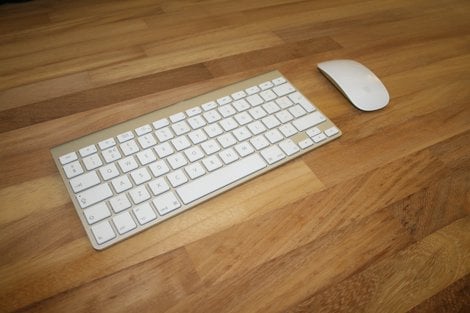 Since this post I have had a number of people ask me about my wooden desk. You can find out all about it right here: My Gorgeous New Wooden Studio Desk Top

This is Part 9 of the Logo Design Round-Up series. This ongoing series showcases a collection of logos and brand marks, self submitted by a bunch of freelance designers and creative folk in many creative areas. These designers use the logos to sell, promote, brand and market their various skills.
You can see how I designed my own logo in this post : Bastardizing Helvetica for the ImJustCreative Logo Design
If you want to be part of this logo design series, then details can be found at the bottom of this post.
What this collection is not
This is not a competition, it's not a best of, it's not a who has the best logo, it's not a collection of logos that I have chosen. They are logos supplied by those that wanted to be part of this post. And a huge thank you to everyone who has submitted.
This series will go on indefinitely, all the time there are designers prepared to submit their logo designs. If you have submitted recently, but your logo is not included in this post, don't worry, it will be in the next one. I keep each post limited to around 12 logos per post, on a first come first served type of basis.
The logo submissions are displayed in alphabetical order, so no favoritism on my part here. :)
Logo Roundup - Part 9
Alun Davies - Graphic Designer - Adtrak - http://adtrak.co.uk
Last year I got to redesign the logo for the agency I work for. The agency first started out years and years ago doing local advertising and directory stuff but has now grown from that to do more different design.
The existing logo was absolutely horrible, and I'm certainly not saying my solution is a groundbreaking, industry-defining, point of unique brilliance, FFS it's essentially just a bloody bullseye, but it's a million miles away of what it was born out of. The only thing that really stayed the same was the colour scheme (originally hot pink, black and white), but I changed the black elements of the old design to charcoal grey just so the contrast wasn't so stark. I liked the bullseye because it mimicked the curvature of the typeface, but it had little bursts of creativity and interest to just make it (in a very small way) different, and that kinda fitted the way the agency is- a lot of simple straightforward stuff, pocketed with little bursts of really nice, satisfying creativity.

Richard Henderson - Agency.Asia Magazine - Writer/Art director - http://agency.asia
Hi. My name is Richard Henderson and I created this logo for our new advertising, marketing and communications magazine [I hate the word 'webzine'] here in Asia-Pacific, called Agency.Asia.
I'd love to say that I created the typeface, but it's a classic astro867 - which I used because to my mind it looks relatively simple/stylish without distracting from the fact that the mag is on one of the new '.Asia' URLs, and we attempted to convey that with the period (.) and a simple typographic execution. I hope we succeeded. Anyway, thanks for the opportunity to get some feedback.
Bryan Betz - Graphic Designer for Hire - http://bryanbetz.com
I struggled for a while with a logo design that represented myself. One day, while scribbling in a notebook, I discovered that my last name could work very well as an ambigram (an image that appears the same upside down as it does right side up). After several attempts at making a legible design, I finally managed to get two or three that were easy to read and styled to my liking. I scanned the designs and fleshed them out as best I could.
I've been using this particular logo for about three years now. It's seen many different colors and styles, most common is some combination of blue and yellow. I use this logo because it fits my personality and my personal design style. It's sharp and energetic, with bright colors and solid outlines.

Carson Shold - Carson Shold Design - Graphic & Web Designer - http://carsonshold.com
Typography has been a passion of mine for some time now, and I find logos that utilize this to be very inspiring. I chose to use the initials 'C' and 'D' to create the larger 'S' in my logo, allowing it to become an abstract shape that represents myself - my brand.
I know that not everyone will remember my name once they see my logo, but I hope they remember the shape. My desire is to leave an impression about design abilities, and this logo has done exactly that for me thus far.
I got some business cards printed last week, and use the logo a little differently on the back side. You can check it out here - http://www.carsonshold.com/portfolio/bcard.html
Elizabeth Gast  - Logo & Brand Identity Designer - http://designbyfirgs.com
My logo really is me. I feel like I am always juggling the tasks that are part of my daily life. Should it be computer programs that I keep switching to and from, to meeting deadlines, to networking with people, to helping others troubleshoot their business solutions. The invisible tag-line that goes with my logo is "Jack of all trades - master of moving them around."
My logo actually came to be because a friend of mine was sick with cancer and he was going through chemo. While he was going through it, I sent him tons of funny postcards with silly messages on the back. I was sending out at least one a week for several months. Because I was sending out so many, I just started to write a cursive L (for Liz) as my signature. The more I looked at it, the more the cursive L started to look like a little figure with his arms stretched out.
I then started to think of my love for the renascence era and how I have always been attracted to court jesters. I even have a few jester figurines. I have always loved how jesters were dressed in bright and colorful clothes and how their main job was to make people happy. So, I started to take my cursive L and added dots above it in an arc form. And just like that, my logo was born.
One of the things I like about my logo is that there are several subliminal pictures in it. If you look hard enough, you can still make out my cursive L for Liz, and two of the balls with the arms of the figure make out a smiley face. I like that. I love making my clients happy with my brightly colored artistic tricks.
Carl Jeffrey  - Creative Midwife™  - http://fellowcreative.com
My work and endeavours are focused on long-term sustainable value – Creatively Supporting Sustainable Enterprise. I am a 'fellow' to those I work alongside, a 'fellow academic' to those I teach and simply 'Fellow Creative' to clients and likeminded folk.
I'm passionate about design and brands, creative thinking and sustainable development. Its hard to describe exactly what I do because I do very different things each day but this audio/visual presentation might help explain my thought process and ethics. (http://www.fellowcreative.com/2009/07/sustainable-design-creativity-university-of-the-arts-london/)
My logo is built for analogue (paper) and digital (screen); upon a crafted typographic treatment, an angled 12* degree grid system and a neutral colour palette – the logo is comprised of, and used alongside additional brand elements – the brand aims to convey the following values: individuality, personability, transparency, professional and future focused.
Jonny Campbell - Gonzo Design - http://gonzo-design.com
I'm Jonny Campbell, creative multimedia designer and recent graduate of Interactive Multimedia Design. I have been using Gonzo-Design as my online hub to document, talk about and showcase work for around 5 months now. I wanted a logo that would act as a stamp/badge that would be instantly recognisable and that would lend itself well to both screen and print designs, ultimately conveying my personal brand in an instant.
I use the logo when promoting myself by handing out little pin badges with my business cards. They are always a hit at talks and conferences:
Ryan Lascano - Transit - Designer/Art Director - http://Transitdesignstudio.com
The name Transit comes from my fascination with subways, metros, etc. I was always intrigued by the systems themselves and all the associated wayfinding and information design, and I wanted something that would reflect my interest in the urban environment.
I also see Transit as a metaphor for connecting people and coming "full circle" with an idea or concept. I wanted the mark to reflect that idea of connections and circular motion in the way the letters interact - such as how the second "t" is turned inward to loop your eye back through the logo, just as a subway system would loop back around.
Jannick Utke - Utskiboo - Media Graphic Designer - http://www.utskiboo.dk
My logo  took base in the Rockwell font they use at psdtuts.com. I liked the big serifs, and I modified them a little and thought that maybe the two o's in the end could be the number 8 that layed down, but it actually ended out being three waves when you include the b.
On my blog the dot above the "i" is actually brown, but i'm thinking in the future I want it to have one of the cmyk colors instead, so in this examble it's cyan...

Jeremy L. Knauff - Wildfire Marketing Group - http://wildfiremarketinggroup.com/
As our name implies, our focus is on helping businesses grow like wildfire and we wanted our logo to quickly and easily express that.
We chose a clean, san serif font to achieve legibility at any size. As everyone knows, wildfire spreads quickly, hence the leaping flame within the green circle. This part of the logo also has a double meaning though, as the flame extending outside of the circle represents growing outside of your current boundaries.
Our color selection has both obvious and subtle implications. While orange does represent fire, it also draws attention and signifies importance, like red does, but without any of the negative implications. The green represents growth while contrasting nicely with the orange.
End of Part 9 - Submit Your Own Logo
If you want to add your own logo to forthcoming versions of this post, then check out this post 'I want your creative business logo for forthcoming post'. If you do submit a logo, then please ensure you submit a few paragraphs about how the logo came into being etc. Without this information I can't add your logo.
Flickr Group Pool
I have recently started posting all previous submitted logo's to a Flickr Pool called 'Designers Brands & Logos' to further max the self promotion for you guys.
Woop.