All Archived Posts in serif
---
Last Updated: September 14th, 2016
| First Published:
May 4, 2012
| Subscribe with
or
If you want your agency website to stand out from the rest then I Shot The Serif, by tothepoint,  is one way to go about it. Some might say tothepoint are following in the foot-steps of the controversial of over gamification of non game iPhone applications. Some might say it's rad and fun.
I think that tothepoint has a cute way to make their website stand out in amongst 100's of competing creative agencies.
Also I Shot The Serif actually rather fun. It's easy in that it's mostly obvious what letters are serifs, but the problem is that each level has a growing amount of letters on to shoot at and time starts getting super tight. Starts of super easy but before you know it you are grasping the mouse as the time quickly counts down… and YOU'RE out!!
tothepoint also has a free iPhone version of I Shot The Serif
I Shot The Serif is not the only serving of light entertainment on their website. If you go to Fun you'll see a selection of goodies to try, download and play with.
http://www.tothepoint.co.uk/more/fun/shoot_the_serif/
---
Last Updated: February 14th, 2012
| First Published:
April 25, 2010
| Subscribe with
or
Posted By:
Graham Smith
Categories:
Books
,
Brand Identity
,
Flickr
,
Inspiration
,
Logo Process
,
Portfolio
Tags:
ampersand
,
font
,
gotham
,
inspiration
,
Logo
,
logo design
,
logos
,
serif
,
typography
Love Ampersand Concept Logo Design
The Love Ampersand or Amperheart logo was the result of a few hours of procrastinating one Saturday morning. I had plenty of 'proper work' to be getting on with, but drifted towards 'playing' instead. Something I am racked with guilt over.
However, pleased that the procrastination developed into something reasonably useful, and not just wasted hours on da internat.
How it came about
A new typography book arrived in the post yesterday morning, specifically called 'Logo and font lettering bible' by Leslie Cabarga. Ordered around 4pm on the Friday from Amazon, swiftly arriving the next morning by Citylink at 8am. As a sideline, it's a wonderfully illustrated book so definitely recommend buying it.
My mind tends to always analyze images, graphics, signs as I walk past. I am always looking for deeper meanings and hidden messages in logos and graphics, constantly wired for inspiration. Reading books like this can often be quite overwhelming, so much visual stimulus to soak up that I tend to switch to auto-pilot after a while. My eye's just scanning image after image until brain is full and I have a stonking headache.
After a quick flick. I put the book down on my table whilst I grabbed a drink. When I went back to pick it up, the book cover was at a angle. The first thing to catch my eye was this striking Ampersand which is part of the book title. You can see what I mean in the photo below.
The moment you see it
The first thing that instantly came to mind was a heart. Now you see, I don't know if that everyone else would have seen that, the book laying at a certain angle, thus seeing a image at an angle you would not generally see. But because it was so striking and my brain just shouted out 'heart', I assumed this was just a massively obvious association to make. Thing is, in all my logo design research, I could not recall seeing one example of a ampersand being crafted to also look like a heart.
Feeling a slight pang of curiosity, I wanted to see if there were any obvious examples of this, so looked through Google images, Flickr, Logopond and numerous other logo inspiration galleries. Searching for variations of 'Ampersand/heart/love' yet nothing came to light. Now I know that I would not be the first person ever in the entire history of typography to have made this association, but what does surprise me is a lack of obvious examples.
We do live in a world where logo design is now such a 'cool' thing to be part of, that when you do create something interesting, it is human nature to want to share. I use 'share' lightly as there of course an element of 'hey look at this, look at how cool and clever I am', but we needn't focus on that for too long. :)
But there is that feeling of fleeting wonderment when you think for a moment you might have been the first person ever to have seen this link or association. Only to find a day later, that some designer 20 years ago also saw the same thing. It can be devastating.
But any who, like I say, I know this ampersand/combo 'must' exist somewhere so if anyone HAS seen a version, I would love to know about it.
In the meantime, this is my version.
It did take a number of iterations to get the right feel, for me to be 'OK' with it. The challenge was to get that balance of ampersand and heart, not too much heart and not too much ampersand. That when you look at it you are not overwhelmed with one or the other. Is it a hear OR ampersand? The result you are looking for is when someone say's, 'it is both ampersand and heart'.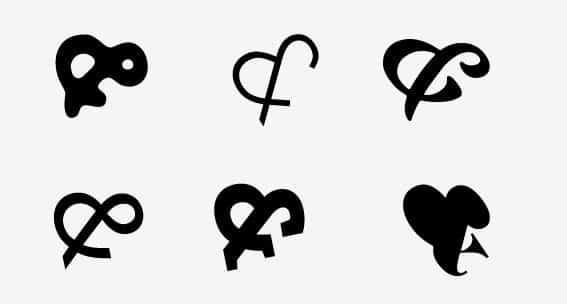 Just quickly started off by looking at some common ampersands from a small pool of typefaces, in this case a serif ampersand is the best choice, they typically are more more refined stylish than san-serif ampersands.

Then it was just a case of drawing the outline, time after time after time until I saw what I wanted to see. Didn't really know until I saw it, so very much a case of trial and error. Opting for simplicity and clean lines opposed to adding any cute flourishes to the feet. Adding these would steer it much more towards being a ampersand, so leaving the 'feet/end' smooth helped reduce this visual association.
Below : Couple of abandoned ideas with a serif vibe.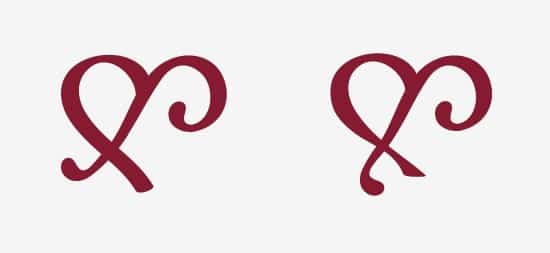 The first image below is that I started with as the basis for the Amperheart, then a gradual process of tinkering with line widths, lengths and styles. Can be tricky to know when to call it a day with something like this, keep wanting to tinker and tinker. Finally decided to call it a day after about 4 hours of playing. At the end of the day, it's all subjective anyway, I'm happy with it and considered it a fun exercise.
The typeface is Gotham Medium for 'Love' and Gotham Light for 'Ampersand' with tracking of 300.
---
Last Updated: May 9th, 2014
| First Published:
August 21, 2009
| Subscribe with
or
M+ Outline TypeFace
M+ Outline TypeFace from MPlus Fonts, is an astonishing free typographic collection of 42 weights and styles of sans-serif gorgeousness. Thanks to 1stWebDesigner for the initial heads-up for this font.
It features proportional and fixed-halfwidth Latin, fixed-fullwidth Japanese character set.
M+ P is aimed as sophisticated and relaxed design, while M+ C is optimized to be proportioned well in typesetting. Each have 2 variations: Type-1 (M+ P Type-1, M+ C Type-1) are intended to use with M+ 1 Japanese glyphs; Type-2 (M+ P Type-2, M+ C Type-2) has several altenative glyphs different from Type-1 to match with the design of M+ 2 Japanese glyphs.
Licence
M+ FONTS are a font family under the Free license. You can use, copy, and distribute it, with or without modification, either commercially and non commercially.
You can download it for Free using the link below.
Available Styles
Visit MPlus Fonts for a complete visual list of available styles.
Download
Download

M+ Typeface via Sourceforge

. This is fair size file, it has been compressed, but still a good few megabytes.



---
Last Updated: May 9th, 2014
| First Published:
August 3, 2009
| Subscribe with
or
Calluna Regular by Exljbris
Calluna Regular is the only weight in this family which is available for free download.
Calluna Regular by Exljbris is a first attempt to make a (serious) text serif typeface and it is the fruit of 1.5 years of work. You can download it for free below via MyFonts. Be sure to read more about it in the carefully designed Calluna PDF specimen (272 KB).

About
Calluna supports a very wide range in languages and is a very complete OpenType typeface. Each font counts 723 glyphs. You can find detailed info on he character set and the OpenType features in the Calluna PDF specimen.
Calluna comes in 8 styles: 5 weights and 3 italics. Calluna is spaced and kerned with Igino Marini's iKern service.
Download
Download

Calluna Regular direct from MyFonts. You need to select Calluna Regular and add to cart. Then you will be taken to the download link.

Chunk Open Source Typeface
Chunk is an ultra-bold slab serif typeface that is reminiscent of old American Western woodcuts, broadsides, and newspaper headlines. Used mainly for display, the fat block lettering is unreserved yet refined for contemporary use.
Made by Meredith Mandel and available from The League of Movable Type.
© 2006-2016 All Rights Reserved
The Logo Smith: Logo & Brand Identity Design Studio, with 25 Years Experience,
in Cahoots with, The PR Room - Public Relations Agency: Tech, IoT & Smarthome PR Services.

Graham Smith: 10 Badgers Copse, Seaford, England
Tel: +44 (0) 7816 527 462 Email: mailto:[email protected]