All Archived Posts in seo
How to Rank #1 on Google for Logo Design By Matt Cutts
Hey hey! If you want to rank #1 for Logo Design on Google then all you need to do, urm, as stated by Matt Cutts, is to link out, urm, to porn sites and you'll rank #1 for Logo Design.
So there we have it straight from the horses mouth: some targeted SEO advice if you are looking to rank #1 for Logo Design. All you have to do is, urm, link to porn sites and you'll rank for #1 on Logo Design in Google.
You can also practice some keyword stuffing for Logo Design as well to, urm, help you rank for #1 for Logo Design… on, urm, Google.
You might also be therefore wondering where my links to porn sites are? So, urm, more useful advice is to hide these porn links by colouring, urm, the text white. That's also really useful advice to, urm, rank #1 for Logo Design.
Please email if you want my list of porn site URL's so you too can rank, urm, #1 on Google for Logo Design. Or try this for fun: try and find them on my website.

Disclaimer
Obviously you can't rank #1 for Logo Design as I'll be ranking #1 for Logo Design, but you can try for #2.

---
Received this Google SEO post update: Another Step To Reward High-Quality Sites by Matt Cutts whilst holidaying in the picturesque country side of Lynmouth, North Devon. It's outstanding news.
I practicality rely—which in-itself is quite scary—on search engine traffic nowadays to secure new logo design projects with word-of-mouth, recommendations and social network job leads bringing up the rear.
I have worked so hard over the last 6 years to build imjustcreative up and put in many hours of work to ensure my website, blog and portfolio has a good chance to be indexed and found by possible clients. I would say about 90% of all new work now comes via being through a Google search which is way higher than 1-2 years ago. Maybe time is beneficial as you slowly creep up the search ladder, but I am still pretty certain that these changes by Google ARE having a considerable and positive impact on the discover ability of my logo design business.
I'll also wager that having Google Authorship—having your profile photograph next to search results—is also a massive incentive for potential new clients who come across you via search. Introducing Google Authorship, in my eyes, was a stellar move by Google.
A few years back it was somewhat disheartening to see so many irrelevant search results from the faceless $5 logo sweat shops relying on keyword stuffing and many other black-hat SEO tactics to ensure top-of-the-page placement. These warped results would almost always take fist page top slots often way way above the genuine, talented solo logo designer that a client might be better off finding and building up a working relationship with.
The last year or so Google has certainly made massive strides with indexing and results: rewarding honest and decent websites whilst penalizing those faceless logo design crooks that have no passion in design other than to rip unsuspecting clients off.
Never Stop Your SEO
I really am happy with the way Google is actively squishing the bad; rewarding the good. You ought never rest on your laurels though when it comes down to maintaining your work critical website.
I realised that during my website redesign I had let a few things slip. SEO is hard to master, but it's also within easy reach if you follow some basic white-hat rules. I am at the point where there is nothing I will not do to ensure my own website is as close to being candy for search engines that I hired some expert SEO help.
Get A Website SEO Review
If you want to be sure your website is performing as cleanly and as effectively as possible but is not letting you down in areas you don't fully understand, then I would seriously and sincerely recommend a Website Review: Improve your SEO, Usability & Conversion by Joost de Valk (@Yoast) who is the established and respected SEO tradesman. You can fully trust this guy.
Thanks to Joost I now have a extensive SEO and structural report of my website which highlights a number of areas that need improving. I will be working on this SEO to-do-list all this week and feel super pleased that I invested the money. I will be writing up a more detailed review of the review in the coming weeks.
In the meantime take a look at this latest blog post by Google: Another Step To Reward High-Quality Sites by Matt Cutts and know that the balance of power is changing towards those that put real and honest work into their websites.
---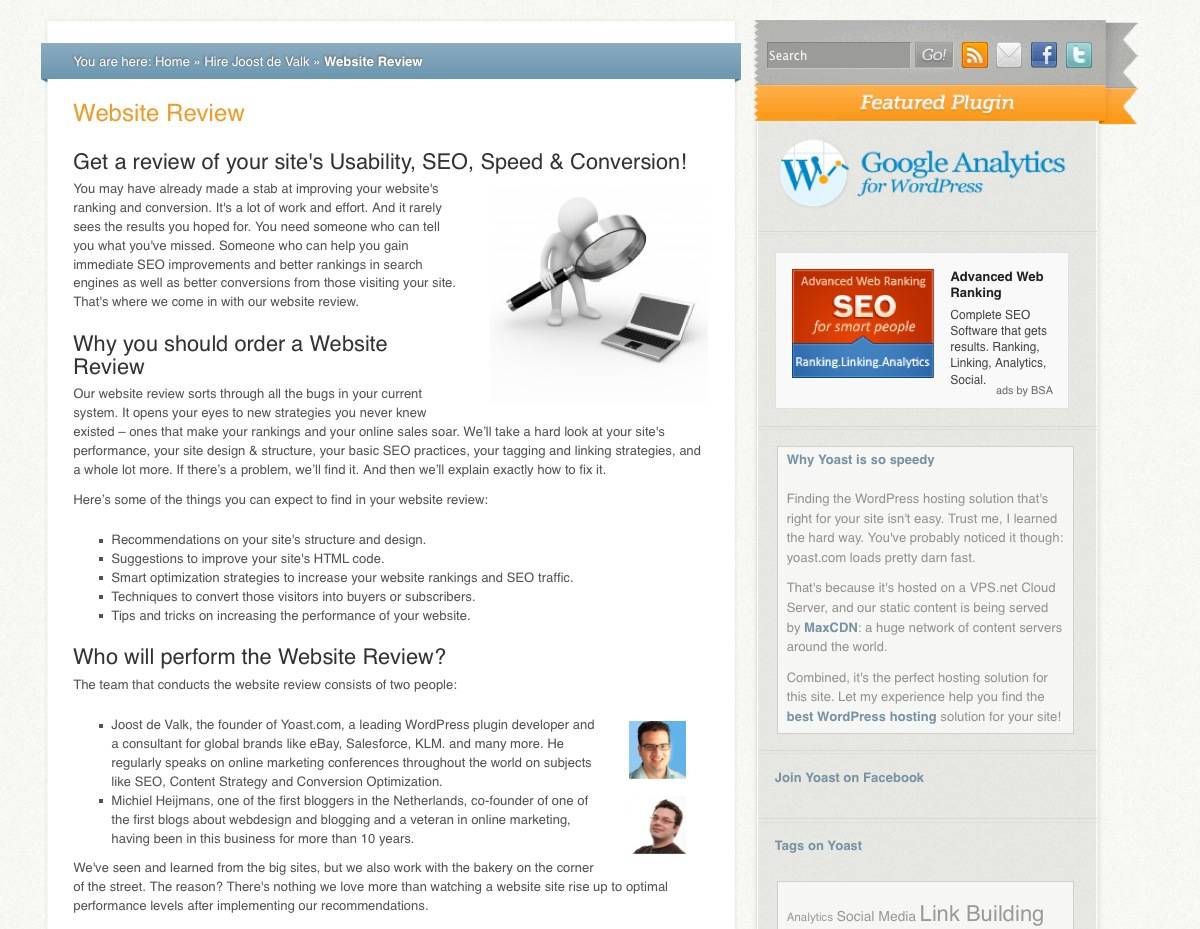 Have had a good run with Google over the last few years in relation to being found in searches, but a few site changes have set me back a little bit. Nothing particularly major is wrong—more down to me forgetting to do this and that during my site redesign—but I feel a little exposed right now and need to feel that I am properly on top of my SEO
What will I do I hear you cry?
I am glad you ask because I do have a solution to this issue.
This solution I speak of is to hire Mr Yoast: Mr @Yoast is probably one the most well known and knowledgeable SEO persons around.
If you visit his website you will chance upon a service called Website Review where Mr Yoast and Co will dig deep into the inner depths of ones website and provide a detailed report on what aspects of SEO need fixing/changing/tweaking etc.
Time has come to enlist the valuable services of Mr Yoast for the imjustcreative website.
I shall write about the process which will hopefully provide some useful feedback as well as all important peace-of-mind.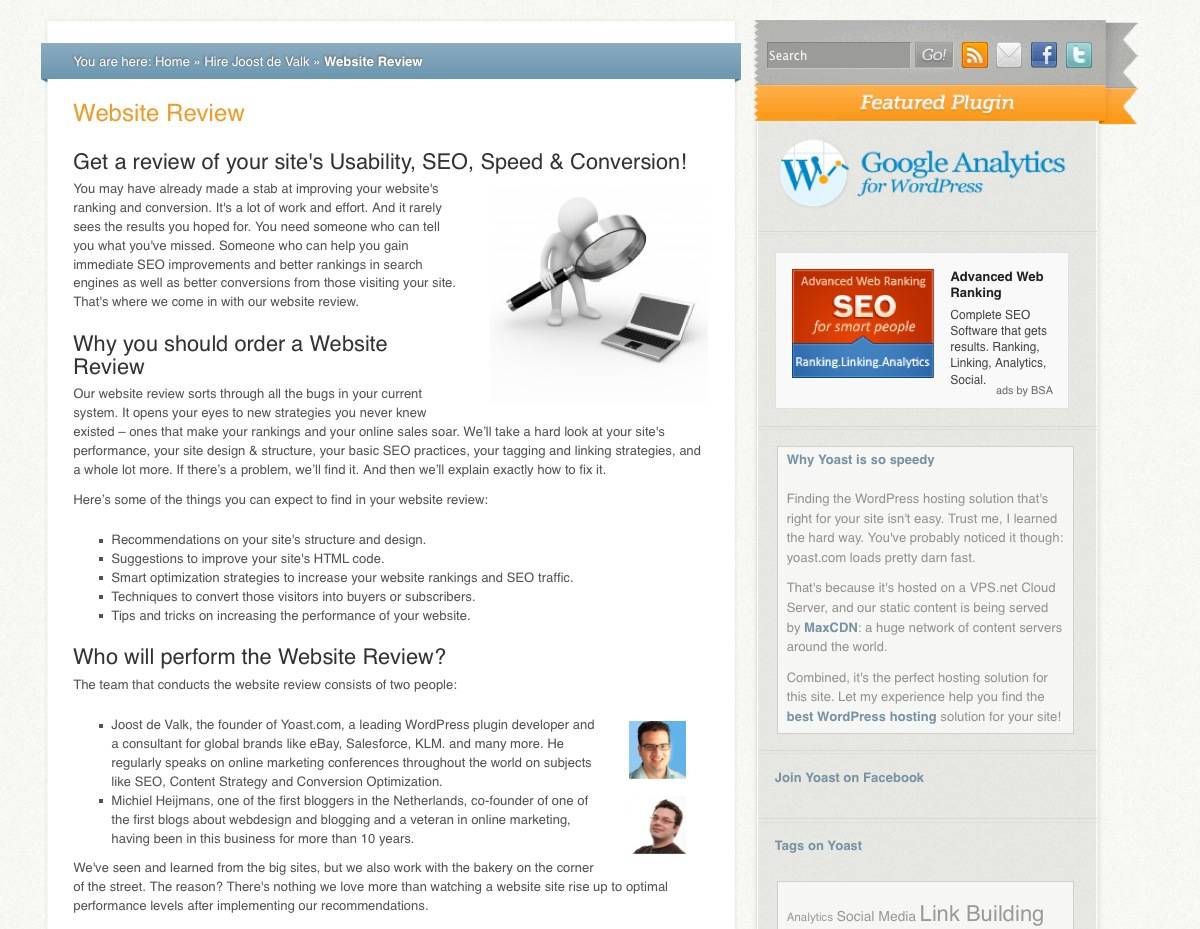 From Mr Yoast's Website
Why you should order a Website Review
Our website review sorts through all the bugs in your current system. It opens your eyes to new strategies you never knew existed – ones that make your rankings and your online sales soar. We'll take a hard look at your site's performance, your site design & structure, your basic SEO practices, your tagging and linking strategies, and a whole lot more. If there's a problem, we'll find it. And then we'll explain exactly how to fix it.
Here's some of the things you can expect to find in your website review:
Recommendations on your site's structure and design.
Suggestions to improve your site's HTML code.
Smart optimization strategies to increase your website rankings and SEO traffic.
Techniques to convert those visitors into buyers or subscribers.
Tips and tricks on increasing the performance of your website.
---
A few weeks back Google announced they were supporting authorship markup—a way to connect authors with their content on the web.
This isn't really a how-to as Google provides pretty clear instructions on how to do it. All I will do is give you a little background and point you in the right direction to get started.
I have pulled out the two specific paragraphs from the above post that sum up authorship.
We [Google] now support markup that enables websites to publicly link within their site from content to author pages… An author page describes and identifies the author, and can include things like the author's bio, photo, articles and other links.

If you run a website with authored content, you'll want to learn about authorship markup in our Help Center. The markup uses existing standards such as HTML5 (rel="author") and XFN (rel="me") to enable search engines and other web services to identify works by the same author across the web…

Snippets from Authorship markup and web search
I was particular interested in this idea so made strides to get in on the act, and as of today my Google authorship application has been set-up, and is now in operation.
If you Google search for anything I have posted under Graham Smith such as this recent post tshirts+from+the+noun+project+ you should see my profile photo next to the search results which also conveniently links to my Google+ profile.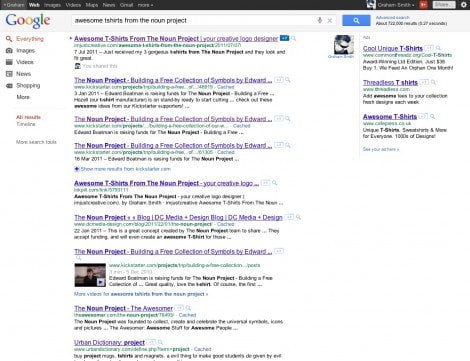 I think this is pretty awesome and will go a long way in providing writers and authors with more visibility during search results as well as assigning a face to whoever is looking at the results. If you also rely on your website, as I do, to attract clients then this can only be a good thing.
The other area where I think authorship will kick in will be with the growing number of +1's given to genuine sites rather than those content farms and fake logo design sites posing as legitimate logo design studios. It's no secret that these fake logo design websites have a tendency to steal the top rankings with their unruly methods which has the effect of making the hardworking, genuine and committed designers harder to find through search results.
Levelling Out the SEO Playing Field
The in's and out's of authorship will all become apparent when you start to read Googles help article on authorship. Once you see what is involved in the implementation of authorship on your own site you will start to see how this should start to even out the playing field, and will give power back the the genuine writers and bloggers who invest time and energy in writing and posting valuable and interesting articles for the rest of us.
Google+ Profile Linked To Authorship
You will see how your Google+  profile—don't worry if you are not sign-up to Google+ just yet as it will work with your regular Google profile if you have one—is genetically linked to any website you own or contribute to
you will see how it will become harder for the fake logo websites to compete as they will need to consider showing their faces and provide far more transparency than they are used to
and you will also see that genuine writers and blog contributors will have their general image and public profile raised in search results benefiting both writer and searcher.
If you are fed up of playing catchup to the content farms and dodgy logo design websites then incorporating authorship markup on your website, I feel, is essential.
It's early days but I would rather start the engines now and get them warmed up ready for the long haul.
What You Need To Do
1. If you don't have a Google profile yet then this would be your first task as without this Google will have no idea who you are, and will not be able to validate which blogs are yours.
2. Once you have a Google profile set up then the next port of call is to read Googles help article on authorship and follow, to the letter, these instructions.
This basically means genetically linking your websites, author pages and Google profile to each other using the appropriate <rel="me"> or <rel="author"> markup within your website, and having at least one outbound link from you website to your Google profile—as you can see from the code above taken from the ijc homepage; I have linked to my Google+ profile using the <rel="author"> markup—and vice versa.
Without this 2-way link Google cannot validate or confirm that the websites you say are yours are actually yours.
3. With the 2-way bonding complete, and your Google profile list of external websites have also been configured, you can fill in the Google Authorship Request Form for the final approval process.
It's not so much an approval but more a way of Google checking your settings and being able to get back to you with any problems. The cynic in me likes to think that this last process actually acts like a cursory check-point that the website being put forward is legit.
I would also like to think that any content farm or fake logo websites will first have challenges at the first hurdle in setting up a transparent Google as well as then passing a cursory inspection of their website. I have no idea if this is being a little optimistic but I do like to think this is Google starting to make a change for the better with more relevant and appropriate search results.
Thank You Google
I just wanted to reemphasis my experience with this authorship process has been really positive. After I submitted my own Google Authorship Request Form a Google representative emailed me with some changes that he felt would benefit my site in terms of the way authorship worked.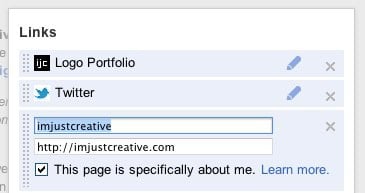 This included changing the authorship markdown on my Tumblr blog from <rel="me"> to a <rel="author"> as well as a few changes within my Google+  profile; more specifically how I had set-up the URL's in the Links section.
You will also notice that the"Written by Graham Smith" on each and every post also links, using <rel="author">, back to my Google+ profile.
Changing entries like Twitter, imjustcreative and Facebook to "This page is specifically about me". It's all about the small details that make the difference in the long term.
As I mentioned on Google+ earlier this personal correspondance from a Google representative was a small but very positive gesture on their part. When you add to that how the Google team are so actively joining in, and helping with the whole Google+ experience it starts to show you how committed they seem to be to make all this work.
Google are showing they are listening and committed to their customers and end users.
I know I am sounding like a Google fanboy; the reality is that from a branding perspective Google ARE pulling out the stops which of course includes all the site and application redesigns like Gmail. Google means business.
Summary Of Links In This Post
I do have a tendency to waffle so here are the important links that I refer to throughout this post in order of relevance.
Google announces support of authorship markup
Googles help article on authorship
Google Authorship Request Form for the final approval process
"This page is specifically about me"
As I mentioned on Google+
My Google+  profile
Questions?
If you have any further questions about authorship or Google+ then do leave a note below and I will try my best to help out.
Please note that I am not an SEO guru, and I just do enough to get by in a perfectly legal and white-hat way. I am found in Google search results by clients because: I write, I blog, I actively participate in social media, and spend huge amounts of time marketing and branding myself.
These are the things that will get you noticed in time. Good old fashioned hard work and commitment.
Daring Fireball.net posts some awesome news. This is a most welcome update from Google. Logo design is one area that is rife with underhand SEO tactics and content farming.
Many of the changes we make are so subtle that very few people notice them. But in the last day or so we launched a pretty big algorithmic improvement to our ranking—a change that noticeably impacts 11.8% of our queries—and we wanted to let people know what's going on. This update is designed to reduce rankings for low-quality sites—sites which are low-value add for users, copy content from other websites or sites that are just not very useful. At the same time, it will provide better rankings for high-quality sites—sites with original content and information such as research, in-depth reports, thoughtful analysis and so on.
- Amit Singhal and Matt Cutts, Google.

We'll continue to explore ways to reduce spam, including new ways for users to give more explicit feedback about spammy and low-quality sites.
Source Link http://daringfireball.net Found on http://googleblog.blogspot.com
And then there was Steve
In 2010, a few designers lead by Steve from @TheLogoFactory, took on some of these content farms/undesirables… the result was quite a nightmare. I had my domain targeted by these logo design content farms, you know the kind, the faceless cheap and quick online logo shops. It was only through drastic intervention and knowledge that Steve was able to dilute their attack. Even though they practicing the worst king of devil craft, they certainly don't like being 'called out'.
Are you being deceived?
The sad thing is, I see many designers unwittingly supporting some of these content farm websites, because they do a reasonable job of pretending to be a legit design website offering tutorials, resources and the like. This is where you can see how truly devious these content farms etc are, by garnering the support of the very designers who would be 'sick to the stomach' to know they had actually supported this website, they have been able to assimilate themselves easily within the community.
Through your unwitting support, they are screwing you out of better Google rankings.
Their motto? Don't have a natural talent, then cheat.
Hopefully now, Google has taken note.
Steve specifically has a personal quest to address the balance, so worth checking out his blog and rants in more detail and posts specifically on the SEO side of logo design.
Here are a few posts that touch on content farming that re directly related to the logo design industry :
---
I'm not new to Blogging, and know how cut-throat it can be if you are trying to rise amongst everyone else who seems to be talking about the same message. Trying to come up with unique content is just damn hard.
Copyright © 2006-2016 All Rights Reserved Goddammit!
The Logo Smith - Freelance Logo Designer, Brand Identity & Graphic Design Studio.
25 Years Experience: Logo & Brand Identity Design, Graphic Design, Advertising and Print.
PR Agency Services: The PR Room -Technology & Internet of Things PR.