All Archived Posts in review
---
Last Updated: December 5th, 2011
| First Published:
October 21, 2010
| Subscribe with
or
Imagomundi is a new release on Amazon which arrived early yesterday after having it back ordered for some months. It's not a logo design book but it is a book full of concept icons, pictograms, ideograms and signs for utility/usefullness.
The recurring theme is simplicty, interest and usefullness.
Focusuing on new ways to visualise common signs.
Reduction means to find the simplest expression of an object, its natural essence.
I am very much into the simplification in my logo designs, trying to say more with a lot less. Stripping away all the clutter, leaving just the bare bones visuals. Seeking new and interesting ways to visuliase something that has been done a million times before.
Imagomundi has many wonderful concepts, pictogram ideas... seeing how all these designers have been able to perceive common and cliché images and come up with new and interesting ways to break the mold.
If you are into reduction and simplification, then Imagmundi is a worth while book, it will get you looking at things in a whole new level of interesting simplicity.
Although it is not a logo design book, it will help you focus your creative thinking onto a new level. It will help you look at common objects in a new light and may be of help to you in a new logo design project further down the line.
"Picts can be defined as a simplified representation of unalterable proportions which is characterised by profile positions, achromatism and a lack of detail that would be imperceptible from some distance. Thus, the innate simplification of picts is necessary in order to project only one essential."
"If one cannot easily achieve true universal usability and utility, one other approach to uni versatility is appeal. Do the signs intrigue? Do they attract the viewer? Do they provide mystery? Do they provide humour? Do they make us smile, or even laugh?"
"... (the) visual iconicity, understood both as process and result, is the bearer of a cognitive potential of great scope, as regards both theoretical reflection and concrete experience." - Tomás Maldonado
Book CD
The book comes with a CD full of editable icons in EPS format, 1450 icons to be exact. There is also a rather unique typeface included.
---
Last Updated: May 9th, 2014
| First Published:
March 9, 2010
| Subscribe with
or
Posted By:
Graham Smith
Categories:
Books
,
Flickr
,
Reviews
Tags:
book
,
Flickr
,
icons
,
identity
,
Logo
,
logo design
,
logos
,
review
,
typography
,
victionary
Been after Logology - The Wonderland of Logo Design for some time, specifically had it on back-order with Amazon.co.uk for about 4 months. Each month they would email me saying it was delayed.
Then finally, last week, they emailed me saying they would have to cancel the order as the publishers of Logology no longer had any copies available.
Damnit.

About
Logology — The wonderland of logo design
Edited by Victionary
Among corporate business of small and large, the identity of a company is very important. It differs a company from its competitors. And when it comes to identity, logo plays a significant role. This series is a comprehensive and inspiring collection of logo design that reveals its very latest trend.
You will find two key parts include Case Studies and Gallery. Case Studies not only emphasizes the idea and the concept within and shows how each design is perfectly presented for a particular company from the inside out by examining why design changes were made during the design process, it also gives valuable insights of different working style and impacts on the design of logos from big design firms to individual designers. By addressing in a brand new way the original ideas of a logo design, it discovers how form follows function or the other way around.
An incredible wealth of contemporary and breathtaking design solutions from design studios all around the globe is showcased in the Gallery. Various forms, concepts and styles of logos are presented in 3 main categories: Typography, Icon and Illustration. So, let's spread the pages and run into the wonderland of logo design!
Google

Not wanting to give up, I then took my search to Google. Found a few places in America stating they had it, but upon ordering, they would subsequently inform me they, like Amazon, could no longer get a copy. So seemingly, many places advertising Logology for special order, even now, unaware that it's no longer in print.
eBay
So next stop was eBay. Did find a supposedly new copy for sale, but the sellers feedback left a little to be desired, and the Buy It Now price was a little steep for a seller with dodgy feedback. I mean, for a hard to find out of print book, not a steep price, it was just the seller didn't inspire me to take a risk with my money. So left that alone. By this time feeling a little despondent, as I really really wanted to get my hands on this book.
Amazon.de
Finally found a copy on Amazon.de, not sure why it took so long for me to find it on Google. I was still hesitant to order direct from Amazon.de as the site of course is all in German, so a little tricky navigating around and not 100% that they themselves would have it in stock, even though it was listed. Decided to risk it, after all, seemingly the only place on line with a copy in stock.
The confirmation emails came, with expected delivery time via DHL. Less than one week later, Logology turns up direct from a independent book seller Amazon.de marketplace. All nicely shrink wrapped as well, so no doubts as to its 'new' status.
Now that I was very impressed with. Determination paid off, one happy chappy.
Thanks to Frank for helping me translate the various emails I received from Amazon, made the transaction easy peasy in the end.
So here are some photos of Logology. If you can find a copy, I would recommend getting it. Likely to be copies for sale at inflated places, so depends on how important books like this are to you. But the book is stunning and has a stunning embossed fake leather cover. It is a essential addition to any logo designers book collection.

Logology Flickr Set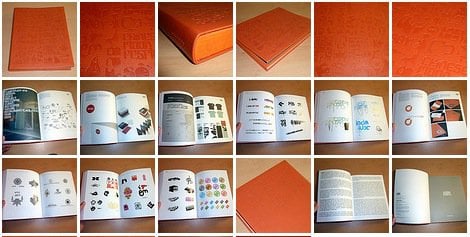 Due to my own incredible lack of judgment and allowing a certain amount of anger to cloud my thoughts and going on some manic 'I'm super perfect preaching march', and some comments that clearly told me my error's, really was best to pull the post.
© 2006-2016 All Rights Reserved
The Logo Smith: Logo & Brand Identity Design Studio, with 25 Years Experience.

Graham Smith: 10 Badgers Copse, Seaford, England
Tel: +44 (0) 7816 527 462 Email: [email protected]