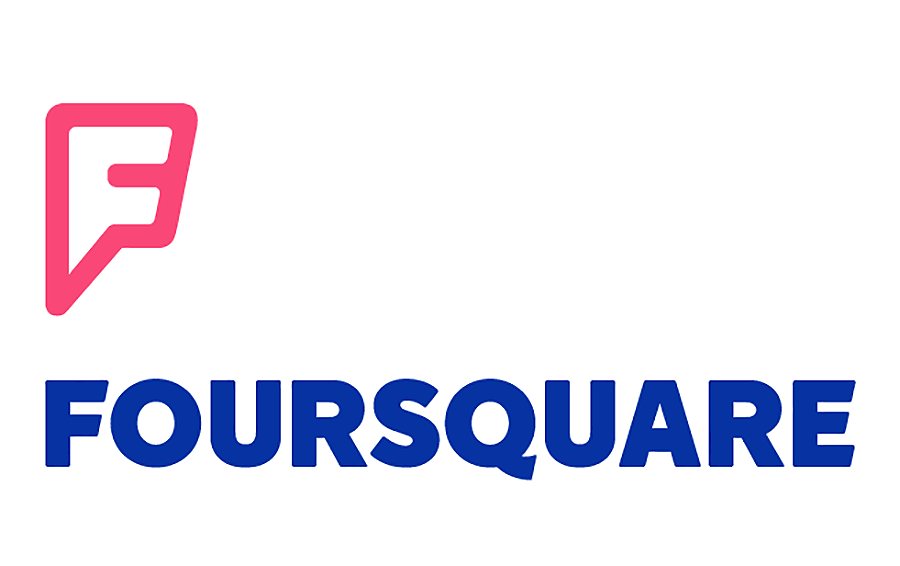 Foursquare's New Logo Redesign Goes Superhero
Just to clarify: the Superhero wording wasn't my idea, this comes direct from the folks at Foursquare, and I quote:
Foursquare
: "…if you build a totally new app, you need a totally new logo. Our logo is changing from the check-in checkmark to something representing the new Foursquare.
We designed it to be a mix of map pin and superhero emblem.
We've always thought of Foursquare as giving you superpowers to explore your city, and our new logo reflects that vision. It's coming soon to a homescreen near you."
Thought I'd open with that quote because I'm just not sure if they are being serious or not. Superpowers? Vision? Homescreen? Superhero?
Let me be blunt: the new Foursquare logo is anything BUT super anything.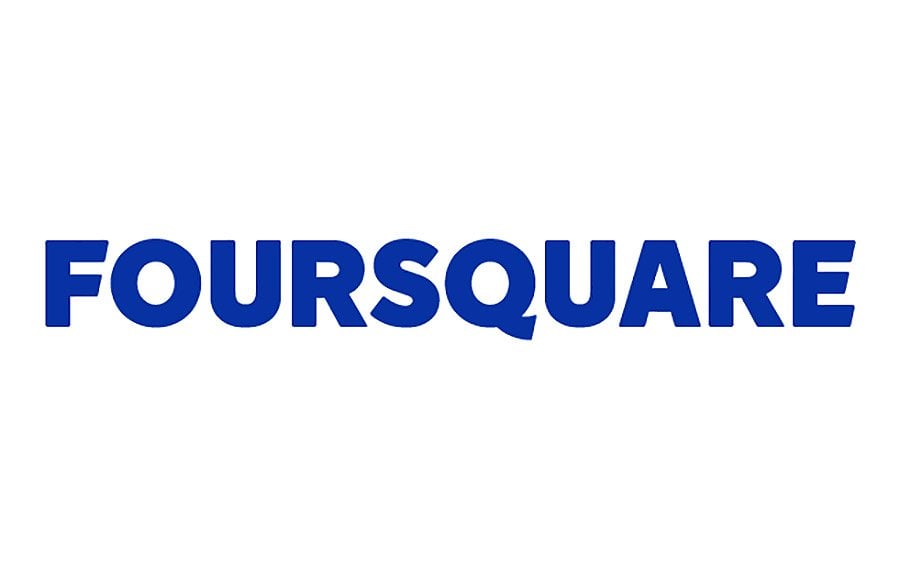 The Good
Let me get the positive out the way, just to show you I can see good when I see it, and can appreciate good when I see it, and am willing to extend that goodness to a few positive words in my blog.
The logotype/wordmark/brand name yada yada, is pretty nice: it has presence, it's pretty damn solid, has a nice rich almost Ultra Violet style to the colouring.
I also like the two colours, but they also remind me a little too much of the Flickr colour palette.
That concludes the good.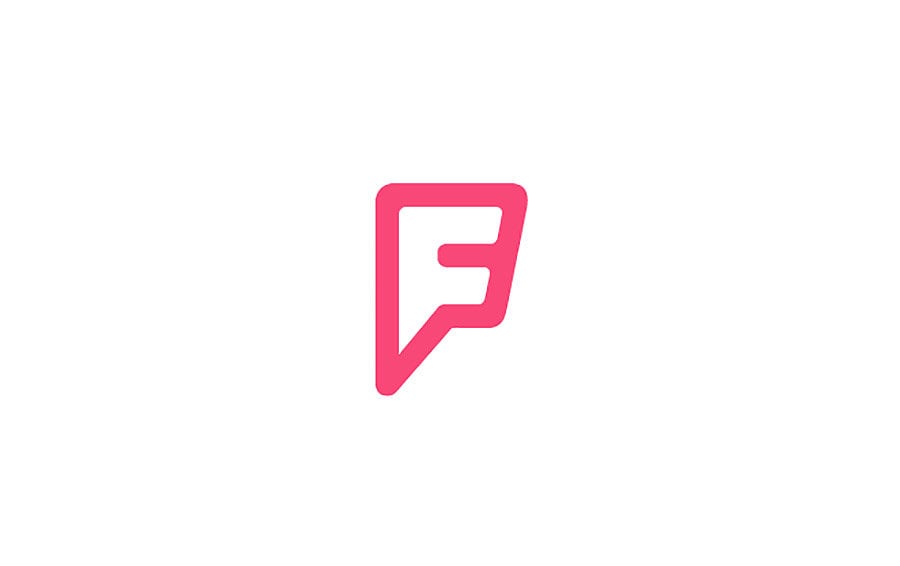 The Bad
What is meant to to super is really really bad.
I first saw the new Foursquare logo last night, and had a few back and forth tweets about it.
. @thelogosmith @MarkPoppen @TheLogoFactory @divinefusion I agree with Graham - definitely 'Disjointed' (& not particularly friendly either)

— Daryl Walker-Smith (@darylws) July 24, 2014
I totally didn't, see or get, that it was meant to be a vision of superheroness emboldened in a classy new super emblem: that's also a pin; which I did get by the way, albeit a rather odd map-pin.
That 'F', that is a map-pin, and a superhero emblem just looks awful. The pinky outer keyline is far too kludgy, the outer corner radius look far too large compared to the inner radius. Which then leads to the corner radius of the 'F' which looks like an afterthought, BUT don't come close to matching the far softer corner radius on the Foursquare wording.
Why oh why could they not have at least kept some consistency with the corner radius from the superhero 'F' emblem to that in the main wording? That would have at least made up for one of the most awkward looking logomark and logotype miss-matches I have seen in a long time.
There is nothing in this combination logo that looks like it should be one of a nice and cohesive whole. It's super disjointed at best.
The white-out half-cut 'F' looks really ill, and then we have that razor sharp point that certainly add's a stark and rude contrast to everything else in this logo. I get that a map-pin should be sharp, when the outer pink pin is 'super' soft, the inner white 'F' is just brutally sharp.
The logomark superhero emblem doesn't really look any better in the app either: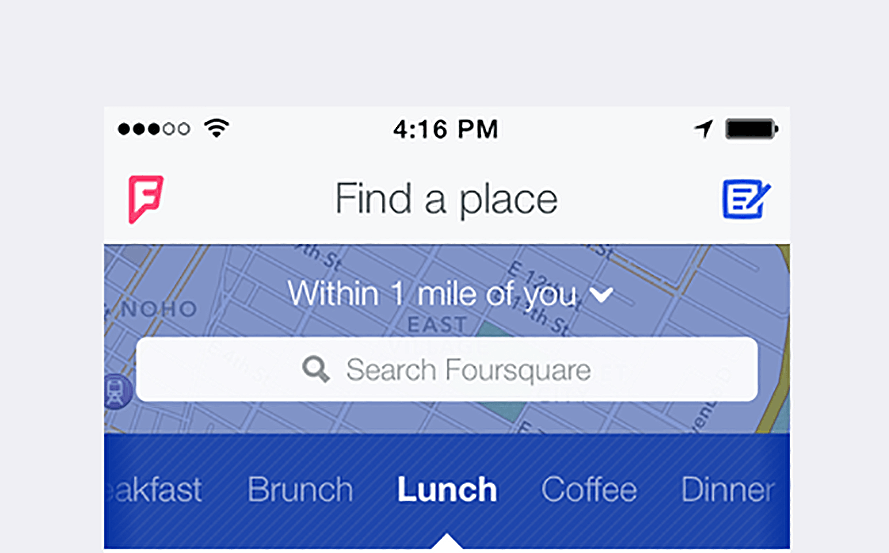 Conclusion
The typography for the main Foursquare brand name is really good, has a strong presence to it, and has style. What I simply cannot get my head around is how completely unsymbiotic the relationship between this and that God awful superhero 'F' emblem really is.
The only way I could realistically see such a lack of consistency between logomark and logotype occurring, is if: both parts were designed by completely different people, with completely different interpretations of the brief, and were not privy to what the other piece looked like. Then they took both pieces and stuck them together as best they could.
I'm not even sure a map-pin, as a visual reference, was ever needed, especially how long Foursquare has been around. It's not like Foursquare is a new brand having something to prove about it's mission and purpose, and almost feels ever so slightly patronising.
The map-pin reference is way too over dramatic, and unnecessary. Almost sure a classy icon could have been crafted from that really strong logotype without force serving up well used, and tired visual cliches.
Eh Voila.
It's actually really disappointing that with such a strong wordmark, such a flop was made of the icon. More so given it's this emblem/icon that looks like it will be the most seen, and implemented part of the logo.
The new Foursquare logotype is all grown-up, yet the icon feels it's taken a huge backwards step in this established brand's maturity.
Curious to know if this was an in-house, or out-house, logo redesign job?
Really REALLY excited to be working with Arminico Consort: rebranding their London youth music and choir school: AC Academy
AC Academy believes that every child in this country should be entitled to a first-class music education.

AC Academy runs a diverse range of music and arts education projects across the UK, working both inside and out of schools to reach 15,000 children per year.

AC Academy believes that through the work AC Academy do we offer children HOPE, HAPPINESS and EXCELLENCE, developing excellent singing and musical skills. Through our charitable status we appeal for funding to allow as much of what we do for children across the UK as free or as heavily subsidised as possible.

The AC Academy choirs that we run, create and continually develop are not auditioned. Music not only develops confidence and builds self-esteem; it has also been proven to aid concentration and behaviour.
Arminico Consort approached me a few weeks ago to see if I would consider doing this logo and brand identity redesign Pro bono with a super kind offer of partial payment.
To be perfectly honest, if you're going to do Pro bono, then you might as well do it properly, and completely for free. Doesn't feel at all right taking money from a Charity, even if offered.
The upside was that when I mentioned I'd not be happy taking any money, they countered with an offer of a half page advert for their next major concert with Russell Watson at the Symphony Hall, Birmingham: AC Academy Sing Symphony Hall  So that was a great outcome for both of us!
Here are a few photographs from last years event at the Royal Albert Hall: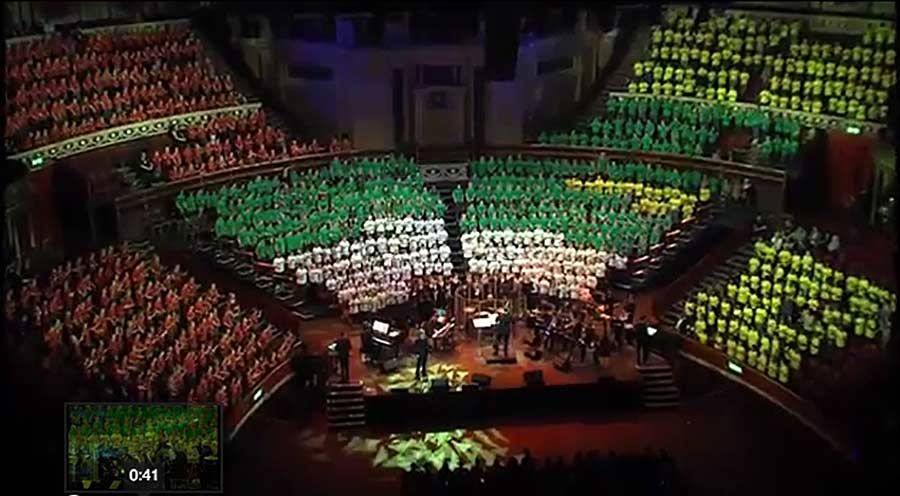 http://youtu.be/33vgpId4SPY
So here I am, frantically working on some logo designs ready to be screen-printed on 1000's of children's t-shirts for the AC Academy Sing Symphony Hall (which you can see how it looks from last years Royal Albert Hall performance, also with Russell Watson).
This relationship [with the Royal Albert Hall] culminated in a gala concert featuring 1300 children at the venue on 10 March, 2013. Russell Watson appeared alongside AC Academy singers from across the UK in the spectacular 'Around the World in 18 Tunes'. Watch highlights of this epic venture above, or on Youtube.
One of the early logo design concepts
Here's a little early taster of one of the very early logo design concepts for AC Academy. Due to cost, the white t-shirts are printed in greyscale, so the logo has to work well in full-colour, black/white, and greyscale, and be suitably bold and clean enough to be seen, and recognised, at some distance (as you can see from the photographs above).
The major challenge is attempting to visualise the idea of children and young adults singing as a group, whilst conveying the high quality and prestigious nature of the teaching and experience that the AC Academy provides children all over England.
To make things a little harder, there is no mention of what AC Academy is/does in the brand name, and tag-line, so in this case, the visual HAD to convey some connection to groups of children singing, whilst trying to avoid the usual cliches, stereotypes, and clip-art style illustration. Oh, and to also try and connect with the three word tag-line: hope, happiness, and excellence.
I think I have touched on hope and happiness through the colours, the jaunty angle of the heads, the open singing mouth, as well as each head being slightly bigger, smaller and different. The relatively clean and smart font choice helps to add the excellence aspect. Abstract meets stylish.
For the Font Watchers, I used Zona Pro ExtraBold for ac academy and Serifa Roman for the tag-line: hope, happiness and excellence.
It's kind of hard to actually look at anything other than this beautifully crafted Dungeons & Dragons Ampersand for the new logo redesign. Since when does an ampersand literally outshine, and out class, the rest of the logo?
There is almost a painful injustice to the somewhat insignificant sizing of the ampersand when you really absorb the new Dungeons & Dragons logo design, as a whole, in.
When you see this mighty ampersand enlarged to magnificent proportions, it's clear it is a masterpiece of type craftsmanship that deserves to hog the limelight. Yet, when placed in situ, between Dungeons and Dragons wording, you can't help but feel the ampersand deserves to break free of it's shackles.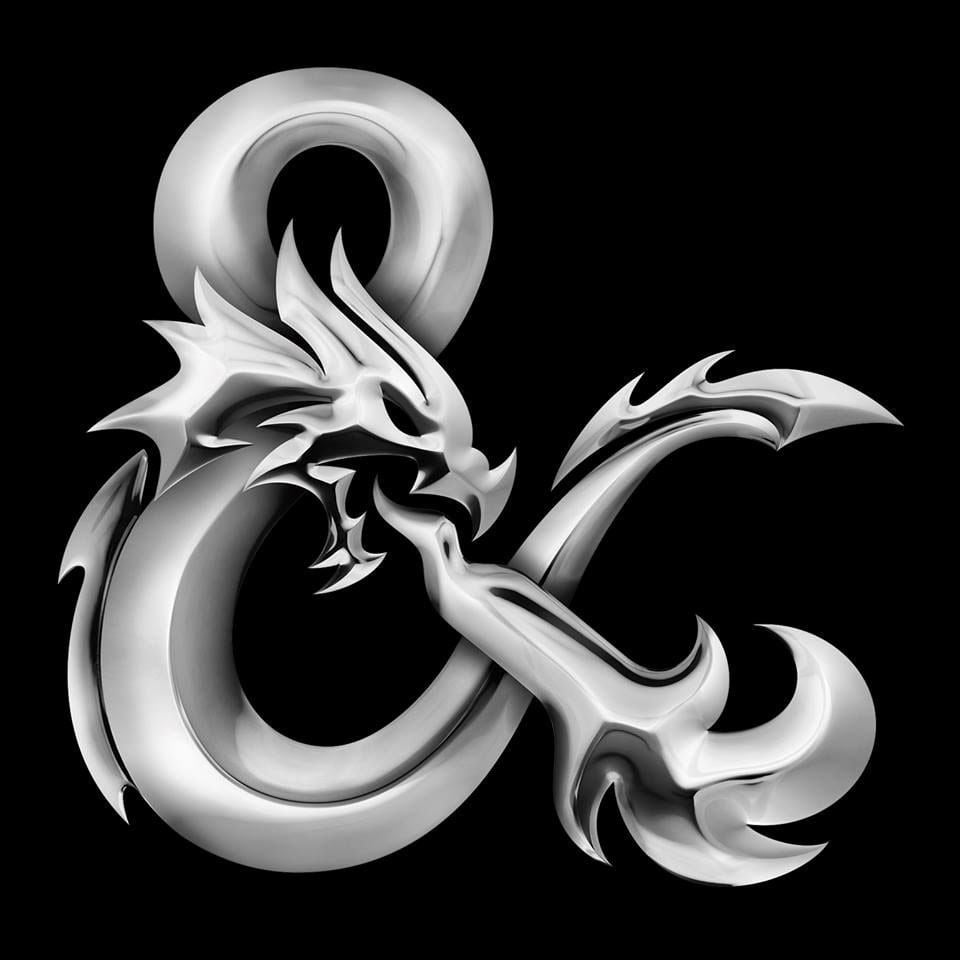 The actual Dungeons and Dragons wording is very tastefully done as well, but I just can't help but feel the ampersand is simply far too beautiful to be an 'and'. Who wouldn't die to have this ampersand as the dominant part of a logo design?
Wondering then if this ampersand will indeed be used solo? I'm thinking it would be a perfect fit for things like a new website favicon, a social media profile photo for Twitter etc? That would be a great used of such an awesome ampersand design, and would make me feel far happier.
As reported by BrandNew: Glitschka Studios designed the ampersand; the in-house design team at parent company, Hasbro, designed the rest of the wordmark and added the chrome effect.
Some of the ampersand variations that Glitschka Studios played with:
Kerr Recruitment Logo and Brand Identity ReDesign
Portfolio Update: I'm fortunate to be collaborating with Positive Advertising on this project for Kerr Recruitment. This logo and brand identity redesign project is still currently in development, but I'm happy to share the process so far of this logo and brand identity redesign.
The images detail some of the extensive mock-ups, and mood-boards, that I designed for Kerr Recruitment. This was a project where only this one main logo idea was worked-up and presented to the client, hence the need to provide the client a visual way to see the true potential of the design.
The mock-ups are based on Kerr's current applications of the logo and brand identity, additional requests by the client as part of the redesign, but also more ambitious exterior applications like the billboard, and the interior brushed metal sign.
All these mock-ups allow the client to better visualise how the logo and the supporting identity materials could be used in various practical and physical applications.

It's harsh, but let's face some facts: Reebok has rarely been cool—using 'rarely' in this instance is an over generous application of the word 'rarely', and I also know that 'cool' is subjective—in all the years I have known the brand, and this is going back to the 1980's where I remember my parents buying me Reebok's for school, even back then, this was a shoe of shame.
This was a harsh time for a kid wearing Reebok's, and one is rarely able to forgive and forget. Tried desperately to paint out the Rebook logo with that cool white trainer polish/whitener.
It's as though they simply seem to be OK with not being as cool as Nike, Puma, Adidas etc, and are happy to settle for this dull state of existence. The only comparison I can come up with is: Reebok aspiring to be like a supermarket's own budget brand, like Morisson's Savers. Nothing wrong with Morisson's Savers food, I buy quite a lot of it myself.
The 1980's
Reebook's logo has seen much better days, and I'm talking about the really early days, such as my school days back during the 1980's.  When I look at Reebook's logo evolution, I find myself drawn to both the logo versions used between 1986 through to 1998.
The Union Jack really worked, at least with hindsight, and more so compare the crap they've ended up with now. The typography hit a good solid style circa 1996 and onwards, but then took a drastic change in 2006.
The Year is 2006

2006 was a drastic change the logos typestyle, and it's one I dig. Possibly a litter over-top with the forward slanting for my tastes, but it had character, edge, style, distinctiveness, drive, momentum yada yada yada…
Technically, what you see above, isn't the whole logo, at least I don't think it was. I believe this was the whole version.
The whole history of the Reebok logo shows a pattern of indecision and design chaos.
Never have liked the typography—the same style they have now—introduced after 2004, with that rather plain-Jane sans-serif font looking all dowdy and corporate. Don't get me wrong, that style of font is smart, solid looking, and I've even used similar styles in my own logos, but I just can't get myself to accept that it's an appropriate fit for a supposedly competitive sports brand.
Reebok's Logo Evolution
---
Hello? 2014
So Rebook's next corporate strategy was to introduce an already used logomark (cross-fit) that basically looks like a Bank, or some other form of investment/insurance/legal icon style. I even envisage it being used by some form of religious cult: engraved into wood, and seared into the raw flesh of new cult recruits as they all stand inside this chalk drawn version on the mud in the middle of some dark creepy forest conducting all manor of sexual sins upon each other.
My goodness, it really does look dull. It also just doesn't sit, or fit, with the wording (font style), just seems to be there. In the specific case of Reebok, I find it such a completely inappropriate logomark for a sports brand logo.
Yeah so wonderful, it seems to work nicely in the promo videos, enlarged, cropped, worn on singlets etc, but my word, only just.
Once again they [Reebok] seem quite content on just tootling along, than trying to try just a little harder with an image make-over that could at least have a chance of looking like it's ready to compete with the big boys.
Clearly I'm head-banging against a wall as I can't possibly know what the 'powers that be' have had, and now have in mind for taking Reebok forward, but for me? I just really think this was 'another' miss-mash of existing ideas/elements (their cross-fit logomark), and introducing something recycled to get the next few years sorted and out of the way
What the odd's there'll be a tweak, or two, in a few years time? 
In fairness, it's quite likely that that red triangular pyramid thingy could have looked more interesting with a completely different font style and/or brand name, but golly gosh, at the moment it's just dull dull dull.
It's only my personal opinion, but yes, I'm not a fan.