All Archived Posts in rebranding
---
Last Updated: September 14th, 2016
| First Published:
June 25, 2013
| Subscribe with
or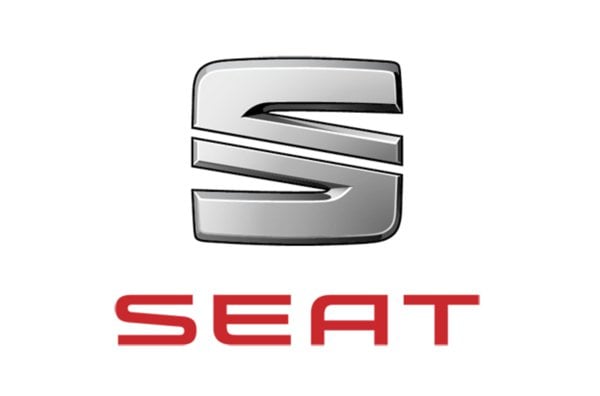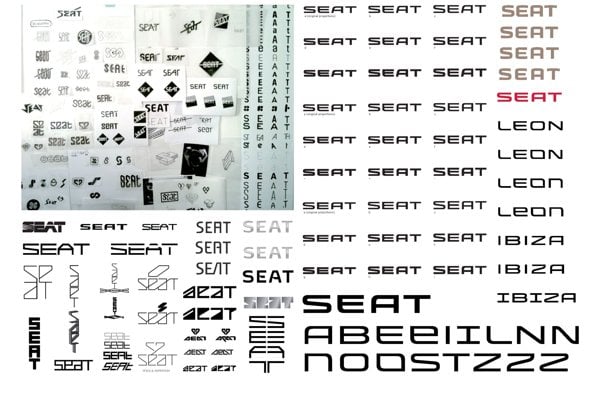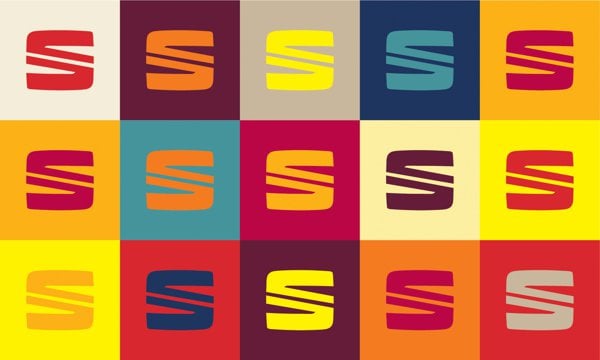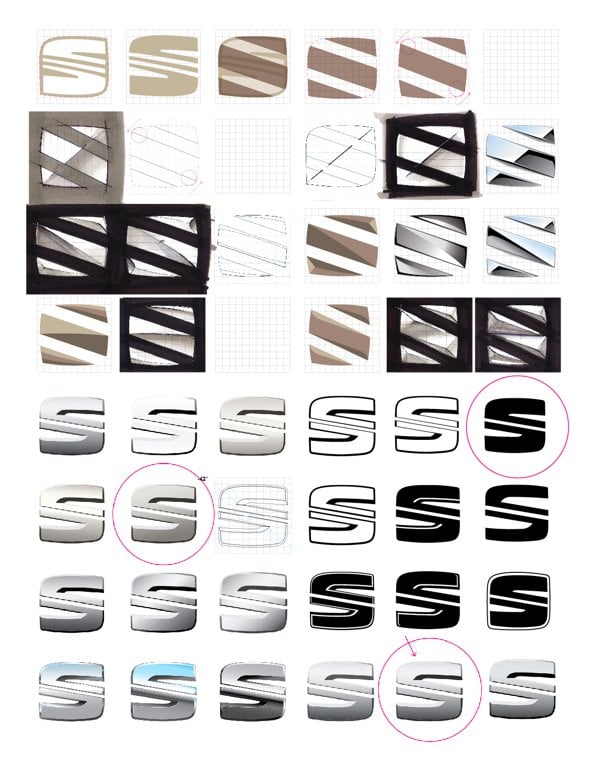 I've never particularly been fond of many car brand logos/emblems/badges, something about the way they just sit there, usually in 'silver', looking all meh.
However, seeing the sketches and process behind the redesigned SEAT logo has certainly given me a much healthier appreciation of the work and thought that has gone into this updated logo and brand identity for SEAT.
Not sure about the use of Universe though…
Particularly like this image (below) explaining the 'Origins of the Diagonal' within the S logomark.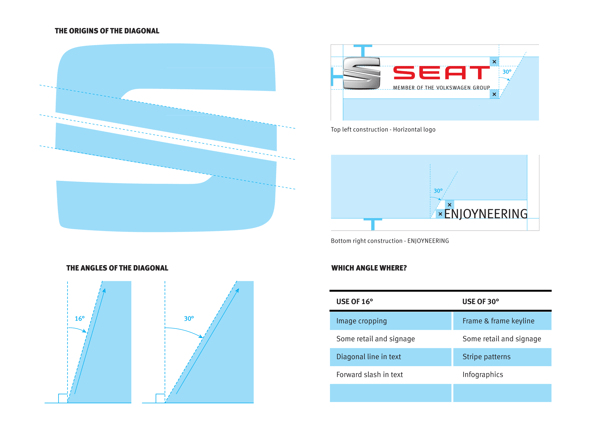 SEAT Press Release: The new logo represents another step in the continuous development of SEAT's image, aligning corporate identity and design with the brand's platform, and openly symbolizing the six values of the company- design, dynamism, young spirit, efficiency, reliability and accessibility.
The new visual element comprises the inseparable twosome of passionate red- warm and dynamic- and the unmistakable chrome stamp of SEAT. The evolution of the logo symbolizes the transformation of the company itself, a balance between its rational component and the most emotional part of the Spanish brand. Characterized by its symmetrical lines in permanent tension, the chrome symbol is sculpted with precision and is firmly rooted in modernity, all of which lies below a subtle line of industrial inspiration. Its unique design highlights the renewed commitment of SEAT to precision technology, excellence in engineering and innovation, while the colour red continues to evoke the brand's Spanish soul.
The origins of the elegance and precision of the SEAT logo are to be found in a diagonal stroke reminiscent of Barcelona's Avenida Diagonal. This line consolidates a creative vision, and is an essential component of SEAT's genetic code. Vibrant touches of Spanish design give it life- warm highlights, deep shadows, dynamic perspectives and joyfulness link people to a new hybrid lifestyle (rational and emotional).
In terms of identity and corporate design, the logo is one of the visual elements forming part of the company's new vision. Although the brand's main activity is car-making, design takes on special importance amongst the company's values, and forms an intrinsic part of its genetic code. Design is SEAT's DNA. To quote Alejandro Mesonero-Romanos, SEAT's head of Design, SEAT's new logo design reflects perfectly our love for detail and quality. While keeping the identity of our traditional "S", this time we have reduced the number of lines, they are now more 3D and the overall perimeter is now more square, more geometric. The whole gives our new logo a more modern, precise and sculpted look.
Along these same lines, the SEAT logo has been a joint effort in design, development and implementation between the SEAT Design Center (SDC) and the company's department of Marketing-Communication, from the initial research and sketches to the 2D version of the new symbol. Additionally, the exterior design of the New Leon has had an impact on the creative development of the logo, particularly on the conceptualization of the flowing liquid-like surface, projecting quality and precision. The creative process began half-away through 2010 and has had a progressively executed timeline.
» Source: http://logonews.fr/seat-devoile-son-univers-de-marque/
» Via: @TomA_Dix9 BrandingSource & BrandNew
---
Last Updated: May 9th, 2014
| First Published:
December 6, 2011
| Subscribe with
or
BrandNew have dibs on a review of the new StumbleUpon redesign. I'm not totally convinced myself. Going to say up front that this is not a bashing of the idea, but that it's more about the final execution that leaves me wanting to fiddle with it myself.
It just feels almost, but not quite.
As a whole the mark and typography feels half complete like it was pushed to completion with a way past deadline. The pairing of the logo mark and the font just doesn't sit with me.
The wording is solid and dependable, but it just does not lay well with the more fluid, and curvy nature of the logo mark. There are almost two design styles here, and I just don't think whey work well together.
The proportions of the logo mark feel off with the white non-penis icon looking a little lost in a sea of red. I would be keen to see the white icon filling a little more of the red container, or even abandon the red circle and make the white non-penis icon the whole focus.
The idea is not the problem, but I don't think they have put in that extra mile needed, and added the polish that could have seen this looking a little harmonious and tighter.
I think this is an example of when a logo has decent individual elements, but they don't bond together like they mean it.
Bonus Round
And the bonus round comes via the warped, but right, mind of Alexander Bickov.
---
Last Updated: May 9th, 2014
| First Published:
May 14, 2010
| Subscribe with
or


UPDATE : There is an interesting remark in the comments below by 'Blonde', which may put the rebrand into perspective. I have also posted a follow-up to this post: The Waterstones identity rebrand revisited
Straight to the point, my initial reaction is 'Oh dear.' This was my reaction when seeing it last night, and it's till my reaction this morning. If anything, I feel more 'Oh dear, oh dear.' Easy to criticize without knowing the real reasons why Waterstone's felt a rebrand was required, I am sure they had very good reasons.
I would like to know what these reasons are, but in the absence of these reasons, I am basing it on my view as both a designer and a regular Waterstone's customer. This is not an attack on the actual logo design, but a view of the Waterstone brand as a whole and what the new identity means for it, from my perspective.

The Register don't seem to be too 'chuffed' with it.
There is something about the traditional serif typeface of the previous logo. It's solid, it's reassuring, it's classic and it's smart. And look's stunning next to a pretty face. :) I would walk towards a Waterstone's store, seeing the familiar and reassuring 'W' and feel happy to be walking into such a wonderful store. Seeing the 'W' etched onto windows, seeing it lit up at night, lovely.
This is what makes a brand, our perception of the company, NOT the companies perception of it's self.
It's Waterstone's because it represents the VERY essence of reading and the VERY traditional methods of book publishing. What book, what novel uses a sans-serif font for the body text? Newspapers, magazines, book all use serif fonts, that's the heritage, that's the practicalities of reading a book. A serif is easier on the eye, far more than a sans-serif font.
Therefore makes sense that a book seller uses the very style of font that is used for the majority of books it sells. It might be predictable, it might be obvious but it is also works.
Look at this logo, it's beautiful. Waterstone's made the serif 'W' look beautiful, not boring. We see the 'W' and think Waterstone's.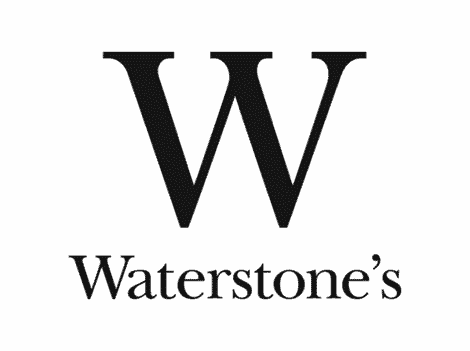 Now what will people think when they see this?
Why would you want to change this, change this established and well known identity for something pretty 'now'.
By shedding the serif 'W', it has transformed itself into a trendy modern logo. I have nothing against the new design, its nice, it's clean, smart and modern. But it's also trendy. And an established book store should not be experimenting with type trends. There is too much at stake. In one foul swoop it has lost credibility. It not longer feels like the established book store it once was. Now feels like something entirely different.
Have they panicked with this whole ebook technology, have they looked at Apple and see that actually you can go from serif to sans-serif and feel they should do the same. Have they assumed that to move more into a technological area one then needs to adopt a more modern identity? Did they just get bored and fancied a change? Well, that's crap if they think any of those. A brand agency need to be as clear about the direction of the company being rebranded as the company themselves, if anything, more so. So someone has either given bad advice, or they have been micro-managed by heavy handed MD's over at Waterstone's. Either way, it will reflect very badly for all concerned. Think Tropicana.
I would argue that the previous logo would could have lasted for many more years, even decades. Maybe with a slight refreshing or tweaking of the serif font, but there is no way this logo could really age. Why not? Because it's based on heritage, centuries of book publishing.
Waterstone's have now irreversibly changed the very essence of what made Waterstone's, Waterstone's. The problem they will have is that in maybe 5 or 10 years is that this logo will fall victim to typeface trends. I maybe wrong, but I don't think so. This has a limited shelf life and they may find themselves having to repeat this process again. Sooner than they maybe anticipated. As I said, as a logo standing on its own, its a nice design. But it's not long lasting when put into the context of Waterstone's and the history of book publishing.
By changing to this very smooth font, they have almost said 'bollocks' to their roots.
This isn't to say that a book sellers can never use a sans-serif font, that's not the point. Border's had a sans-serif, although almost art-deco in it's form. It was sturdy, it was serious.The red line creates the impression of book platform, a place to store your books, the letters spaced so that you could imagine pulling of each letter as a separate book volume.
A rebrand  doesn't automatically mean you have to start all over again, throw away all the history, heritage and reputation. Feel's very much like a case of 'we will because we can.'
This new logo for Waterstone's looks anything but serious. Just looks 'now' and NOT a Waterstone's bookstore. Huge mistake me thinks.
I wrote an article on aspects of the research and interview process necessary for a successful rebranding.
---
Last Updated: May 9th, 2014
| First Published:
February 5, 2010
| Subscribe with
or
This is based on my initial first impressions of the Comcast rebrand. I have not done any educational or rational research to the reasons Xfinity has been chosen. So that being clear, I make no apologies for the lack of a more reasoned 'constructively criticized' style approach.
If you are going to have 'X' in your new name, you deserve all the flack you will invariably get.
So, Comcast has rebranded its cable TV, internet and phone services as Xfinity TV, Xfinity Internet and Xfinity Voice. First impressions invariable count with rebranding, especially when whole new names are introduced as replacements for a name that has been around for years.
Perplexed
I am somewhat perplexed as to who was responsible for coming up with Xfinity in the first place, and even more perplexed that the other decision makers within the rebranding group went along for the ride. Let's not mention the rather weak ass logo design as well, love the subtle extension of the 'x', just in case you don't get the point that the 'x' is clearly meant to impress.
Simple, Xfinity sounds utterly pants. It reminds me of a StarGate episode where there is a spin-off TV series made called Wormhole Extreme. Or it reminds me of Toy Story, the rather illustrious Buzz Lightyear and his catchphrase 'To infinity and beyond.' (And yes, I am not the only one to have Buzz Lightyear in my head, after writing this I came across this article on Gizmodo.)
Since when in the last few years, or even last decade has adding 'X' to a name been cool? Lets not even say 'cool', lets say; since when has it been inspiring?
It really is a rather pathetic name and conjours up all the wrong associations. Regardless of the brief, the logical thought process, the enevitable boardroom decisions and micromanaging by a client. It sucks.
Xfinity just sounds crap.
You can read more reasoned and respectable thoughts via PCMag. Or read Comcast's official blog article. There is a nice sign off on this post:
While I can't predict the future, I do know one thing for sure: this is the just the beginning.
More like beginning of the Xend.
© 2006-2016 All Rights Reserved
The Logo Smith: Logo & Brand Identity Design Studio, with 25 Years Experience.

Graham Smith: 10 Badgers Copse, Seaford, England
Tel: +44 (0) 7816 527 462 Email: [email protected]