All Archived Posts in pure storage
My Pure Storage (flash-storage) Logo on an LCD Sign at JFK Airport
Pure Storage, a flash-storage company, has to be one of my proudest logo and brand identity design accomplishments.
Having designed the logo back in 2012 for the then unknown flash-storage company, which was also stealth mode start-up at the time, Pure Storage has quickly become a major player in the industry, and ranked third in the flash-storage market behind EMC and IBM.
TechInsider: According to its S-1, Pure Storage made about $174 million in revenue last year, roughly a 4X jump from the previous year. It has already made $159 million in the first half of this year, putting it on pace to hit nearly $300 million this year.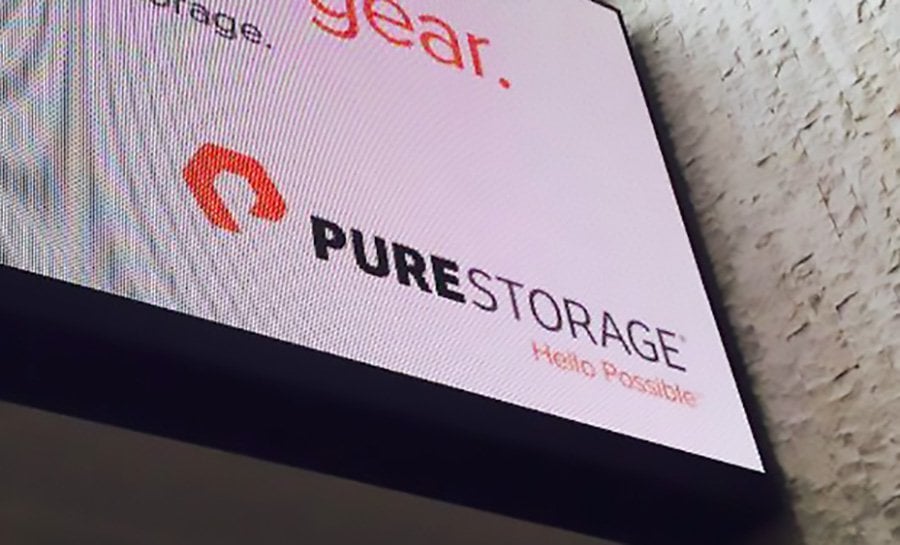 Colin Willems (@colinwillems) on Twitter snapped this photograph (above) of a Pure Storage LCD advert at JFK airport, and send me the photo. 
@thelogosmith Saw your logo on an ad for the company in JFK airport NYC. Very impressed, plus I live near you too. pic.twitter.com/HL6E1RIHsM

— Colin Willems (@colinwillems) February 13, 2016
Watching my little baby growing-up over the years has been pretty amazing; to see how and where the Pure Storage logo has been used and applied, has also been rather mind-blowing.
It's almost starting to become a little unreal just because when I designed it, Pure Storage were a complete unknown, so I had no idea what was to become of them further down the line.
Here are a few other photographs of the Pure Storage logo in use: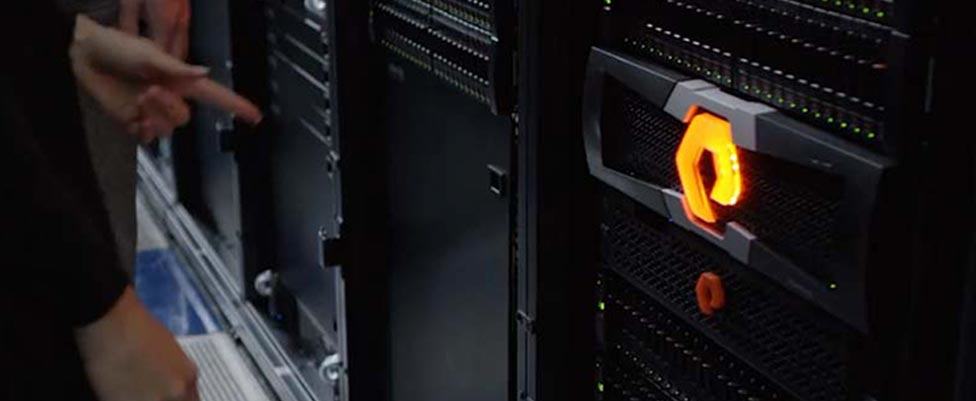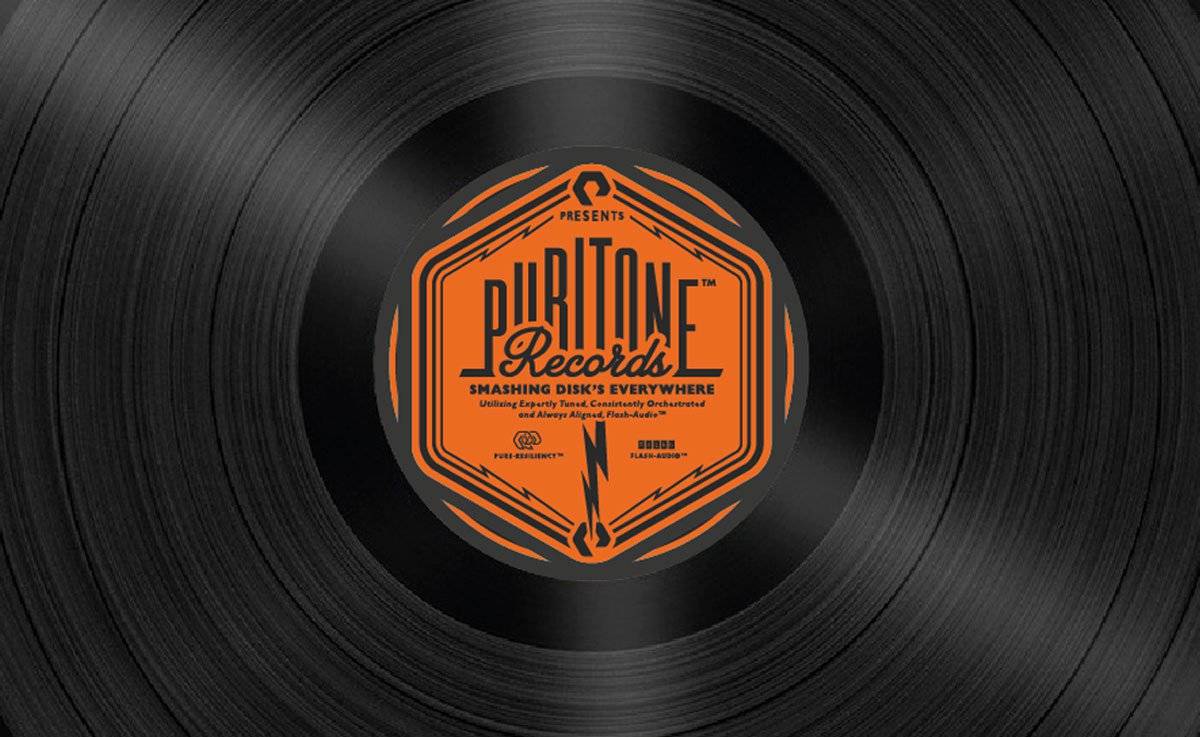 Note: This entire post is taken word-for-word from my Logo Portfolio.
A previous client of mine, Pure Storage, approached me to design a reto-cool logo that would be used to brand a fun side project of theirs, called: Puritone Records.
This was one of the quickest turnaround logo design I have done, and especially one for such an important client as Pure Storage. I had just 5 days to come up with an idea, and have the files ready, to give them, for April 1st.
In fact, I started on Tuesday and had the main idea ready to present on Friday. The client's response to the 1st and only idea? "Holy s**t this is awesome!!! Really, really like the idea!" Then I had from Friday, and the weekend, to perfect and polish this idea to final files for Monday. Easy…
Background on Puritone Records
This is a truly awesome way to market your company, and provide a fun and entertaining means to entice new customers in, and provide entertainment value for existing clients. By playing on the versatility of flash based storage, Pure Storage have created Puritone Records formed of The Puritones group, to remix popular songs with flash based lyrics!
The quality of these covers/remixes shows that no expense has been spared with this fun side-project, and going as far as to put the songs on: Apple's iTunes, Amazon, Google Playstore, emusic, and X-box music!
If you're interested, you can also listen to the full-length versions, for free, on The Puritones website: Puritones Records.
There are currently 4 tracks to listen to, and I have to say, they are pretty bloody amazing: SolidState, Read and Write, Timber and Flash it Like it's Hot. 
My personal favourite is SolidState, just love the original version anyway, but hearing it with somewhat nerdy lyrics really is quite a buzz. Do give them a listen, and see if you can spot all the flash/pure references, these mixes are particularly cleverly done, not as cheesy as you might be thinking!
The Process
I started with the Puritone Records logotype, this would be just the wording, and once I had this general idea mocked-up, it was then a case of then designing a faux record label version.
A few major requests from Pure Storage: that the overall container of the logo be of a similar shape to the Pure Storage logomark (that I had also previously designed for them), a clearer visual example of their logomark within the finished piece, a sense of anti-harddisk sentiment, and an overall design style of reto-cool.
It was somewhat fortunate that when looking at where the Puritone wording would sit, within a rotated version of the Pure Storage logomark, that I immediately saw at least one way to utilise this narrowing space towards the top: which was to progressively heighten each letter of Puritone, which created a pretty funky, and distinctive, typographic style. The retro style, and efficient use of this narrowing space, was further enhanced by the use of a heavily condensed font.
Given the somewhat quick turnaround, I really am chuffed with the results. Not only did I give them the main Puritone Record logotype, but the actual label version was somewhat of a bonus. Or, one could look at it that the logotype is modular, allowing for a convenient and flexible logo system. So if the the main label version might be too tall, then the smaller logotype version can be used independently of the record label.
There is an actual story, or narrative, to the logo/label design.
At the very top we have Pure Storage, the main parent company surrounded by a couple of white flash-bolts (Pure Storage is a flash drive manufacturer). This leads into the Puritone Records wording, with the accompanying, flash storage/music themed, tag-line (which I also came up with), "Smashing Disks Everywhere: Utilizing Expertly Tested, Consistently Orchestrated and Always Aligned, Flash-Audio".
From this tag-line a massive flash-bolt erupts out and continues it's journey towards the bottom Pure Storage logomark.
I also added a few token elements, reminiscent of the sort of thing you might find on a vintage vinyl record, but tailored to Pure Storage, Flash, Audio etc. On the right we have a version of the Stereo symbol, but in this named Pure-Resilience, and a reference to 512kb Flash-Audio, on the right-hand side.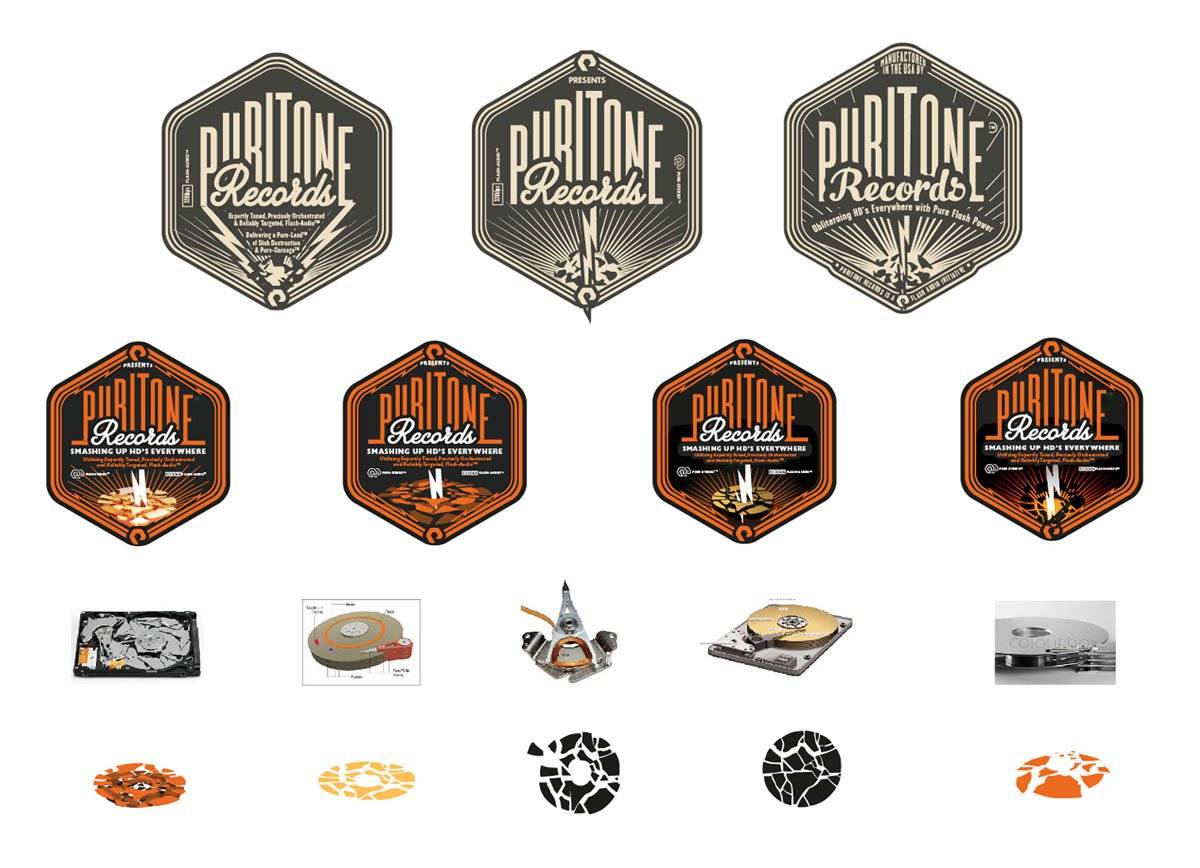 I did explore some more literal versions of the anti-disk theme which used various forms/shapes of harddrive disk platters.
However, the inclusion of yet more graphics in this enclosed space made for quite a messy and busy lower half, and with the time not on my side, the decision was to leave these out. Although they may have added more weight and emphasis to the anti-disk theme, it would have done so at the expense of the overall aesthetics.
Outline View
This image below is the standard 'outline' view mode in Adobe Illustrator. No stray bits, no overlapping/underlapping excess paths, just pure and clean vector logo goodness.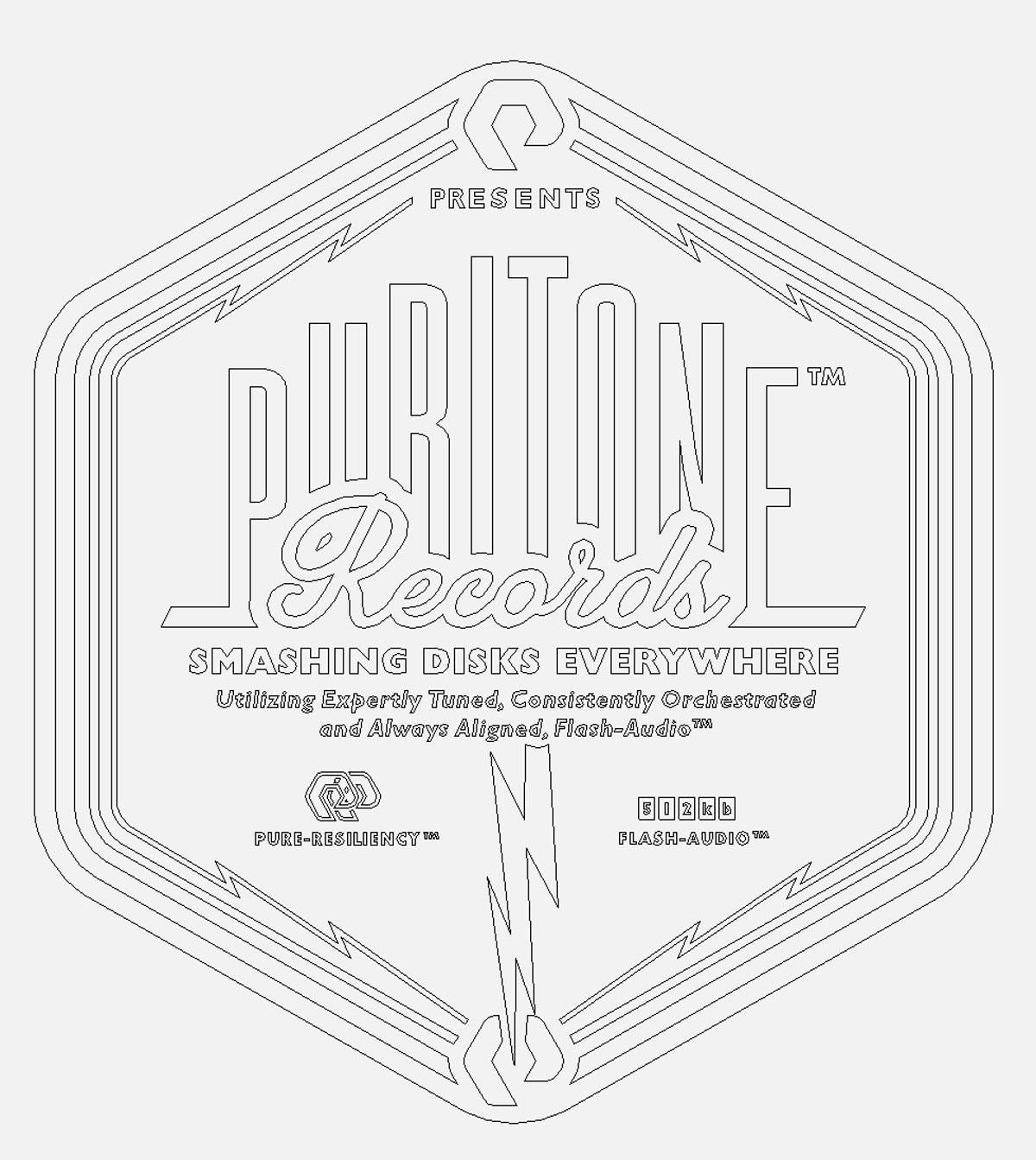 Something to look out for
Partly due to the frenzied nature of this project, but also mostly down to actually not realising this would ACTUALLY be used to go on a proper physical vinyl record, can you see an obvious, and completely unintentional, omission to this logo design? Answer bottom of page.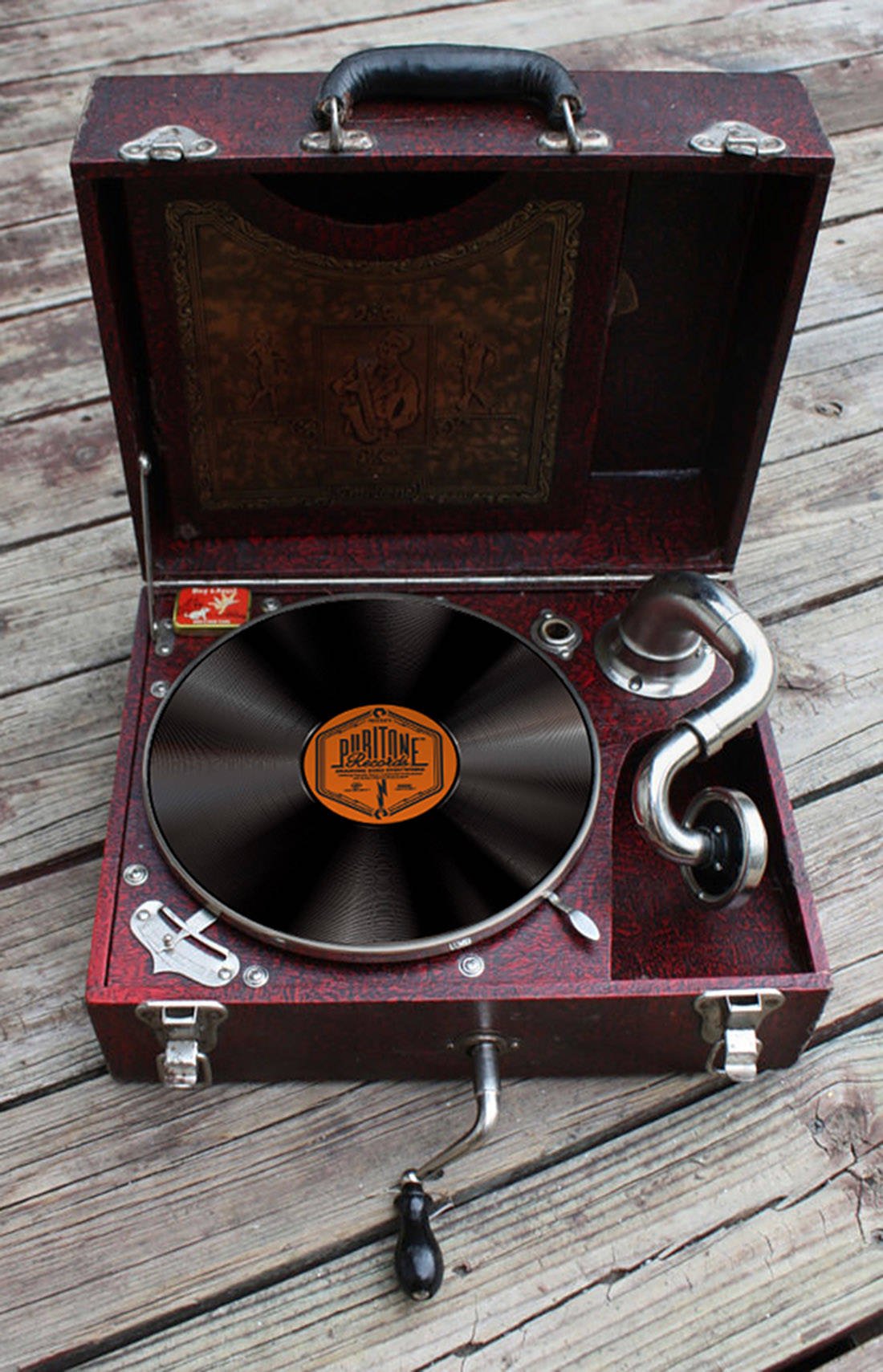 Answer: There is no hole in the middle of the record!
Once we all realised the label would in fact now be used on an actual record, we can easily revise the design around this design flaw. This proves that mistakes happen, and especially with such a pressing turnaround, that the obvious can simply pass straight by you. :)
This has to be one of the coolest things I've ever seen one of my logo designs being used/manipulated and/or recreated! A whole bloody PureStorage Flash Array made completely out of Lego.
Seriously, what the hell.
There is a back-story to this Lego version of the logo, it wasn't like just done for kicks, although nothing wrong in that either. Back in 2012 PureStorage were exhibiting the Pure Storage flash arrays over at VMWorld. Part of the fun was running this live contest in which this Lego version was featured, and people had to guess how many Lego bricks were used.
Turns out someone 'calculated' the exact number of Lego bricks used: 6,128 bricks to be exact.
I've only just posted the funny PureStorage video which was over on Vimeo, but this completely takes things to a whole new level. So very exciting to see ones logo design being used in such exciting ways, and I'm just super proud that PureStorage are so behind the logo I designed for them.
Pure Storage Flash Array
And to finish-up with, a proud looking Pure Storage Flash Array in all it's glory. Notice that all the little air-vents are shaped from the Pure Storage logo.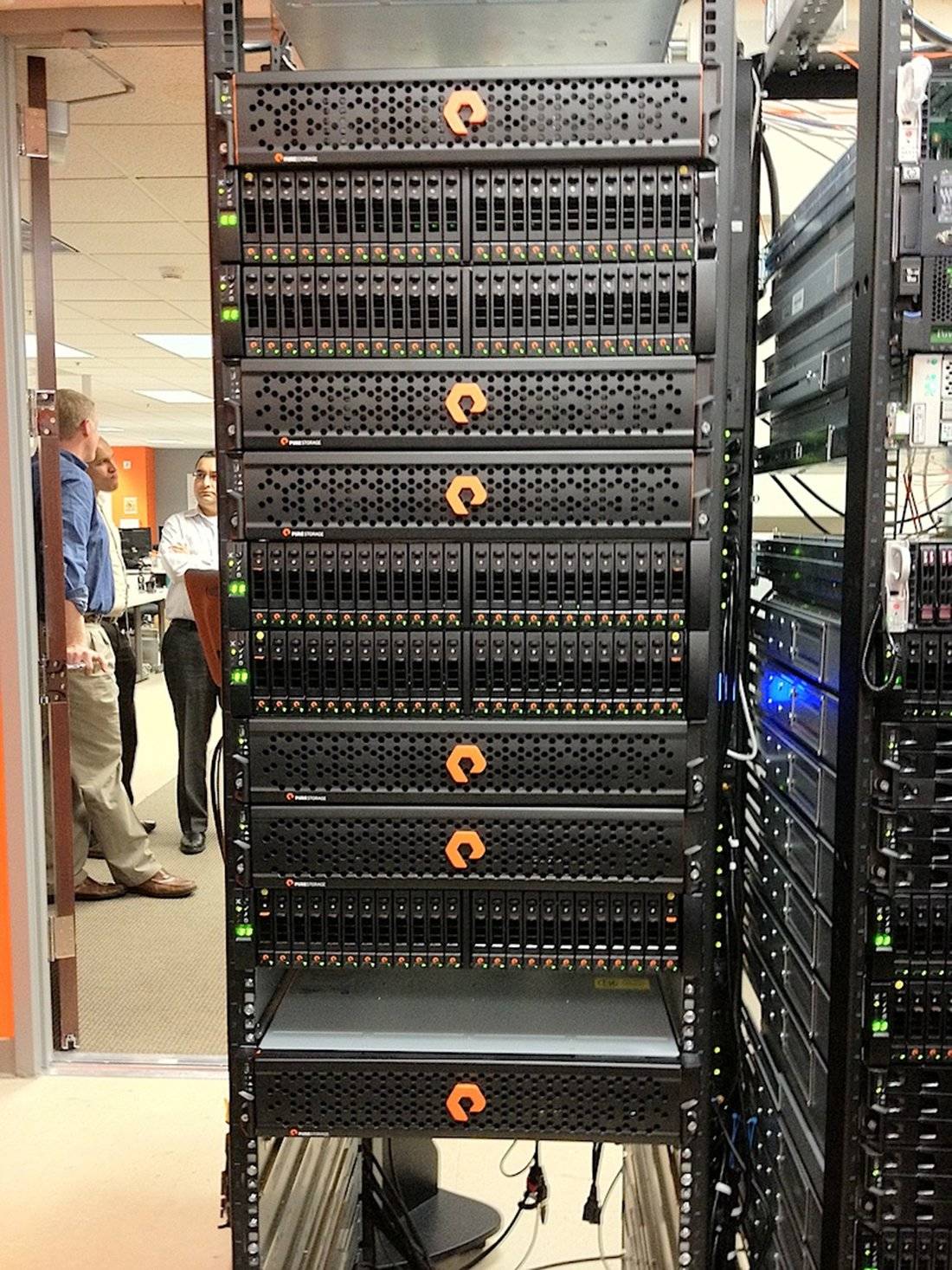 The Pure Storage Logo Applied
Exciting day today for Pure Storage, a recent logo design client of mine. Today is their official company and product launch after a long period of operating in stealth mode.
See Press Reports: The Wall Street Journal, AllThingsDigital
I can now show you, for the time time, how the Pure Storage logo [brief run down of the idea behind the logo] has been applied across their FlashArrays which I am so happy to be able to finally share. I have also exhibited a few other applications of the logo via this post, Pure Storage Identity Design
It's one thing to see your logo on a website, business card or even shop front, but quite another when you know it takes pride of place on the latest possible storage technology.
When Pure Storage approached me last year I had no real idea of the end result due to the highly secret and sensitive nature of their product and plans. I had a few rough visuals to work to but could not have foreseen how the logo would eventually end up being applied to the FlashArrays.
The manor in which the logomark has been cut-out and raised to take pride of place on the FlashArrays with the vibrant orange set against the gun-metalesque enclosures provides for a pretty strong brand image. Pure Storage did not stop there with the application of the logomark as they have also shaped each perforation so as to, seemingly, form the letter P.
This post is just to show-off how the Pure Storage logo has been applied with a few product photographs that have been made available to me. A proper logo process post for Pure Storage is in the works.
An interesting fact about a certain member of the Pure Storage team you may find interesting:
Pure Storage Factoid
"An early key hire [for Pure Storage] was Michael Cornwell, who was lead technologist for flash at Sun Microsystems (now part of Oracle). Cornwell also worked at Apple, where he was Manager of Storage Engineering for the iPod division, and oversaw that product's transition to — you guessed it — flash memory. Remember the first iPod nano? That was his baby."
Via AllThingsDigital http://goo.gl/J648W
LinkedIn Recommendation
Just to finish off is the recommendation that Matt Kixmoeller from Pure Storage kindly gave me on LinkedIn. Matt Kixmoeller, hired Graham as a Graphic/Web Designer in 2010.
"I hired Graham to drive our identity design at Pure Storage. Despite his remote location (in the UK vs. us in the US), Graham felt like part of the team and really wanted to understand our company and value so that he could drive an identity for us that was reflective of that and differentiated in the market.
I'd say we were a challenging project for Graham. We hired Graham after a failed project with another designer, and had high expectations for this project and many opinions on our side to bring to ground. Graham stuck with the process through many rounds of iteration until he had that "flash of brilliance" moment (you can read about this on his blog), and once we had the right logo everyone was instantly on-board.
Our identity has proven over the past year to be a real asset for Pure Strorage, and has been something that we've feature everywhere from web usage to in physical 3D form on our actual hardware product. I would whole-heartedly recommend Graham for any identity project that your organization is considering." August 17, 2011
Top qualities: Great Results, Expert, Creative
Just wrap up this post I just had to again include this wooden back-lit version of the Pure Storage logo mark that Matt carved for the office reception. Looks stunning.
The Pure Storage story has been one of pride and patience. The logo is one that I have been particularly proud of but have not been able to fully exhibit it due to Pure Storage being in stealth mode. A brief summary that was posted back in August 2010.
Only now am I able to show further images of the logo and identity in context and I am really bloody excited to see what the guys at Pure Storage have done in visualising the logo on external physical objects.
The illuminated sign above is just super cool. It has been carved from solid wood, varnished and then illuminated from behind. This acts as welcoming sign for all visitors and employees of the company.
Even the beer glasses have quite a presence about them.
There are a few photos I would love to show you of the logo mark on the hardware but I have to be a little bit more patient before doing so. Although the web site is live and news of Pure Storage can be found in the NY Times; the official launch of the company and it's product line has yet to be announced.
This is when I will be able to write up a proper logo design process post as well as being able to show how the logo has been applied to the hardware which is super cool. I even like how the logo looks when placed on top of a stool. :)
Really very excited to see how Pure Storage evolves.
In the meantime here are a few more images of the logo.
Just an idea of how well the logo mark stands out as a regular Twitter profile image.
As mentioned above there will be a detailed logo process post to coincide with the official launch.