All Archived Posts in proposal
---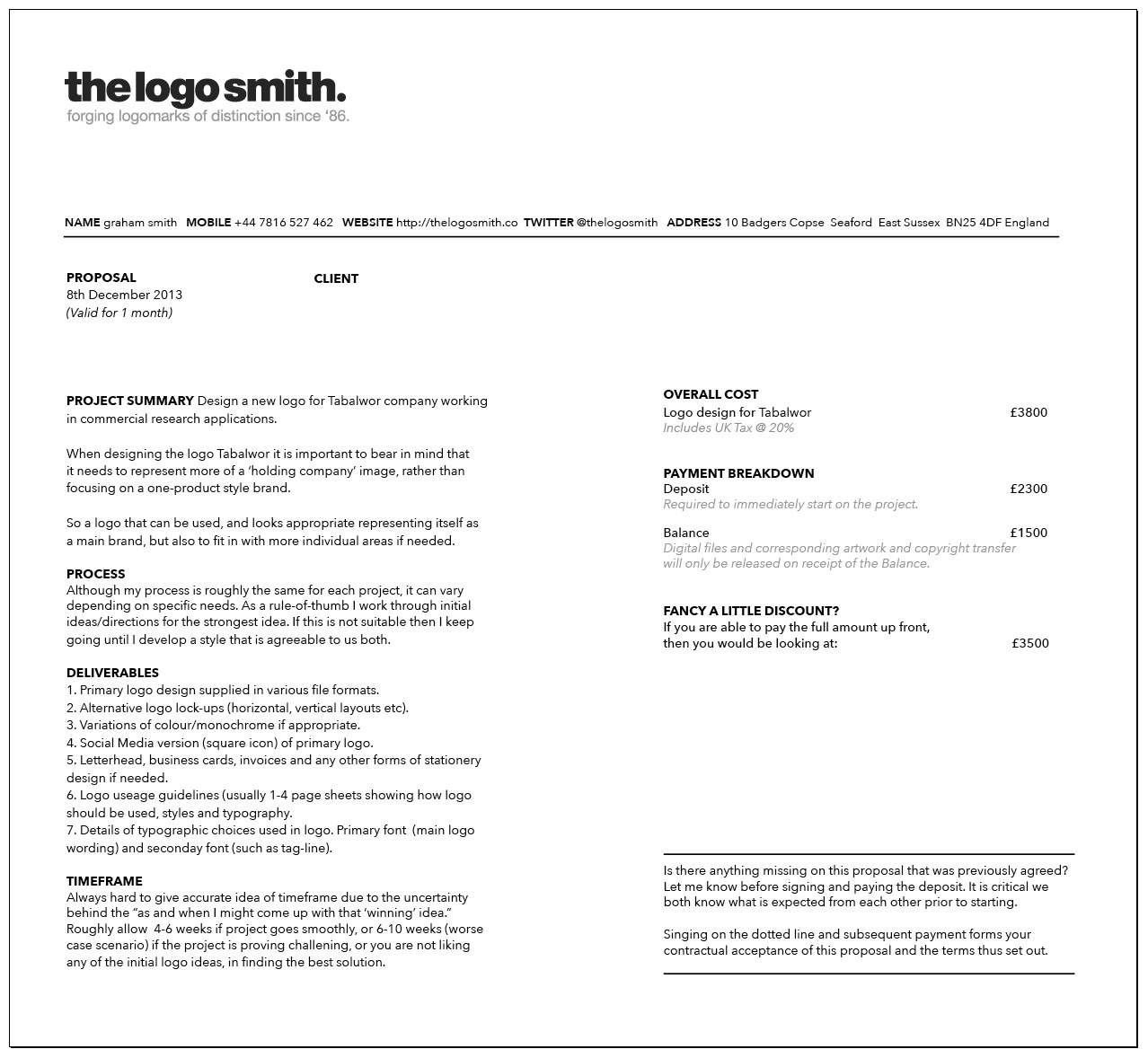 Asking Clients for Full Payment Upfront [AQfG]
As part of my A Question for Graham series [AQfG], Chris from PixelHatch, emailed me a follow-up question with regards to an earlier post of mine on the topic of asking clients for the full payment upfront, opposed to the more usual deposit/balance format.
"I read your blog post on charging 100% up front and this is something I'd like to do in the future. In my mind it doesn't make any sense to work on a deposit since it's always possible for the client to just not pay you at the end and there's not really much you can do about it.  

My only concern is that because the idea of a deposit and payment on completion is so accepted in the industry I'm scared of putting clients off. Do you have a particular way that you explain this to new clients without scaring them away? Would be very grateful for any advice."
There's no denying that asking for full payment upfront for a logo design, or any graphic design for that matter, often has this perception of being a rather 'cheeky, and/or taking the piss' method of cash collection. Alternatively, when asking for full payment is not appropriate, I tend to stick with my Deposit & Progress Payment Strategy.
I can only really go on my own personal experience of charging the full whack up front, and hope that this might offer up something useful for other designers who feel this is worth considering.
For context, in my early days, I was simply ripped off too many times by clients not paying the final invoice after I had delivered my end of the deal. A lot of that was a result my own inexperience of being self-employed, but also I had a tendency to over-trust people. What a personal failing, I know…
I tried, over a few years, various methods to protect myself against non-paying clients, but it's simply impossible to do 100% of the time due to the sheer vulnerability of 'putting your idea out there' before securing some, or all of your money. Once you show that logo design idea it simply leaves each and every one of us super vulnerable to being cast aside.
On one hand: some clients feel untrusting towards a designer to pay the full amount upfront (even a heft deposit!), and equally a designer may be untrusting of a client to pay the final balance when it is due.
Where is the trust
My feeling is that if a client approaches you to do them a logo design, then it's simply up to them to find the trust to place in you, not the other way around. Maybe you have a great portfolio, loads of testimonials, a regular and transparent social networking presence, various communication methods etc: all of these things ought to provide comfort to a possible client. If they still have trust issues that you will not deliver, then I wouldn't personally want to work with them in the first place.
Assuming that both parties have done their due diligence with each other: client checking out the designer, and the designer asking the right questions and providing adequate information, then there should be no reason why a client will not consider paying the full amount up front. Other than the obvious: not having that sort of cash laying around, but if that's the case who's to say they will have it 4-8 weeks down the line? If they don't have it all now, who's to say they'll have it a few weeks later, and I do think many clients end up in this problem of hiring a logo designer, paying the deposit but simply unable. or unwilling, to then pay the rest.
Just look at how our society ends up in constant debt by buying things they can't afford with credit and overdrafts, all the time having the noble awareness and intent of settling that debt at the end of the month. If some of us struggle to pay off that card for a new car we have just purchased, then I also slightly worry about the importance placed on paying up for a logo design once it's been done. After all, once it's been done, the designer has shown it to you, the novelty sort of wears off, and you are then faced with the reality of forking up more money. OK, so that's a somewhat cynical view, but it's also not really all that far from reality.
As a materialistic society, once we have what we want and have not yet fully paid for it, then trouble is just around the corner when we are faced with that final invoice/credit card statement etc. I have seen this, been a victim of clients simply not having the funds when the time came, and I just got royally brassed off about it.
Hence the full payment up-front seems to actually prevent more problems than more common methods.
Clients DO like paying all up front
And, do you know what? Since I offered this on my initial proposals easily over 80% of all my past clients have offered to pay the full amount, rather than the traditional 2-part deposit/balance approach. Oftentimes we are talking about a client finding, and happily paying between £1000-£8000 before they have even talked to me on the phone!
Now that is what reinvigorated my sense of trust in people. I have been continually bowled over by the continued, and seemingly lack of distrust, that all my past clients have exhibited towards me. So, if I have worked with clients that have, historically, shown no apprehension whatsoever to pay the full amount up front then it surely shouldn't be such a taboo subject to raise?
Just want to make it clear that I don't DEMAND full payment, although I did go through a period of a few months when this was the case. I provide two options of payment, but with a nice little incentive for a client to pay the full amount. Don't underestimate the hassle some larger companies have when it comes to paying, or having to arrange with their finance department, their own invoices etc. It's been explained to me by more than one client that it was simply case of, paying the full amount up front that is, being easier to arrange than two staggered payments. Plus, of course, they go get a genuine reduction, which the bigger the budget, the more it makes sense.
Advice
So my main chunk of advice, if you are worried about asking clients to pay all up front, especially if the project is going to take a few months, then at least offer both options. When doing so provide ample reasons and incentives for them to pay the full amount up front, but don't box them into a corner.
Once you get your first client accepting full payment, then you'll find more confidence to ask the next time round and so on and so on, which was pretty much the case for me. I certainly did feel cheeky asking for the full amount the first few times, but once the first few clients happily obliged, it became routine.
The other way to try is to simply have a FAQ page that gives fair warning to a client about your payment options before they might even get in contact. They are not forced into using you, or accepting your terms, but they are your terms and your business, and if they want you as a designer then they'll need to seriously think about trusting you. It's mostly as simple at that.
Sometimes my gut tells my I need to tread cautiously with a particular client, so in these cases I might just offer up the Full Payment Upfront, and no 2-part option. Obviously always a risk they'll move on and find another client, but I've learnt to trust my gut and also not sweat it if a client gets narky about your payment options.
I probably have three or so proposal templates, and tailor each one depending on the vibes I get back from the potential client, as well as taking into consideration the budget, scope and length of time I expect to be on it. If it's going to be closer to two months on one logo design project, then I'll make sure I'll either get the full payment up front, or at least ensure I have a staggered Progress Payment in play.
My current proposal layout
I'm continually changing the layouts of my proposals, but the current version shows you how I typically will present the full payment option to the client. You can see that I first offer up the total cost, in this case £3800. Then I choose to provide a standard 2-part Deposit and Balance method with the Full Payment option underneath with a nice little discount as an incentive.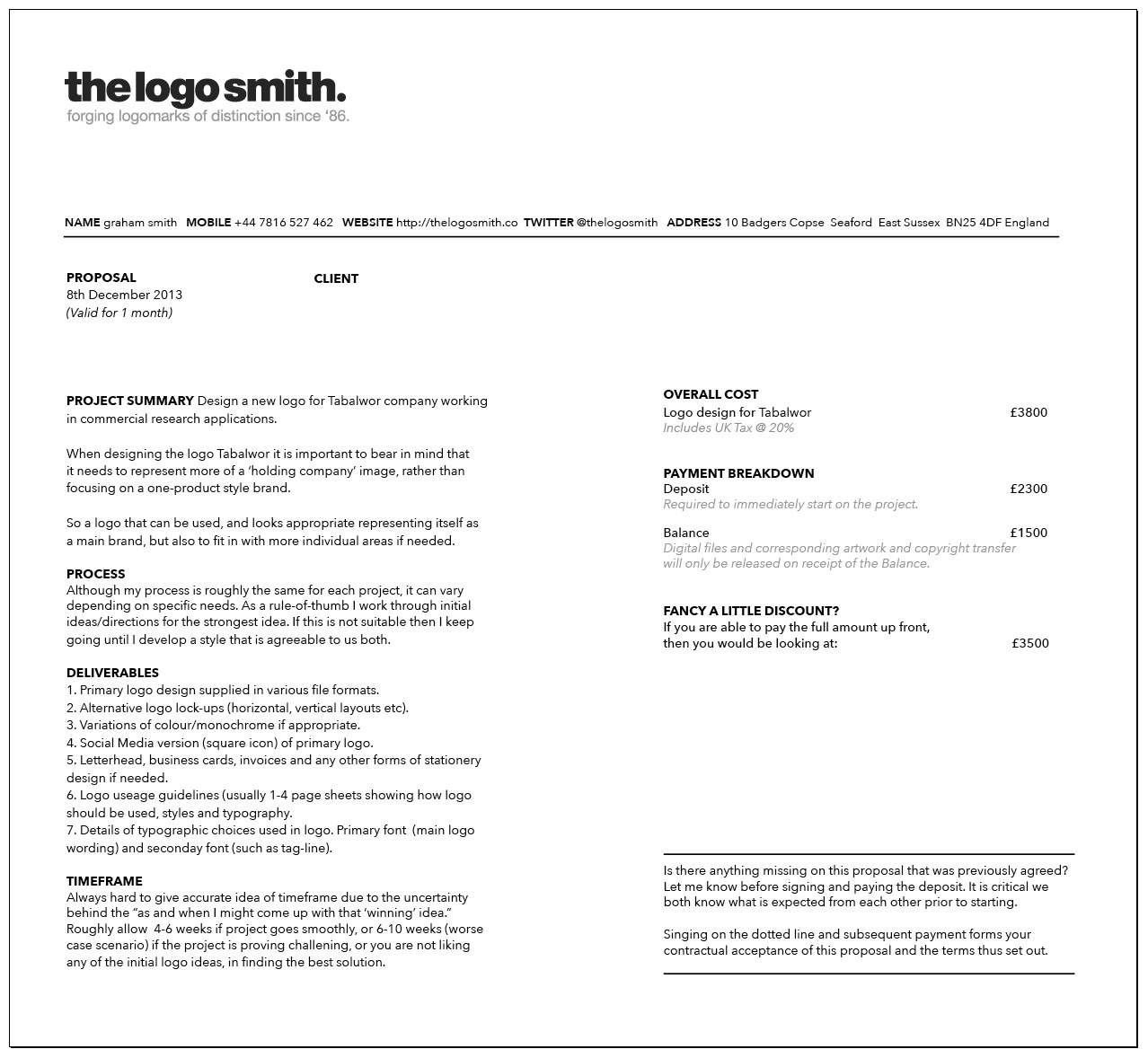 ---
Following up on my previous post Logo Design Contracts, Proposals and Invoicing – Share your Methods, I have made a number of significant changes to my proposal and have made it available as a template download.
Although I have been in this Freelance Logo Design business for many many years, it has only really been the last few years where I have gone freelance. This move to being solo and having to deal with all aspects of running a home based studio has been an incredibly tough learning curve.
I have made many mistakes both personally, privately and professionally over the last few years, I have let clients down and I have let myself down, and will no doubt continue to make mistakes and bad judgement calls. All I can hope is that each time I learn a bit more and limit the scope for bad things to happen.
Creating a more watertight and descriptive proposal has been one of the main changes.
To share
I thought it might be useful for others, to see the sort of things that I have felt important to include, so I have made version of my Freelance Logo Design proposal available as a InDesign Template and PDF file for you to download.
This is a variation of the one I use, some information I have changed for personal reasons, other bits are just relevant to me. I am sure aspects can still be improved and added to, but this is a huge improvment over the last version.
Firm in context
This style of proposal is quite 'firm' in tone, maybe more 'firm' than some of you may want or feel comfortable with. If this is the case, then reword and restructure to your own liking. It gives you the foundations to work from and sculpt into your own voice.
The reason I have opted for 'firm' is simply down to my own experiences and being let down by a few clients. In order to rebuild and retain a sense of control, firming up the context has been an important step. I realise some clients may be spooked by how I 'come across' in this proposal, but if you have nothing to hide then you have nothing to fear.
If someone has issues with any portion of this proposal then I encourage them to make contact, to discuss their concerns, initial firmness is balanced out with stressing that it's 'good' to call and make contact via phone. This shows I am a person open to discussion – if you do call me, you will see how easy to talk to and how down to earth I really am.
I set a clear message from the start with this proposal, that I wish our business and relationship to be open and clear, to reduce doubt and confusion by setting clear targets and communicating what we both expect from the relationship.
I feel much more secure and in control with this revised propsal, so I hope it is of use to someone. I would suggest that you don't use it completely as it is.
This isn't a perfect design, it's here for you to base your own design and content from, so please do alter the design, change the tone, add or remove aspsect to suit your own way of working.
Legal
I am sure this wouldn't hold up well under a lawyers blood lusting eye, so please do not assume what you read in this proposal is legally watertight, frankly I have no idea. It's purpose is more about sending a clear message to the client, the proposal sets the all important first impression, when the client first sets eyes on this proposal, they will hopefully see that I plan to conduct business. It's not a scrappy quote or proposal, I clearly mean to conduct business in a clear and open mannor, this can actually be quite reassuring for some people. Not everyone, but some.
Open to feedback
If you have any suggestions or improvements on this revised proposal, please let me know in comments below, I am totally up to hearing your thoughts.
Consider this a 'work in progress'. Any updates I make to my proposal, I will reflect in this post.
If you change it, add details etc, I would love to see an example of it. Maybe I'll take a leaf from your book.
Download
I have provided a few file versions and bundled them up in a ZIP, so hopefully one or some will be useful.
* file revised 21st February
Note : This is NOT just aimed at logo designers.
Thought it would be interesting and useful to see how other designers word their contracts and proposals, so this post sets out to achieve just that.
I don't use a contract, don't believe they are worth the paper they are printed on. If someone wants to screw you, a contract is not going to stand in their way, more so if they are overseas. If you are freelancer with a non paying client, trying to enforce a contact will just send you to the crazy pit, or at the very least, cost you financially and emotionally. For personal reasons, I have had enough of the legal system, and have every reason to what to avoid the unrealistic dramas that unfold in a courtroom.
So what can we do to protect ourselves?
Up and till now, I have still tried to play the roll of 'reasonable and open to negotiation gentlemen designer', assuming there are people out there with integrity and honest thoughts. For the most part this has worked out well for me, no painfully dull and complicated contracts and a fair and reasonable deposit/payment option. But there has been a few instances of dishonest clients abusing my good will, that have had to make me question my methods.
Right now, I have had it up to here – stretching arms as high as the sky – and need to firm up certain areas.
As a freelancer, just one instance of a client playing silly buggers is enough to derail you emotionally and financially.
So to business
Do you have a water tight contract? Maybe you don't use a contract but have other means at your disposal to ensure that you are financially rewarded as promised for your work. Maybe you just have a detailed proposal that the client is bound to when they pay the deposit, a form of acceptance of your terms etc. Maybe your small print is detailed, your ass is covered, yet it all comes across as quite reasonable, because of the way you word it. Do you use any form of digital signatures that a client has to sign and approve before you take them on? Are your terms and conditions' worded neutrally or have you gone for the pre-emptive 'take no shit' approach? Do you get anything in writing, do you use Escrow for larger logo/design projects? Do you ask for full payment up front, regardless of the budget, or do you use one of a few percentage methods 50-50/25-50-25/75-25 or do you have another method to secure your work is paid for.
Whatever system you use that WORKS, would you consider sharing your reasoning and methods with other designers?
Share your methods
The more we can learn how other designers protect ourselves, the better it will be for both designer and client.
My plan is to highlight how a variety of designers prep their paperwork, prior to taking a client on, to ensure they are at the least possible risk of being caught out.
This isn't limited to logo designers, but any form of creative service where once a client see's a design/proof, you are at risk of them running a mile without paying.
Depending on how many replies I get, this may be a one off post, or ideally, a mini-series highlighting a designer and their fire proof method of handling the contractual/proposal and invoicing aspects of the client relationship.
I would like to feature each designer, with small bio and background and a run through of your procedures. Maybe a few real world examples of when you had been ripped off that lead to you firming up your back-end. And to top it off, a specially formatted template based on your own to make available as a download, either to be used as a whole or to only take the bits needed.
The reality is, not every system will be 100% appropriate for someone else. With a variety of examples to study, we can mix and match and create a much broader and well defined method of working that reduces the loop holes and makes for a better experience.
Interested?
If you are interested in sharing your preferred way of working with clients, then please send me an email : [email protected]
Or leave a comment below, either or.
If you do want to send a detailed email, for now, just email and tell me in a few words how you work the 'contract/proposal/invoicing' aspect. Once I have this general outline in my head, I can get back in touch with you so we can work on a more detailed post of your methods.