All Archived Posts in polaroid
---
Polamatic App by Polaroid™ (AppaDana)— Brings back the instant Polaroid magic (and hopefully set-off an app war with Instagram/FaceBook?)
Polamatic is an officially licenced iOS app from Polaroid: awesome. Read more on this: Polaroid Polamatic™ Mobile Application for iOS
Wouldn't it be great if Polaroid, as well as now having it's own iOS photography app, also had it's own sharing network? A network that could instantly and realistically compete with Instagram and would likely see quite a significant take-up by Instagramers.

Polamatic is a great looking app and has some lovely features. The main one being each photo is based around the physical Polaroid prints with the thick white borders. One has a selection of scanned -in, not computer generated, Polaroid frames as well as the requisite filters with more options available as in-app store purchases.
It just feels so right to be using a faux Polaroid branded iOS app.
Your photo can be shared directly with Instagram, Flickr, Twitter, Tumblr and FaceBook. I have already placed Polamatic next to Instagram on my iPhone home screen.
Polamatic only costs £0.69 as well and you can download it via iTunes: Polamatic | Made in Polaroid
From PR NEwsWire: Offered by Appadana Development, an authorized Polaroid licensee, the Polamatic app brings back the instant magic of Polaroid pictures to mobile devices. Users may select from 12 frames with clever names like "tape," "crumpled" and "kinda new." Unlike other photo editing applications, the frames are not computer generated. Instead, they are high quality scans of new, used, and vintage Polaroid Classic Border frames, giving pictures a unique classic style.
The app also features 12 photo effects for customization with fun names like "chroma," "gelatin" and "pyrophoric." The photo effects allow users to apply a number of color and tone adjusting effects to their pictures. Whether users wish to apply sepia tones, or a rosy hue, this application has a plethora of effects to choose from. Users may also add text to their Polaroid picture, choosing from 12 different fonts.
Your Polaroid pictures can be saved and easily shared via Facebook, Twitter, Flickr, Tumblr or email, making this application a must for bloggers and social media enthusiasts who want to add Polaroid pictures to their visual posts. Users may also save their pictures directly to the iOS photo library, with the tap of a button.
The Polamatic app store allows users to purchase additional frame formats and effects. From the Polaroid Vintage Pack upgrade, users can select an additional 12, authentic, high-resolution scans of Polaroid Classic Border picture frames from multiple eras. For those wishing to add a touch of color to their photos, the Polaroid Chroma Pack upgrade includes 10 colored Polaroid Classic Border picture frames. The Photo Effects upgrade offers 12 added photo effects allowing for more customization options.
Feature Highlights:
* Easy to use, intuitive interface produces quality edits in seconds
* 12 authentic Polaroid Classic Border picture frames
* 12 photo effects for innovative pictures
* Easily share via Facebook, Twitter, Flickr, Tumblr or email
* Control flash, grid, and front or rear camera
* In-App purchases provide additional borders and photo effects
"Bring back all of the magic of Polaroid pictures on your iPhone," stated Appadana Development's Dana Shakiba. "Polamatic makes your pictures come alive with classic Polaroid style."
Device Requirements:
* iPhone, iPad, or iPod touch
* Requires iOS 5.0 or later
* 41.5 MB
---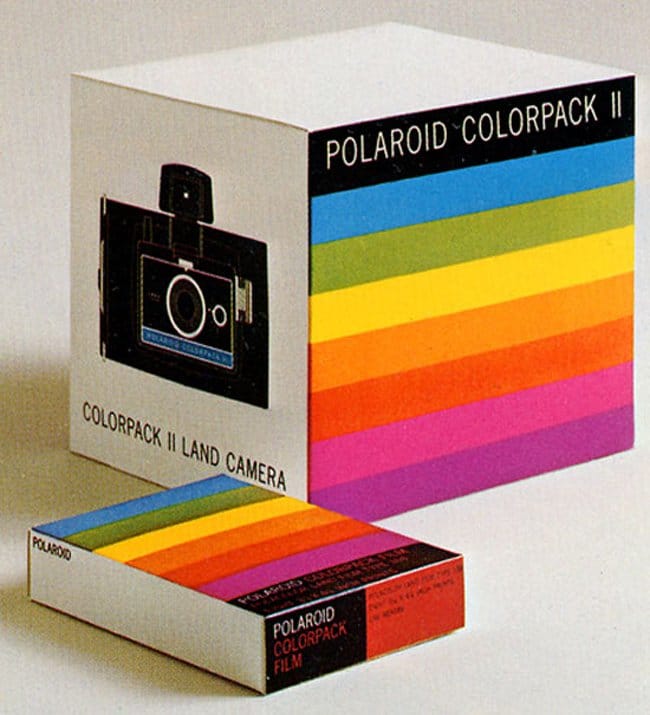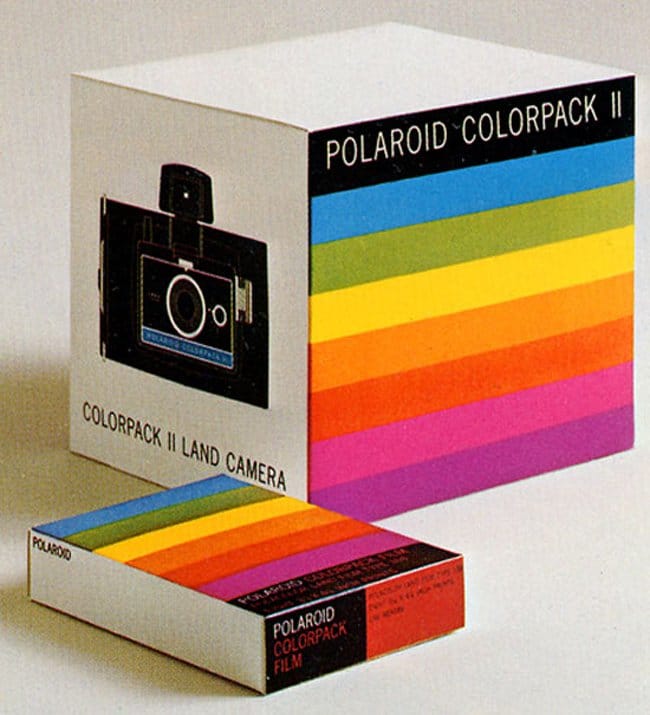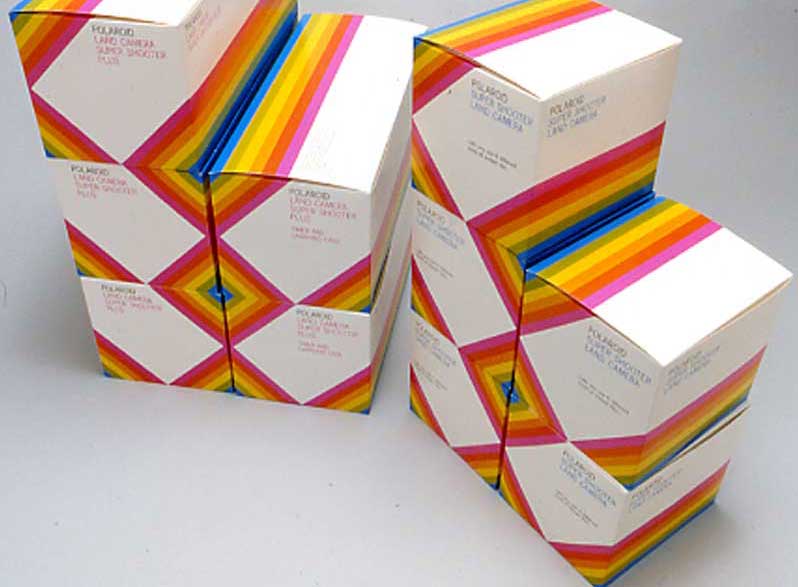 This is one of those branding treasure feasts that one stumbles on from time-to-time. When you think you have seen all the bestest stuff on the internet, and how on earth could there be more, another another real treat is unearthed.
The internet never ceases to astonish me with it's hidden wealth of goodness, more so when it's an old—and of course old in internet terms is just yesterday—website that is picked up. This happens to be the case with the Original Polaroid Branding By Paul Giambarba.
Ian Hex Google +'ed it after finding Polaroid Branding featured on AisleOne, and then from there to here.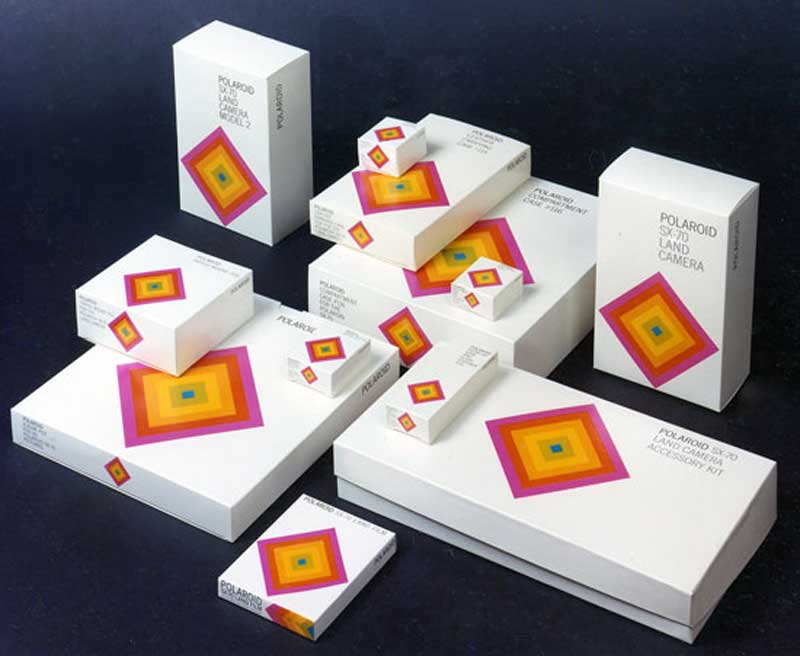 So turns out that Paul's blog on The Branding of Polaroid has been around for like forever, but the post that AisleOne featured was posted in 2010, and so is once again doing the rounds. Which is really bloody great because the more people who can experience the original Polaroid branding the better.
I did a bit of internet searching because I also wanted to nail down the designer/designers responsible for the existing Polaroid logo design—the purpose for which was to post it on Logo Stack—and so H/T to ZLOK for actually first blogging about The Branding of Polaroid website back in 2008. Which is like, forever ago.
As well as many graphical images to perv over there is a fun piece detailing how Alf Lenni pointed out the similarities between the original Polaroid colour stripe system, and the logo from a new kid-on-the-block called Apple from Cupertino, California.
Apparently the old Apple logo used the same percentages of process colours as the Polaroid logo.
It's well worth heading over to The Branding of Polaroid for this nostalgia trip and see how this epic slice of branding history was conceived.
If you want more Polaroid goodness then ZLOK did provide a few other links one of which I will provide here for you pleasure, and of course convenience.
Polaroid Camera's on Flickr by Alessio Nunzi - a nice selection of photographs of Polaroid cameras.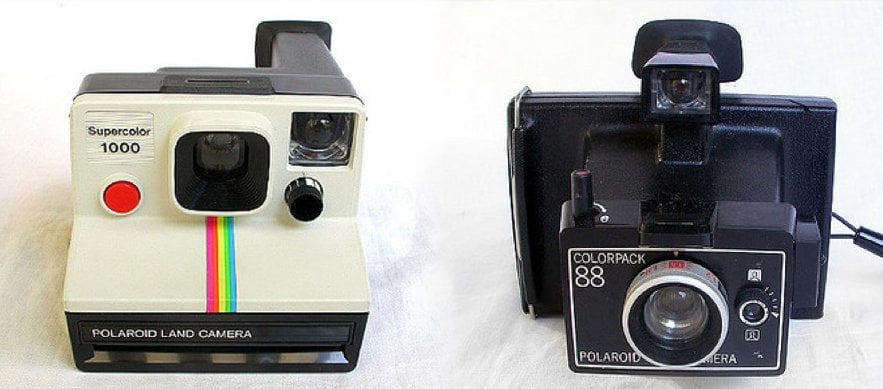 Another link worth checking out for additional Polaroid stuff is Polaroid Packaging posted waaaaaaaay back in 2007.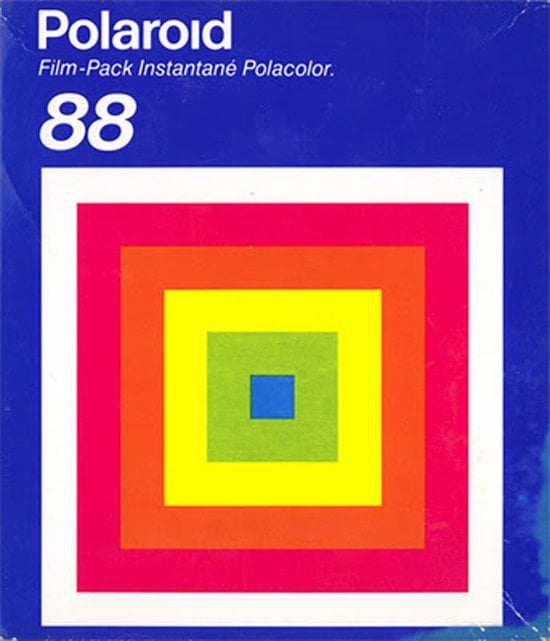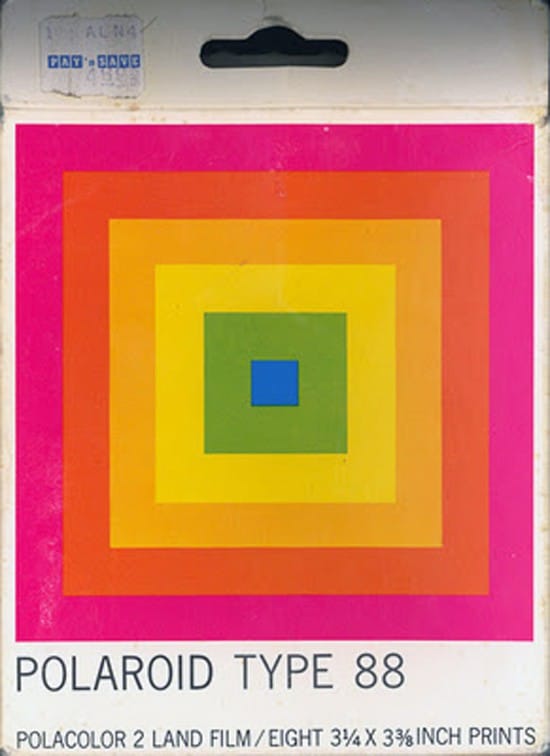 The branding of Polaroid for the win!
Copyright © 2006-2016 All Rights Reserved The Logo Smith : Logo & Brand Identity Design Studio, with 25 Years Experience. Also provide PR Agency Services with The PR Room : Technology PR, Internet of Things PR, and Smart Home PR.
Contact: The Logo Smith , Graham Smith, 10 Badgers Copse, Seaford, England
Tel: +44 (0) 7816 527 462 Email: [email protected]