All Archived Posts in nasa
---
Last Updated: September 14th, 2016
| First Published:
July 14, 2016
| Subscribe with
or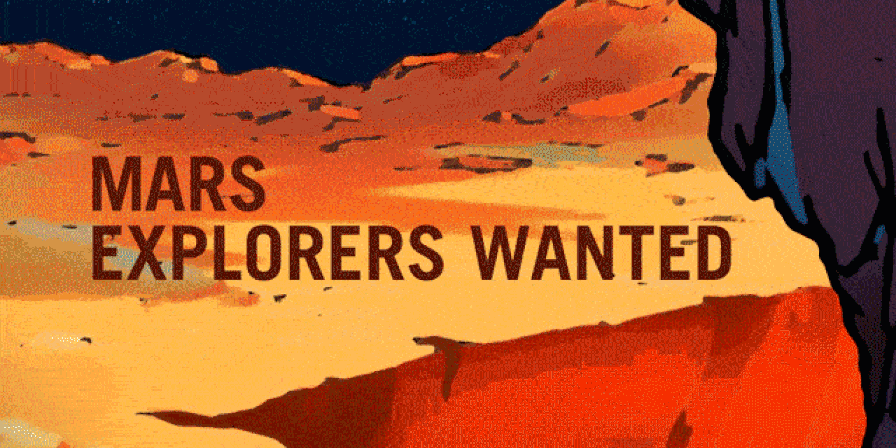 NASA Mars Wanted Posters Designed by NASA
Been meaning to post a link to these NASA Mars Recruitment Graphic Design Posters for a while, but always something else getting in the way. Finally here we are, as I really do love these posters, and love that animated GIF.
According to NASA, for all those that dream to be a martian:
NASA: Mars needs YOU! In the future, Mars will need all kinds of explorers, farmers, surveyors, teachers . . . but most of all YOU! Join us on the Journey to Mars as we explore with robots and send humans there one day. Download a Mars poster that speaks to you. Be an explorer!
NASA have not just designed these beautiful posters to stir up out imagination, and desire to explore and colonise space, you can download incredibly high resolutions versions, for print, also.
As an example, the high resolution TIF files come in at a whopping 92Mb! The posters are completely free, and can be printed and re-used as you see fit!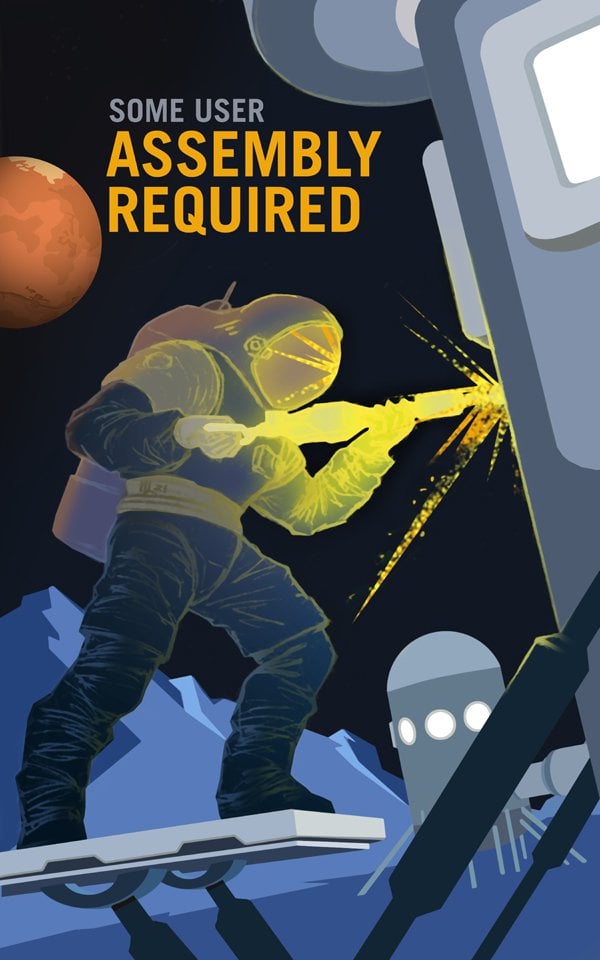 Assembly Required To Build Our Future On Mars And Its Moons
Are you someone who can put things together, solving challenges to ensure survival? Dare to forge our future with space-age tools - build spaceships to carry us to Mars and back, and habitats to protect us while we're there.
Technicians Wanted To Engineer Our Future On Mars
People with special talents will always be in demand for our Journey To Mars. Whether repairing an antenna in the extreme environment of Mars, or setting up an outpost on the moon Phobos, having the skills and desire to dare mighty things is all you need.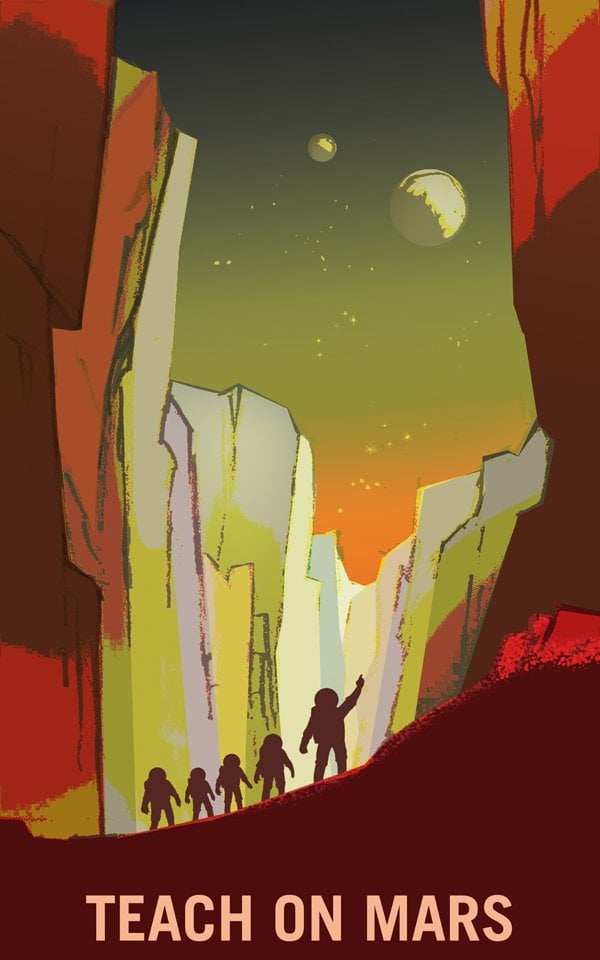 Teach On Mars And Its Moons
Learning is out of this world! Learning can take you places you've never dreamed of, including Mars and its two moons, Phobos and Deimos. No matter where we live, we can always learn something new, especially with teacher-heroes who guide us on our path, daring us to dream and grow!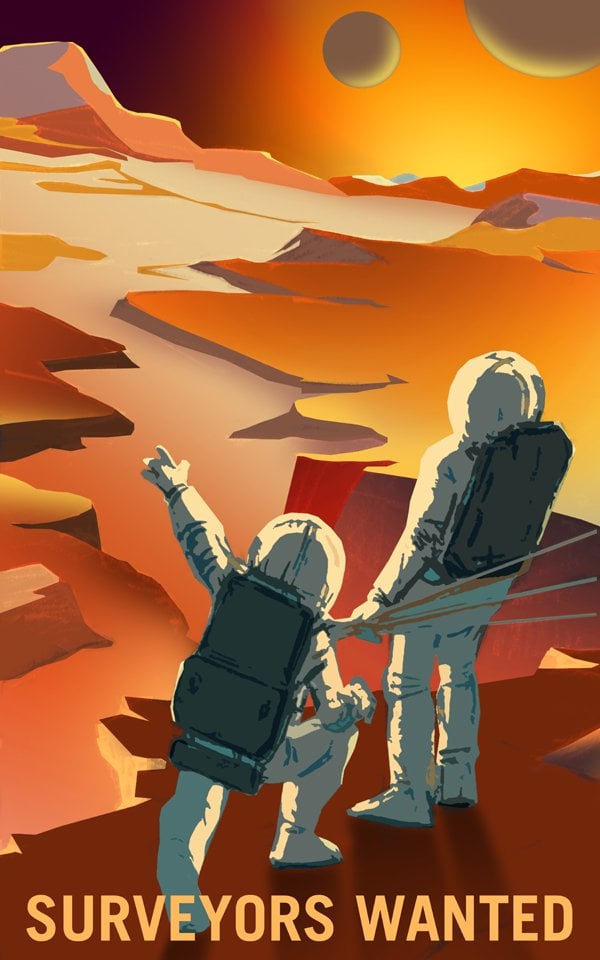 Surveyors Wanted To Explore Mars And Its Moons
Have you ever asked the question, what is out there? So have we! That curiosity leads us to explore new places like Mars and its moons, Phobos and Deimos. Just what lies beyond the next valley, canyon, crater, or hill is something we want to discover with rovers and with humans one day too.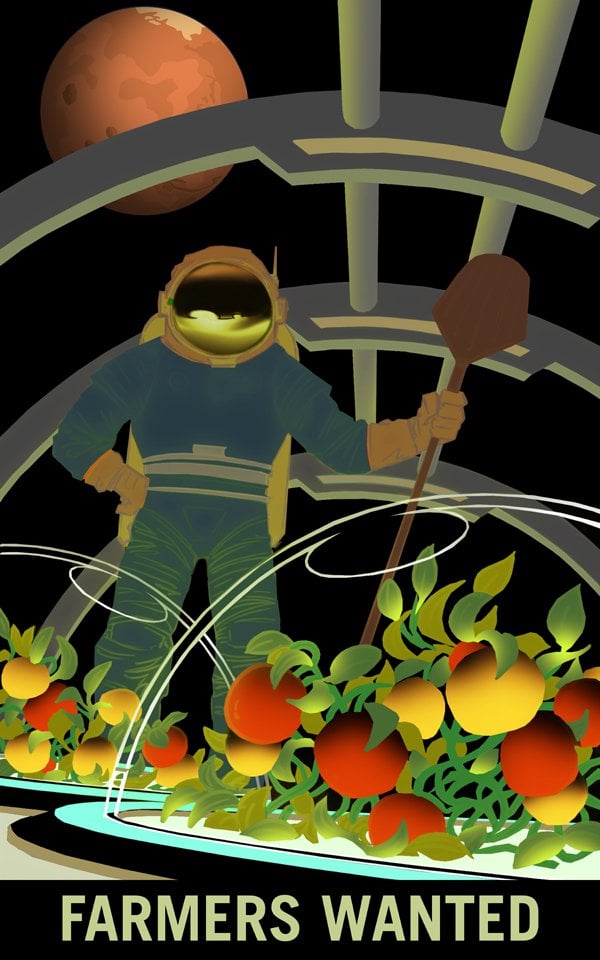 Farmers Wanted For Survival On Mars
Got a green thumb? This one's for you! In space, you can grow tomatoes, lettuce, peas, and radishes just like you would find in your summer garden. New ways of growing fresh food will be needed to keep brave explorers alive.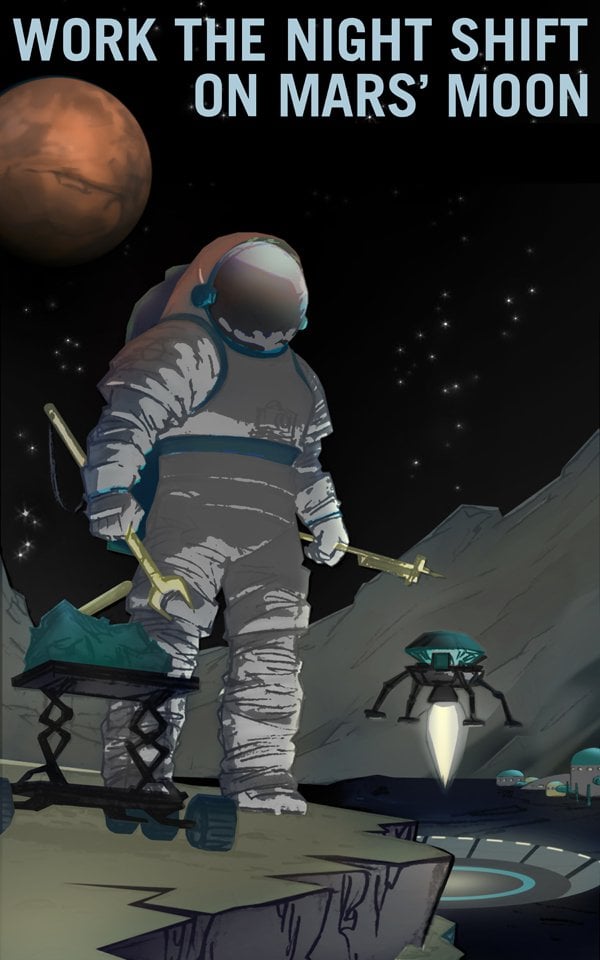 Work The Night Shift On Martian Moon Phobos
Night owls welcome! If you lived on Mars' moon Phobos, you'd have an office with a view, mining for resources with Mars in the night sky. Settlers below on Mars would see Phobos rise and set not once, but twice in one day!
Explorers Wanted On The Journey To Mars
Hike the solar system's largest canyon, Valles Marineris on Mars, where you can catch blue sunsets in the twilight, and see the two moons of Mars (Phobos and Deimos) in the night sky.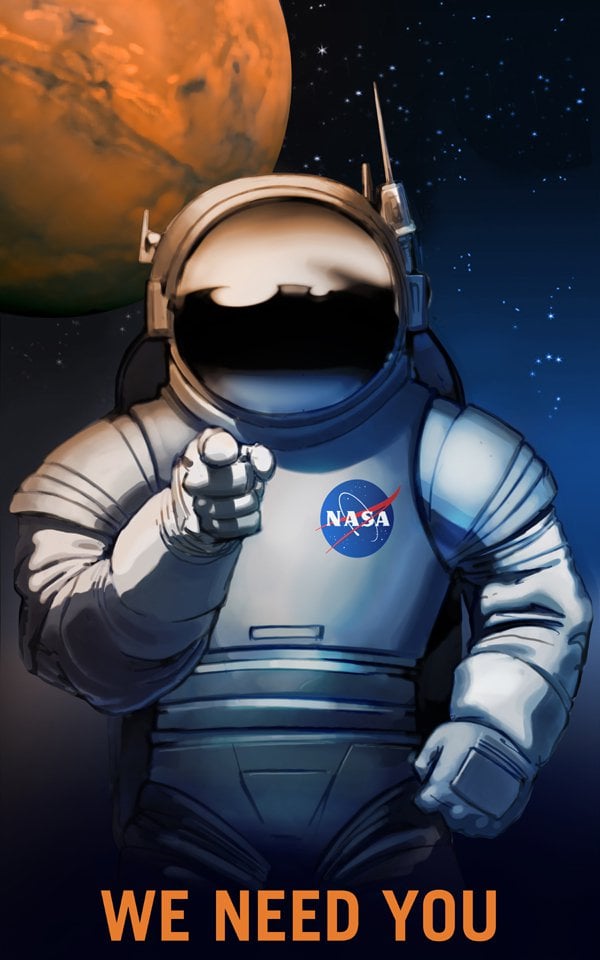 We Need You
We need many things for our Journey To Mars, but one key piece is YOU!
---
Last Updated: September 14th, 2016
| First Published:
March 23, 2016
| Subscribe with
or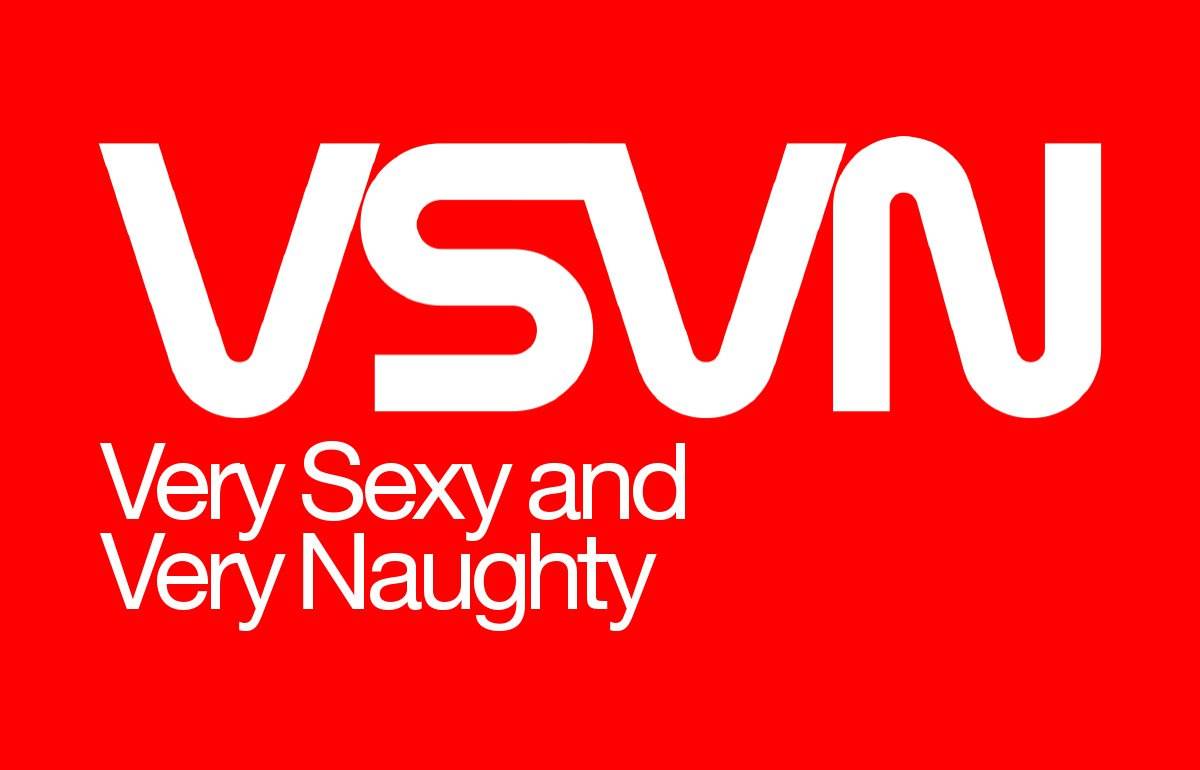 NASA 'Worm' Logo Design Upside Down - Very Sexy and Very Naughty
After the excitement of receiving my copy of the Kickstarter project, "The NASA Graphics Standards Manual reissue", I hurried down the beach to show some of my 'designery' friends.
One of them, who was sitting opposite me, got to see me pull the NASA manual out of it's gorgeous foil envelope, showing that famous NASA Worm Logo in it's upside down glory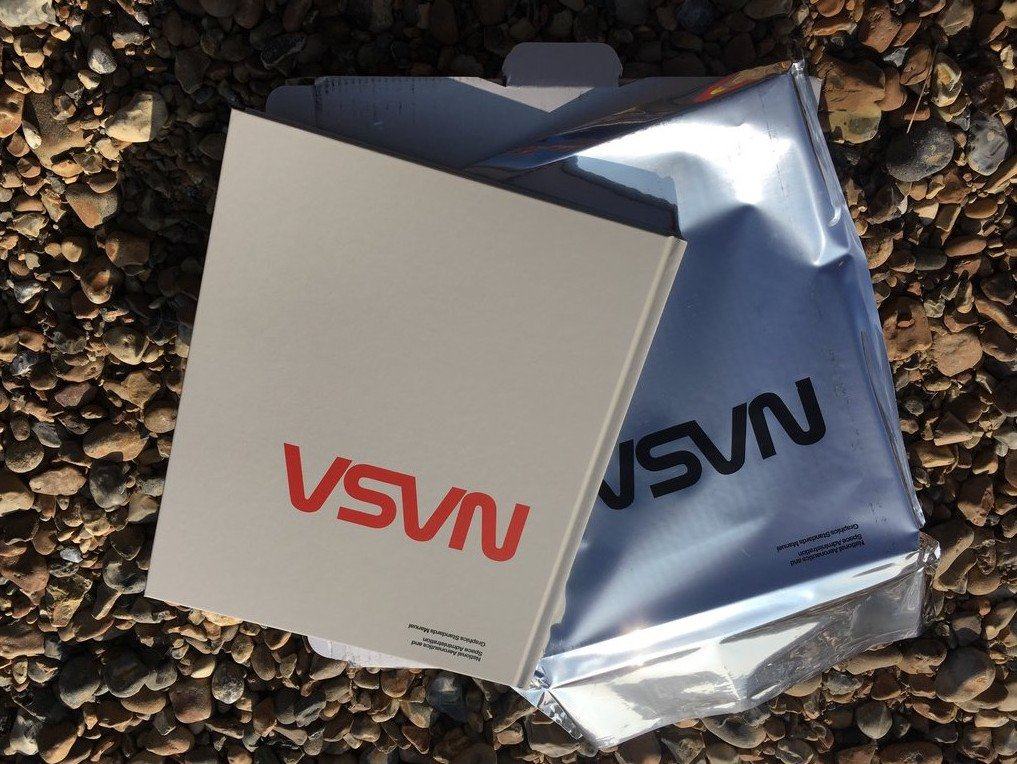 The first thing that he said was, "That reads, "Very Sexy and Very Naughty".
I now can't unsee this, and the juvenile in me had to whip up a version of the NASA 'worm' logo, as an upside down 'alternative', along with the tagline (in the correct typeface and styling of course).
Hey, I know it's not a cool thing to do; to cheapen this iconic brand, but it did make me smirk.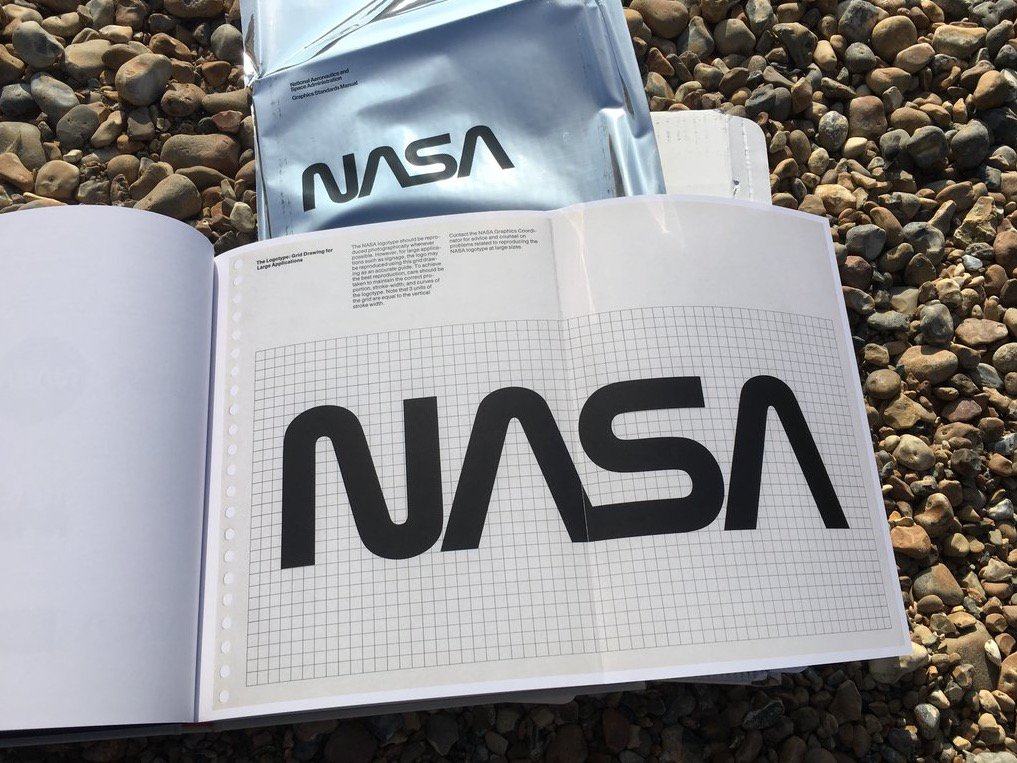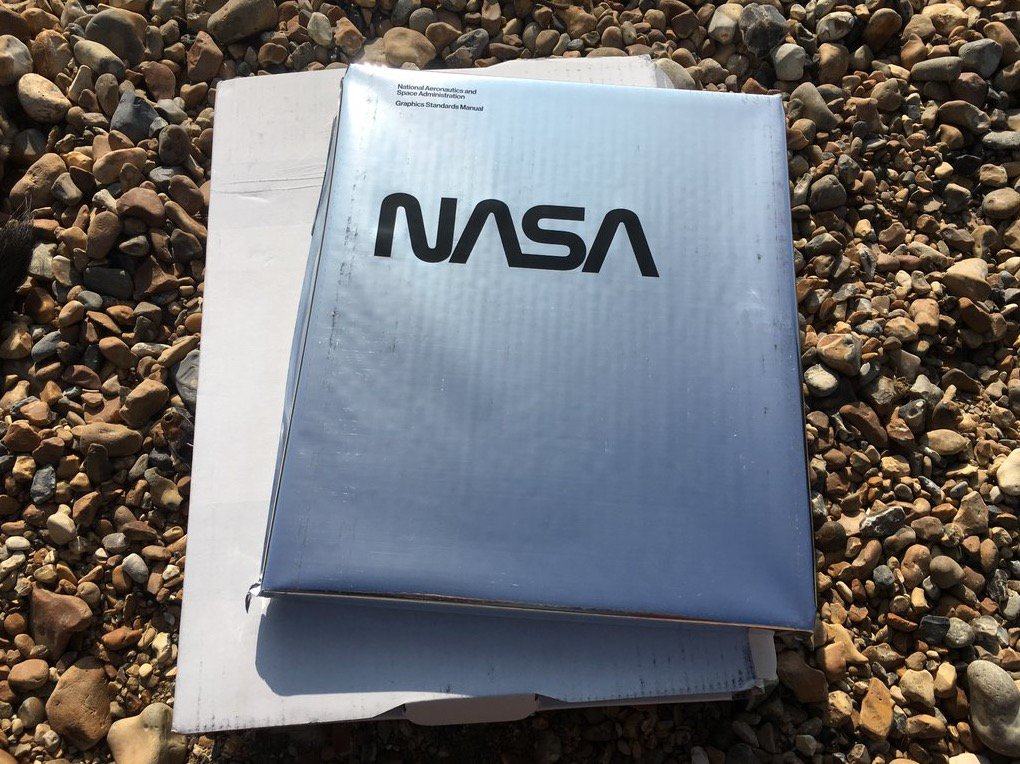 Symbols of NASA: After it was introduced, the "meatball" was the most common symbol of NASA for 16 years, but in 1975 NASA decided to create a more "modern" logo. That logo, which consisted of the word "NASA" in a unique type style, was nicknamed the "worm." That logo was retired in 1992, and the classic meatball insignia has been the most common agency symbol since.
---
Last Updated: September 14th, 2016
| First Published:
December 8, 2015
| Subscribe with
or
Apollo 11 Mission Logo Design as used in Vintage NASA Brochure
Here's a bit of logo design porn for you. Found this on Imgur, and it's the Apollo 11 Mission Logo Design as used on the original mission brochure front cover.
Googling this image came up with a few links, one of which lead to www.lostateminor.com This post showcases a number of vintage NASA brochures and posters, which were auctioned off back in 2013: Spring 2013 Space Exploration Signature Auction.
NASA may have an outstanding space program, but they're not too bad in the design department either. During the 1960s, hundreds of manuals, guidebooks, covers, and posters were created to promote NASA and their events. The posters are filled with vintage typography, classy artwork, and retro colors. The covers are set to be auctioned off at the 2013 April 18 Space Exploration Signature Auction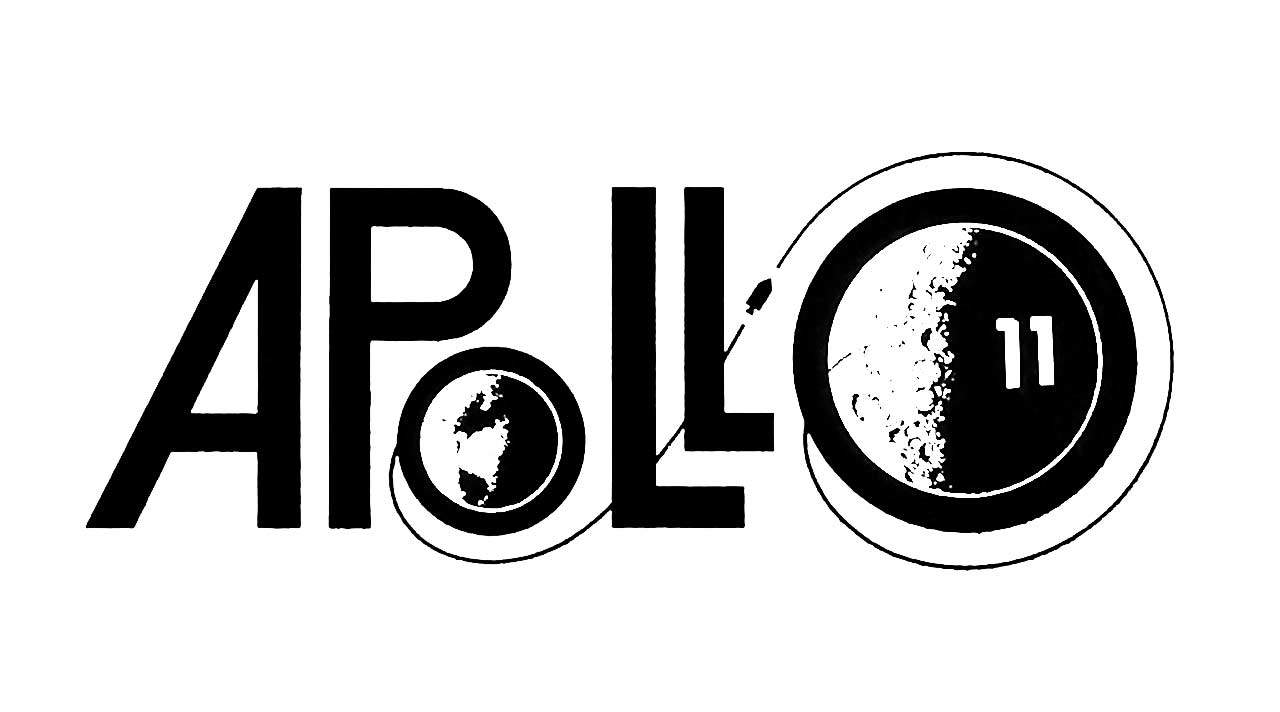 ---
Last Updated: September 14th, 2016
| First Published:
November 13, 2015
| Subscribe with
or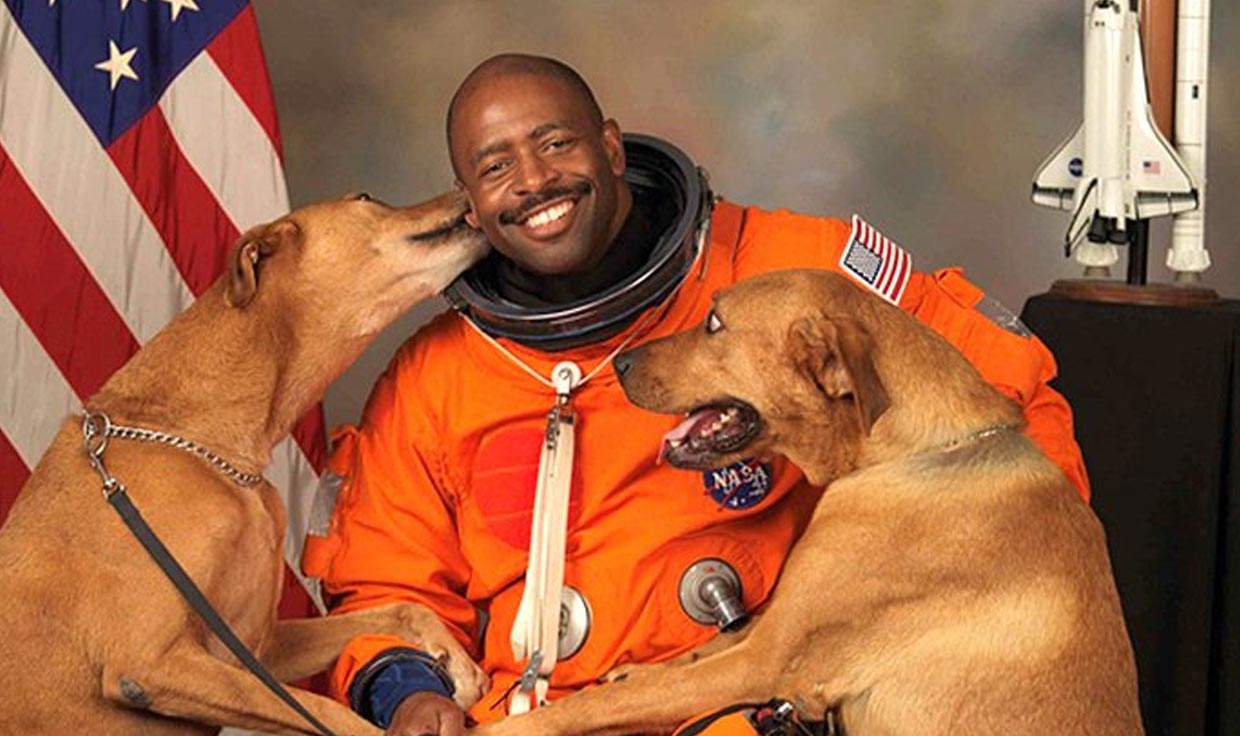 This photograph of NASA astronaut, Leland D Melvin with his dogs Jake and Scout, just brings so much joy to my heart!
Being a dog lover, I can just feel the excitement, the love and the happiness both Leland, Jake and Scout are all feeling.
Just look at Leland's smile, then Scout's eyes nearly popping out of his sockets.
Just beautiful.
» Found via: d
Found it. Best astronaut photo of ALL TIME. @NASA's @Astro_Flow with his dogs Jake and Scout. pic.twitter.com/QrYZacCy0p

— Courtney O'Connor (@CourtOConnor) November 11, 2013
Wiki: Melvin began working in Nondestructive Evaluation Sciences Branch at NASA Langley Research Center in 1989. His responsibilities included using optical fiber sensors to measure strain, temperature, and chemical damage in both composite and metallic structures. In 1994, he was selected to lead the Vehicle Health Monitoring team for the cooperative NASA/ Lockheed Martin X-33 Reusable Launch Vehicle program. In 1996, he co-designed and monitored construction of an optical nondestructive evaluation facility capable of producing in-line fiber optic sensors.[8]

Selected as an astronaut in June 1998, Melvin reported for training in August 1998. He has since been assigned to the Astronaut Office Space Station Operations Branch, and the Education Department at NASA Headquarters, Washington, D.C. As co-manager of NASA's Educator Astronaut Program, Leland Melvin has traveled across the country, discussing space exploration with teachers and students, and promoting science, technology, engineering and mathematics. He next served in the Robotics Branch of the Astronaut Office. In October 2010, Melvin was named as associate administrator for the Office of Education. As associate administrator, Melvin was responsible for the development and implementation of NASA's education programs that inspire interest in science and technology and raise public awareness about NASA goals and missions. He retired from NASA in February 2014.[8]
---
Last Updated: September 14th, 2016
| First Published:
December 11, 2014
| Subscribe with
or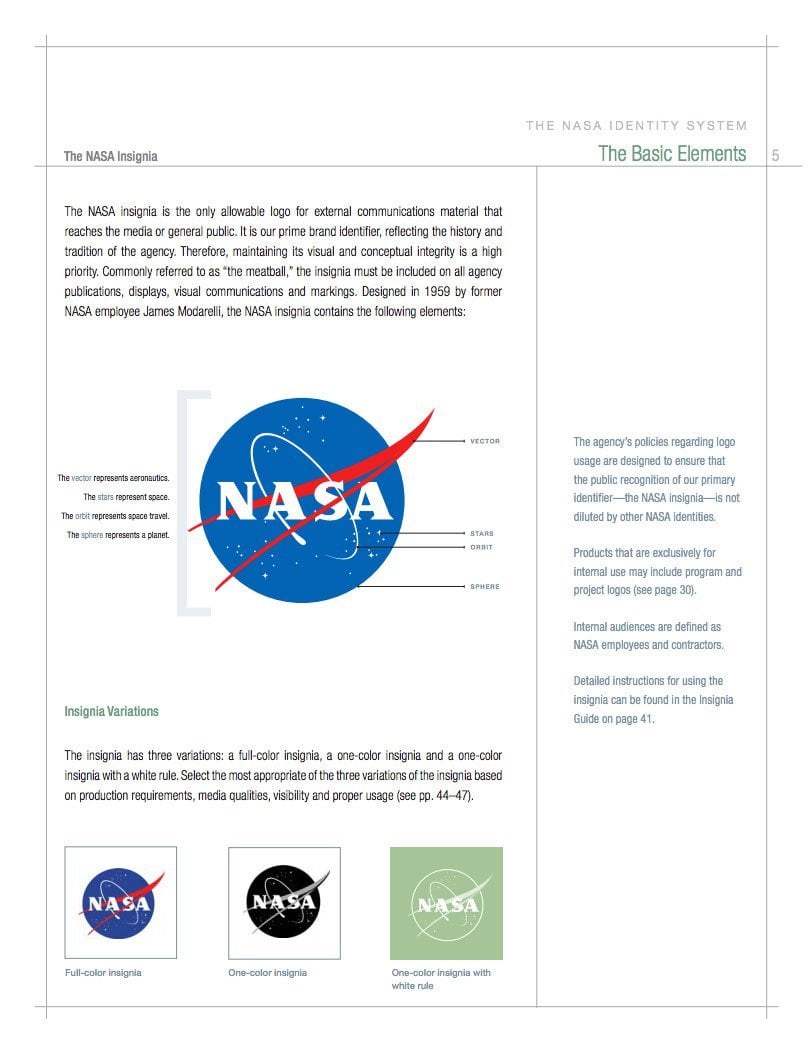 NASA Style Guide - Logo and Brand Identity Manual - The Full Version
Came across this new version of the NASA Style Guide via a Tweet from Nadir Balcikli (Logorado), and simply had to create a new blog post about.
The NASA style guide https://t.co/bUhZ20jNlD

— Nadir Balcikli (@logorado) December 9, 2014
I've previously posted older NASA Logo & Brand Identity Style Guides: The NASA Identity Design Program & Updated: NASA Brand Identity Guidelines 1976, which covers my favourite version of the NASA logo design. So it's bloody great to have a downloadable PDF link to the new version.
Not sure I'm too keen on the overall design and layout, feels a little too cold and clinical for me. OK, I know it's some major scientific space company, but even so, still feels it could have had just a touch more polish to it.
Seriously, I do get that style guides perform a function, and they have to be clear and easy to read and interpret, but that shouldn't stop them from being overly bland and clinical. Anywho, that's me just being selfish I guess. I still resent NASA changing the logo all those years ago, so I guess I'm still feeling bitter and disgruntled about that. :)
Regardless of where you stand on the design of this style guide, it's worth taking a look at the PDF as a reference for what items are generally considered useful to include in your own logo and brand identity style guide.
@thelogosmith The first style guide I've ever seen where Comic Sans is listed as an approved typeface. Excellent work, Nasa. Excellent. :)

— Christian Duncan (@chrisduncan81) December 11, 2014

---
Last Updated: September 14th, 2016
| First Published:
April 13, 2014
| Subscribe with
or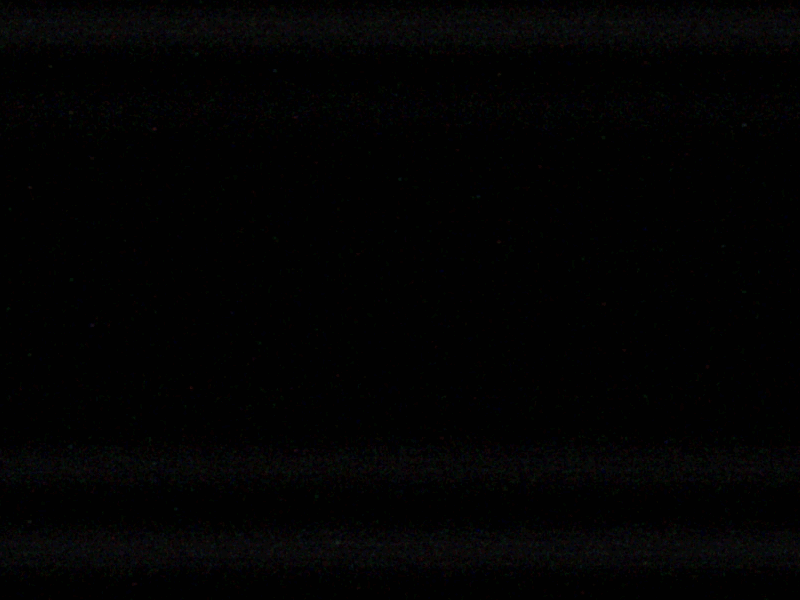 Super Cool Retro NASA Animated Logo ID
I absolutely love finding these retro animated NASA logo, video presentations. For a while, before I posted this, I actually thought it was a genuine NASA production, but turns out it was created by a Redditor, going by the user name _Charlie : I designed this retro-futuristic NASA logo animation, thought you guys would like it!
If fake NASA logos don't do it for you, and you want genuine retro NASA animated logos, then check this post out: NASA's 'Worm' Logo Animated in 70′s Groovy Fashion and includes 3 other Retro NASA animated logos, or video/TV idents.
If you come across any more of these then please please send them my way. :) There's also a YouTube version, which looks slightly cleaner:
http://youtu.be/dwdws90cxAA
---
Last Updated: September 14th, 2016
| First Published:
September 15, 2013
| Subscribe with
or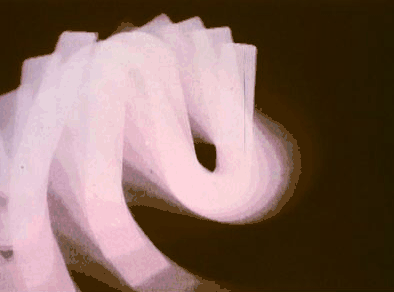 Not sure I've seen something this cool in ages. What could be more cooler than seeing the remarkably cool NASA 'worm' logo spinning into position like some 70's take on travelling through a groovy wormhole whilst stoned.
Don't leave without also checking out: NASA Identity Design Program
» Via: http://unifiedpoptheory.com/vintage-1977-nasa-video-talks-about-voyager/
» Source: Aeronautics And Space Report 1977
Two more animated NASA logos (below) from: It's OK To Be Smart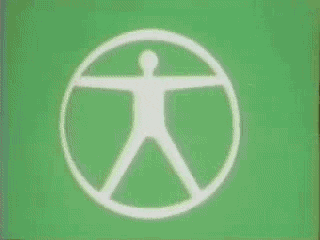 ---
Last Updated: September 14th, 2016
| First Published:
April 4, 2013
| Subscribe with
or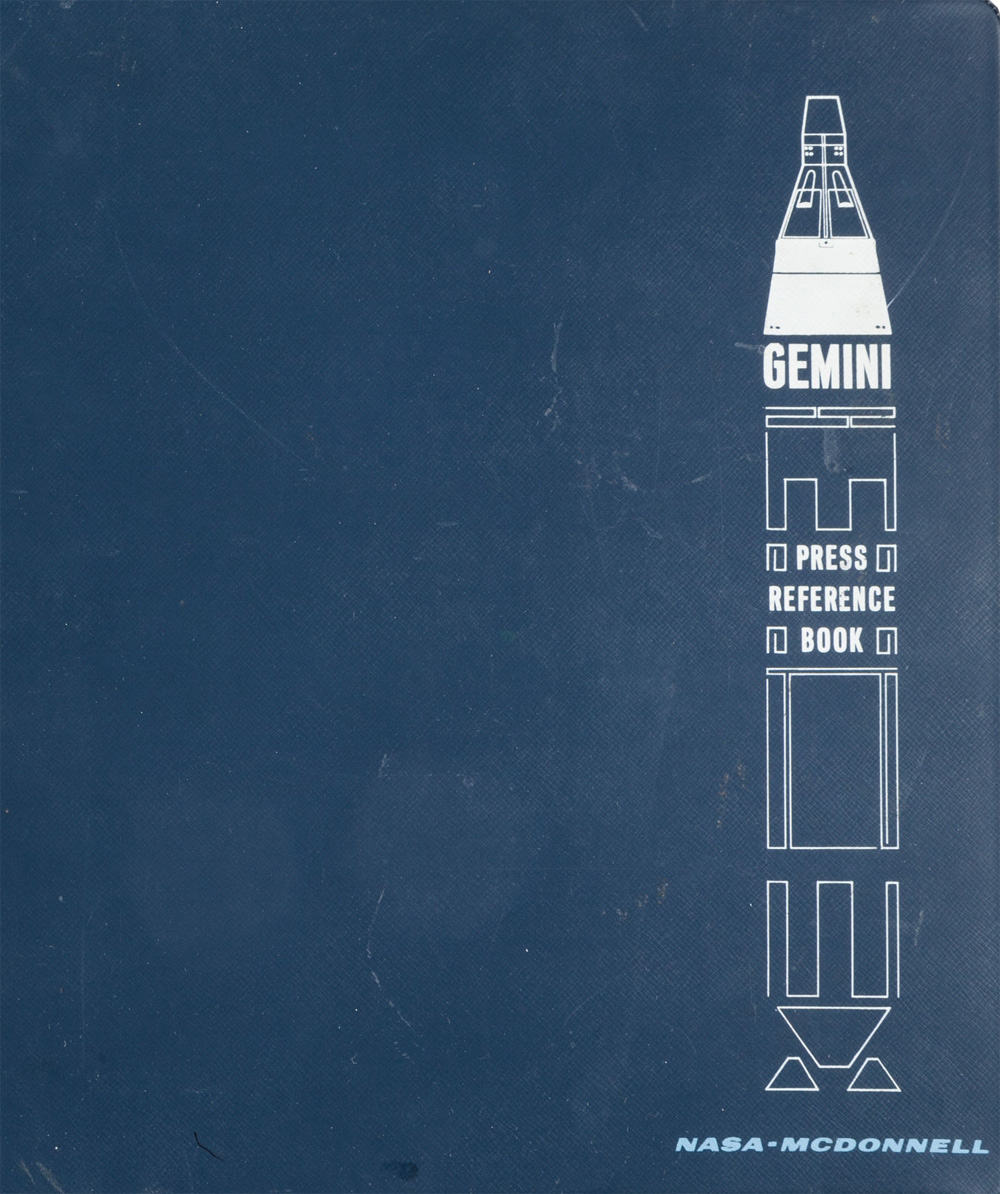 A stunning collection of 20 American space (NASA) program: covers, reports, brochures and other vintage era space themed design and typography all from an upcoming: 2013 April 18 Space Exploration Signature Auction by Heritage Auctions.
Just trying to imagine the excitement of having the responsibility to create such historic pieces of design. My favourite cover is this last one above for the Gemini Press Reference Book, but in general there is some gorgeous typography through out the entire collection.
» Via: Daring Fireball
---
Last Updated: September 14th, 2016
| First Published:
August 31, 2012
| Subscribe with
or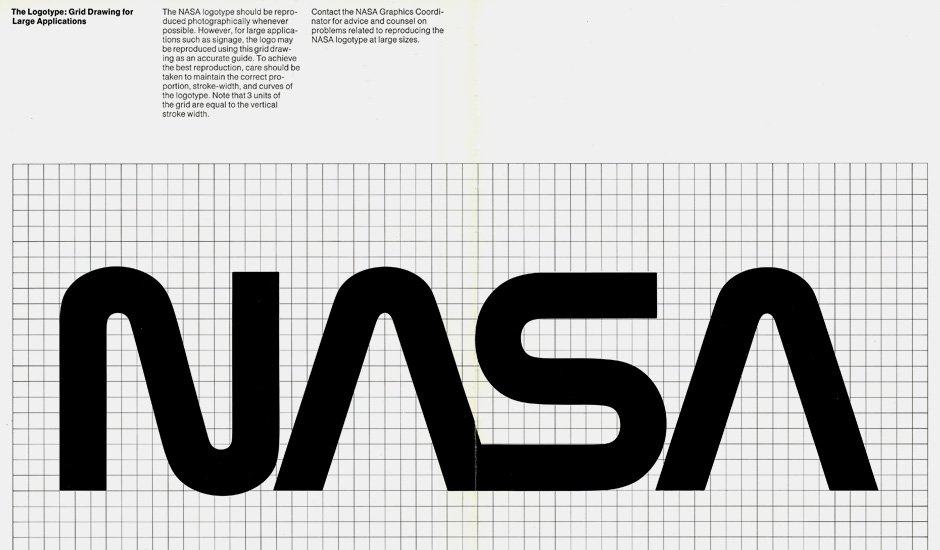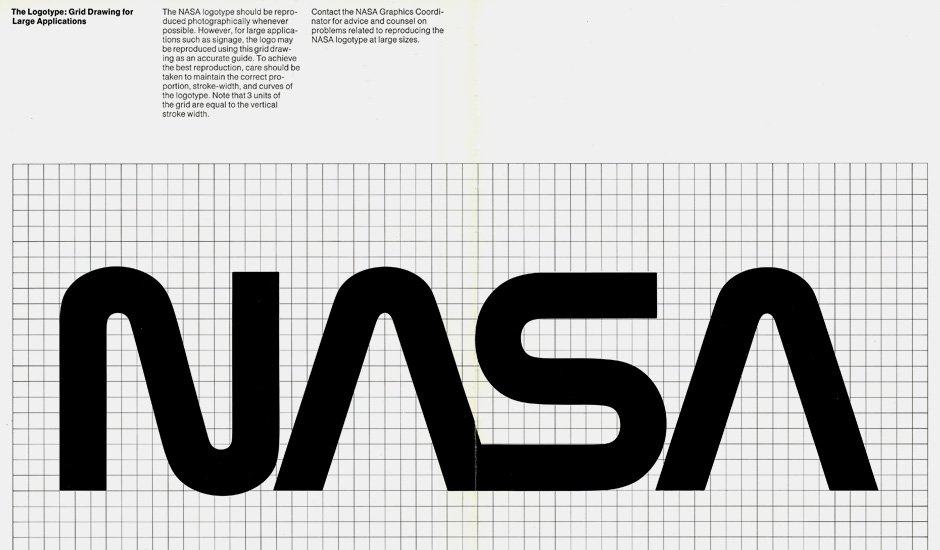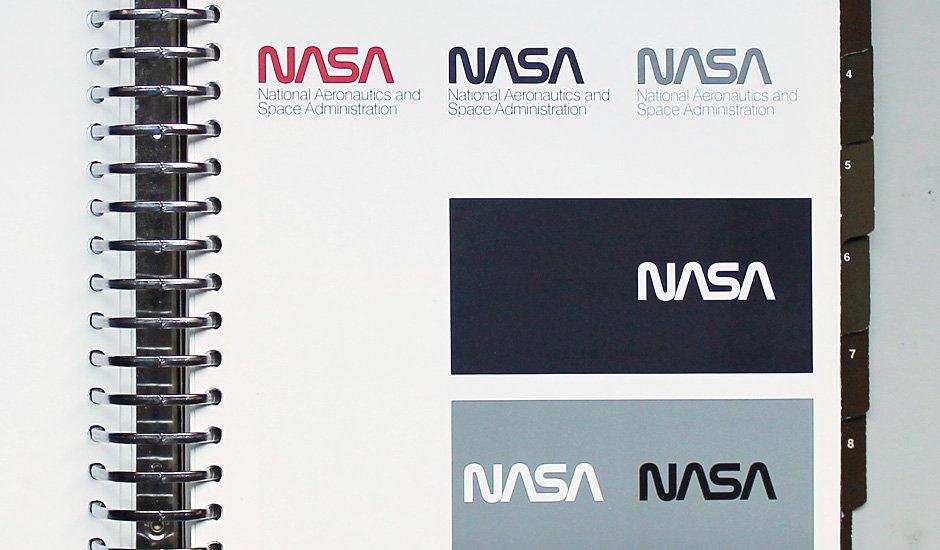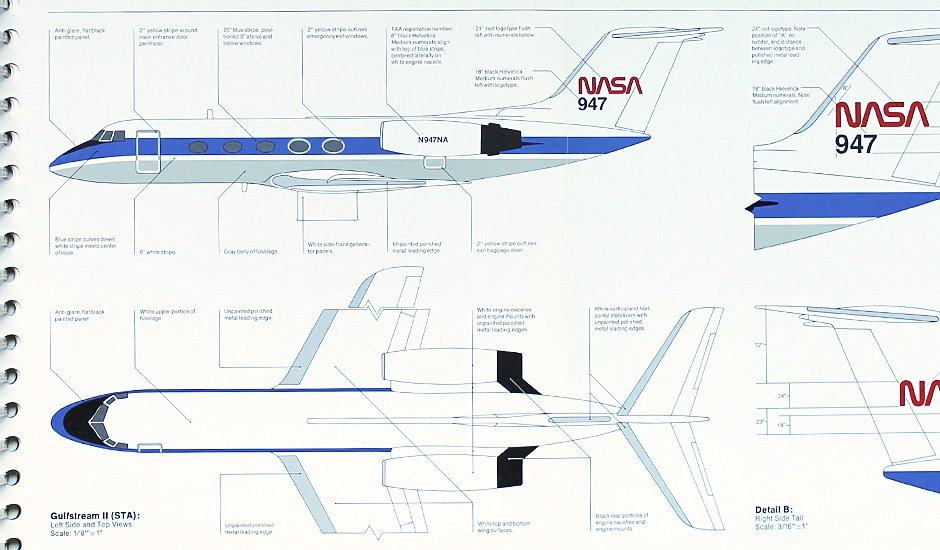 Some logos, NASA's included, should never have been retired. Some logos, NASA's included, were designed with such skill that they could have gone on and on and on and on.
I am still in awe over this version of the NASA logotype, and I always will be.
There are some other NASA logo posts elsewhere in my archives, like this post right here: Updated: NASA Brand Identity Guidelines 1976 which is really rather cool in itself, but the purpose of this little post is to kindly draw your gaze over to ThisIsDisplay.org where there is a lovely piece on The NASA Design Program:
The National Aeronautics and Space Administration Design Program is a modernist vision for an optimistic future. The logo (often referred to as the "worm") evokes qualities of unity, technical precision, scientific capabilities and uniqueness. Reduced to its simplest form; the one width, continuous-stroke letters are as contemporary today as when the logo was first introduced by Richard Danne (Design Director) and Bruce Blackburn (Designer) at Danne & Blackburn, New York, NY) more than 37 years ago. How then, in 1992, after 19 years, did such an emblematic design program for a future-oriented Federal Agency be dropped for it's previous (now current) Insignia (the "meatball")? What follows is a heartfelt personal account from Mr. Danne on the obstacles and achievements of one of the century's most important and widely published design programs.
In case you don't like reading, and subsequently don't reach the end of the page, there is a link that will take you to Display's Flickr Set where there are millions more NASA identity design images.
» Source: Display
» Via: Doobybrain
---
Last Updated: May 9th, 2014
| First Published:
October 23, 2011
| Subscribe with
or
These Unofficial NASA Mission Patches by James White have to be some of the yummiest badge designs ever. Colourful, bold, vibrant and candy like.
Read more Unofficial NASA Mission Patches by James White
© 2006-2016 All Rights Reserved
The Logo Smith: Logo & Brand Identity Design Studio, with 25 Years Experience.

Graham Smith: 10 Badgers Copse, Seaford, England
Tel: +44 (0) 7816 527 462 Email: [email protected]