All Archived Posts in moo
If you have ever been curious about adding a logo design to a QR code then Brian over at Hack-a-Day has writte "How to put your logo in a QR code".
Brian was inspired by some previous attempts at this artform notably when Duncan Roberts, software engineer at the BBC, created the BBC's own logo in a QR code for BBC Progammes Beta.
If you think one is limited to bitmapped images then Brian has shown that you can also add colour, and even higher resolution images such as the IBM and Firefox logo.
Brian clearly states that the Firefox logo he has created is just for example, but with some colour and pixel optimisation it could end up looking a little better.
QR codes are becoming increasingly important so it makes sense we try to bring some creative and practical harmony to these square blocks with our designs. Some feel they should just be left as they are, so long as they scan that's all that is important, and some feel that they should be more visually integrated within the surrounding area.
Barcodes had the same problem yet it's only relatively recently that creative barcode design has really taken off. Although it's probably bordering on extreme cheesiness, for the most part.
Even Moo.com have printed QR cards on business cards so it's time to get over barcodes and fully embrace the rawness of the QR.
Mashable has a piece covering even more creative manipulations of QR codes, but this is about the general appearance of a QR code rather than cunningly inserting a logo into one, "HOW TO: Make Your QR Codes More Beautiful"
Have you tried playing with QR codes or have you examples of logo designs efficiently melded into a QR code?
A few weeks ago there was in interesting post doing the rounds on minimal style business cards. The motivation was to create mostly blank cards with maybe a logo or one specific useful bit of printed information; leaving the giver to jot a custom note or allowing the recipient to do it themselves.
I found this to be a really interesting take on business cards as it allowed for a more personal and unique touch to what can be a rather steril and generic action, and so I decided to create some myself.
They are not business cards in the general sense, I would say they are more of a business note card.
What And How
The first thing was to decided on the level of information to be printed, so I opted for a double sided option: full logo on top front left and then my tag line on the bottom left reverse leaving ample blank space for notes and scribbles.
I then looked at how one could get this information onto the card and considered regular litho or digital printing, creating an even more minimal look by just having a Spot-UV of the logo, and the last option was a deboss or letterpress. As this was more a trial run I opted for the quick and easy option of printing just black, and saving the more costly versions if the trial was successful.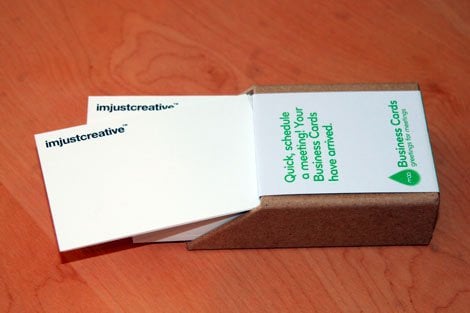 Where And What
Moo.com was the obvious choice for hassle free and cost effective printing so the only other decision was the card type to use. I usually use their coated stock which is really nice and relatively firm at 350gsm, but the coated card can be tricky to write on with Biro or pencil.
To allow easy scribbling with any kind of pen or pencil opting for the uncoated and 100% recycled card option makes perfect sense. The uncoated cards actually has a heavier tactile feel to it than the coated card in my opinion.
The cards took just over a week to arrive and I am really pleased with the overall look and feel of these minimal style logo cards. When you add them to the Moo card holder, which fans out, you get a nice spacious view of the cards and logo.
As there are three levels to the card holder I reversed the card on the bottom level so that the tag line is also viewable on presentation, as you can see below.
Worth A Shot
If you are bored with full contact business cards then it is well worth considering this option as a supplement or replacement. Being a logo designer the concept works nicely as they really are just my logo cards, and the message could not be clearer.
Cost £28: 50 double sided cards on uncoated 100% recycled stock plus white Moo card holder including P&P and VAT.
The only proviso here is that you always carry a pen or pencil but as I rarely go anywhere without my notebook and writing stuff this is not a concern.
Featured on Moo
Proud to have these cards featured in a blog post on the Moo.com blog.
Graphic minimalism : MOO cards by designers
Moo will do nicely thank you
So it seems that free fonts are being blitzed out on us on an almost daily occurrence, and this font by Loligo Vulgaris is no exception. He has also been responsible for some other great chunky fat fonts, ExaBlock stands out as one, so go and check his site.
Never ceases to amaze me how designers and typographers spend their valuable hours, only to give away finished results for free, namely fonts. Creating a typeface is a lengthy job, no two ways about it. So hats off to any designer frankly, who is able to design a useable typeface, let alone make it available for free, or release it to the OpenSource Community.
Being a freelance logo designer, finding quality and unique 'free' fonts for that next logo project can be a struggle. Whilst there are 1000's available, many are poor in quality and feel. Finding those 'special' free and open-source fonts is something of a past-time for me.
Moo Typeface - Ideal for Logo Designs

This one came hurtling down my broadband connection courtesy of  TypeNue.
MOO! is a free font, a ultra-fat, electro-style, geometric typeface. It was designed focusing on logotypes, titles and display letterforms, with cut-out diacritics.
If you use the font, the designer would love to see any examples, so don't be shy.
The Designer of Moo!
Loligo Vulgaris
Download Moo! Below
Download MOO!