All Archived Posts in Michael Evamy
---
Last Updated: September 14th, 2016
| First Published:
August 20, 2012
| Subscribe with
or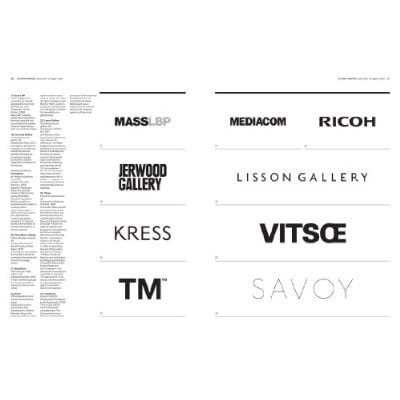 If there is one logo design book you need to earmark, right about now, it would be Logotype by Michael Evamy and published by Laurence King. Michael authored, what I consider to be, the best logo book out there: Logo, so I think he knows a thing or to about putting together a successful logo design book.
Amazon: Logotype is the definitive modern collection of logotypes, monograms and other text-based corporate marks. Featuring more than 1,300 international typographic identities, by around 250 design studios, this is an indispensable handbook for every design studio, providing a valuable resource to draw on in branding and corporate identity projects. Logotype is truly international, and features the worlds outstanding identity designers. Examples are drawn not just from Western Europe and North America but also Australia, South Africa, the Far East, Israel, Iran, South America and Eastern Europe. Contributing design firms include giants such as Pentagram, Vignelli Associates, Chermayeff & Geismar, Wolff Olins, Landor, Total Identity and Ken Miki & Associates as well as dozens of highly creative, emerging studios. Retaining the striking black-and-white aesthetic and structure of Logo (also by Michael Evamy) and Symbol, Logotype is an important and essential companion volume.
I'm super duper excited about the imminent release of Logotype as this is an area I find most satisfying in my own logo designing. There is something particularly challenging, and pleasing, in trying to create a strong logo that mostly consists of typography without additional/standalone graphical images to support it.
Logotype is one book you really do need to have in your collection. If you don't yet have the mighty impressive Logo and Symbols books, then look to correct that oversight super pronto.
You can go and preorder Logotype on Amazon for £15.75 with an expected release date of: 17th September, and comes with 336 printed pages.
---
Last Updated: May 9th, 2014
| First Published:
May 16, 2011
| Subscribe with
or
Posted By:
Graham Smith
Categories:
Books
,
Brand Identity
,
Inspiration
,
Reviews
Tags:
book
,
graphic design
,
identity
,
inspiration
,
Logo
,
logo design
,
logos
,
Michael Evamy
,
type
Logo is one of my most read and prized logo design books which has lead me to update this mini review, which was first published in November 2008, and repost it.
Published by Lawrence King, and written by Michael Evamy Logo is a thick book at 350 pages with mostly black and white imagery. Each chapter starts with one covering page showing thumbnails of the logos to be covered in colour which acts as quick cheat sheet.
The forthcoming pages then present each logo in large scale solid black and white with text description: who designed it and the occasional factoid.
The layout and design of the book is well structured, clean and easy to follow.
Logos are grouped and categorised in sections with a diverse set of categories: strands, waves, concentric, ovals and ovoids, punctuation marks, single letters so plenty of scope for drawing on inspiration.
It's a hefty book and the uncoated paper it's printed on feels sturdy so no obvious signs of trying to cut costs with wafer thin paper. The book cover itself is glossy and of a fold-out design easily removable to provide you with a huge fold-out reference poster.
Unlike LogoLounge and other inspiration type books most of the logos covered have have accompanying text descriptions for the 1300 logos included.
If you are a logo designer or appreciate  logo and identity design then this particular logo book is a valuable addition to your library. I purchased this shortly after it was first published a few years back now, and it's still the first book I refer to when starting on most new projects.
I am looking forward to a hopeful update to this book.
If you need professional grade logo inspiration then look no further.
© 2006-2016 All Rights Reserved
The Logo Smith: Logo & Brand Identity Design Studio, with 25 Years Experience,
in Cahoots with, The PR Room - Public Relations Agency: Tech, IoT & Smarthome PR Services.

Graham Smith: 10 Badgers Copse, Seaford, England
Tel: +44 (0) 7816 527 462 Email: mailto:[email protected]