All Archived Posts in Massimo Vignelli
---
5 Phrases Of Massimo Vignelli: 'Vignelli Forever' Set in Helvetica
Gorgeous set of posters, entitled: Vignelli Forever, by Anthony Neil Dart using Helvetica, of course!. Anthony has designed one main poster summing up five well-known phrases, and quotes, by Massimo Vignelli, then a further five posters each displaying one of the five phrases.
These have been floating around for a few years now, but really do like them and felt another airing would be worthwhile. Decided to keep the jpg files as high-resolution as possible, rather than downsampling, to keep the pretty small fine-print as legible as possible. Let's see how well MaxCDN, CloudFlare, W3 Cache and BJ Easy Load work together to reduce this pages download speed/size!
I'd really like to get my hands on a set of these, they look so smart! The Vignelli Forever posters were originally found via AdWeek, in their Talent Gallery.
The five Massimo Vignelli phrases are:
One life is too short for doing everything.
We like design to be visually powerful, intellectually elegant and above all timeless.
If you can design one thing, then you can design everything.
If you do it right, it will last forever.
The life of a designer is a life of fight against the ugliness.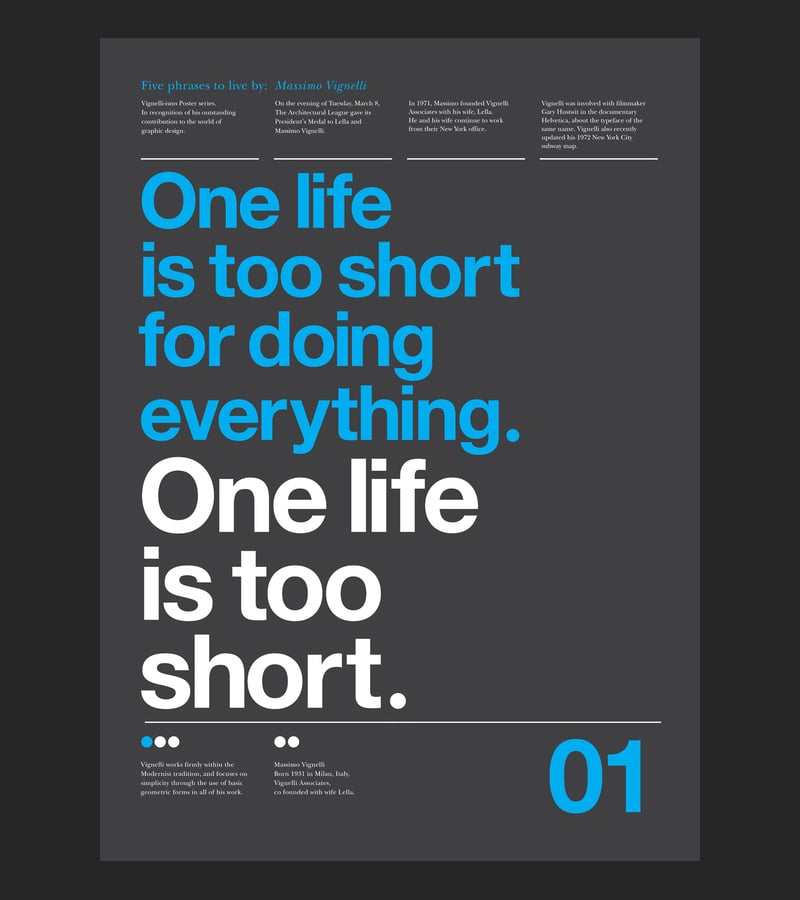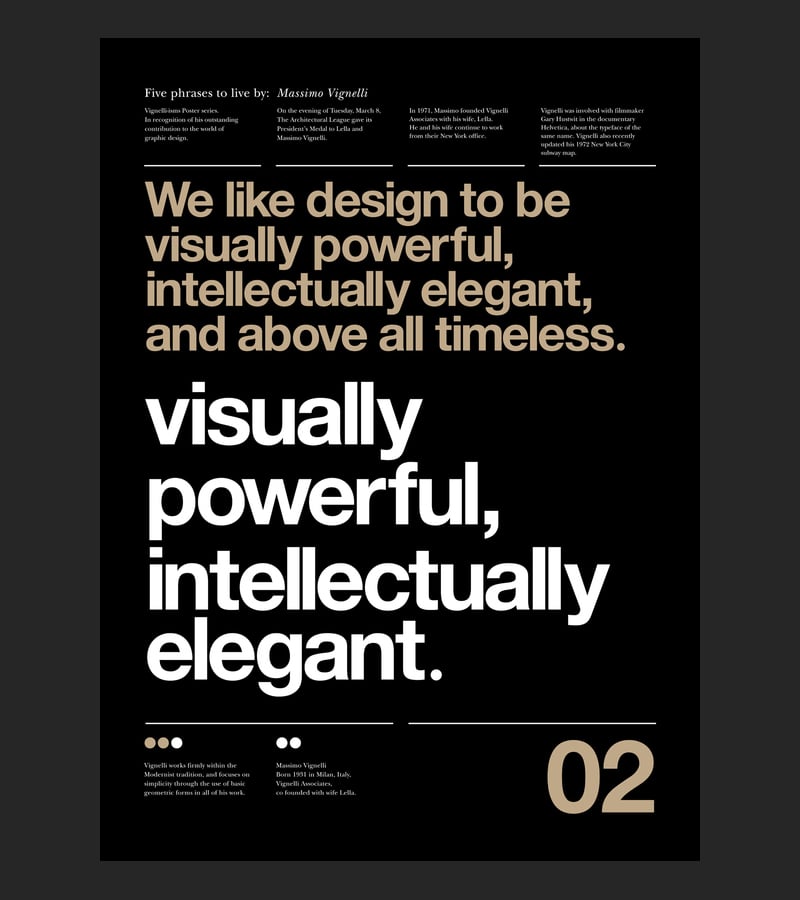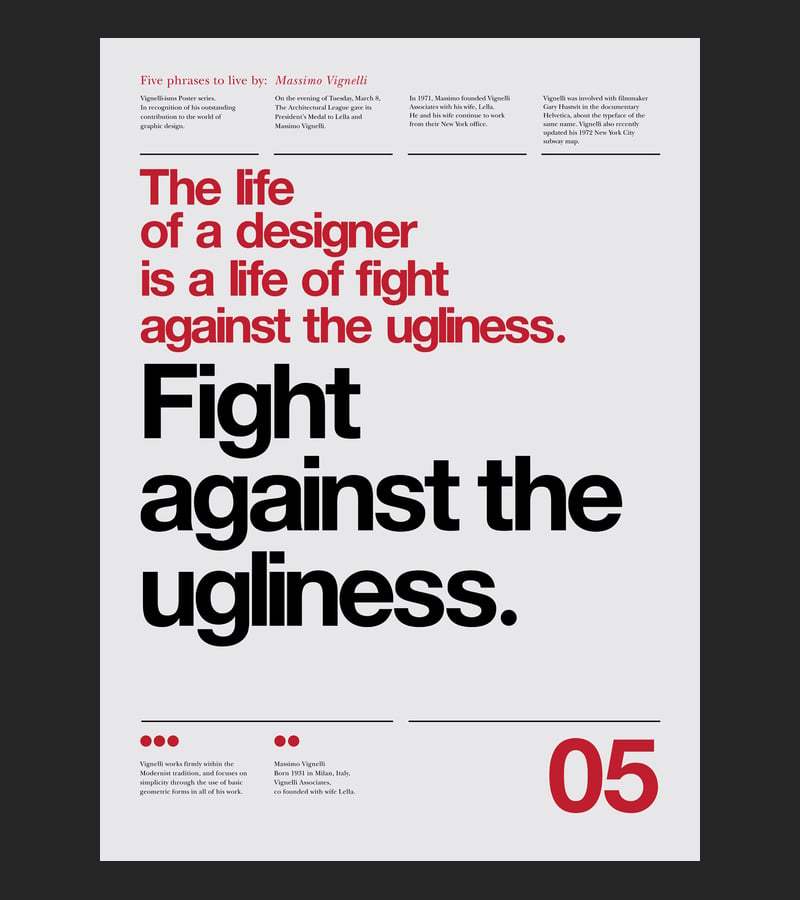 ---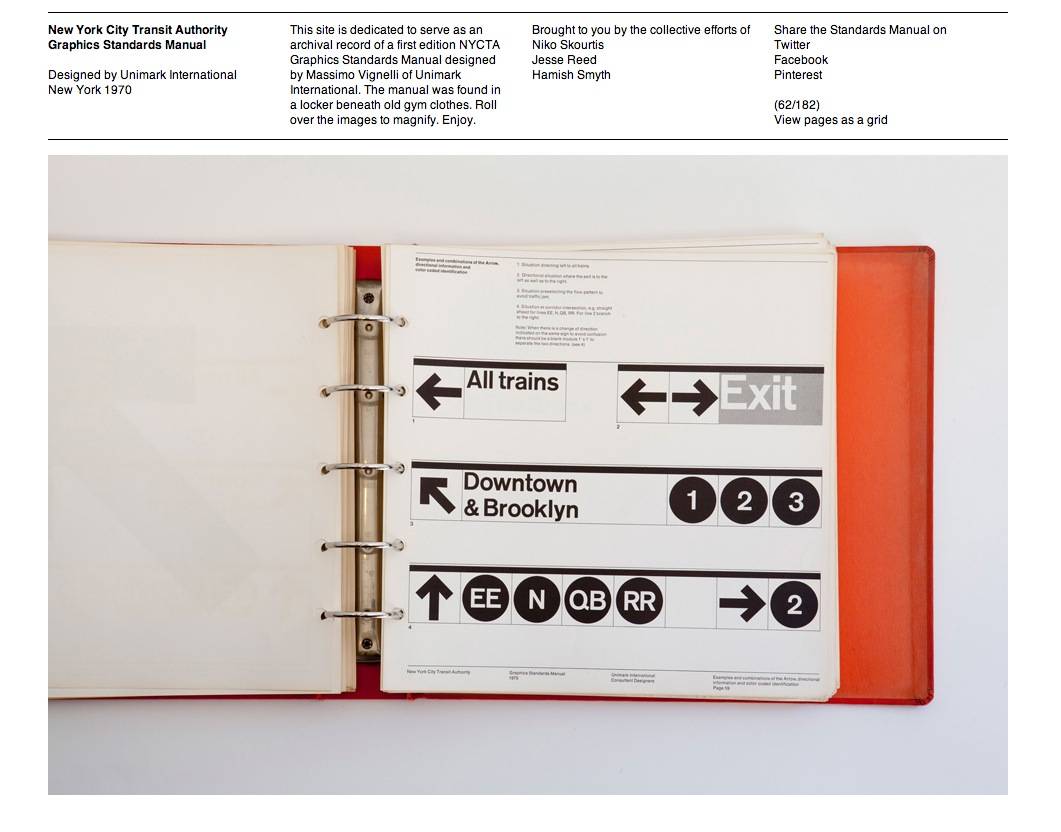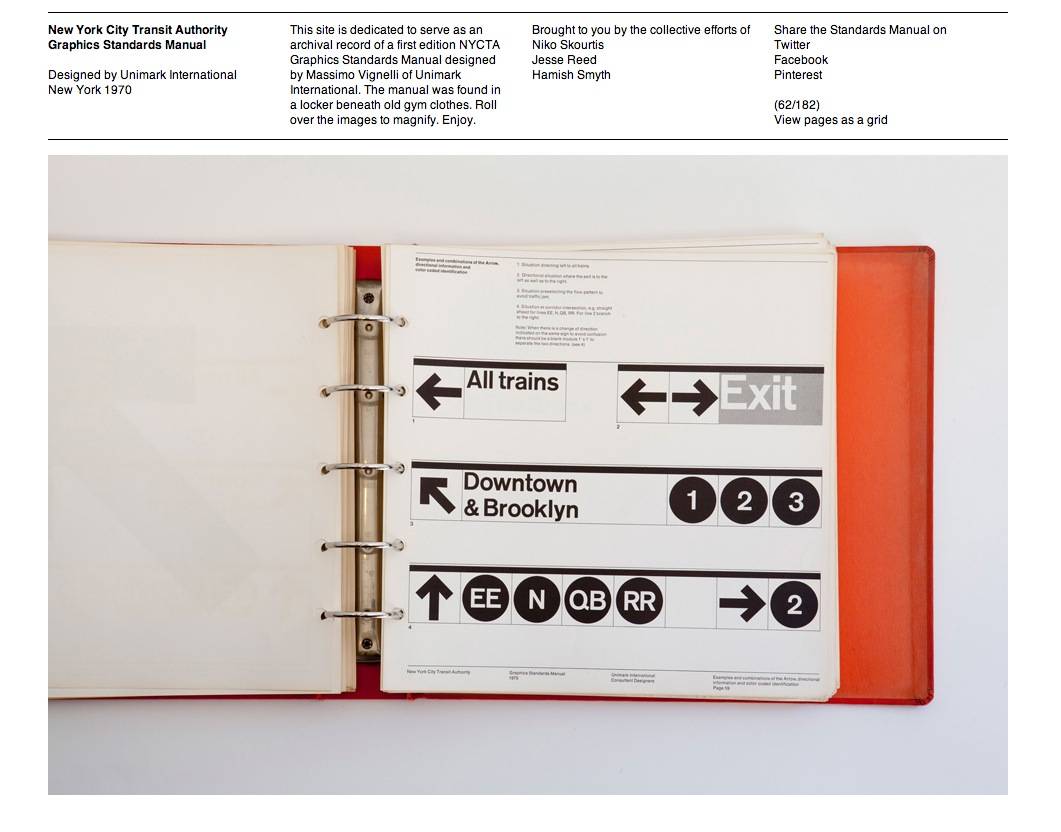 New York City Transit Authority Graphics Standards Manual
There are a few real world establishments that can claim to have the endearing longevity that the brand identity for the New York City Transit Authority has had and continues to experience. Designed by Massimo Vignelli of Unimark International, in New York in 1970, the New York City Transit Authority's brand identity has achieved cult status amongst the creative community.
Niko Skourtis, Jesse Reed and Hamish Smyth have collectively created this archival record of the New York City Transit Authority Graphics Standards Manual by Massimo Vignelli. This site is dedicated to serve as an archival record of a first edition NYCTA Graphics Standards Manual designed by Massimo Vignelli of Unimark International. The manual was found in a locker beneath old gym clothes. Roll over the images to magnify. Enjoy.
The http://thestandardsmanual.com micro-site is dedicated to the graphics standards manual of the New York City Transit Authority, and has 182 photographs showing each page of the binded manual. Stunning.
» Source: New York City Transit Authority Graphics Standards Manual
» Via: BrandNew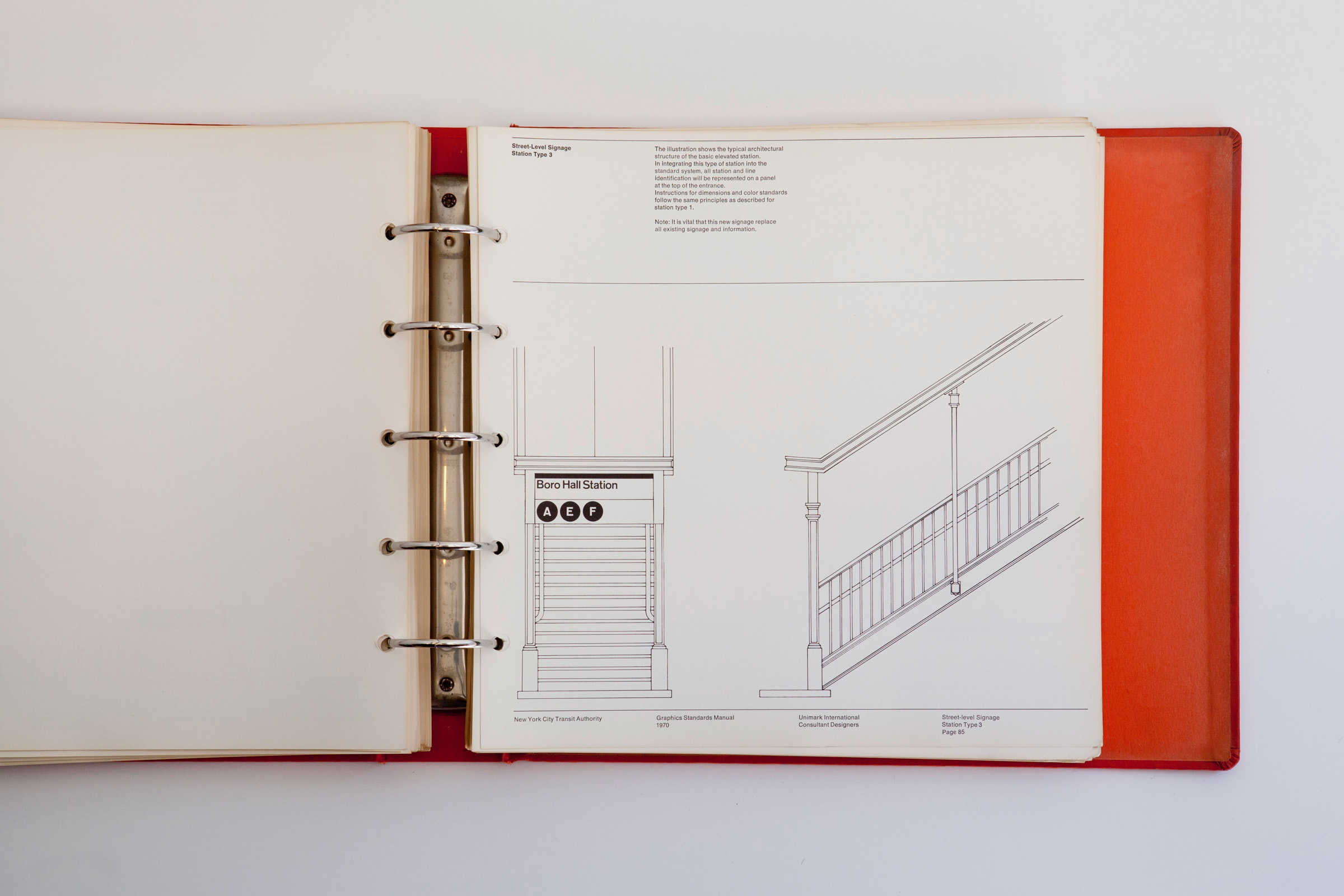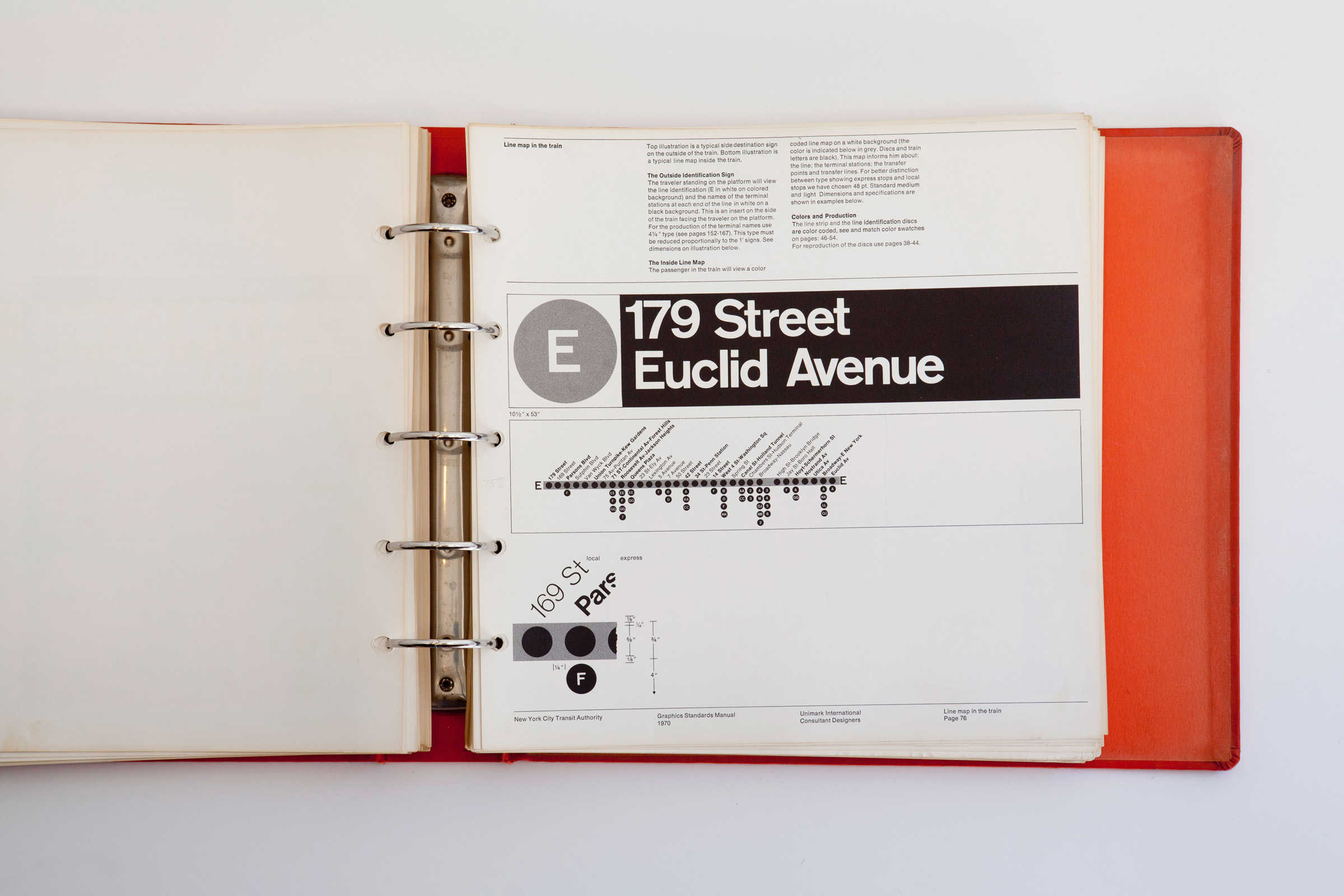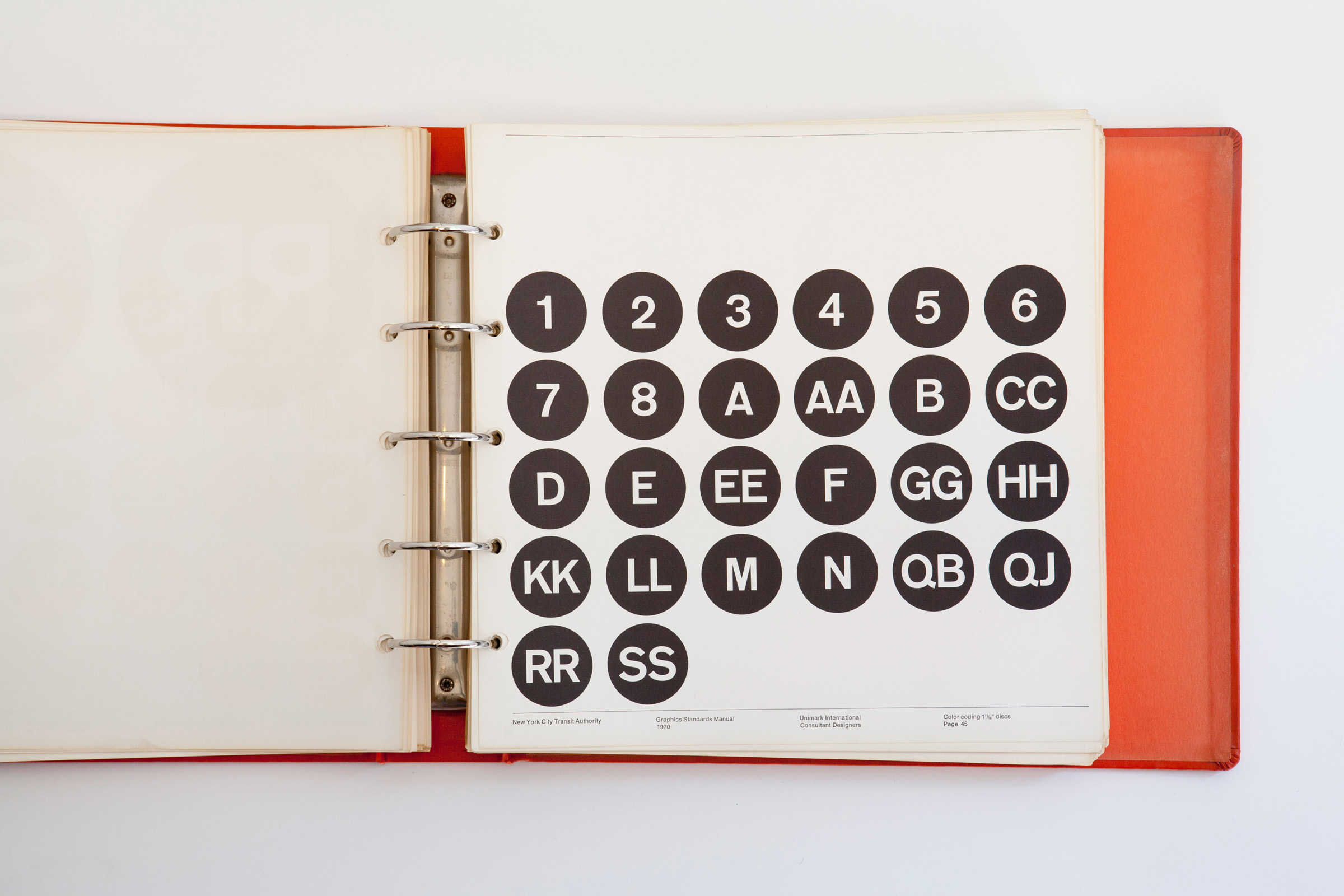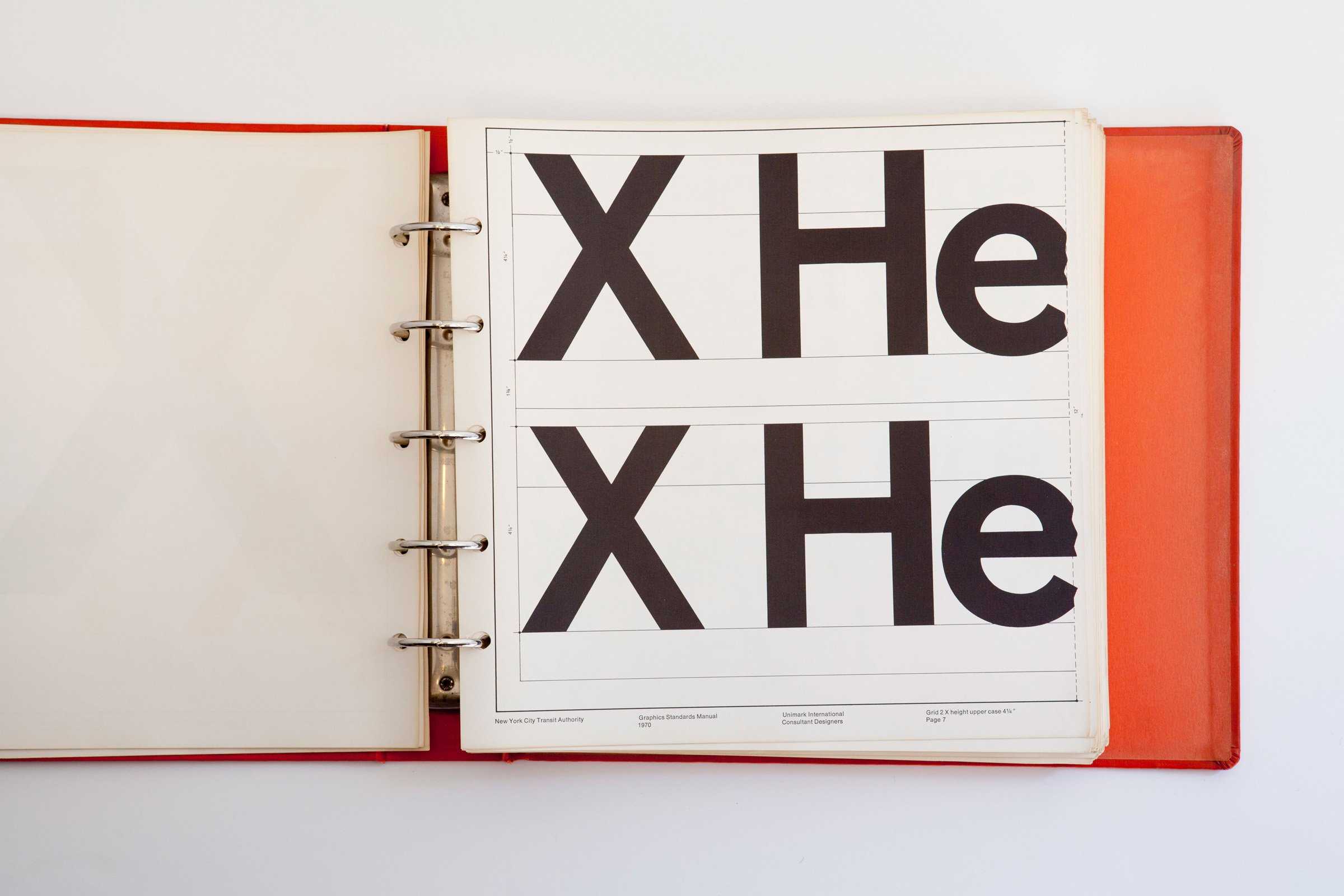 ---
The Stendig 2012 Calender  is the only calendar you need bother yourself with. The only one.
The Stendig Calender was first designed in 1966 by Massimo Vignelli and taken that year to the Design Collection of the Museum of Modern Art.
So if you think you know what makes a good calendar then you also know that size matters in a calendar with the Stendig measuring three feet by four feet. You can either purchase the Stendig 2012 Calender direct from Stendig for around $40 (within the continental US) or seek out a number of other online retailers.
If you do a search on Flickr for Stendig then you will see how pleasant this calendar would look where ever it is you would put it.
---
Meet Paul Rand
These photographs of design masters clearly from the 70's era. All taken for exhibition catalog for a 1976 Alliance Graphique Internationale. The catalog contained a background on each of the 107 members who took part in the exhibition.
Not sure what's going on with Saul Bass, looks decidedly dodgy. Particularly like the photo of Massimo Vignelli. Such a throwback...

Meet Saul Bass

Meet Massimo Vignelli
Meet all the other graphic designers on Container List.
---
Continuing the series of Flickr sets, came across this wonderful link on LogoLounge. A drool worthy collection of photos from the 'New York City Transit Authority Graphics Standard Manual 1970' designed by Massimo Vignelli. Certainly not the first to display this Flickr set, being last to the party is a unique skill set I have.

Worth reading some of the comments as they are discussing the various fonts used for this manual.
Credit for this find goes to LogoLounge
There are also plenty of other Flickr sets as part of this collection showcasing transit photos from all over NYC - NYC Transit and the rest of the MTA