All Archived Posts in Marketing
---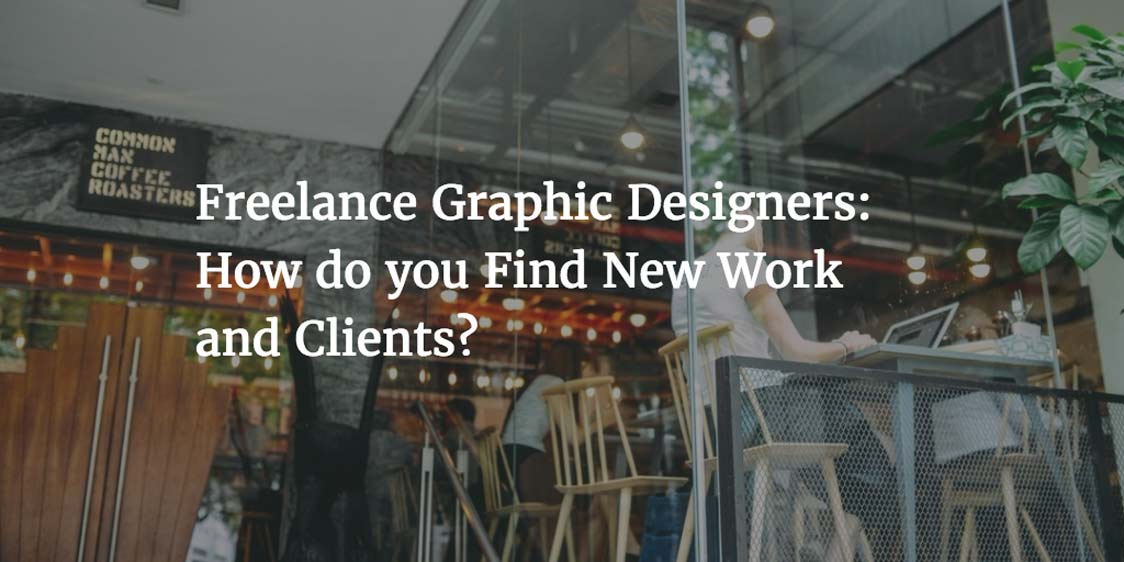 Freelance Graphic Designers: How do you Find New Work and Clients?
Thought I'd poll all you freelance graphic designers, logo and web designers out there, and see how you all collectively find yourself new clients, or how clients find you.
I've opened up Comments below, so please take a moment to share your various strategies.
Hopefully you'll like to share any methods that you employ in your quest to make yourself findable to potential clients, such as:
Google Search, Blogging, Social Media, External Portfolios, Paid Freelance Directories & Showcases, Paid Ad platforms like AdWords and Facebook Ad's, Local Press Advertising and Marketing.
How do you help potential clients find your design studio, how do you help yourself be found amongst the ever increasing number of freelance designers and design studios?
My Basic Strategy
I for one mostly have bene able to rely on Google, through many years of blogging. It seems the majority of my client clients still find me via Google Search.
Some clients find me on Portfolio platforms like:Behance, Coroflot, and Dribbble (paid-up Pro member), whilst a small percentage find me on LinkedIn, directly on Twitter and Facebook.
Some new leads come from word-of-mouth, recommendations and the occasional repeat client.
I do dabble with the occasional Paid FaceBook Ad campaign, but that's mostly to just help overall awareness; Sowing the seeds so-to-speak.
There's no doubt that over the last few years, it's become dramatically harder to find new clients just due to the sheer scope of competition.
There are many any new freelance logo and graphic designers arriving to compere for work each day, not to mention the heavy competition from crowdsourcing sites like 99Designs and Crowdspring.
If you're of a generous and helpful disposition, then it'd be great to hear how you look for, and get new clients.
There is, in every industry, the unavoidable anally sore fact that what you do to earn a living, will be cheapened by anyone given half the chance. There will be the "I only have £75, can you do a great logo for that?" and the many variations on that theme.
Work swaps, freebies, favours, friends and family, guilt trips, you name it, some potential clients will try it on. It's how we are wired when we don't fully understand someone elses area of expertise.
We allow our naivety to be an excuse in these situations.
Don't you just push a button and press print?
But hey you, Design Person!
But that doesn't mean that 'us', or yes 'you', the designer are guilt free. Far from it. We can shove our knecks so far down the collective sand pits that we fail to see that we are in fact failing the very people we are cursing for asking for that free logo. We curse them till the purple cows come home for taking the proverbial piss.
How dare they ask for a job skill swapsies session. Do they have no bumbling idea of how much time my bit would take over theirs? Why don't they know? Why?
So 'they', really have no idea of what you charge, how good you are pound for pound, dollar for dollar.They just see you, one amongst many.
The answer
Simply put. We clearly did not do a good enough job of marketing and branding our own worth on our website or through appropriate social media channels. We have not associated ourselves with quality and professional work with the 'cost and value factor'.
We have not aligned our skill set with the financial aspect. We haven't associated any value to what we do in the market place. Ok, sure. You may have a handy memorised price list, but that's not very helpful.
Value
Is it not down to you, me, them, all the collective Designers on this fragile planet to make sure that we foresee and prepare for any and all likely piss taking requests by providing the most basic of information?
You need to start showing things called numbers alongside your glorious portfolio.
It's all very well having an award winning portfolio, if you don't give any idea whatsoever about how that award winning portfolio equates to some loose change.
No wonder people try it on. No prices or ball park quote figures, what the hell are people to expect? Well, it seems no prices means you do it for free. Not a wild leap to make. Give them, the non designer folks some idea of the value you place on your own work and don't hide it out of sight. Don't be arrogant, but be confident.
If the amount of these naive requests drop, then you know that you are starting to market yourself correctly. You are not hiding the very details that would make said previous trickster think twice about trying it on.
This is the first step to increasing your overall perceived value. Once this gets a grip, then you keep that momentum going. By doing this you are also doing all other designers a favour, by helping raise the overall perceived awareness of value rather than bitching about another free logo request.
Y

es, I am Preaching

I have not always done this myself. I got so fed up with the amount of ridiculous requests, that I thought it was actually my responsibly to put right.
First step was the online quote form.
Second step was outlining some basic price structures.
Third step was then outlining details like timings/schedules and budget expectations.
Since this has evolved, the number of 'silly' requests and dropped dramatically. Saving me time and numerous pulsating stress headaches.
Plus the bonus that I am now associating my work, via my portfolio with a perceived value. And the added benefit of helping create a universally higher perceived value to all other logo designers.
---
This is Part 2 of the Logo Design Round-Up series. This ongoing series showcases a collection of logos and brand marks, self submitted by a bunch of freelance designers and creative folk in many creative areas. These designers use the logos to sell, promote, brand and market their various skills.
If you want to be part of this logo design series, then details can be found at the bottom of this post.
What this collection is not
This is not a competition, it's not a best of, it's not a who has the best logo, it's not a collection of logos that I have chosen. They are simply logos supplied by those that wanted to be part of this post. And a huge thank you to everyone who has submitted. For those of you that have submitted, but your logo is not here, you will be in the next part.
Logo Roundup - Part 2
When I first began thinking about personal branding a few years ago the only thing I could ever come up with was spelling out the words "Kyle Steed Design" in Helvetica bold, sometimes Helvetica Neue Ultra-Light, and leaving it at that. Well sometimes I would run all the word together with no spaces and through in some different colors to differentiate between the words. But it always left me underwhelmed and not very excited about how I wanted to express myself to the design community at large.
Now jump back in my time machine with me to the year 1982 when I was brought in to this world with the surname Steed. Of course as a baby I never thought about what this meant to me, and it wouldn't really become so prominent until 2003. August 19, 2003 marks a significant day in my life, it's when I made the decision to leave home and join the military. For the next four years I would no longer be know as Kyle, but rather as Steed. And then thanks to the wonderful people at Dreamworks pictures who made the movie "Shrek" with that damn donkey who said the line "I'm a noble Steed". Oh BOY! That never got old to hear from people when they first met me. Not only just the quote itself, but the way everybody tried to say it just like Eddie Murphy. I'm glad those days are over.
Maybe that was a little too much background. In either case, within the last year working full time as a web/graphic designer I have matured in the way I wish to present myself. And then just a couple weeks ago, at home with my wife on our couch, I got a sudden burst of inspiration for my new logo from an illustration I saw of a horse raised up on his hind legs. (http://www.twitpic.com/qv5y) Then I knew that I would want to simplify this down to just the head and do it by hand. So I came up with a few rough sketches (http://www.twitpic.com/qzu3) and the idea was born.
I think the symbol of the head of a steed makes a very strong statement about who I am. To me it represents strength and security and integrity. All of the things I feel I have. But there was something unsettling about this iteration (http://www.twitpic.com/raf2) and when I took out the eye the whole logo just felt complete.
I wanted a simple clean looking logo, easy to read and pleasing to the eye.  I have added some detail  to the "Lo" part of the logo to subtlety differentiate it with my first name. I chose accents of magenta and cyan to complement my current website, these colours can change easily if I redesigned my site in the future. I added the detail to "Lo" because people were calling me albertlo as my first name not realising it was my first and last stuck together.
The logo is generic enough but has enough detail in it to integrate into different mediums such as web and print and for it not to get dated in any hurry. Helvetica has stood the test of time so far so why not follow that way of thinking and pay homage to the font. If I changed my site the logo would still stand out well.
Another Color founded in 1975 and was originally based two concepts.  The company was first founded by 3 designers, all from different ethnic backgrounds.  The company was also originally only graphic design, so color played a major part in the concept idea.  Typography was also chosen to be stylish and timeless.  Lately its been taking on some new changes, but the logo stands strong and is a testate to a great design.
I prefer the logo on a black background.  Since our concept was to develop an "emblem" like you see on classic/vintage cars with the contrast of the chrome against the car body.  When I use our logo on a dark background, I like to incorporate some texture. Here I'm using a shot from a Ford Mercury engine compartment.
The Jeff Fisher LogoMotives identity initially went through a ten-year
design evolution (http://tinyurl.com/4mx6wl) before being put into use.
The logo has branded the design efforts of Jeff Fisher for over a decade.
"Having selected a rather odd and somewhat controversial name for my design business, pixeldeath, I wanted to create something that almost reflected the exact opposite of the name. Strange, yes. Memorable, hopefully.
The main colour behind pixeldeath is red. The colour was influenced by many things, one being passion. Being in 'your face' is another - and lastly, I don't think there is enough red on the internet... ha ha.
After about logo, it was a result of about 40 odd ideas and mock-ups that I worked on for over 4 months. I ran the design past as many friends as I could, got input from designers I knew and then the logo took shape. Comments such as "that is trendy", "that's not very you", "huh?" were all taken into consideration.
The outcome is what you see today. I consider it  classic in nature, almost symbolic, I guess, classy but still retains a certain edge about it. Overall I feel it is powerful and reflects not only myself personally but also what pixeldeath is all about."
I've always loved the idea of mythology and magic, and I wanted to give a bit of an impression of websites being a bit magical, created by smoke and mirrors (hence the company name)
The pixel motif is obvious, with a nod to the feeling of building blocks. I wanted it clean, simple and completely adaptable.
John Wang - Web Design and Development
I decided to brand myself instead of a company. I picked a script font for my name to make it more personal. And a legible yet still playful font for the description of the main services I provide. I picked iconic images that represent tools that I use to provide the services.
Chris Williams – Seedubble
Motivation: Started freelancing 10yrs ago on top of agency work and needed my own id.
Inspiration: My Nickname. Google. Yahoo. Landor. Rand. Carson.
Reasons for choosing 'that' style over all the others: Wanted something unique and personal that represented my design style and experience without being literal. Luckily worked as domain name and extended into online id.
I agonized for over 2 years on how i wanted to brand myself. I tried and rejected a bunch of agency sounding names and could never hit on one that sounded right. So I stepped back and realized that I was over-thinking. For a decade, people have called me "oak" and I've signed my name on art with a stylized version of "oak."
I realized that I already had a brand image of sorts connected to this name, that it was pretty strongly associated with my professional work, and basically...my signature mark WAS a logo for all intents and purposes, it just had to be refined. The mark I am submitting is the result. I try to present it on the stylized color background I am including because it references the design of my personal website http://atimcalledoak.com and also because it allows me to produce unique avatars for various applications based on the mark that have a common visual language and still help to reinforce the overall brand.
"I wanted a simple yet classy logo to represent my work, I used my initials to create this 3d illusion shape. I felt it works perfectly"
Thanks again to all those that have submitted logos, its been really cool checking them all out and reading the reasons behind them.
Following from my first article on the benefits of creating logos for FREE, I will be posting about specific case studies, logo's that I have created. Here I will talk about the reasons behind the designs, the various thought processes involved in the branding and potential marketing of the company and the general outcome. Did I like it or did I just throw it in to my 'I am a perfectionist, therefore this is crap and will always be crap' pile. It's a big pile.
Logo's eh? What would we do without them. Life would be pretty bland I would imagine. With the advent of the web, Logo wars are common place. Everyone trying to out do the next person's logo creation. More spunky, more yummy, more colourful, more daring. Logo's are here to stay and logo creators are digging in for the long haul.
Starting a new 'thread' on this site, I will be posting about the humble logo. I love Logo's, personal and intimate. And if you are charged with the creation of a new logo then you take on a major responsibility. To yourself, to your client and to the people en mass that will be seeing this 'creation' on a daily basis.
This is not a complete post about the theories, the reasons, the what's the why's and the how to's. That's for another time, basically when I have more time. It's a huge topic, one that cannot be taken lightly or speedily. Actually I lie, it's not a complete post on what I would like to talk about, rather it's a serious of articles on various issues of the humble logo. Within it I will try to incorporate real life logo designs that I have, erm, designed.
Including my very own ImJustCreative.com logo.
So in keeping with my series on Desktop Pictures (which you must check out if you have not already), and for milking it as far as it will go, Logo War will be a series of posts on new designs, the reasons and some philosophy.
There are very real tangible benefit of doing work for free or at least for favours in return. Especially if you have something to prove, a portfolio to build or just because you are a darn decent type.
As with favours, or I scratch your back you scratch my back scenarios, actual time spent fiddling, designing and creating is based on 'returns' other than immediate financial gain. Fortunately, I don't always see 'immediate cash in hand' as the true return value on design. Designs live and continue to work for you way past the 'client approval' and the settling of a invoice.
Just because you are doing something for 'free' or as a 'exchange of services', doesn't mean you should take any less pride in what you design.
Far from it. Every job, be it paid or not has your name on it. You will be associated with that design forever and ever. Risk doing a shoddy job and you will reap the consequences. This is why I could never understand the 'you get what you pay for' philosophy in some industries. You may want to do a 'cheap quick design' because the client will not pay, but be careful. Two options here: refuse the job or accept that you will have to spend some of your 'own' time making up for the short fall.
But never be tempted to do anything less than your best. It does no good for your ego, pride or sense of self worth. You are cheapening yourself if you take this road.
I frequently take on jobs that are either poorly paid or not paid at all, for me the real 'payment' comes in exposure and experience and yeah, OK, feel good thoughts. Be it now or months or years down the line. I will assess the potential in long term gains rather than short term money in the bank. This is publicity for you and doing your 'best' each and every time will eventually provide you with real tangible benefits further down the road.
© 2006-2016 All Rights Reserved
The Logo Smith: Logo & Brand Identity Design Studio, with 25 Years Experience.

Graham Smith: 10 Badgers Copse, Seaford, England
Tel: +44 (0) 7816 527 462 Email: [email protected]