All Archived Posts in logos
---
Last Updated: September 14th, 2016
| First Published:
October 16, 2015
| Subscribe with
or
No. I Don't Design Logos - Ass Poster Updated
Download Vector file of all 3 Ass Posters
A refresh to my old favourite poster, "No. I don't design logos, I pull them out of my ass.", which is available for download in various styles.
Still makes me smirk when I see this, and think of the time when the idea for the poster came to mind. It was after a couple of challenging of client conversations about the logo design process, and I'd just about given up the will to live.
This poster gave me an outlet to purge my frustrations.
I have filled out the design with larger text with emphasis on ass. I think the reference to ass was lost on some; it's a nod to some peoples perception of what competent logo design involves as well as reaffirming that the buttocks are indeed a source for all your logo designs.
Added a mono version as well for all you purists.
Download Vector file of all 3 Ass Posters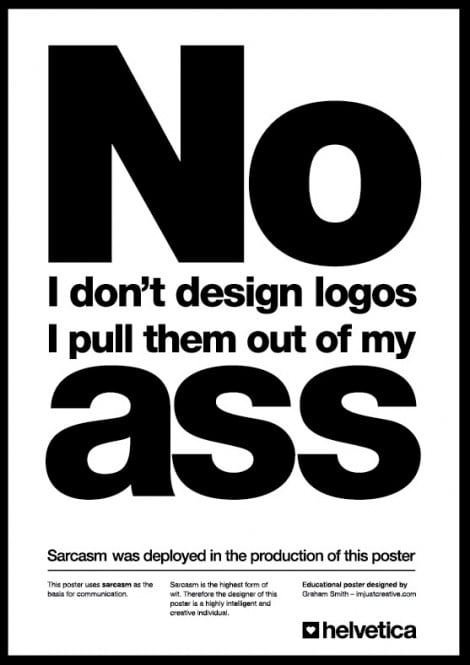 ---
Last Updated: September 14th, 2016
| First Published:
September 14, 2015
| Subscribe with
or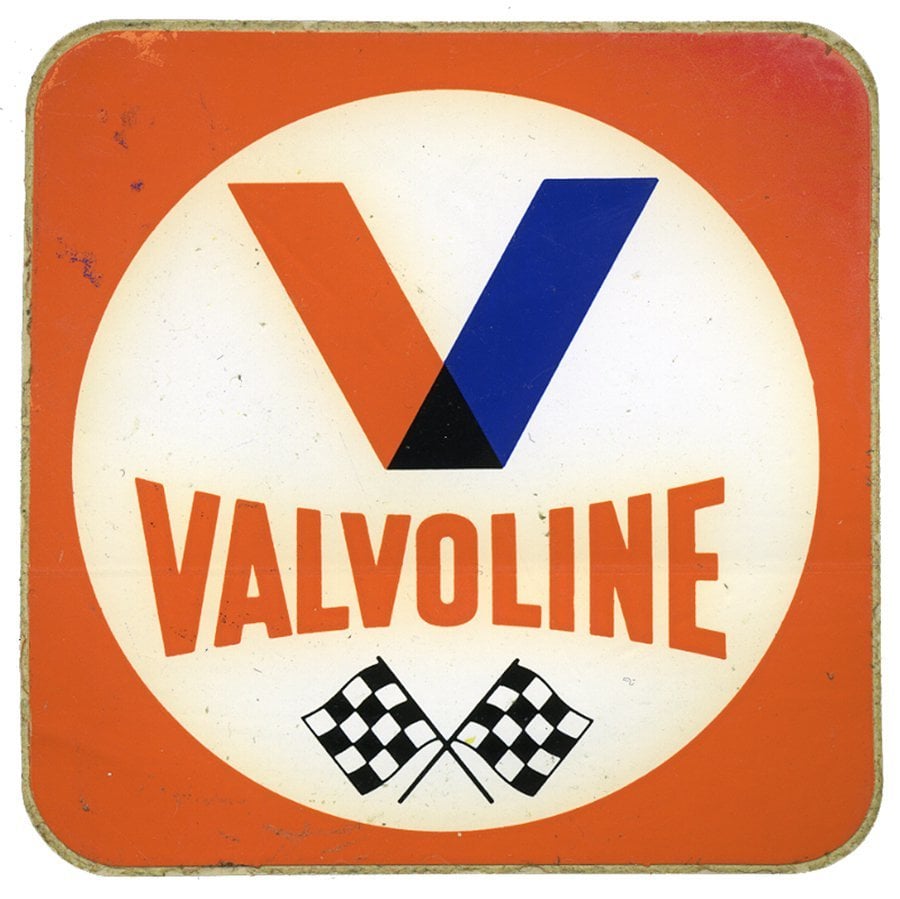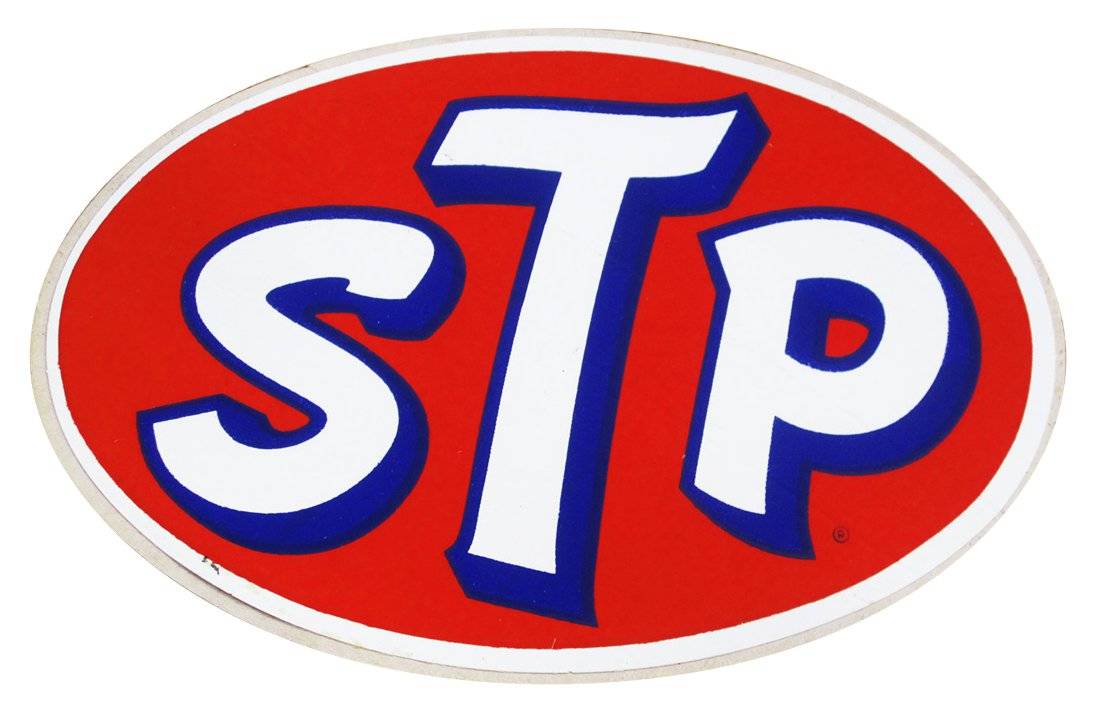 Vintage Racing Logo Decals from the 1970's
Came across this lovely Vintage Racing Logo Decals from the 1970's over on ISO50's blog some years ago, where they were picked up from Sarcoptifom's Flickr Set.
It was only a quick link post that I did back in the day, but have meant to adjust some of the racing decals by turning some of the black backgrounds back into white. So this time I've done just that, and also cleaned up some of them a smidgen.
My favourite is Valvoline, just because of the general style, and the typography. It's just a classic. Turtle Wax is my bonus fav just due to the fun and colourful illustration. Although saying that, having an owl wearing ski googles is pretty bloody cool!
I'm now also tempted to faithfully recreate all of these in Illustrator just as a little fun side-project.
Also note how the Wynn's Oil logo has barely changed in the years, with the current version just sporting an italic version of the brand name and lacking the black keylines. That's some logo longevity and timelessness right there!
Vintage Racing Logo Decals from the 1960's-1970's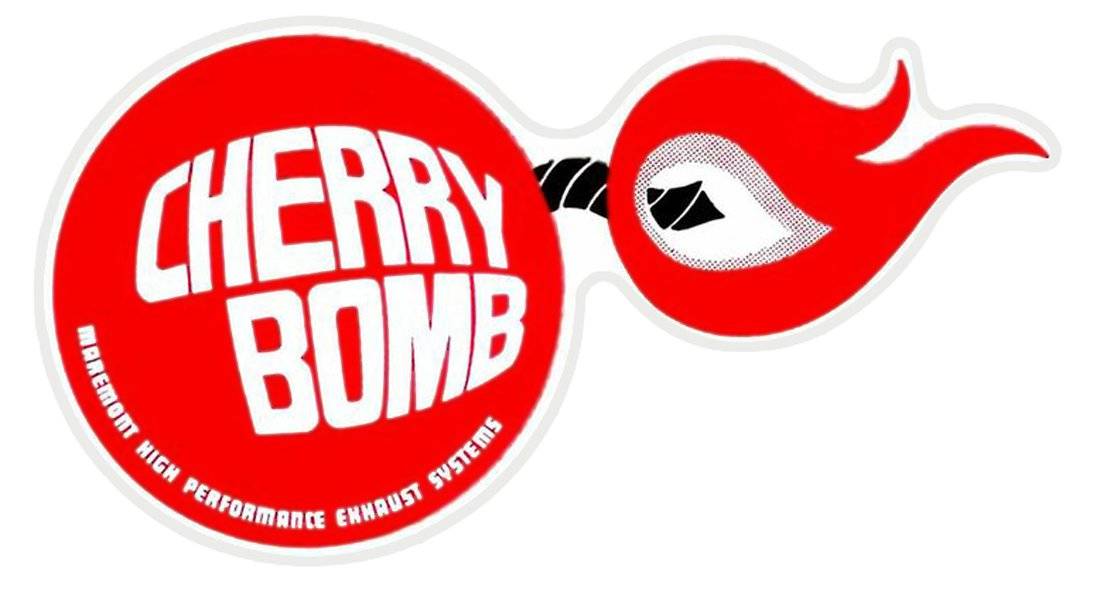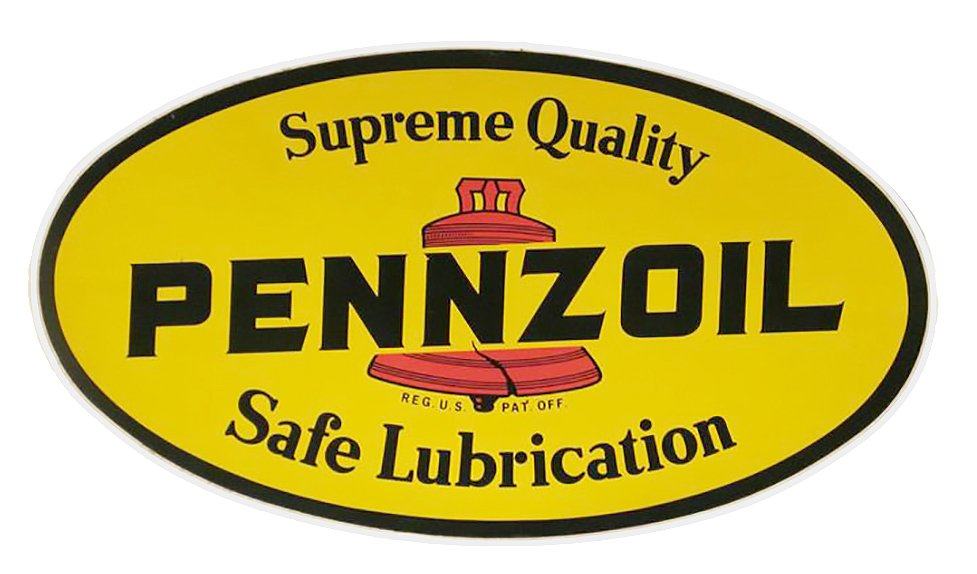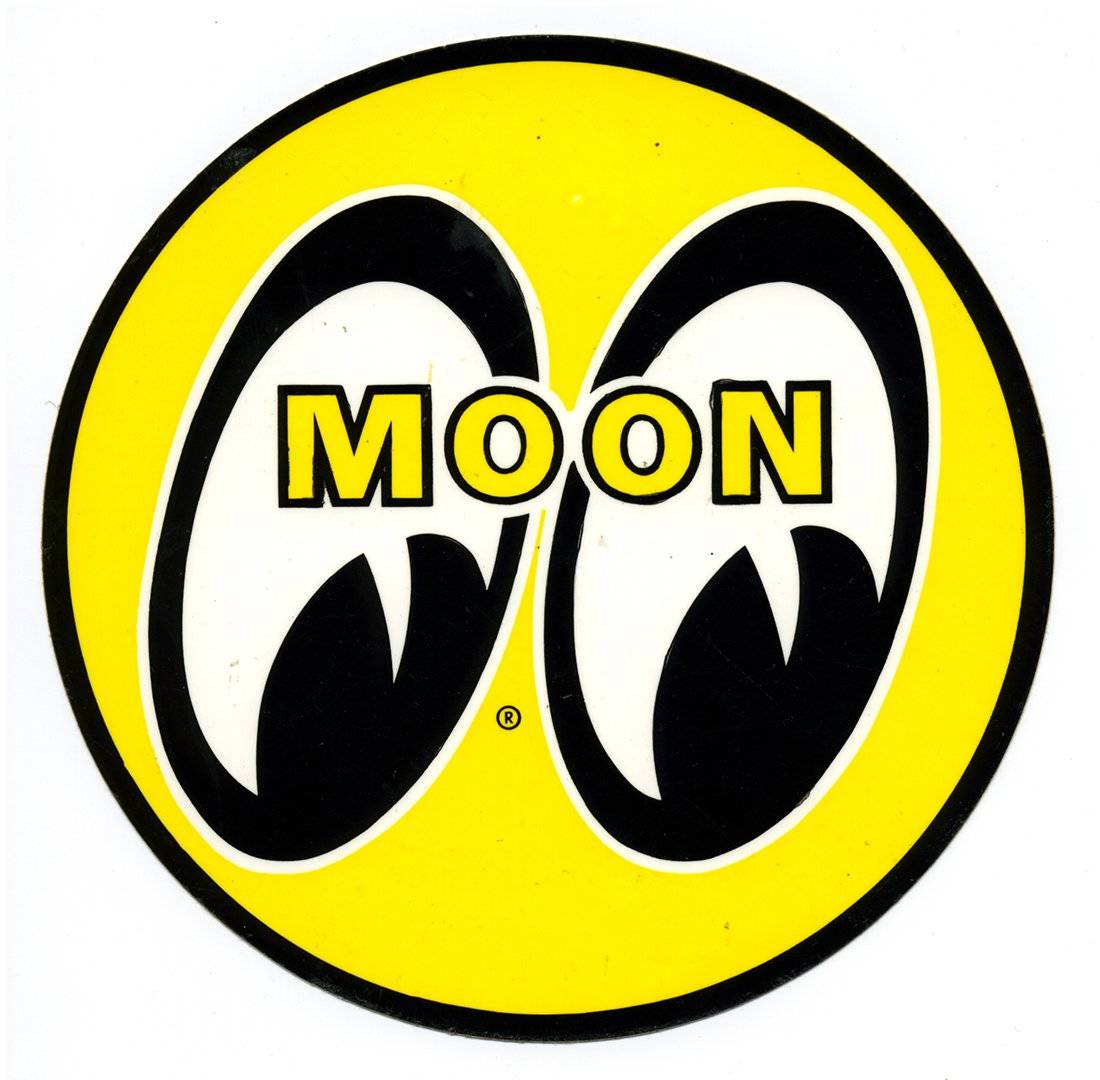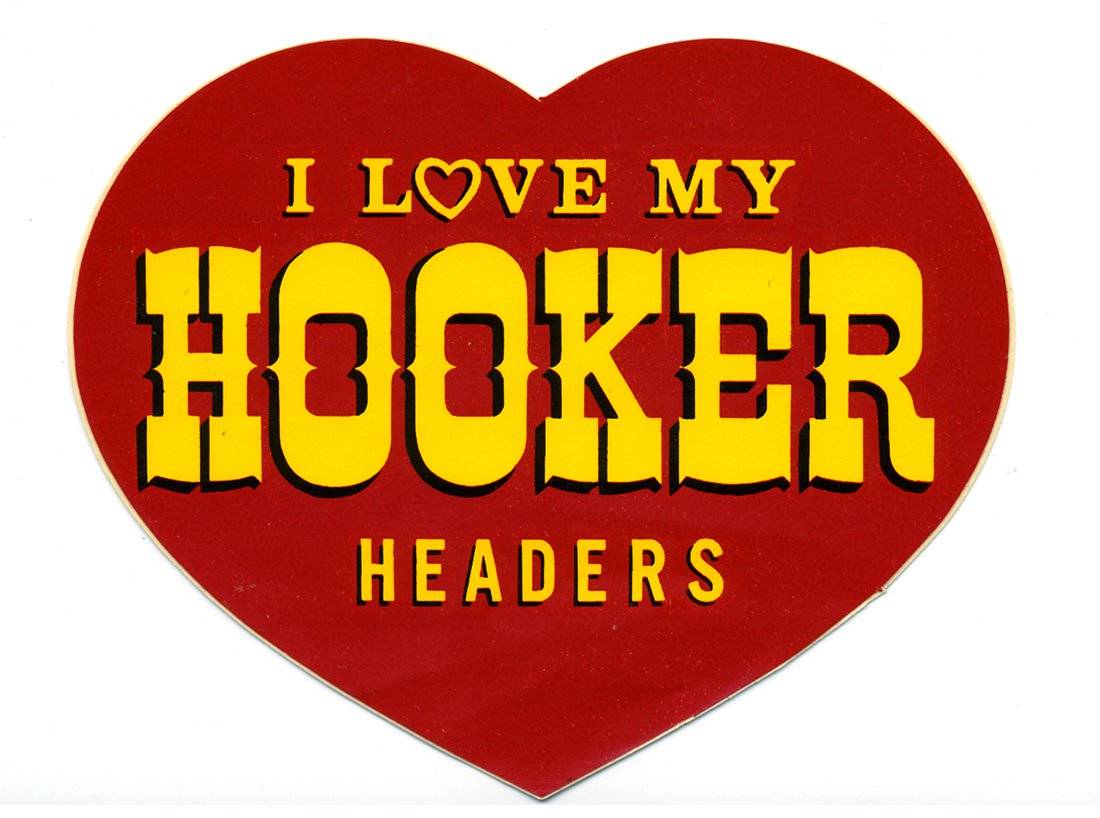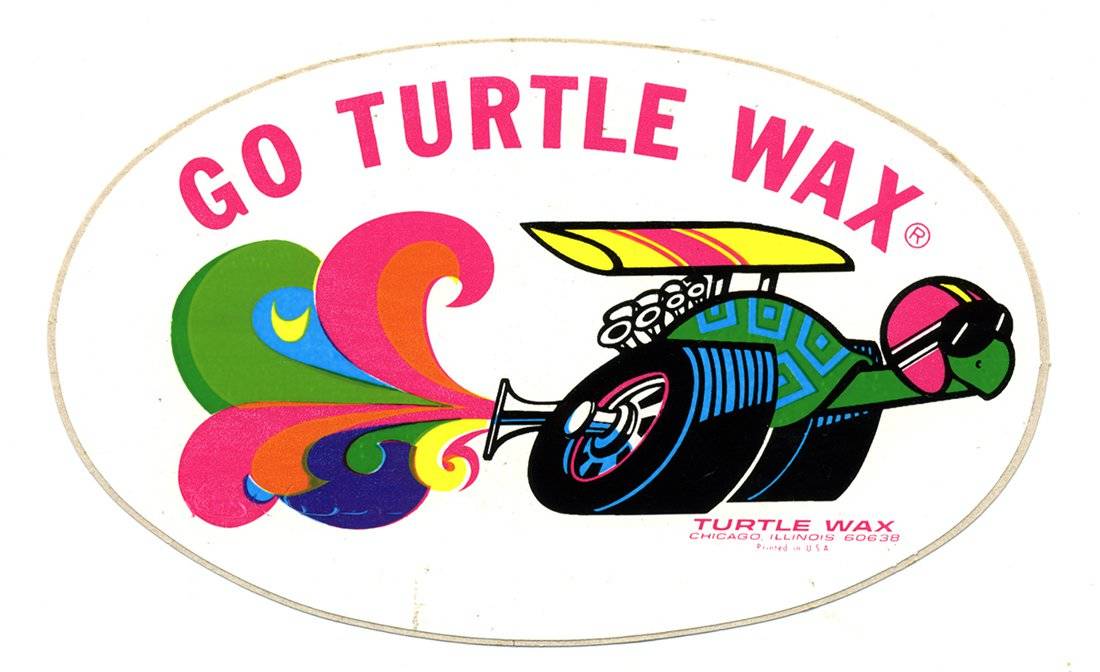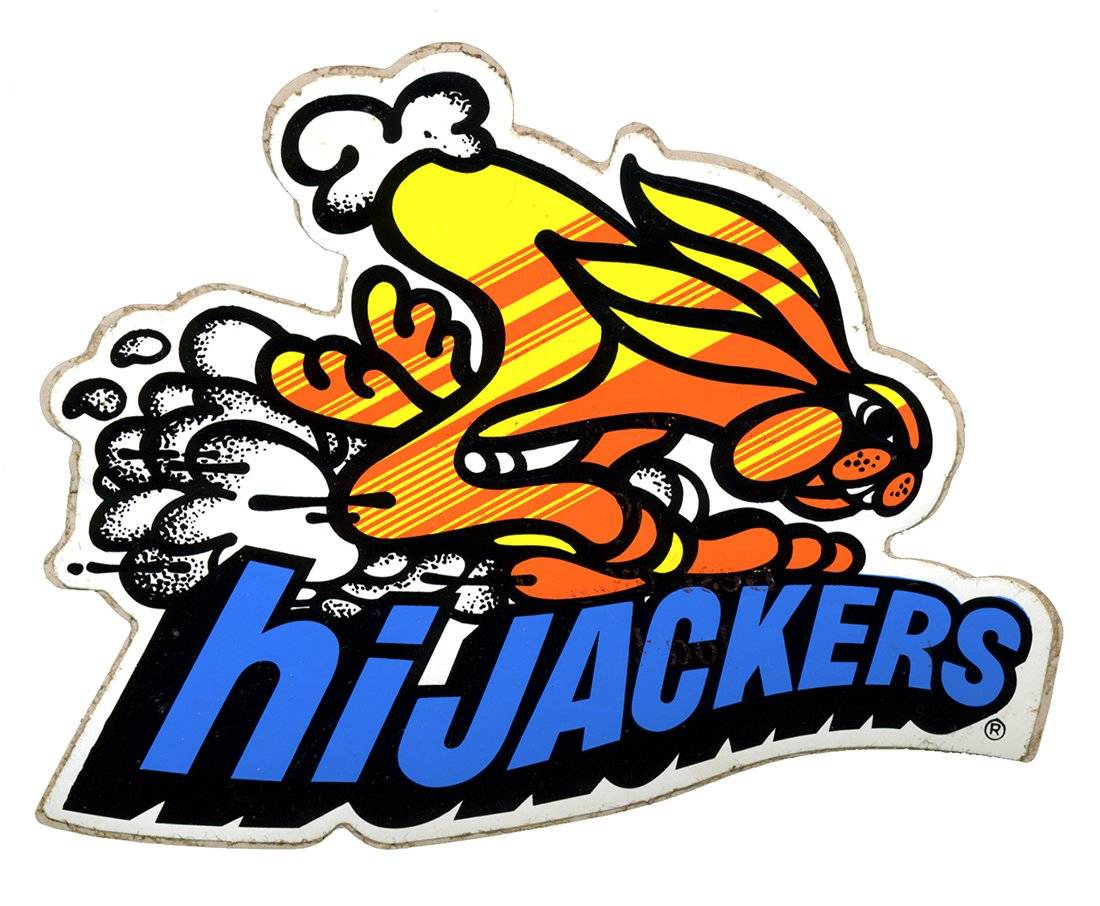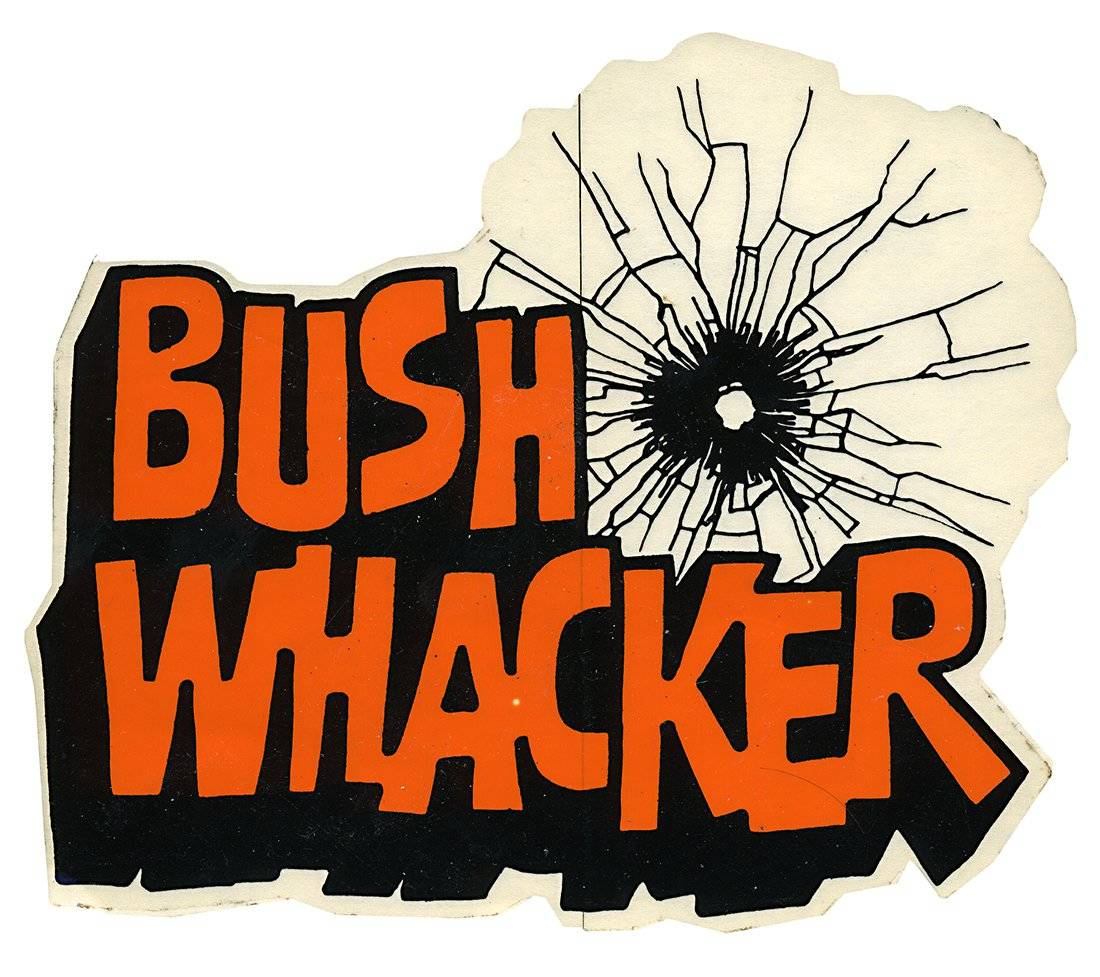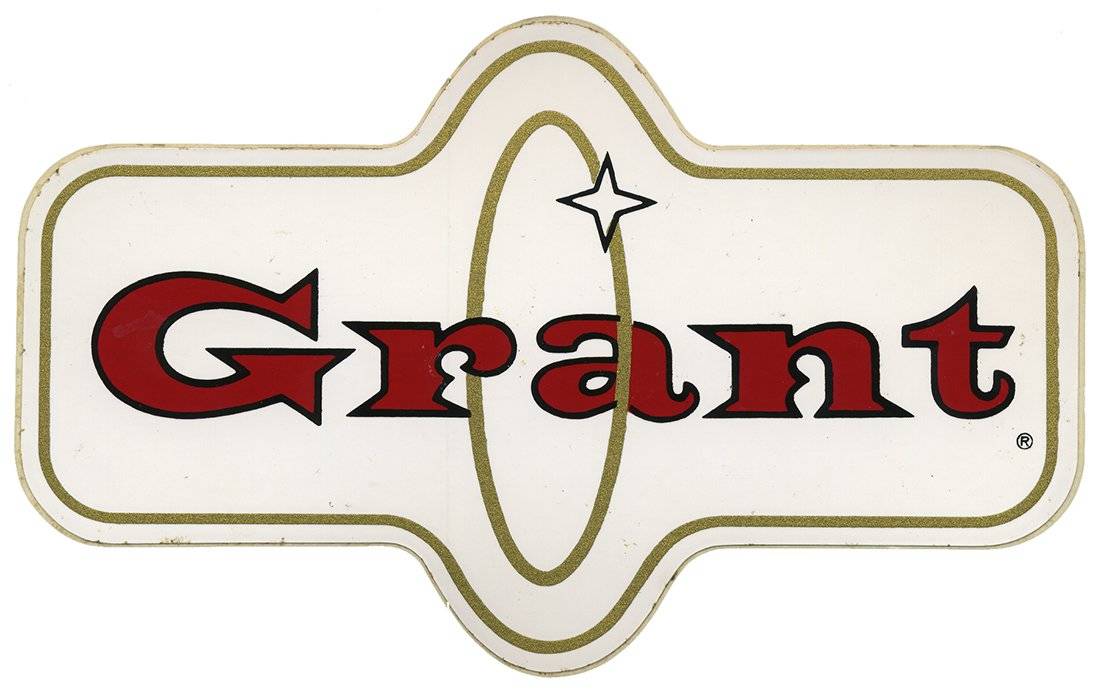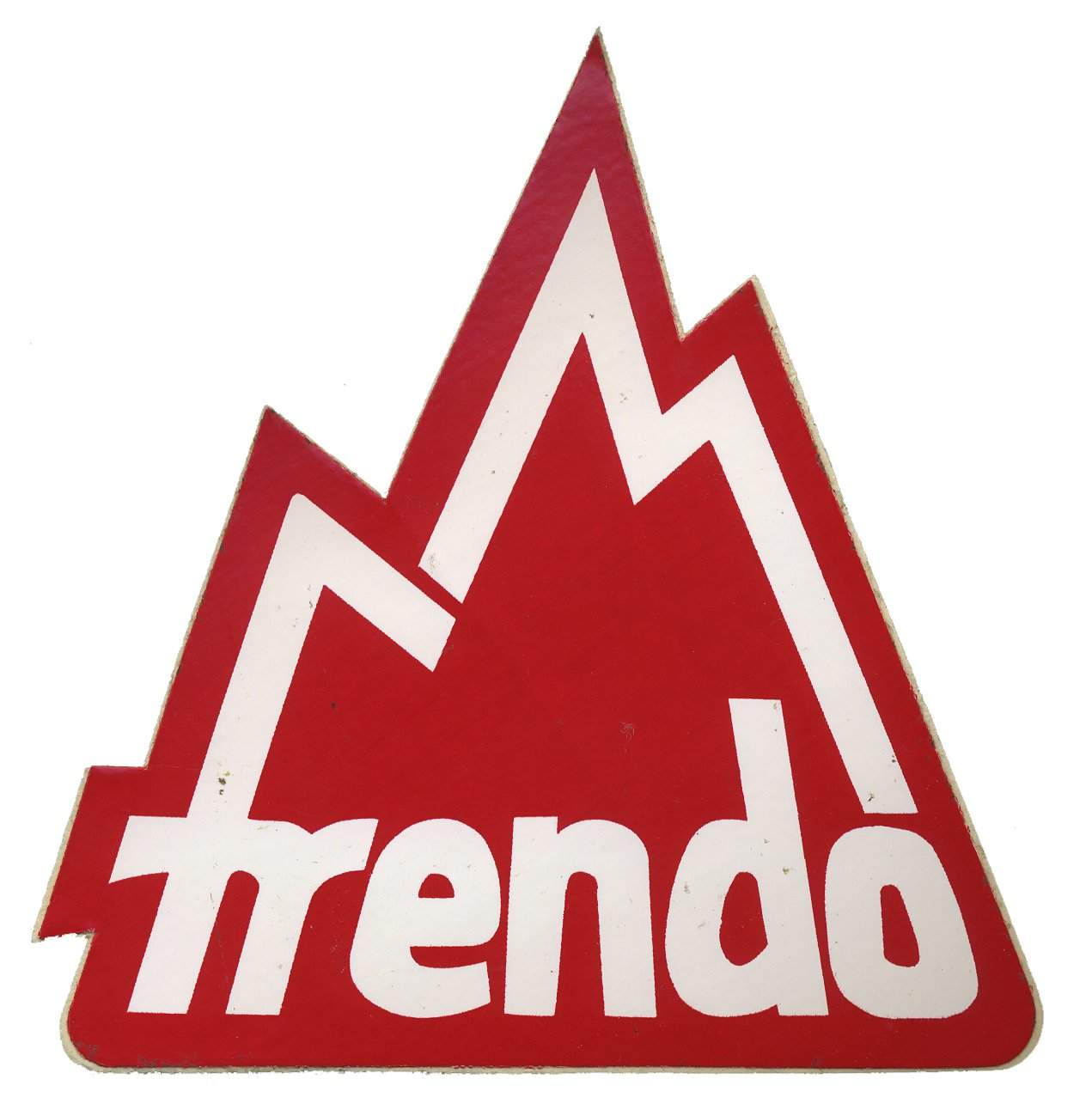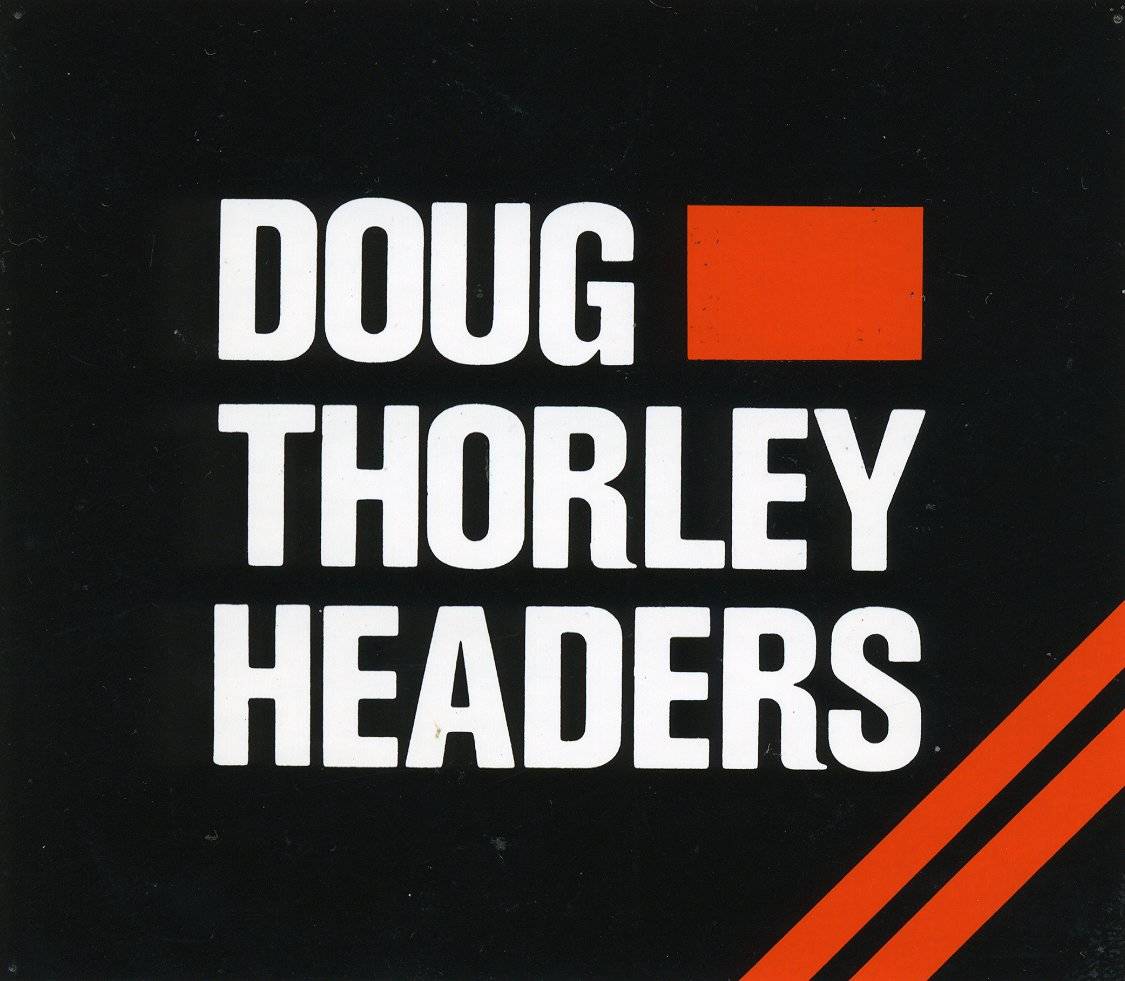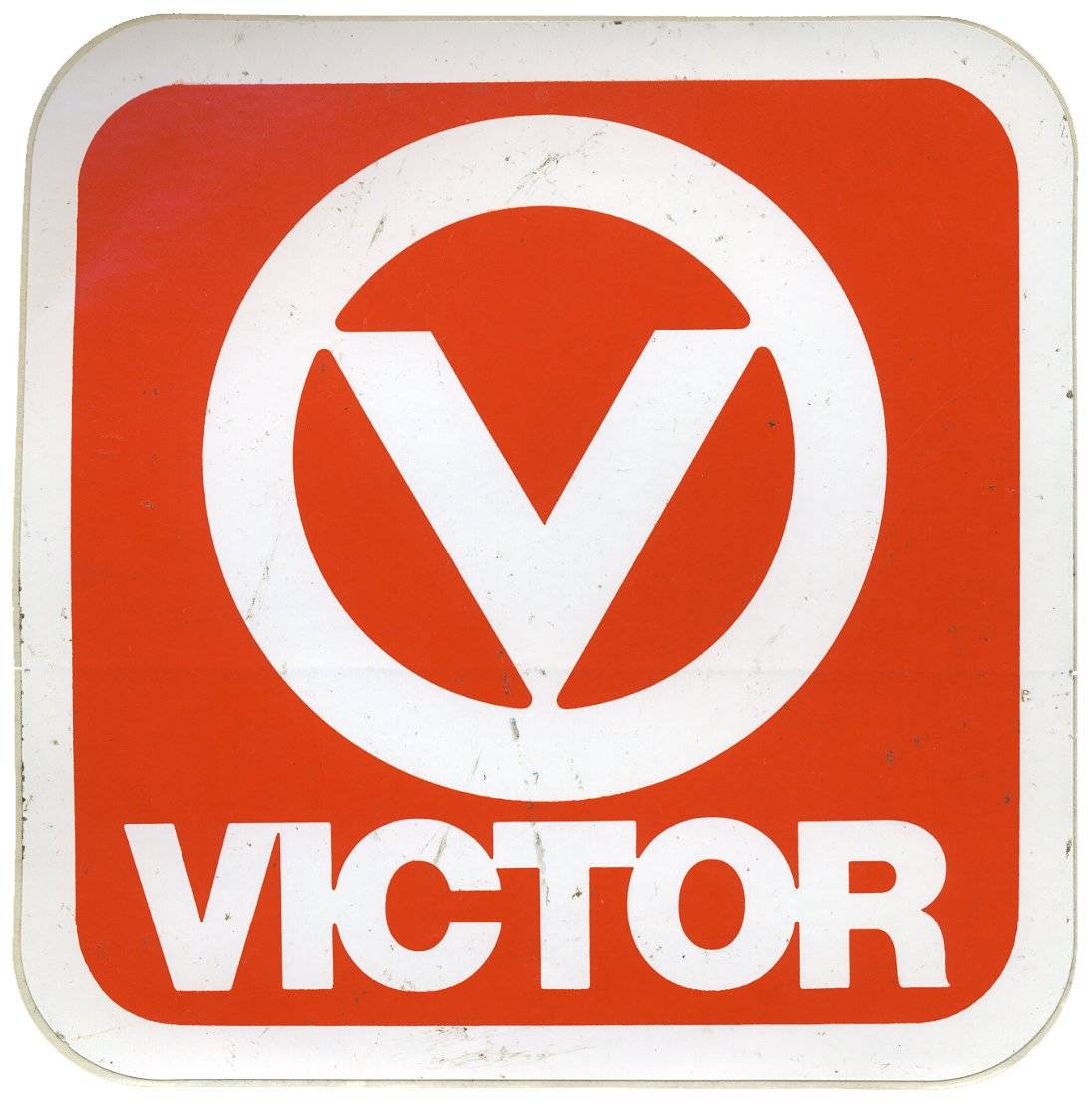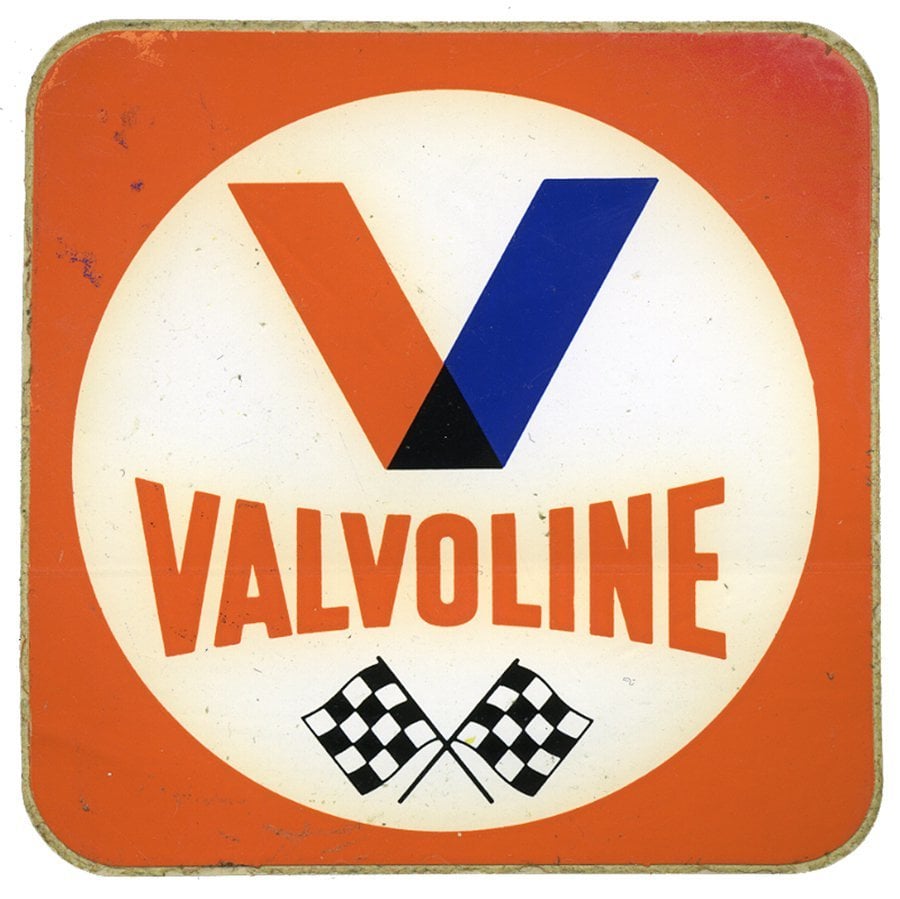 ---
Last Updated: September 14th, 2016
| First Published:
April 13, 2014
| Subscribe with
or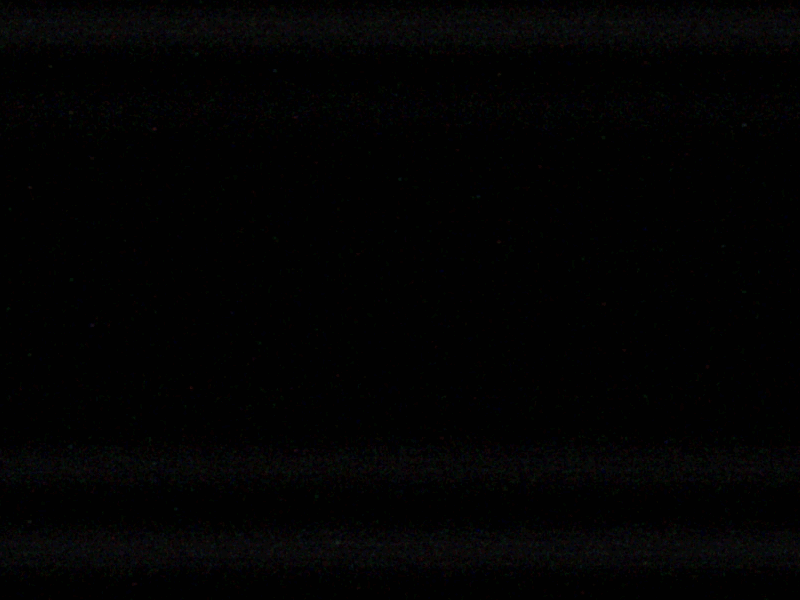 Super Cool Retro NASA Animated Logo ID
I absolutely love finding these retro animated NASA logo, video presentations. For a while, before I posted this, I actually thought it was a genuine NASA production, but turns out it was created by a Redditor, going by the user name _Charlie : I designed this retro-futuristic NASA logo animation, thought you guys would like it!
If fake NASA logos don't do it for you, and you want genuine retro NASA animated logos, then check this post out: NASA's 'Worm' Logo Animated in 70′s Groovy Fashion and includes 3 other Retro NASA animated logos, or video/TV idents.
If you come across any more of these then please please send them my way. :) There's also a YouTube version, which looks slightly cleaner:
http://youtu.be/dwdws90cxAA
---
Last Updated: September 14th, 2016
| First Published:
March 23, 2014
| Subscribe with
or
MoleseyCo Logo Evolution-The Less than Perfect Side to a Logo Designs Development
I just felt the urge to share this quick image that showed the very first digital mock-ups, of what was to become, the MoleseyCo Clothing brand logo mascot, emblem and overall brand icon. One has to start somewhere, and it's usually a bloody awful start at that. I can laugh about it now, barely.
You can see some of the final logo artwork sheets in my portfolio: MoleseyCo Clothing Brand Logo and Identity Design
Bear in mind, even this logo sheet shows only a small example of all the variations I would end up going through, until I reached the 'winning' design (bottom right). However, it is an accurate selection of the key milestones during this particular logos development, and it would be an understatement to say that this was a somewhat challenging design to perfect.
So Ok, not too hard to be able to say it was easy to eliminate the first two rows–of, well, whatever they are. From the 3rd row down it became harder to actually achieve the look, feel, and balance of: wild outdoors wolf, Alaskan Malamute, and a German Shepherd (actually modelled on my own Miss Charley), but also an animal mascot that had just that perfect mix of "we'll know it when we see it". Overall not to be too: quirky, unrealistic, wild, vicious, cute, friendly or even comical.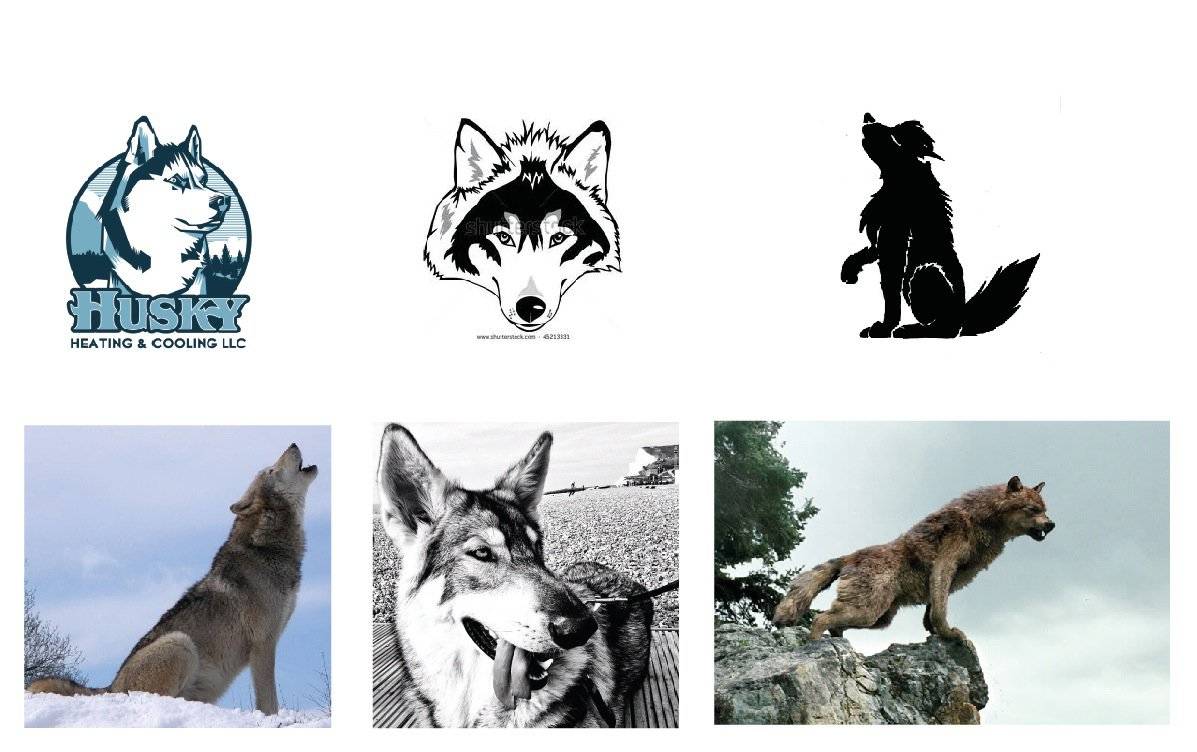 It's only when you keep comparing various photographs of wild wolves (more furrowed and chiseled brow and forehead, shorter snout and much more neck scruff), against the domesticated dog, that you realise that on one hand, there are some very obvious differences, but on the other, it becomes quite a challenge to create this wolf/dog/dog hybrid, that was 'hopefully' neither one or the other (above: just a few of the images I used as reference, and loving the fantasy monster wolf, bottom right).
One of many challenging parts (bleow) of drawing this mascot was finding these magical balance between not being too realistically wolf-like, but had wolf-like subtleness to this wolf hybrid made-up dog mix. Things that caught me out with the various illustrations, that made it just that little too wolfy: too short a snout, overly deep and furrowed brows, stupidly long scary canines and way too hairy neck and throat.

Also challenging, once I had managed to nail the overall outline shape, was to nail the: eyes, the teeth, tongue, and how much of a floppy ear it should have. Even though the eye made for a good focal point, I realised that 'no eye' would create a more natural silhouette look, we could leave the trademark cuteness to the one floppy ear, and hanging tongue.
Reason for the tongue was because it's usually after a dog has been running that the tongue flops out, and as MolseyCo is an outside activity clothing company, this was a good enough reason to add this little 'cute' feature.
In one version (below, 2nd one in) a somewhat creepy and evil looking eye, yet, the same evil eye, when slightly rotated (next one along), instantly looks way too cute. Add a monocle to evil eye, floppy ear and lopping tongue mascot, and you get a somewhat classy form of villainous mascot. But again, not really appropriate.

Overall, I'm really very pleased with the end result, and it was certainly worth taking the time to work through all the various options and combinations, even though at times you feel like tearing your hair out.
But from beginning doodle, to end result :0)

---
Last Updated: September 14th, 2016
| First Published:
March 13, 2014
| Subscribe with
or
Posted By:
Graham Smith
Categories:
Designer Spotlight
,
Famous Logos
Tags:
brand identity
,
font
,
identity
,
intel
,
Logo
,
logo design
,
logos
,
mars
,
sega
,
typography
,
walt disney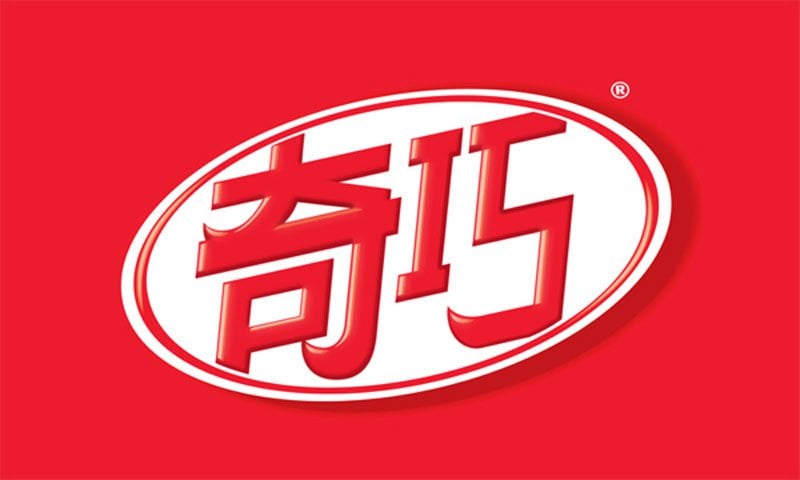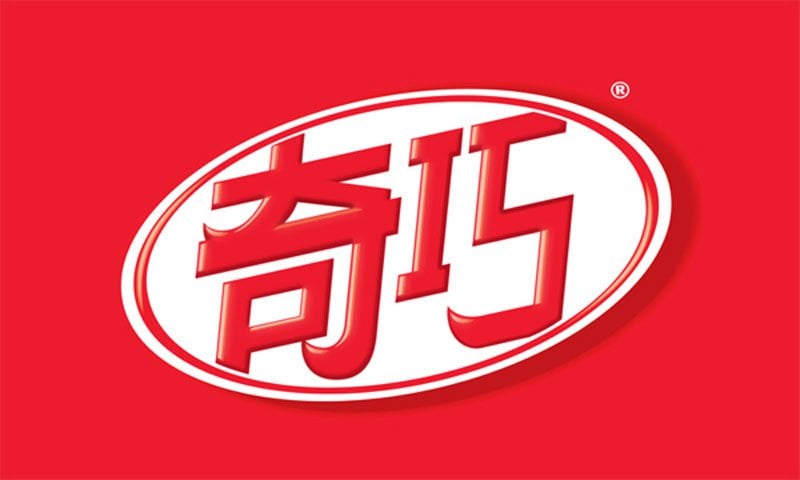 6 Famous Brand Logos Adapted to Chinese by Stephen Wright & Niek van Wigerder
This is a pretty extraordinary brand logo project we have here. These Chinese brand logos were developed and translated by, Stephen Paul Wright, and his illustrator Friend, Niek van Wigerder.
They are a Shanghai-based creative team, and set out to, as a fun side-project, to reinterpret six Western brand logo designs into Chinese characters, whilst retaining the original look, feel and essence of the original logo.
I can't begin to think how much patience and time this project took, not to mention the challenges with English-Chinese translation with basic words, let alone uniquely styled brand logos, often with custom typefaces etc. Brand colours, containers, such as the Kit Kat one are a giveaway, but the New York Times is far harder to work out, at least it was for me.
I'd actually be really curious to see each one of these in black & white, and without the stylised backgrounds, then see if they are any less obvious. Stephen? :)
You can view the entire project over on their Behance site: https://www.behance.net/gallery/Chinese-adaptations-of-famous-brand-logos/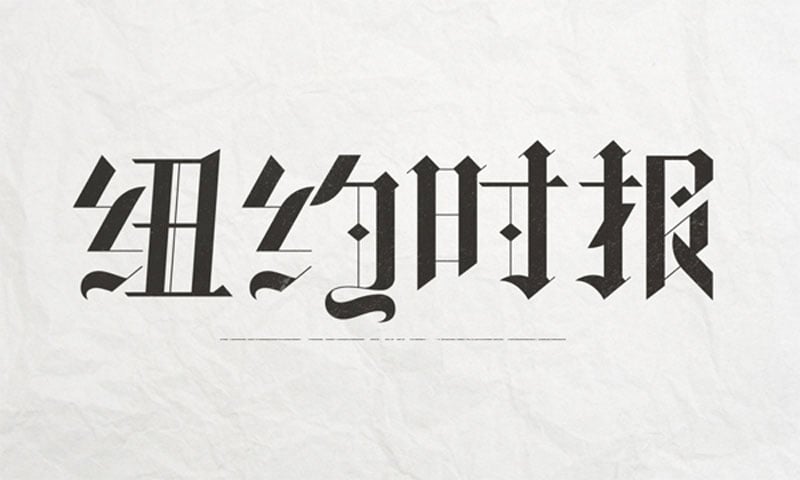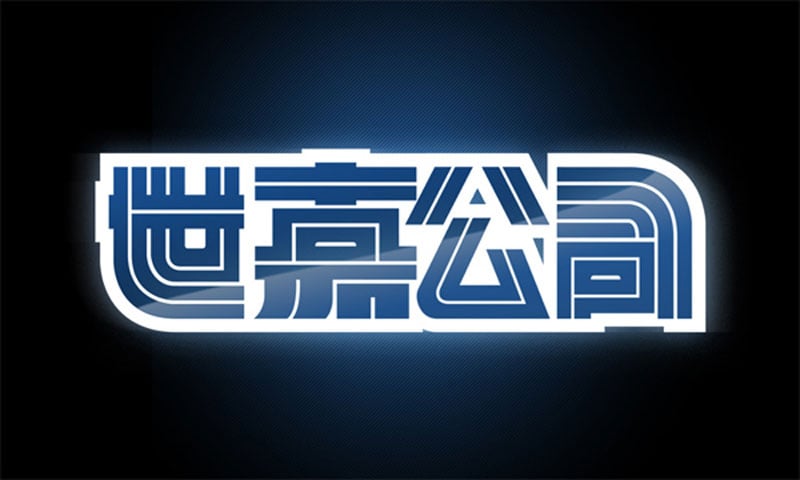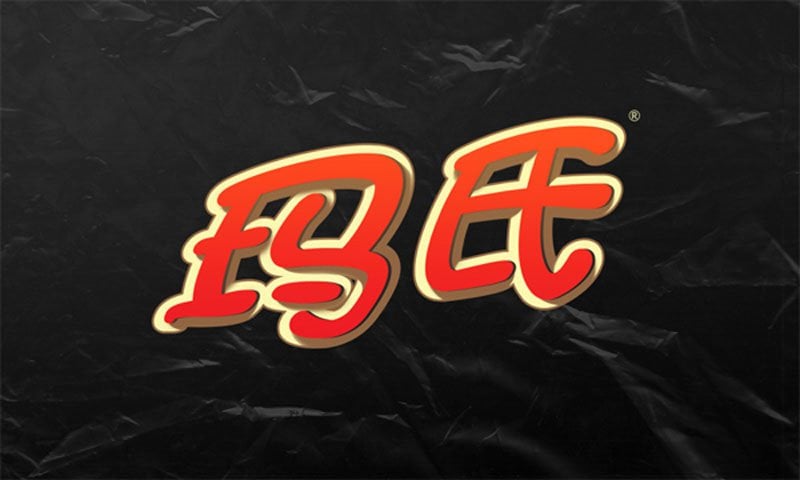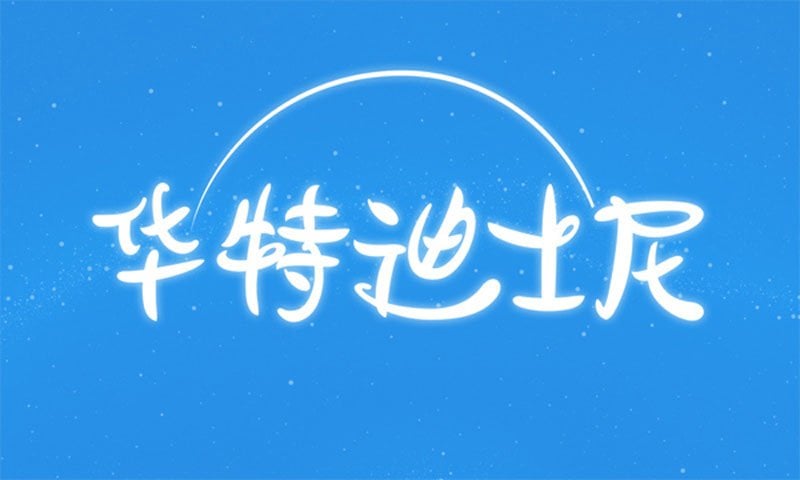 Stephen and Niek: "China is where every major brand wants to be right now, but western brands regularly fail to find continuity of their visual identity when reinterpreted to Chinese characters.

Coca Cola's distinctive logo is recognisable worldwide, even when interpreted into non-latin script such as Arabic, Thai or Chinese. Despite having official Chinese names, many Western brands shy away from reinterpreting their logo into Chinese for fear of diminishing their brand identity."
Behind the Scenes of the 6 Chinese Brand Logos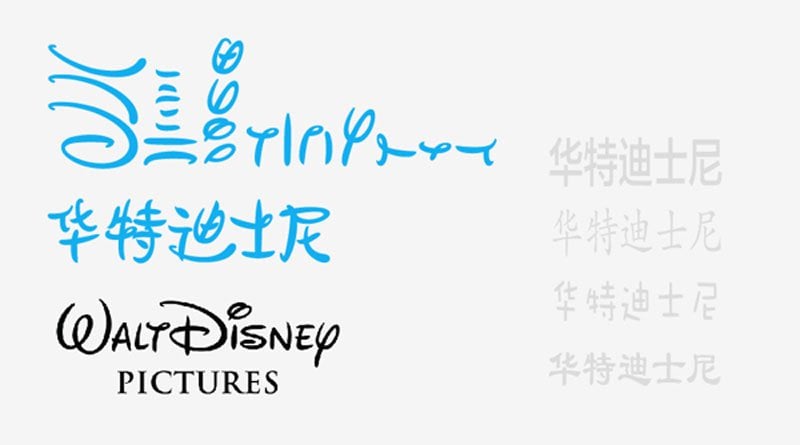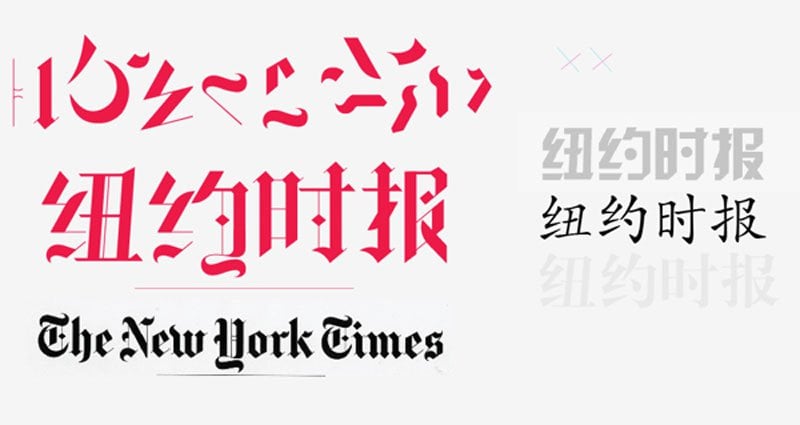 Extracting shapes from the Latin typeface helped us piece together the Chinese characters without loosing the look and feel of the original font.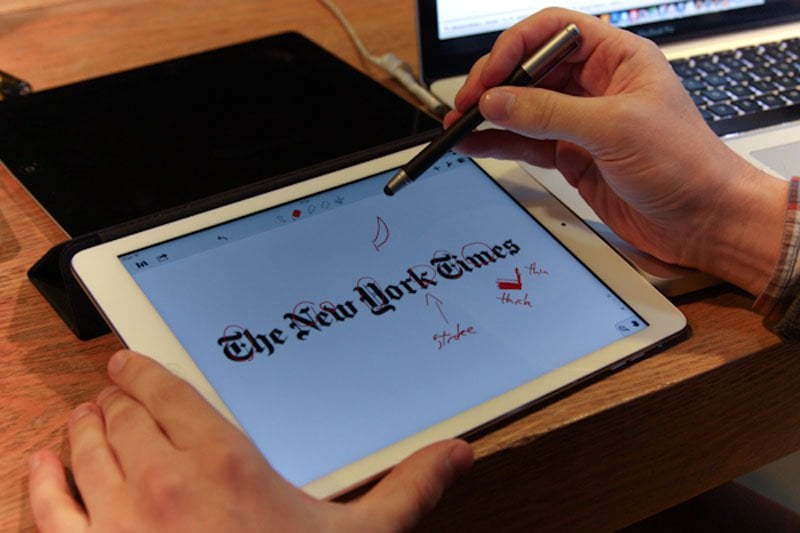 We analysed the individual letter forms highlighting distinguishing features such as ligature, swashes and flourishes.
We started by creating a shortlist of typography-based logos. We excluded any logos containing distinctive iconography or emblems as we wanted our Chinese logos to be recognisable from the letterforms alone.
---
Last Updated: September 14th, 2016
| First Published:
March 7, 2014
| Subscribe with
or


It's harsh, but let's face some facts: Reebok has rarely been cool—using 'rarely' in this instance is an over generous application of the word 'rarely', and I also know that 'cool' is subjective—in all the years I have known the brand, and this is going back to the 1980's where I remember my parents buying me Reebok's for school, even back then, this was a shoe of shame.
This was a harsh time for a kid wearing Reebok's, and one is rarely able to forgive and forget. Tried desperately to paint out the Rebook logo with that cool white trainer polish/whitener.
It's as though they simply seem to be OK with not being as cool as Nike, Puma, Adidas etc, and are happy to settle for this dull state of existence. The only comparison I can come up with is: Reebok aspiring to be like a supermarket's own budget brand, like Morisson's Savers. Nothing wrong with Morisson's Savers food, I buy quite a lot of it myself.
The 1980's
Reebook's logo has seen much better days, and I'm talking about the really early days, such as my school days back during the 1980's.  When I look at Reebook's logo evolution, I find myself drawn to both the logo versions used between 1986 through to 1998.
The Union Jack really worked, at least with hindsight, and more so compare the crap they've ended up with now. The typography hit a good solid style circa 1996 and onwards, but then took a drastic change in 2006.
The Year is 2006

2006 was a drastic change the logos typestyle, and it's one I dig. Possibly a litter over-top with the forward slanting for my tastes, but it had character, edge, style, distinctiveness, drive, momentum yada yada yada…
Technically, what you see above, isn't the whole logo, at least I don't think it was. I believe this was the whole version.
The whole history of the Reebok logo shows a pattern of indecision and design chaos.
Never have liked the typography—the same style they have now—introduced after 2004, with that rather plain-Jane sans-serif font looking all dowdy and corporate. Don't get me wrong, that style of font is smart, solid looking, and I've even used similar styles in my own logos, but I just can't get myself to accept that it's an appropriate fit for a supposedly competitive sports brand.
Reebok's Logo Evolution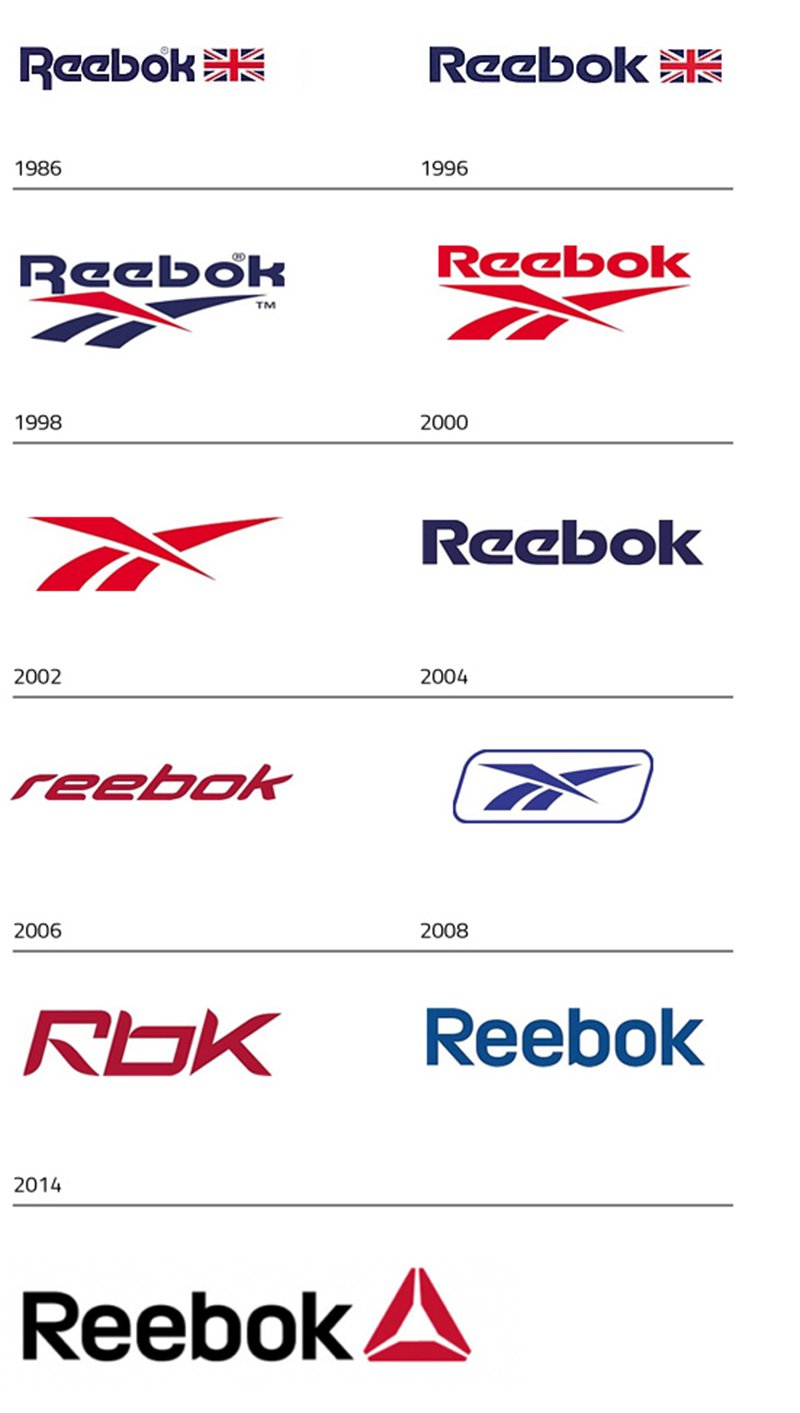 ---
Hello? 2014
So Rebook's next corporate strategy was to introduce an already used logomark (cross-fit) that basically looks like a Bank, or some other form of investment/insurance/legal icon style. I even envisage it being used by some form of religious cult: engraved into wood, and seared into the raw flesh of new cult recruits as they all stand inside this chalk drawn version on the mud in the middle of some dark creepy forest conducting all manor of sexual sins upon each other.
My goodness, it really does look dull. It also just doesn't sit, or fit, with the wording (font style), just seems to be there. In the specific case of Reebok, I find it such a completely inappropriate logomark for a sports brand logo.
Yeah so wonderful, it seems to work nicely in the promo videos, enlarged, cropped, worn on singlets etc, but my word, only just.
Once again they [Reebok] seem quite content on just tootling along, than trying to try just a little harder with an image make-over that could at least have a chance of looking like it's ready to compete with the big boys.
Clearly I'm head-banging against a wall as I can't possibly know what the 'powers that be' have had, and now have in mind for taking Reebok forward, but for me? I just really think this was 'another' miss-mash of existing ideas/elements (their cross-fit logomark), and introducing something recycled to get the next few years sorted and out of the way
What the odd's there'll be a tweak, or two, in a few years time? 
In fairness, it's quite likely that that red triangular pyramid thingy could have looked more interesting with a completely different font style and/or brand name, but golly gosh, at the moment it's just dull dull dull.
It's only my personal opinion, but yes, I'm not a fan. 
---
Last Updated: September 14th, 2016
| First Published:
March 3, 2014
| Subscribe with
or
Posted By:
Graham Smith
Categories:
Graphic Design
,
Inspiration
,
Posters
,
Type Hero
,
Typography
Tags:
brand identity
,
font
,
fonts
,
identity
,
inspiration
,
Logo
,
logos
,
myfonts
,
type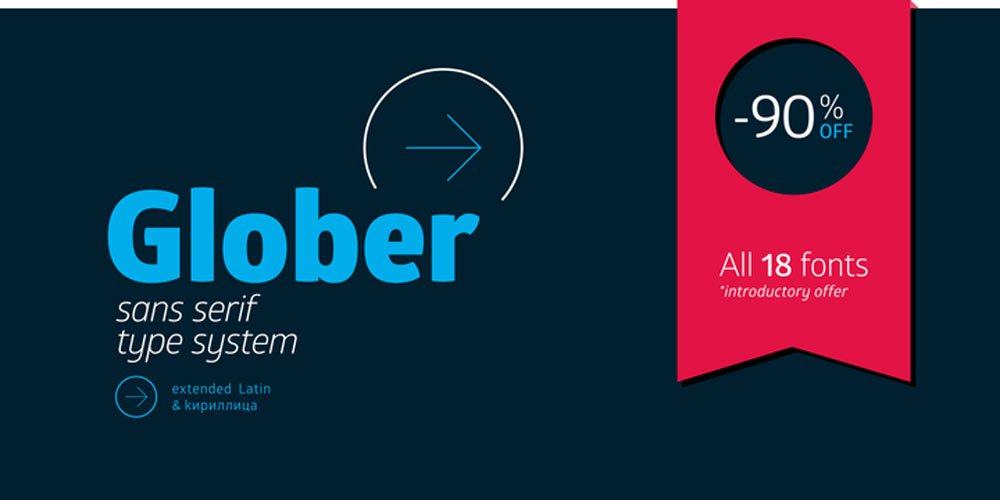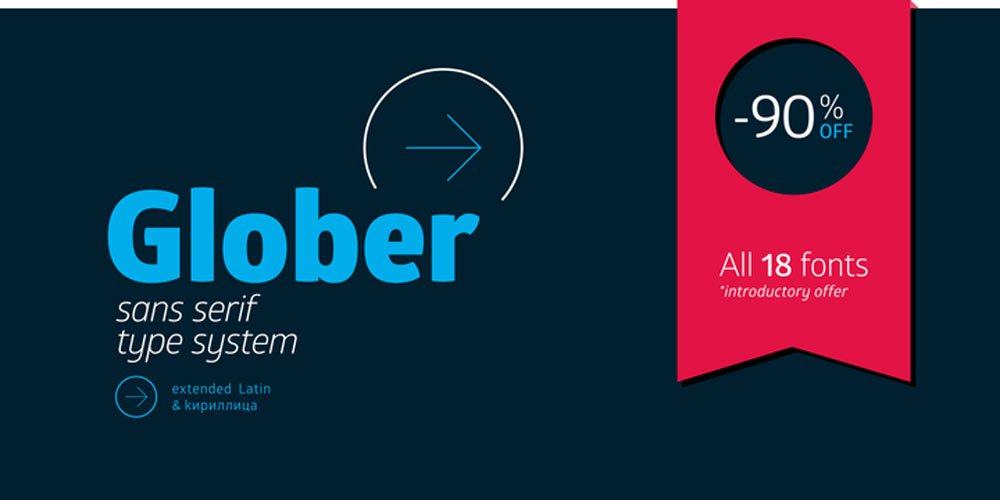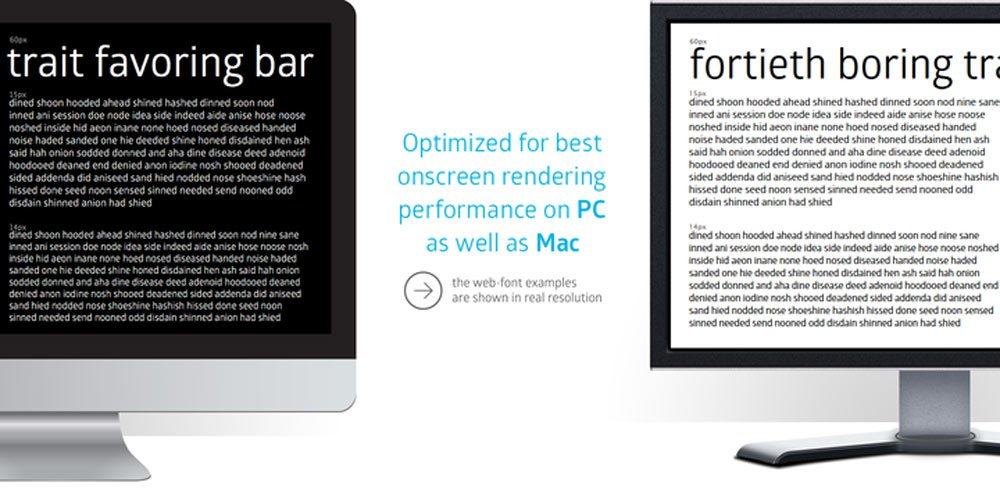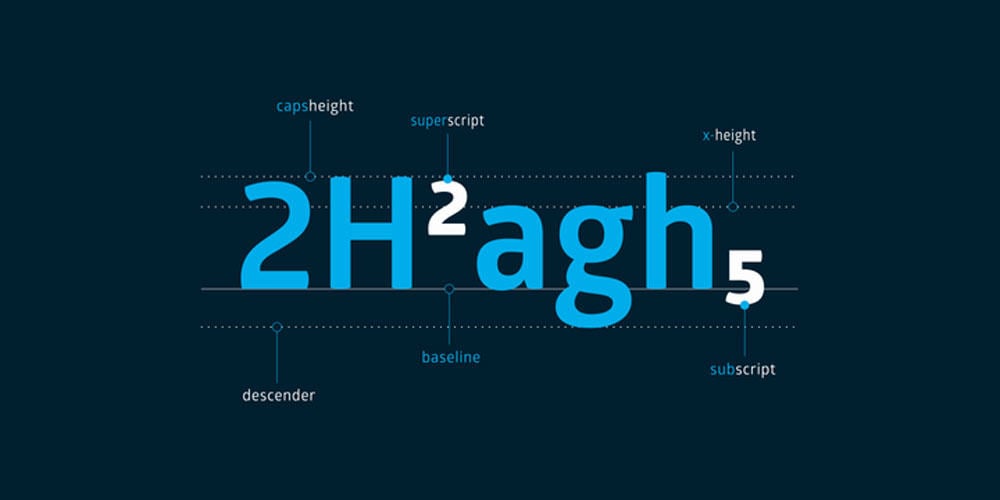 Some of the offers on Myfonts are simply ludicrous. When you consider HOW much effort, skill, passion goes into the research and development of just one font, let alone a complete typeface family, it does make me wonder how on earth they can sell the complete Glober Sans-Serif Type System: 18 weights, for (currently) £11.60 which is 90% off their recommended pricing.
This is a great type family to get your hands on: a beautiful selection of fonts—I'm particularly drawn to the thin/light and heavier weights—for such a stupid amount of money.
Font Fabric: "The Glober font family includes 18 weights – nine uprights with nine italics. It is characterized by excellent legibility in both – web & print design areas, well-finished geometric designs, optimized kerning, excellent web-font performance and legibility etc.

Inspired by the classic grotesque typefaces – Glober has his own unique style in expressed perfect softened geometric forms.

The font family is most suitable for headlines of all sizes, as well as for text blocks that come in both maximum and minimum variations. Glober font styles are applicable for any type of graphic design in web, print, motion graphics etc and perfect for t-shirts and other items like posters, logos."

Type Hero for Logo Designers
Type Hero is where I pick out certain fonts and typefaces that I find particularly cool, useful, charming, endearing, value for money etc. For the most part the font choices will be geared towards styles that I feel would work well in a logo and brand identity design scenario.
MyFonts has become a steady source of font inspiration, so many will be sourced from there, but I will also highlight fonts direct from font foundries when possible.
Worth noting, I think, that all Type Hero suggestions are based on fonts I have myself purchased. I am indeed: talking the walk, and walking the talk.
---
Last Updated: September 14th, 2016
| First Published:
February 27, 2014
| Subscribe with
or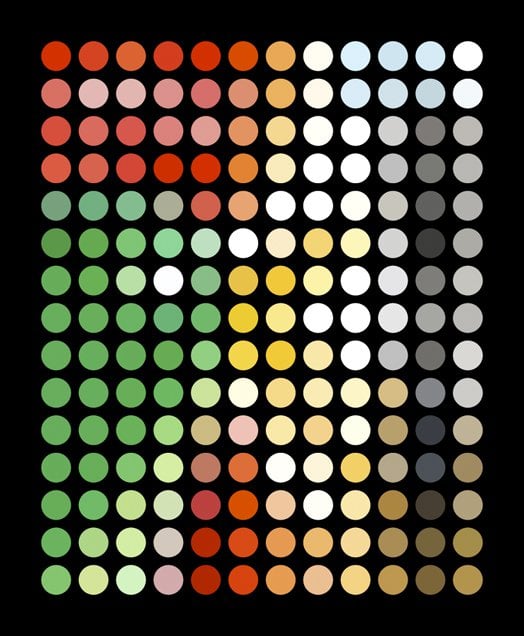 A while back there was a super duper cool study on dots, well, to be more precise, an interpretation of the Mona Lisa by Gary Andrew Clarke.
Andrew took the Mona Lisa and remixed it down to 140 exact circular dots and even with this over simplification, and somewhat abstracted nature, it is clear to all what the dots represent (below).
Iconic Brand Packaging Simplified & Abstracted to Dots by Silas Amos
From that particular art exploration of the Mona Lisa, Silas Amos took the 'dot' idea in a slightly different direction, and applied the abstract 'dot' simplification to certain icon brand packaging. Some of the packagings are pretty clear, some maybe not so much. The not-so-much-of-a-trick, is to look at these at almost thumbnail size, then the appearance of them becomes far clearer.
But I really do love any logo/brand project like this, and I in fact had my own 'dot' brand logo project called: Unevolved Brands, which 'unevolved' brand logos down to a most basic shape: a 'dot/circle'. Which actually reminds me that there are plenty of new logos to Unevolve since I last posted, so might be tempted to add a few more over the next few weeks. (Apologies for the website theme, it's somewhat outdated now, but should still be working)
These are not new, and have been around for a few years, but I rediscovered them on my old Posterous blog, so thought these are pretty cool to post again.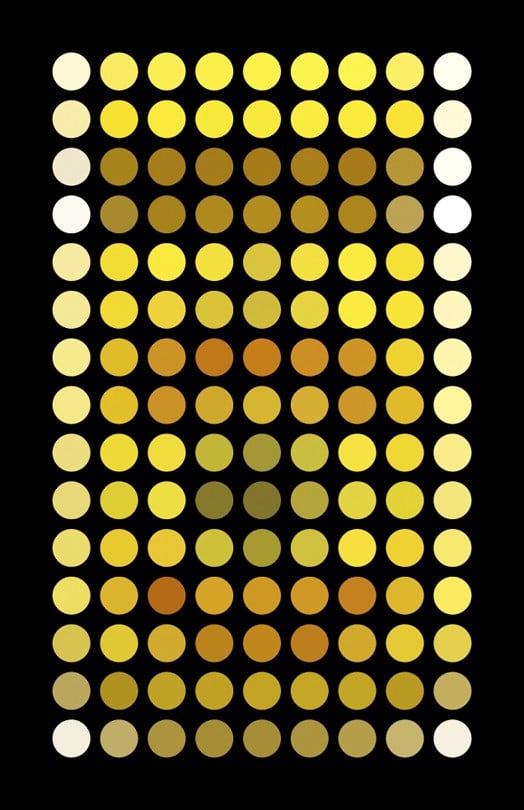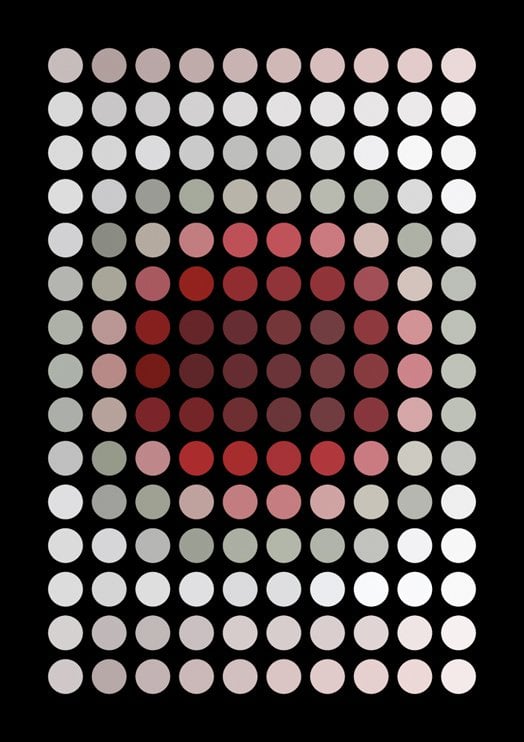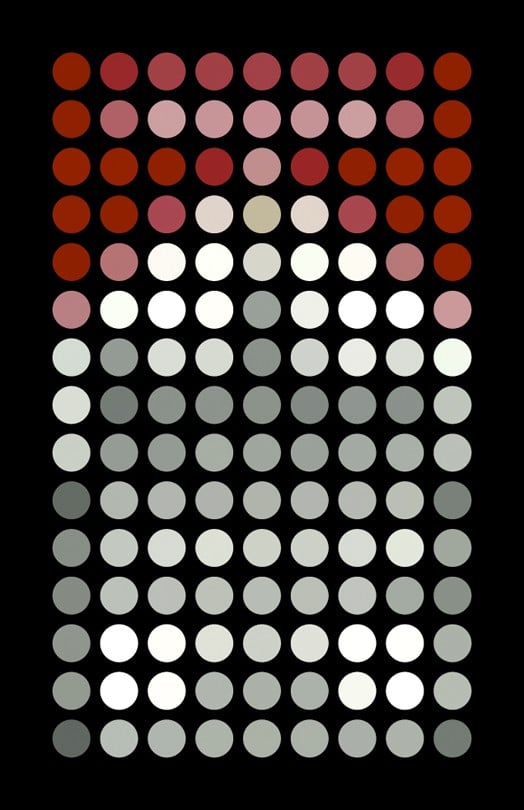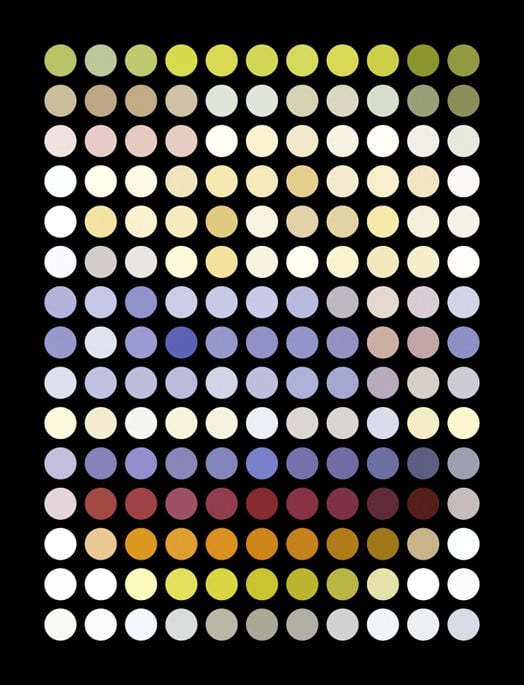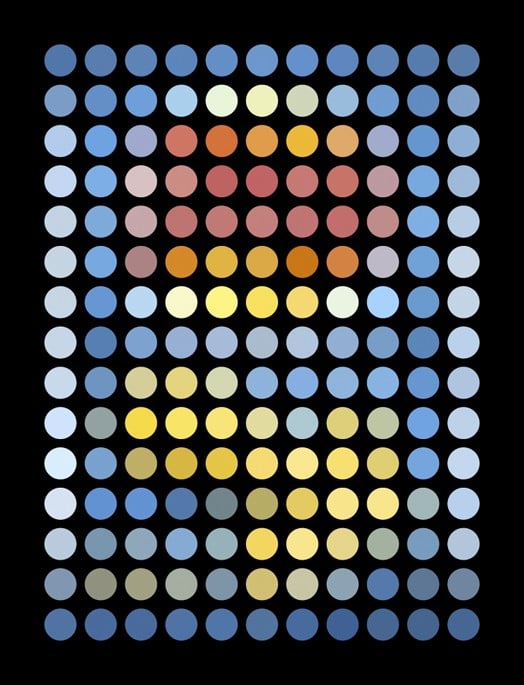 Design Gazette: "I had a few surprises – I naturally assumed Coke would reign supreme, but the slightly fiddly nature of the line and script did not survive the test. Kellogg's though, with its more distinctive shape, fared far better. Colman's turned out to have little left at this degree of abstraction, whereas Marlboro clearly still reads.

A couple of conclusions: firstly, the brands abstracted look pretty cool as art huh? Secondly, one would assume that putting super-bold graphics through the same filter that was applied to a murky, mostly brown, old master's painting would leave them comparatively well placed – that this is not always the case suggests they might not all be as recognisable when abstracted as we would have assumed.

And finally, strong shapes on pack prove to offer the best chances of survival of this process to retain recognition. This is interesting if one considers that many consumers are shopping products with impaired vision and no glasses on – it's quite an illuminating test of graphic equities in a world where packs are 'read' at a glance without 20-20 vision.

My thanks to Gary, the artist. You can see his excellent site (and buy very reasonably priced prints)here. Or if you are a brand manager, why not get him to convert your product into a piece of art for your office walls?"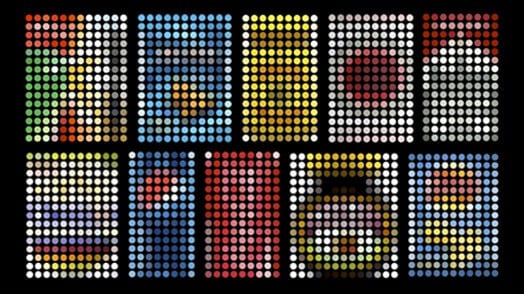 ---
Last Updated: September 14th, 2016
| First Published:
February 20, 2014
| Subscribe with
or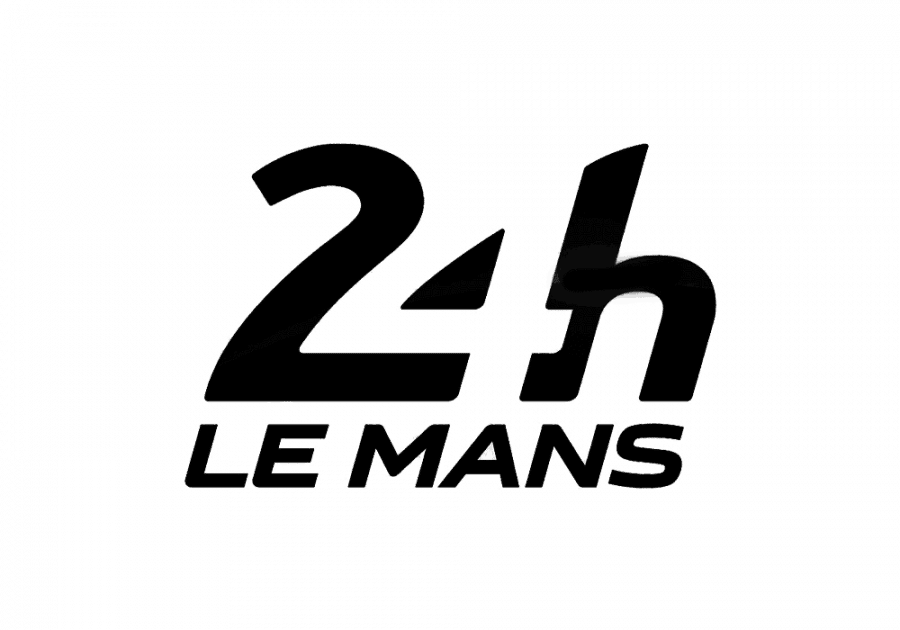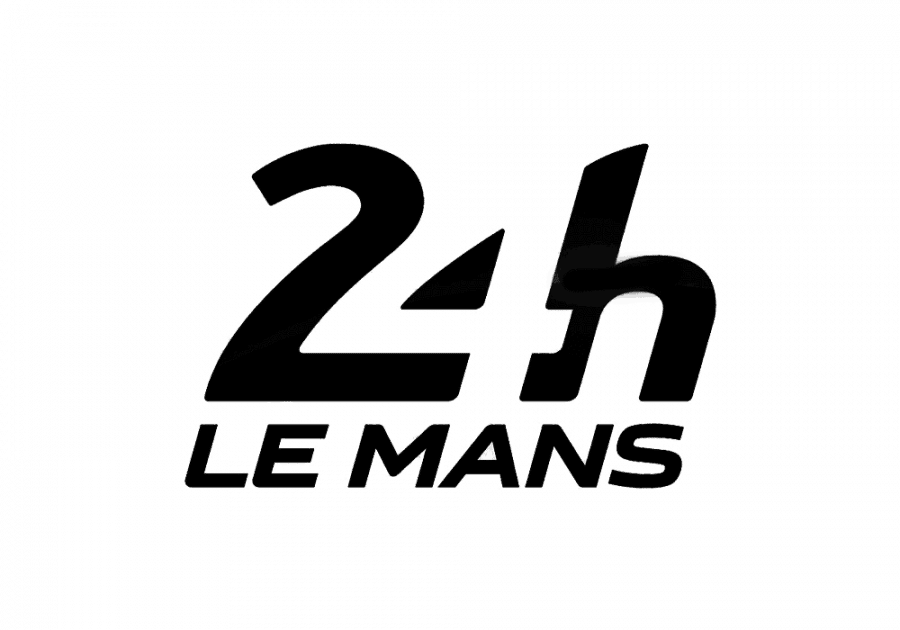 Allowed some time to collect my thoughts, upon seeing the new Le Mans 24 Hours logo, before sharing. I always try to be—well not always, but try to try—constructive when I'm sharing my thoughts about a logo design created by another logo designer.
After all, there is no joy whatsoever in hearing negative remarks about ones own work. To be perfectly fair, and brutally honest, being any kind of artist immediately draws the spot-light upon you, be it for good or for worse, and well, we just ideally need to take the knock-downs with the re-ups.
Saying all that, I do feel the need to state my disappointment in the new Le Mans 24 Hours logo design, and not really sharing the opinions over at BrandNew either, which is pretty much a first.
Le Mans: "Henceforth, the Le Mans 24 Hours has a new visual identity thanks to the new logo designed by the Leroy Tremblot agency. An event like the Le Mans 24 Hours is based around a central dimension — its legend. And this legend has been carefully forged since 1923 thanks to four sacrosanct values: innovation, popularity, performance and variety. These four values can be found in the new logo, which also transforms the identity of the event to a brand concept.

This new sign replaces a logo that dates from 1978 and it coincides with the introduction this year of new technical regulations for the Le Mans blue riband category, the LM P1s (download hereafter)."
Mutton Dressed as Lamb
Take away the gloss, the shiny metallic paint job, the 'blue riband category' (see press release above) and what you see is—and what I immediately saw through the thick paint and lacquer job—the unbalanced nature of the logo.
First thing that hit me was, "what the hell is happening to the top of the# 2?"
I get streamlined car bonnets, curves, fading roads into the distance, but this simply looks like a catastrophic attempt at using some tool in Illustrator for the first time. A little more thickness at the top, maybe even a little more depth, a little thinning out around it's waist would have made such a difference, in my personal opinion of course.
Given the #2 leads us in, it's such a shame it looks so oddly shaped with it's sturdy waistline, it's dainty base, and the thinning on top. Almost feels like a good attempt at a first draft.
The baseline width of the #2, and thusly, the width of the #4, also seem a little too wide to me, in my personal opinion of course. I know there are often trade-offs with this method of creating something from nothing (negative/positive space), but even so, this could have been done a lot lot better, I really believe that.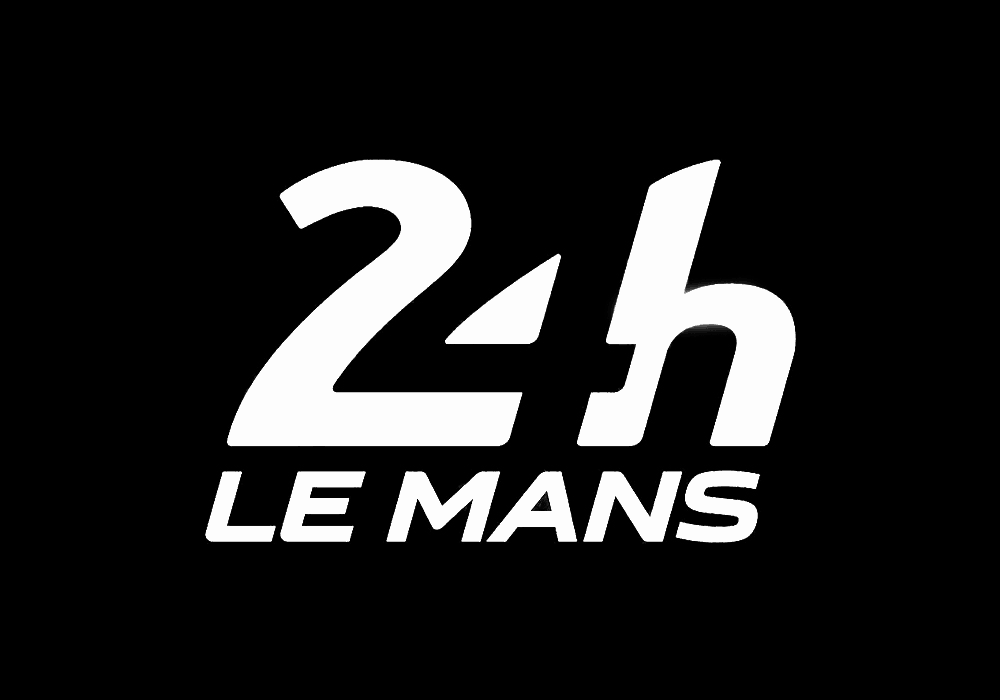 Reverse the logo (which is how it is primarily presented on the Le Mans website), and you see even more clearly the discrepancies between each letters shape and form, and how the #4 almost feels like it's been shoehorned in, not so with the F1 logo.
The 'h' is really the only solid letter going on here. Oh, and the Le Mans wording is also solid, guess that's a good thing because it literally is having to carry the rest of the logo.
Formula 1 vs Le Mans 24 Hours
For us Formula 1 fans the similarity between both logos beckons some weary questions. I'm not 'in the know' enough to question if there is actually some kind of business connection between F1 and Le Mans, in which case excellent, bring some consistency. However, I feel this is probably not the case, and the similarity is simply more than a similarity shared with another motor racing organisation. If one is going to use inspiration from another design, then please do try a little harder to do it justice.
For such a prestigious event, I feel this opportunity to redesign the Le Mans 24 hour logo was simply not grasped. It's really quite disappointing. Oh, and thinking about it, I wasn't that impressed with Caterham's 2012 F1 Team logo either…
Formula 1 vs 24 Hours Le Mans
Quick comparison below shows they also share, pretty much, the same boundaries, give or take.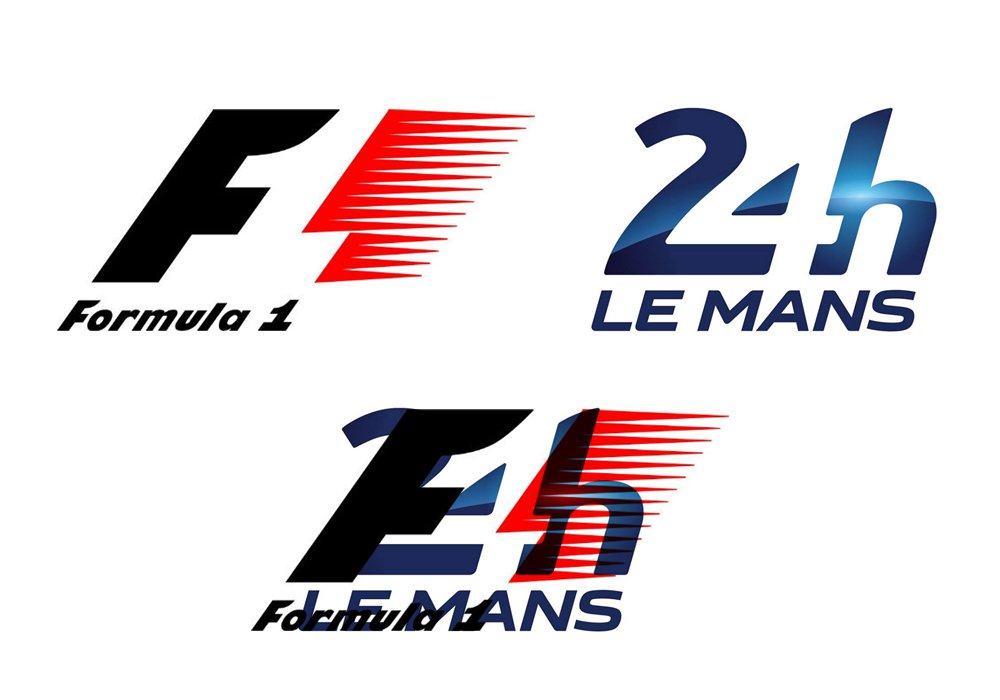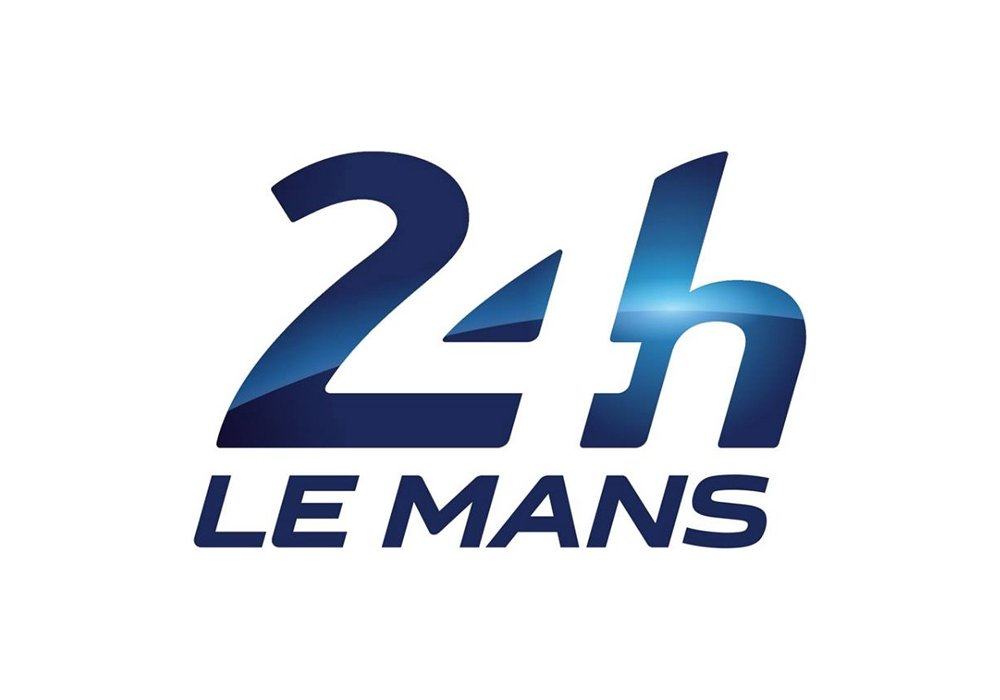 I had an interesting experience a while back that really has caused me to reflect on certain priorities I place regarding my logo design business, specifically in the area of logo designing budgets and quotes.
I have been there, and done that. I started out as a freelancer logo designer charging around £250 for logos thinking that was the dogs bollox, then realising I would need to do at least six of these a month just to pay the bills, mortgage, keep my dogs etc. Completely unsustainable, unless of course you are not sharing your earnings with the Inland Revenue: in which case you can charge less than someone who is a registered tax payer, or you're churning out soulless logo after soulless logo, (both examples are another story for another day).
Over time I realised I could justifiably raise my prices as my own profile and quality of logo designs, in my portfolio, grew and grew.
Epic Pricing
There are plenty of examples where one company or another have supposedly been charged gazillions of £££'s for a logo leaving the whole socialmediasphere agog. We all know, and like to think, that we could have done a better job, or an equally crap job, for whatever is substantially less than gazillions of £££'s.
In my own little world I just sit and ponder these moments, and like to pretend I'm that agency boss who's scored a crazy ass amount of money for a few months work. I like to wonder about how I was able to justify such a huge mount of money as well as wondering how on earth the client saw past such greed and treachery.
It's actually pretty easy to find a way to supposedly 'justify' any amount of money when it comes to something as important and as unquantifiable as the value of a logo and brand identity design.
It's pretty shocking how much logo design pricing can vary from one designer/agency to another, but this is mostly to do with each project being unique in so many ways, not to mention so many ways to achieve an end result. Sometimes it feels to me these 'others' base their astronomical fees on nothing other than how much coffee will be consumed in the anticipated process, and execution, of the latest client windfall (especially at Starbucks prices).
The Point
One day, out of the blue, I was approached by a national airline to redesign their existing brand logo.
Like really, what the fuckety fuck? This never happens to me. How on earth has a national airline considered my modest portfolio worthy of a hire?
During the discussions I was told that money was not an object, hardly surprising really, or so you might think. They desperately needed to redesign the existing airline logo due to various mergers and fleet acquisitions. The existing logo was 'meh', and the new logo needed to be 'ohhhh la la'.
Goes without saying I was still shocked and awed at the possibility of creating an airline logo. I mean man, you realise how many places the logo will be used, seen and flown to around the world? Not to mention the dazzling update to my portfolio, and the heaps of praise and adulation I would surely receive.
The initial brief didn't cover the whole brand identity: the immediate task was to redesign the airline logo, then the rest of the company's identity would be updated in accordance with the logo's style and aesthetics. Not the best way to roll out a new brand logo, but they were insistent that this was the way it would happen.
The Proposal
I came up with a proposal, that as best as I could, explained and meticulously detailed the work needed to research and develop this national airline's new logo design, which covered (not a full list): studying competing and non-competing airlines; researching the country's culture; familiarising myself with the airport layout, the terminals, trucks, uniforms, check-in desks, signage; studying all the blueprints for all the different models of plane (different sizes and proportion of tails and fuselage, meaning that the placement of the logo needs to work as consistently as possible across all the fleet, regardless of how small or big the plane, and ensuring the logo looks epic up close and from 100's of feet away), as well as studying the rising trend in other airline logo and brand identity redesigns, of which there are many.
I tried to work out how much time this would all take, and came up with what I knew to be a stupidly low quote, but it would also be the biggest quote I would have ever presented. Kinda weird really.
I didn't want to be greedy, neither did I want to undersell my experience, skill and general professionalism.
I battled with myself over the budget, it was the hardest thing to come up with and send over. I was confident that I had, in super detail, explained and justified the cost, but I was ultimately in unknown territory.
The Quote
I quoted £25k which I knew was chicken feed for an airline, and I was convinced they, upon seeing the quote, would be rolling about on the floor, laughing at their good fortune. I was OK with that, but I did wonder if I should have quoted at least double that, because even £50k seemed a steal given the scope and general prestigiousness of the job.
Regardless, this would be a lottery win. Massive job, challenging in every way, and let us not forget the exposure this would bring a humble self-employed logo designer working from his spare bedroom in a sleepy seaside town.
I mean my God, an airline logo in your portfolio!
I sent the proposal and patiently waited for a response. One day, two days, three days and nothing. After a week of no response, and a unmistakable feeling in my gut, I flicked over a quick email.
Crash and Burn
My gut typically gets it right: apparently my quote was far too high for them.
Queue the despair and confusion. What did I do wrong? Had I been too greedy? Should I have just gone for a £5k quote to score one of the biggest jobs in my career, and reap the rewards from the exposure?
The reality is, even with all this self doubt, constant evaluating of the what if's, who really knows if the result been any different if I had quoted less, or even more.
I did find it slightly strange a national airline would go with a self-employed logo designer, rather than a multi disciplinary agency given the sheer scope of the project. The thing is: I wouldn't have taken it on if I didn't honestly feel I could deliver, so I did have complete faith that I could, and would have, delivered a winning new logo for this airline.
As well as my quote being too pricey, they said they had indeed gone with a 'branding' agency for the complete package. So they had been busy in the week I was waiting for just a simple acknowledgment to my proposal.
Too many unknowns
I don't have all the details, who really knows what went on behind the scenes once they got my proposal. Maybe they came to a realisation they ought not to trust this to a guy from a sleepy seaside town, who knows if this design agency actually exists, and if they quoted less or more than my humble £25k.
One positive from all this was feeling greatly humbled to have been even considered in the first place, even if it did get my hopes up to an unmeasurably high level only to be deftly massacred shortly thereafter.
I still wonder if had I quoted less would I have got the gig? If so, would they have been pain-in-the-ass clients? Maybe.
Principles Can Suck
The one unmistakable fact, practically impossible to to argue against, is that sometimes, sticking to your principles can be a tough old decision. I wanted to do my little bit for the logo design community by not selling my soul to the lowest bidder. I wanted to set a reasonable price, but whoever you ask they'll probably say I quoted not nearly enough, and others will say I was just crazy ass stupid to let this one get away…
Sometimes you need to swallow a cheap pill for your own greater good, and not the greater good of an industry that really couldn't give a crap about your own attempts to be a principled hero to a community that is as competitive as they come.
I still don't know if I did the right thing, or not. I certainly do feel somewhat proud that I priced it at a very reasonable price, but I also quite foolish and stupid for failing to read between the lines, and not secure what would have been the largest job in my career. But hey, I do live to quote for another day.
© 2006-2016 All Rights Reserved
The Logo Smith: Logo & Brand Identity Design Studio, with 25 Years Experience,
in Cahoots with, The PR Room - Public Relations Agency: Tech, IoT & Smarthome PR Services.

Graham Smith: 10 Badgers Copse, Seaford, England
Tel: +44 (0) 7816 527 462 Email: mailto:[email protected]