All Archived Posts in logo design
---
Last Updated: December 29th, 2016
| First Published:
December 29, 2016
| Subscribe with
or
Case Study: Baze iOS Application Icon & Baze Logo Design
This Baze logo is an example of a client asking for a cheeky 'quick and cheap' logo & iOS application icon design; me being in an usually festive and cheery mood, and going along with said cheeky request.
From the client emailing me about doing a possible application icon for Baze, and me doing said Baze logo, took all of 30 minutes or so.
Probably the quickest, most efficient logo design project I've ever taken on, and the result being an incredibly pleased, and supremely grateful, new client.
Plus I love it, so it's a great logo design for the portfolio, and a bit of pocket money for me in the process.
The Baze Logo & Icon
It's a pretty simple idea, that just came to mind pretty quickly after drawing a relatively bold and clean letter 'B'.
The client also wanted to see if it were possible to shoe-horn the letter 'z' within the 'B', for which I saw a likely solution in my head.
After a few well placed curves, circles and a few round guides, it did look like the usually awkwardly shaped letter 'z', could actually be neatly positioned within the 'B'.
All without the overall logo looking like this angular shape was literally shoe-horned in.
---
Last Updated: December 12th, 2016
| First Published:
December 9, 2016
| Subscribe with
or
This is a brief 'before & after' of a brand logo redesign (featured image above) that I completed for Homes Alive Pets, a Canadian pet store chain.
I'll be updating this post with further information relating to this projects development. 
We didn't actually start the project intending to update their existing logo, instead the brief was to design a totally new logo design, and accompanying brand identity.
During the process of exploring logo ideas and concepts, it became apparent to the client that it was actually far better to keep with the existing logo, but to update/refresh it.
This made perfect sense given the accumulated amount of: brand equity, customer and client awareness, that Homes Alive Pets had successfully established in previous years of trading.
The challenge then was to craft a new pet dog, and a new pet cat, that would create a more comforting and characterful duo.
There were quite a few revisions and styles of the dog and cat, but both the client and I fell in love with the final design.
Logo Case Study - Logo Redesign for Homes Alive Pets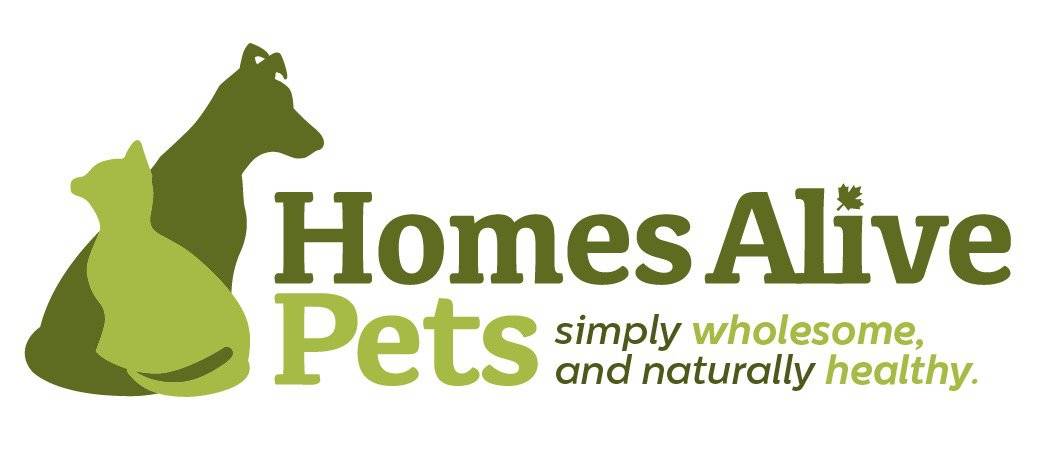 What I liked most of all with the new design, is how I wrapped both tails of the cat and dog, so as to make them look like they are almost cuddling and protecting each other.
I am actually really fond of this dog & cat duo.
It's certainly not a new or unique logo idea, to have a cat and dog represent a pet company, but as it was already part of their brand, I did what I could to make it as 'uniquely theirs' as possible.
Adding some floppy ears to the dog, and generally making both of them look a little more realistic, really seemed to make the whole logo far more welcoming, and friendly, as well a tad more cute. :)
Brand Name & Tag Line Creation
There was also a slight change in the brand name, so from: Homes Alive - Pet Centre, it became: Homes Alive Pets - simply wholesome, and naturally healthy.
I was able to help the client craft their new tag-line, which meant I also was then able to ensure it slotted nicely into the the space to the right of 'Pets', and took up two lines. Little details like that that might be overlooked, but the bigger picture is always so important.
As a little 'nod' to their Canadian heritage, the client asked that I popped a maple leaf on the letter 'i', it's subtle enough,
The new logo proudly displayed high above the store (apologies for the poor picture quality).
I love how the actual logo has quite a lot of depth. Looking at the dogs head, and ears from the right hand side, looks really good.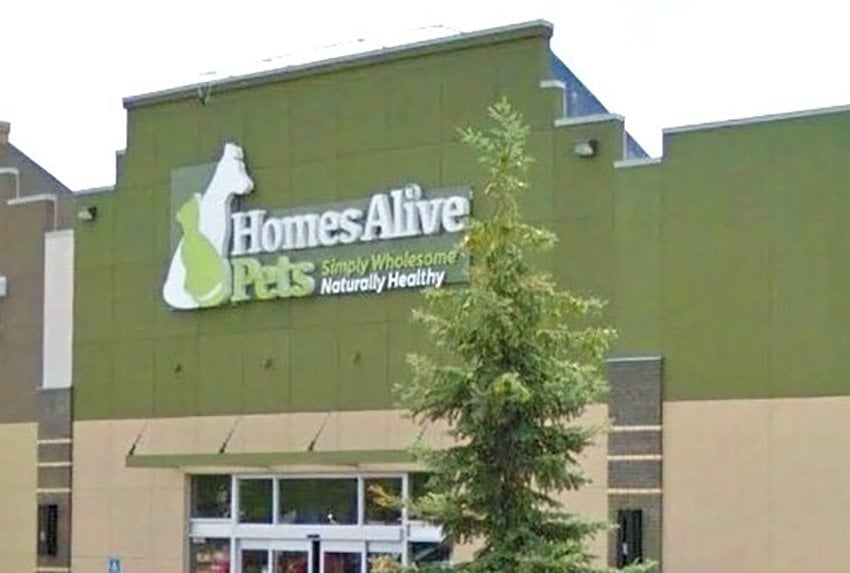 Just a few of the colour options we look at for Homes Alive Pets.
Very early drafts of cat and dog style, even including a photo of me and my German Shepherd, Miss Charley.
---
Last Updated: September 25th, 2016
| First Published:
September 19, 2016
| Subscribe with
or

Great little find by John Gruber, of Daring Fireball, the other day: Evolution of the 007 James Bond Movie Logo Design, which was originally posted on The James Bond Lexicon, a Tumblr site.
Don't think I've ever really given much thought to the actual logo for 007, at least not until now.
Some quite subtle changes every few years until 1993, then they finally seem to be satisfied with the logo. Or, they just got fed-up changing it for every movie.
As John Gruber pointed out: "Not sure what they were thinking with the one from 1973 — italics are essential."
The Inner Curves of the 7 in 007
I liked the inner curve of the 7, from version 1962 up to 1987, then they straightened that inner space out, and I'm not sure I like it as much.
It was a very distinct #7, and I think they could have managed it, even though they've been thinning out the overall logo each time.
I get that the #7 served purpose of acting at the guns handle, but I think a little subtle inner curve would have been nice.
So practicing what I sort of preach, and just for shits-and-giggles, just quickly mocked-up what I feel looks nice, and keeps with the previous styles without being too clunky and fat.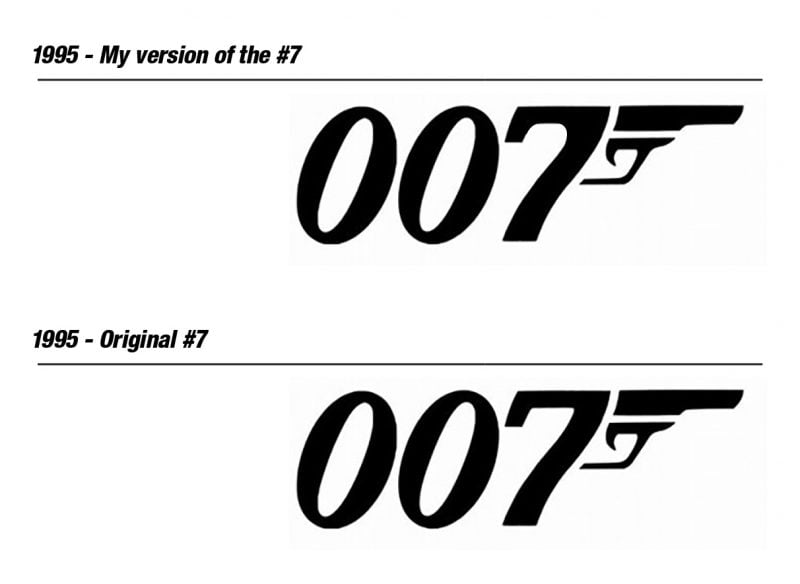 ---
Last Updated: September 20th, 2016
| First Published:
September 14, 2016
| Subscribe with
or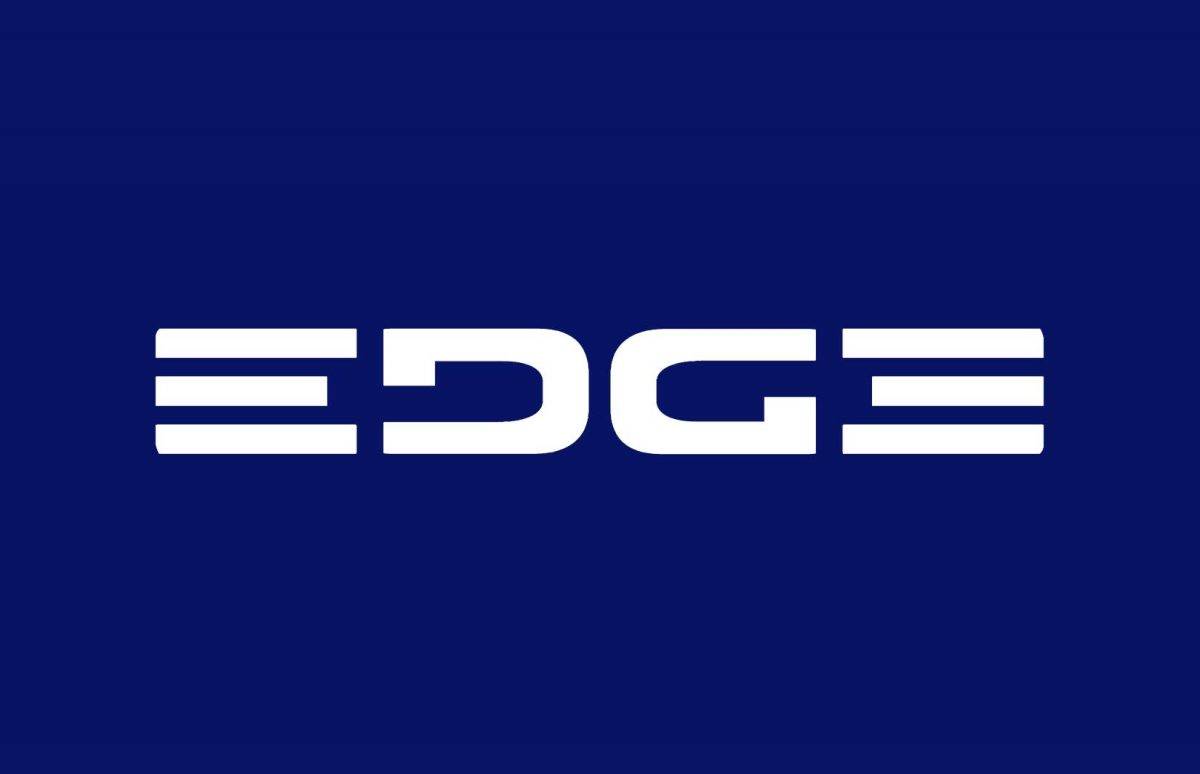 Happened upon this rather nice Ford Edge Ambigram car logo concept, by reddit user hadukem (don't have a website URL or anything like that, just the reddit link and the imgur link that hadukem posted to.)
Have read some of the comments, and of course, a variety of opinions have been shared. I don't think it's 'dumb', as one person quipped.
It might not serve any higher-purpose, but manipulating existing logo designs can be a fun and useful exercise, and can help to keep ones mind sharp.
There's an element of problem solving with things like this, which one can never get enough off.
I actually only viewed the original Ford Edge logo first to see if I could work out how the ambigram was created.
I gave up after a minute, but when I took at a peek it certainly made sense.
It's quite clean and respectable alternative to the original Ford Edge logo, and whilst I'm sure Ford won't be scrambling to use this, it's also not an idea that should be quashed.
Maybe in another dimension, there is a Ford Edge out there with an ambigram, just like this one, and I think it looks pretty good for a car model emblem.
---
Last Updated: September 14th, 2016
| First Published:
August 22, 2016
| Subscribe with
or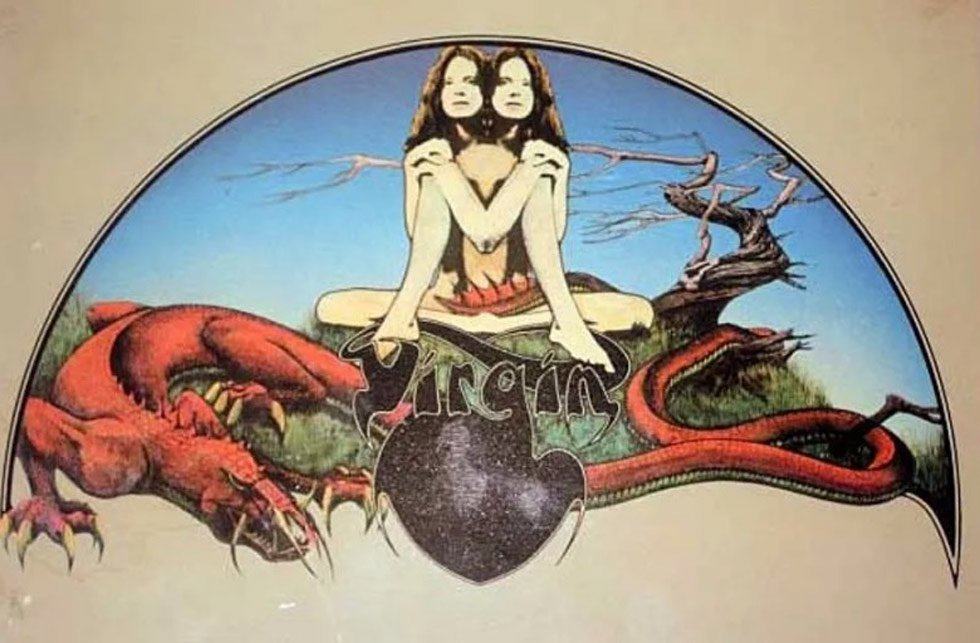 Came across this post on Virgin's official blog: Virgin Logo The original Virgin Logo Design was used for Virgin Records way back in the 1970's, and the logo was designed by English artist, and illustrator, Roger Dean.
BIOGRAPHY: ROGER DEAN was born in England in 1944,and is an artist and designer internationally renowned for his, album cover designs, posters, books, the revolutionary publishing companies, Dragon's Dream and Paper Tiger, Eco architectural, furniture and stage design, as well as typefaces, logos and iconic designs for computer games company, 'Psygnosis' and redesigned the Tetris Logo."

Read the rest of the Biography on Roger's official website: http://www.rogerdean.com/biography/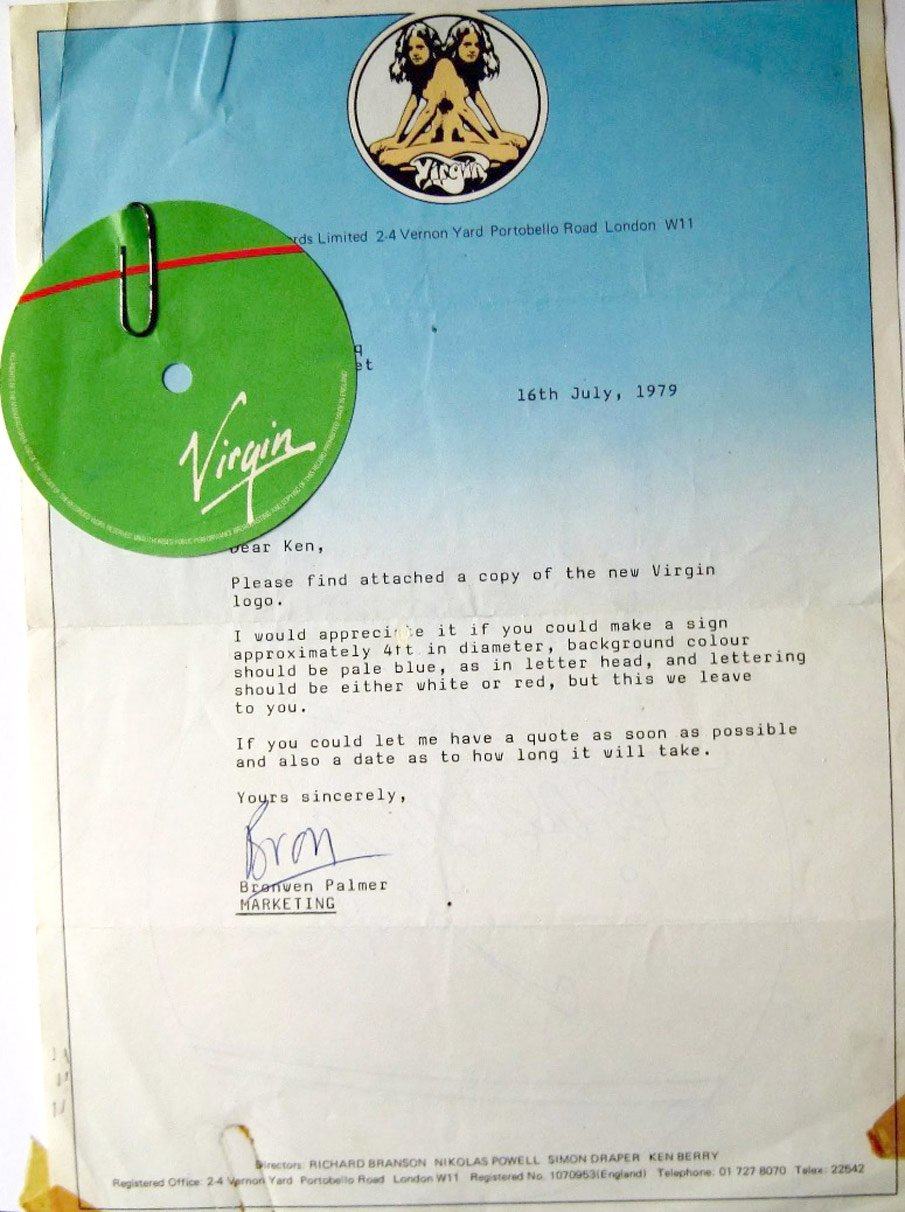 The letter shown below was sent in 1979–attached to the letter with the original naked-twins logo letterhead) is a copy of the more familiar Virgin logo.
Virgin: It [the twins logo by Roger Dean] was an embodiment of the early-70s and really summed up the feel of the brand and the artists we represented.

However by the time 1977 rolled around, and we'd signed The Sex Pistols, the logo began to feel a little dated, and didn't overly reflect the direction we were headed.
Edgy and Less Hippy
So it would appear that in this later period of Virgin's business, a more 'edgy' and less 'hippy' logo design was called for.
Got to love the word 'edgy'…
Part of the reason for this logo update were due to plans to expand Virgin into other industries, so something 'stylishly simple' was needed.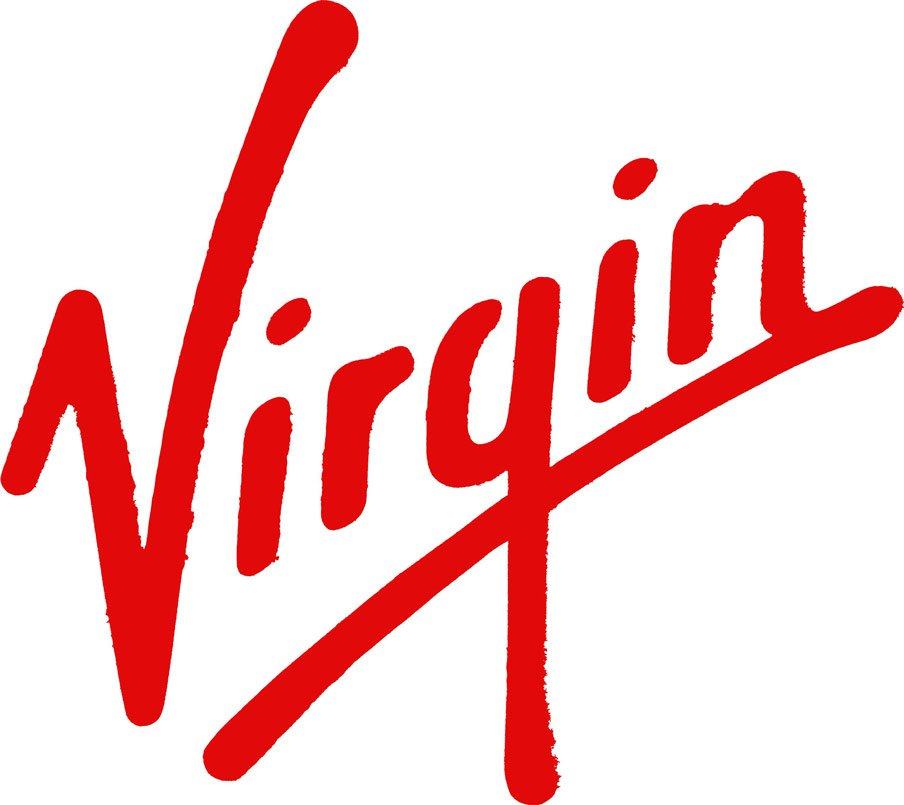 The Original Virgin Logo Napkin Doodle Sketch
This is my favourite part, as I'm always referencing the 'napkin doodle' to my new clients; a way to explain how some of the creative brainstorming process can come about, something as rough as a few words scribbled on a napkin can lead to mighty mighty things.
I'll be referencing this in my client communications from now one, as some clients don't seem to believe me when I say 'napkin doodles' can often lead to the chosen logo design.
In Virgin's case, it was a young designers who came to meet Mr Virgin on his houseboat, and whilst talking about about the logo, scribbled what you see on the napkin.
And that was it, it was love at first sight!
Mr Branson: "It looked like a signature. It had attitude. It had energy. It was in-your-face simplistic."
This original Virgin logo sketch became the official brand mark of Virgin in 1979, and has since disrupted everything from air-travel, to banking, health clubs and hotels.
No denying that the Virgin logo is one of the world's most recognisable brands.
Virgin Logo Refinements
Apart from the original naked twins logo, the Virgin logo has seen a few subtle refinements over the years, but nothing has dramatically changed in these intermediate updates.
I wonder when and if the next Virgin logo update will happen…
---
Last Updated: September 14th, 2016
| First Published:
August 17, 2016
| Subscribe with
or
VIEW'D - Logo Design Case Study
VIEW'D is a new logo design and iOS app icon design project, which I'm currently working on, and am happy to share the ongoing logo design case study of this ongoing branding project.
I will update this ongoing logo design case study with new screenshots and photos of my mock-ups, sketches, and scribbles as they are done.
In this post are just a few snapshots of the later stages of the project, showing the most recent logo design concept (above), as well as some initial thoughts on the style of typography for the VIEW'D brand name.
VIEW'D - Logo Design Case Study 
This is proving to be a fun and interest project to work on, mostly because it's challenging. I like a challenge. It's challenging because there are a few direct competitors to VIEW'D: namely Skype and iChat, but this app has some practical advantages that could make it a worthy contender.
Getting the styling and branding right, and probably the iOS app icon in particular is really important.
I know for a fact that a nicely designed application icon is important, and can play a big role on someone choosing to download it, or place it pride of place on their main home page screen.
Its like the 'don't judge a book by it's cover; but a lot of us do.
To this effect I've chosen to adopt more of an overall visual graphic, than a regular logo. As in, the brand name and typography is pretty secondary to the actual eyeball, as this is what will ultimately be seen first.
Actually the same was true for the Feedly logo (which was also animated) and app icon design I did some years back, and that's still going strong.
There was more of a design focus on the cross platform application icon, that the actual logo as a whole. You rarely see the 'feedly' name (set in Helvetica).
VIEW'D is set to be a new dynamic application that brings phone and video calling to a whole new experience.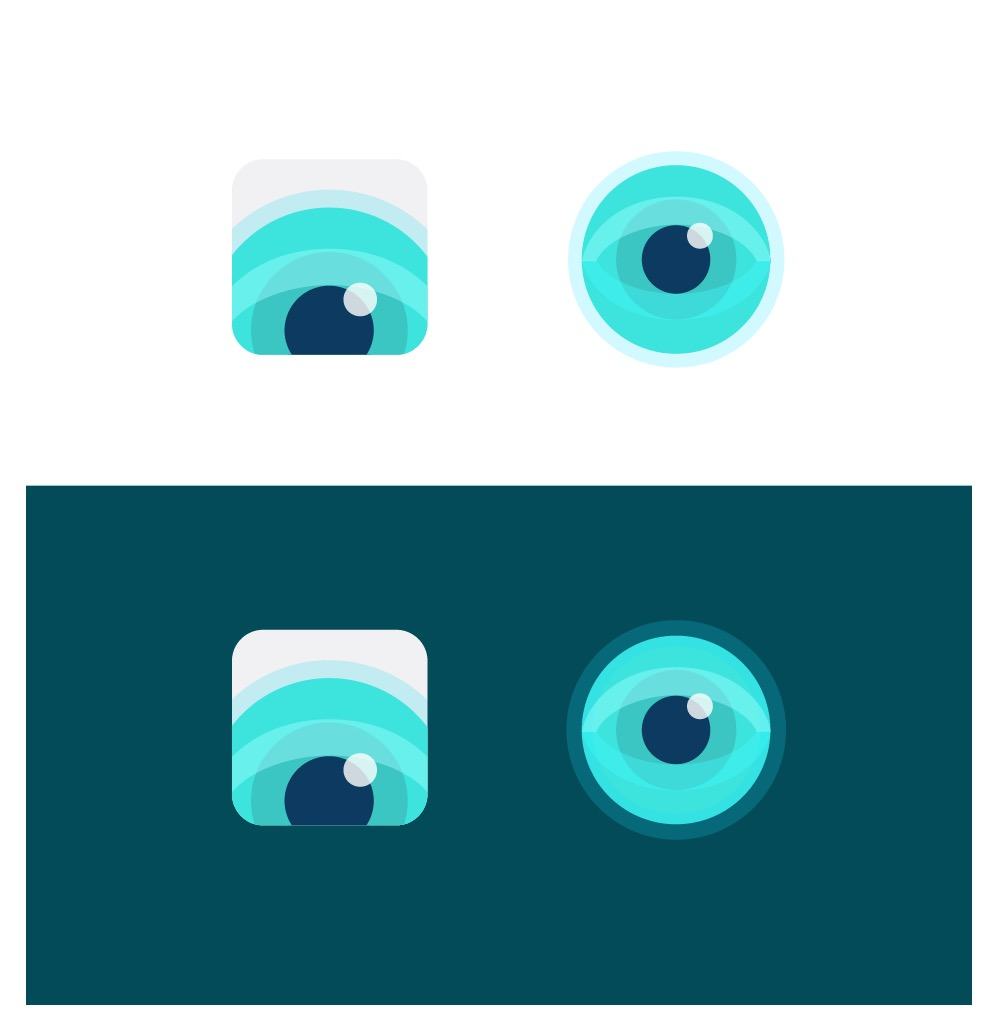 Design Updates: 07.09.16
Some minor changes to the eye, by removing the outer light blue border that was previously  there.
Also enlarged the inner dark blue circle (iris) and the Play icon relative to it's surrounding elements.
As a freelance logo designer, the number of logo ideas and concepts that end up either off-the-mark, or simply no-good, can vary from project-to-project.
However, I like to feel there is rarely a wasted moment on a project as some of the unused logo ideas can either be repurposed for another client, or in my case, sold as mentioned in this post: Custom Logo Designs for Sale, and currently shown on the Logo Designs for Sale page.
This logo design can also be viewed on Dribble: https://dribbble.com/shots/2904763-View-d-Logo-iOS-App-Icon-Design
---
Last Updated: September 14th, 2016
| First Published:
August 15, 2016
| Subscribe with
or
Work-in-Process: WordPress Theme Developer Logo Design
'codetipi' is a logo design project currently in progress for a popular WordPress Theme and Website Developer.
In this post are just a few snapshots of the later stages of the project, showing the most recent logo design concept (above), and a few of the ones that didn't quite turn out as expected.
As a freelance logo designer, the number of logo ideas and concepts that end up either off-the-mark, or simply no-good, can vary from project-to-project.
However, I like to feel there is rarely a wasted moment on a project as some of the unused logo ideas can either be repurposed for another client, or in my case, sold as mentioned in this post: Custom Logo Designs for Sale, and currently shown on the Logo Designs for Sale page.
This logo design can also be viewed on Dribble: https://dribbble.com/shots/2897615-Codetipi-Logo-Design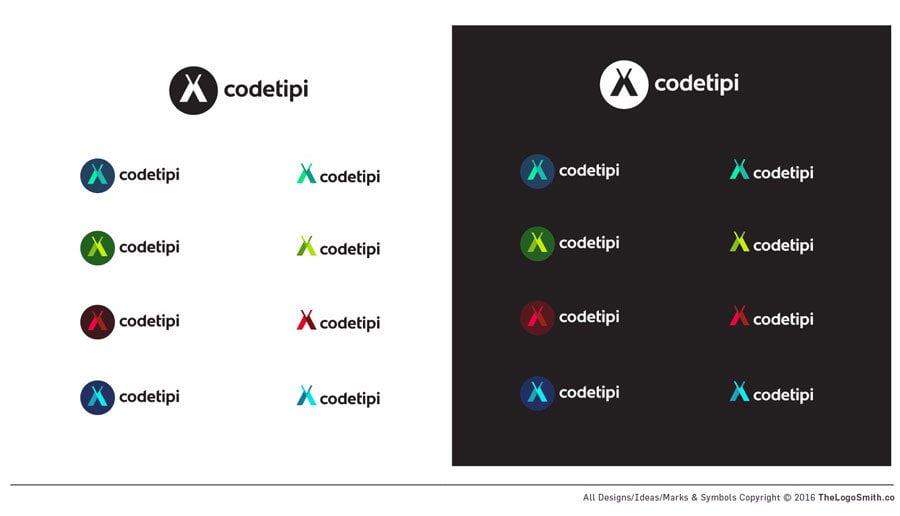 Some of the not-so-on-the-mark logo design concepts and ideas: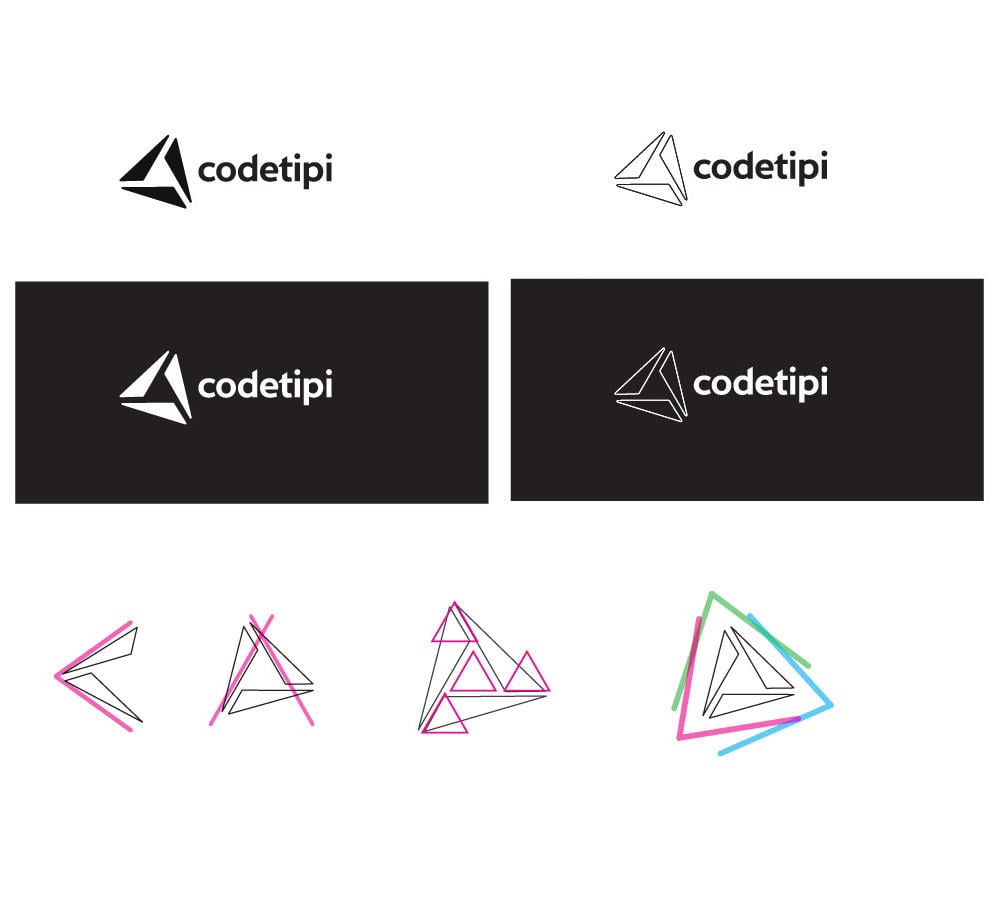 Codetipi creates unique WordPress themes and plugins (and possibly more code-related products in the future) that push the standards and strive to not only feel/look nice, but work just as well.

The products are clean, modern, extremely user-friendly and users genuinely love them. No bloat and no fluff, my products just work.
---
Last Updated: September 14th, 2016
| First Published:
July 19, 2016
| Subscribe with
or
My AC Academy Choir Logo Design Seen at the Royal Albert Hall
A short while back I took on pro bono logo design project for AC Academy, which is a London academy for children to take part in choir singing.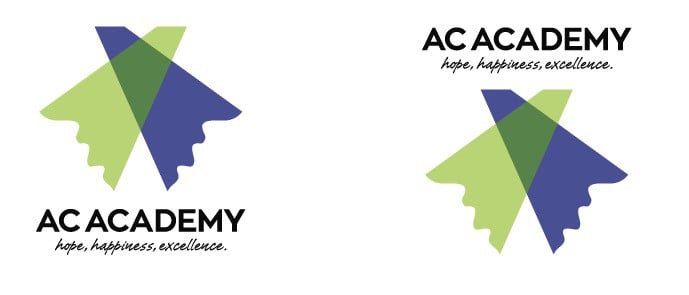 The logo was primarily to be used on the front of the 100's of white t-shirts that the children wear, when singing and performing at the Royal Albert Hall, most notably with Russell Watson.
The general idea of the logo design is that there are two spotlights crossing each other and illuminating side profile of a child singing, which is cut out of the lights beam.
I can't say enough what a thrill it is to see the logo design on such a huge and epic scale, and at such a prestigious event and venue. Very proud.
Here are some photographs taken from the most recent choral performance, from the children of AC Academy, along with Russell Watson.
Royal Albert Hall: "Over 2000 children from over 100 AC Academies will come together at the Royal Albert Hall to perform a mix of songs, from The Drunken Sailor, to a Les Misérables medley and Carmina Burana, alongside a West End band.

The concert will include a performance by children from Uniquely, the AC Academy's dedicated SEN programme for children with special educational needs, who will sing a song they have composed themselves. Finally BBC Strictly's Kevin and Karen Hauer will take to the stage to celebrate the launch of a new pilot project created in partnership with the AC Academy, dedicated to creating dance schools and dance school leaders (following a similar process to AC Academy's renowned Choir Creation scheme).

AC Academy is Armonico Consort's music education programme which reaches 15,000 children every year, offering life-changing experiences through participatory music projects. By 2020, Armonico Consort aims to create 300 children's choirs and 300 new choir leaders through its in-school Choir Creation scheme and out-of-school AC Academy Choirs, creating a singing legacy across the UK."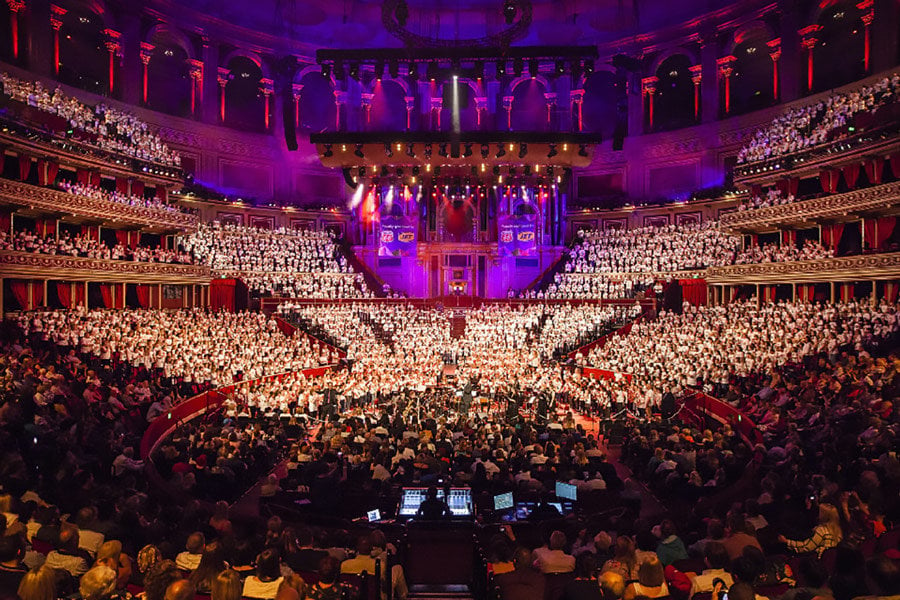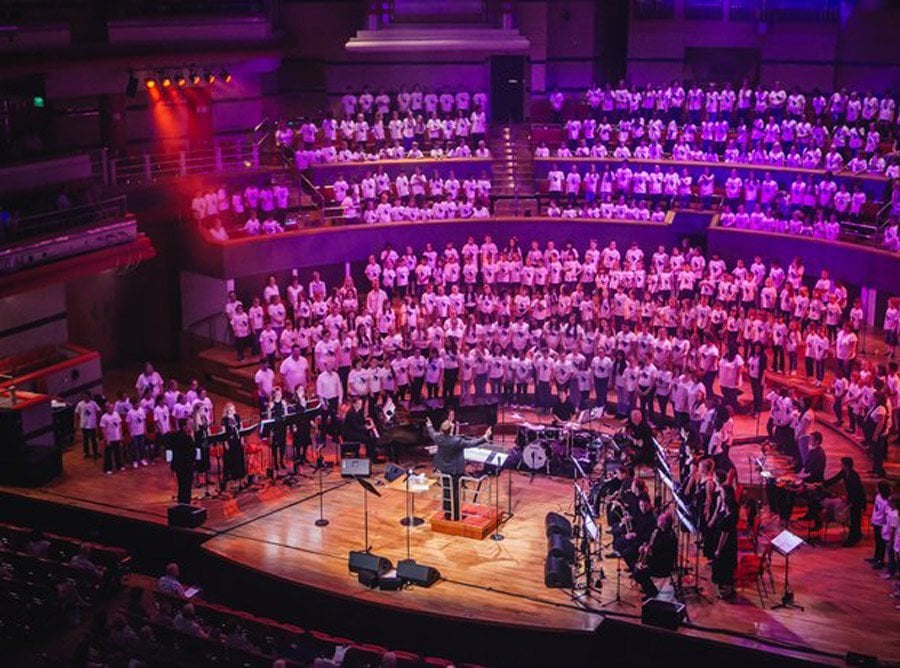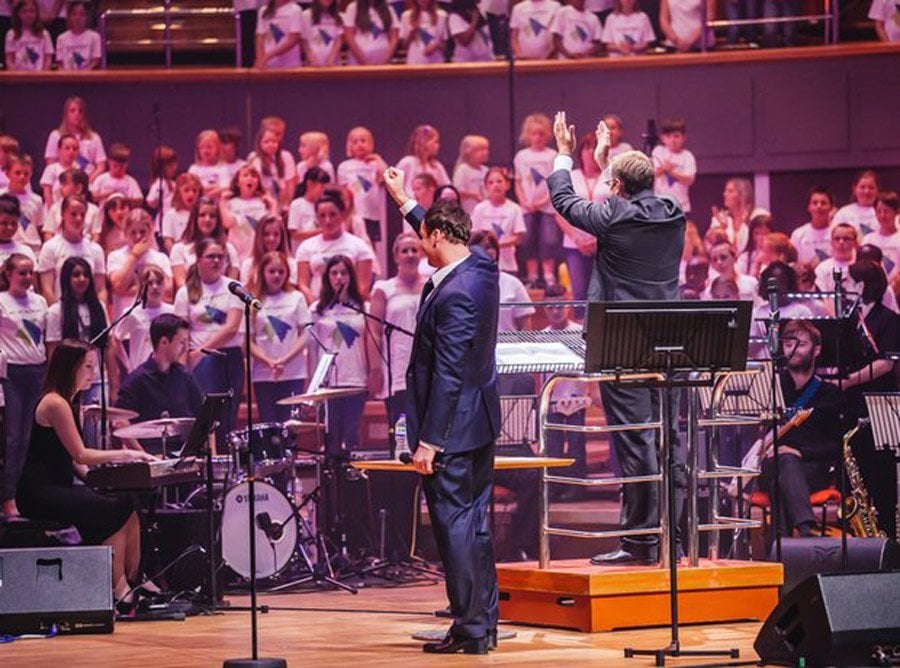 The Challenges Facing Freelance Logo Designers and NDA's
Thought I'd share a letter I once wrote to a client, regarding some compromises on an NDA (Non Disclosure Agreement) I was asked to sign, for a logo and brand identity project.
The challenge was that my client was an 'agency', acting on behalf of their client.
My role was to produce 3-4 logo concepts, that 'my' client would show their client. Their client would then choose 1 of those concepts for us to move forward with.
I felt it addressed a number of issues that I had been worried about before in other, but had not had the 'courage' to raise them with the client.In this case, I just felt I needed to raise these recurring concerns.
I'm very glad I did, as the client is question was only to please to accommodate my suggestions, which made it all the easier.
I have since added these points to a Contract template that is used in response to signing any further client NDA's.
The biggest lesson learnt here: Don't be afraid to question the NDA, if it doesn't 'flow' with your own contract, or way of working.
Note: I've pretty much just copied and pasted this letter as I wrote it, but obviously removing names etc.
The NDA Letter
With reference to your NDA and contract: I do have my own contract, but this may conflict with some of the aspects in the NDA, which isn't a problem as I can change it as required.

The main topic of interest: relates to 'Ownership of Copyright' of the logo design ideas submitted to you, and also my usual approach of putting my finished logo and graphic design work in my portfolio.

Ownership of Copyright

Typically, with OoC (Ownership of Copyright), this automatically passes from me to you once the balance has been paid ( I do also sign a form that I send clients showing Transfer of Ownership)

It is at this stage when I'd usually release the final digital files, concepts to the client.

No final balance; no final files or Transfer of Copyright.

One Logo Design Idea

The other issue is that the client will only always get the copyright for the one chosen logo design, and none of the passed-up previous concepts, ideas, sketches etc. 

In this case, the NDA would conflict this rule of mine as I am to present you with 3-4 logo concepts which you are to show to your own client.

If your client doesn't go with any of the ideas, then this is a bit of a grey area: you would have 3-4 ideas, that you've paid for, but yet I would ordinarily only allow for 1 idea in relation to Transfer of Copyright. 

This is meant to protect me from a client using any of my previous ideas, that they've previously passed up. I might have created countless sketches and vague concepts, maybe a handful of more polished digital ideas, but my client will only ever get ownership of the one chosen idea.

I'd need to make some kind of provision that you are not permitted to use my concepts (except 1, as you have paid for that) for other works'/clients' if your client doesn't select any of mine.

Also, this would apply if your client does choose an idea, this means the other remaining concepts cannot be used or repurposed, by you, for other clients/future projects etc.

In Conclusion

• If your client awards you the pitch, and we get the go ahead to progress with one of the concepts, only this 1 logo design concept would be covered by the Transfer of Ownership of Copyright. 

The remaining logo concepts remain my ownership, but I'd adhere to the NDA and remove any mention/reference to the clients brand name etc, obviously. This would allow me to repurpose a logo mark, for example, that they passed-up, for another client. Not clear at this point if the Ownership of the chosen concept eventually goes to you, or to your client.

• If the client doesn't award you the pitch, then you are only permitted to use/repurpose one of the concepts I've created, for any other project/client you see fit in the future. You'd  just need to let me know which one, and I'd arrange the Transfer of Copyright etc accordingly.

Showing of Client Works

Typically, after a project is complete, and the client is happy etc, then I'd put the logo design on my portfolio, external portfolios, and usually blog about the project etc.

I understand the NDA prevents me from doing this initially, but I'm not sure if this is a 'forever thing', or time limited?

So for example: you win the pitch, and we work on a final version of the logo. Would I, at any point in the future, be able to put this design in my portfolio?

Sorry for all this, but I've been burnt before, and seen other designers' in a similar position see a number of their 'unwanted' concepts actually being used.

I hope this all makes sense, and feel free to suggest edits/amendments, then I can include this in my Contract and send it to you for your approval, along with the Invoice.
---
Last Updated: September 14th, 2016

| First Published:

February 3, 2016

| Subscribe with

or
Case Study: txt.search Logo & Icon Design
One of a few Work in Process graphic design logo projects I'm currently involved with is this one, called txt.search: a web app that helps facilitate the searching of text strings, and other text data, within a mass of data.

To help portray the somewhat 'raw' and 'data driven' aspect of this app, but without making it look boring or meh, I've been playing with a slight retro 8-bit approach with the icon.

I've tried to incorporate the idea of an 8-bit text and/or a text file icon, within the graphic for the customary icon for 'search': the magnifying glass.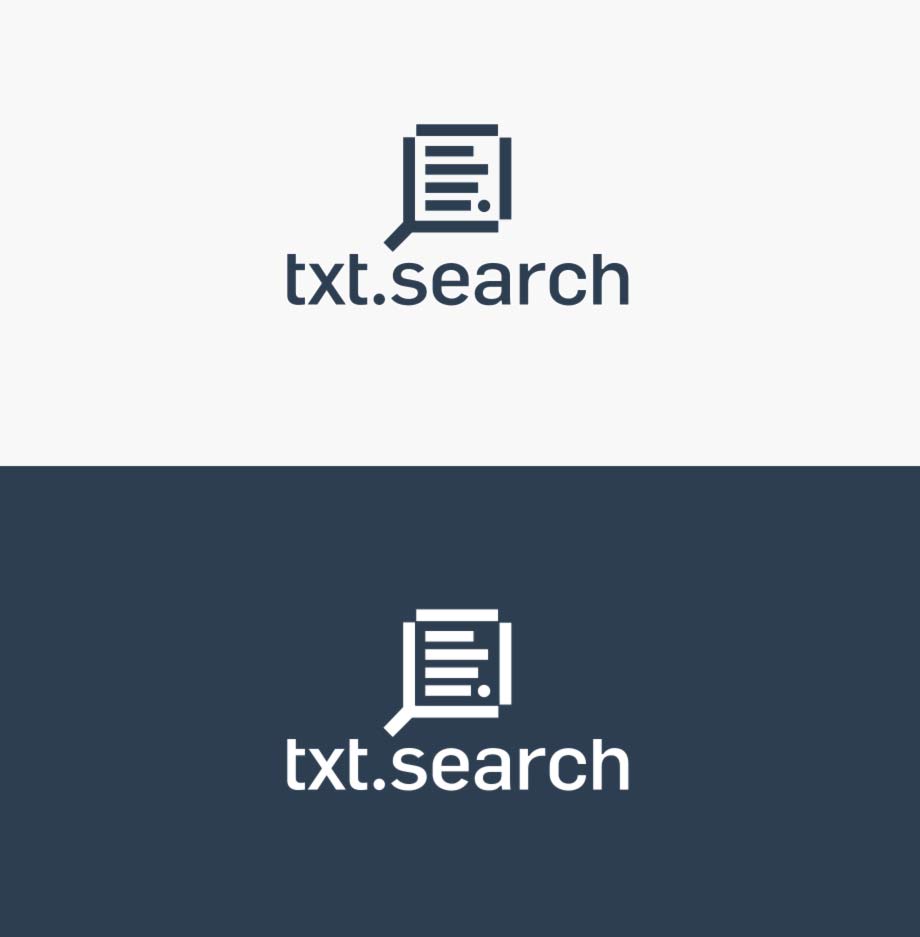 The end result, so far, is a hybrid of a text file document icon and said magnifying glass.

I also took the liberty of playing with the brand name, as it was initially Text Search, but thought it would be more relevant to shorthand it to the often used text prefix .txt, hence it now being referenced as 'txt.search'.

There is still a possibility that it will be switch round to read 'search.txt', but this depends on a few things with the client.

Positive progress so far.

And don't forget: you can see other aspects of my other logo design projects in progress work here: Ongoing Logo Design Case Studies
Ongoing Logo Design Case Studies is an ongoing collection of (in no particularly order of arrangement): logo design sketches, napkin doodles, rough ideas & concepts and mock-ups of various logo and brand identity projects and diagrams (blueprints) showing the construction and development of various logo designs etc.
© 2006-2016 All Rights Reserved
The Logo Smith: Logo & Brand Identity Design Studio, with 25 Years Experience,
in Cahoots with, The PR Room - Public Relations Agency: Tech, IoT & Smarthome PR Services.

Graham Smith: 10 Badgers Copse, Seaford, East Sussex, England.
Tel: +44 (0) 7816 527 462 - Email: glogosmith@gmail.com