All Archived Posts in itunes
---
Last Updated: September 25th, 2016
| First Published:
November 19, 2015
| Subscribe with
or
Early Nixed Ideas for the iTunes Icon by Felix Sockwell circa 2004
Been a fan of Felixs' work for some time. One of his earlier post's, "A Job for Steve", is a valuable insight into how a icon and graphic designer tackled a pretty prestigious client (Apple) and project: icon design for iTunes.
So cool to see the in-depth sketches of another designer, even if the project was a bust. There is also another valuable lesson: that many of us, as freelance graphic designers, are commissioned, yet sometimes our work is a bust, for whatever reason. 
This can obviously can be a hard pill to swallow, if not impossible, not to take personally, but Felix shows it can happen to anyone, regardless of your skill, expertise, history etc.
Read more http://drawger.com/felixsockwell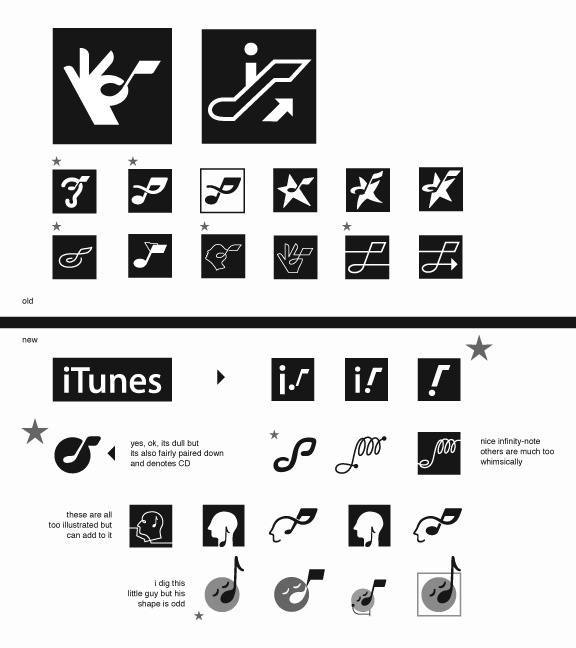 You should know by now that my ability to announce winners for my giveaways are rarely on time. But this time I think I have out done myself by leaps and bounds. Over a month late with the results. Incredible.
Kinda disappointed with the turnout for this one, thought more people would be interested to take part, so interesting to see what really 'turns' people on to participate in giveaways. Will stick to my usual nerdy/geeky 'prizes' next time round. :)

The Winners
So the 4 winners from the Apple iTunes Music and Video Voucher Giveaway are as follows...
First Prize of £50 iTunes Voucher
Sarah Madyson - @MadysonDesigns
Runner Up Prize of £10 Vouchers
Bob Orchard
Winners - How to claim
Please send me a email with your own email, then I will 'gift' the vouchers to you direct from the Apple Store. Congrats, let me know what you buy.
© 2006-2016 All Rights Reserved
The Logo Smith: Logo & Brand Identity Design Studio, with 25 Years Experience,
in Cahoots with, The PR Room - Public Relations Agency: Tech, IoT & Smarthome PR Services.

Graham Smith: 10 Badgers Copse, Seaford, England
Tel: +44 (0) 7816 527 462 Email: mailto:[email protected]