All Archived Posts in iphone
I really think this is the first time, in a long time, that I got so excited about installing a new iOS app (Classic Notes) on my iPhone. When I say excited I really mean just totally bonkers excited. This was another excellent offering from: GetApp
You don't just get note taking capability either with Classic Note, you get a: Calculator, Fortune (random quotes) and Wrangler: Catch the DogCow, all accessed via the Tools menu
I'm going to use Classic Note for ever and ever…
Take your notes like it's 1985. Classic Notes puts the days of one-button mice and 3.5" floppy disks in your pocket, without breaking your back. On sale for a limited time! Follow us on Twitter [email protected]
These really were the days, and having Classic Note on my iPhone is flooding my synapses with tidal waves of nostalgic endorphins. Want more good news? Classic Note is currently available for free on the Appstore.
You can send all your thanks to Digital Worlds Entertainment, and GetApp, for bringing you this most awesome gift.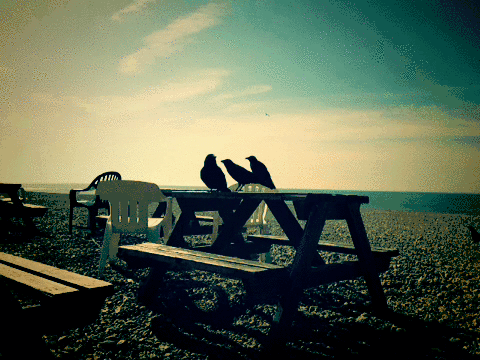 Only managed to do a few half-decent Cinemagr.am's but I am totally loving it. Takes a few goes to get the hang of the iOS app as well as taking still (non panning/shaking) video which seems to be the key to half decent animated.GIF's.
Took these two down the beach this morning. Put the iPhone down on the table and set to record then just masked out the the bits I wanted to loop.
Few limitations at the moment: such as very short 2 second or so loop, somewhat unreliable sharing, web site unreliability, but hopefully, and these are mostly minor niggles, will be improved in future updates. It is free so nothing to loose.
Couple of other attempts with the wonderful Miss Charley as my test subject (apologies for the flickering black bit on the one below).
Have an iPhone and are particularly keen on Instagram? I would pretty much guarantee then that you will love Cinemgr.am It feels like something Instagram could have done, so be interesting to see how it all works out as this seems like a natural progression from static photographs.
One of a few design styles for the upcoming Sifter application icon for iPhone & iTouch. Also looking at flat colour opposed to the wood texture direction.
The initial S will sit centrally within the dark inset of the icon which has a black rubber edging/seal around the beveled opening/hole.
This is more about tactile dimension that untouchable hyper-realism.
This is more about an icon that just looks like you could interact with it: like poke your finger in the hole and wiggle it around underneath the wooden top.
More updates of this project to come soon.
Need a iPhone or Mobile App Icon?
Have to say I really do enjoy the icon side of my job. If you are looking for a icon designed for your mobile application then I would love to hear from you. I have only designed a few 'live' app icons to date: Extensis FontFuse & Feedly, but hope those examples show you what I can craft.
Quite possibly the most outstanding retro-concept mash-up of the Apple iPhone iOS and vintage Macintosh OS circa 1986 which would put these OS Icons around System Software 3.0-3.2.
Those monochrome icons look particularly at home within on the black iPhone 4 body. I absolutely and positively believe this is a huge improvement over the existing iOS theme and would like to slap anyone in the face if they think otherwise.
Can't quite determine the designery attributary particulars as it's all hosted on a LiveJournal blog with absolutely no information save for the username: reopen and I can't even be sure these are the property of this reopen
Update: This fine fine work belongs to Anton Repponen
K Found on thisisn'thappiness
Quite often we hear how Apple will make a move against some company for possible infringement against it's numerous and heavily protected trademarks. Usually I give them a passing look and move on.
I caught another trademark story in TheNextWeb (via Sydney Morning Herald) and this time the story me looking a little deeper. The long and short of it is that a New Zealand company, who have made a range of waterproof iPhone cases called driPhone (their logo on the right), has come under scrutiny by Apple for possible trademark infringement.
I'll be the very first to state that I am no trademark lawyer, and certainly not a shrewd or calculating businessman, so  whatever drivel you read thus is purely my own opinion based on my experience with logo and brand design rather than some brilliant business style analysis.
What I find astonishing is that Hayden Crowther seems a little miffed, apparently believing that Apple's complaint holds "little weight", that Apple has taken this stance and wants to legitimately protect the valuable iPhone brand.
It's not just the fact that Hayden has actually used the familiar "i", but it's that the whole driPhone logo is practically identical to Apple's iPhone logo. That sort of logo similarity doesn't happen, and especially in Apple's case, by accident. One has to make a choice to ride the success of another brand and make that decision to sail ever so close to the trade winds.
In this case the ultra similar typeface used in the driPhone logo along with the "i" is definitely, in my driveling laymen's opinion, treading on Apple's precious, is it not?
On the surface, and taking a simplistic look at logo design similarities and common sense application of the branding of accessories for Apple gear, and assuming that most people are aware of how Apple tends to despatch the trademark lawyers at any whiff of trademark infringement, I find this all a little amusing.
Alternatively, giving the benefit-of-the-doubt: this is one big calculated risk at obtaining some controversial coverage and thus drive some healthy early sales of the driPhone before it all, and expectedly, comes crashing down, then with the money made from the initial sales they can put back into rebranding and remanufacturing the dryPhone minus the "i".
Win—Lose—Win, or something like that.
It's just that reference to, "little weight", that gnaws at my sensitive psychological and emotional being. If you are going to call Apple's bluff out in public you have better be damn sure you really have something meaty to back it all up with. Or just have shit loads of money to play silly sods with.
I would like to finish by saying I really do like these driPhone waterproof cases as they are simply gorgeous. Just a bloody cheeky, or naivé, move on the accused. I will be interested to see how this one unfolds.
K Found on TheNextWeb
I personally don't think it's by accident that much of Apple's accessories seem to fall short in terms of apparent usefulness compared to their main hardware inventory; this leaves the door wide open for people like Casey Hopkins to come in to supplement, and invigorate, the ever so important 3rd party accessory market.
Would not be so much fun if Apple really did dominate every conceivable corner of personal computing. People like Casey, and many other companies that support Apple through their own innovation, help keep the hungry consumer, fed and content.
I think it's daft to think that Apple just can't make good accessories—I'm not including the stupid Puck mouse that came with the iMac, but am including the awesome iPad 2 cover—I just think they choose to keep "some" of the supplied accessories dialed down maybe?
Some people say that accessories are not what Apple does man, and so they just can't be bothered. Really? Since when has Apple not been about bothering? Apple bothers about the smallest details that most people don't even end up seeing; to say they are not bothered is like ripping out the very essence of what Apple stands for. I guess they could have these double standards going on, perfect and bothering for the expensive stuff, and then whatever and not bother with the gutter stuff.
It certainly is a bit of a mystery…
Anywho.
The Elevation Dock by aforementioned Casey Hopkins is just the perfect example of innovation outside of Apple that makes Apple one the most inspiring consumer companies.
That might sound like an Apple Fanboy statement, but the fact is I have used Apple stuff for the last 23 years because they are were/are ideally suited to what I do for a living.
Consider me pledged to the Elevation Dock Kickstarter Project as Casey has finally filled in this much needed gap left by Apple; an iPhone dock that works with or without case amongst other cool things.
Will you be supporting this Kickstarter Project?
View original: Elevation Dock: The Best Dock For iPhone by Casey Hopkins — Kickstarter.
There are a number of nifty, cool, simple, detailed to-do solutions to choose from, the iPhone itself offering a bewildering assortment of solution. I have tried most of the available app's, but I suffer from having too much choice, and I end up not making any lists due to the bewildering choice of places for me to make them.
So over the weekend I decided to simplify.
There is one solution that I know passes many people by in preference for the more polished iOS solutions, but if you can focus on flexibility over pure aesthetics, then Evernote could be a solid solution for quick, clean and basic To-Do lists. Evernote has had this functionality for ages, this is just a kindly nudge.
Instant Cloud Syncing
Using Evernote means you have instant cloud syncing across your desktop, iPhone and iPad plus a healthy choice of other mobile platforms are supported. Cloud syncing is important, and many of the iPhone app's don't offer this, they work entirely within the iPhone.
Email
For some time I have been using Captio on the iPhone to email myself things that I think of out and about. When I get home, I have a email of the previous epiphany and I can act on it as I see fit. What I wanted in my To-Do app's was this same basic function. With some lists, I would like to be able to send a quick email reminder, especially if it's an important To-Do.
Multi and cross platform
As mentioned, Evernote is multi everything. Whatever smart phone you use, doesn't matter if you swing Mac or PC or even practice multi platform activities, Evernote has you covered.
Tags & Archiving
Evernote has a powerful yet simple search and tag system, making it easy to locate and archive reminders and lists. So you can tag each To-Do Note with 'todo' for example. Then with one swift search, all your previous notes will show up.
Doesn't cost a penny
The basic version of Evernote is free, this includes the desktop, mobile and iPad versions. So you have nothing to looe by at least trying it out.
How I do my To-Do
This is not set in stone, you can format yours however you want, but image above shows you how I work with Evernote for super simple, fuss free To-Do.
First step is to make a new Notebook which I entitled To-Do Lists
I then created seven individual Notes for each day of the week.
In each day, I formatted the note with a number of check boxes, these are actually called 'Insert To-Do'. This is available from the Format menu.
I then just added some text and set the text colour of each new To-Do in a bright pink with a 'Rule' underneath each one.
That's it.
This is just a rudimentary To-Do list, but could be useful enough for you to get by in your day. When you are next out and about, you can open up Evernote and quickly add a new To-Do and sync up.
If you think you might forget to check Evernote when you get home, but you always check your email, you can quickly send that To-Do note to your email account as a reminder.
When you have completed a task you can 'tick' the box or just delete the whole entry. Ticking the box is handy because it then gives you an archive of tasks you have previously completed.
You may not like thinking too far ahead, so you may just want to create one note, rather than one per day. If you do this, you can then mark that note on the iPhone as a favourite. So then you have super quick access to that To-Do Note when you launch Evernote.
Simplify
I am a sucker for new iOS app's and cool new tools, but I get distracted with too much choice. After showing my girlfriend the wonders of Evernote this past weekend, I realised just how cool it is.
That decision to remove the stunning and aesthetically pleasing To-Do app's was a positive step for me, everything is now much more focused and central. I still use other app's for more comprehensive project management, like Backboard for client and logo version control, but using Evernote for basic To-Do's is dead useful.
Giveaway
Over on the other channel, SingleMeasures, I am offering up one year's subscription to Evernote's Premium package. Now is a good time to flip over.
The winners of the 10 Feedly iPhone App's giveaway 'Feedly iPhone App Launch Giveaway' are as follows':
Lindsey @CSSGirl
Steve Cummins @StvCummins
Matthew Ballard @mathewballard
Adele @marshmalotoast
Thomas Britton @thomas_britton
@hellopanos
Trevor Gerzen @tgerz
Peter Morovic @pezike
Emory Dunn @emorydunn
Germaine Irwin @girwin17
Important Note for Winners
The current version is an Early Adopter Preview. It functions really well, but Feedly are constantly making improvements with a view to release the main version in January.
January is the time when the main version of the Feedly iPhone app will be launched.
Therefore you have two choices. You can either take the prize now and run with the Early Adopter Preview, or wait until the main version is launched and run with it then.
Please email me : [email protected] with your preference of 'feedly now' or 'feedly wait' with your full name and email address that I can send the iTunes voucher to.
This first version of the Feedly App is an Early Adopter Preview.
With the run up to Christmas I will be doing a few mini giveaways, the first one being a number of copies of the Feedly iPhone app by DevHD.
If you have not seen or heard of Feedly yet and you enjoy digesting internet information from RSS feeds and Google, then you will find Feedly quite a discovery. Feedly has been around for some time and has a loyal and large user base, but up and till recently was a browser based experience.
Feedly is more like a magazine than any kind of feed reader due to the way you can customize, share and find new information. It's a very interactive application and does more than just display your Google RSS feeds.
There is a sweet Firefox plug-in that makes sharing and liking any web page easy peasy, also available for Safari and Chrome.
New Feedly logo
Earlier this year I was hired to update their main logo and to also create a number of icons for the new iPhone and iPad application they had underway. A full logo and icon process article on the Feedly project is in the works and should be posted soon
Feedly for iPhone
A few weeks ago Feedly for iPhone was launched on iTunes as a 'early adopter preview'. This mini giveaway is my little way of helping the guys at DevHD shine the light on this fresh and useful new app.
It's pretty awesome to see their hard work all come together and it's real sweet to see your work looking back at you on the iPhone.
Feedly Giveaway
Enough self righteous waffle. I have ten copies of Feedly for iPhone to giveaway. Firstly there are a few things to note.
You need a Google account and preferably some RSS feeds, otherwise it's a bit pointless.
Feedly is compatible with iPhone, iPod Touch and iPad. Requires iOS 4.0 or later.
This is an Early Adopter Preview
It's easy to enter, just leave a comment with Twitter ID or another way to contact you. Please only enter if you are interested in this application/RSS feeds, if not, please give other people who are a better chance to win.
I will pick the ten winners beginning of next week.
The only entry requirement is that I ask you to Retweet/Share this post at some point.
How are prizes sourced?
As with previous giveaways, all prizes are sourced and purchased by myself. This giveaway was arranged by myself, for my own reasons and not in anyway arranged or influenced by the guys at DevHD. This is just my way to spread the word.
This is why I can only usually manage one or two prizes per giveaway, depending on the overall value of the items concerned.
What started as just a few odd logos in my first post on these Unevolved Brands ended up being a daily maintained project with it's own Tumblr website and Flickr set.
Just a few day's ago word started getting out then the links in some of the mainstream blogs started appearing, including Gizmodo, BuzzFeed, DailyWhat, Quipsologies etc. Gizmodo being the special one, bringing with it loads of comments and page views and unearthing the familiar trolls and spam comments, but you seemingly can't have one without the other nowadays.
iPhone/iPad App
If getting in Gizmodo didn't phase me enough, a few people then approached me to ask if I would be interested in working with them to develop an iPhone game/quiz app based on the Unevolved Brands idea. This I am thinking about.
Yes, I am quite chuffed.

It's been a fun project, easily taking up too much of my time. What has been awesome is seeing all the comments and attempts by people to try and guess them, it's really been quite a laugh to do. So thank you to all of you who have kept the game flowing.
It will keep goind until I run out of brands to unevolve or interest wains, as it usually does in these cases.