All Archived Posts in gotham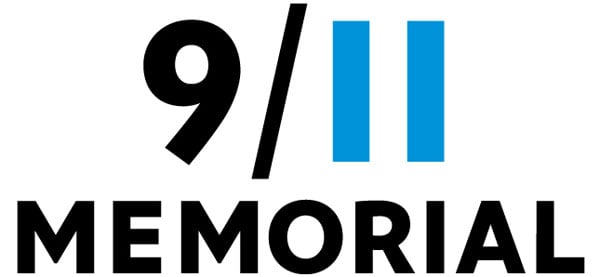 So who, when they first saw this magnificent 9/11 Memorial logo, actually took a blind bit of notice to the typography and realised it's formed from two fonts, and not one? I didn't.
I love articles like this as they can highlight the very things we can all so often go blissfully unaware of.
There is a nice story over on the New York Times blog by David W.Dunlap detailing the people who first noticed it just wasn't Verlag or Gotham, but more a cunning slice and dice, and also words from Landor Associates the designers of the trademark.
Fell in love with this identity design for The Department Store the moment I first saw it. Once you see it applied throughout the store and other brand collateral, you can see why I like it so much. Designed by Brogen Averill.
I still don't fully understand why design of this nature appeals to me so much, when I see something like this I feel so many positive emotions, the logo is clean, stylish, contains itself with a generous helping of white space, yet defined by a super thick keyline.
This keyline is saying 'nothing enters past these gates, what is in here is sacred land' and does a great job of providing the boundaries that so many logo designs don't have.
This container thus provides a solid platform to clearly state it's message, not just the brand name but with other key store wayfinding signs. You can change the wording but you still retain the structure and appearance of the overall identity.
Read more : TheWayToBe & ProDesign
No doubt Gotham is one beautiful font, but with that accolade comes the expected flood of Gotham influenced designs. It's not really a font you can get bored with, but it can be over used. Did you know that GQ magazine were responsible for the initial commission of the Gotham typeface? Fact via Wikipedia.
It's not just Gotham or Gotham, there are a number of equally stunning fonts that share a similar initial look and feel, not talking identical here.
This is not a comprehensive list, it is just limited to the few Gotham alternatives that I have in my own personal font library. There are a number of others out there, but these are the ones I use when I might have used Gotham. Also, these are not meant to be 'exact or very close' replicas, each font listed has it's own unique fingerprint, but share some common aesthetics.
The following list of fonts similar to Gotham may entice you to try these out for yourselves. There is also a nice free one at the end of the list.

Graham's Fonts Like Gotham
I have used all the following font examples in various logo designs in my logo portfolio, and tend to buy just the few weights I need, rather than the whole family. This is a great way to increase your own font library without really breaking the bank. The images link direct to the Foundry where possible, where you can look and test the fonts out. A particular favourite is Effra from DaltonMaag, but I found myself using that more than I did Gotham, hence my search to find some other similar fonts.
If you have any suggestions of your own, please do share in the comments below, preferably with a link to where we can check it out.


MuseoSans 500 & 500 Italic free to download.

Nevis is free to download, one weight only.
Love Ampersand Concept Logo Design
The Love Ampersand or Amperheart logo was the result of a few hours of procrastinating one Saturday morning. I had plenty of 'proper work' to be getting on with, but drifted towards 'playing' instead. Something I am racked with guilt over.
However, pleased that the procrastination developed into something reasonably useful, and not just wasted hours on da internat.
How it came about
A new typography book arrived in the post yesterday morning, specifically called 'Logo and font lettering bible' by Leslie Cabarga. Ordered around 4pm on the Friday from Amazon, swiftly arriving the next morning by Citylink at 8am. As a sideline, it's a wonderfully illustrated book so definitely recommend buying it.
My mind tends to always analyze images, graphics, signs as I walk past. I am always looking for deeper meanings and hidden messages in logos and graphics, constantly wired for inspiration. Reading books like this can often be quite overwhelming, so much visual stimulus to soak up that I tend to switch to auto-pilot after a while. My eye's just scanning image after image until brain is full and I have a stonking headache.
After a quick flick. I put the book down on my table whilst I grabbed a drink. When I went back to pick it up, the book cover was at a angle. The first thing to catch my eye was this striking Ampersand which is part of the book title. You can see what I mean in the photo below.
The moment you see it
The first thing that instantly came to mind was a heart. Now you see, I don't know if that everyone else would have seen that, the book laying at a certain angle, thus seeing a image at an angle you would not generally see. But because it was so striking and my brain just shouted out 'heart', I assumed this was just a massively obvious association to make. Thing is, in all my logo design research, I could not recall seeing one example of a ampersand being crafted to also look like a heart.
Feeling a slight pang of curiosity, I wanted to see if there were any obvious examples of this, so looked through Google images, Flickr, Logopond and numerous other logo inspiration galleries. Searching for variations of 'Ampersand/heart/love' yet nothing came to light. Now I know that I would not be the first person ever in the entire history of typography to have made this association, but what does surprise me is a lack of obvious examples.
We do live in a world where logo design is now such a 'cool' thing to be part of, that when you do create something interesting, it is human nature to want to share. I use 'share' lightly as there of course an element of 'hey look at this, look at how cool and clever I am', but we needn't focus on that for too long. :)
But there is that feeling of fleeting wonderment when you think for a moment you might have been the first person ever to have seen this link or association. Only to find a day later, that some designer 20 years ago also saw the same thing. It can be devastating.
But any who, like I say, I know this ampersand/combo 'must' exist somewhere so if anyone HAS seen a version, I would love to know about it.
In the meantime, this is my version.
It did take a number of iterations to get the right feel, for me to be 'OK' with it. The challenge was to get that balance of ampersand and heart, not too much heart and not too much ampersand. That when you look at it you are not overwhelmed with one or the other. Is it a hear OR ampersand? The result you are looking for is when someone say's, 'it is both ampersand and heart'.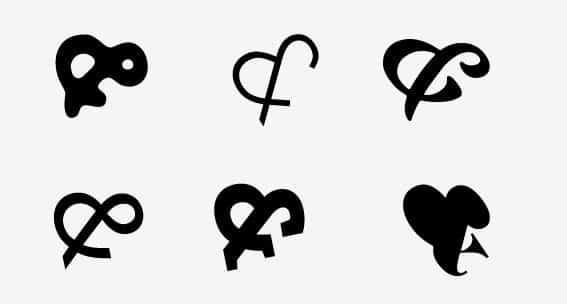 Just quickly started off by looking at some common ampersands from a small pool of typefaces, in this case a serif ampersand is the best choice, they typically are more more refined stylish than san-serif ampersands.

Then it was just a case of drawing the outline, time after time after time until I saw what I wanted to see. Didn't really know until I saw it, so very much a case of trial and error. Opting for simplicity and clean lines opposed to adding any cute flourishes to the feet. Adding these would steer it much more towards being a ampersand, so leaving the 'feet/end' smooth helped reduce this visual association.
Below : Couple of abandoned ideas with a serif vibe.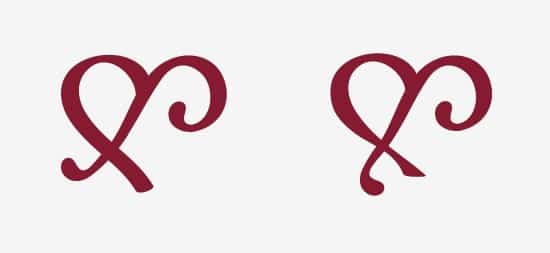 The first image below is that I started with as the basis for the Amperheart, then a gradual process of tinkering with line widths, lengths and styles. Can be tricky to know when to call it a day with something like this, keep wanting to tinker and tinker. Finally decided to call it a day after about 4 hours of playing. At the end of the day, it's all subjective anyway, I'm happy with it and considered it a fun exercise.
The typeface is Gotham Medium for 'Love' and Gotham Light for 'Ampersand' with tracking of 300.
Sneek Peek - Illumina

This is just a sneek peek of  a logo and identity design I recently completed for a wedding photography studio, 'Illumina'.  The Sneek Peek is to provide an initial view of the logo images and is linked to my portfolio. An in-depth 'logo design process' post will be done in time brief and to the point information on that design. It will be linked to the images currently existing in my portfolio.
The main idea was to avoid the usual cliché associations with photography logos as well as wedding photography in general. There were several key elements to this project. Incorporating the visual association of photography, weddings, and also playing on the Illumina name.
The challenge was to create a logomark that summed up all these associations in one clean mark without looking tacky or cliche.
The breakdown thus consists of the main black circle which hints at a camera lens, the white eclipse shape hints at both a lens reflection and also a moon/eclipse which is the association with 'illumination/illumina'. Finally the wedding clue is the diamond positioned so as to look like its part of a wedding ring, also part of the eclipse.
I didn't want to make any one element too obvious, more a combination of subtle cues, but when in context work nicely.
Typography
Gotham Black was used for the main wording and Trajan Bold was used for the tag line.
Post has been updated due to some comments and feedback about the initial design. Thanks all. :)
Ambigram Version of ImJustCreative Logo Idea
Some of you may be aware that over the last few months I have been getting restless with my own logo for ImJustCreative. I have been posting various ideas here and there as they pop into my head. As I am sure I am not the only one, designing a logo for yourself can be somewhat tricky at best. Being mostly a logo designer then there seems to be a little more pressure to pull something neato out of the bag. What's all that about anywho?
In any case, I have not been in any rush, ideas come and go. Mostly go without even coming.
Today I have been fiddling with my initials.
Cut a pretty long and boring tale short, I tweaked and twiddled until I came up with this.
For those that can't see what is says, its the initials for 'IJC' but arranged in such a way that when rotated, it reads the same. An Ambigram.
Personally I like it, it's different. It also almost has some kind of primal feel to it, but can't put my finger on it. I did start of with figures and shapes reflecting human form, most basic, and the shape evolved from there.
True to my 'leanings' it is also purely typographic, well, pretty close. This is important to me as well.
The font is Gotham. Gotham Black for ImJustCreative and Gotham Thin for the tag line.
I really want and need to have something different than regular logomarks. Something more iconic and unique and distinguishable. Most importantly, a mark that defined me as being 'creative'.
It's a first draft, things don't line up etc. Just wanted to see if anyone had any thoughts, good or bad about it.
Ambigrams are addictive
Since I started playing with this, I have really found myself addicted to the challenge and have found myself looking at logo design in a whole new way, at least for me personally. Already working on some variations of the ImJustCreative logo which I shall post when complete.
But I do see myself opting for an Ambigram as a final version of my logo redesign.
Previous Versions
These are version prior to feedback, comments and general changes. Thanks to all who have chipped in.