All Archived Posts in freelance logo designer
---
GPS Fleet Tracking and Management Logo Design: Work in Process
As a freelance logo designer in the UK (hire me), I do get to work on some pretty varied logo projects. I was recently hired by: Global Positioning Specialists - Fleet Tracking and Management, a play on GPS: Global Positioning Satellite to create a new logo and brand identity for them.
Initially I was trying too find a way to incorporate the 3 initials GPS, so instead looked at creating a standalone logo mark, based off maybe just one of the initials.
It occurred to me that the 'G" was probably the best bet as it lends itself nicely to a few relevant connections to GPS, but when created in the way I have designed it, becomes even more connected to fleet management and tracking.
This G took some time to evolve, trying many styles, many ways to construct it etc. Ultimately I landed on the idea of a 'x' marks the spot, or pin point of something, even target cross-hairs in a way.
The arrangement then was the trickiest, and i wanted to try and portray the idea of GPS signals being bounced from satellite to ground, and back up, ending in a sort of arrow pointing up and to the right as well as into the wording itself.
So this creates a sort of graphical representation of data and tracking signals, but also the 'x' can represent the individual vehicles and such like.
Image above shows various thicknesses and spacing for the logo mark.
The G is circular of sorts, so this also just helps with the connection to earth/orbit/data travel with the arrow also indicating movement of the fleet.
It's not your usual GPS style of logo, and this is exactly what I was trying to achieve, to create something a step up from the ordinary, still using some literally connections and interpretations, but in a cleaner and relevant way.
The logo, when placed near the top of a letterhead, brochure, leaflet, advert, etc, can then also be bled/extended off the top, such as the image below shows. This helps reinforce the idea of signals coming down from the satellites.
The logo mark itself is also 'square' in shape, so will fit perfectly fit in social media profile images etc. May need to work on creating a more simplified version of this, so less x's for smaller sizes for example.
Ultimately, the logo mark captures the meaning of GPS: Global Positioning Specialists - Fleet Tracking and Management, through various connections and meanings in a stylised graphical way, that isn't cheesy, cliche or ordinary.
In that regards I think it 'should' be pretty unique in terms of how the logo mark has been designed, but more importantly how relevant the various bits are that make the symbol.
Looking for a Freelance Logo Designer for your own Logo Design Project?
If you are a real estate agent looking for a freelance logo designer for a new logo design for a new business, or are looking to update/refresh your current business brand logo, then I'd love to hear from you.
Don't forget: you can look at my extensive logo and brand identity portfolio designs here: Logo Design Portfolio, and Monomarks page.
Alternatively, if you know what you are looking for, then you can take a look at my Logo Design Brief, and maybe fill that in so we can get started.
Please call/text me on: 07816 527462, or email: [email protected] for more information on how I can help you with your graphic design, and logo design requirements.
---
Being a freelance logo designer, or any other designer for that matter, we often see our fair share of NDA's—what is an NDA: Non-Disclosure Agreement?—that are dispatched by way of potential clients. Signing an NDA doesn't mean you got the job, far from it, just means you are being entrusted with some potentially valuable information.
Do I Need to Sign an NDA?
You don't have to sign an NDA, but the chances are you'll not be considered for whatever project is up for grabs.
I've always thoroughly read each and every NDA that has come my way, and generally been happy to sign my acceptance of said NDA. I do often think they are sometimes a little overkill given some of the projects I have actually seen associated with them, but that's just a side thought.
I think it's generally too easy to get sucked into a one-way way of thinking when given an NDA, especially when a freelance logo designer might be perceived as a walk-over in some regards: that this form is do or die, and that one just has to go with the flow, regardless of any inconvenience the client may cause later down the line.
You know the drill: you get a lead and the project looks great, but the client requests an NDA is signed before any information pertaining to the brief is shared. You're keen to get the job, so you fill the NDA in, and hope for the best.
Can an NDA Cause Me Problems?
If you don't fully read and understand what NDA is for, and to what you are giving your signature too, then sure, conflicts or problems could arise.
What you might not be aware of, is that the NDA may actually contain aspects that contradict your own work guidelines, ethics and even Terms & Conditions.
Sure, you might be aware of certain inconveniences, if you read the NDA, and you might be OK taking a little hit with procedure just to land this job. Hell, it might be quite a major inconvenience, but you have at least given it some thought and made a decision to suck it and see.
Sharing an Experience with an NDA
Just going to share a little story that lead me to think more pro-actively about my own position as a freelance logo designer, before blindly signing any more client NDA's.
I came across a project that started out very well, and an NDA was read and signed by myself. The client also, presumably, read my own Terms and Conditions (I always ask for a signed form stating they accept my Terms), and was equally content.
The deposit was paid, and we started work.
Long and short of it was that the client didn't pay the balance. Now this meant that I was pissed, but it also meant a grey line had been forged in the virtual sand, as this suddenly opened up a myriad of thoughts and options for me. What trumped what? Did the NDA trump my own client signed ToC's, or that the client signing my own ToC's meant they were equally, and legally bound?
The terms in the NDA that I signed, and my terms that they signed, obviously now posed somewhat of a challenge, as they were completely at odd's with each other. I strongly believed that I held the higher moral ground because they had simply not paid for a logo design that I had completed, and that they were now using.
I'll just go ahead and assume, somewhat cynically, that they counted on their NDA posing a challenging situation for me to reel in.
An assumption they might have made was that I couldn't make a fuss over this, say for example by: blogging and naming about a client who didn't pay for the completed logo design, was that the NDA simply forbade me to discuss any part of the project. Fair enough I guess.
However, my own terms (that they signed) clearly explained that I would be free to: resell, blog, display in my portfolio, submit to external logo gallery websites, to repurpose the logo for another client, etc, if at any point the final balance was not forthcoming.
Long Story Cut VERY Short
Any who, with some colourful exchanges, and me sticking very firmly to what I believed was morally right, even if not 100% legally right, I managed to 'persuade' this client that it was more useful and valuable for them to pay-up, than suffer at the hands of one of my massive social media outpourings. No threats were made, just relied on some common sense assumptions being made.
They had far too much to risk to play that poker game with me.
You Can Negotiate Changes Within the NDA
Don't assume the Non-Disclosure Agreement is an impenetrable force, and can't be revised: if the client is keen to work with you, but you have some misgivings about the NDA, specifically how it might affect your actual work for the client, then there is a good chance the client will get the NDA revised.
My experience made me realise that I would not just accept every other NDA that came my way—as they are generally pretty much the same in content—and that I would ask for each NDA to be adjusted. When I say 'each NDA', I mean I'll take it on a client-by-client basis, and use my internal Gut-o-meter to smell out any possible problematic client.
This isn't about me ripping on all clients, when it comes to an NDA, that don't abide by the Gentlemanly Rules of Cricket, it's just highlighting the results of one more personal experience that has lead me to practice safe client relations.
The adjustment would introduce a simple addition, simply stating that, in some form or another: if the client did not pay the full invoiced amount when presented with the final invoice, that I would be legally entitled to: discuss the project; reuse, display and promote the work I have designed, all after a 'reasonable' number of invoice reminders for the balance to be paid had been sent, and regardless of if they use the logo design or not, unless otherwise previously agreed.
It's a pretty strong incentive. Not many clients, I think, are asked to reword their NDA, and especially with a change that explicitly lists the possible damages of them not fulfilling their end of the deal.
If any client refuses to add this clause, then I simply walk away. I'm not going to even entertain the idea of signing an NDA with a client who is not prepared to put their signature to a perfectly reasonable amendment.
I'm not a lawyer, and I have no idea even if I have any ground to ask for such things. To be honest, I don't really care. If the client has to think twice about legally documenting their commitment to paying the full invoiced amount, means I just don't want to know.
What's really sad? Is that I had to think about playing this card in the first place.
Take from this what you will. The client wants to protect what's theirs, and I want to protect what's mine. Seems fair and reasonable to meet somewhere in the middle if they insist an NDA is part of the project.
---
In this post I'll provide some basic, but useful, advice for clients who are looking to find and hire a logo designer on Google, and the Website in General
If there is one thing I know for certain? It's that it must be a complete nightmare to hire a logo designer that 'ticks all the boxes', not because there are so few of us logo designers around: it's actually the complete opposite.
There are gazillions of potential logo designer candidates worldwide: all of varying skill levels, some with years of experience and some none at all; some experienced without any academic qualifications, and some with; some with a unique 'signature' design style, and others who are very adaptable; some that are cheap, mid-priced, and others that pitch higher than usual.
I really don't know what 'the' usual price level is for logo designers given the sheer scope of factors that can and do determine how much a logo designer can, should, does, or doesn't charge
Some are local for a given search, and some will be geographically challenged; some talented logo designers simply don't advertise, or make it easy to be found, whilst some logo designers have the marketing, advertising, social networking savvy that makes it easier for them to be found; some are well-known, and some are not; and so on.
Just to be clear: I am mostly talking about the self-employed/freelance logo designer, not so much the hobbyist, or indeed the larger design studio/agency. 
However, it's certainly a travesty that certain logo design shops tend to dominate Google's (and other search engines) top rankings, as well as completely gobbling up the sponsored ad spots, which must cost them a complete fortune to run day-after-day-after-day (I can barely afford the minimum for one day).
Typical search terms, like: "logo designer", "logo design", "freelance logo designer", "professional logo designer", "I need a logo designer", and so on, are invariably 'taken' for Google 1st page results.
It's Better Than it Was
For sure, things are much better on Google than they were, even just 2 or so years ago. Google has done an incredible job really, when you think about it, of clearing up the no-good-for-nothing-black-hat-gangsters looking to prey on the weak and naive.
I clearly remember thinking how on earth is someone like me will ever be found on Google: the proverbial needle in the haystack, likely at the bottom, in the middle and buried under 5ft of earth.
It's a Daunting Process To Hire a Logo Designer
It's a daunting process trying to locate a suitable logo designer for your needs, made even harder when you have to negotiate and filter out logo design 'battery farms'.  You may be looking for a certain type of designer, or looking for a company local to you.
Yet, whatever you search for in Google, you are faced with the many number of search results focusing on the latest marketing buzz hook: 'free logo designs', 'logo designers for $5', 'create your own logo for free online', '300% Guarantee', 'professional logo design for £19.99 in under 24 hours', 'bronze package', 'silver package', 'carbon fibre with titanium and moon rock dust package'.
I need to emphasise that not all the 'package deal' options are to be avoided, far from it. But this is part of the problem, some of these package-dealers try hard to look respectable, genuine and honest, and often succeed in doing so.
Being discovered is seemingly the hardest challenge for the: solo, self-employed, small studio logo designer. The genuine, the sincere, the passionate logo designer will likely not have the funds, resources and audacity, needed to prise themselves to top of the 1st page of search results.
Look Past the 1st Page
All these search results seem to take up the first page, you may be lucky and find a respectable and very reputable logo design studio/agency dotted the 1st page of results, but it helps to know what you are looking for, and what specifically one should avoid.
Unless you are familiar with graphic design, and have inside track on the logo design industry, you may find yourself out-manned, and out-gunned, and very quickly out-financed.
You may end up exhausted and frustrated in your search, giving up and opting to go with a logo designer that you just hope will deliver. The promise of that 'Titanium Package with unlimited tweaks, designed in 24 hours and only costing you a fantastically cheap rate of £49.99' seems to good to be true.
If you're needs are small, and you simply don't care much for quality, then you'll be serviced just fine, but if you feel the logo and identity is important to you, then it's unlikely the cheap options, but the ones that you'll be served up on the 1st page, will indeed deliver.
Picking up the Pieces
In recent years, I have found myself, more and more, picking up the pieces for a number of clients who thought they'd try their luck with the cheaper logo design option, or crowd sourcing site, such as 99Designs.
Invariably, after being served up their 3-5 logo ideas, they realise how utterly disappointing the experience has been. Then it's usually a case of having to pay yet more money to now find a more competent, and personable, logo designer.
It's quite gutting for me to see the sort of work they were presented, you can just hear the utter disappointment in the their voices. The realisation of how far behind schedule they are, and now having to pay all over again.
Some General Advice to Hire a Logo Designer
The best advice I can give, without sounding too 'use me, use me' is to not rush any part of this process of finding a logo designer to work with. If you are genuinely short of time, then the first option below could be the life saver you need.
RECOMMENDATIONS
Recommendations are valuable, if you know of someone who had a logo designed, then ask them for a name. Twitter is perfect for this sort of method, as word-of-mouth quickly spreads, and you could have a interesting mix of contacts to check out.
GOOGLE
Ultimately, and this really is the moral and purpose of this post: Don't give up looking on Google once you reach the end of Page 1. I can assure you: if you spend time looking through pages: 2, 3, 4, 5, 6, 7, 8 and onwards, you'll come across some truly talented logo designers.
Just because a logo designer does not appear on page 1 of your favourite search engine, it certainly does not mean they should be ignored. If anything, it's this reason that they ought to be given more of your time.
"Poor Google rankings, and placement, is by no means a reflection on the integrity, skill and reputation of a logo designer."
I know many talented designers that probably don't come even in the first 5 pages of search results.
A GOOD FIT
And this is the thing, try to find a logo designer that is a good fit for you, not just visually but also from a personality point of view. The more you can 'gel' with a designer, the better the whole process and the more likely you will have a logo designer prepared to bend over backwards for you.
That level of commitment in a designer just can't be bought. It is a partnership.
COMMUNICATION
A designer who is prepared to talk on the phone, who is relatively transparent in the area of communication and contact is a positive sign, but not all designers can or will spend hours on the phone with their client. This is down to you, go for a designer that feels right for you. You may be OK with not needing to talk on the phone to discuss progress, or you may be someone that needs that level of feedback and interaction.
To Conclude
Many logo designers are keen social media junkies, actively contributing to the design community, writing and posting on their own blogs, chatting with other like minded designers on Twitter and Facebook.
You'll find some super talented logo designers on Flickr, just browser through some of the popular Groups, even basic search queries will provide some good results to check out. Dribbble is another major creative platform that should certainly result in finding a suitable designer to work with.
There are heaps of external portfolio sites, such as Behance, Iconify etc, that specialise in showcasing logo and brand identity projects, and these provide a proverbial gold-mine of talented designers to pick from.
Don't rush your search to hire a logo designer, but do try to be a little more selective on where you conduct the search.
If it's Google, then you'll be rewarded if you generally scoot pass the 1st page of results.
Don't ignore the 1st page, as it depends completely on your search term, but do allow yourself time to give the next few pages of results some of your time.
We are everywhere, if you know where to look.
---
The Expectation Of Value & Quantity With Hiring Freelance Logo Designers
Just had to add my own thoughts to the excellent article over at IDApostle by Steve Zelle:  Logo Design and the Misconceptions of Unlimited Choice with freelance logo designers.
Steve touches on some excellent points that we could all do with being aware of in a very concise article. I'm just going to add my side and expand on what Steve has written.
Value = Choice?
As consumers we often associate 'value' by what we are getting in return, and that in spending our cash we have a notion that value often equals quantity, choice, selection and variety etc. If we don't get the choice or selection we were expecting, or assumed to be to be getting, then we can feel we didn't get value for money.
Logo design is one area where this illusion/expectation of: choice, selection and variety equals value.
Online logo sweat shops—I can't even bring myself to call them logo designers—offer unlimited choice and reversions until the client is pleased. This is wrong on so many levels and I urge you to read the article by Steve if you have not done so already.
Logo Design Is Not About Choice
Logo design is not about getting a mammouth choice or selection of ideas to choose from. That's not where the value is. The value is what you are getting as a finished design by the logo designer your hired. If you feel the freelancer logo designer has failed you by not offering a selection of ideas then you don't quite grasp the notion of what you are asking that designer to do for you in the first place, as well as the designer being at fault for not setting expectations clearly at the outset.
One Idea
I am a firm believer in working hard to find that one winning idea from the outset rather than laying out a pretty selection of 4-6 differing ideas. This idea I will present can sometimes be the first idea or it can be the result of many sketches and brainstorming sessions. I have to be 100% behind this idea before showing any part of it to the client. If after the presentation the client has valid reasons for not liking it or not finding it appropriate then we start again.
To put your valuable time in finding 4-6 different ideas from the outset I believe, as does Steve, is a colossal waste of time and energy which would be better spent finding that one winning idea and perfecting it.
When Hiring Freelance Logo Designers
When you hire a logo designer try not to associate overall value of your investment by how ever many ideas and variations you might be getting ready to see. The value of what you are getting is not directly related to quantity but IS related to quality, and this expectation should be set out from the outset.
A very famous logo designer going by the name of Paul Rand had the right idea, and I briefly talk about his process in this article: Paul Rand Has The Right Idea Design One Logo Only.
One of the quotes by Paul that I particularly find interesting is:
"Simplicity is not the goal. It is the by-product of a good idea and modest expectations."
Apply that line of thought to client expectations, ensuring that their expectations are modest from the outset, can only be a good thing for the end goal and overall sanity of both designer and client.
If you are confident about what you do then you should have no problem in steering your client towards an acceptable and agreeable expectation of value for money. The value is a logo design that reflects your business/product/company/consultancy in a suitable and appropriate way.
As Steve points out: Invest in the (designer-client) relationship, and a talented and well informed designer will deliver the one effective solution you need.
Hiring Freelance Logo Designers
Pinning down these details is all the more important if you are self-employed or work freelance as a logo designer. Being able to focus your energies on the main idea at hand is so much more productive and beneficial to your energy and motivation than trying to come up with the first round of 4-6 differing concepts.
Even if you can come up with 4 awesome ideas this doesn't particularly prove anything, or helps you in any perceivable way–except if you like showing off how cool you are with your fast and creative spinning mind. I'd much rather have one awesome idea on the table, one that I have put everything into, than trying to choose one of many.
In the post about Paul Rand I show a few examples where I have focused my energies on early ideas rather than try and impress my client with a selection. In all these cases the client was happy and we were able to spend every minutes tweaking and perfecting it rather than play spin-the-bottle.
It's up to you to change this expectation to something more humbling and modest just as Paul Rand hints to.
But It's Not Always That Simple
This isn't to say that this notion of only working on one idea is always feasible or workable. I still end up getting sucked into a project where my best ideas were turned down and I end up desperate to please. This will mean I might be 20 even 40+ ideas into the project with no end in sight.
This is the worst possible place to be but can be hard to drag yourself out of. Standing your ground with a client can be tricky and uncomfortable at the best of times so this is why it is so very crucial to lay down expecations right at the beginning and try try try not to deviate from that.
If you often find yourself with a reasonably clear idea or thought for a logo design at the beginning then you ought to consider making this the rule rather than the exception and adjust your work-flow accordingly.
Quite often I will get an email from a new client where they are looking forward to seeing a number of ideas. When I get such an email then I will have to reply back and re-calibrate their expectations. It is often hard for a client to accept the idea that they might only get to see one idea with a few variations but this comes down to you the designer to convince them and make them feel secure that this is how it is done.
If Not The 1st Time
It's important to stress that if the client has valid and genuine concerns over this first big idea, that it's so far off the reservation that it's in another solar system, then you will of course listen and re-calibrate your own vision.
It happens and just means that your initial perception or understanding of the brief was just way of, and hopefully the next time round you will be much closer to hitting the target. It's about setting expectations, being firm, and also giving the reassurance that you are also fair, reasonable and realistic.
What's The Aim
The overall aim with the idea of focusing on one general direction opposed to providing 4-6 different ideas is: a client unable to choose or tell which is the right option out of their choices; choices are notoriously hard at the best of times so asking a client to make a choice like this can lead to frustation and confusion; to focus the designers mind on working with that one direction and taking it all the way rather than splitting their focus x6; it forces the designer to really work on understanding the company and the brief in order to best meet the clients' requirements and satisfy any of their personal preferences; wastage of funds based on 3-5 unused ideas that took time and energy to put together, so far better to exert that time and energy in better understanding the brief and their needs the first time around; not having to explain to the client why all 4-6 of your ideas are perfect and worthy of their consideration because they're probably not, so why did you do them?
To end with.
A designer is not always right and equally the client is not always right. There is room on both sides for the mid-ground.
---
I have been fascinated by this whole GAP logo circus, I have made my thoughts about it fairly obvious in a previous post 'The GAP Logo - Is the outcry and criticism justified', I then came up with a few 'for fun' GAP logo attempts, one based on the very original and vintage 1972 GAP service mark.
I have tried to resist doing a 'sensible' design, the whole ethical debate about crowd-sourcing marginally bores me. I ultimately realised you may as well join them as there is no way on earth you will beat them. The extraordinary volume of GAP logo designs submitted from FaceBook to Dribbble and independent websites and crowd-sourcing contest sites has been just phenomenal.
Regardless of your views on ethical issues bought around by GAP encouraging people to design a  new logo, the lure of the challenge is to great to ignore. After all, I do have a choice in this matter, GAP are not making 'anyone' design for free, they are simply working the system for all they can. After all, it's just business. I have ulterior motives to work this project, and I will make it work for me in way's not immediately obvious.
Who knows if their brand will take an even bigger hit over this, no one can say for sure.

Helvetica Gap Logo Design
I have stuck with Helvetica for my GAP logo redesign, I based this on the assumption that Helvetica is an existing brand requirement, specifically as GAP use Helvetica in the majority of the brand campaigns.
See image below.
Easy to improve other peoples work
The ideas you see here are not one I would necessarily suggest 'putting' forward as a serious GAP logo alternative, it's just what I would do to improve the 'new' concept by Laird+Partners. It's always easier to improve on someone elses designs, especially in this case.
So the actual idea or concept I have played with is nothing extraordinary. Just my suggestion.
My own opinion is that there was nothing wrong with the original boxed GAP logo, first image in this post. There is nothing wrong with it, regardless of how long it has been around. Some people are now naturally saying it's boring and old yada yada yada.
Logos do not need or have to be super exciting, they just need to work.
The blue box GAP logo has worked for many years. To blame the logo on GAP's downward spiral as a high street fashion shop is just naive poppycock.
Any company should feel proud to have a mark like this, it's pretty much timeless, which is what we all strive to create, it's stylish, its memorable and compact. So OK, time for change, most major brands go through a refresh or complete overhaul at some point, but GAP really needed to pull something special out of the bag, decades of the blue box logo are hard to forget.
It's in out nature to compare old with new, sometimes the re-brand is a success, sometimes it goes catastrophically wrong. I do wonder if brands hiring massively expensive agencies for the initial logo design is such a good idea. Too many people involved, too many people to please and too many people interfering with the design process.
A freelance logo designer can cut through the crap.
I love the original blue boxed GAP logo. However, I certainly don't love this one coming up next. We really need to work on this framework.
New Gap Logo
The logo causing the controversy, above, uses Helvetica. It is that hard to really make it just a Helvetica wordmark 'own-able', hence the need to add this dated blue graduated box just to draw some distinction. Many brands using Helvetica have done so from the start, rather than change half way through. As I mention below, 3 letters is not much to play with, American Apparel is a more substantial wordmark and so Helvetica seems to work with it very nicely.
The new logo just doesn't work.
The wording would work better on its own, but this would hardly be unique. Just 3 letters set in Helvetica. In start contrast, the original blue box GAP logo is 'own-able' in every sense of the word. They will find it hard to match that level of individuality with a Helvetica logotype.
Helvetica can look sweet but it can also look bad, which I think the new logo shows. A few tweaks, a different style more suited to the letters, changing the colour and you loose the cold clinical feel that the new one currently gives.
What follows are a few of my suggestion to make the Helvetica GAP logo a little more 'fashionable'.

A few suggestions
My first suggestion is to include a lowercase 'G', this softens it up, makes it more friendly, more approachable. The uppercase 'G' does not work in this combination of letters. It overpowers the 'a' and 'p'. Lowercase feels much more compact and natural.
Black can be pretty harsh, especially when used next to a blue, takes on a sterile, clinical conservative feel. So changing the wording to the GAP blue sorts this out. There is now no need for that awful graduated blue box, my coloured lettering carries this 'previous brand association' just fine. The graduated blue box adds nothing whatsoever of value, other than an eyesore, but does prevent it becoming an elegant and clutter free solution.
I feel the particular weight of Helvetica used is too light for just 3 letters, so I have weighted it up to Helvetica Neue Black and closed up the spacing.
Custom Helvetica?
Although this is default Helvetica Black, it would be feasible to customise it a little. This would bring the advantage of it becoming more 'own-able' to GAP, the changes needn't be huge, subtle tweaks word work.
This could then lead to complete customisation of the Helvetica face just for GAP. This custom designed Helvetica could then be used for the rest of GAP's branding and print design.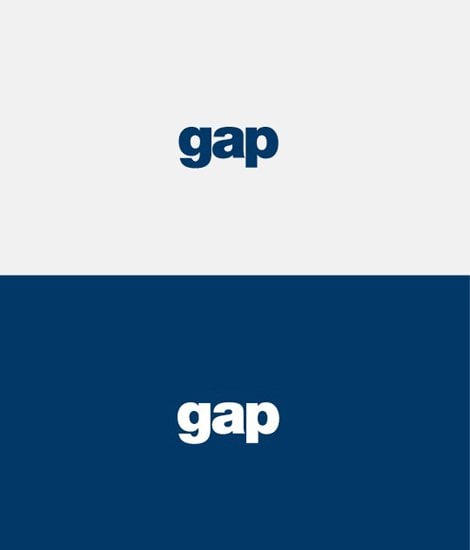 As you can see from the above example, these few changes make a huge difference to the overall look and feel, it has more impact and presence, it is simpler and less cluttered than the 'new' logo.
It says more more with less.
Without the graduated blue box, this becomes a wordmark, typemark, logotype etc and will be supremely flexible in use.
The new heavier wordmark will now pretty much fit anywhere you want it to go, not so true with the graduated blue box version.
As it is one colour, it can work in any combination and looks particular striking white on GAP blue.
The big blue box
Not to suggest that the logotype needs to be contained, but if you do apply the original box style, it will look very solid and will have strong brand connections to the old logo, whilst being a fresh updated incarnation.
I do believe keeping the blue box would really help with general perception and visual uptake due to the the public's existing familiarity of the old logo. The blue box IS Gap for many people, with a new font in a new position, it takes on a new lease of life. The upside is that GAP don't have to start over with educating people on the visual changes of the GAP identity. This is a more subtle approach but has a deeper voice. It will yield bigger rewards all round.
The blue box adds versatility with my suggested improvements to the thicker and fuller typemark. The wordmark can be interchanged as you need.
Don't confuse your customer with a new personality if you don't really need to. A complete change of clothes is not always needed, often just a new hairstyle will do the job
A quick side-by-side comparison.
On the storefront
Mock-up of new GAP wordmark in blue box on a GAP store front. It feels and looks much fresher in my eyes.
When you walk pass this new look you'll have a familiar feeling, nothing is too out of place. You know it's GAP from a mile off but you'll also know this is a new GAP. The two can work side by side, familiarity and change work hand in hand if you get the balance just so.
You'll feel good about the change, you'll be more inclined to visit.
I am really not sure what plans they had with regards to the new logo on store fronts. I can't envisage one solution where it would look as prominent as the original blue box GAP logo or even my suggestion above. Without seeing all the research and supporting sketches, ideas, concepts it's hard to imagine, but I do know their new logo would lack the right sort of presence, warmth, familiarity, comfort and the list does go on.
The overall design of a logo or brand mark needn't be rocket science, it's just the reasoning and rationale behind it, and the execution.
---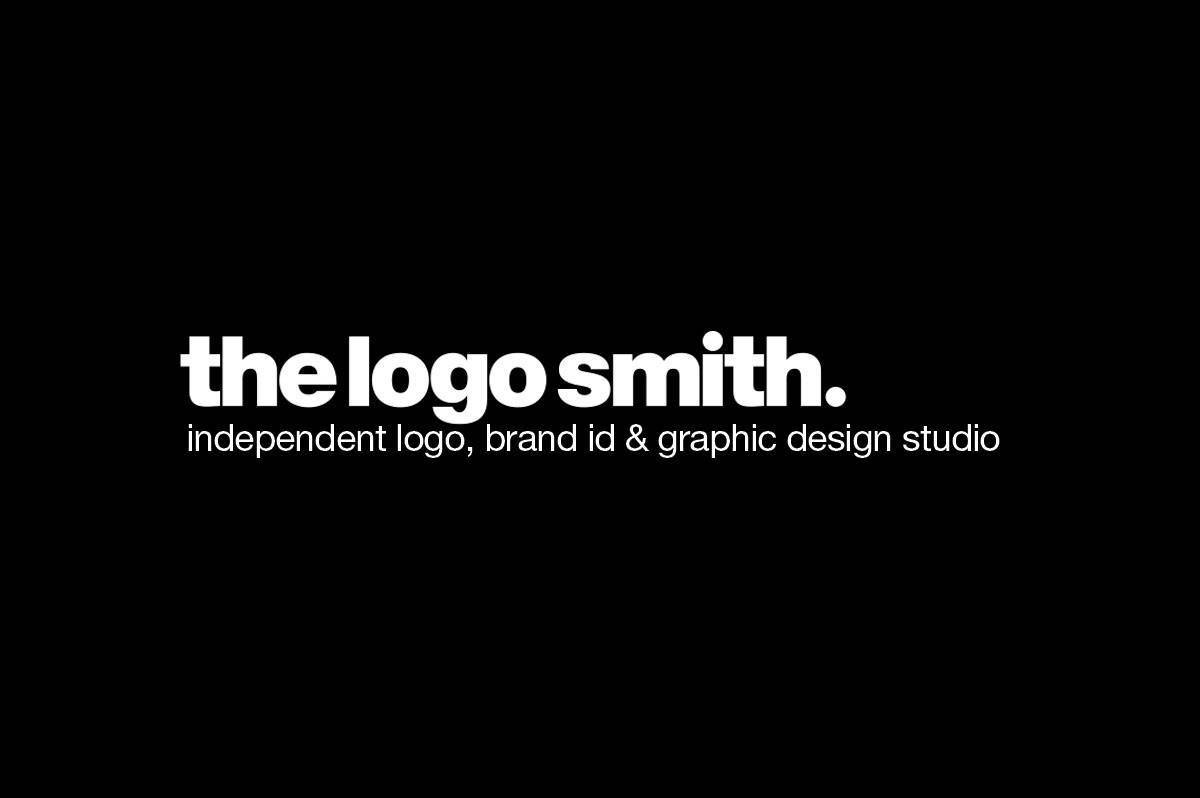 How to hire a freelance logo designer? Read this.
There has been much discussion on the wire about the prolific nature of cheap and quick logo design companies vs freelance logo designers. As a rule, they are as far apart as one could be to an independent and experienced freelance logo designer.
Yet they always appear top of Google searches when using common sense search terms like 'logo design', 'logo designer', 'hire a freelance logo designer' and  'professional logo design' to name but a few. The methods they use to achieve such prominent placing are 'dubious' to say the least.
Hiring a Freelance Graphic Designer: It's a daunting process
And this is where this post comes in. It's a daunting process trying to locate a suitable logo designer for your needs, made even harder when you have to negotiate and filter out logo design 'battery farms'.  You may be looking for a certain type of designer or looking for a company local to you.
Yet whatever you search for in Google, you are faced with the many number of search results focusing on the latest marketing buzz hook : 'free logo designs', 'create your own logo for free online', '300% Guarantee', 'professional logo design for £19.99 in under 24 hours', 'bronze package', 'silver package', 'carbon fiber with titanium and moon rock dust package' and the list goes on and on.
Don't get sucked in.
I should add that not all the 'package deal' options are to be avoided, far from it. But this is the problem really, some of these undesirables try hard to look respectable and often succeed, and this is the worst part of being a freelancer trying to promote and market ourselves, getting found is the hardest challenge. The genuine, the sincere, the passionate logo designer will not have the funds or audacity to try and run with Google and these faker logo companies.
Seek and thee shall be rewarded.
The Google first page gold rush
All these search results seem to take up the first page, you may be lucky and find a respectable logo design company dotted in and around these 'fakers', but it helps to know what you are looking for. Unless you are familiar with graphic design and have inside track on the logo design industry, you may find yourself out manned and out gunned.
You may end up exhausted and frustrated in your search, giving up and opting to go with a design company that you hope will deliver. The promise of that 'Titanium Package with unlimited tweaks, designed in 24 hours and only costing you a fantastically cheap rate of £49.99' seems to good to be true. It really is not worth it.
Bear in mind many of these so called logo design companies, offering stupidly low prices are not even based in Europe. They give the impression they are Europe or American based, this is deception plain and simple. They get first page Google rankings by using black-hat SEO practices, they game the system. Operated by criminals who run sweat shops to get your job done, these people are criminals and don't care about design or your identity.
It's just about taking your money.
Where to begin?
First of all, it helps if you have a basic understanding of how important a logo or brand identity is to your company or business. Even if you are consultant or individual, a solid and appropriate logo design is crucial. Choose badly and you could end up with a logo design that actually harms your chances of making your own business a success. And this is the crucial point.
Then it's about to whom you give your money. Will it be a a faceless and non design loving web company, or will it be a talented and approachable freelance logo designer that get's your logo design contract?
Logos are like personalities
Treat logos like they are alive, they have a soul, and yes, they have an identity. It's no coincidence that you hear that a logo design can be called a brand identity. It is indeed the identity of the company being designed here.
For it to be designed effectively requires a talented logo and brand identity designer, one whom has the ability to listen to the needs of their client as well as placing themselves in the shoes of the customers of the client. If you see what I mean. :)
You need a designer who takes pride in their work. Not an overnight fake sensation.
Your logo needs to have a personality that reflects the message you want to convey. Logo designs are often the first visual clue a potential client or customer will see of your or your company. First impressions at this stage are paramount.
Not wanting to patronize you, would it be safe for me to say that you are looking for a logo design because you have a company or business you are relying on to earn yourself some money, to pay the bills and maintain the car and feed the family? Does it not then make sense that you at least give this important venture the best possible start in life? What does it say about you and your priorities if you can't be bothered at this crucial stage to address how potential clients and customers view you?
You get upset if you hear people say bad things about how you dress, how you do your hair, your choice of music, anything in fact that is based and formed from your unique personality. We don't like to be criticized. It's the same with the identity of your business, treat it as a person with feelings and a personality.
Dress it up right, give it respect and it will work hard for you. Buy it cheap ugly clothes that clash and wear out quickly and it will wither and die.
It pays to invest in a professional and talented logo designer when these first impressions are so important. A designer or company that knows intuitively how important a unique and ownable logo design is to the success of the company being formed.
I will also add here that not all talented logo designers have shed loads of experience, many have a natural talent and ability to listen, to absorb and visualise the needs of their clients.
So don't dismiss the younger generation of logo designers, they certainly have ambition, they have enthusiasm and a relentless thirst to please.
Logo design should not be rushed
If you are looking for a logo to be completed within a few days, then the overall development of usually can suffer. Equally, if you are keen to spend as little as possible on a logo but expect grand things, then generally this is a situation that will cause some difficulty.
The very old saying is more than applicable here "you get what you pay for".
Most major brand agencies will take months and months to formulate an effective brand identity, often 6 months and more. This is not unusual.
Where am I going with this? Simple. A solid logo design can't be rushed, and because it can't be rushed, it therefore makes sense that it can't cost next to nothing. Logo and identity requires research in one form or another, the level of research dependent on the company.
Anything that takes a professional of any discipline time to complete will cost money.
Avoid Sub £100 logo designs
So with the timing aspect put into context, it then follows that we need to chat money.
The 'free online logo design companies', the sub £100 logo designs 'battery farms' previously mentioned are far from being suitable for a truly unique and professional brand identity. It's a simple fact, anything done super quick is best left alone if you are serious about the success of your own business.
If you are not serious about the success of this new business venture then go ahead and go cheap. But don't expect something for nothing.
It's false economy and harmful to your business identity to use the cheapest (sub £100) and quickest (under 24hr) logo companies. It's also not responsible for any logo designer/company to boast they can design you a logo in 24 hours for under £100 (in general). This level of design is usually referred to as clip art, and you will likely be able to do a better job yourself by looking on stock image sites. So OK, I jest a little, but not too much.
LogoDesignLove has a number of articles on the value of logo design How much does logo design cost. Jacob Cass wrote a awesome article Why logo design does not cost 5 dollars.
Budget
The less the overall budget, the less time the designer can research and come up with a truly unique and meaningful logo for you.

Treat the logo, this fantastically crazy thing called your brand identity as an investment, not an expense. Spending money on a logo should not rank up alongside the gut wrenching despair that paying to service your car, paying for repairs to your loft beams due to wood rot does.
A logo design is an investment in your own success.
Some general advice then
The best advice I can give, without sounding too 'use me, use me' is to not rush any part of this process. If you are genuinely short of time then the first option below could be the life saver you need.
RECOMMENDATIONS
Recommendations are valuable, if you know of someone who had a logo designed then ask them for a name.
GOOGLE
Don't give up looking on Google once you reach the end of Page 1. I can assure you that if you spend time looking through pages 2, 3, 4, 5, 6, 7, 8 and onwards, you will see some delightful logo designers. Each with their own unique style and approach.

Just because a logo designer does not appear on page 1 of your favourite search engine certainly does not mean they should be ignored. This could not be further from the truth, and in fact is quite the opposite.
Poor Google rankings and placement is by no means a reflection on the integrity, skill and reputation of a logo designer.
I know many talented designers that probably don't come even in the top 20 search results. So always bear this in mind.

Nowadays you need a 'advanced quantum theory doctorate thing' to even come close to mastering the beast that is Google. Sadly, Google is still victimised and targeted by gangs who have the means to grab all the best rankings. Being a talented logo designer is not enough to guarantee you high search engine rankings, sadly it does not work that way. This means one must dig deep to find those rare and scarce commodities, once you find one, hang on to them.
Try different search terms and phrases, rather than the overly common 'logo designer'. Sadly, 'professional' is abused by these 'logo battery farms' and dilutes the results you should get.
Unfortunately, you simply can't rely or trust Google giving you accurate and honest results on some of the more predictable search terms.
A GOOD FIT
And this is the thing, try to find a logo designer that is a good fit for you, not just visually but also from a personality point of view. The more you can 'gel' with a designer, the better the whole process and the more likely you will have a logo designer prepared to bend over backwards for you.
That level of commitment in a designer just can't be bought. It is a partnership.
COMMUNICATION
A designer who is prepared to talk on the phone, who is relatively transparent in the area of communication and contact is a positive sign, but not all designers can or will spend hours on the phone with their client. This is down to you, go for a designer that feels right for you. You may be OK with not needing to talk on the phone to discuss progress, or you may be someone that needs that level of feedback and interaction.
Don't be afraid to ask questions from a designer, after all, you are paying the money, makes sense that you choose someone you are happy with.
PORTFOLIO
Check the designers portfolio, this is important. They may have a natural style that fits in with the personality of your business. If so, then this is great. But don't instantly dismiss a designer based on their portfolio either. It comes down to you to communicate the type of design, the type of business you are in.
The designer should then be able to say if they can visualize this certain style for you. It's not in their best interest to take on a project where they feel they will struggle. Honesty is important.
To conclude
Shockingly, this barely scrapes the surface of the intricate in's and out's of trying to find a logo and identity designer. It can be simple, you could find someone on your first search. If not, then don't despair, there are plenty of us logo types out there.
Many logo designers are keen social media junkies, actively contributing to the design community, writing and posting on their own blogs, chatting with other like minded designers on Twitter and Facebook.
We are everywhere, if you know where to look.
If there is one thing I would like you to walk away with after reading this, other than a headache, is just an overall appreciation of the level of commitment you need in obtaining success in your own endeavours. If you have this then, then it should not be a chore to hunt out a respectable logo designer.
And remember. Poor Google rankings and placement is by no means a reflection on the integrity, skill and reputation of a logo designer. Do not judge their suitability purely on where they are ranked.
---

Often get asked what my policy is on dealing with the legalities of logo design, copyright and trademark issues as well as the registering and protection of naming. This is easy. I don't get caught up in any of it.
In my last post, I looked at 'ownership' of logo design files
Why?
Fundamentally it comes down to money, the budget and realistic expectations of what you are being payed for. I think it would be safe to assume that  many logo designers DON'T get paid a fair sum for their work. Not being paid enough for being creative is one thing, but to then be expected to deal with the nightmare that is the legal minefield is just ridiculous.
This is where a client gets what they pay for. And the time it takes to conduct legal research is most certainly not included with a low cost logo. And it's rather unfair to assume that a designer should take this on if a client is paying peanuts for a logo in the first place.
Leave no room for misinterpretation
For most projects, I clearly and simply state on my proposal that the whole subject of copyright, trademark registering and legal research needed to ensure names are legal and available is the responsibility of the client.
It is quite blunt, but I feel something as important as this needs to be.

It's important to get this cleared up at the beginning. The very mention of these issues may cause the client to actually consider something they have yet to deal with. Thus ensuring they don't steam roll into a project unprepared.
For sure, if they have questions and concerns, then I am happy to advise and help direct them if I can. Also, if the budget is 'reasonable', and they have asked me to help with these complex issues, then I will gladly help. But usually, this is best left to a professional who deals with these issues, usually some form of specialised solicitor. As a logo designer, this is sort of thing is well beyond our scope and experience.
Focus, don't feel guilty
My point is, don't feel stressed if you have felt guilty in the past that you are unable to deal with these issues. You are not the only one. There are experienced and dedicated professionals whose job is to tackle copyright and trademark issues. Agencies have dedicated legal teams for this very thing, how can one freelance logo designer be expected to be able to deliver this service? You can't, so don't beat yourself up over it.
Just be honest and frank at the beginning, so the client is at least informed that creating an identity has more to it then just creating a pretty logo. There are deeper aspects that they need to be aware of and deal with appropriately.
Leave it to the professionals
I used to get stressed about it, I felt it was my responsibility, but I realised its a legal issue and I have no legal experience. It's not just me washing my hands clear of this, it's actually being very realistic and taking appropriate action. Being a copyright and trademark solicitor takes years of experience.Tto even think you could take over a solicitors role with something so crucial would be a huge mistake, that your client would likely pay for in the long run.
Then there is the foreign client challenge. Dealing with legalities in your own country is hard enough, having to then deal with how other countries deal with such things is just beyond worrying about. If an overseas clients hires you, then you must ensure they are under no illusions about the important of conducting the appropriate legal and trademark searches. They would be wise to hire local help in the legal sector.
If you are a mult-staffed identity agency, then it's a different kettle of fish, just as it is if you regularly invoice £50k projects. Then the expectations will be different, but for the majority of logo designers being paid anything from around £100+, it's not an issue to get caught up in.
Ideally, a client should have registered the company name, applied for any relevant licences, before approaching a designer. If a client has just made up a name, and come to you for a logo design, it would be wise for you to at least bring up all of the above. It's not uncommon for a logo or identity project to be scrapped half way through once it is realised the current name cannot legally be used. Then you have to start all over again.
You are not let off completetly
You still have a responsibility to ensure that your own work falls within certain parameters, not to copy an existing identity design, to not infringe on others work etc. Even if by accident, this falls on your shoulders. It's up to you to look at certain cultural sensitivities, if you are not getting paid much for the project, you might be better off not doing it at all.
I have turned my back on a few lucrative projects where the cultural requirements were far out of my comfort zone, way too much for one person to satisfactorily deal with.
So ensure you research any designs and ideas you do before comitting to them. Once an idea is in the running, ensure you search as thoroughly as you can that it does not look too similar to other logos. It's a hard job, and it's not a perfect science, but do your best.
Once the client has approved a design, then you can advise the client that they need to take measures to secure the trademark, ideally to be done sooner rather than later. But this ideally falls on the shoulders of a legal professional to be done thoroughly.
It's important not to ignore it totally. It is your responsibly to set out what you are doing and what you are not doing within the scope of each project budget. By informing the clients that this is one area you will not be dealing with, you have made the issue abundantly clear.
This is not an exhaustive explanation, it's more to just emphasise that a lot of this should be passed over to a legal professional.
As usual, this is just my opinion, it's not a one size fits all 'do as I say.'
Is it possible to make a viable career as a freelance logo designer? If not a career, how about a period of just earning enough to pay the bills and mortgage or rent? Or if you are living at home, having shit loads of money to go out and buy designer type things, like two new Apple Mac Pro and 30" Cinema Displays?
Or just taking drugs and getting drunk. Far be it for me to judge your lifestyle.
I can only speak from personal experience here, and limited at that. I have not long been doing freelance logo design, I guess I seriously thought about becoming a freelancer as a career several years ago. So at that time, I started planting the seeds for ImJustCreative.
It does take determination and patience
The last year has seen me work tirelessly behind the scenes to get IJC up and out there, even before I had a decent portfolio or any real clients to mention. I have experience with marketing, advertising, branding and of course, design. So these allowed me to really tap into the necessary veins to start the flow of information and news from the IJC heart.
It does take determination and patience
Way before I even considered taking on work, I was tapping into social media to start getting the IJC name out there. My web site has seen multiple revisions, shifting from one genre to the next, before finally finding its footing, as you see it now. It is a regularly updated design and typography blog, not to mention my portfolio.
This is my agency, my store front. The home page is my front door that's always open.
The path to success
The key is to get yourself out there however and where ever you can. The saying that goes something like, "you can be the best and most gifted designer ever, but if no one knows you exist, you might as well not, exist." From many years of experience, seeing other agencies fail at even the basic level of communication prevents me from making these fundamental mistakes.
Get yourself out there
I am out there, and I continue to get out there. Every day I spend time on Twitter, FaceBook and keep my blog updated. I have other strategies in place that will see the light of day soon. I have ensure that for at least one set of keywords, I come up in the top 1-4 results in Google. This has opened the floodgates, people now see me worldwide, and the logo proposals trickle in.
Much of my work right now comes via Twitter or Google.
Niché it
Right at the beginning, I decided to drop the multi-disciplinary graphic design title. Too much to focus on, too much to try and market and frankly, way too much competition. I decided to focus on logo and brand identity for several reasons. Easier to market and advertise, focusing on just logo design allows for a much easier path to getting picked up by Google and other forms of discovery.
Also, I just wanted to be able to focus my mind, my efforts on one area. I wanted to commit to logo and brand identity and nothing else.
Logo design is what I do, and people know it. There is no mistaking it.
Now that's far easier to market than doing everything under the sun.
Be committed.
Doesn't need to be said, but I will. I am utterly dedicated to logo design. I read, I soak, I collect, I digest everything to do with logo design and brand identity. I read volumes and volumes of books, subscribe to countless web sites. I surf for new inspiration daily. I think and dream logo design. Well, the latter may be slightly exaggerated, but it's not far from truth. I wake up with ideas in my head, we all do from time to time.
So can you make it?
Well, I would say yes.
Things are looking good for me right now. I am pushing and pushing IJC. I am determined to make it a success. I still have a way to go before I can claim to be 'paying my way' but it looks promising.
My reasons for making this leap to freelancing are valid. I don't want to ever go back to working for some narcissistic MD. I don't want to be caged up in a poky studio that feels more like a battery farm. I want to have that 'so achievable' work like balance. You need to have the right reasons to make it work. These reasons push me to make this a success. This is all I need to keep me on the straight and narrow. You need your own reasons.
If you don't have valid reasons to take the plunge to freelancing, you will struggle. It's not easy, but equally, it's not impossible.
What has made it more manageable for me personally, is opting to find and work in that niché. That was a calculated decision for me.
---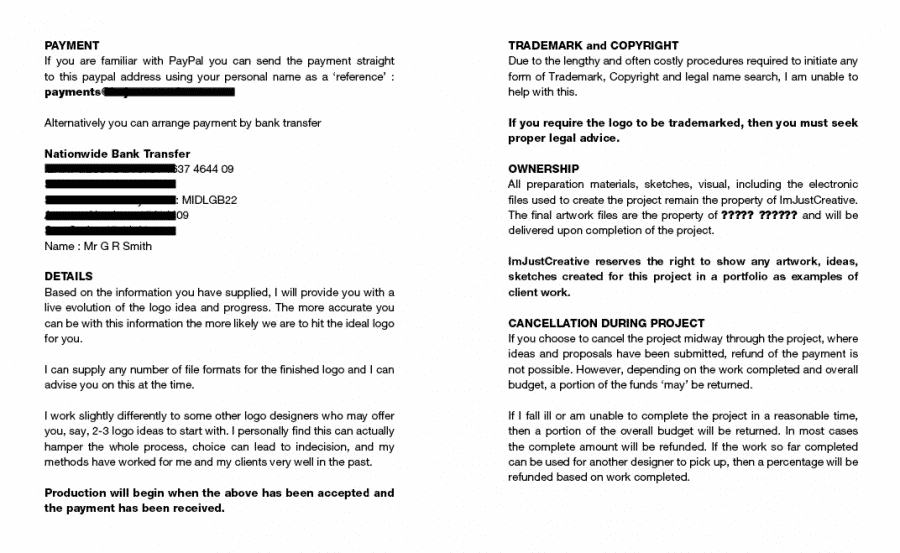 I often get asked why my logo design process seems to differ from many other freelance logo designers. I don't take your money, scurry away for a week then present you with 4 gleaming logo design ideas for you to choose from. You choose one, offer up some remarks then I scurry away again and make several rounds of alterations and changes. After a few days, I come back to you with a more complete logo. Then possibly a few more changes before completing the project. Finally, hoping to get paid.

This seems to be a common approach for many logo designers I know. There is a set cost, set number of ideas and revisions and possibly some extras thrown in like basic stationery designs, letterhead, business cards etc.
This process is solid and it works for many clients, so this is not a criticism of this approach. I am outlining my own approach and how it differs from the above and how it might, for some clients, be a more interesting and enlightening approach.
I was hoping to get the whole process in one post, but as usual, my inability to keep it short and sweet has lead me to section the idea. Rather than offer a quick overview, I have gone into excruciating detail on each significant part of the process. So this first part focuses on the first contact, when a client approaches me with a view to hire me for their logo design needs. I hope it offers some insight into how I work and might offer some ideas for you to implement yourself.
From the get-go
I place a lot of importance on communications at the beginning of a project, way before any money has parted hands and long before I even know the project is secured. I usually first find out about a possible job through a potential client filling in one of two online quote forms, or mini brief. A set of questions designed to get the client to think about what they need and for me to get a solid understanding of their requirements.
I use Google Docs for my online quote form, it's not the prettiest but works well.
As the quote form is quite long, I do suggest that clients can call first. This might be useful if they need some help with aspects of the logo design process, rather than sit down filling in a heap of questions. If the filling in the form is the only option available, if might very well put them off contacting me. So I encourage them to contact me in whatever way they feel comfortable with, then we can take it from there.
Better to call
Even though this is the usual first contact, I do encourage people to call me first. Nothing can substitute actually hearing about a project, listening to the hopeful new client explain their business. It is easier to offer thoughts, suggestions and advice. A deeper level of understanding can be gleaned from a call than filling in the quote form, so this is my preference.
I know of some logo designers who prefer to deal with clients only via online methods, not the telephone. There are some projects where a decent chat is essential, especially if you are working on a personal brand. You need to hear the voice, find out about their personality and drive. No matter how much you email and IM, you will never fully 'get' the person if you don't at least talk on the phone.
Once we have chatted, we usually work on filling in the online quote form. To sum up what has been discussed and to put down in writing the various aspects needed for this project.
Specify a budget
I don't have a set price package so to speak. I feel it's not for me to determine how much a client should place on the branding of their company. If their image is important to them then I would like to see this come voluntarily from them, rather than me suggesting a price. Only they can place a true value on their business.

Often a client just has no idea on the value of design, how much it should cost. This is not to say they will be looking for the cheapest option. Far from it. In fact, they often just need some guidance, some explanations of the importance of a solid brand identity and also a explanation of what is really involved with a logo design project. Once you lay all this on the table, they are often happier to consider a higher budget.
Fortunately for me, clients on average voluntarily put up anything between £750 - £2000 for a logo design project, this is without any interference from me, and this gives me a lot of hope in general. Not all clients are looking to get logo design on the cheap, in my experience over the last 6 months, quite the opposite. So this is encouraging for the industry and for any freelance logo designer.
Here I will get a good idea on how a potential client perceives the value of design.
I do consider lower price work if approached directly, there maybe a icon or simple badge to create opposed to a full blow logo design. But for simplicity, I keep my online form focused on the bigger picture.
It is true that aligning your work with higher prices helps the client perceive you and your work in a certain way, opposed to a bargain basement approach. There are pro's and con's to both, but for me I have decided to focus on aligning my reputation and work at the middle/higher end.
Some clients appreciate seeing higher prices as a sign of experience and quality. Some clients will just run a mile and find the cheapest designer they can get their hands on. But the work in your portfolio is the real focus, if they like your work but you are not the cheapest, you still stand a chance to secure them as a client. They want to feel they will know the type of work you will likely do for them and this will help them make that decision on how much to spend.
Securing the project
After I have received the completed quote form, I will assess all the information and compare the work needed with their proposed budget. If the work required to complete a successful logo project is substantially more than the proposed budget, I will write back to the client and explain that their is a shortfall. In order to provide the client with logo based on their information they will ideally need to raise the budget. If this is a problem for them, either cash is limited or they just don't want to pay what is needed, then we look at ways to reduce the time needed to complete the project. But this is not always easy to do. For me, I cant always justify spending unpaid hours on a project with a small budget.
If there is still a deadlock with the budget, then I will take a view on a per project basis. I will not necessarily refuse the job, it may be a good job and client to have on board and I may accept I will have to spend more time than I am getting paid. This is ultimately my choice. If there is a massive discrepancy, or the client just seems to not value design or I get a sense it could lead to a somewhat challenging client designer relationship, then I will politely bow out.
Proposal and Budget
After any initial conversations on the phone or Skype, or regular email correspondence we will look to take the next step. Once I have the brief, a verbal acceptance on the budget, I will approach the subject of payment. This is a slightly sensitive issue, so I tread carefully here. It is clear on my quote form where I stand with regards to the deposit and full payment scenario. So hopefully, any clients still on board with me at this point are aware of my policy. But I still tread carefully.
If the client is overseas I will send them a polite email gently reminding them that in their case I will require payment up front. I will explain my reasons for having this policy, that it's a general rule and not personal. I finish the email by simply asking them if they have any concerns over this arrangement, rather than simply saying take it or leave it. I am always open to negotiation at this stage, but thankfully for me, every over seas client thus far has not had a problem with paying upfront.
No contract
Assuming we have the all clear for payment up front then I will send a basic proposal detailing the work to be done, with contact information and a basic run down of a few key points. I cover cancellation, refunds, ownership of the artwork. The proposal is created in InDesign, a simple 2 page affair. Client and project information on one side, with costs and brief project outline. The reverse has the basic small print. Nothing complicated or lengthy to read.
I don't have a contract. To take action over a client who has done the dirty costs money, money that most freelancers don't have.
There are situations where a contract would make sense, but right now, I don't I need one. Most of my clients are overseas, enforcing a contact for a overseas client, in times of dispute would be problematic, time consuming and expensive. They may give you peace of mind, but I think it's a wasted peace of mind. As my business grows, and the type of identity work I take on increases in complexity, then I will re-visit the contract issue.
My proposal form does contain the usual things such as cancellation, copyright, ownership. These I can explain in a small paragraph to avoid confusion that a heavy contract can give.
Payment up front is my insurance.
Now  I have all peace of mind any freelancer can have by getting paid up front. I am able to rest easy, and totally focus on the job at hand without any of the low level anxiety we all face when it comes to invoicing at the project end.
So assuming all the above points have been dealt with, I need to secure this client. I can't rest easy until I see money in my hands.
Payment Options
Presently, I keep this simple. Paypal or direct bank transfer, I still prefer Paypal. Even though the fee's are a little high, the flexibility and near instant transactions with Paypal are worth it. I use Freshbooks to manage all my invoices, this means I can send personalized invoices, with a PayPal link via email. This makes it very quick and easy for a client to pay the deposit, assuming they have PayPal of course.
The deposit needs to be received before I will seriously start working on a project, although it doesn't stop me from thinking and tinkering around with a project before I have the deposit. This usually depends on if I have a good feeling about the client's commitment to the project.
Waiting for the deposit or payment
Some time may have passed from the clients first contact to the point where you have sent the invoice. Some times it have been a number of weeks of communications and messaging. Some clients need quite a bit of reassurance, especially if they are investing upwards of £1000 in their identity, totally understandable. So I try not to rush them, although at the same time, I would like to get the deposit secured. So I do all I can to create an atmosphere of  trust with them.
Some 'dead certain' projects fall by the way side, this is normal. Can be frustrating, but you just wait for the next one to come along. Maybe you could look at how you conducted yourself, did you reply promptly? Did you communicate effectively? There are any number of reasons why a client may change their mind, some will just be down to their own personal or professional circumstances. Personally,  I have had problems with time management and I know I have lost a few clients because of this. Once you realise your own faults, accept and acknowledge them, you can at least do something about it. I am far from being perfect, but I continually try hard to improve my service.
Once you have the payment or deposit in your account, then you can at least breath a sigh of relief. I have recently started sending a PayPal receipt, acknowledging the payment. If you have sent someone money, it's reassuring to know they received it, and of course it is useful for their own records.
Now you can start the project.

End of part 1

So this would be a good place to end this first part. Hope this gave you some insight into how I work my freelancing. Everyone has different methods, so this is by no means a 'you should do it this way'. It's also not exhaustive and comprehensive, although it's pretty close. Part 2 will focus on my method of working from the research aspect, sketching and idea formulation and interactions with the client through-out the logo project.
Sign up to my RSS feed to ensure you don't miss Part 2.
---
Two Free Fonts from Pablo
More free fonts added to the ImJustCreative free and opensource font library. This time a double helping from Pablo Caro, with two interesting styles to choose from. One being a rounded geometric font and the other a very cool, paint brushed effect slab serif. Read on and download for free.
Bola Font
Bola Font Designed by
Pablo Caro - http://www.nuevostudio.com
About
Bola is yet another chunky geometric font like many others out there! I didn't wanna be left behind so here it is
Download
Download

 Bola

 and use for free
Tiza Font
Tiza Font Designed by
Pablo Caro - http://www.nuevostudio.com
About
Tiza is a font developed as a means of learning Font design software. It is inspired on the lovely slab-serif Giza . It has been recently used on the website for the Teen Choice Awards 2008... "like,OMG!"
Download
Download

 Tiza

 and use for free

 
Link Credit
I was made aware of this font by FreeTypography.com  

Not Any Old Free Font Will Do
Releasing free versions from a commercial family is a great idea, and it has seen me buy the remaining family on a number of occasions. The most noticeable example was Museo. Being a freelance logo designer, finding quality and unique 'free' fonts for that next logo project can be a struggle. Whilst there are 1000's available, many are poor in quality and feel. Finding those 'special' free and open-source fonts is something of a past-time for me. Here on ImJustCreative, I am trying to find the fonts that are that little bit special, for any number of reasons. Not any old free font will do.
Colophon
If you like this post and like the general idea of what ImJustCreative is all about, then would be sweet if you would consider signing up to my free Newsletter, powered by RSS and email. No spam of unsolicited correspondence, just updates from this website as and when they occur. No updates, then no email. Finally, if you do need any kind of logo and brand identity design, then take a peek at my home page for further information on how to hire me, contact details and prices.
Copyright © 2006-2016 All Rights Reserved Goddammit!
The Logo Smith - Freelance Logo Designer, Brand Identity & Graphic Design Studio.
25 Years Experience: Logo & Brand Identity Design, Graphic Design, Advertising and Print.
PR Agency Services: The PR Room -Technology & Internet of Things PR.