All Archived Posts in free
---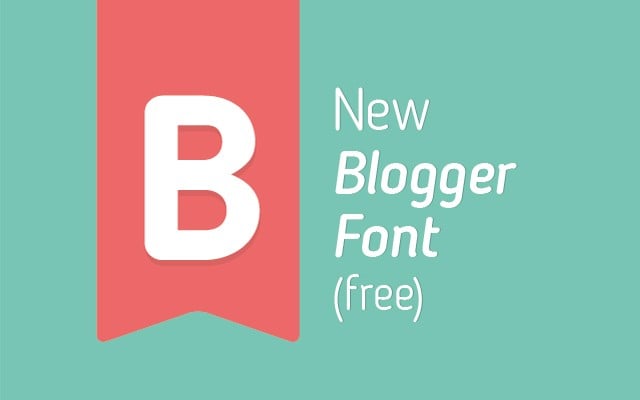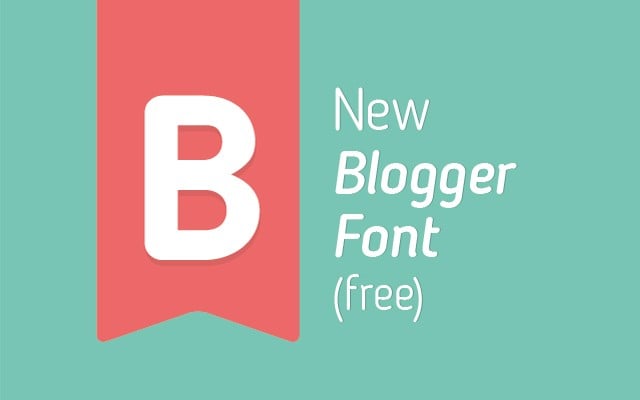 Free New Blogger Sans Font Designed by Sergiy Tkachenko
We are being spoilt recently with some very nice and clean free fonts being made available to the masses. In this particular case, we have: Blogger Sans Font, designed by Sergiy Tkachenko
Blogger Sans Font was initially designed as the custom typeface for the FirstSiteGuide's website: The Beginner's Guide to Successful Blogging, primarily used for headings.
FirstSiteGuide: Blogger Sans draws inspiration from the clarity and legibility of the popular font Dosis with an additional support of the lost Cyrillic languages. The bolder weights are lighter and softer. The following elements (-b-d-h-k-p-q-y-) are shorter, thus the headlines and subheads could be put in the dense line spacing. In addition the outline of the Blogger Sans is more smooth with better eligibility.
Blogger Sans Font Details
Blogger Sans comes in 4 incremental weights with total of 8 different outlines.Since Blogger Sans supports Cyrillic, it supports regional features for Bulgarian and Serbian (partially) languages. It also contains extra currency symbols, error signs, and dingbats.
Font format: .otf, .ttf
Font style: Regular, Italic (8 outlines)
Font-type: Sans
Archive size: 3.91 Mb
Alphabet: Latin, Cyrillic
Stats: 547 glyphs and 2496 kerning pairs
Supporting languages: Albanian, Basque, Belarusian, Bosnian, Breton, Bulgarian, Catalan, Croatian, Cyrillic, Czech, Danish, Dutch, Esperanto, Estonian, Faroese, Finnish, French, Frisian, Galician, German, Hungarian, Icelandic, Italian, Lithuanian, Malagasy, Maltese, Norwegian, Polish, Portuguese, Romanian, Russian, Serbian, Slovak, Slovenian, Spanish, Swedish, Turkish, Ukrainian, Welsh (and more).
Font Licencing
FirstSiteGuide have now kindly provided Blogger Sans Font as a free download, and free to use. You are FREE to use it in any web design or blogging projects with one condition.
The font is licensed under the Creative Commons Attribution 4.0 license. That means you are free to distribute, transform, fiddle with and build it into your work, even commercially. However, please always credit the original source of the font (in this case FirstSiteGuide team).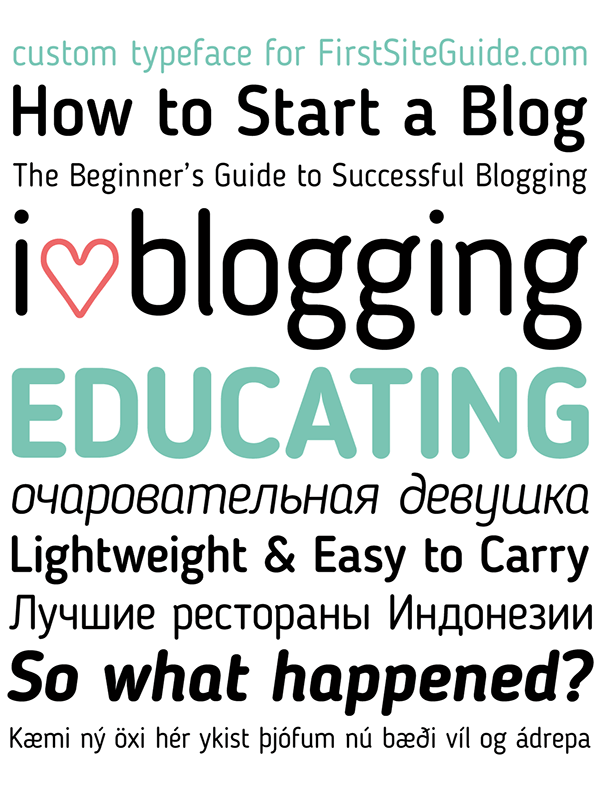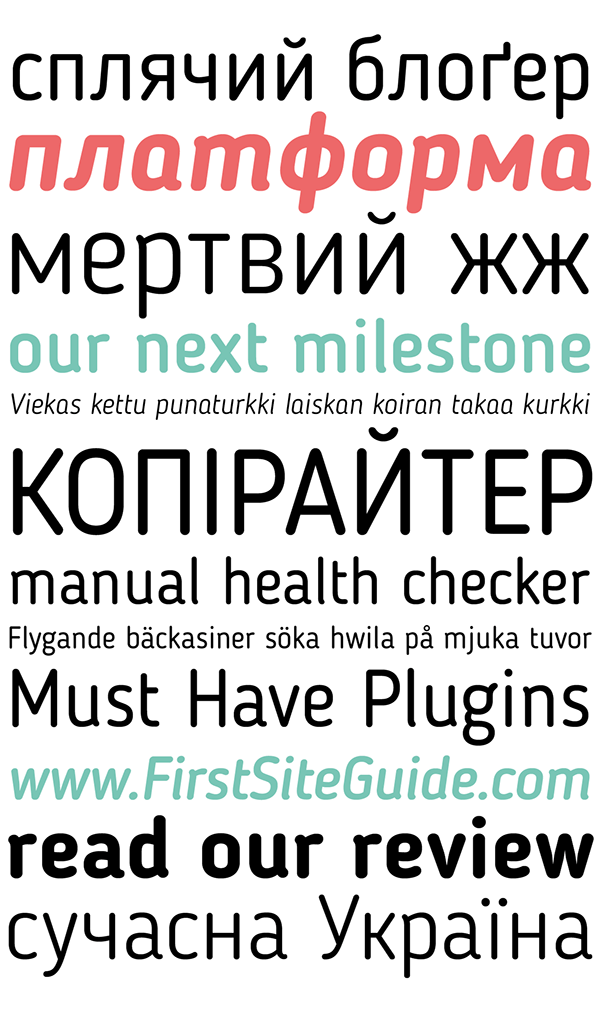 ---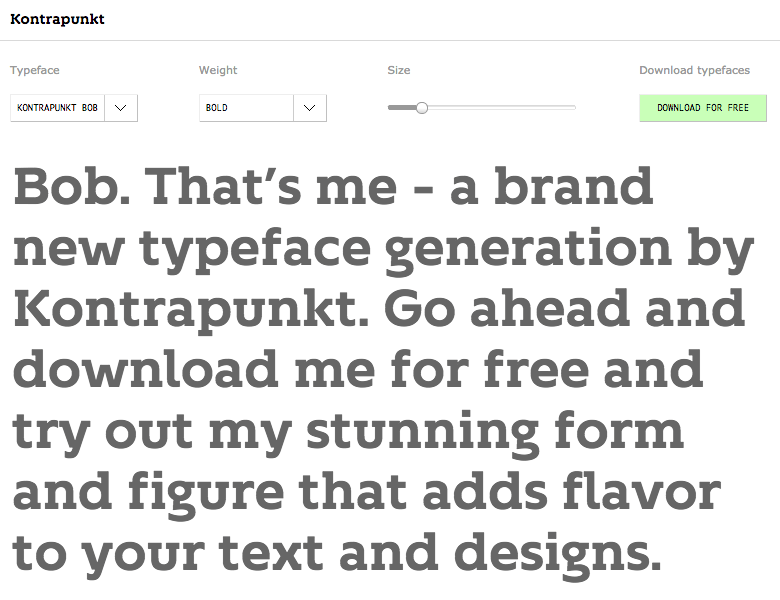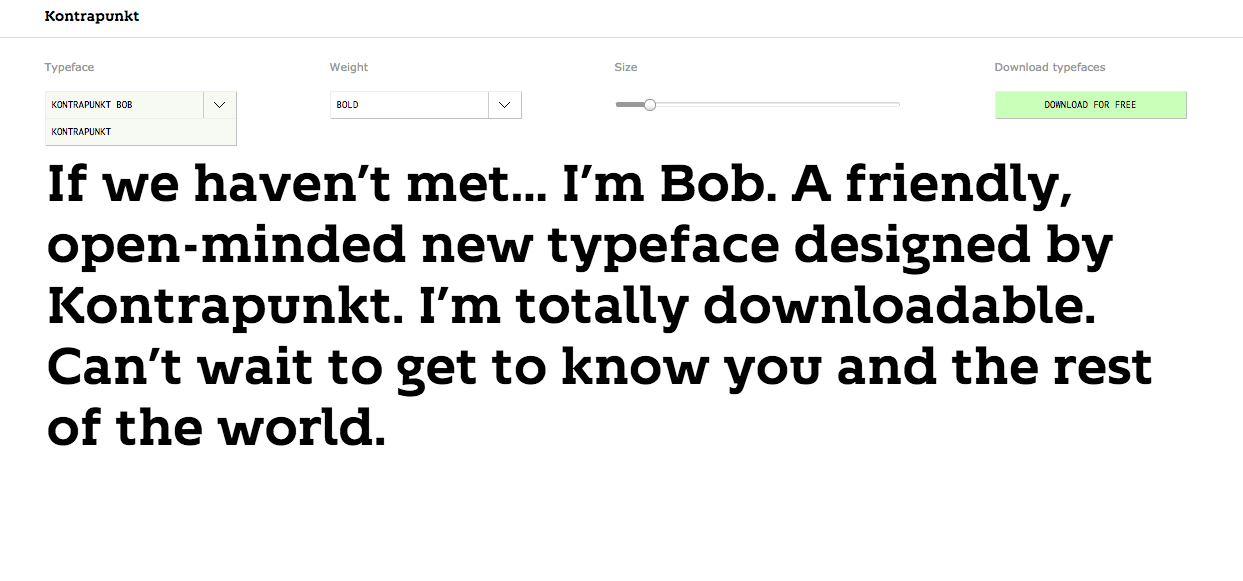 Kontrapunkt 'Bob' Free Font for Download by Kontrapunkt
Kontrapunkt 'Bob' is a sexy, and quite classy, free slab style font designed by Kontrapunkt, a branding agency based in Denmark and Osaka.
I love the name as well, Bob. Reminds me of Black Adder… BoB! BoB?
Bob has some seriously smooth lines, fullness of form and some rather unique styling going on with some of the letter forms. Indeed, some of the letters, on their own, look like they could be form an altogether different style of font, like Sans: just look at that capital G for example, love it!
As far as free fonts go, I'm mighty impressed with Bob!
---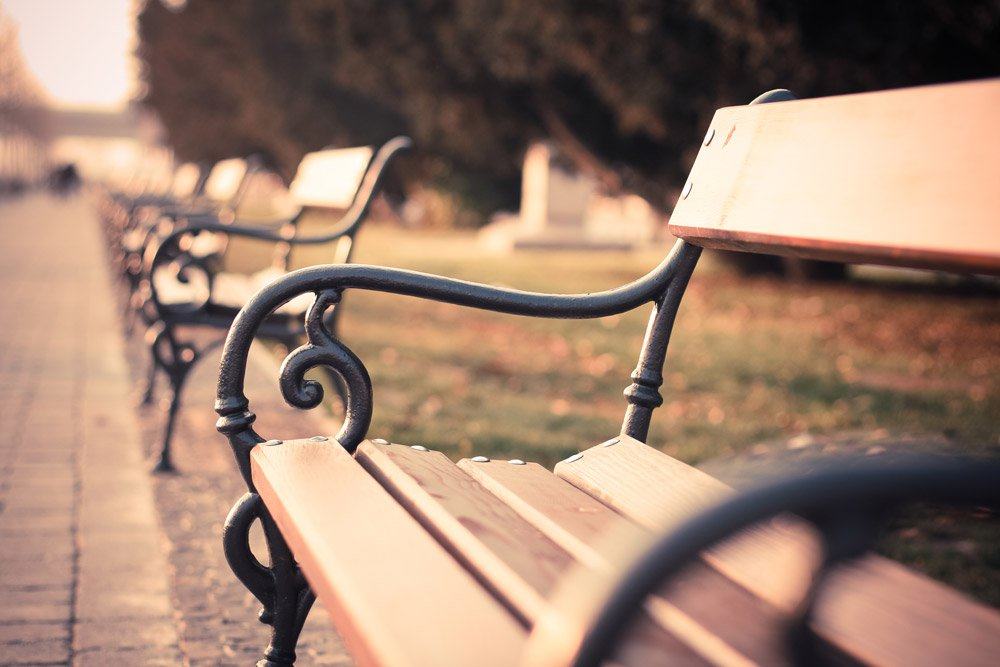 picjumbo - Free Stock Photography - Royalty Free Photographs
Picjumbo.com, by Victor Hanacek is another great free stock photography website offering:
"totally free photos for your commercial & personal works"
I'm really liking the kindness of photographically inspired people at the moment for making the fruits of their love available to us, for free.
What I have also found with these free stock photography sites, like: Unsplash, Gratisography and Picjumbo is that the photographic style is so much more aesthetically appealing, at least to me, than many of the major photostock libraries.
I have already used photographs from both Unsplash, Gratisography in the presentation of some of my recent logo designs to clients, and have already seen a few from Victor that I will be using shortly.
The photographs are 3888px wide, so plenty big enough for most digital work.
Viktor Hanacek: "You can use them for many different things. For webdesign, sliders, apps, backgrounds or templates for sell. You are not limited. One thing I would really appreciate is an attribution. It's up to you, it is not necessary but greatly appreciated! It's easy — when you share Picjumbo to other people, I can keep making more and more photos.
Go ahead and take a peek, and give Victor your support by signing up to his newsletter, Twitter account and/or even, maybe, donate a little if you end up using some.
Found via Webdesignerdepot
Other Free Stock Photography Websites
See also: Unsplash, Gratisography, PicJumbo, AuthenticSnaps.
---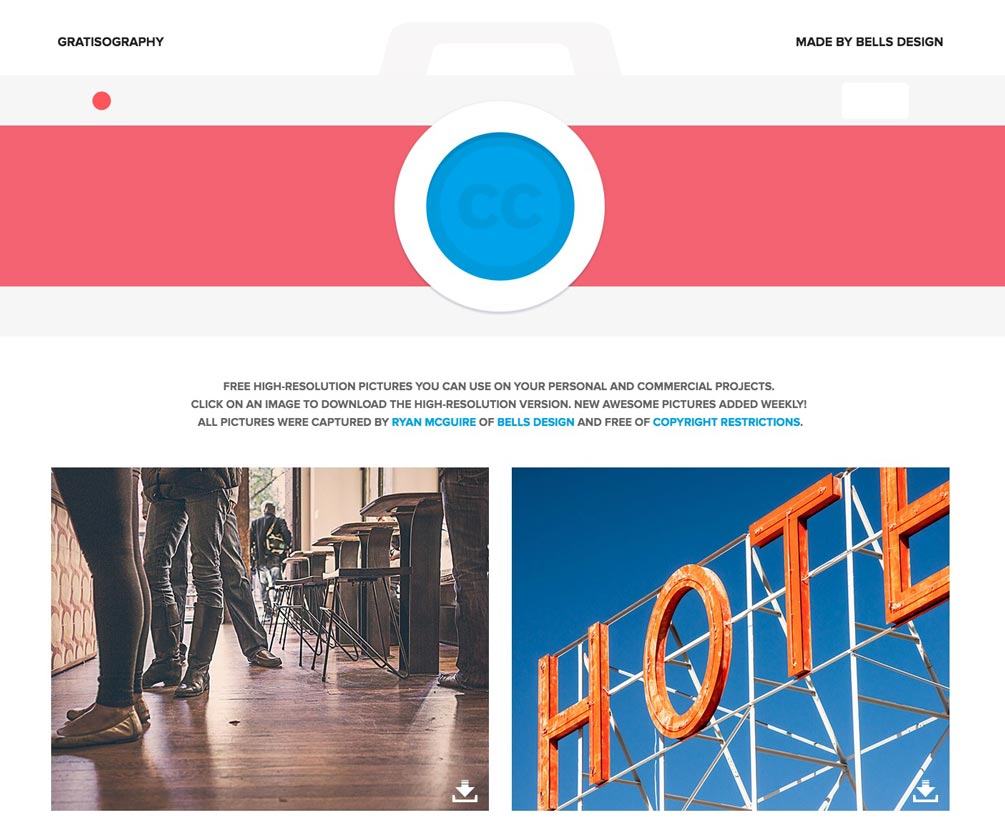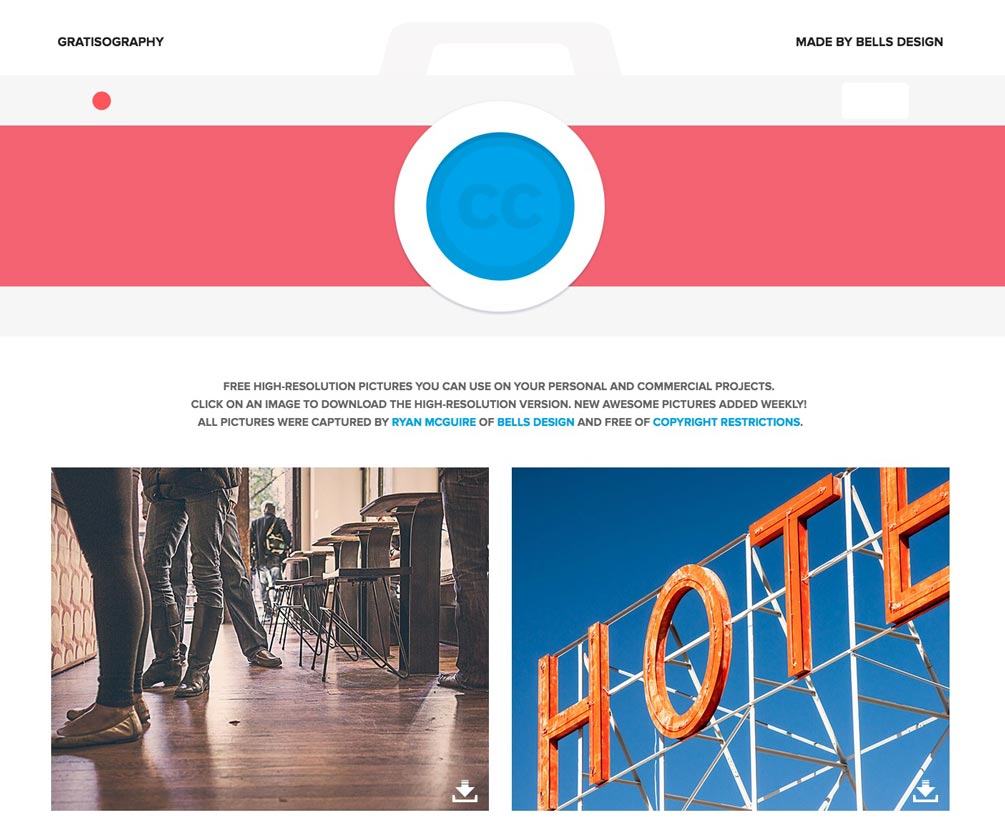 Gratisography: Free high-resolution pictures you can use on your personal and commercial projects.
Click on an image to download the high-resolution version. New awesome pictures added weekly!

All pictures were captured by Ryan McGuire of Bells Design and free of copyright restrictions.
Much in a similar vein to the previously blogged, UnSplash, Gratisography is a website offering free downloadable photography for you to use freely.
I don't think this type of endeavour should ever be underestimated, or undervalued. Taking excellent quality photographs. and making them available without ANY restrictions, is pretty admirable in my book!
I have been using quite a few photographs off UnSplash myself of late, and aspects of my own work have been much improved because of this.
 Good for Ryan McGuire I say, and long may you take lovely photographs for all of us to use and enjoy!
Other Free Stock Photography Websites
See also: Unsplash, Gratisography, PicJumbo, AuthenticSnaps.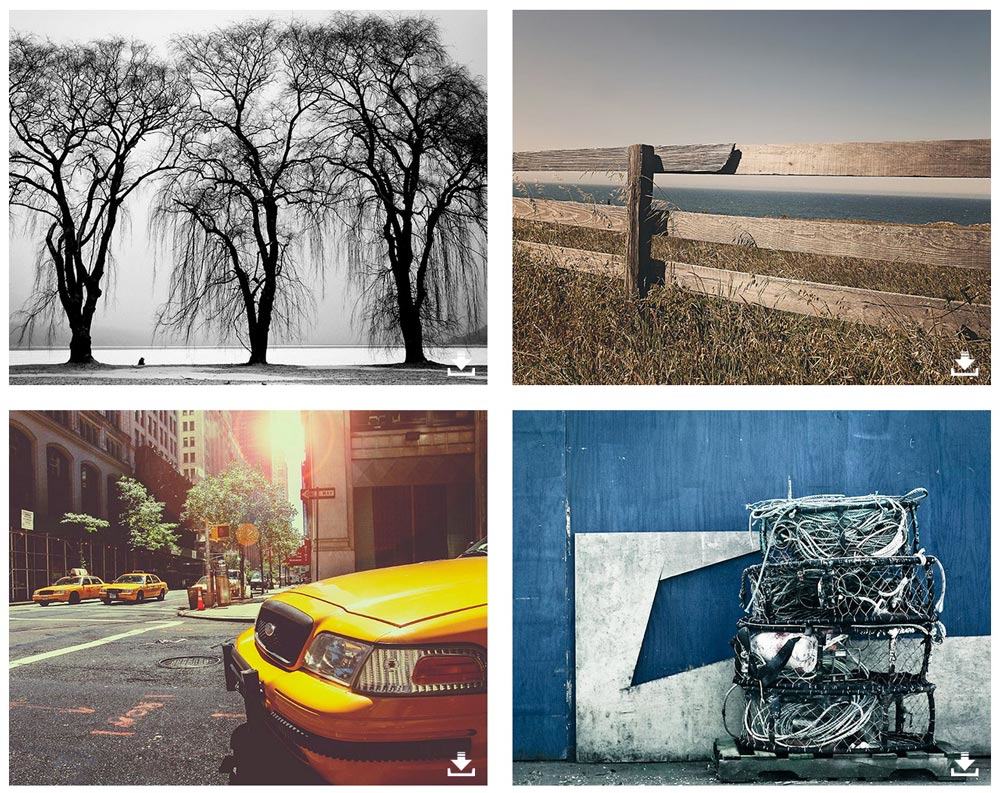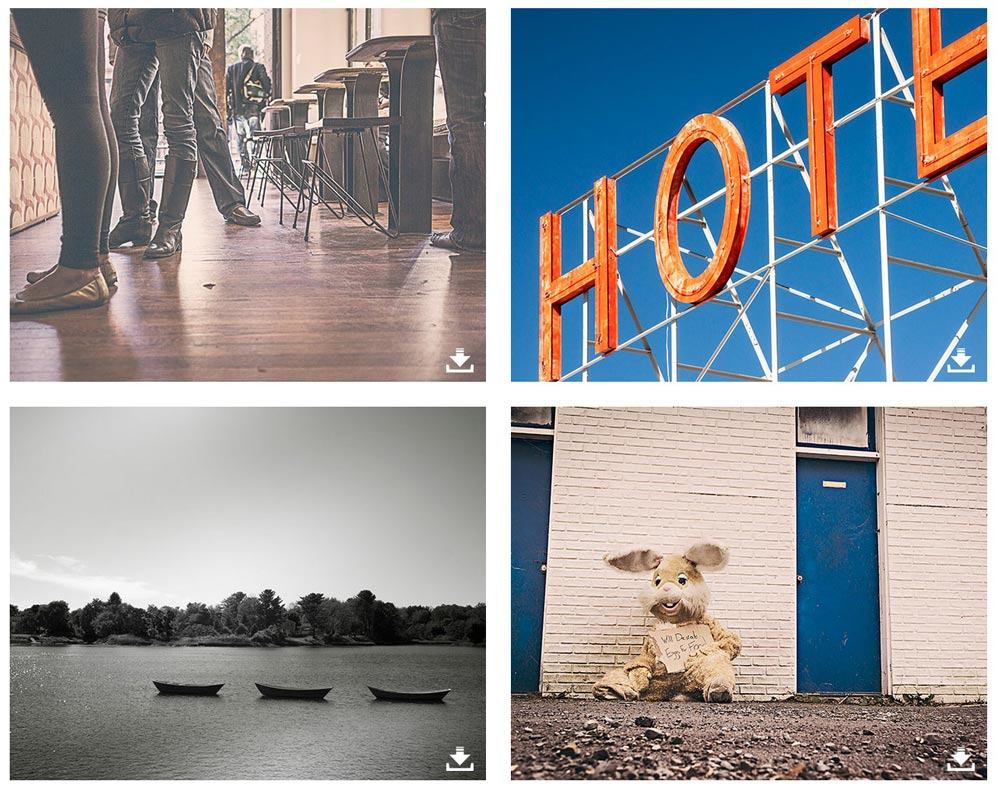 Other Free Stock Photography Websites
See also: Unsplash, Gratisography, PicJumbo, AuthenticSnaps.
---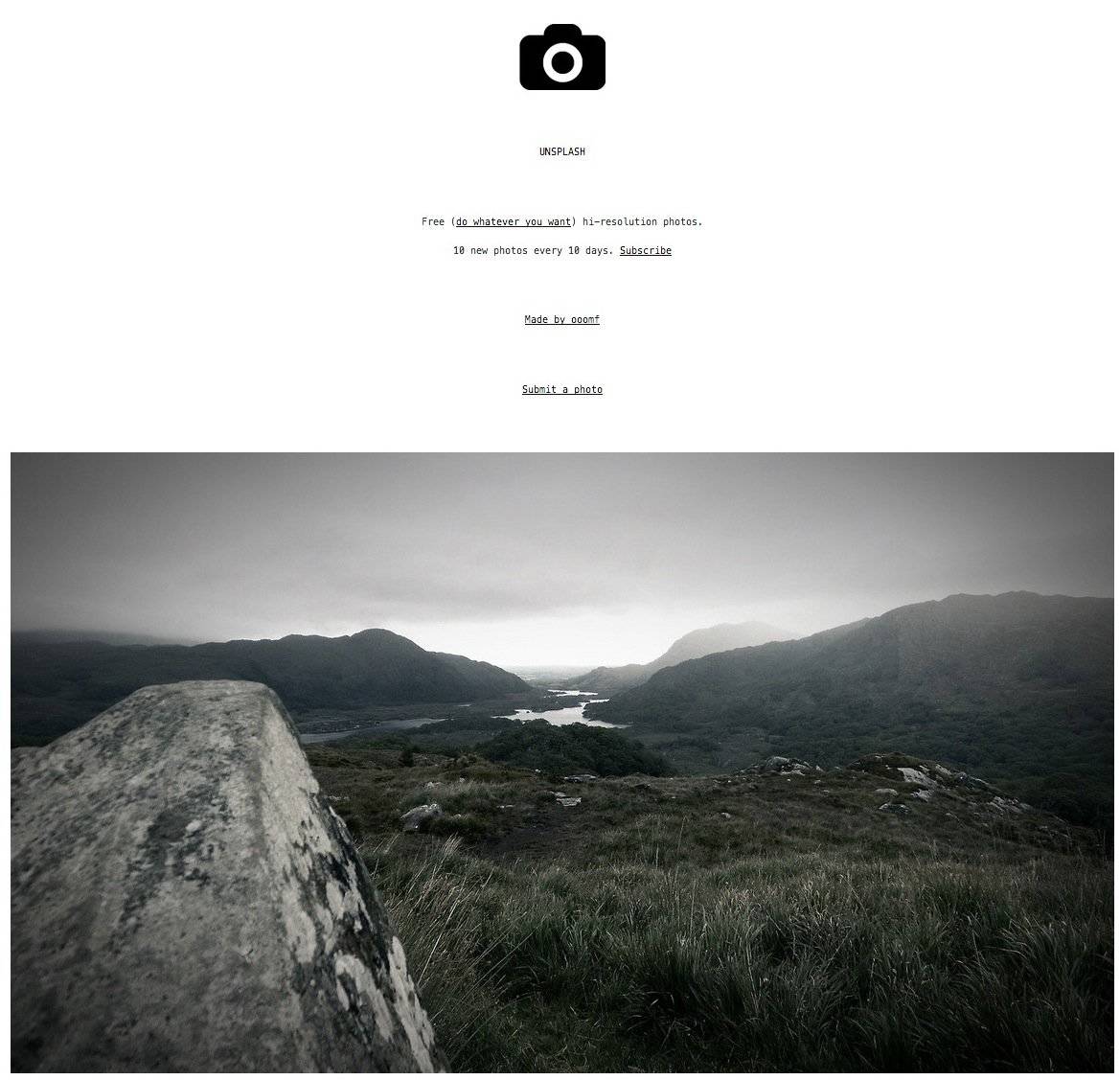 Unsplash - Free Hi-Resolution Photographs - Free Stock Photography
Unsplash Tumblr – Free (do whatever you want) Hi-Resolution Photographs made by ooomf.com
Absolutely in love with Unsplash - free photography: finding myself coming back to the site several times a day just to check out the existing photographs even knowing it's updated every ten days.
Hat tip to Ben Garratt for pointing me to the site.
Such a variety of photographic styles, and content, that you'll almost certainly find something of value. As far as Tumblr websites go, this one is pretty special.
I have used a number of these as backgrounds to some logo designs, for both my portfolio and for client presentations. A recent example of a logotype idea I presented to a client:
Other Free Stock Photography Websites
See also: Unsplash, Gratisography, PicJumbo, AuthenticSnaps.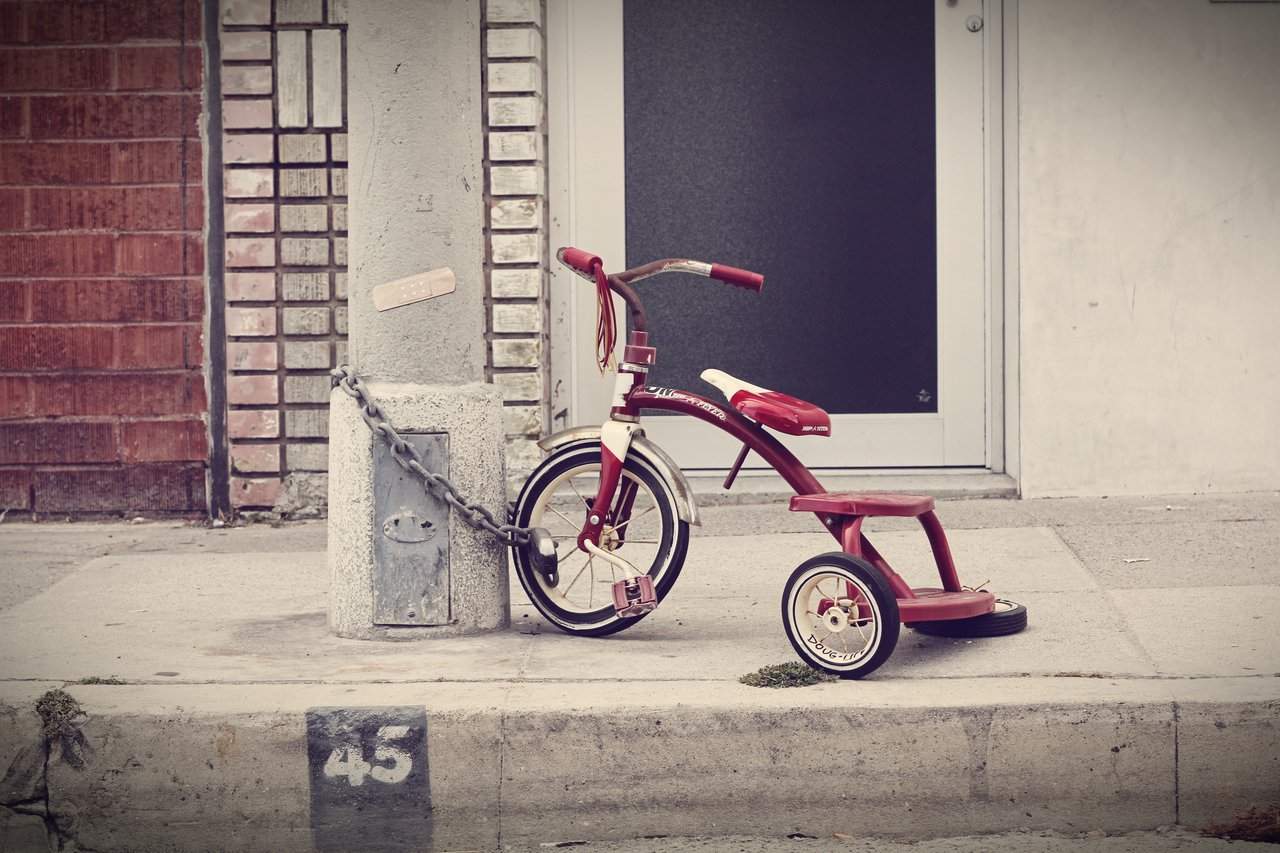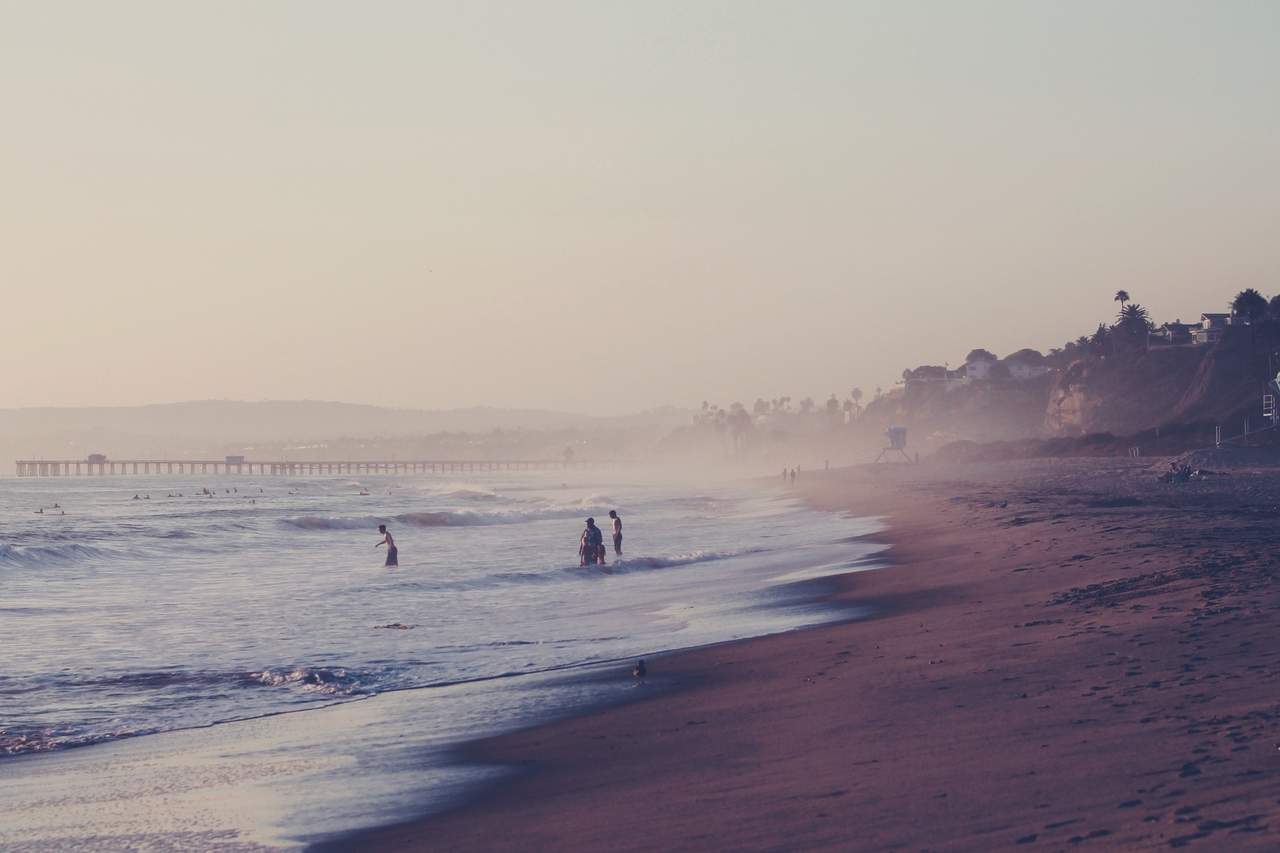 Other Free Stock Photography Websites
See also: Unsplash, Gratisography, PicJumbo, AuthenticSnaps.
---
Seems Maniakers Design has been quite busy since releasing the original FREE 232 MKSD Font. It has now been updated with a huge range of extra glyphs.
Important to note that this covers both Round Light, Round Medium and Round Bold and that the family is still a free download.
Font Licence - There are some limitations for it's use, so please read the Font License provided.
Download More Free Fonts via IJC
Over the last few months I have been amassing a neat collection of quality free and open source fonts for download. Some are even exclusive to ImJustCreative. Head on over to Free Fonts for a looksie.
---
Franchise Bold - A Free Stout Display Font by Derek Weathersbee
Once in while a project of such beauty and generosity shows up. Like the stunning Lobster font, Derek Weathersbee has lavished the utmost attention to the presentation of his typeface, Franchise Bold.
The fact that it is a free download just mystifies me and hugely inspires me. This is an essential addition to your font library if you're looking for a solid font for your next logo design and/or graphic design project.
Franchise is the first weight available but Derek is working on three other weights, Regular, Light and Hairline. So when complete, this will prove to be a formidable type family just right for some of those retro designs you have planned.
And to put some commercial font foundries to shame, Derek has an impressive 'Test Drive' for Franchise.
Of course donations are accepted and who wouldn't?
And should you feel in the mood, some lovely looking shirts can be purchased. As Derek says 'Heck, the Typeface was free. Go!'

Font Licensing
Derek even has made Franchise Bold licensing for this as open and free as it can possibly be.
It is FREE to use for both personal and commercial. You can embed the font and/or link to it via @font-face. Just don't alter/modify it and pass it off as your own.
View official Font Licence .
Download Franchise via Dereks website.
---
Aller standard font: DaltonMaag is one of my favourite font foundries, I have purchased a number of their fonts including Effra, Co Headline and Co Text.
Appears I missed the initial Aller standard font press release about the Aller Standard font, available as a free download.
There are 4 weights available, Aller Light, Aller, Aller Bold and Aller Display. The first 3 come with italics, whilst Display is on its own. Not bad at all for a free font, who am I kidding, this is an awesome move by DaltonMaag.
---
Found this link via Smashing Magazine, a tremendous collection of 103 minimally styled icons. Designed by  P.J. Onori and have been made totally free to download direct from his website.
They come in both raster and vector formats, minimal stylised design, 14 different colours, 5 different sizes and FREE to use.
This set is currently licensed under the Creative Commons Attribution-Share Alike 3.0 license.
Aeroportal Font has been pulled by the font designers, so it is no longer available for download.
Aeroportal Font
Found Aeroportal, a rather tasty free font, via TypeGoodness. I have not seen this font before, yet it has been around for a few years.  I have seen commercial variations of it, but when I realised it was also a free download with 3 weights, then this became even cooler. It's ideal for logo designs, titles and certain size body text.

Description
The round, easily legible forms of the typeface Aeroportal were inspired by European modernistic and British humanistic traditions, as well as contemporary Scandinavian design. Aeroportal expresses friendliness, simplicity and credibility, and evokes images of waves, motion and travel.
Aeroportal is primarily intended for headline and logo use, but its clear and no-nonsense form makes it suitable as a body text typeface as well.
The typeface is developed in regular, medium and bold.
Aeroportal Regular is the main typeface to be used for most large texts. All titles must be set in lowercase only.
Aeroportal Medium can be used when you in special cases need better visibility from distance. All titles must be set in lowercase only.
Aeroportal Bold can be used for emphasizing words or phrases. All titles must be set in lowercase only.
Download
Download

Aeroportal

direct from

Norway Design Manual
.
There are some useful 'use' guidelines on the website, so I would recommend reading all the text supplied.

Download More Free Fonts via IJC
Over the last few months I have been amassing a neat collection of quality free and open source fonts for download. Some are even exclusive to ImJustCreative. So head on over to Free Fonts for a looksie.