All Archived Posts in font
---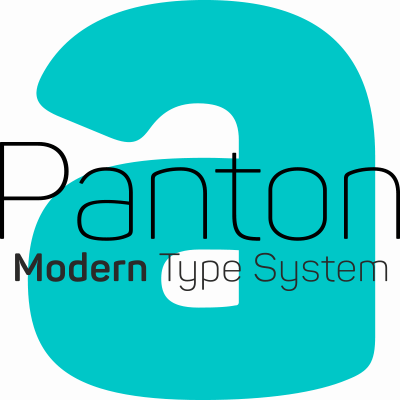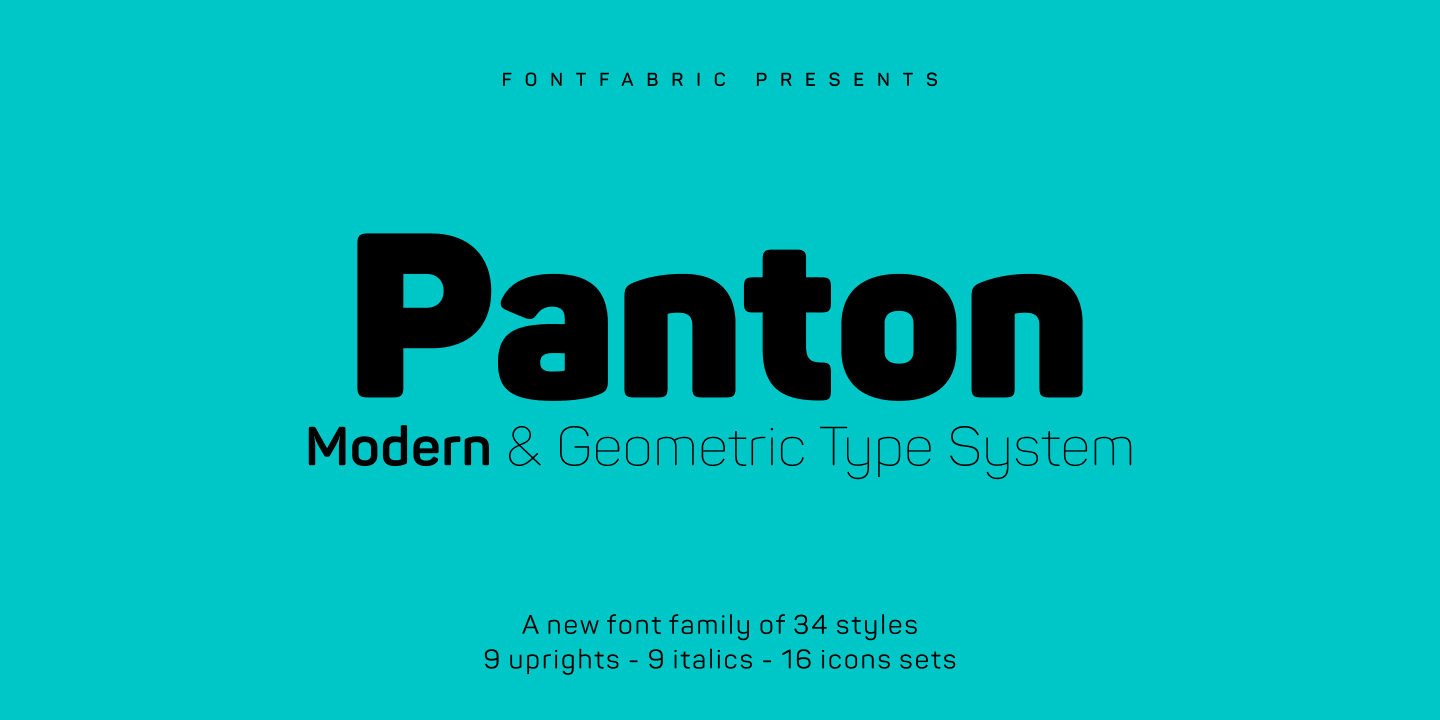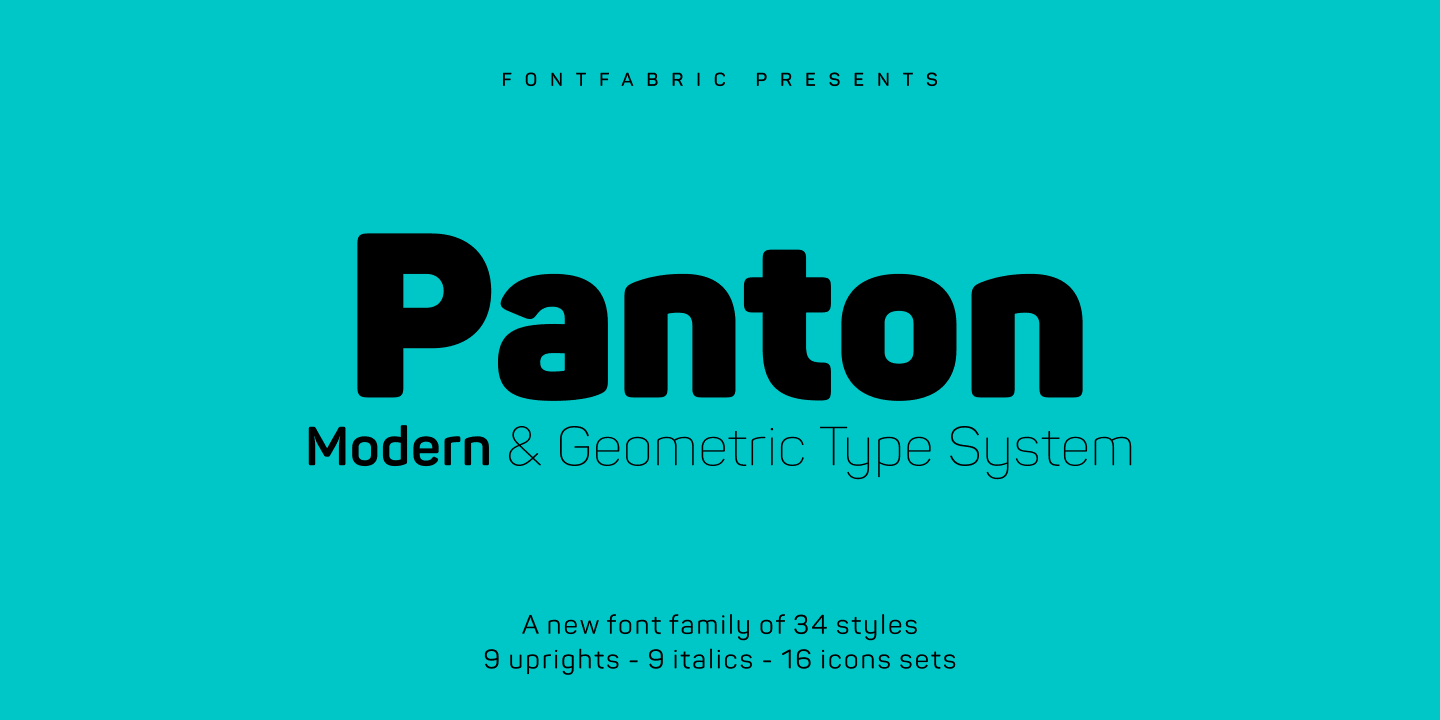 Type Hero #8: Panton Font & Icon Family by FontFabric
Panton 'Modern and Geometric Type System', by FontFabric, is another super font family that I have just purchased over on MyFonts. 
The best bit is that the current sale price of Panton is a measly £18,00, compared to it's usual price of £179.99.
FontFabric: "The Panton font family includes 34 weights - 9 uprights with 9 italics and 16 icon sets as a bonus. It is characterized by excellent legibility in both - web & print design areas, well-finished geometric designs, optimized kerning, excellent web-font performance and legibility etc.

Inspired by the classic grotesque typefaces - Panton has his own unique style in expressed perfect softened geometric forms.

The font family is most suitable for headlines of all sizes, as well as for text blocks that come in both maximum and minimum variations. Panton font styles are applicable for any type of graphic design in web, print, motion graphics etc and perfect for t-shirts and other items like posters, logos."
For just £18 you get: 34 styles, 9 uprights, 9 italics PLUS a whopping 16 icon sets!
Panton is clean, nicely shaped lovely styled font, and in the thicker weights has a nice softness to the edges and corners. It's slightly narrower than the typical san-serif fonts, so would be good for longer worded brand names in a logo design, for example.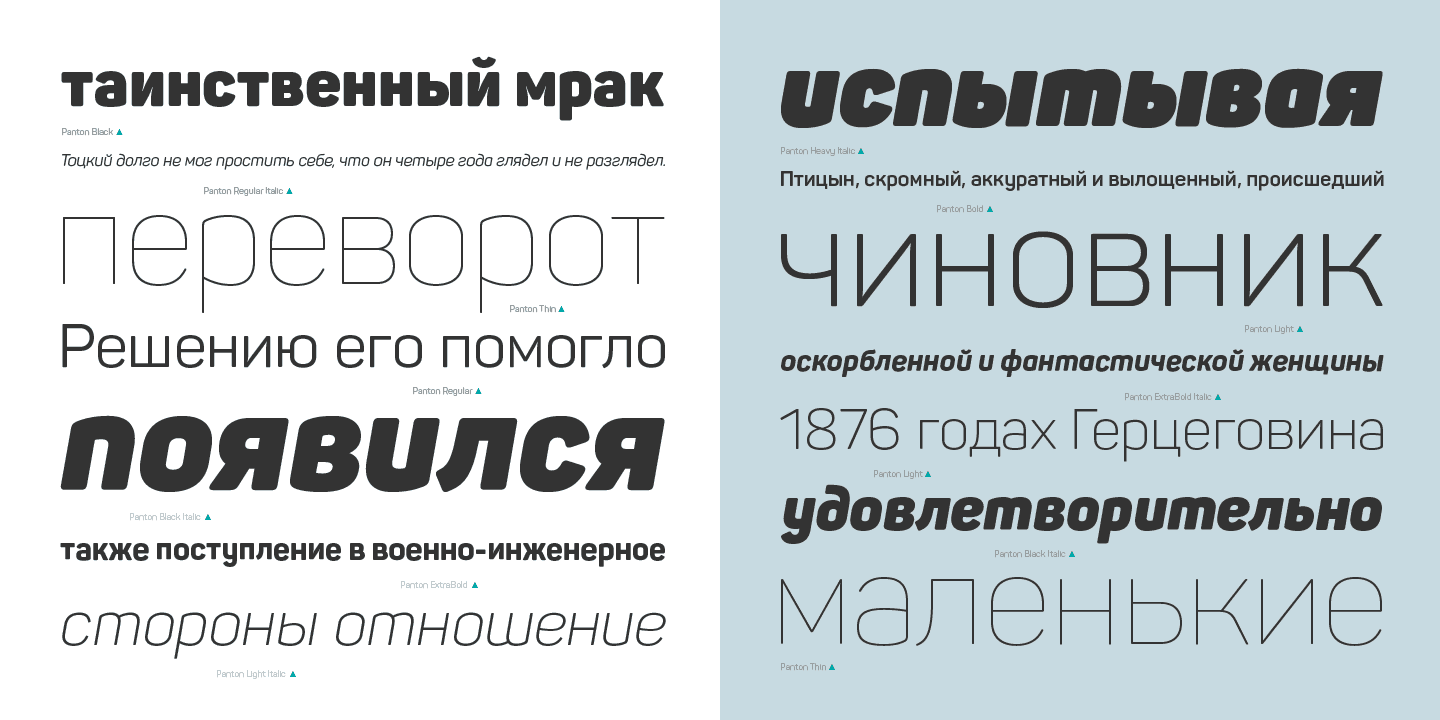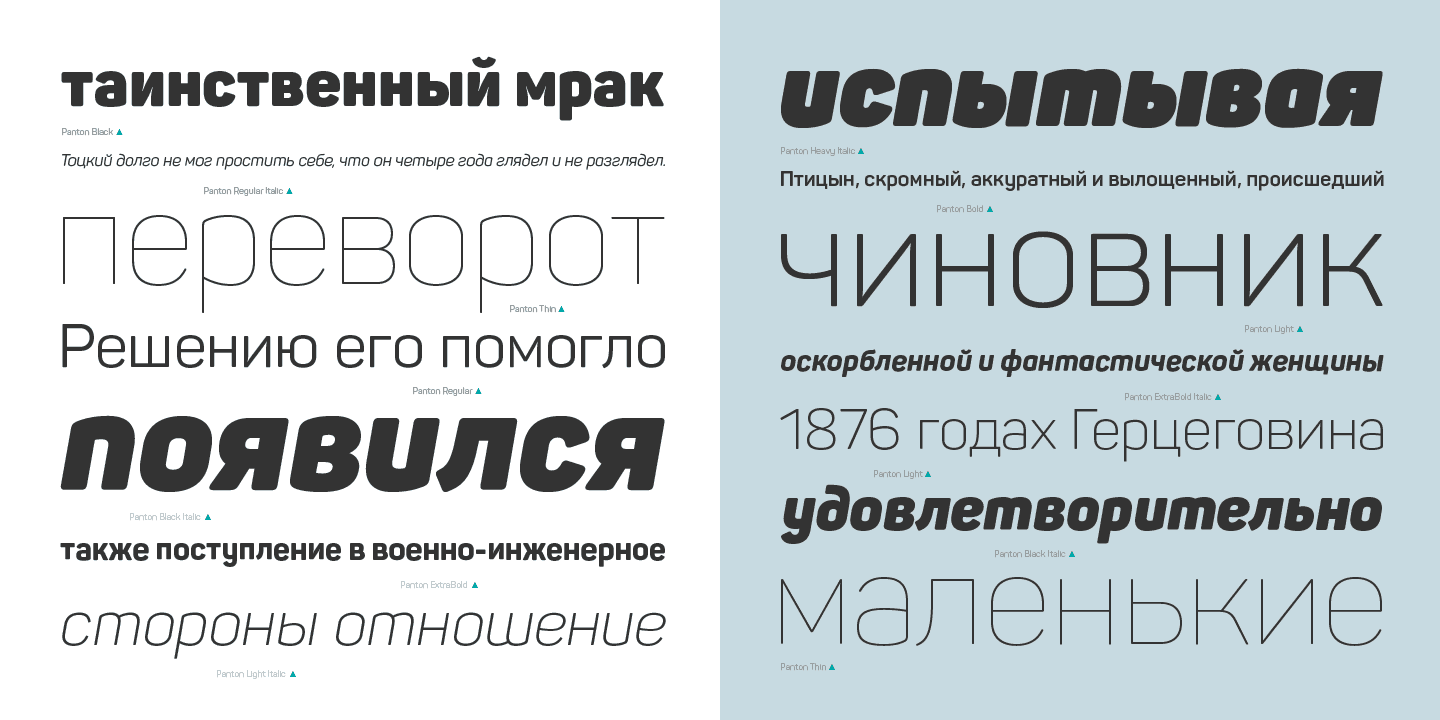 Panton Icons: 4 sets, 16 fonts, 816 icons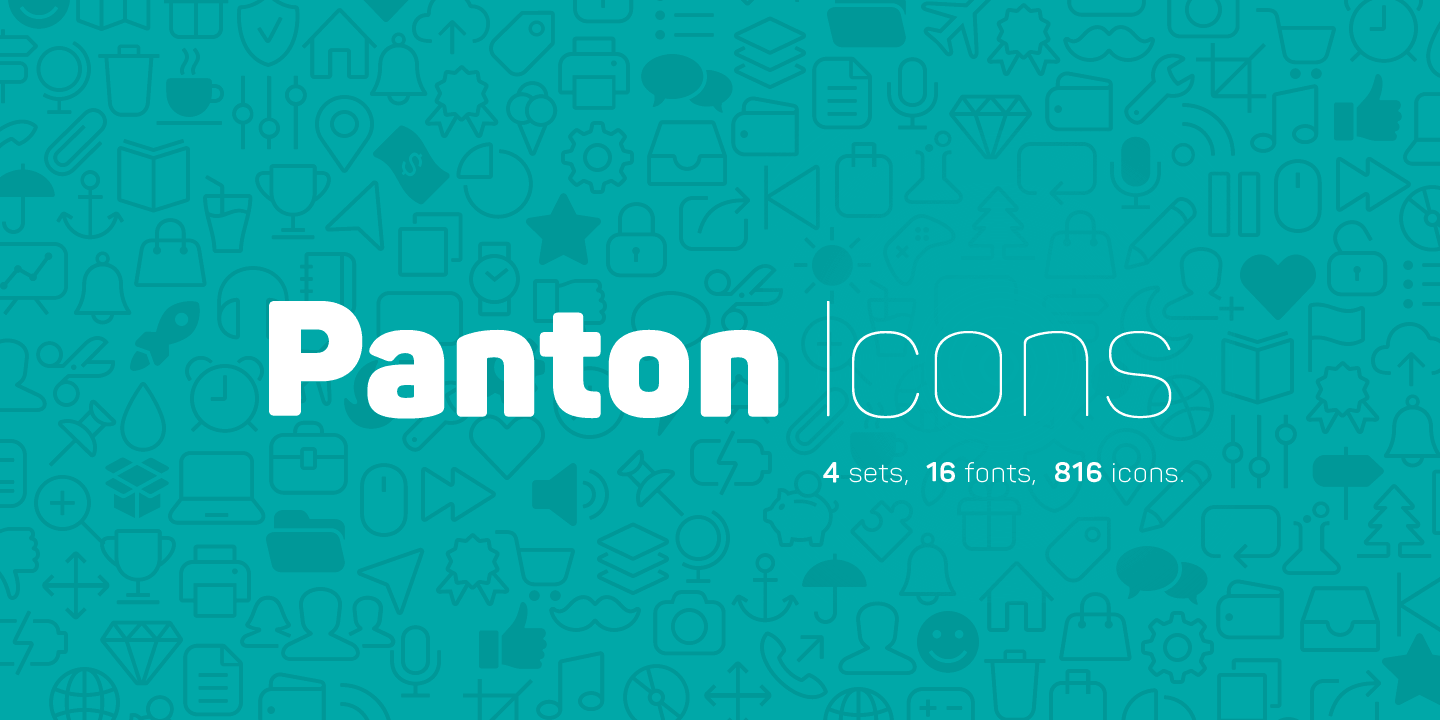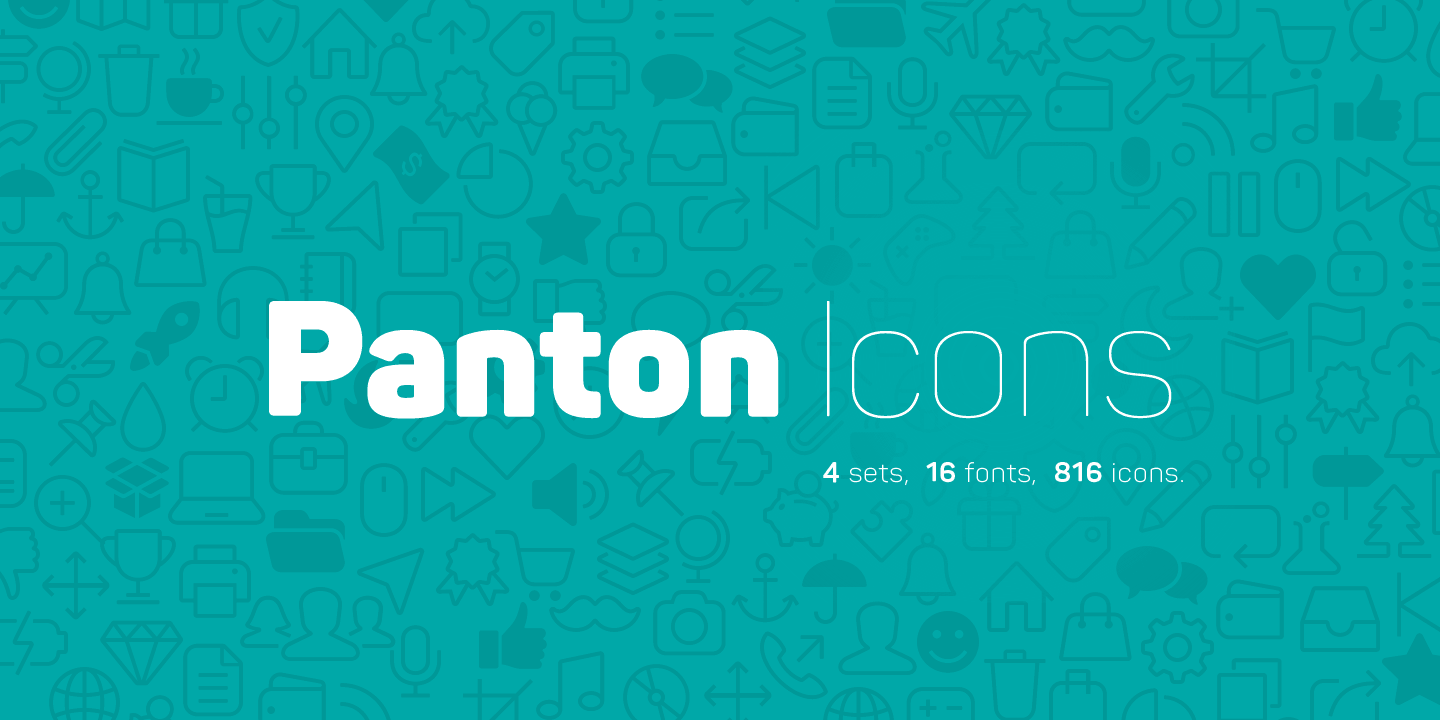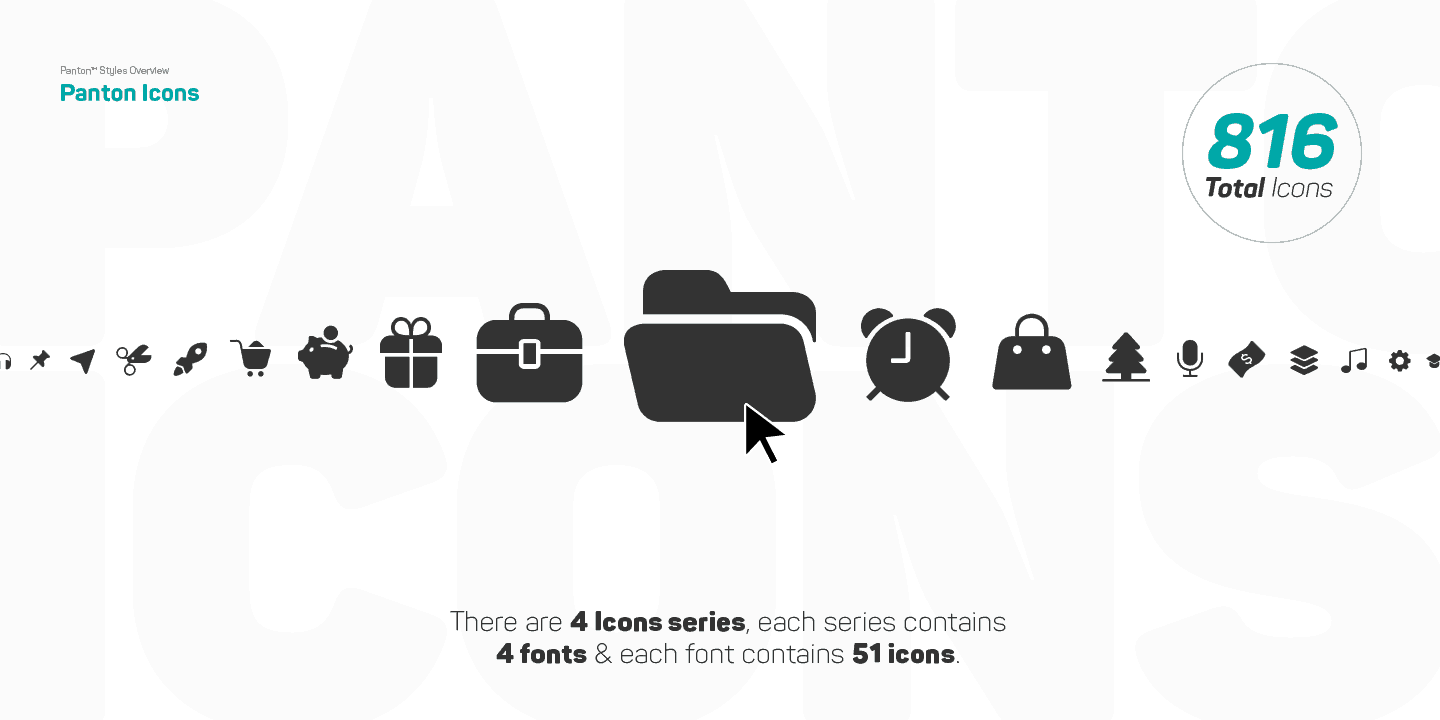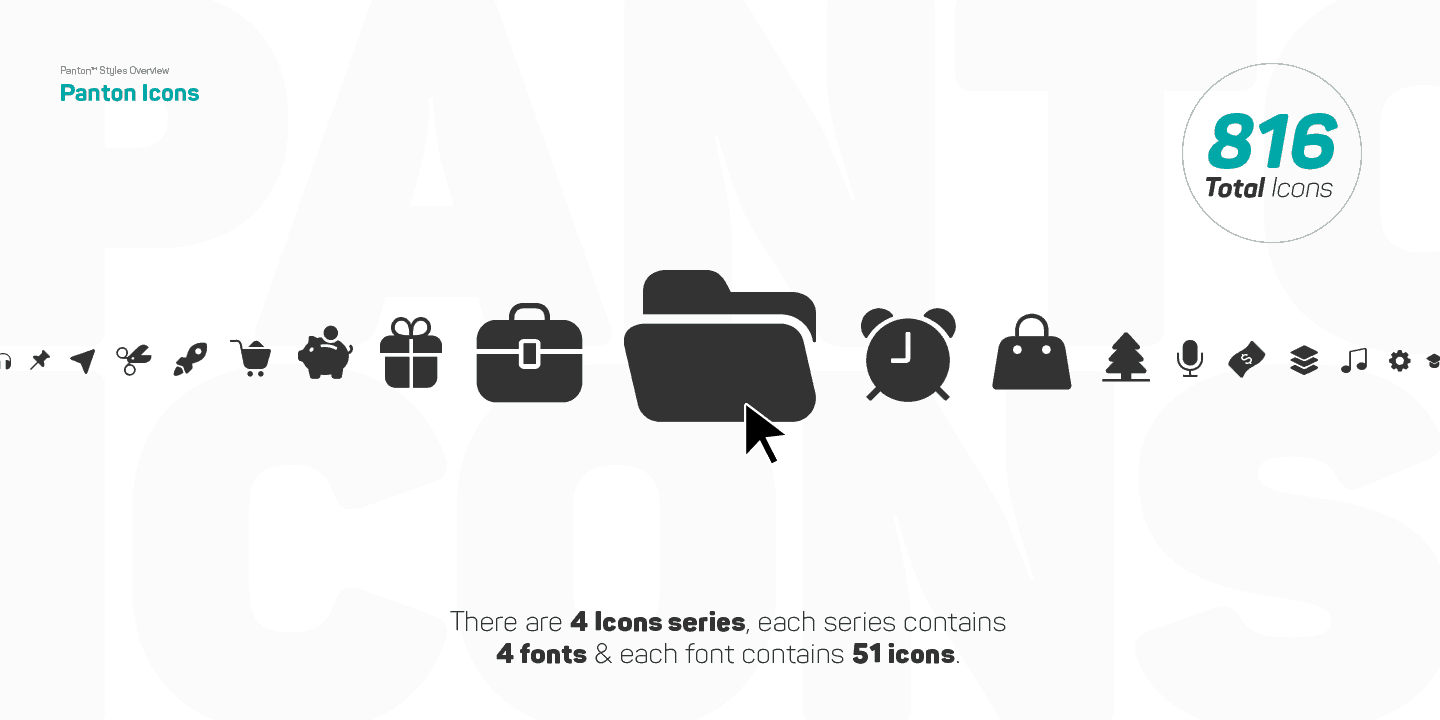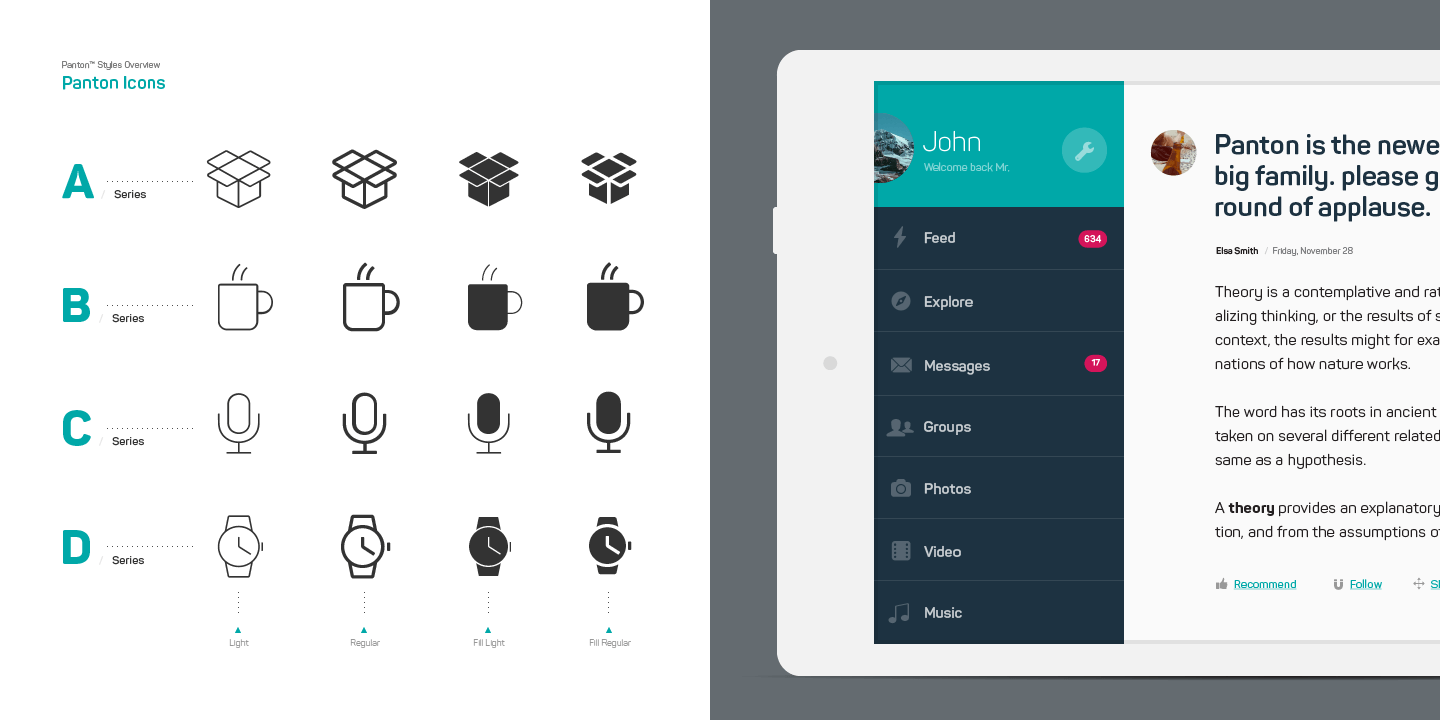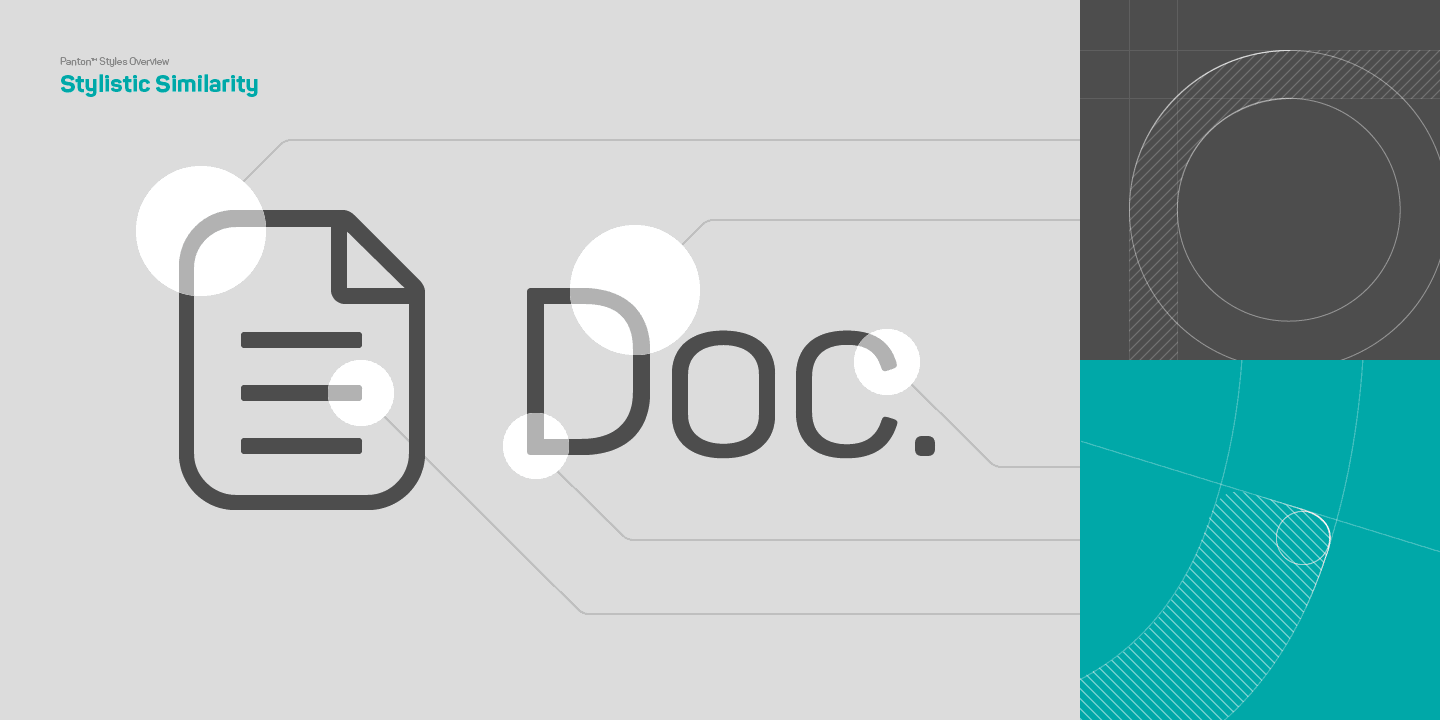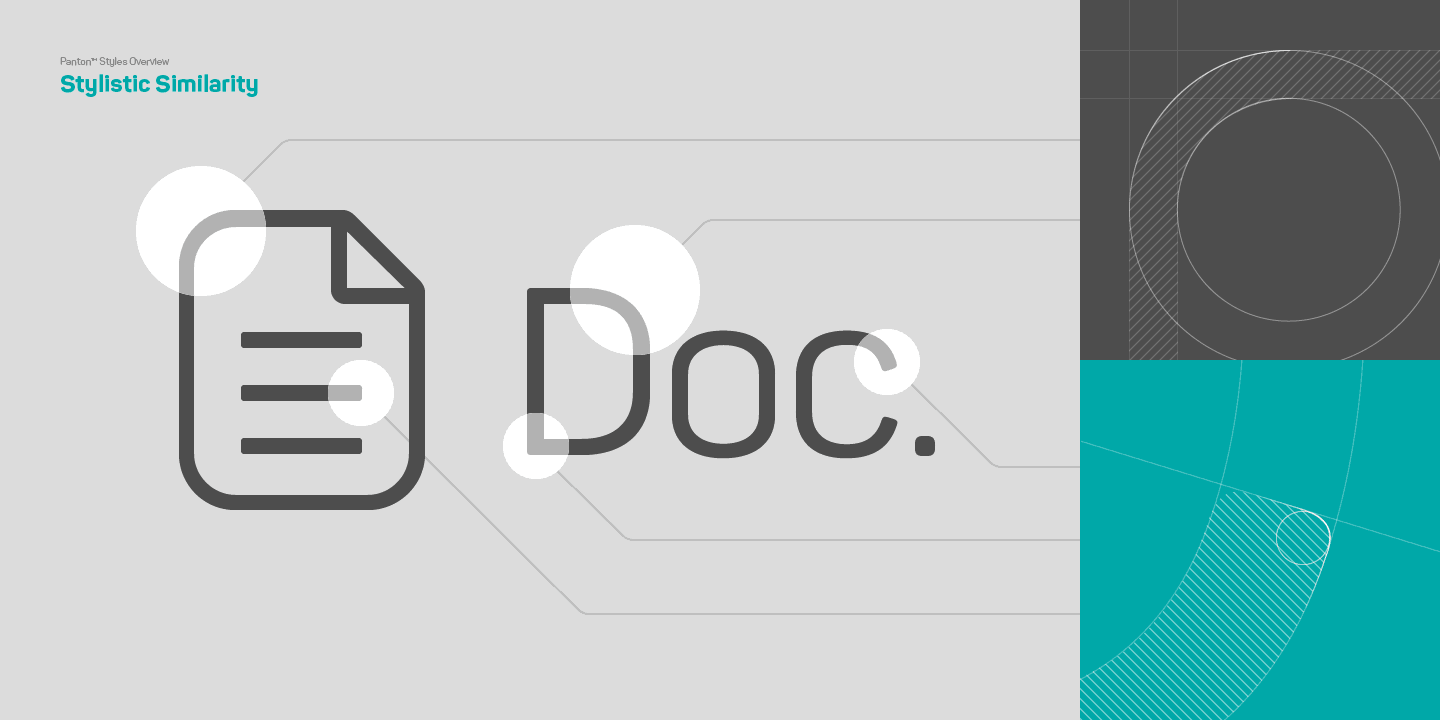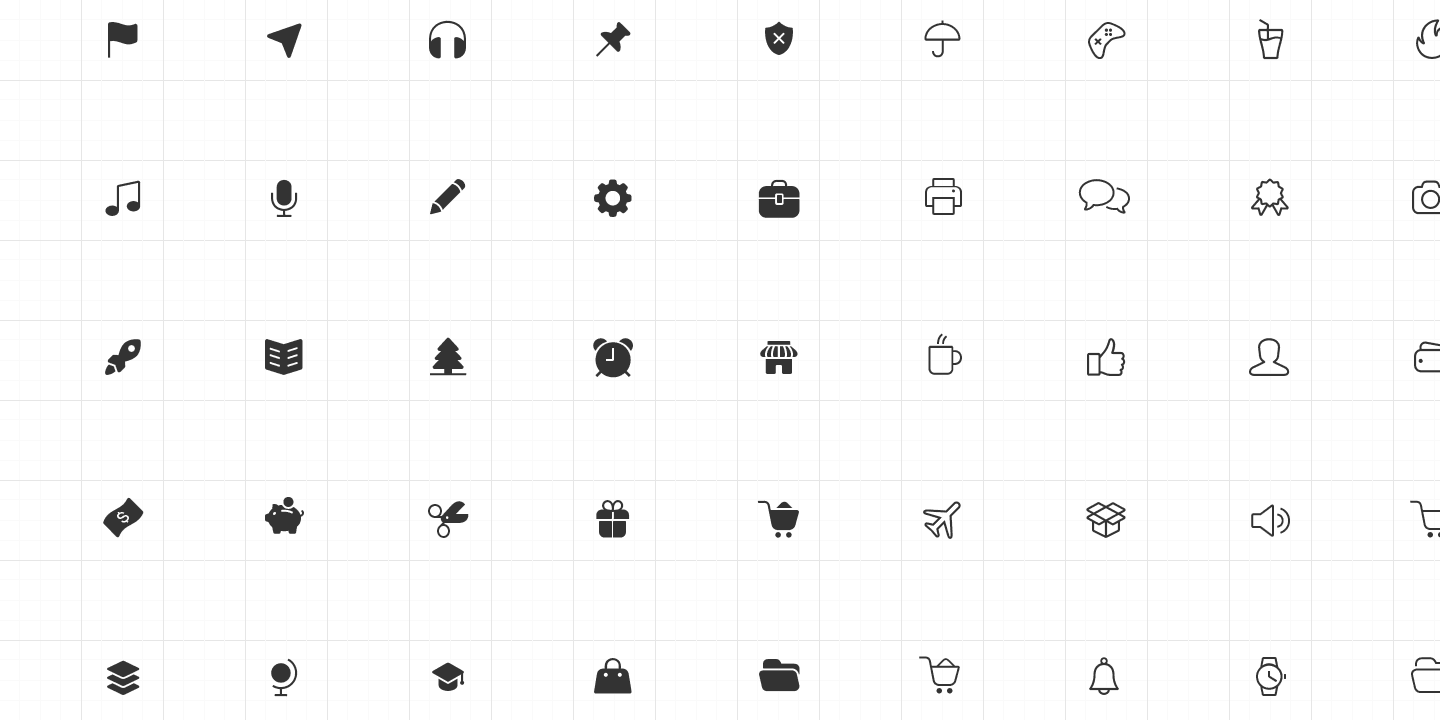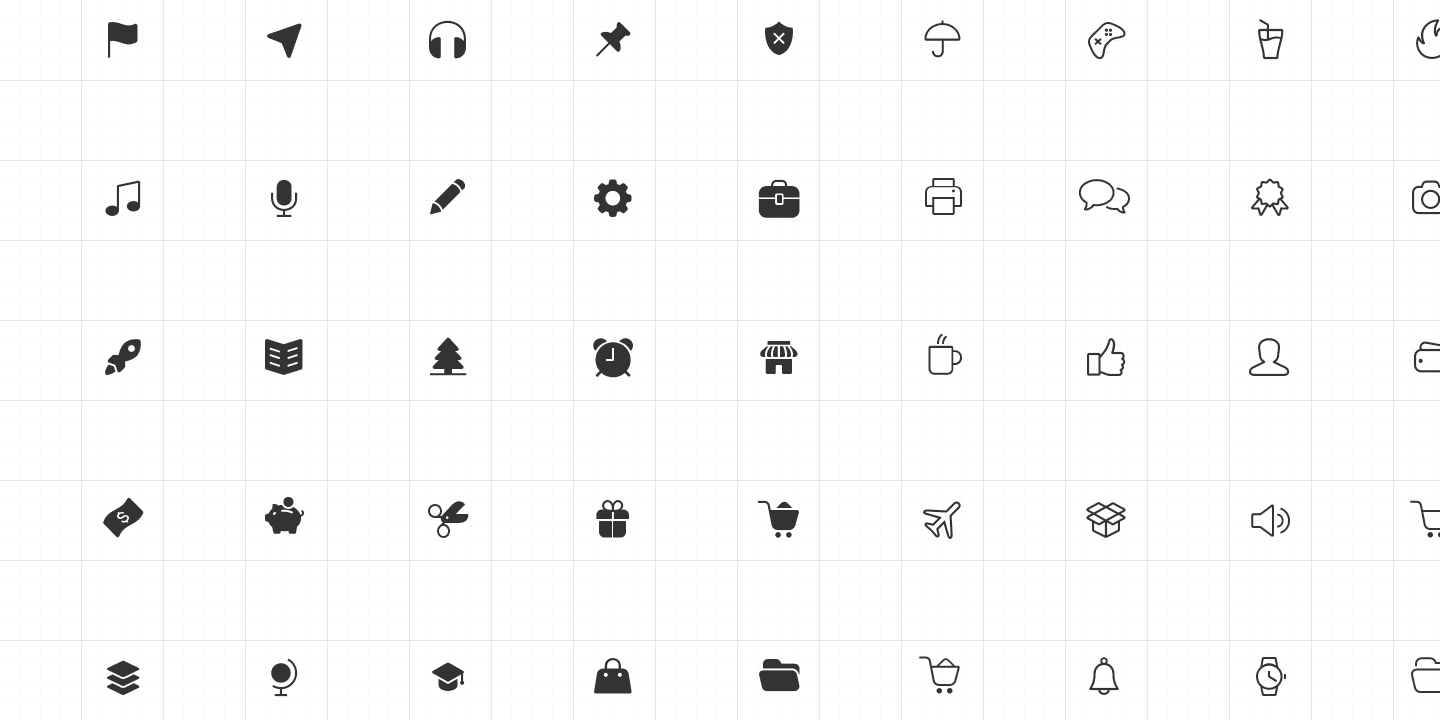 Type Hero for Logo Designers
Type Hero is where I pick out certain fonts and typefaces that I find particularly cool, useful, charming, endearing, value for money etc. For the most part the font choices will be geared towards styles that I feel would work well in a logo and brand identity design scenario.
MyFonts has become a steady source of font inspiration, so many will be sourced from there, but I will also highlight fonts direct from font foundries when possible.
Worth noting, I think, that all Type Hero suggestions are based on fonts I have myself purchased. I am indeed: talking the walk, and walking the talk.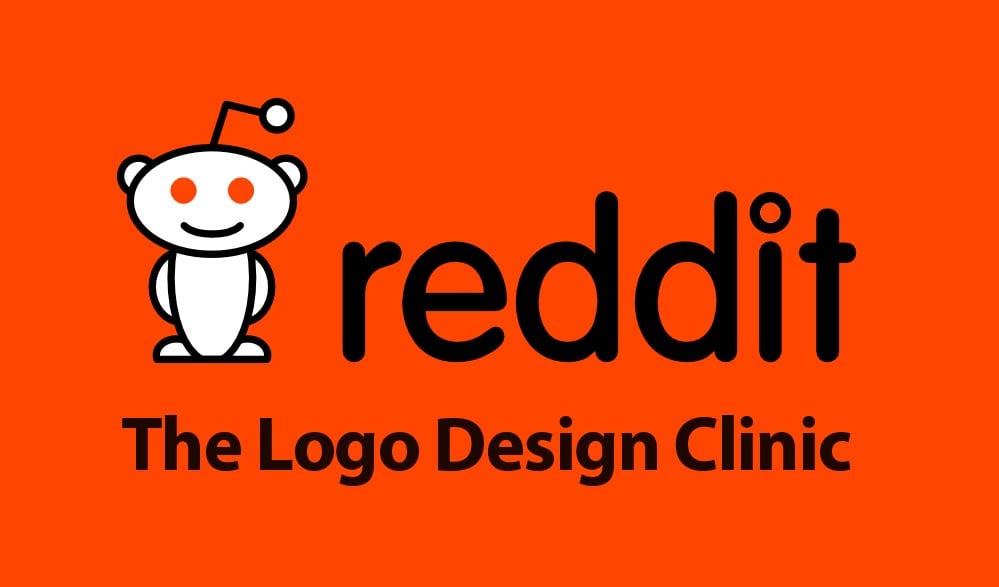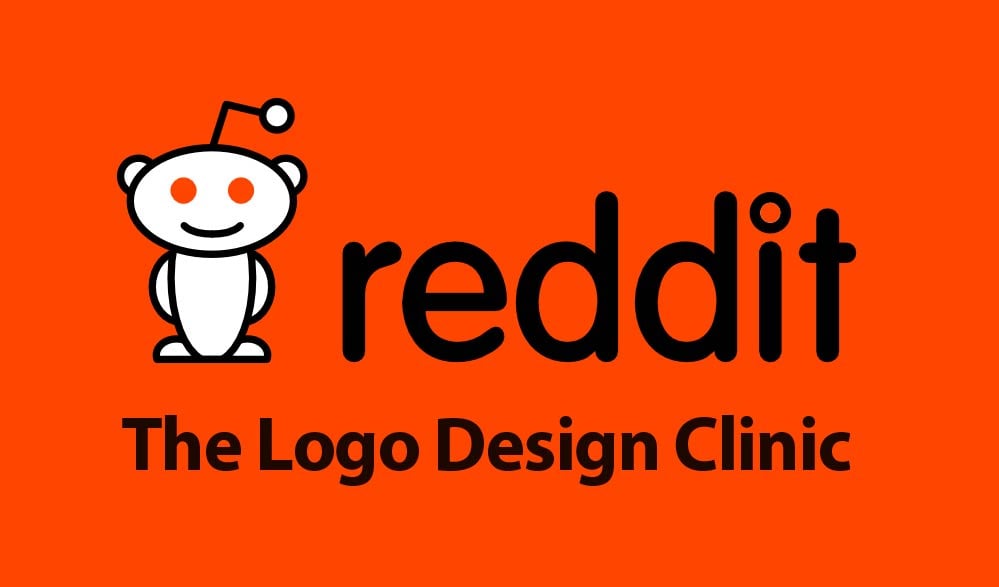 The Logo Design Clinic on Reddit Offers Help, Advice and Happiness
A few years back I started a side-project called The Logo Clinic (a previous post on the initial idea). Initially it started on Tumblr, then came over to WordPress then work become all encompassing, and it became too much of a chore to manage and so it ceased to exist.
In hindsight The Logo Clinic would have been better left on Tumblr given the blogging platforms low maintenance. Moving it to WordPress just increased the work load, mostly in terms of admin, that it just became more of an annoyance than the fun side-project it was meant to be.
Now that reddit is the place to hang-out, and get down, I realise that reddit would be the perfect place to kick-start The Logo Design Clinic. Virtually zero maintenance with just various emails and replies to work on.
Reddit is perfect platform for a logo design Q&A subreddit.
So What Does The Logo Design Clinic Offer?
The Logo Design Clinic is where you can ask me questions relating to logo and brand identity design, and I'll try my best to give useful answers/feedback.
At the clinic I can help with: typography and font selection, technical details, colours, spacing, general aesthetics, aspects of freelancing, work practices and anything else that comes to mind.
What I won't help with is idea generation, so please don't ask me to help you come up with actual ideas for a logo. The purpose of the The Logo Design Clinic is to help you with the idea you have already come up with. You might be having some problems with type choice, a little unsure about kerning or other typographic details. Anything that falls under logo design and freelancing, I am happy to help, if I can.
Hope to see you over there: http://redd.it/232ugz
---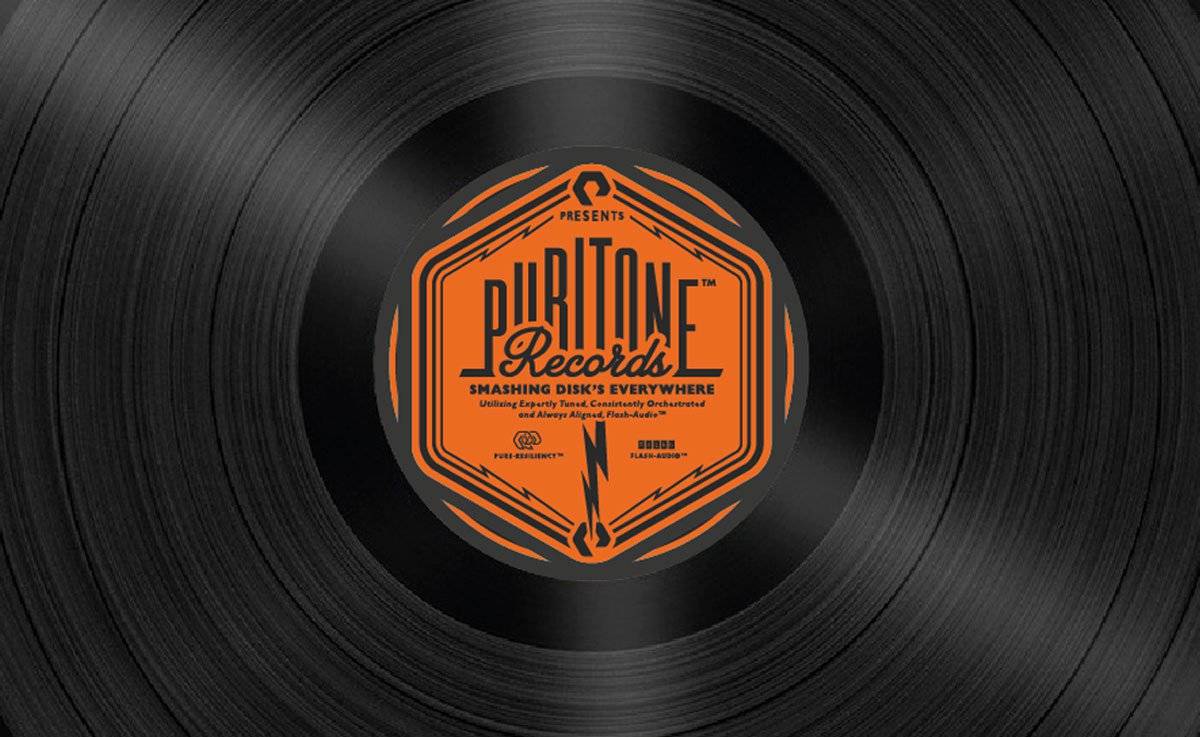 Note: This entire post is taken word-for-word from my Logo Portfolio.
A previous client of mine, Pure Storage, approached me to design a reto-cool logo that would be used to brand a fun side project of theirs, called: Puritone Records.
This was one of the quickest turnaround logo design I have done, and especially one for such an important client as Pure Storage. I had just 5 days to come up with an idea, and have the files ready, to give them, for April 1st.
In fact, I started on Tuesday and had the main idea ready to present on Friday. The client's response to the 1st and only idea? "Holy s**t this is awesome!!! Really, really like the idea!" Then I had from Friday, and the weekend, to perfect and polish this idea to final files for Monday. Easy…
Background on Puritone Records
This is a truly awesome way to market your company, and provide a fun and entertaining means to entice new customers in, and provide entertainment value for existing clients. By playing on the versatility of flash based storage, Pure Storage have created Puritone Records formed of The Puritones group, to remix popular songs with flash based lyrics!
The quality of these covers/remixes shows that no expense has been spared with this fun side-project, and going as far as to put the songs on: Apple's iTunes, Amazon, Google Playstore, emusic, and X-box music!
If you're interested, you can also listen to the full-length versions, for free, on The Puritones website: Puritones Records.
There are currently 4 tracks to listen to, and I have to say, they are pretty bloody amazing: SolidState, Read and Write, Timber and Flash it Like it's Hot. 
My personal favourite is SolidState, just love the original version anyway, but hearing it with somewhat nerdy lyrics really is quite a buzz. Do give them a listen, and see if you can spot all the flash/pure references, these mixes are particularly cleverly done, not as cheesy as you might be thinking!
The Process
I started with the Puritone Records logotype, this would be just the wording, and once I had this general idea mocked-up, it was then a case of then designing a faux record label version.
A few major requests from Pure Storage: that the overall container of the logo be of a similar shape to the Pure Storage logomark (that I had also previously designed for them), a clearer visual example of their logomark within the finished piece, a sense of anti-harddisk sentiment, and an overall design style of reto-cool.
It was somewhat fortunate that when looking at where the Puritone wording would sit, within a rotated version of the Pure Storage logomark, that I immediately saw at least one way to utilise this narrowing space towards the top: which was to progressively heighten each letter of Puritone, which created a pretty funky, and distinctive, typographic style. The retro style, and efficient use of this narrowing space, was further enhanced by the use of a heavily condensed font.
Given the somewhat quick turnaround, I really am chuffed with the results. Not only did I give them the main Puritone Record logotype, but the actual label version was somewhat of a bonus. Or, one could look at it that the logotype is modular, allowing for a convenient and flexible logo system. So if the the main label version might be too tall, then the smaller logotype version can be used independently of the record label.
There is an actual story, or narrative, to the logo/label design.
At the very top we have Pure Storage, the main parent company surrounded by a couple of white flash-bolts (Pure Storage is a flash drive manufacturer). This leads into the Puritone Records wording, with the accompanying, flash storage/music themed, tag-line (which I also came up with), "Smashing Disks Everywhere: Utilizing Expertly Tested, Consistently Orchestrated and Always Aligned, Flash-Audio".
From this tag-line a massive flash-bolt erupts out and continues it's journey towards the bottom Pure Storage logomark.
I also added a few token elements, reminiscent of the sort of thing you might find on a vintage vinyl record, but tailored to Pure Storage, Flash, Audio etc. On the right we have a version of the Stereo symbol, but in this named Pure-Resilience, and a reference to 512kb Flash-Audio, on the right-hand side.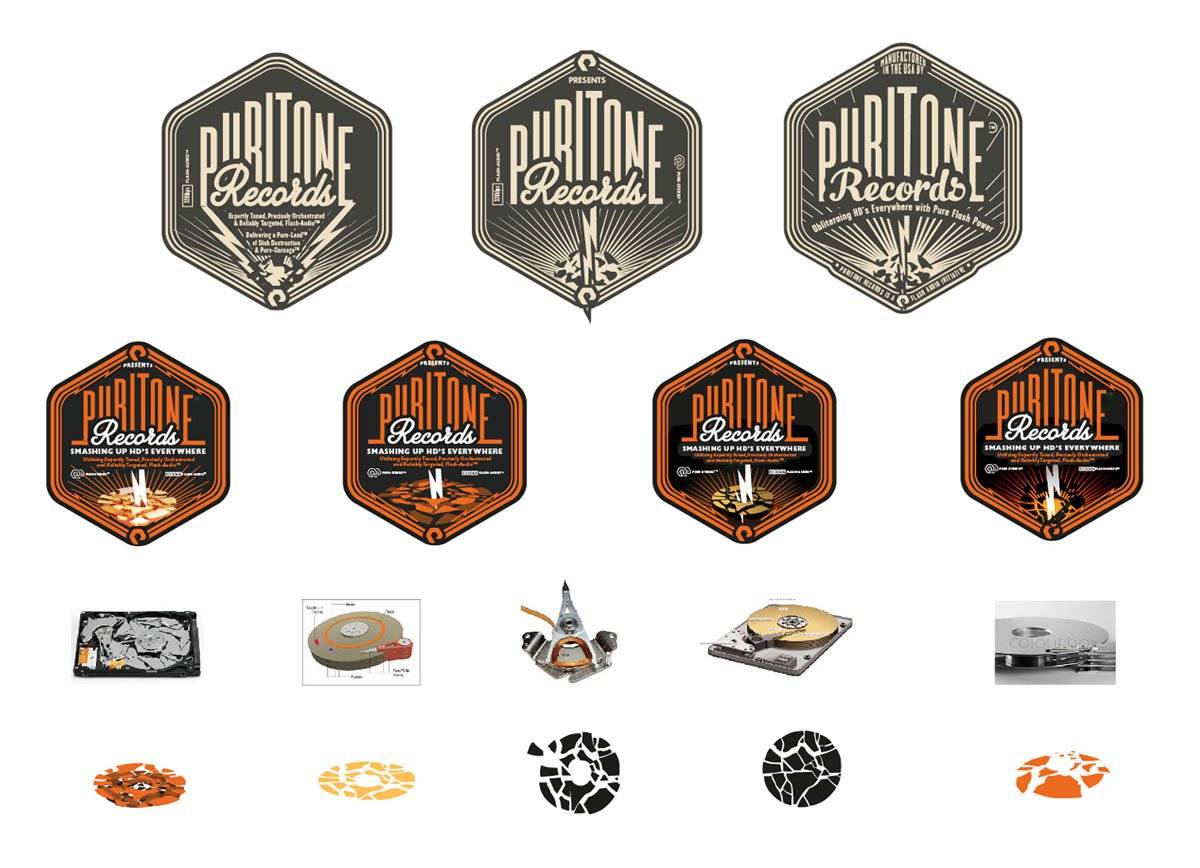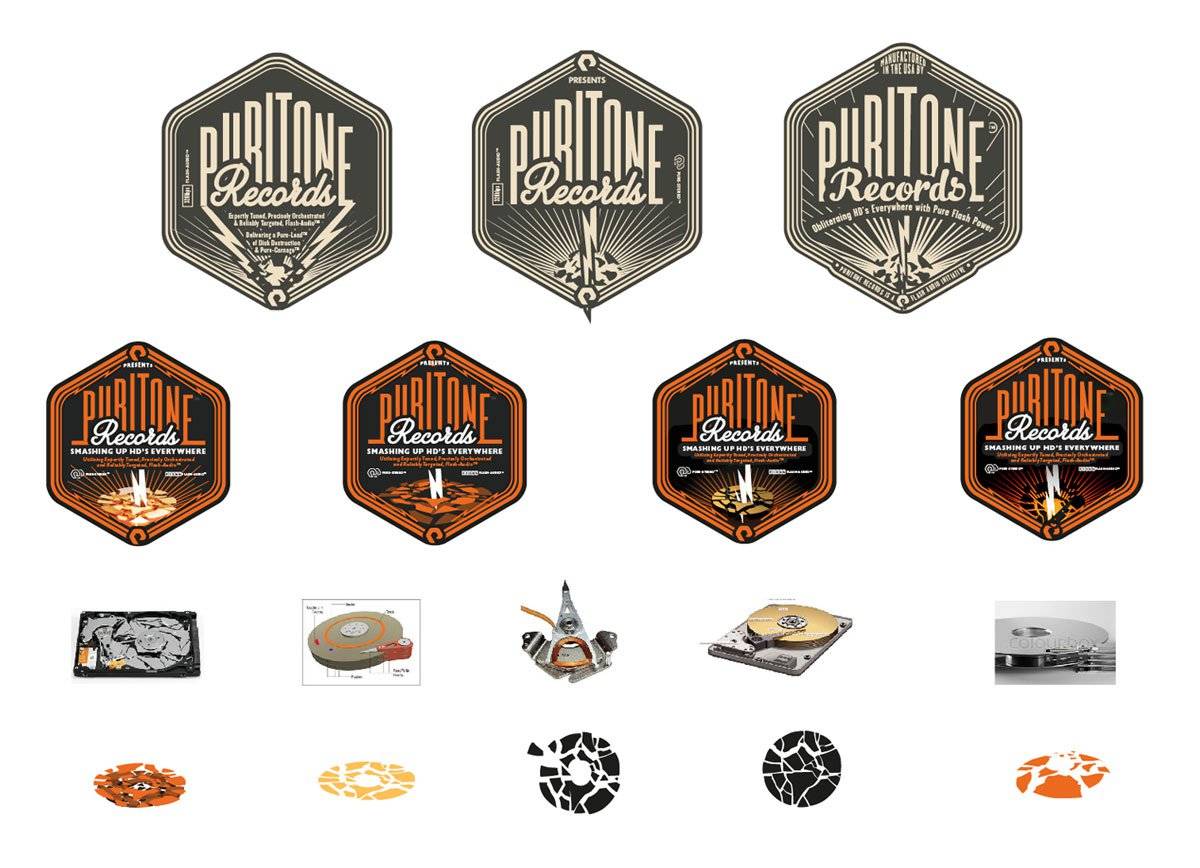 I did explore some more literal versions of the anti-disk theme which used various forms/shapes of harddrive disk platters.
However, the inclusion of yet more graphics in this enclosed space made for quite a messy and busy lower half, and with the time not on my side, the decision was to leave these out. Although they may have added more weight and emphasis to the anti-disk theme, it would have done so at the expense of the overall aesthetics.
Outline View
This image below is the standard 'outline' view mode in Adobe Illustrator. No stray bits, no overlapping/underlapping excess paths, just pure and clean vector logo goodness.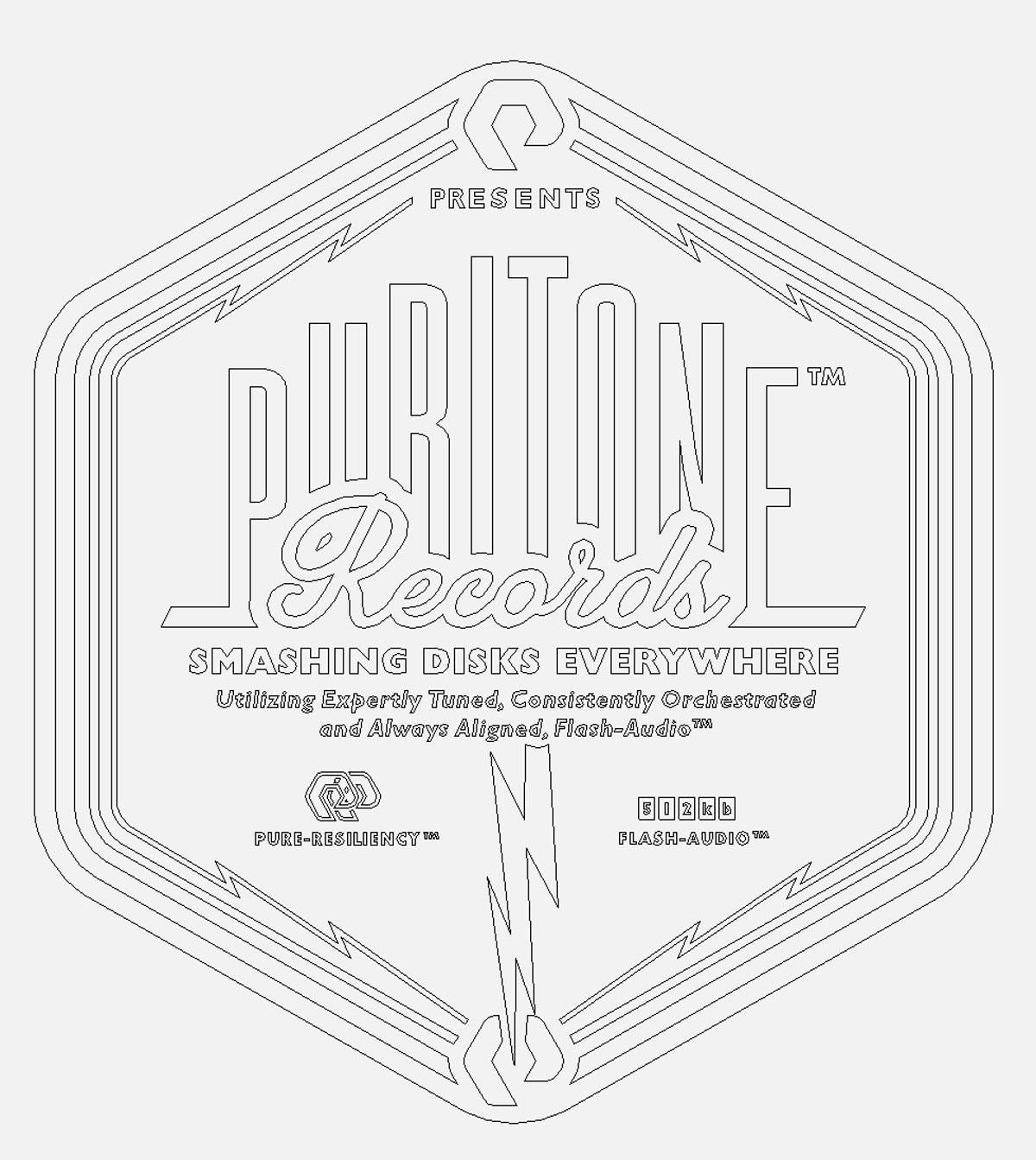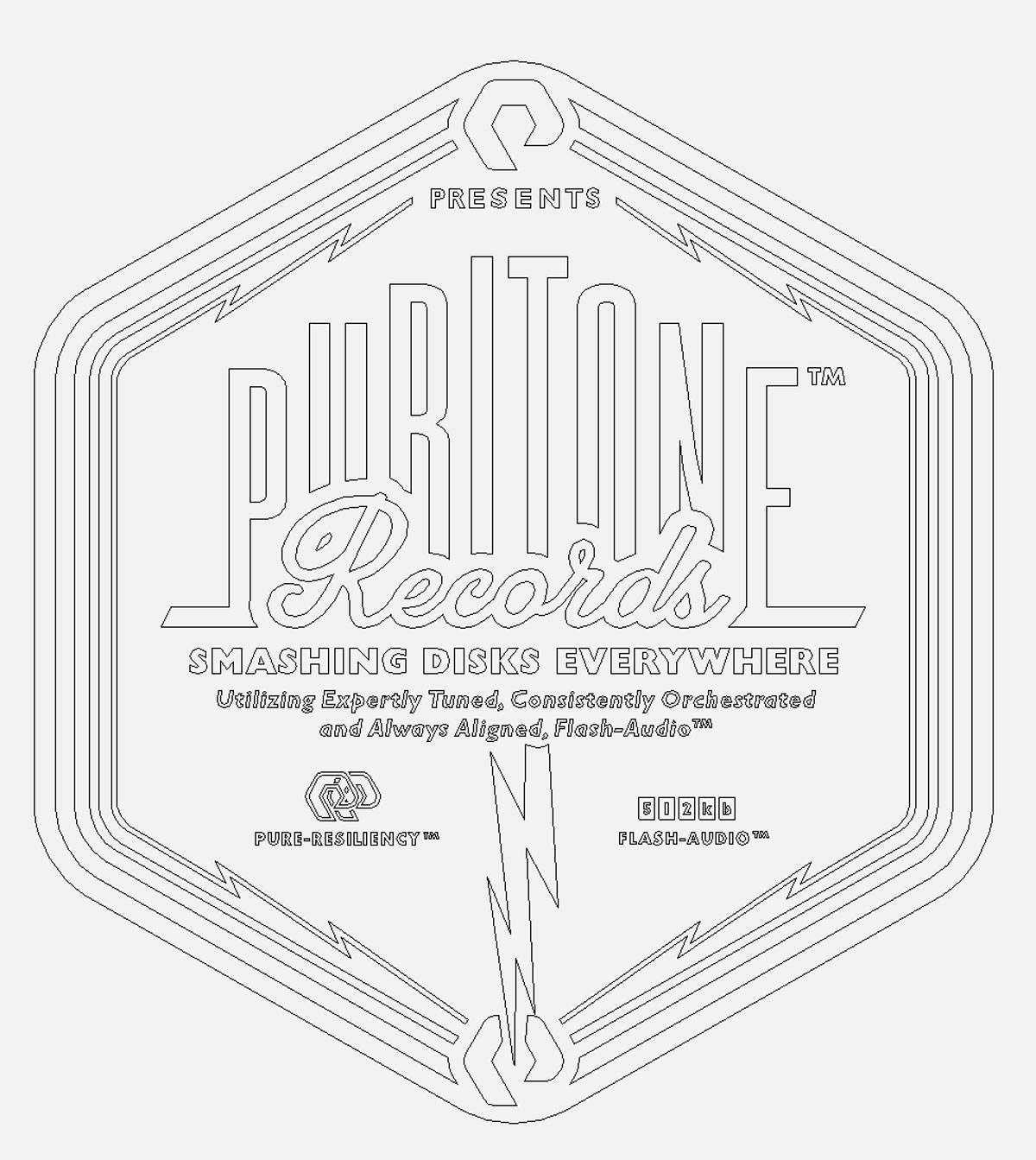 Something to look out for
Partly due to the frenzied nature of this project, but also mostly down to actually not realising this would ACTUALLY be used to go on a proper physical vinyl record, can you see an obvious, and completely unintentional, omission to this logo design? Answer bottom of page.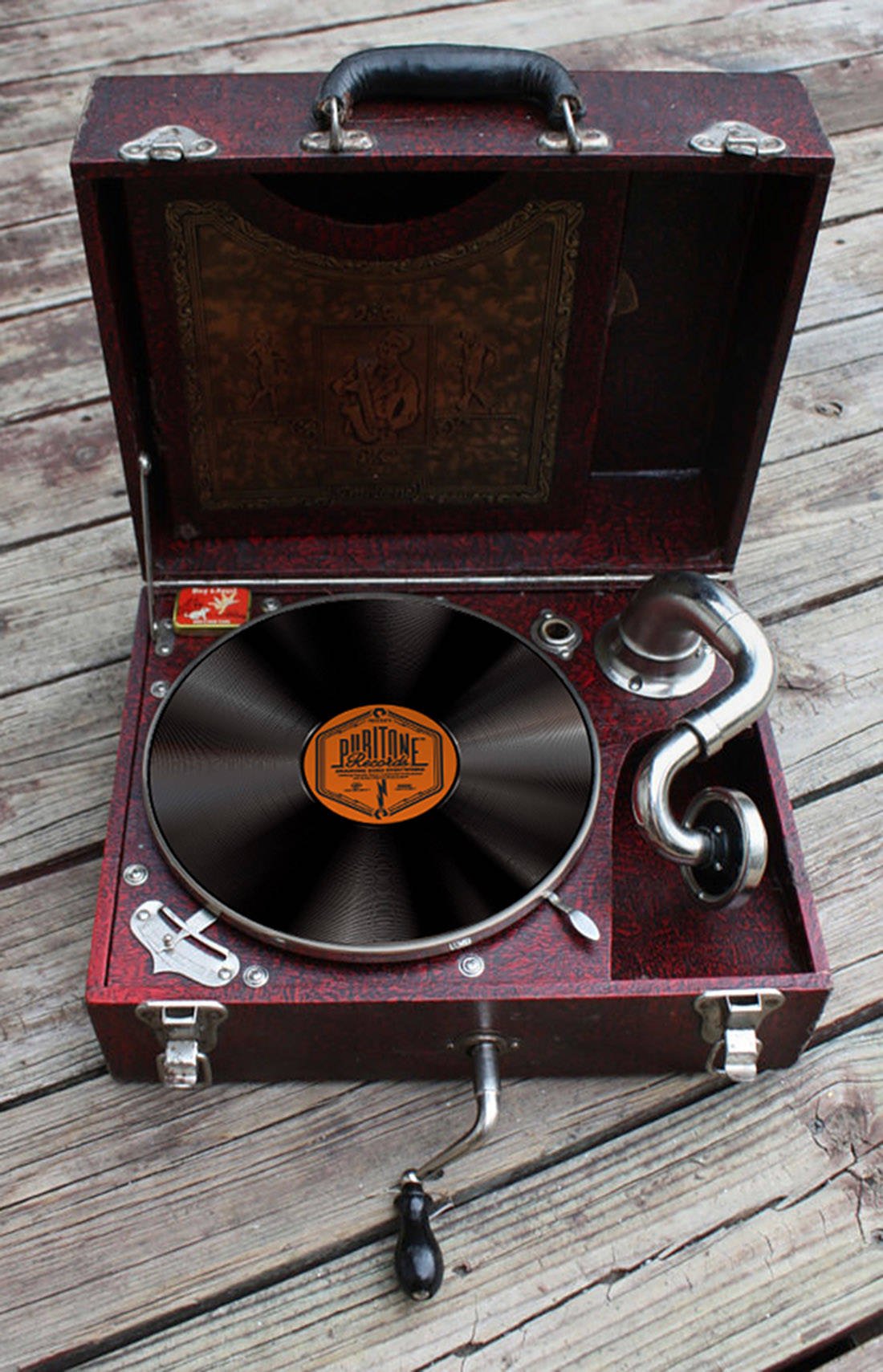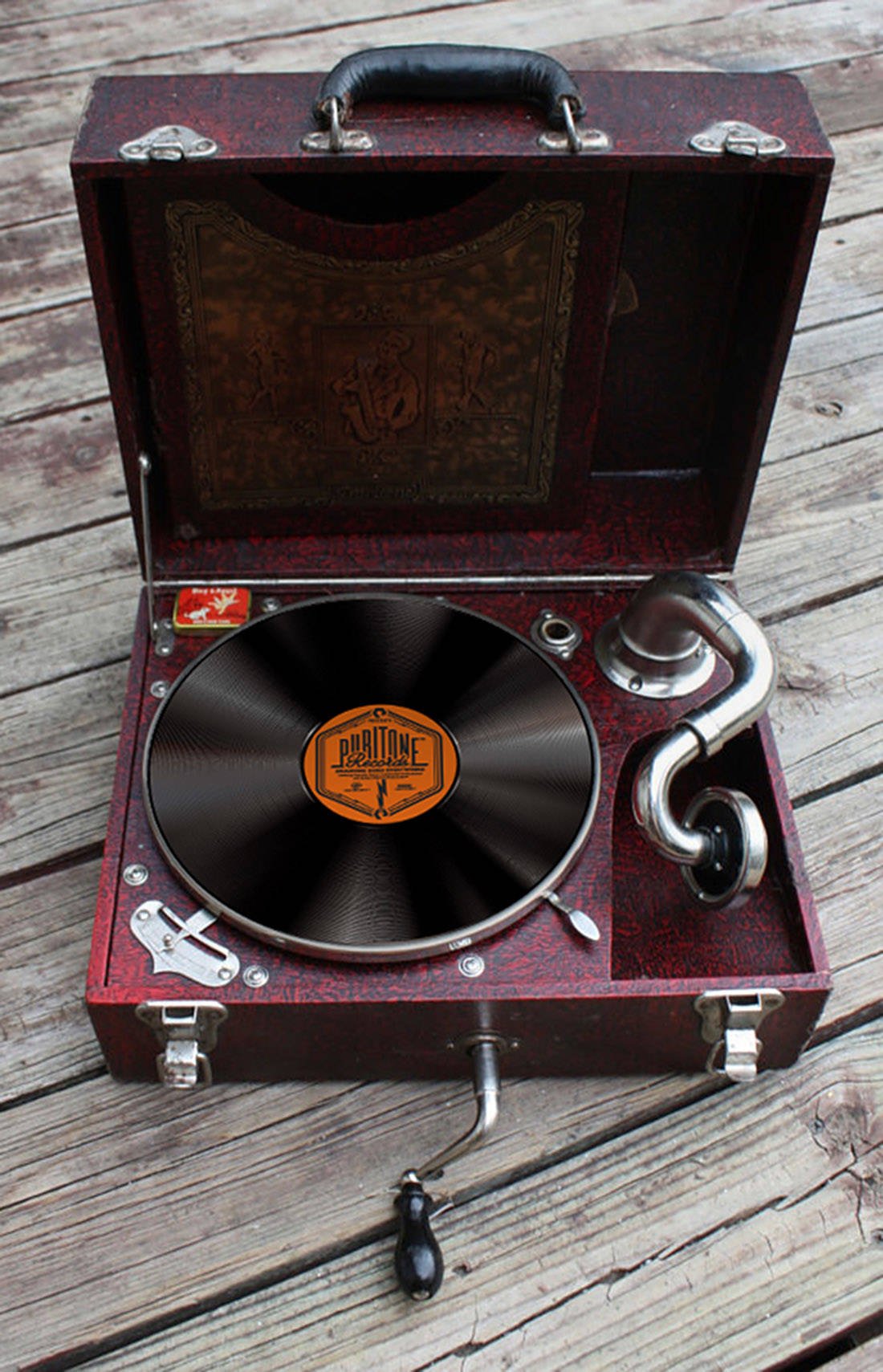 Answer: There is no hole in the middle of the record!
Once we all realised the label would in fact now be used on an actual record, we can easily revise the design around this design flaw. This proves that mistakes happen, and especially with such a pressing turnaround, that the obvious can simply pass straight by you. :)
---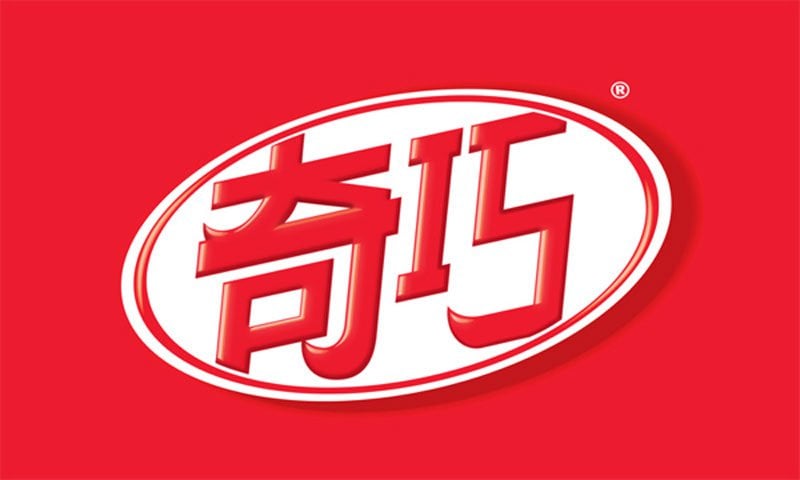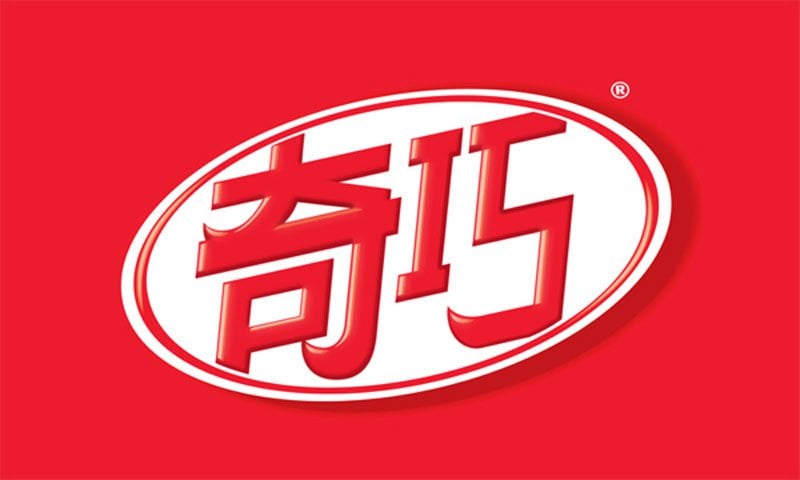 6 Famous Brand Logos Adapted to Chinese by Stephen Wright & Niek van Wigerder
This is a pretty extraordinary brand logo project we have here. These Chinese brand logos were developed and translated by, Stephen Paul Wright, and his illustrator Friend, Niek van Wigerder.
They are a Shanghai-based creative team, and set out to, as a fun side-project, to reinterpret six Western brand logo designs into Chinese characters, whilst retaining the original look, feel and essence of the original logo.
I can't begin to think how much patience and time this project took, not to mention the challenges with English-Chinese translation with basic words, let alone uniquely styled brand logos, often with custom typefaces etc. Brand colours, containers, such as the Kit Kat one are a giveaway, but the New York Times is far harder to work out, at least it was for me.
I'd actually be really curious to see each one of these in black & white, and without the stylised backgrounds, then see if they are any less obvious. Stephen? :)
You can view the entire project over on their Behance site: https://www.behance.net/gallery/Chinese-adaptations-of-famous-brand-logos/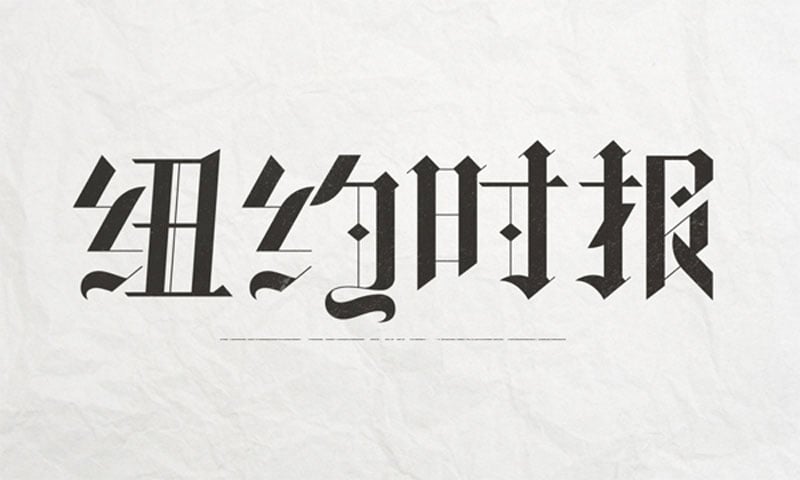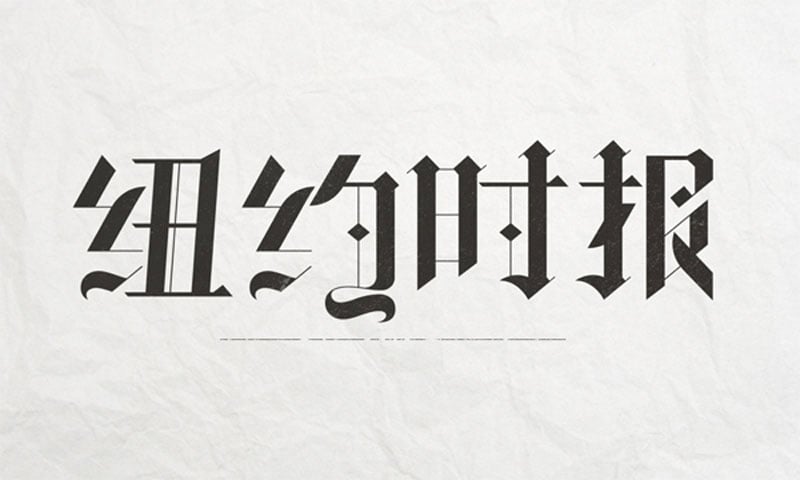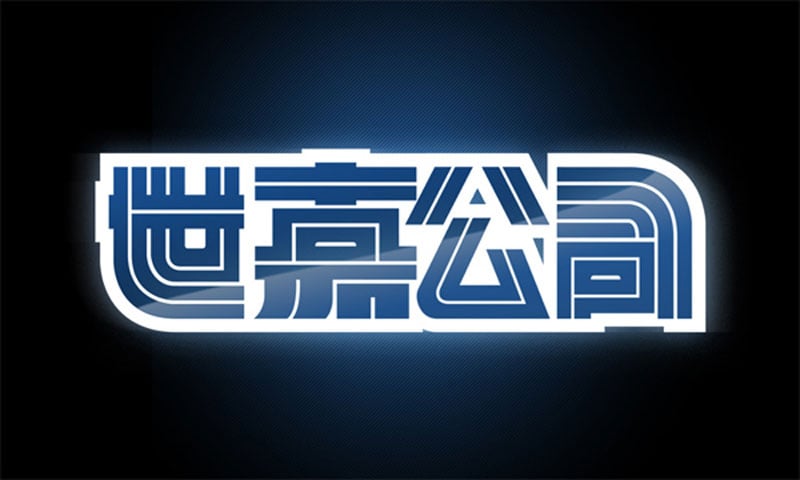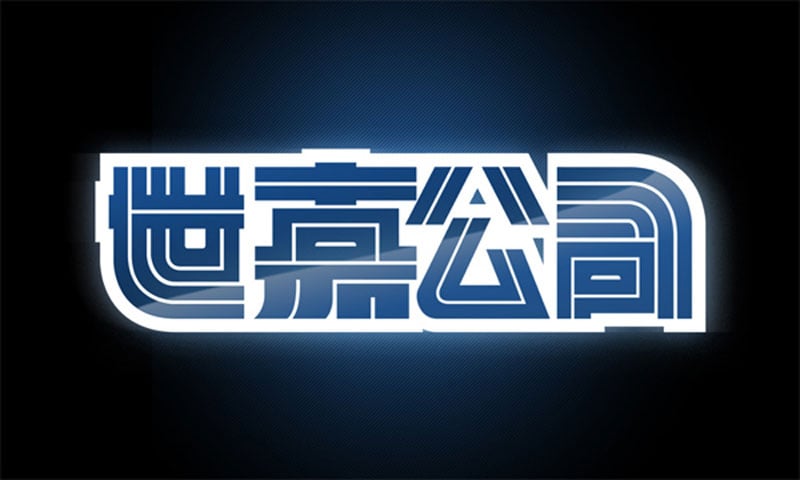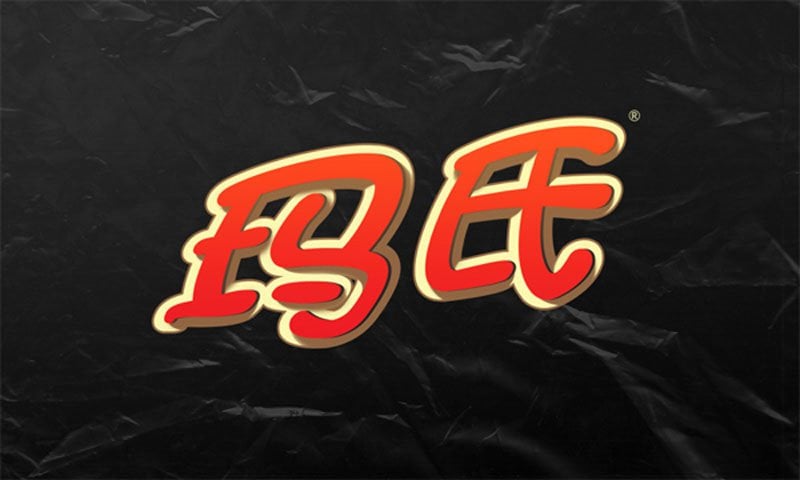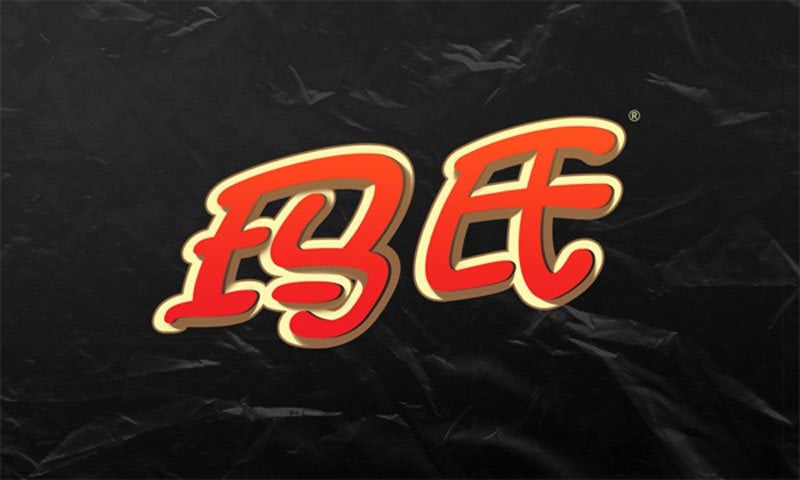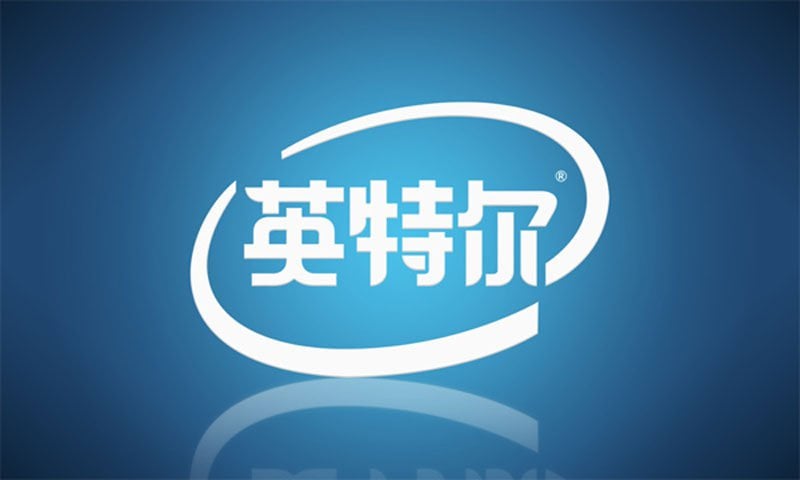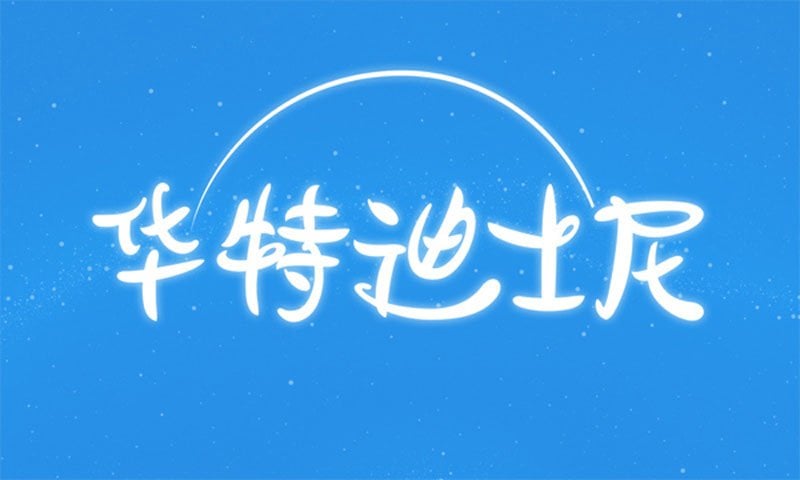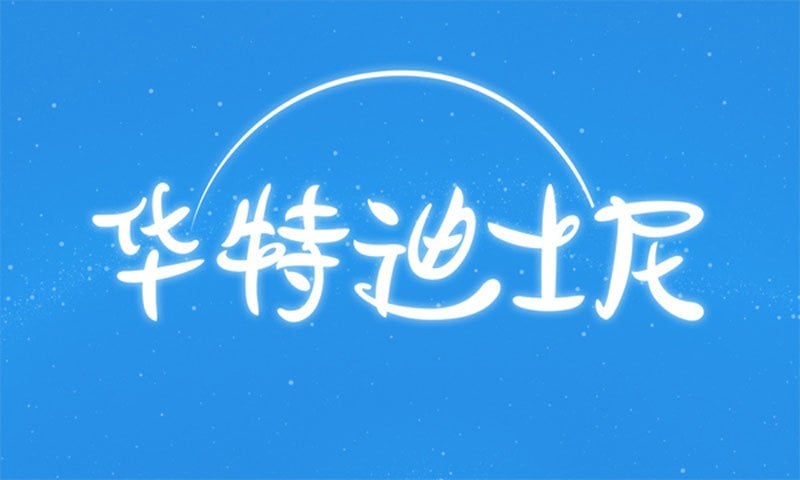 Stephen and Niek: "China is where every major brand wants to be right now, but western brands regularly fail to find continuity of their visual identity when reinterpreted to Chinese characters.

Coca Cola's distinctive logo is recognisable worldwide, even when interpreted into non-latin script such as Arabic, Thai or Chinese. Despite having official Chinese names, many Western brands shy away from reinterpreting their logo into Chinese for fear of diminishing their brand identity."
Behind the Scenes of the 6 Chinese Brand Logos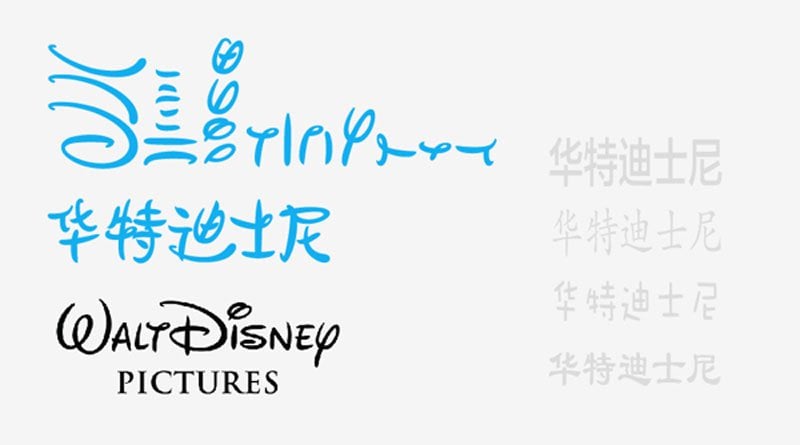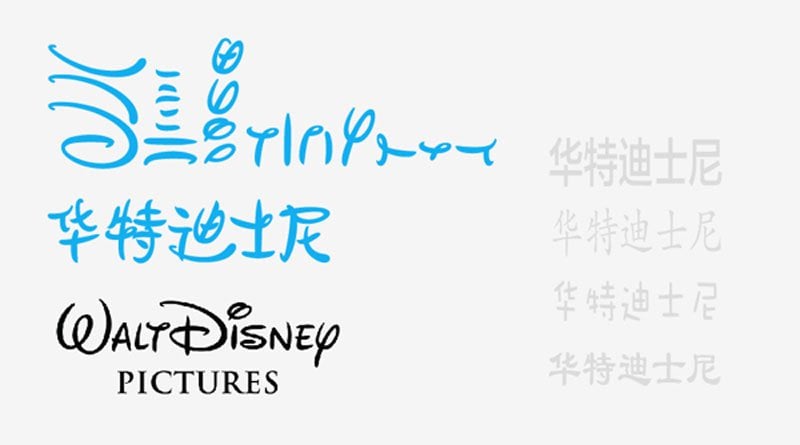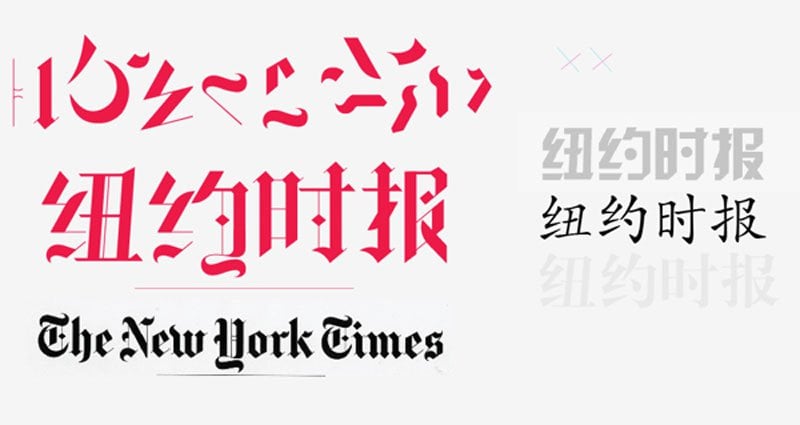 Extracting shapes from the Latin typeface helped us piece together the Chinese characters without loosing the look and feel of the original font.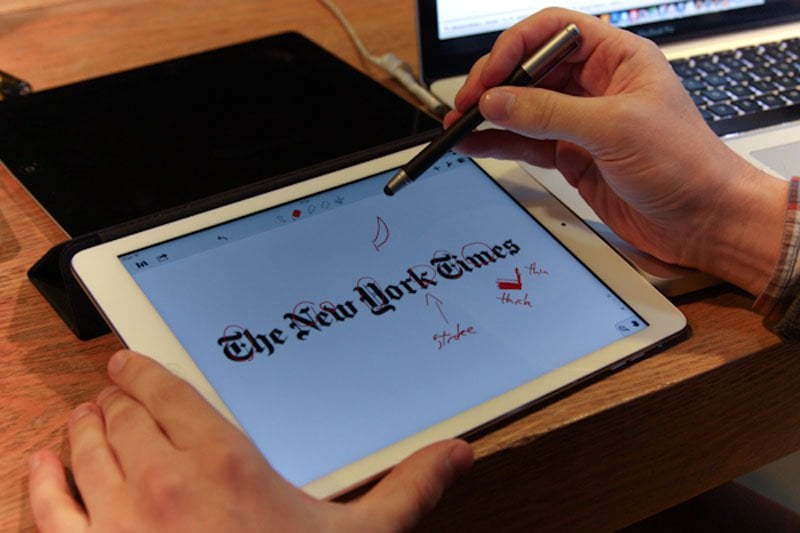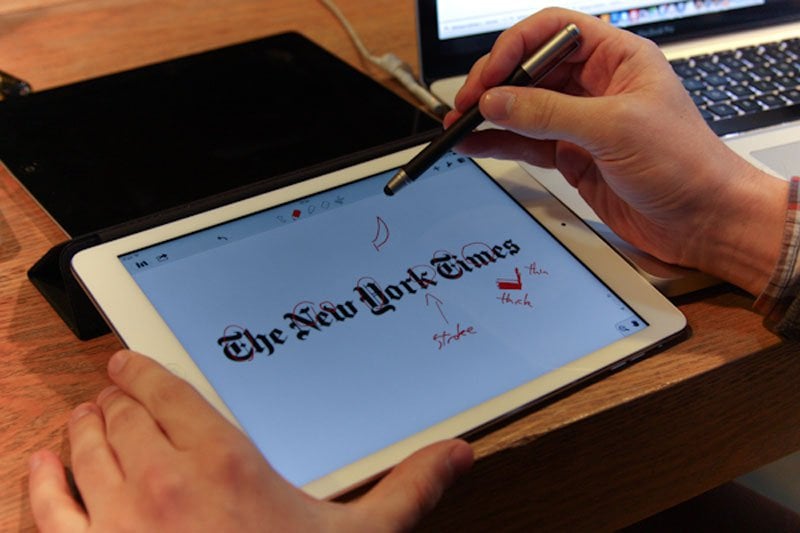 We analysed the individual letter forms highlighting distinguishing features such as ligature, swashes and flourishes.
We started by creating a shortlist of typography-based logos. We excluded any logos containing distinctive iconography or emblems as we wanted our Chinese logos to be recognisable from the letterforms alone.
---



It's harsh, but let's face some facts: Reebok has rarely been cool—using 'rarely' in this instance is an over generous application of the word 'rarely', and I also know that 'cool' is subjective—in all the years I have known the brand, and this is going back to the 1980's where I remember my parents buying me Reebok's for school, even back then, this was a shoe of shame.
This was a harsh time for a kid wearing Reebok's, and one is rarely able to forgive and forget. Tried desperately to paint out the Rebook logo with that cool white trainer polish/whitener.
It's as though they simply seem to be OK with not being as cool as Nike, Puma, Adidas etc, and are happy to settle for this dull state of existence. The only comparison I can come up with is: Reebok aspiring to be like a supermarket's own budget brand, like Morisson's Savers. Nothing wrong with Morisson's Savers food, I buy quite a lot of it myself.
The 1980's
Reebook's logo has seen much better days, and I'm talking about the really early days, such as my school days back during the 1980's.  When I look at Reebook's logo evolution, I find myself drawn to both the logo versions used between 1986 through to 1998.
The Union Jack really worked, at least with hindsight, and more so compare the crap they've ended up with now. The typography hit a good solid style circa 1996 and onwards, but then took a drastic change in 2006.
The Year is 2006


2006 was a drastic change the logos typestyle, and it's one I dig. Possibly a litter over-top with the forward slanting for my tastes, but it had character, edge, style, distinctiveness, drive, momentum yada yada yada…
Technically, what you see above, isn't the whole logo, at least I don't think it was. I believe this was the whole version.
The whole history of the Reebok logo shows a pattern of indecision and design chaos.
Never have liked the typography—the same style they have now—introduced after 2004, with that rather plain-Jane sans-serif font looking all dowdy and corporate. Don't get me wrong, that style of font is smart, solid looking, and I've even used similar styles in my own logos, but I just can't get myself to accept that it's an appropriate fit for a supposedly competitive sports brand.
Reebok's Logo Evolution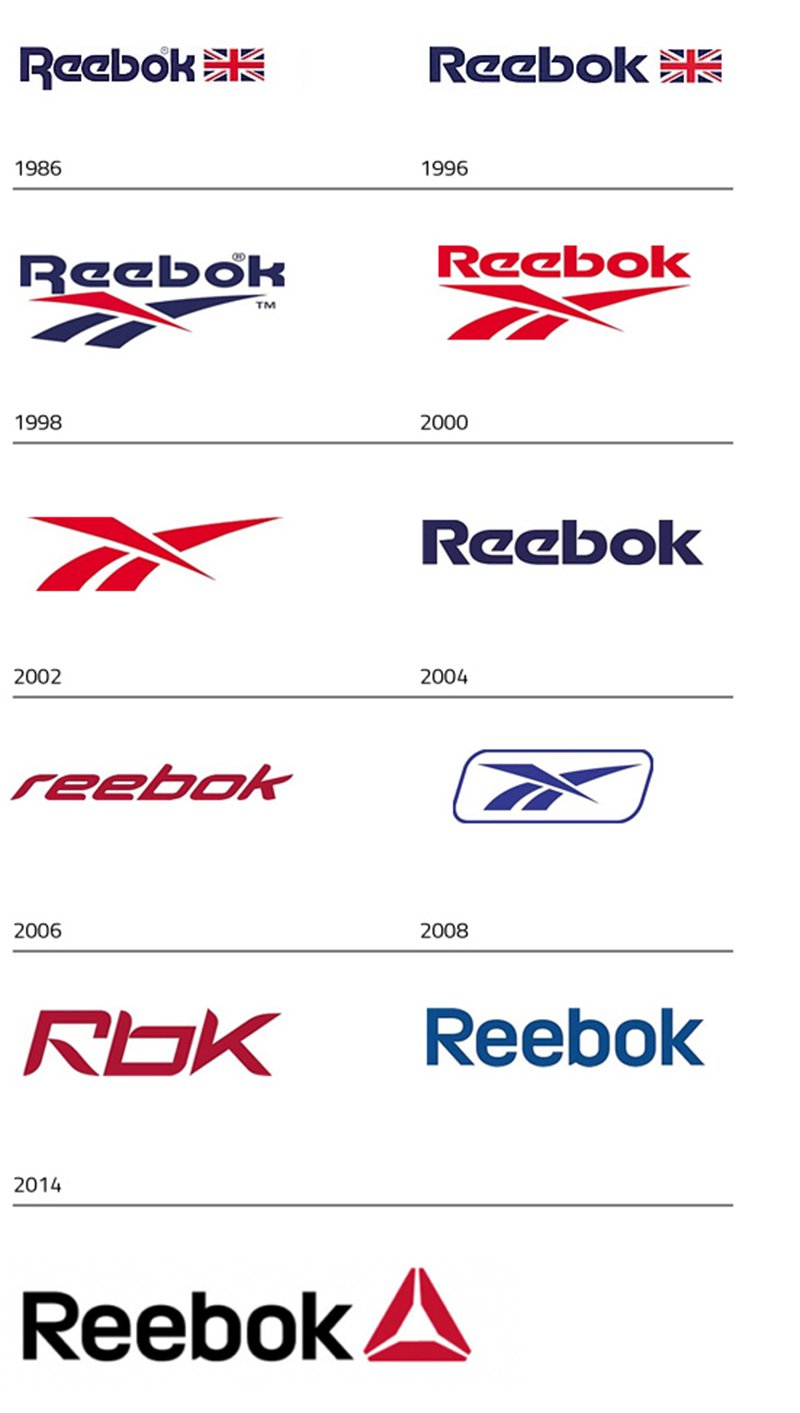 ---
Hello? 2014
So Rebook's next corporate strategy was to introduce an already used logomark (cross-fit) that basically looks like a Bank, or some other form of investment/insurance/legal icon style. I even envisage it being used by some form of religious cult: engraved into wood, and seared into the raw flesh of new cult recruits as they all stand inside this chalk drawn version on the mud in the middle of some dark creepy forest conducting all manor of sexual sins upon each other.
My goodness, it really does look dull. It also just doesn't sit, or fit, with the wording (font style), just seems to be there. In the specific case of Reebok, I find it such a completely inappropriate logomark for a sports brand logo.
Yeah so wonderful, it seems to work nicely in the promo videos, enlarged, cropped, worn on singlets etc, but my word, only just.
Once again they [Reebok] seem quite content on just tootling along, than trying to try just a little harder with an image make-over that could at least have a chance of looking like it's ready to compete with the big boys.
Clearly I'm head-banging against a wall as I can't possibly know what the 'powers that be' have had, and now have in mind for taking Reebok forward, but for me? I just really think this was 'another' miss-mash of existing ideas/elements (their cross-fit logomark), and introducing something recycled to get the next few years sorted and out of the way
What the odd's there'll be a tweak, or two, in a few years time? 
In fairness, it's quite likely that that red triangular pyramid thingy could have looked more interesting with a completely different font style and/or brand name, but golly gosh, at the moment it's just dull dull dull.
It's only my personal opinion, but yes, I'm not a fan. 
---
As much as this article, recently published on Sitepoint: 6 Common Logo Design Mistakes, written by Kerry Butters is important reading for the more fledgling crop of logo designers, this article is also a useful read for clients so they can be a little more informed when considering hiring potential logo designers.
It's hard enough for any client to sift through the 1000's of potential candidates of available logo designers, let alone ending up in frustrating situation of hiring a designer who isn't aware of the more common pitfalls when designing a logo.
I think it's reasonably fair to say that a lot of these mistakes will be found in sites like 99Designs, and Fiverr, where emerging logo designers sell their collective souls to the devils entourage of thrifty (cheap) business owners.
It would obviously be bad-form for me to repeat word-for-word what Kerry has written—I mean, who would do such a thing—but I will list each one of the logo design mistakes, and add my own comments, as for the most part I have already posted articles on the topics mentioned.
You can either skip this post right now, and head straight over to 6 Common Mistakes in Logo Design, or you can do me a kindness and carry on reading before departing this station for your destination.
Here are the Top 6 Common Logo Design Mistakes
#1
Top spot for logo design mistakes goes to creating your logo in Photoshop, or any similar bitmap photo editing suite, Resolution-dependant Raster Graphics: You just don't want to do this, never ever. Never ever and never ever ever, and even just for shits and giggles. It's bad form, it's bad practice and it just completely messed up. Kerry has a solid explanation of why designing your logo using pixels, instead of vector graphics, is just off the scale utter badness.
#2
Second place goes to, Following Gimmicks, Trends & Fads: I've covered this a few times myself, like with the post: Logo Design Trends Come and Go – It's an Oxymoron as it is a hard one to actually give a completely back and white answer/explanation for. On the one hand the current trend might actually have merit, and value in terms of how it might effectively communicate a visual message, thus it would be silly to completely ignore such a trend. The flip-side is that it can be the curse of the lazy, and/or completely unimaginative, which is where the real danger lurks.
Experience will guide you, and the fine-line between taking inspiration from a current logo design trend, or falling ridiculously and naively slave to it can effectively be negotiated.
I guess my own tip-top-tip would be: allow yourself to be inspired by a trend, but not to be blinded by it.
#3
Third place goes for logo design mistakes goes to using inappropriate font styles and typeface families, Ill Advised use of Typefaces: This again, and I think mostly comes down to, inexperience or completeness ineptness, and having no sense of style, aesthetic matching etc. Restraint is often your best friend in selecting the appropriate font for your logo. It isn't so much about finding the ONE right choice, but more about being in the right general font style area/theme. As much as using either a serif or sans-serif font could be an appropriate solution to your logo, it could also come down to much a finer difference to if the chosen font will work, or not.
I have obsessed over a selection of maybe 6 closely styled typefaces for a logo, and the chosen one actually comes down to the actual range of letters used in one font over the other 5. The 'e' maybe just nicer than those in the other 5, same with the 'g', but then I might not like any of 'f's, so in this case I'll simply create it myself.
#4
Fourth place for grievous logo design practices goes to, Aping Successful Brands: This one I can keep simple and short, which is often hard for me because I do like to ramble so. You know about fine-lines? Well, this is finer than you've probably ever experienced before. Often there are just two remarks given to a logo that, shall we say, shares or resembles another, and especially a more prestigious and establised brand.
What you want to hear if you have designed a logo that should end up 'sharing' certain qualities with another is, "That logo design for "Blah" was clearly inspired by the logo for "Super Blah". That's OK, for the most part. What you don't want to hear em-masse, is, "Well blow me, that logo was clearly copied/plagiarised/stolen from "Super Blah", and that's not how you want to be remembered as a logo designer.
Just ask Jeff Fisher about being on the other side of having ones logo designs plagiarised, poor chap, and he really does get the brunt of it. 
Ha. Keep it simply and short Graham? Yeah, sure.
#5
Fifth place for messed-up logo design practices goes to Over-complicating Things: restraint is your friend once again, and I think practicing restraint is probably one of the more useful skills to have, it's a bit like mastering the act of doing less to achieve, well, less.
Some logo design styles work really well with numerous font styles, elements and colours, and these usually come down to the more vintage/modern-vintage style (crests, emblems, signs, badges etc) of logo design. Any other style of design then one really needs to keep those horses completely steady under starters orders, until the trace finishes, with no horses having left the gates, if that makes any sense at all. What I mean is you just need to be 'that' in-control of your inner creative desire to add this-and-that until what you are left with is a fabricated monstrosity of eye bleeding pixel piercing ugliness.
#6
Sixth place goes to, Being Over Literal: another topic I wrote about a short time ago called: The Curse of Literal in Logo Design [AQFG], and another one where inexperience usually is the mischievous grinning gremlin in control over your design output.
It's also slightly subjective, and not so black-and-white, because sometimes being literal might just be the more appropriate solution, but if that's the way you'r gonna go, then it has to be taken with the larger visual identity in view, to help provide balance and context, and maybe even a cheeky or quirky tag-line suggesting that, "yeah, we know our logo is literal, but so is our method". The real problem with going the literal route is if you literally can't think outside the box, and/or completely lazy, and/or just bored, but worse of all? Using clip-art for that finishing touch.
And what do we come away with after taking all this in?
It's not hard to see that I have tended to point-the-finger at the lesser experienced logo designer, but that is unfortunately a reality that can't be completely ignored. It's a logical conclusion based on ones lack of experience resulting in 'common' errors. Each mistake in this post can be addressed, and put right, by anyone who is making such mistakes, some more easily than others, for sure.
I would say that getting to grips with font and typeface selections is the hardest one by far?
I mean crap, I've been at this gig for 25 years now, and apprenticed my way through traditional letter-pressing, old fashioned page make-up (bromides and gum) through the DTP revolution all the way through and up to the present, AND on occasion I still I have, and no doubt will still make, 'the not quite right font choice', and/or completely fuck it up.
I can look back through my logo design portfolio and still squirm at some of the font choices I made, and I'll still wonder what the hell I was on…
---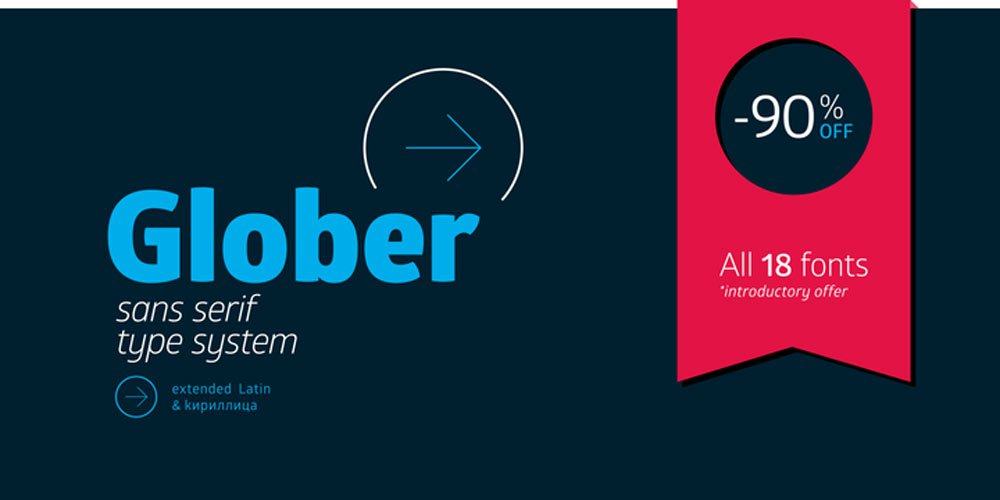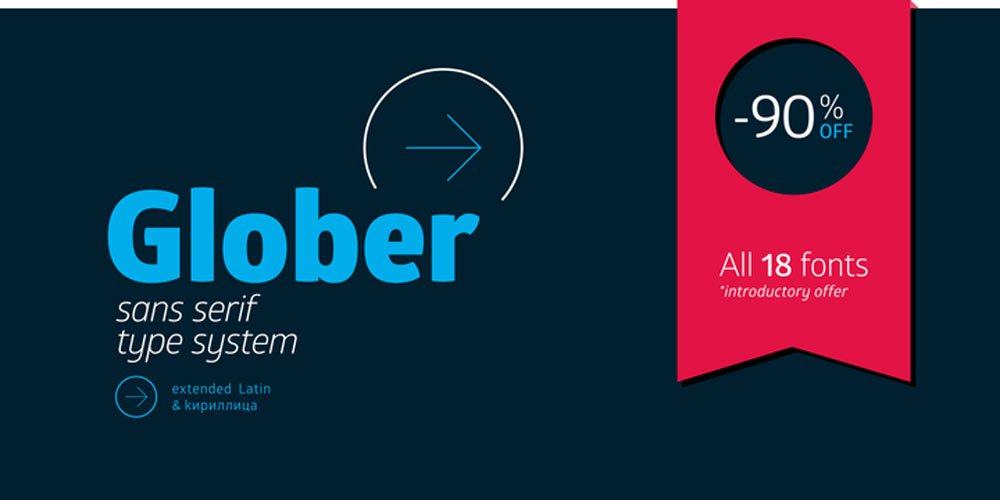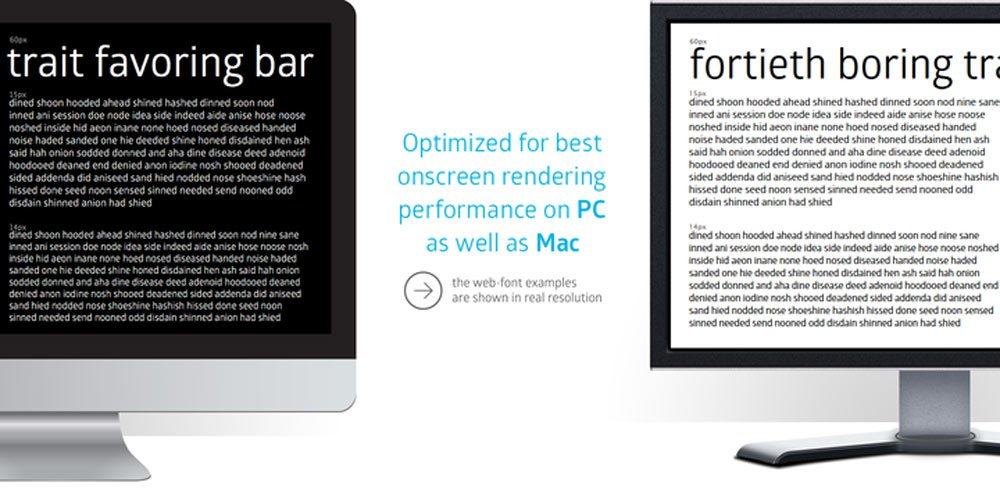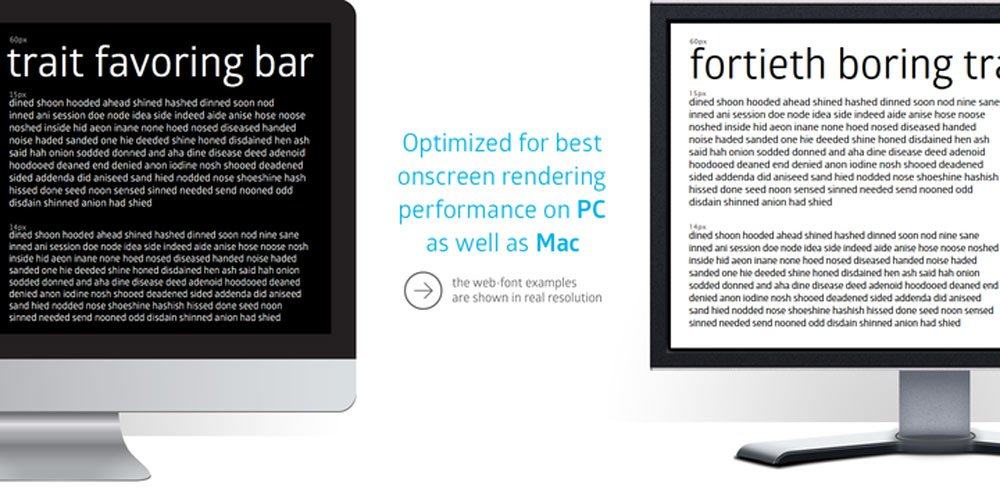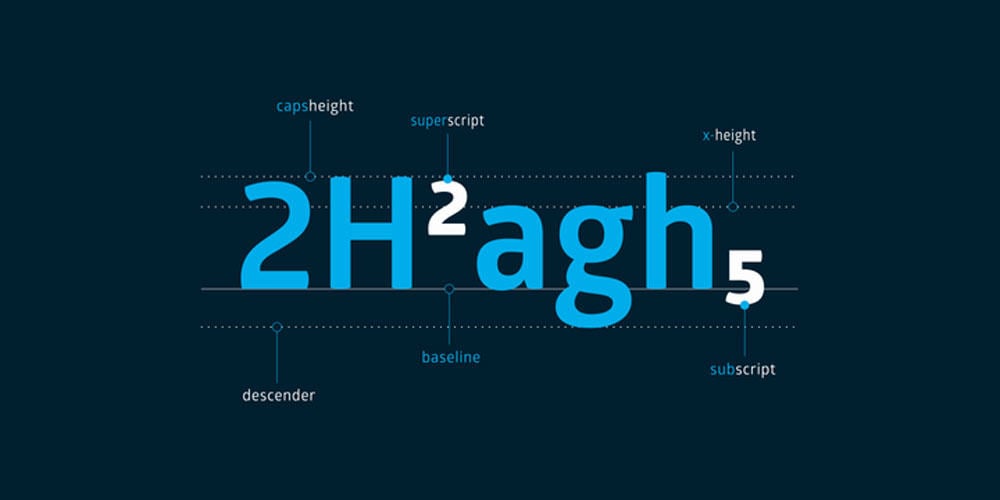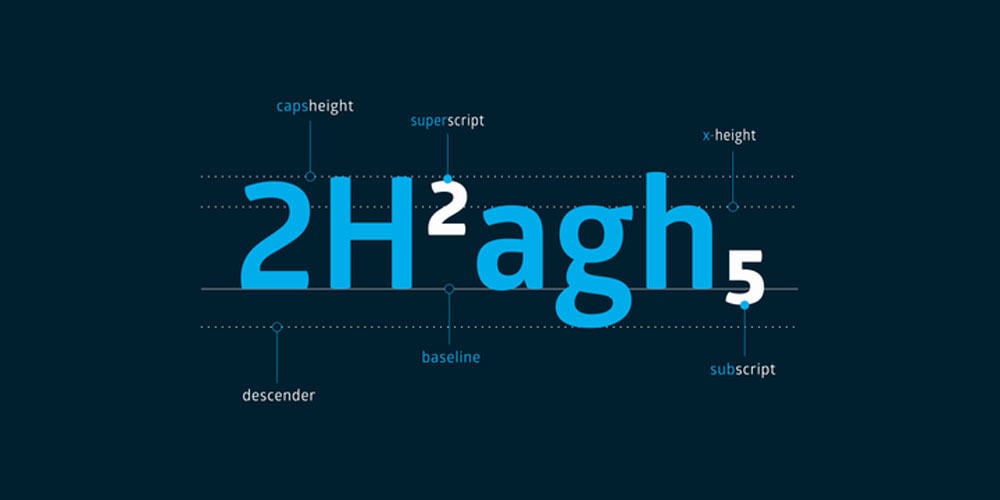 Some of the offers on Myfonts are simply ludicrous. When you consider HOW much effort, skill, passion goes into the research and development of just one font, let alone a complete typeface family, it does make me wonder how on earth they can sell the complete Glober Sans-Serif Type System: 18 weights, for (currently) £11.60 which is 90% off their recommended pricing.
This is a great type family to get your hands on: a beautiful selection of fonts—I'm particularly drawn to the thin/light and heavier weights—for such a stupid amount of money.
Font Fabric: "The Glober font family includes 18 weights – nine uprights with nine italics. It is characterized by excellent legibility in both – web & print design areas, well-finished geometric designs, optimized kerning, excellent web-font performance and legibility etc.

Inspired by the classic grotesque typefaces – Glober has his own unique style in expressed perfect softened geometric forms.

The font family is most suitable for headlines of all sizes, as well as for text blocks that come in both maximum and minimum variations. Glober font styles are applicable for any type of graphic design in web, print, motion graphics etc and perfect for t-shirts and other items like posters, logos."

Type Hero for Logo Designers
Type Hero is where I pick out certain fonts and typefaces that I find particularly cool, useful, charming, endearing, value for money etc. For the most part the font choices will be geared towards styles that I feel would work well in a logo and brand identity design scenario.
MyFonts has become a steady source of font inspiration, so many will be sourced from there, but I will also highlight fonts direct from font foundries when possible.
Worth noting, I think, that all Type Hero suggestions are based on fonts I have myself purchased. I am indeed: talking the walk, and walking the talk.
---
Logo Explanation
The 'X' logomark sort of came about through some abstract sketching, trying to find some 'hook' within the brand name that could be used with a logomark. Often one looks at the initial when forming a logomark around the name, but after looking at various 'L' options it was apparent it would not really work.
The 'X'
I ended up looking at the 'x' as the 'hook' to base a logomark from, but given x's in general are somewhat common, it needed to hold it's own and actually create a statement in itself, rather than just an initial/letter for the sake of it.
You can see from the diagram (below) how both x's share the same form.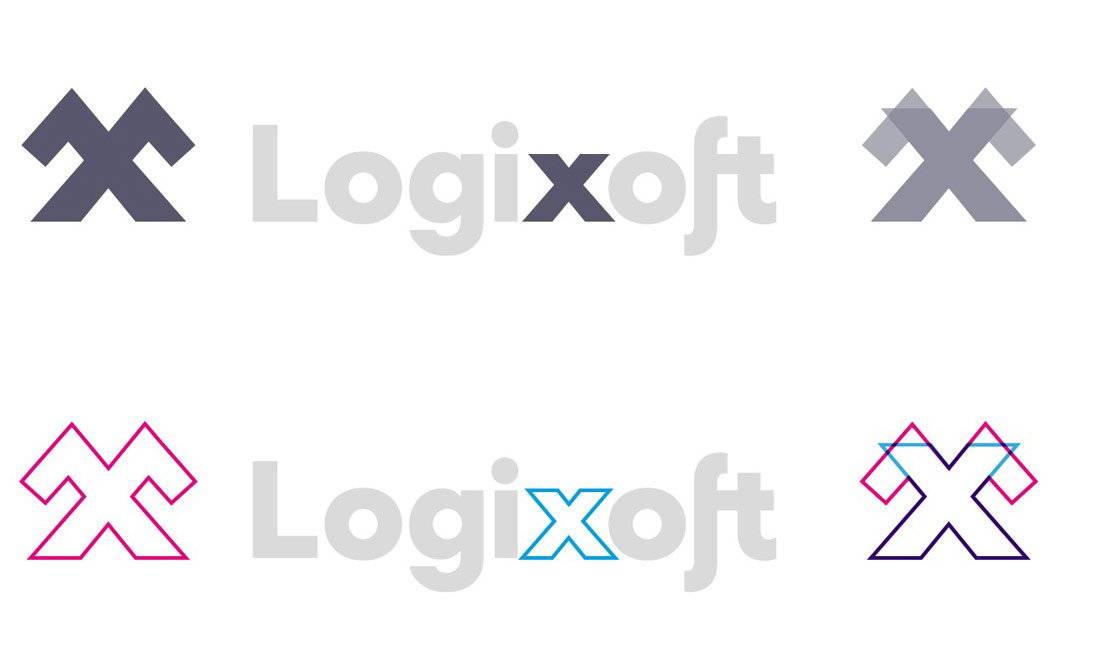 With the main keywords from the brief churning around, I saw a way to almost personalise Logixoft, or at least create a form of symbol that could be linked to a personality rather than a random/abstract object thus giving your brand a more personable feel. Immediately, the angular formation of the 'x' with short-arms, makes the brand less clinical and thus more memorable, and especially as Logixoft is just you.
The angular and steep nature of the 'little x-man' also then comes across as being strong, powerful, bold, decisive, reassuring, confident signifying 'you' have your clients' back and good intentions when they need it most.
Also this 'X' will work brilliantly at small sizes: favicon, social media profile images etc. Maybe some without the container/shield, some with.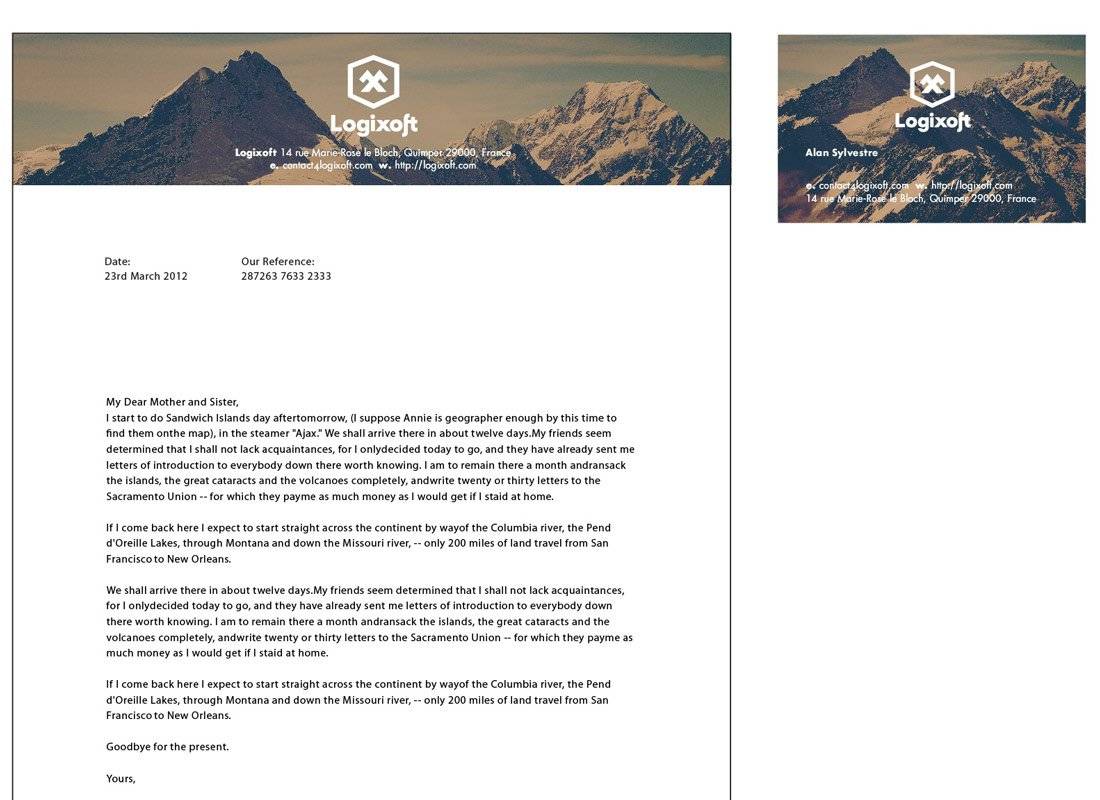 Mountains/Solid as a Rock
From playing with this shape, and trying to find some imagery to mock-up some layouts, I came across some stunning photographs of mountains (Mount Cook National Park, on PicJumb.com, and taken www.zivotnacestach.cz), and the similar angular nature seemed another perfect fit, and instead of just using it to provide context, I realised we could utilise this sort of imagery as supporting brand identity styles.
You can see from the letterhead and cards how this could work. The top half of the logo's container is almost the same angle as the mountain behind it, more of a coincidence, but when I placed the logo over the photograph it immediately hit me, so that's one more visual link that is shared.
Personally, and professionally, this has turned out as a far far more meaningful, and logical identity design, than I had initially anticipated.
For a company that is 'security' themed, we have managed to completely avoid clinical, cliche, cheesy imagery/meanings in the logo and identity, and instead created something with strong, clean, logical and applicable implied visual meanings and associations. The winning element is that it's also a personable brand, but without being too personable, if that makes sense. The X-Man is not really a 'mascot', but could be, at a stretch, viewed as such. Another association I like is that you're security products are: 'strong as a rock'.
Font Selection
The wording is based on a font called RennerBoldArchiType, but I have customised the 'L', the 'x' a little, and also the 'f & t' to form a faux ligature, and overall works really well with the logomark. As the logomark is very angular, the font adds some softness and approachability.
---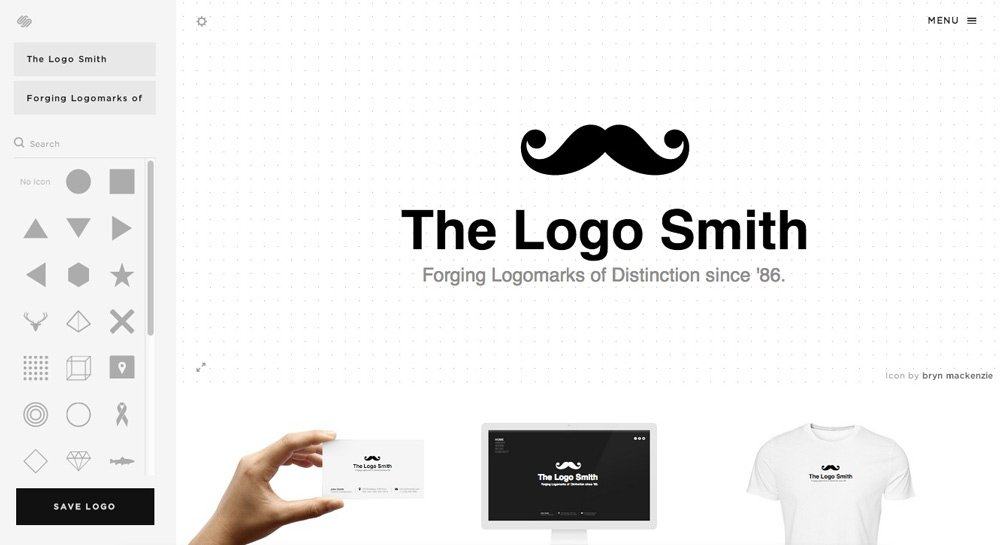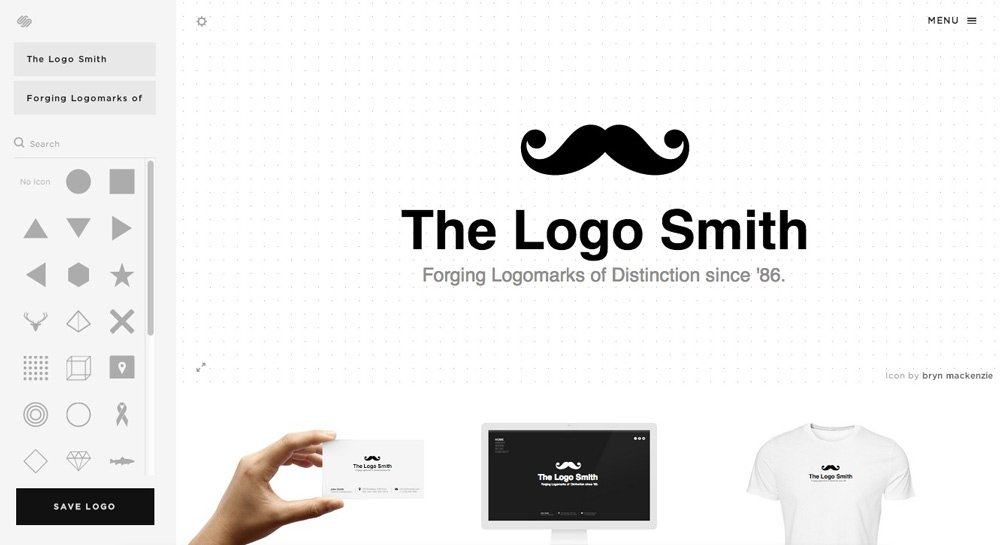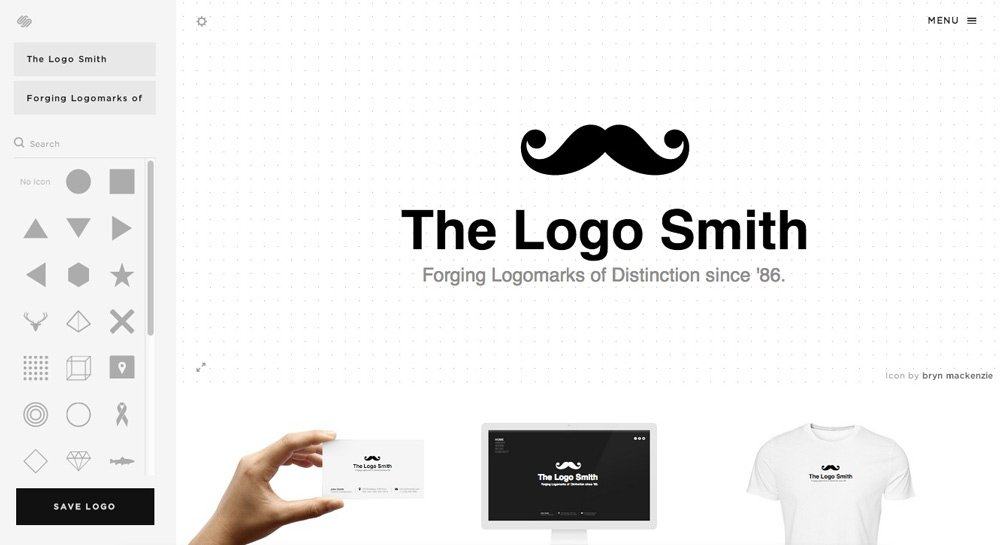 I really have been a little taken aback (in a good way) by the number of people asking me for my opinion on: The Squarespace Logo Design Machine, so here's my tepid reply.
As you can see, my The Logo Smith logo came out really well when having tasked The Squarespace Logo Design Machine to assist me with this little experiment: to update my own logo and identity.
The 'moustache' icon, designed by Bryn Mackenzie, is such a perfect fit for the 'distinction' part of my tag-line, and it goes without saying I used Helvetica—shame only Bold or Regular, as I used Helvetica Black, but no biggy—so for me, I'm completely thrilled to bits with the result: Squarespace Logo has transformed my logo.
I didn't even have to pay the $10 as I simply downloaded the watermarked version (I'll donate $10 to a dog shelter), and screen-grabbed the images you see here. Not sure that's entirely ethical, but hey.
I've had so much fun with this…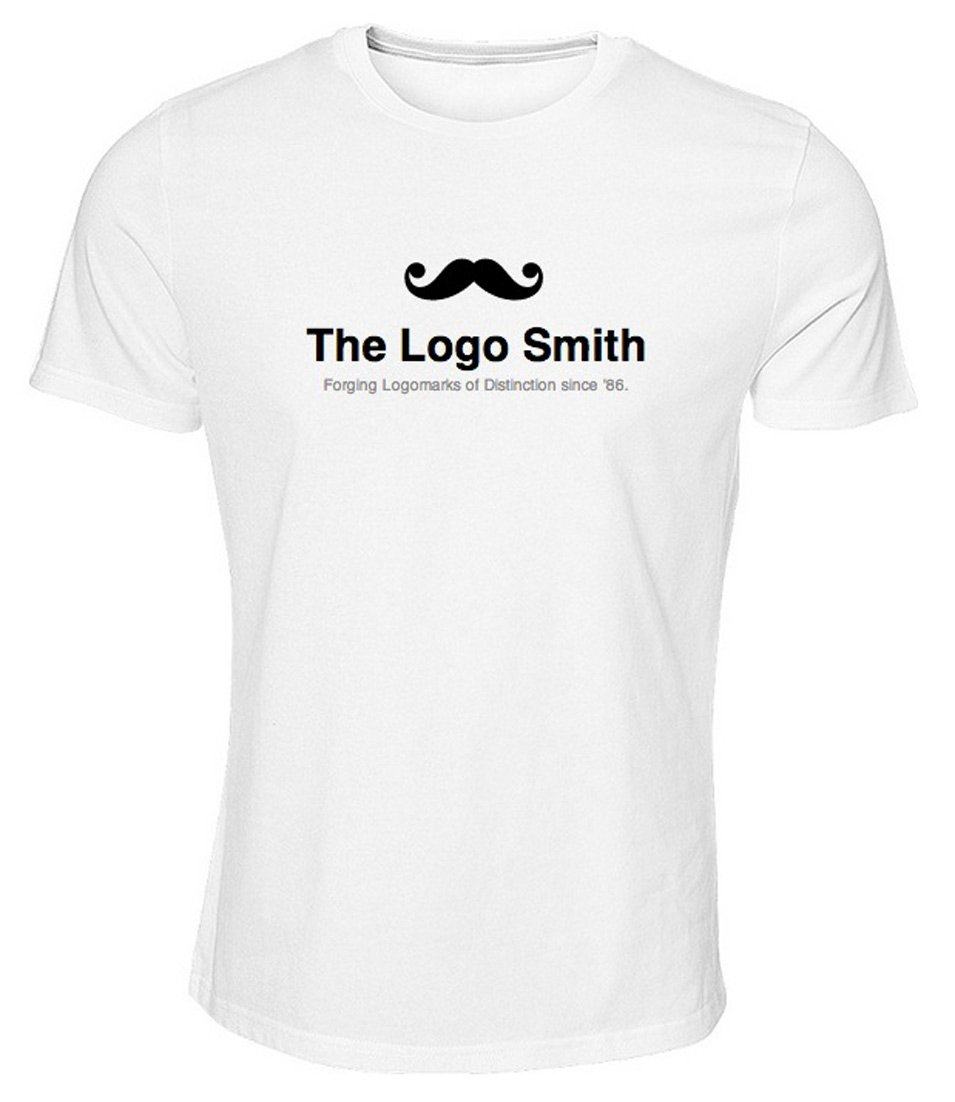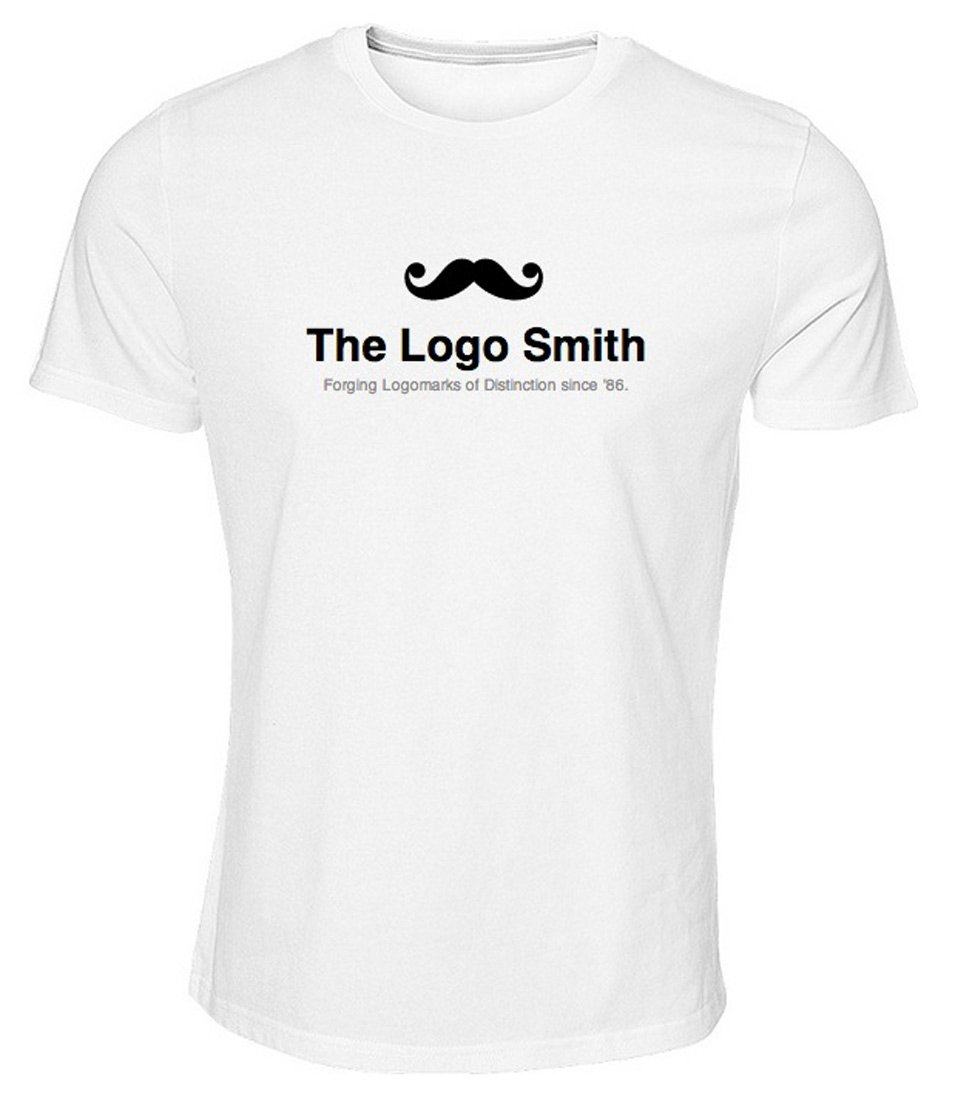 I'll come right out and say: I have already recommended The Squarespace Logo Machine service to some non-potential clients, as they didn't want to spend the £1000's I usually charge.
This is a far better solution for cash-strapped clients than using 99Designs, or hell, Fiverr. Anyone, and I mean anyone, now has the ability to create a logo design that will always far exceed anything you'll get off Fiverr, and for only double the cost!
They may be a little limited in font choices, and Noun Project icons, but that there is the reason Squarespace logo will be popular. By providing some basic constraints, a non designery client would have to be a complete nonce to mess this up.
The general aesthetic that spews out of The Squarespace Logo Design Machine is of the 'minimally flat' variety, and given we are already here with flat design, then Squarespace is saving us from the grim world of Fiverr and Microsoft Publisher gradient filled lumps of smelly poo.
Each design will be clean, presentable, and will instantly create a more beautiful world for us all.
For those designers who feel petrified that Squarespace Logo is a viable threat to their own supply of clients, then you simply need to look at another career choice. For those that have ethical quibbles, then you should really just be thankful that Squarespace Logo is making it possible for cash-strapped/stingy clients to at least have access to aesthetically flat, and clean, designs. Also, don't be such a selfish, head-up-your-own-crystal-ass, narrow-minded jack-ass.
However, not sure where we'll end up when there are a gazzilion companies using my 'moustache' to represent their brand… then I might have to get a little protective of my intellectual property.
---
Here's some tasty visual inspiration for a Sunday afternoon for you. In terms of nailing the marking and promotion of their vintage style font, Antrepo sort of hit it smack bang middle of the head.
Awesome graphic design work, not to mention superb vintage style typography to really drive home the visual message of their font: Public Gothic.
Those vintage style cans are so perfect: the colours, the layout, the distress, everything about the graphic design is spot-on. If you don't have your own copy of the Public Gothic Typeface family, then seriously think about getting it at the following link: http://www.antreposhop.com/product/public-gothic-font-family
It's certainly a worthwhile addition to your vintage typeface collection. Here are some of the details:
Public Gothic
Font Family (5 fonts)
It is little industrial, little vintage, little condensed, little bold.
Public Gothic is our new retro typeface! PB family members are PG Square, PG Vintage, PG Circular, PG Federal, PG Little and Italic variation of PG Square, PG Circular, PG Little. It's compatible with any OS system.