All Archived Posts in bing
Bing Logo Design Evolution 2009 to 2016
I like to think that most of the time I have my ear to the ground, and not much escapes me in the graphic design work, but now and again, things pop up that I'm amazed I simply missed.
Recent example of 'not' having my ear to the ground: the lovely negative space design in the Blackfish logo, and today I've just seen that Microsoft made a small change to their Bing logo.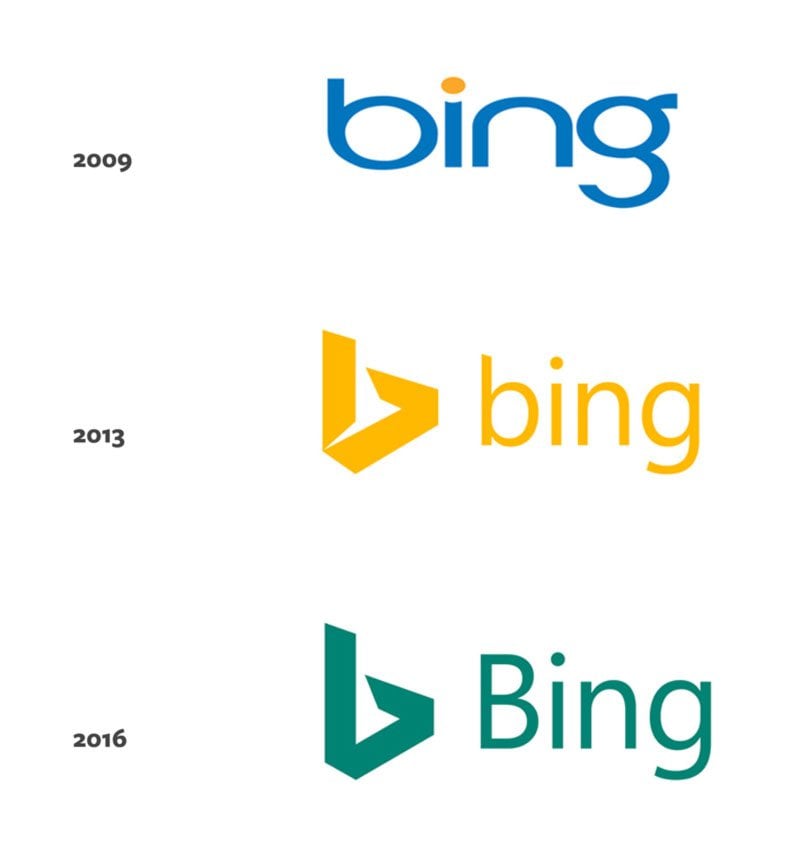 Need to do more research, as apparently the new 2016 logo hasn't been completely rolled out as yet.
Logo Updates
As far as logo updates go it's a'wight. I did like the yellow version of the logo mark, with the double negative space cut-outs, and the lowercase 'b' was a consistent match for the logo mark.
Consistent 1st Initials
Now the 2016 version removes the lower cut-out, and now changes to uppercase 'B' for the wording, but still keeps the lower case 'b' for the logo mark.
This irks me a little, as it's now somewhat inconsistent.
The flip side is: that the other Microsoft brands, like: Office, Windows and XBOX are all uppercase initials, so makes sense in that regard.
I personally  like my logo mark initials to match the same upper or lower case of the brand name, but can see why it's been changed in this instance.
But hey, what the hell do I know anyway.
In this post I'll provide some basic, but useful, advice for clients who are looking to find and hire a logo designer on Google, and the Website in General
If there is one thing I know for certain? It's that it must be a complete nightmare to hire a logo designer that 'ticks all the boxes', not because there are so few of us logo designers around: it's actually the complete opposite.
There are gazillions of potential logo designer candidates worldwide: all of varying skill levels, some with years of experience and some none at all; some experienced without any academic qualifications, and some with; some with a unique 'signature' design style, and others who are very adaptable; some that are cheap, mid-priced, and others that pitch higher than usual.
I really don't know what 'the' usual price level is for logo designers given the sheer scope of factors that can and do determine how much a logo designer can, should, does, or doesn't charge
Some are local for a given search, and some will be geographically challenged; some talented logo designers simply don't advertise, or make it easy to be found, whilst some logo designers have the marketing, advertising, social networking savvy that makes it easier for them to be found; some are well-known, and some are not; and so on.
Just to be clear: I am mostly talking about the self-employed/freelance logo designer, not so much the hobbyist, or indeed the larger design studio/agency. 
However, it's certainly a travesty that certain logo design shops tend to dominate Google's (and other search engines) top rankings, as well as completely gobbling up the sponsored ad spots, which must cost them a complete fortune to run day-after-day-after-day (I can barely afford the minimum for one day).
Typical search terms, like: "logo designer", "logo design", "freelance logo designer", "professional logo designer", "I need a logo designer", and so on, are invariably 'taken' for Google 1st page results.
It's Better Than it Was
For sure, things are much better on Google than they were, even just 2 or so years ago. Google has done an incredible job really, when you think about it, of clearing up the no-good-for-nothing-black-hat-gangsters looking to prey on the weak and naive.
I clearly remember thinking how on earth is someone like me will ever be found on Google: the proverbial needle in the haystack, likely at the bottom, in the middle and buried under 5ft of earth.
It's a Daunting Process To Hire a Logo Designer
It's a daunting process trying to locate a suitable logo designer for your needs, made even harder when you have to negotiate and filter out logo design 'battery farms'.  You may be looking for a certain type of designer, or looking for a company local to you.
Yet, whatever you search for in Google, you are faced with the many number of search results focusing on the latest marketing buzz hook: 'free logo designs', 'logo designers for $5', 'create your own logo for free online', '300% Guarantee', 'professional logo design for £19.99 in under 24 hours', 'bronze package', 'silver package', 'carbon fibre with titanium and moon rock dust package'.
I need to emphasise that not all the 'package deal' options are to be avoided, far from it. But this is part of the problem, some of these package-dealers try hard to look respectable, genuine and honest, and often succeed in doing so.
Being discovered is seemingly the hardest challenge for the: solo, self-employed, small studio logo designer. The genuine, the sincere, the passionate logo designer will likely not have the funds, resources and audacity, needed to prise themselves to top of the 1st page of search results.
Look Past the 1st Page
All these search results seem to take up the first page, you may be lucky and find a respectable and very reputable logo design studio/agency dotted the 1st page of results, but it helps to know what you are looking for, and what specifically one should avoid.
Unless you are familiar with graphic design, and have inside track on the logo design industry, you may find yourself out-manned, and out-gunned, and very quickly out-financed.
You may end up exhausted and frustrated in your search, giving up and opting to go with a logo designer that you just hope will deliver. The promise of that 'Titanium Package with unlimited tweaks, designed in 24 hours and only costing you a fantastically cheap rate of £49.99' seems to good to be true.
If you're needs are small, and you simply don't care much for quality, then you'll be serviced just fine, but if you feel the logo and identity is important to you, then it's unlikely the cheap options, but the ones that you'll be served up on the 1st page, will indeed deliver.
Picking up the Pieces
In recent years, I have found myself, more and more, picking up the pieces for a number of clients who thought they'd try their luck with the cheaper logo design option, or crowd sourcing site, such as 99Designs.
Invariably, after being served up their 3-5 logo ideas, they realise how utterly disappointing the experience has been. Then it's usually a case of having to pay yet more money to now find a more competent, and personable, logo designer.
It's quite gutting for me to see the sort of work they were presented, you can just hear the utter disappointment in the their voices. The realisation of how far behind schedule they are, and now having to pay all over again.
Some General Advice to Hire a Logo Designer
The best advice I can give, without sounding too 'use me, use me' is to not rush any part of this process of finding a logo designer to work with. If you are genuinely short of time, then the first option below could be the life saver you need.
RECOMMENDATIONS
Recommendations are valuable, if you know of someone who had a logo designed, then ask them for a name. Twitter is perfect for this sort of method, as word-of-mouth quickly spreads, and you could have a interesting mix of contacts to check out.
GOOGLE
Ultimately, and this really is the moral and purpose of this post: Don't give up looking on Google once you reach the end of Page 1. I can assure you: if you spend time looking through pages: 2, 3, 4, 5, 6, 7, 8 and onwards, you'll come across some truly talented logo designers.
Just because a logo designer does not appear on page 1 of your favourite search engine, it certainly does not mean they should be ignored. If anything, it's this reason that they ought to be given more of your time.
"Poor Google rankings, and placement, is by no means a reflection on the integrity, skill and reputation of a logo designer."
I know many talented designers that probably don't come even in the first 5 pages of search results.
A GOOD FIT
And this is the thing, try to find a logo designer that is a good fit for you, not just visually but also from a personality point of view. The more you can 'gel' with a designer, the better the whole process and the more likely you will have a logo designer prepared to bend over backwards for you.
That level of commitment in a designer just can't be bought. It is a partnership.
COMMUNICATION
A designer who is prepared to talk on the phone, who is relatively transparent in the area of communication and contact is a positive sign, but not all designers can or will spend hours on the phone with their client. This is down to you, go for a designer that feels right for you. You may be OK with not needing to talk on the phone to discuss progress, or you may be someone that needs that level of feedback and interaction.
To Conclude
Many logo designers are keen social media junkies, actively contributing to the design community, writing and posting on their own blogs, chatting with other like minded designers on Twitter and Facebook.
You'll find some super talented logo designers on Flickr, just browser through some of the popular Groups, even basic search queries will provide some good results to check out. Dribbble is another major creative platform that should certainly result in finding a suitable designer to work with.
There are heaps of external portfolio sites, such as Behance, Iconify etc, that specialise in showcasing logo and brand identity projects, and these provide a proverbial gold-mine of talented designers to pick from.
Don't rush your search to hire a logo designer, but do try to be a little more selective on where you conduct the search.
If it's Google, then you'll be rewarded if you generally scoot pass the 1st page of results.
Don't ignore the 1st page, as it depends completely on your search term, but do allow yourself time to give the next few pages of results some of your time.
We are everywhere, if you know where to look.
*Post Update : This post is not intended to be fair &  constructive. It's a rant, a sarcastic and juvenile venting. Microsoft have screwed up and the gloves are off. A company as huge as Microsoft can take the rantings of a mad logo designer.
The Bing Logo Design by Microsoft - Vent off here
Here are some honest thoughts on the Bing logo design. Frankly, when I first caught glimpse of this logo, I had to make sure it wasn't April Fools, somehow I had been caught up in some time distortion field. But no. This seems to be the real deal. Microsoft has really excelled at making themselves look hideously silly... again. And this is all before the product even launches. Nice.
This is a brand extension that is need to be wound up and re thought out.
This logo is just outstandingly and epicly crap.
There is nothing about it that makes sense. Every thing that could be done wrong pretty much has been. The whole personal taste, the beauty is in the eye of the beholder, its subjective doesn't cut it here.
This logo is supremely and stupendously grim.
But that is my own opinion, and I realise there must be others out there how surely have something positive to say about it. So here is a chance to say what you feel. Leave some comments below.
Don't hold back.
How it could look
If someone had taken just a few moments of time over this, they could have created a beauty of a logo.
This is my much improved version. Comic Sans MS never looked so gorgeous. If you are listening Microsoft, I am happy to sell you the rights to my logo idea.
Post Update: I need to add at this point that the following logo is NOT to be taken seriously. I am being sarcastic and slightly ironic and stupendously juvenile in using a Microsoft version of the much hated Comic Sans. For those that have commented assuming this was a genuine effort to improve on the original, sorry to disappoint. :)