All Archived Posts in behance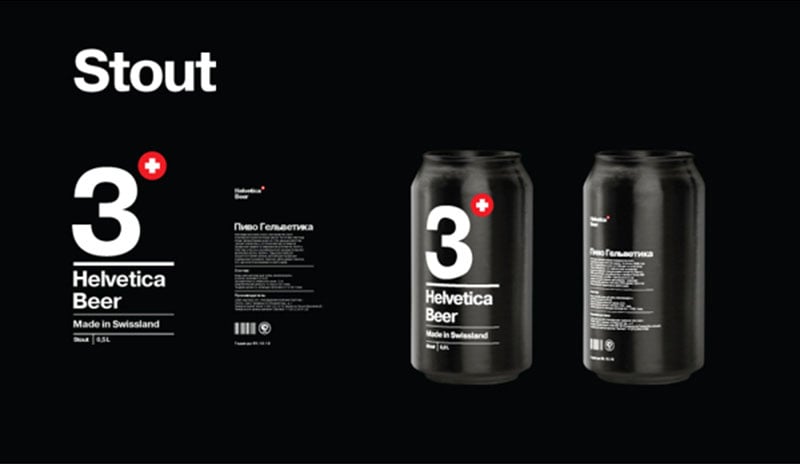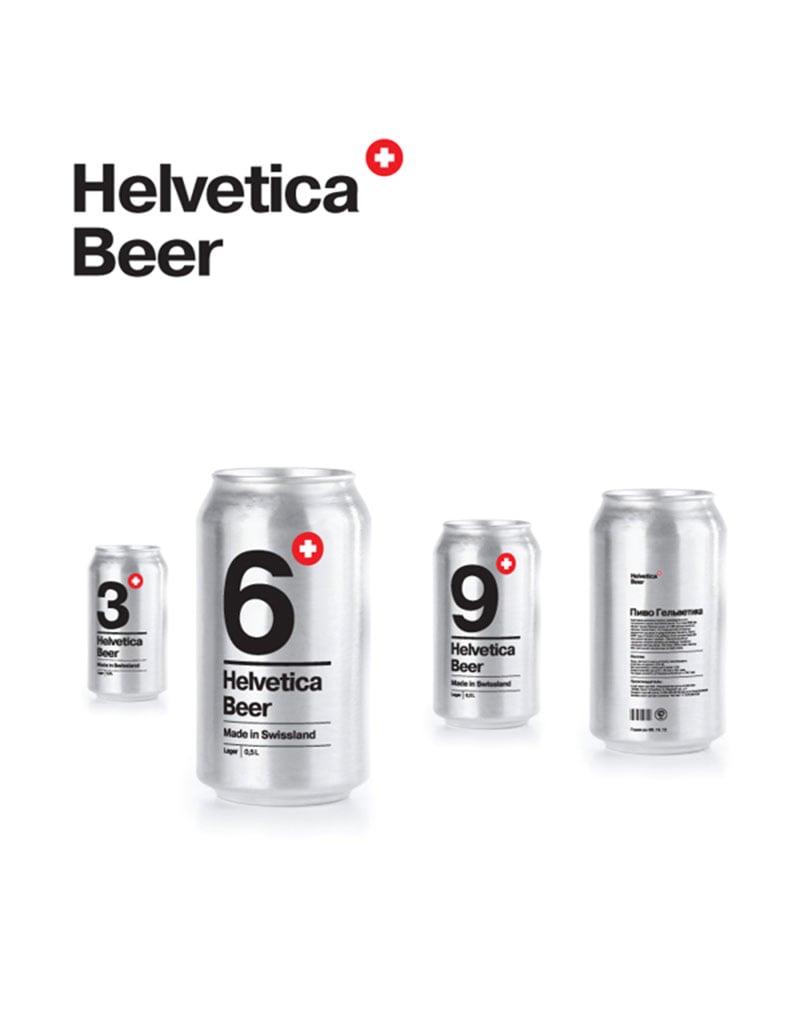 This Helvetica Beer, Stout and Lager Cans project, designed by Sasha Kischenko, has been around a while, but it seemed to have slipped me by. Which bothers me…
There is hardly nothing on this earth that I wouldn't mind, actually love, to see an alternative Helvetica version of. We have had the Helvetica Bike and Helvetica The Perfume: "The Scent of Nothing", the gorgeous Helvetica Moleskines and a crap load of other Helvetica themed items.
I do really like this Helvetica beer, stout and lager can project though.
So given I'm not so much a larger drinker, I would be thinking it would be pretty neat to see a Helvetica Cider done? Anyone?
The Greatest Brand Rivalries is quite a cool brand project by Rodolfo Foitinho. Found it whilst checking out the Behance galleries for anything new for Logo Stack.

I was a little unsure at first, but scanning down his list of brands made me realise just how similar, in shape in a lot of cases, each brand item is. Yet, they can significantly vary in quality, perceived coolness etc. Just the overlapping of these shapes makes you realise how undifferent some brands really are when it comes right down to it. Obviously, in some cases, one brand got to design a unique form factor first, then the others follow suit, but in some cases the overall form just hasn't changed in decades.
View more: The Greatest Brand Rivalries over on Rodolfo's Behance page.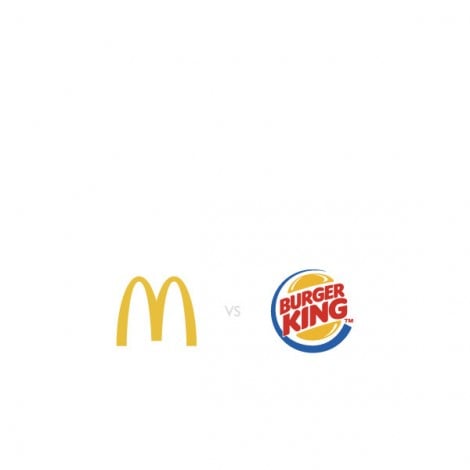 Carhartt Logotype WIP Process by Sergey Shapiron
Really enjoy studying these marvellous hand-drawn lettered sketches for Carhartt, by Sergey Shapiron. These have not been designed to replace the main Carhartt brand logo, but for an upcoming 2014 collection.
Sergey Shapiron: "Some of hand drawn/written sketches I did while working on a new t-shirt design for Carhartt-WIP 2014 collection. All sketches are scanned without any further tweaks done."
Quite a variation in lettering styles with some being far less readable than others, but as it's all exploratory work one has to take design to the limits in order to fully assess your 'window of opportunity', so-to-speak.
I have only selected a few of the Carhartt sketches, but there are loads more over on Sergey's Behance profile.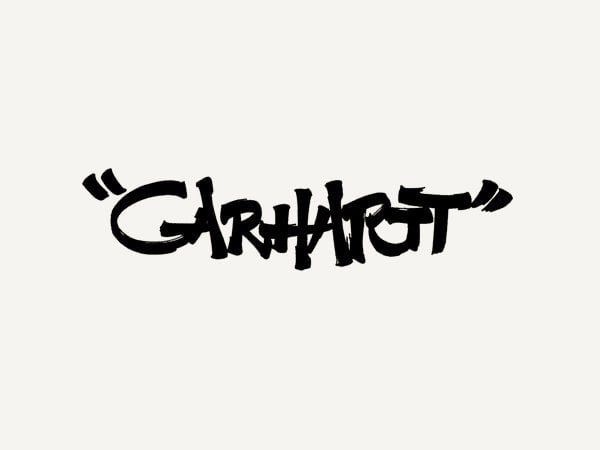 Carhartt Logotype WIP Process by Sergey Shapiron
QUB Font by Adi Dizdarevic - Free Download
So many modular and block fonts out there at the moment, but when I saw QUB, I was particularly struck by how cool it is. Even cooler that it's a free download. Found via Typography Served.
The designer behind this font is Adi Dizdarevic and  you can follow Adi on Twitter.
Visit Adi's site to download the font.
Download more free fonts, some exclusive to ImJustCreative.
High Five Font is another free font exclusive for ImJustCreative, continuing the process of helping designers spread the word about their font creations. You can download High Five font for free below.
The font designer - Matthew Kempton
Having spent the last 4 years working in London as a designer for digital agencies, I've been lucky to work for some fantastic clients and on some really exciting projects.
Having a background in print I still have a love and huge appreciation for tangible design. I try not to become to stylistic and approach each project with an open mind.
Connect with Matthew
Website : www.matthewkempton.co.uk
Behance : www.behance.net/matthewkempton
Twitter : www.twitter.com/mattakempton
About the font
High Five started about a year ago as a personal logo and on a trip to NYC in September I became aware of the  Museum of Art and design and the similarities the two logos shared. I got inspired to complete it - the result: My first attempt at a typeface: a bold, bulky, blocky and playful typeface.
It's name has come from a project I'm working on with a friend - www.high-5.me.
Its only a beta version but I wanted to get it done and get it out there before I get sidetracked by another project.
Font Licencing
All rights are reserved by Matthew Kempton. You may use High Five freely for noncommercial and personal purposes, such as creating a logo for a personal web site, free web design materials, goods or banners. When used, please credit Matthew.
Please contact Austin Roesberg before using the fonts for commercial purposes, such as for commercial products, stores or companies logos, TV, books and magazines, or CDs.
Font Distribution
Please note this is a exclusive download. You are not permitted to redistribute this font as a direct download from any other site. If you wish to list High Five in your blog as part of a font post/listing then you can do so, but please direct your readers to this post for the font download.
Download High Five exclusively from ImJustCreative.
The following is a healthy collection of 21 online portfolio websites and applications. Some are free and some are paid. We have the usual suspects in this collection and also some lesser known portfolio solutions, at least to me anyway. I spent some time trying to discover alternatives to sites like Behance and Deviant Art to provide a wider audience reach for your work.
If you are aware of any other portfolio websites not mentioned below, please do let me know. I would like to keep this as a up-to-date resource for portfolio and image hosting websites.
Additional resources
Reencoded posted an article with some great new free portfolio websites : 10 places where designers can upload and host their work for-free
Increase your reach

I love portfolio sites and I like to have a presence in all the portfolio sites I can lay my hands on. I am a firm believer in getting your work 'really' out there and not just relying on usual options. Clients can be found anywhere, I have had clients approach me after seeing my work in places I had forgot I had a portfolio up.
Keep your external portfolios fed with your best work not necessarily 'all' your work, this can help reduce the time intensive nature of keeping portfolios up-to-date. Given the majority of the online portfolio websites are totally free like CargoCollective, Behance and Coroflot; there really is no reason not to sign up and take advantage of this marketing and promotional opportunity. Even for the services that have the 'free limited plans' and the 'paid premium plans' like Carbonmade; you can make use of the free service and just be selective with the work you upload.
Invest time in really expanding your horizons and help potential clients find your work. I use most of the sites listed below in one way or another, except a couple of the 'paid only' options like DesignTaxi. Where I use the site mentioned, I have provided my own URL and status of the portfolio. Fortunately, paid only solutions are the minority, so there are plenty of free options to take advantage off.
The following list has creative logo design in mind more than any other form of design, although most of the portfolio sites are multi disciplinary. I have categorised them into 3 financial categories : 'Totally Free', 'Free and Premium' and 'Paid Only'.
Totally Free Creative Portfolios
http://jobrary.com/
ImJustCreative on Jobrary - Just getting started
Jobrary is a quick, simple, easy-to-use tool for creating and managing your Résumé & Portfolio.
http://logopond.com
ImJustCreative on Logopond - Almost up-to-date
http://creativebinge.com
ImJustCreative on CreativeBinge - Just getting started
http://designrelated.com
ImJustCreative on DesignRelated - Just getting started

http://behance.net
ImJustCreative on Behance - Up-to-date

http://coroflot.com
ImJustCreative on Coroflot - In Progress
http://figdig.com
ImJustCreative on FigDig - Just getting started

http://glossom.com
ImJustCreative on Glossom - Just getting started
http://crowdspring.com
ImJustCreative is on CrowdSpring but I am re-doing my portfolio
http://brandstack.com
ImJustCreative on Brandstack - In Progress
http://shadowness.com
ImJustCreative on Shadowness - Just getting started

Free & Premium Creative Online Portfolios
http://cargocollective.com
ImJustCreative on CargoCollective - In Progress
http://viewbook.com
ImJustCreative on Viewbook - Just getting started
http://krop.com
ImJustCreative on Krop - Up-to-date
http://deviantart.com
ImJustCreative on DeviantArt - Up-to-date
http://shownd.com
ImJustCreative on Shown'd - In Progress
http://flickr.com
ImJustCreative on Flickr - Up-to-date
http://carbonmade.com
ImJustCreative on Carbonmade - Up-to-date
http://creativeshake.com

Invite Only Creative Portfolio

Paid Creative Portfolios
The following portfolio sites will cost you money to join and upload your logo designs. LogoLounge is worth signing up if you are a serious logo designer, likely you are someone who relies on logo design to pay your mortgage etc. If you join, your logos will automatically be considered for future LogoLounge book volumes. This is a valuable source of marketing and exposure.

http://dripbook.com
ImJustCreative on DripBook - Up-to-date
http://www.designtaxi.com/
ImJustCreative on DesignTaxi - Nearly up-to-date
Bonus Portfolio Website
Subscribe to ImJustCreative
Subscribing to both WordPress and Posterous flavours of ImJustCreative avoids undignified and catastrophic disappointment, not to mention, unrecoverable humiliation from your peers.
LogoLounge Book Vol 6
Seems the LogoLounge range of books are the staple diet of any designer interested in logo design. I still carry the small pocket sized volumes around with me when I think I might end up in a coffee shop somewhere, a quick flick through for inspiration whilst sipping a coffee. Having all previous volumes of the LogoLoung series, I am in eager expectation of Vol 6.
Buy the LogoLounge books from Amazon :
Submit Your Own Logos
Although been more than aware of LogoLounge, the books and the website, I had not fully embraced the more functional role that the LogoLounge website provides. Namely providing a neat way to submit and showcase your own logo designs. The added benefit of joining up with LogoLounge and submitting your own logo designs, is that they 'could' end up in one of the LogoLounge books. Which has to be a good thing.
Maintaining portfolio sites like Behance, CargoCollective, Krop, LogoPond, Flickr, Facebook (list goes on...) is all very well, they can work well for general exposure, but investing in membership with LogoLounge offers that next level of publicity. The possibility of getting some of your work included in the LogoLounge books.
Membership costs $100 for one year, and as LogoLounge states:
Your $100 annual membership to LogoLounge pays for unlimited submissions with no additional entry fees or forms. Your membership also entitles you to full privileges and unlimited access to LogoLounge for 12 months. Online payment instructions are provided during registration. Visa, MasterCard and American Express are accepted.

Discounts: All book contributors whose logos are selected for LogoLounge 6 will receive a 50% discount on purchase of the book from Rockport Publishers. Details of this discount offer will be sent to those contributors at the time of publication.
So if you want to stand chance of having some of your work possibly considered for the LogoLounge book, then you need to get your ass in gear.
The deadline for the Vol 6 publication ends 15th February. But if you miss that deadline then all is not lost. Any logos submitted after this date will be considered for Vol 7.
Vilhelmia Free Vector Font
This is the 2nd free vector font from Gustuv that I have available here for download on IJC. The first one being Teodoria.
The download of Vilhelmia (Behance Link) comes as a Illustrator file, fully editable as you see fit. It will provide a solid framework for your own remix or use as is. Comes in two styles, solid tint style and graduated tint style.
Designed by
Gustuv Jerlardtz - http://www.jerlardtz.com
Behance Profile - http://www.behance.net/jerlardtz
Twitter - Jerlardtz
Facebook - Gustav Jerlardtz
Three new font styles added to the ImJustCreative free and opensource font library. This time a triple helping from Gustav Jerlardtz.
I originally saw this new font, Teodoria, on his Behance profile several months back. I emailed him asking if would consider making it available for a free download, and here we are.
Download
Download
Teodoria
and use for free.
Distribution
If you wish to distribute this font in any way, please contact Gustav directly for appropriate permission.
Link & Photo Credits
Poster article originally found on FPO : For Print Only 'Periodic Table of Typefaces Poster'.
The amazing photographs of this poster also created by FPO and the above link will take you to the rest of the amazing poster photos.

Periodic Table of Typefaces Poster
This typographic poster, based on the periodic table,  originally kicked around the internet some months back now and proved to be viral in every sense of the word. It literally popped up everywhere, and for good reason. The designer, Camdon Wilde clearly onto a classy winner has now come up with version 2, in a stylish black and silver version.

Purchase this poster
You can head over to http://www.squidspot.com to purchase this awesome poster. My own order already processed. Nice.
Original Poster on Behance
The original poster can be seen here on Behance : http://www.behance.net/Gallery/Periodic-Table-of-Typefaces/193759
IlliadSans Font Designed by
Fábio Duart Martins - www.loligovulgaris.com
About IlliadSans
I first saw Illiard on Behance some months back, and with no mention of availability, I felt curious enough to email Fabio and ask what the deal was. The deal is that right now, IlliadSans is far from complete, but does have a full compliment of lowercase characters in all 3 weights: Extra Light, Book and Black.
It lacks uppercase, diactric marks, italics and much more.
It is therefore available as an incomplete Beta font for download here on ImJustCreative. So big thanks to Fábio for being such a sport.
Download
Download
IlliadSans
 (all three weights) as a ZIP archive.
The deal
Hearing that it was incomplete didn't change my mind, I still wanted to get my hands on it, and if Fábio agreed, wanted to post it along with the other fonts I have for download on this site. My reasoning to Fábio was that getting 'live' working feedback may be really useful. So I asked Fábio if he would still consider making it available to me for download as a early Beta trial on IJC. Specifically for those just curious or wanting to actually use it for a logo project for example. As designers, we love fonts, even if they are incomplete or only available as vector, they are still fonts.
There is also something to be said for having limited access to a font thats just not available for download any where else. We just like the fact that we are using a very 'rare' font and not available on every free font website known to man.
So feel free to download and give it a whirl. I do encourage you to leave feedback for Fábio if you have anything useful to add about the design etc. Even send a link if you have used it in a project, be great to see it in this regard.
Fábio also has created a few other awesome fonts, which you can see direct on his website, one of them called 'MOO!' This is also available for download here on IJC.
Colophon
If you like this post and like the general idea of what ImJustCreative is all about, then would be sweet if you would consider signing up to my free Newsletter, powered by RSS and email. No spam of unsolicited correspondence, just updates from this website as and when they occur. No updates, then no email.
Finally, if you do need any kind of logo and brand identity design, then take a peek at my home page for further information on how to hire me, contact details and prices.