All Archived Posts in beach
---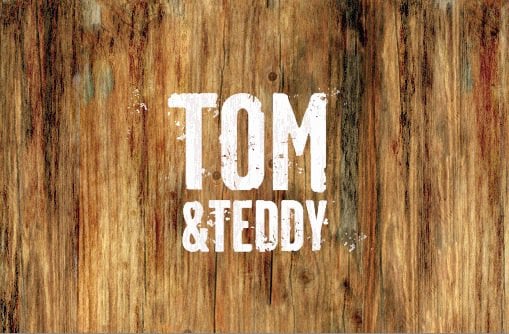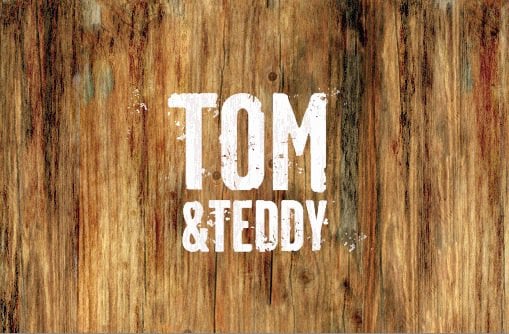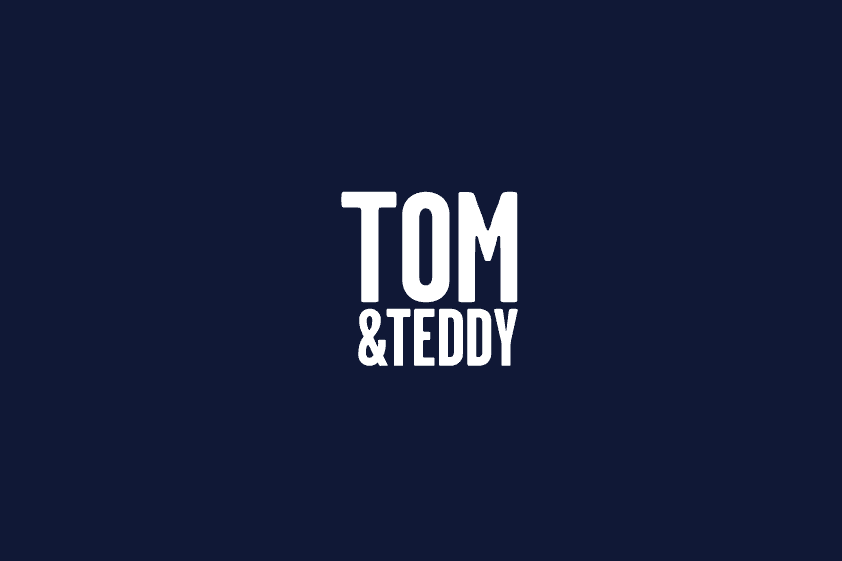 Initial artwork for an ongoing project Tom & Teddy, this is pretty close to what the end logo will be like, finer details such as optimum spacing, colours etc are still being worked on. Further descriptions and a detailed logo process article to follow.
What follows is a brief outline of the brand.
Tom & Teddy is a premium beach and summer fashion brand, focusing on matching fashion wear for father and 'younger' son. Tom being the father and Teddy being his son.
The objective was to create a strong but clean type orientated brand mark, something that instilled a sense of a classy modern vintage style. One that would be straight forward to print onto clothing and various materials and that would also create a visual image of the differences between father and son, namely the physical size but also suggesting the protective nature of the father. A wordmark that would work well in mono as well as 2 colours, stamped onto a metal badge, branded onto a leather patch, stitched onto a shirt or just embossed onto a rubber badge.
Focusing then on these aspects, using a condensed font allowed for some snug fitting typography, killing two birds with one stone. Tom is clearly dominant, but is also out front, taking the lead and has a careful arm around his son.
The image below is a good example of the sort of brand imagery Tom & Teddy are aiming for.
A fashion conscious father and mother should be encouraged to check out the Tom & Teddy brand without feeling it looks cheesy or tacky. Possibly the mother would buy both father and son matching shorts as a gift or the father would just feel proud to buy himself and his son something cool and jazzy. That the actual brand mark when printed onto shirts and shorts should look cool as well as stylish.
This compact nature of the modern vintage style logotype allows for ultimate flexibly in the marketing and branding of Tommy & Teddy be on clothing, in retails shops or online. Social media will play an important role in this brand, so the logo sizes down well for social media images and website favicon. Hopefully the only variations of the logo you will see will be differing colours and with or without a squared container.
Colours have yet to be confirmed, but this gives you an idea of how the logo can work easily with various colours and combinations without muddying the core identity.
The Gap brand mark has greatly inspired me for this project. I have been a long time fan of their blue block logo, and have appreciated how it can be used to market and brand the company. Looking at how Gap have used there logo over the years, minus their previous indiscretion, has been a valuable research example in the production of this logo for Tom & Teddy.
In reality the contained version of Tom & Teddy will be a secondary logo version, the primary logo will be floating free as shown in the very first two images.
---
Just felt obliged to share this photograph I took of my dog Dylan. Sitting in the car down the beach, waiting for the rain to stop so I could take him out for his morning walk. After about 30 minutes of waiting, I looked in the rear view mirror and saw Dylan just resting his head on the rear seat, looking out of the rain splashed window.
Grabbed my iPhone 4 and swiveled round best I could in the drivers seat and took this shot. Slightly out of focus but other than that, I just love how Dylan seems to be just sadly looking out, longing for the rain to stop. Bless him, looks so forlorn.
Passed the photo through a filter in the Camera + iPhone application, and then a little unsharpmask in Photoshop when I got back home.
---
Location
Taken, as a lot of my photos are, locally. This is on Seaford Beach, just down from Seaford Head, a collection of small fishing boats that reside on the pebbles until time to go out and catch fish.
These are always the focus of many photographs, they are somewhat of a Seaford icon. 
This will be part of my new Photography Portfolio, a new website dedicated to my photos.
My Thinking
Due to the popularity of these boats being used as the focus of photos, I wanted to try a more creative angle. I had in mind the desire to do some work in Photoshop for this shoot, so I took photos with this in mind.
I wanted to try and make them look like they could of been taken pretty much anywhere, except possible to those of us that live in Seaford and can see the personality of these boats from a mile away. After all, I for one walk past these every day whilst walking my dog Dylan.
Photoshop
The photos taken with my trusted Canon D300 and a 12mm wide angle, which has proven to be the most reliable camera I have ever had, not to mention it surviving 3 months circumnavigating Egypt, one whole week of which was in the Black and White desert.
The Photoshop process was actually pretty involved as I spent a lot of time tweaking the brightness and contrast of individual pebbles and also creating a much more dramatic sky,. You will also noticed the sun hitting the hanging rope from the blue boat, this thin line of white was enhanced with the 'dodge' tool.
Clearly I had to cut-out the boat in order to colourise it as I have. This was simple, but creating the right depth of blue to set against the grey took some trial and error. It involved a lot of retouching of the blue hull to create this soft almost plastic type look, and to scrub out any imperfections. I wanted it to look like it was just painted, which in fact it just had been, but was showing signs of wear and tear.
Overall
This is one of my favourite retouched photographs, one that I feel really works and goes to make the picture a joy to look at.
S

ee other selected photographs from my 

Portfolio




Just a preview of my next Desktop Photo in my ever increasing series, up to Number 6 now. Really enjoying doing these actually, trying to find the ones that best work as a wallpaper, at least from my perspective. I am really pretty fussy, so am very selective on the images I use myself for Desktop Pictures. But for the most part, the ones I have created I have and continue to use myself on my sweet 24" iMac.

This is my favorite by far and it's a recent photo taken during the storms of last week down the beach at Seaford near the Cuckmere Valley. Yes, I do live in a small sleepy town called Seaford, about 12 miles East of Brighton and about 8 miles West of Eastbourne. Spoi t for scenery down here so do expect further local type photos, but with personality. Not your usual Seaside Postcard snaps.

The beach was pretty cut up where we were, but the seagulls were a plenty with all the washed up 'bird grub'.
Hope to upload the various resolution sizes over the next few days.

I also now have a FLICKR Desktop Photo Collection which you can visit and see all images in all their glory, and you can download them all from there.

I may abandon offering the facility to download from this site as it seems pointless to double up on where these images are stored. So I will no doubt just provide links from this site to the relevant screen resolutions on Flickr.

Seems a logical idea to me frankly.