All Archived Posts in array
---
This has to be one of the coolest things I've ever seen one of my logo designs being used/manipulated and/or recreated! A whole bloody PureStorage Flash Array made completely out of Lego.
Seriously, what the hell.
There is a back-story to this Lego version of the logo, it wasn't like just done for kicks, although nothing wrong in that either. Back in 2012 PureStorage were exhibiting the Pure Storage flash arrays over at VMWorld. Part of the fun was running this live contest in which this Lego version was featured, and people had to guess how many Lego bricks were used.
Turns out someone 'calculated' the exact number of Lego bricks used: 6,128 bricks to be exact.
I've only just posted the funny PureStorage video which was over on Vimeo, but this completely takes things to a whole new level. So very exciting to see ones logo design being used in such exciting ways, and I'm just super proud that PureStorage are so behind the logo I designed for them.
Pure Storage Flash Array
And to finish-up with, a proud looking Pure Storage Flash Array in all it's glory. Notice that all the little air-vents are shaped from the Pure Storage logo.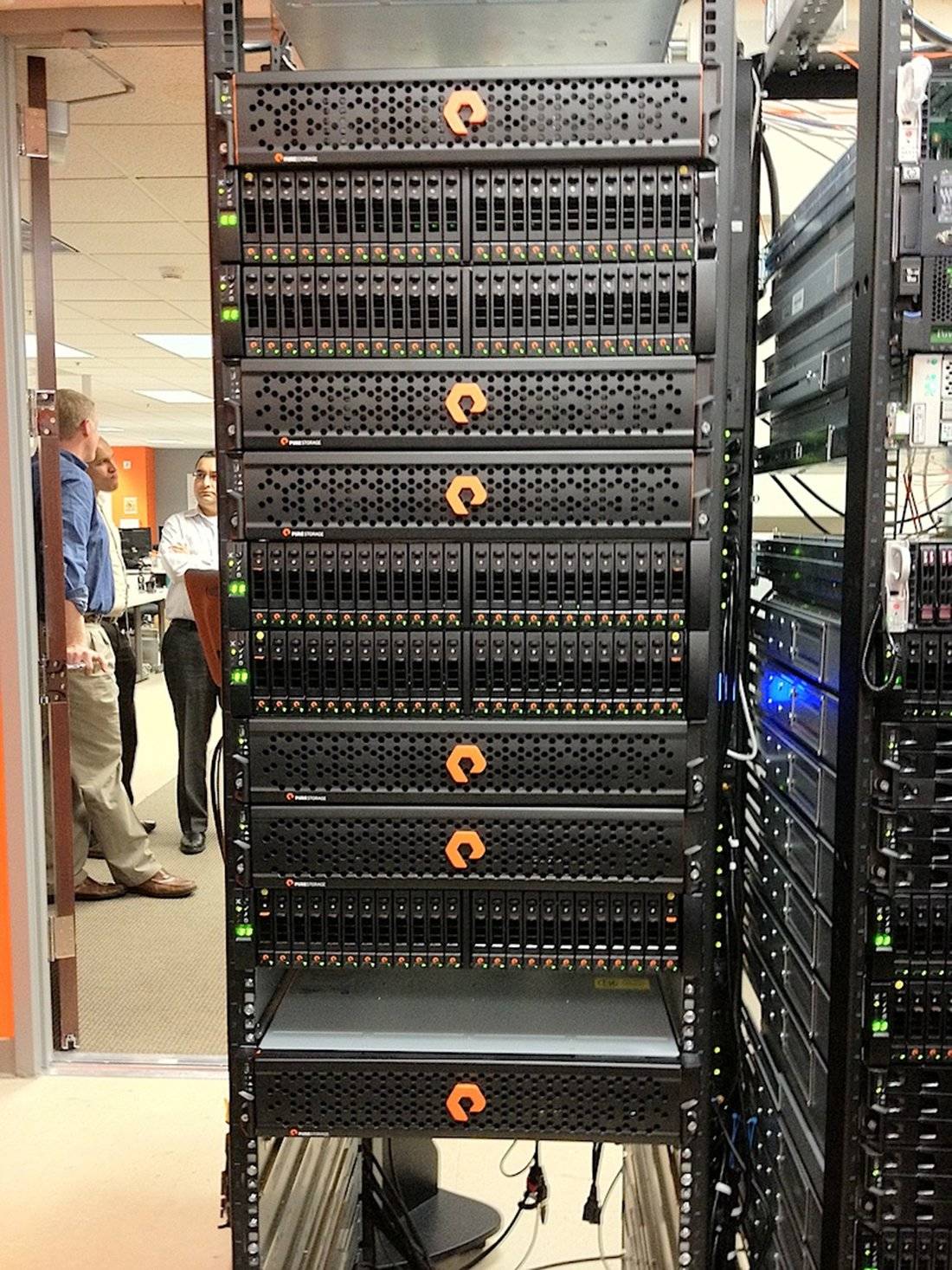 ---
The Pure Storage Logo Applied
Exciting day today for Pure Storage, a recent logo design client of mine. Today is their official company and product launch after a long period of operating in stealth mode.
See Press Reports: The Wall Street Journal, AllThingsDigital
I can now show you, for the time time, how the Pure Storage logo [brief run down of the idea behind the logo] has been applied across their FlashArrays which I am so happy to be able to finally share. I have also exhibited a few other applications of the logo via this post, Pure Storage Identity Design
It's one thing to see your logo on a website, business card or even shop front, but quite another when you know it takes pride of place on the latest possible storage technology.
When Pure Storage approached me last year I had no real idea of the end result due to the highly secret and sensitive nature of their product and plans. I had a few rough visuals to work to but could not have foreseen how the logo would eventually end up being applied to the FlashArrays.
The manor in which the logomark has been cut-out and raised to take pride of place on the FlashArrays with the vibrant orange set against the gun-metalesque enclosures provides for a pretty strong brand image. Pure Storage did not stop there with the application of the logomark as they have also shaped each perforation so as to, seemingly, form the letter P.
This post is just to show-off how the Pure Storage logo has been applied with a few product photographs that have been made available to me. A proper logo process post for Pure Storage is in the works.
An interesting fact about a certain member of the Pure Storage team you may find interesting:
Pure Storage Factoid
"An early key hire [for Pure Storage] was Michael Cornwell, who was lead technologist for flash at Sun Microsystems (now part of Oracle). Cornwell also worked at Apple, where he was Manager of Storage Engineering for the iPod division, and oversaw that product's transition to — you guessed it — flash memory. Remember the first iPod nano? That was his baby."
Via AllThingsDigital http://goo.gl/J648W
LinkedIn Recommendation
Just to finish off is the recommendation that Matt Kixmoeller from Pure Storage kindly gave me on LinkedIn. Matt Kixmoeller, hired Graham as a Graphic/Web Designer in 2010.
"I hired Graham to drive our identity design at Pure Storage. Despite his remote location (in the UK vs. us in the US), Graham felt like part of the team and really wanted to understand our company and value so that he could drive an identity for us that was reflective of that and differentiated in the market.
I'd say we were a challenging project for Graham. We hired Graham after a failed project with another designer, and had high expectations for this project and many opinions on our side to bring to ground. Graham stuck with the process through many rounds of iteration until he had that "flash of brilliance" moment (you can read about this on his blog), and once we had the right logo everyone was instantly on-board.
Our identity has proven over the past year to be a real asset for Pure Strorage, and has been something that we've feature everywhere from web usage to in physical 3D form on our actual hardware product. I would whole-heartedly recommend Graham for any identity project that your organization is considering." August 17, 2011
Top qualities: Great Results, Expert, Creative
Just wrap up this post I just had to again include this wooden back-lit version of the Pure Storage logo mark that Matt carved for the office reception. Looks stunning.
Copyright © 2006-2016 All Rights Reserved Goddammit!
The Logo Smith - Freelance Logo Designer, Brand Identity & Graphic Design Studio.
25 Years Experience: Logo & Brand Identity Design, Graphic Design, Advertising and Print.
PR Agency Services: The PR Room -Technology & Internet of Things PR.