All Archived Posts in Abstract
---
Last Updated: September 14th, 2016
| First Published:
February 27, 2014
| Subscribe with
or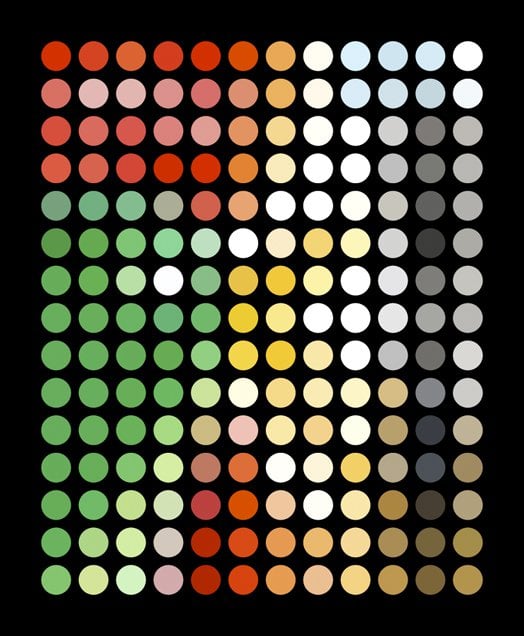 A while back there was a super duper cool study on dots, well, to be more precise, an interpretation of the Mona Lisa by Gary Andrew Clarke.
Andrew took the Mona Lisa and remixed it down to 140 exact circular dots and even with this over simplification, and somewhat abstracted nature, it is clear to all what the dots represent (below).
Iconic Brand Packaging Simplified & Abstracted to Dots by Silas Amos
From that particular art exploration of the Mona Lisa, Silas Amos took the 'dot' idea in a slightly different direction, and applied the abstract 'dot' simplification to certain icon brand packaging. Some of the packagings are pretty clear, some maybe not so much. The not-so-much-of-a-trick, is to look at these at almost thumbnail size, then the appearance of them becomes far clearer.
But I really do love any logo/brand project like this, and I in fact had my own 'dot' brand logo project called: Unevolved Brands, which 'unevolved' brand logos down to a most basic shape: a 'dot/circle'. Which actually reminds me that there are plenty of new logos to Unevolve since I last posted, so might be tempted to add a few more over the next few weeks. (Apologies for the website theme, it's somewhat outdated now, but should still be working)
These are not new, and have been around for a few years, but I rediscovered them on my old Posterous blog, so thought these are pretty cool to post again.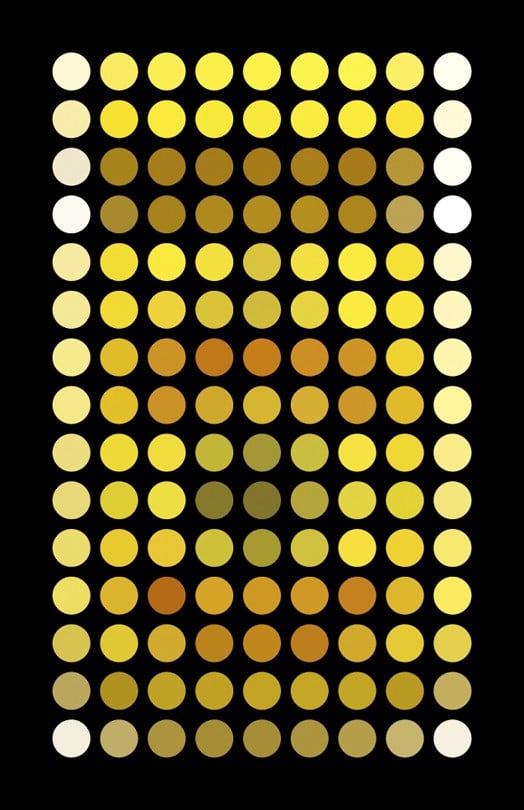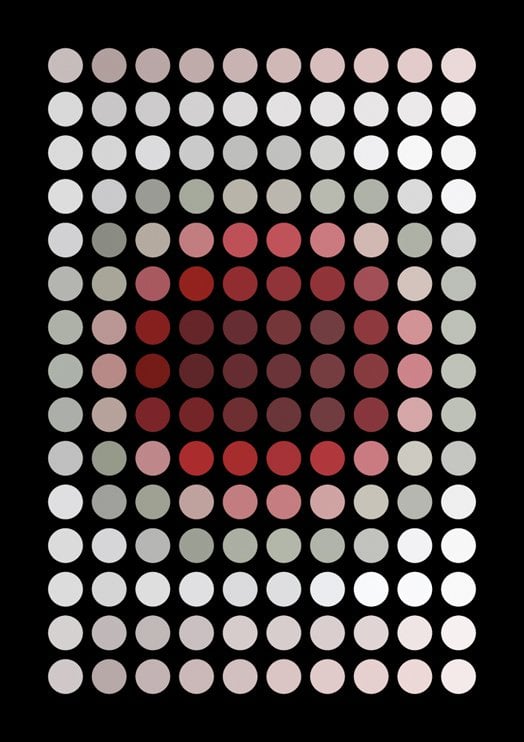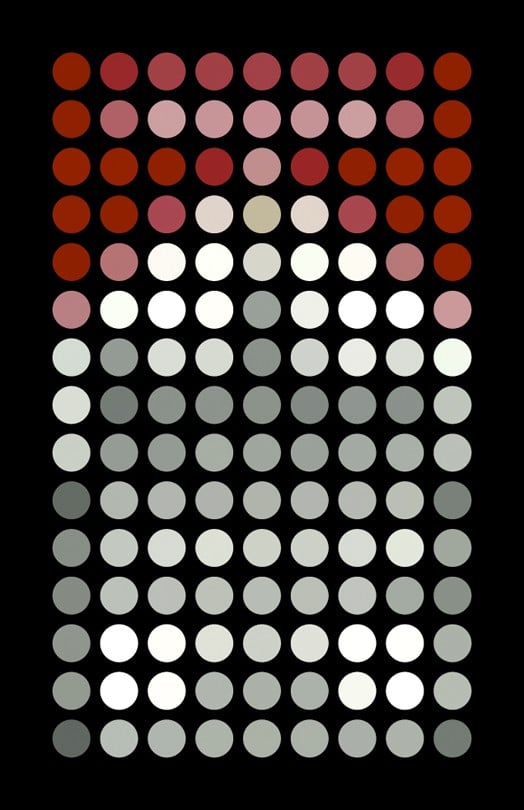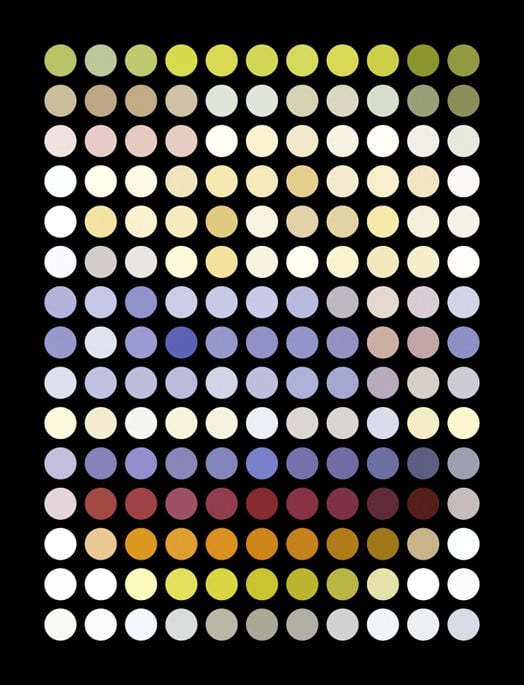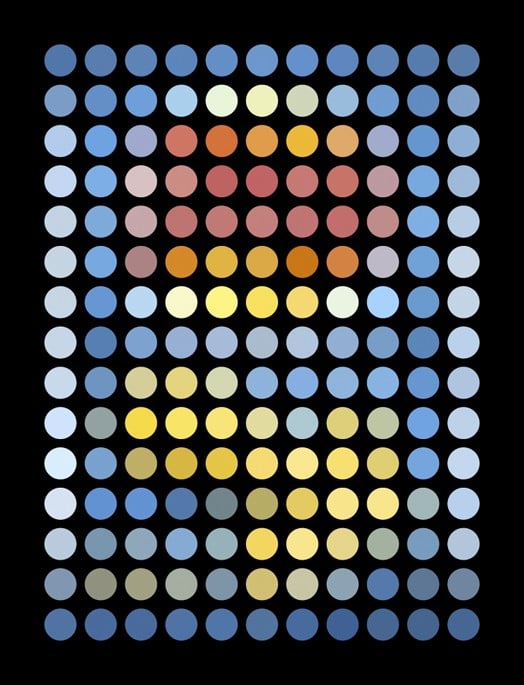 Design Gazette: "I had a few surprises – I naturally assumed Coke would reign supreme, but the slightly fiddly nature of the line and script did not survive the test. Kellogg's though, with its more distinctive shape, fared far better. Colman's turned out to have little left at this degree of abstraction, whereas Marlboro clearly still reads.

A couple of conclusions: firstly, the brands abstracted look pretty cool as art huh? Secondly, one would assume that putting super-bold graphics through the same filter that was applied to a murky, mostly brown, old master's painting would leave them comparatively well placed – that this is not always the case suggests they might not all be as recognisable when abstracted as we would have assumed.

And finally, strong shapes on pack prove to offer the best chances of survival of this process to retain recognition. This is interesting if one considers that many consumers are shopping products with impaired vision and no glasses on – it's quite an illuminating test of graphic equities in a world where packs are 'read' at a glance without 20-20 vision.

My thanks to Gary, the artist. You can see his excellent site (and buy very reasonably priced prints)here. Or if you are a brand manager, why not get him to convert your product into a piece of art for your office walls?"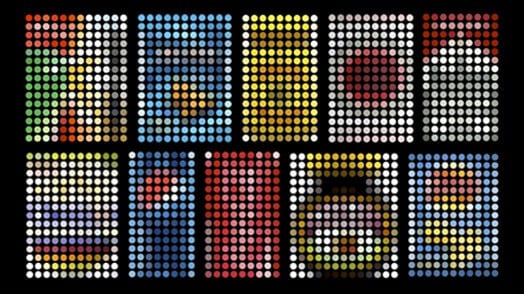 ---
Last Updated: September 14th, 2016
| First Published:
November 14, 2013
| Subscribe with
or
There really is quite a challenge behind designing a logo mark that is based on the abstract, rather than a more defined visual link to 'entity' one is creating a logo for.
Can't say I get many clients actually asking for an abstract logo, and I'm pretty sure that's simply down to a misguided notion that it's a easy and quick ay for a designer to say 'job done', and with that a clear lack of value for money. If the client can't say, "what does that logo have to do with my business? Nothing? Then why the hell do I want a logo that communicates nothing meaningful?"
Of course, that's all poppycock. An good abstract logo is neither quick nor easy, and neither should a client dismiss the option of an abstract logo as being poor value for money. A client isn't just forking out dosh for some hired help, they are paying for expertise, wisdom, and creative confidence to make decisions that a client is not in a position to make. One of those decisions might just be related to going with a logo design of an abstract nature, if they feel this is the best direction to take after dismissing more literal/obvious routes.
In this great article: To Abstract Or Not Abstract?, Sagi Haviv looks at abstraction in logo and brand identity design, as well as other principles of identity design created by his firm, Chermayeff & Geismar & Haviv.
Tom Geismar saided to Sagi Haviv, "Since we did an abstract symbol for Chase, many have tried to do it in cases where they shouldn't have."

If we are doing our job as designers, our solution should always grow out of a well-thought-out strategy, and an abstract symbol is only one possible tactic among many.
---
Last Updated: September 14th, 2016
| First Published:
June 12, 2012
| Subscribe with
or
Shawn Hazen, from Hazen Creative, took a cross-country trip from Chicago-San Francisco: a distance of 2,200 miles, and photographed as many semi-truck graphics as possible.
The resulting images have been considerately cropped in an epic showcase called: Abstruct: Details Of Semi-Truck Graphics, which is a stunning arrangement of bright, bold, vivid colours and wonderful patterns.
I really can't stop looking at these amazing shapes and colour. Some of these truck graphics are just stunningly gorgeous; I wouldn't hesitate to buy these as prints for my studio.
On a previous road-trip Shawn also complied a showcase of semi-truck logos: Trucking Company Logos.
Found on FormFiftyFive

© 2006-2016 All Rights Reserved
The Logo Smith: Logo & Brand Identity Design Studio, with 25 Years Experience.

Graham Smith: 10 Badgers Copse, Seaford, England
Tel: +44 (0) 7816 527 462 Email: [email protected]