---
Last Updated: September 14th, 2016
| First Published:
October 9, 2015
| Subscribe with
or
Posted By:
Graham Smith
Categories:
Graphic Design
,
Graphic Designer Focus
,
Posters
Tags:
a
,
best
,
book
,
Color
,
colours
,
comic
,
linking
,
next
,
pantone
,
poster
,
Posters
,
Swatch
,
time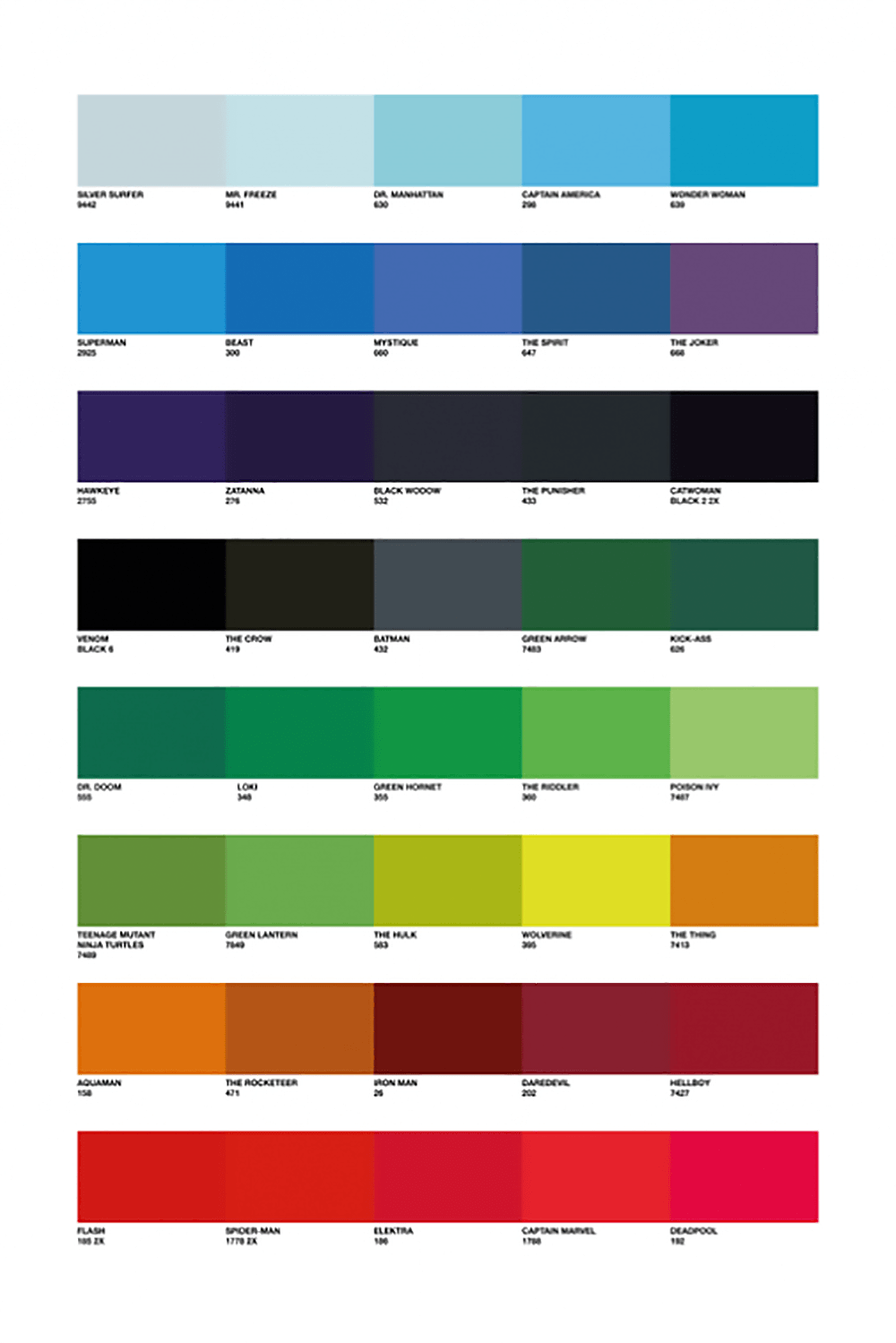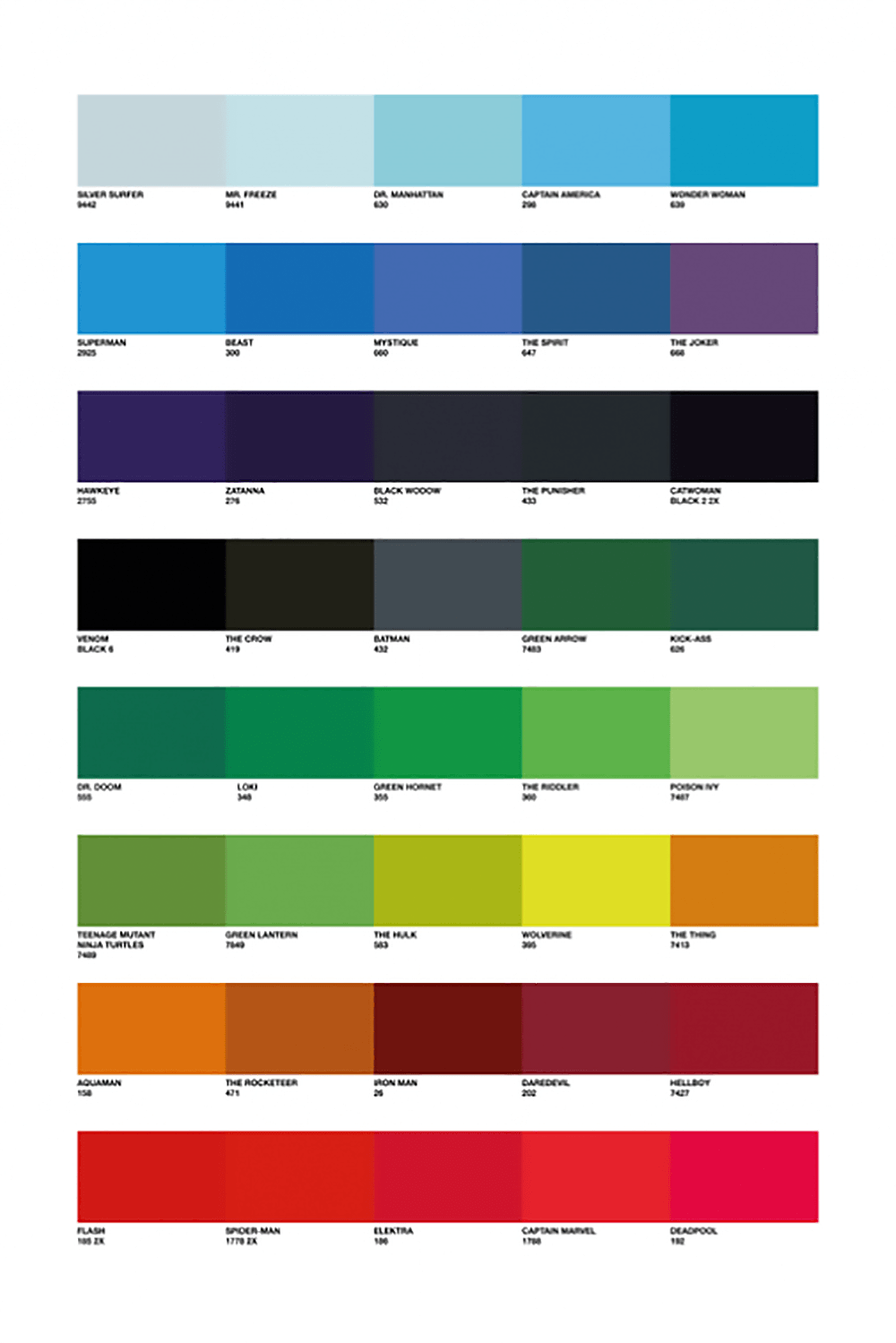 40 Pantone Superhero and Villains Color Swatch Poster
Some time ago I posted: 9 RGB Inspired Posters for Superhero's by Gidi Vigo, which was a pretty simple, but rather neat idea.
Gidi then had the idea of expanding this idea of linking Pantone colours with those representative of many more comic book superheros and villains.
So in this next poster, Gidi has created one poster with 40 individual Pantone swatches that are neatly tied in with the colours best associated with comic book superheros and villains.
---
Last Updated: May 9th, 2014
| First Published:
April 11, 2012
| Subscribe with
or
Always liked Brad's comic strip on NetMagazine as well numerous toon's on his own website. I'm personally not die-hard anti-spec, but it amuses me no end to see how hot-under-the collar some people get over this.
You shouldn't really feel threatened by spec-work if you are simply just bloody good at your job and know how to market, brand, advertise your own services.
I often wonder: it's the very people who get all high-and-mighty over spec-work that are the very people who need to look at their own business strategy and worry less about how other people choose to earn money and get on in the world.
If these people put as much energy and passion into their own business that they do arguing over spec-work…
This is a one-off temporary post for the sole purpose of providing a group link that will enable the first 150 60 people to use it to score an invite to Google+ (+Graham Smith).
150 60 Invites available via this link
I am also looking to get listed in RecommendedUsers (Artists & Designers) so if you genuinely feel I offer: insightful, interesting, valuable links and resources then I would utterly appreciate a recommendation. But please; only if you genuinely like or find useful my various posts and updates. Thank you.
http://www.recommendedusers.co​m/

I have finally updated ALL the Unevolved Brand answers. Each time I post a new Unevolved Brand, I will also update the list.
I realise it's not much fun if you have to wait ages to get the answer. So hope this helps.
Unevolved Brand Answers.
You should know by now that my ability to announce winners for my giveaways are rarely on time. But this time I think I have out done myself by leaps and bounds. Over a month late with the results. Incredible.
Kinda disappointed with the turnout for this one, thought more people would be interested to take part, so interesting to see what really 'turns' people on to participate in giveaways. Will stick to my usual nerdy/geeky 'prizes' next time round. :)

The Winners
So the 4 winners from the Apple iTunes Music and Video Voucher Giveaway are as follows...
First Prize of £50 iTunes Voucher
Sarah Madyson - @MadysonDesigns
Runner Up Prize of £10 Vouchers
Bob Orchard
Winners - How to claim
Please send me a email with your own email, then I will 'gift' the vouchers to you direct from the Apple Store. Congrats, let me know what you buy.
---
Last Updated: May 9th, 2014
| First Published:
September 22, 2009
| Subscribe with
or
Posted By:
Graham Smith
Categories:
Posters
,
Typography
Tags:
a
,
behance
,
black
,
Camdon Wilde
,
FPO
,
periodic
,
periodic table
,
photographs
,
poster
,
print
,
table
,
winner
Link & Photo Credits
Poster article originally found on FPO : For Print Only 'Periodic Table of Typefaces Poster'.
The amazing photographs of this poster also created by FPO and the above link will take you to the rest of the amazing poster photos.

Periodic Table of Typefaces Poster
This typographic poster, based on the periodic table,  originally kicked around the internet some months back now and proved to be viral in every sense of the word. It literally popped up everywhere, and for good reason. The designer, Camdon Wilde clearly onto a classy winner has now come up with version 2, in a stylish black and silver version.

Purchase this poster
You can head over to http://www.squidspot.com to purchase this awesome poster. My own order already processed. Nice.
Original Poster on Behance
The original poster can be seen here on Behance : http://www.behance.net/Gallery/Periodic-Table-of-Typefaces/193759
---
Last Updated: May 9th, 2014
| First Published:
August 31, 2009
| Subscribe with
or
The Many Different Types of A-Holes…
One of those design ideas that I really wish I had thought of. Not exactly jaw breaking typographic design, but the cute idea of A typography ass holes is pretty neat.
Can you tell which A-ss hole is what?
Credit
Originally found on Whitespace
Due to my own incredible lack of judgment and allowing a certain amount of anger to cloud my thoughts and going on some manic 'I'm super perfect preaching march', and some comments that clearly told me my error's, really was best to pull the post.
I am now officially sponsoring StumbleUpon which leaves me with a healthy radiant glow... I didn't even think about it after I received a email from them this morning. One of those impulse moments I feel.
© 2006-2016 All Rights Reserved
The Logo Smith: Logo & Brand Identity Design Studio, with 25 Years Experience.

Graham Smith: 10 Badgers Copse, Seaford, England
Tel: +44 (0) 7816 527 462 Email: [email protected]