---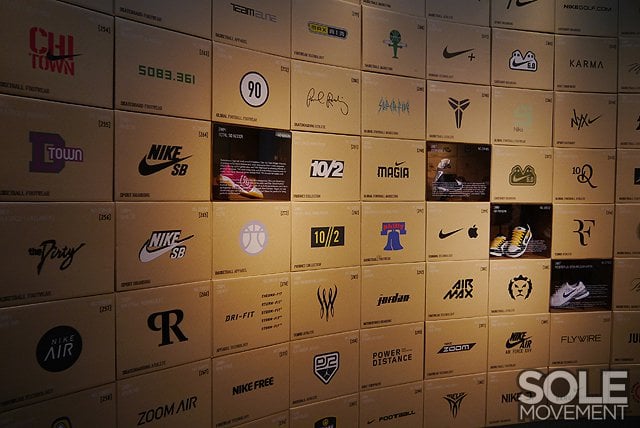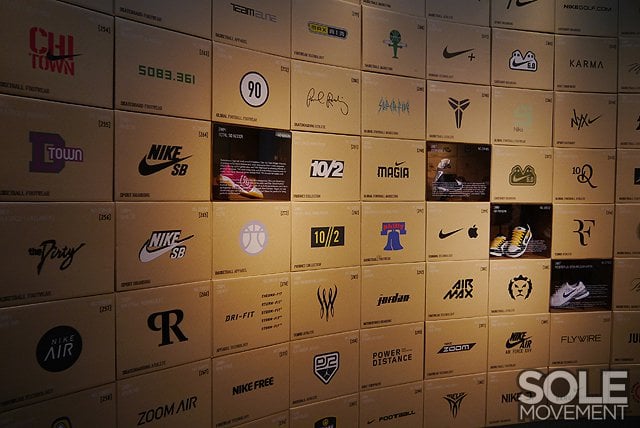 The Nike Logo Project (photographs courtesy of Sole Movement) is the sort of thing that is really worth soiling your underwear over. I would do quite a lot to get a chance to visit Nike World Headquarters in Beaverton, Oregon and marvel in the awesomeness of the Nike Logo Project—and the Nike Logo Project just sounds so cool.
Just imagine that experience. I guess some would like to look at the shoes as well.
This stunning exhibit details each logo, name, year and campaign arranged in some vague form of Periodic Table. There are many more photographs over on Sole Movement.
Trying to find out if a book of this entire Nike logo collection is planned, or even available? Read a few comments on Sole Movement that reference a book, but nothing of significance.
Also trying to find an official Nike link/website/page to the Nike Logo Project, but all links/websites/photography ultimately come back to Sole Movement. Seems odd that nothing official is jumping out at me in Google.
K Read more on http://solemovement.com
---
Previous Post:
The Hypnotic Twitter Spinner Bird By @Seb_M
Next Post:
The Yummy White Pine Pencil Pod By EatSleepDraw
---
Posted By:
The Logo Smith:
Freelance Logo & Brand Identity Designer.
Follow @thelogosmith
Categories:
Logo Inspiration
,
Photography
Tags:
Logo
,
logo design
More Posts by Category
---
---
Where Can I Hire a Logo Designer?
If you're looking to hire a Freelance Logo Designer, or want to work with a multi-disciplinary Graphic Design Studio, then look no further than The Logo Smith.
With over 25 years experience,
The Logo Smith
offers the following Creative and Tech Services:
Custom Logo Design; Graphic Design; Tag Lines, Brand Identity Design & Redesigns; Brand & Graphic Standards Manuals & Style Guides; Business Stationery; App Icons; Brand Consultation; Typography; Secure Wordpress Installs, Theme Customisation & Web Site Hosting; SEO & Social Media Consultation; PR Services provided by The PR Room, in: Technology PR, Internet of Things PR, Smart Home PR, and Social Media PR.
I'd be thrilled to hear from you, and find out how I can help you with your logo and brand identity design requirements. Please visit my
Hire Me
page, email me at:
[email protected]
.
---
Home » Blog | The Logo Smith | Logo Designer & Brand ID Studio » Logo Inspiration » The Nike Logo Project In Beaverton, Oregon